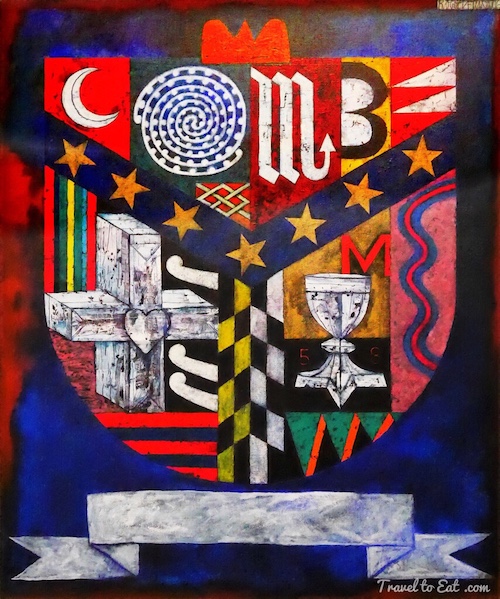 We decided to visit the Auckland Art Gallery and managed to see a retrospective of the paintings of Robert Ellis. Robert Ellis is one of New Zealand's pre-eminent artists. He has held more than 60 solo exhibitions and innumerable group exhibitions in New Zealand and abroad. Over the past decades Robert Ellis's paintings have addressed issues of New Zealand identity in which he draws together threads of European and Pacific cultures. These works make observations about the two cultural threads from a personal as well as social perspective. They combine European and Pacific images. Those deriving from the West include the horse, chair and chalice and medieval geometric designs. The Pacific imagery features the Ratana symbol and the koru while there are a number of others that cross boundaries such as the hand, the fish and the stars." Because of his long career, we can identify three periods of his work, beginning with roads as boundaries, progressing to a deep awareness of the Māori culture and finally to a fusion of European and Polynesian symbols as seen in the work above.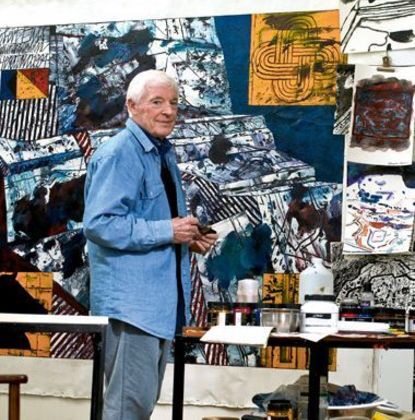 Robert Ellis was born in Northampton, England In 1929. He studied at Northampton School of Art from 1944 to 1947 and attended the Royal College of Art, London from 1949 to 1952. He came to New Zealand in 1957 to take up a position as Senior Lecturer at Elam School of Fine Arts where he taught from 1957 to 1994. He has lived on Auckland's North Shore since 1970. Ellis's work has been constantly reinvigorated by extensive travel overseas with his family, spending months at a time in England. France, Spain and Mexico He was made an Officer of the New Zealand Order of Merit for his contribution to the arts in New Zealand in 2001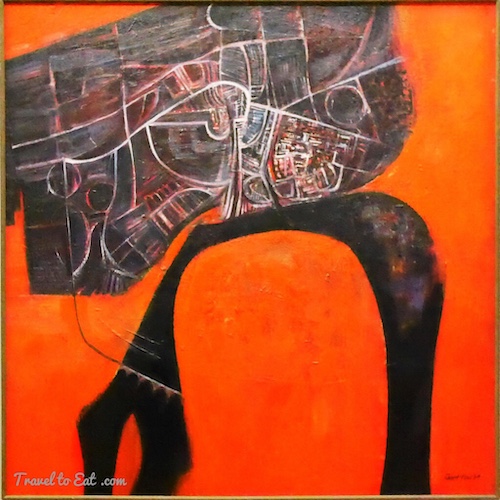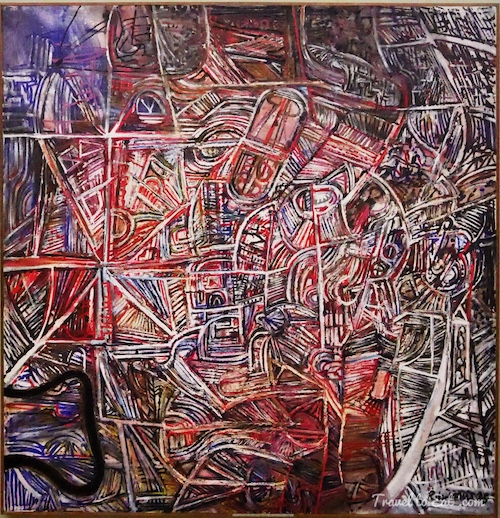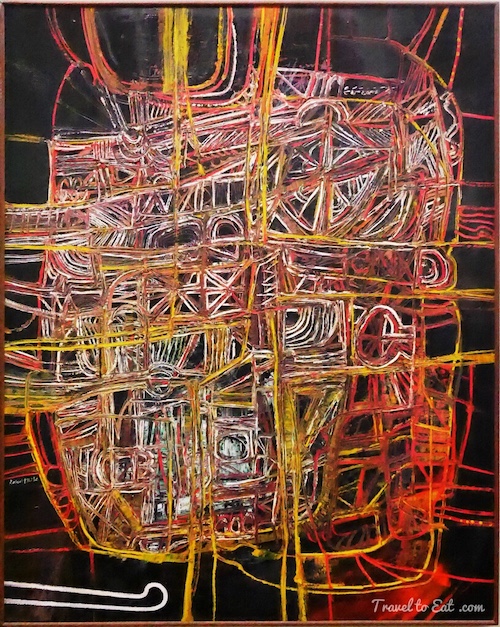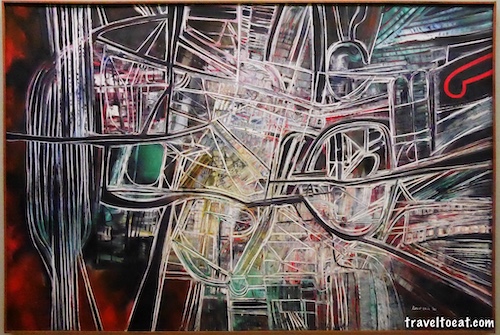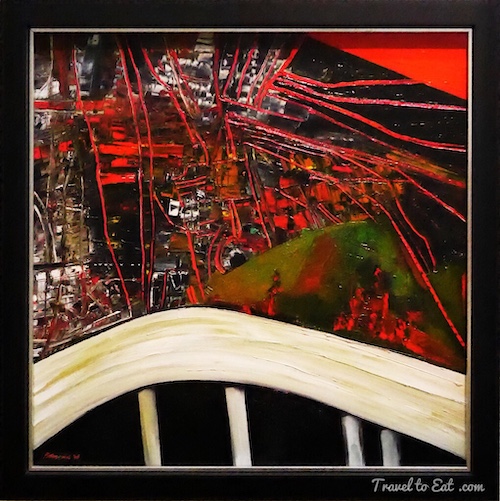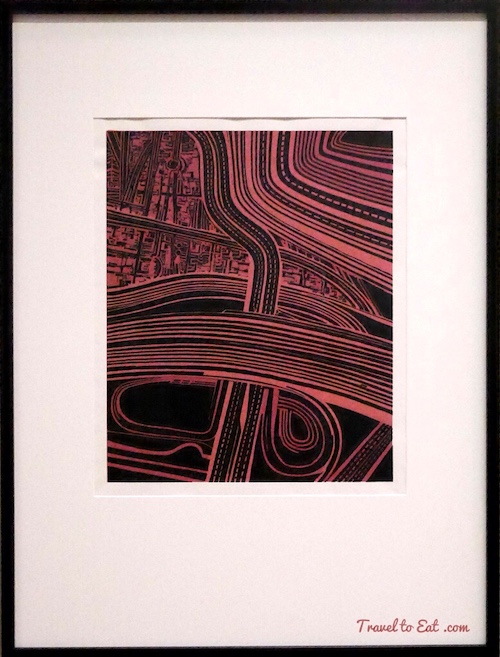 Robert Ellis's first major series of New Zealand paintingsi n the 1960s dealt with Auckland's rapidly changing urban landscape. In 1955 the Auckland City Council adopted a Master Transport Plan to promote completion of the region's motorway network. A year later Auckland's tramway system was terminated and citizens had to rely heavily on the Southern Motorway when commuting. By the time Auckland Harbour Bridge opened in 1959, many inner-city houses and businesses had been demolished to provide land for the ever-growing motorway network. Working at Elam School of Fine Arts meant Ellis was in close proximity to Grafton Gully, where the colonial houses were almost entirely removed for construction of the Central Motorway Junction (now known as Spaghetti Junction). All these changes to Auckland's topography inspired Ellis's Motorway/City paintings. The artworks are like maps whose lines show the flow and circulation throughout a city in which motor vehicles had become the predominant means of transport. This style was influenced in part from his time as an aerial photographer in the RAF. In the abstract figuring of a changing Auckland City, Ellis's paintings of a half-century ago now appear prescient.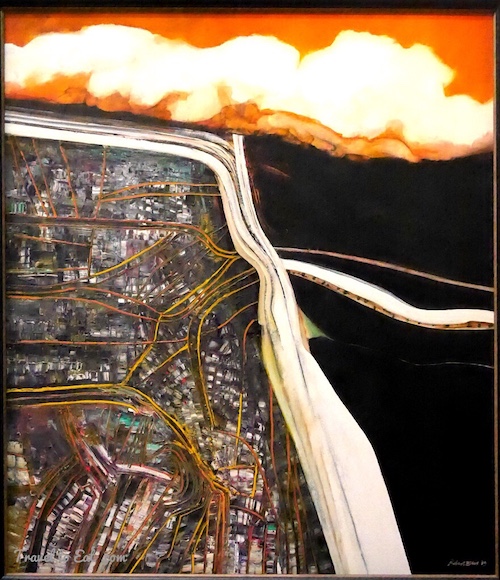 Motorway/City has become Robert Ellis's best-known urban painting because of its early entry into a public art collection and through its frequent exhibition and reproduction. It shows plots of city land made out by roads and motorways. The dominant ivory ribbons symbolize an enormous motorway sited at the place where urban land meets a coastline. The motorway becomes a barrier setting the neighboring population apart from the sea. By refusing to be singular in their meaning, Ellis's motorway paintings become political and social statements as well as lyrical markers evoking emotional reactions to urban experience.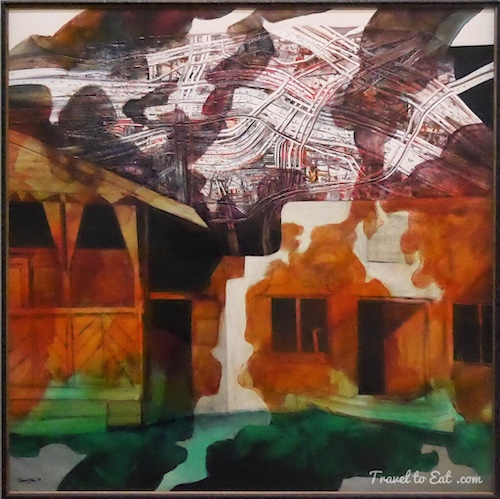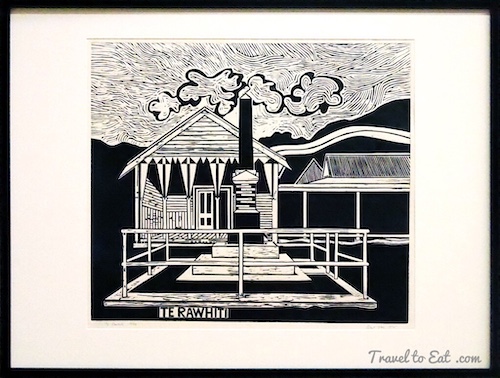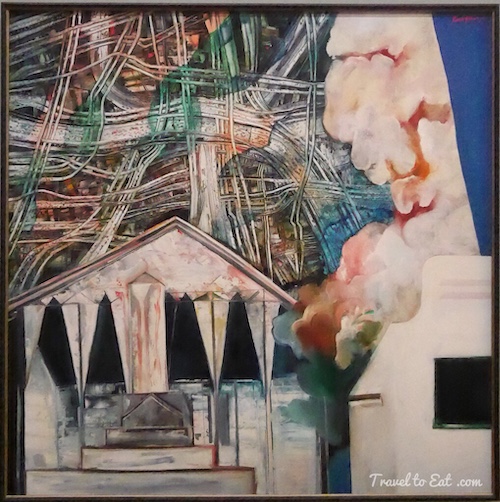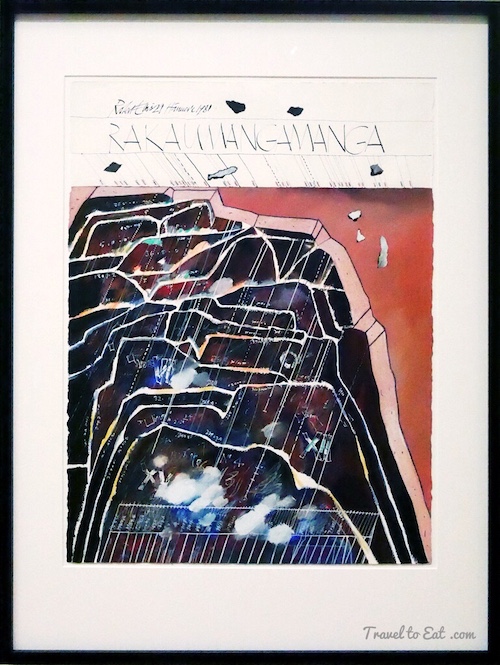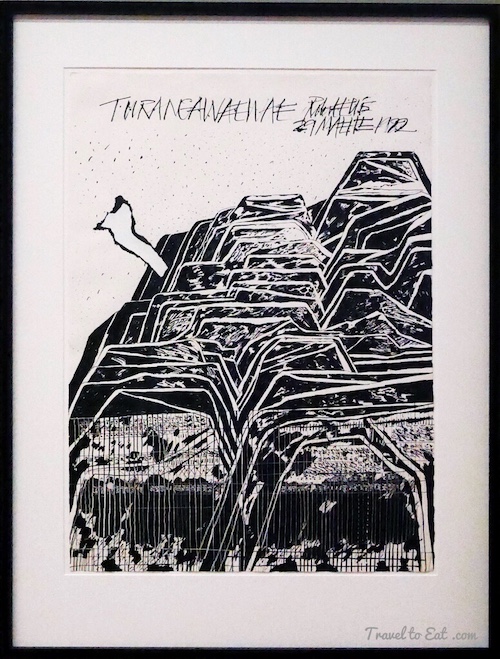 While Robert Ellis concentrated on motorways and city life during the 1960s, during the 1970s and 1980s his focus shifted to the rural community of his family's marae (central compound containing the meeting house) at Te Rawhiti in the Bay of Islands. Over many years he participated in the restoration of the Te Rawhiti Marae and contributed to the whanau community, learning from local elders along the way. His exposure to tikanga Māori (Māori traditions) as well as the Māori language and spiritual values, not only from Te Rawhiti but from Ngati Porou (East Coast), his wife's other iwi (tribe), affected and influenced his life and his art. In 1985, Tainui advisor and Waikato University professor, Jim Ritchie wrote, "I do not think that simply living in this country has made Ellis a New Zealand artist. It is painting the land that has done it. The more he paints the more he lives what he sees."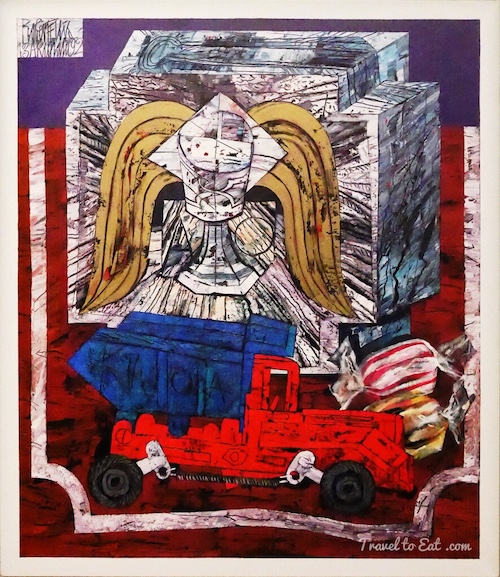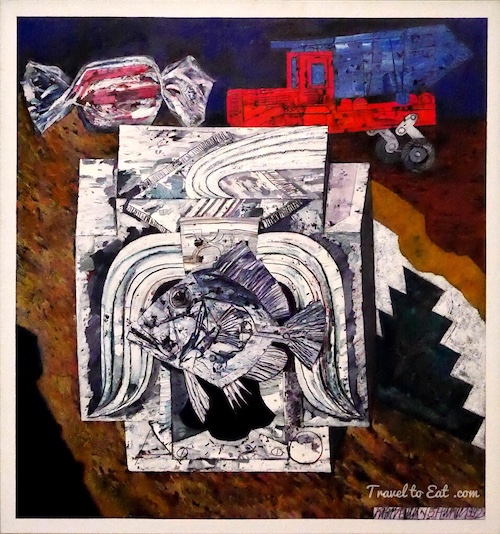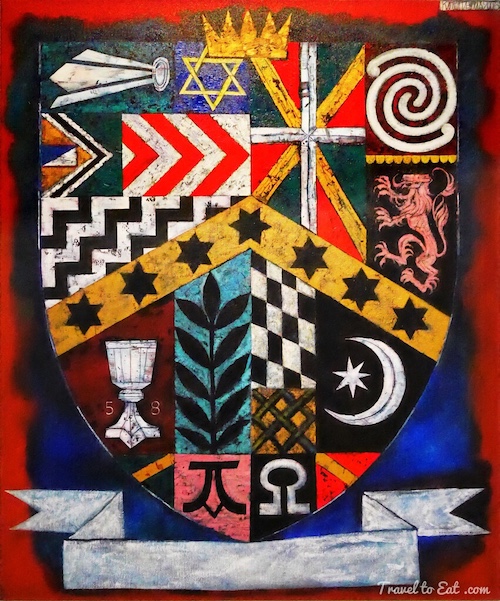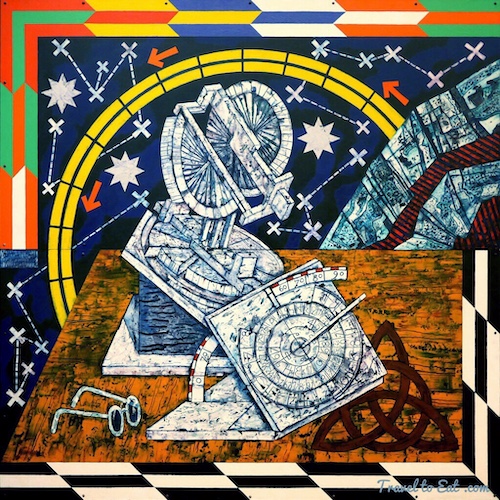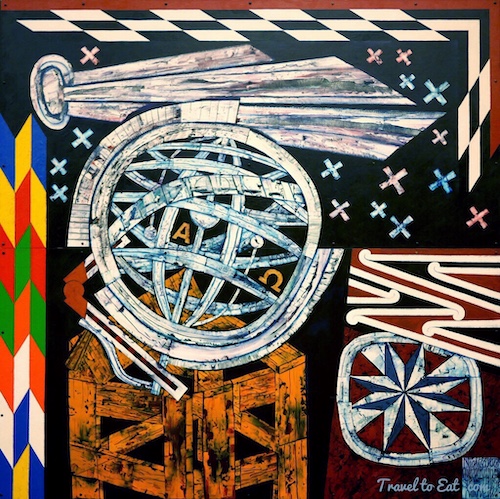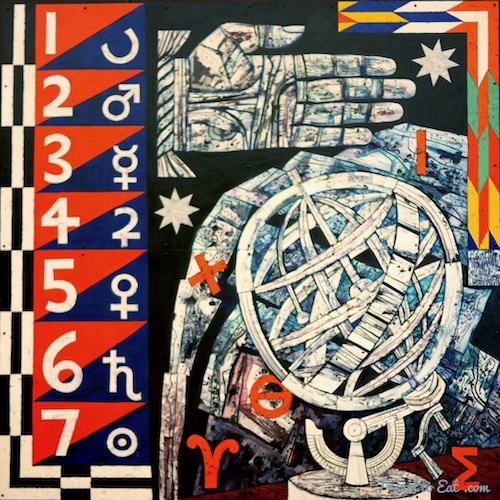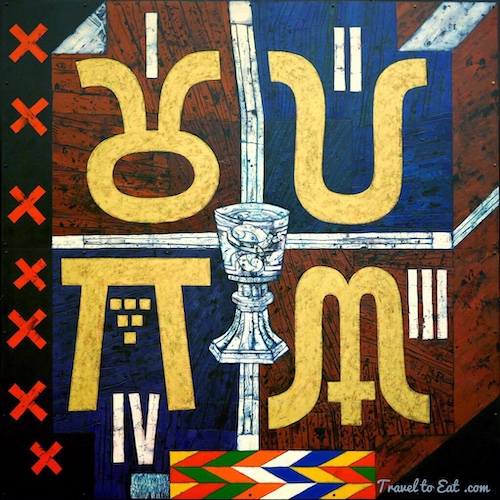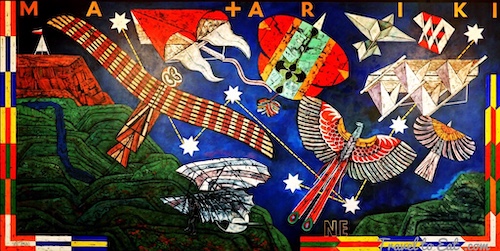 During the 1990s and 2000s, the symbolism in Robert Ellis's paintings developed further by the placement of diverse emblems from different cultures into visual conversations. Motifs and signs from Māori and Pākehā (of European descent) traditions were juxtaposed in ways that had not been seen in New Zealand art, enabling symbols to come together and carry a greater weight of meaning than they would otherwise. The importance of Rakaumangamanga as an ancestral geographic feature continues to be central in his work. Historically and spiritually it relates to the whanau (family) of Te Rawhit. The theme is explored and reinforced over many years, often supplemented by a range of symbols implying a wider cultural context, reflecting the changing nature of New Zealand society. Like heraldic shields affirming cultural or family identity, the paintings reinforce ideas about this place and belonging here. In 2002, Ellis commented," I'm trying to convey a philosophic viewpoint. So my paintings are full of all sorts of things,symbolic conundrums that tempt the person looking into trying to seek and therefore to get more out of the paintings. I use disparate images. I change the scale and because they are juxtaposed they assume a different kind of identity. They become something else."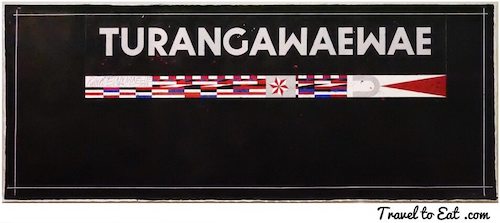 As both a mural and a sign the subject matter of this painting is emphasized by the scale of the letters stating "TURANGAWAEWAE", which means "a place to stand". The three zones of text, flags and field reveal the artist's awareness of, and affinity with, Māori knowledge, spirituality and design. Some members of the artist's extended family are followers of the spiritual teachings of Tahupōtiki Wiremu Rātana. The star, crescent moon, flags and pennants are symbols associated with the Rātana Church. Robert Ellis acknowledges that his understanding of Rātana design has influenced his art. His forms echo Rātana motifs to honor rather than emulate. It is important to Ellis that what he does in design terms is not considered cultural appropriation. Ellis has long thought of his life and art in Aotearoa New Zealand as being bicultural, and he was one of the first Pakeha artists from his generation to confirm such a perspective.
I really enjoyed the art of Robert Ellis and it's impact on New Zealand, I hope you will enjoy it as well. Please, as always, leave a comment and let me know what you think.
References:
Auckland Art Gallery: http://www.aucklandartgallery.com
Robert Ellis's apocalyptic vision of Auckland: http://transportblog.co.nz/2014/07/23/robert-elliss-apocalyptic-vision-of-auckland/
NBR: http://www.nbr.co.nz/article/art-book-captures-robert-ellis-life-and-work-jd-168821