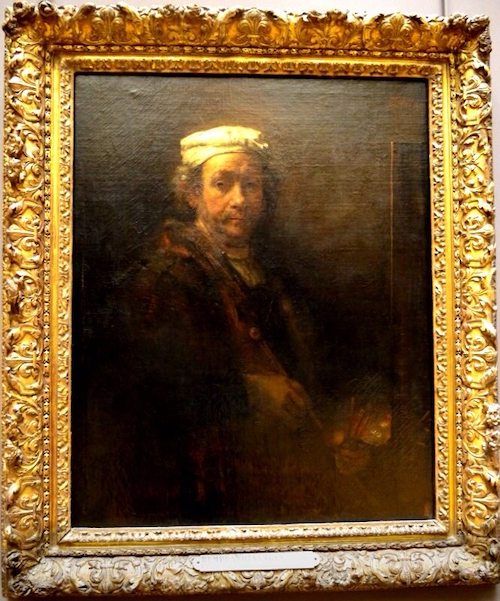 This is part of a series I am doing on the Louvre, stuff I really love. There is so much art at the Louvre this is an endless task, but at least I am giving it a try. The portrait above was done in 1660 (he died in 1669), late in his life titled "Portrait of the Artist at his Easel."
Having achieved youthful success as a portrait painter, Rembrandt's later years were marked by personal tragedy and financial hardships. Yet his etchings and paintings were popular throughout his lifetime, his reputation as an artist remained high, and for twenty years he taught many important Dutch painters. Rembrandt's greatest creative triumphs are exemplified especially in his portraits of his contemporaries, self-portraits and illustrations of scenes from the Bible. His self-portraits form a unique and intimate biography, in which the artist surveyed himself without vanity and with the utmost sincerity.
It wasn't until the nineteenth and twentieth centuries, when scholars studied Rembrandt's oeuvre as a whole, that it was discovered how very many times the artist had portrayed himself. The number is still a matter of contention, but it seems he depicted himself in approximately forty to fifty extant paintings, about thirty-two etchings, and seven drawings. It is an output unique in history; most artists produce only a handful of self-portraits, if that. And why Rembrandt did this is one of the great mysteries of art history.
Rembrandt may have used his own face because the model was cheap, but perhaps he was killing two birds with one stone. The art-buying public–which now included people from many walks of life, not only aristocratic or clerical patrons, as in the past–went for etchings of famous people, including artists. By using himself as the model for these and other studies, Rembrandt was making himself into a recognizable celebrity at the same time that he gave the public strikingly original and expressive tronies. The wide dissemination of these and other prints was important in establishing Rembrandt's reputation as an artist.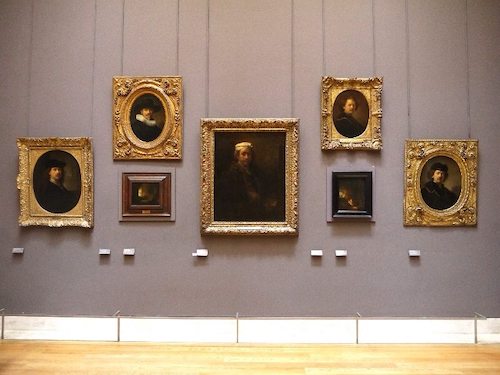 In the Louvre, they hang on a single wall, along with a self portrait by Van Dyck (second higher on the left) to which the 1633 self-portrait is compared.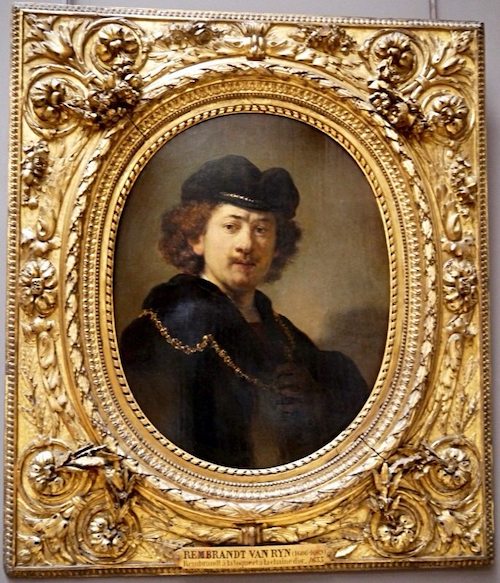 Self portrait with gold chain, 1633.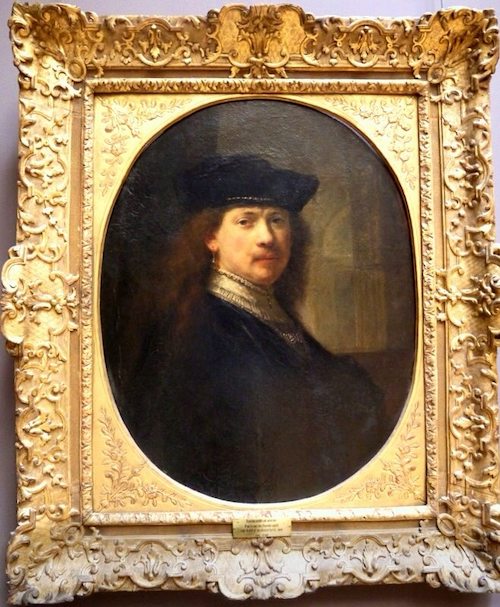 Self portrait wearing a toque (a hat with no brim) in front of an architectural background, labeled 1637. Original master (especially face) partially overpainted including architecture background for some unexplained reason. According to the Louvre this painting was done in 1640 and relabeled 1637. Compare this to the more famous self portrait at the London National Gallery also done in 1640.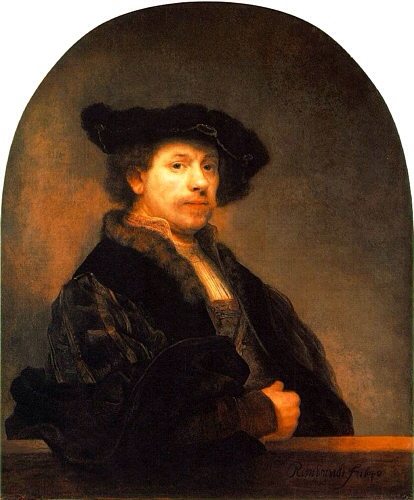 The artist became highly successful in the 1630s, when he had several pupils and assistants, started his own art collection, and lived the life of a cultivated gentleman, especially in the impressive residence he purchased in 1639 (now the "Rembrandt House" museum). Rembrandt exudes confidence and urbanity in his Self-Portrait at the Age of 34 of 1640 (London, National Gallery), which was modeled upon courtly portraits by Raphael and Titian. These artists probably also inspired his Amsterdam signature, "Rembrandt" (dropping "van Rijn").
This portrait shows Rembrandt at the height of his career, presenting himself in a self-assured pose wearing an elaborate costume in the fashion of the 16th century. It seems as if Rembrandt refers deliberately to his famous predecessors in this portrait, and thus places himself in the tradition of great "old masters" The word 'conterfeycel' (more properly conterfeytsel) is an archaic Dutch term for portrait.
A little recent news on Rembrandt self portraits is the Rembrandt Laughing painting once thought to be a knockoff was authenticated in 2008 as an actual Rembrandt self portrait.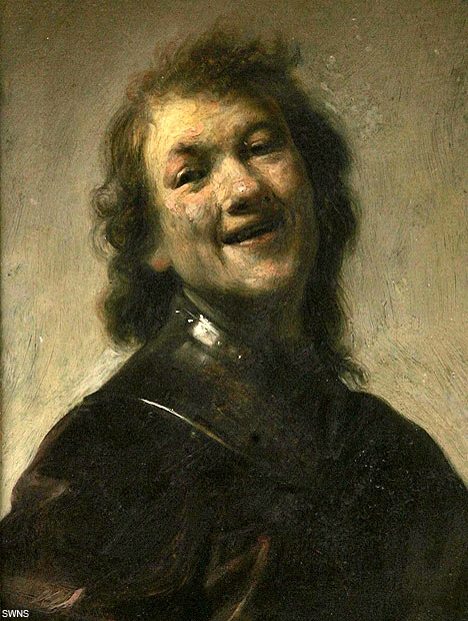 Rembrandt Laughing was originally estimated to be worth $3,100 but sold for $4.5 million in an English auction house in 2007. The painting's current estimated value is $30,000,000 to $40,000,000. Before its discovery, Rembrandt Laughing hung quietly in the possession of an English family for more than 100 years.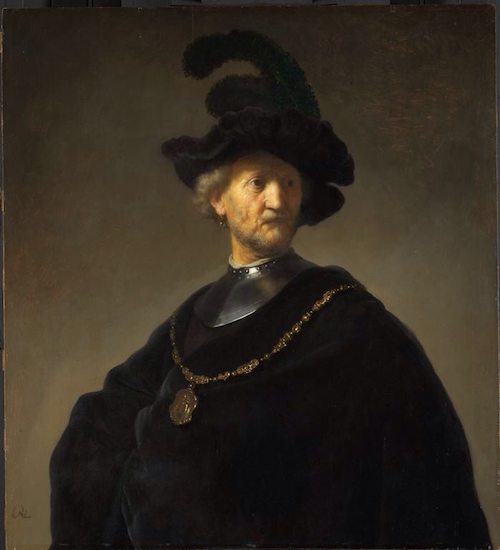 I could not leave this subject without presenting my favorite Rembrandt portrait from the Chicago art museum, "old man with a gold chain" pictured above. I went to Northwestern for undergraduate and medical school and I remember many afternoons admiring this painting. I know it is not a self portrait but somehow I see an idealized Rembrandt every time I see it, perhaps the way he wanted to look.
in fact, some one else has had the same thought. In a post, "Rembrandt Anamorphosis of Self Portrait?", the author examines the reflection in the man's metal collar or "gorget". What he finds is most astonishing, and something you have to see for yourself in the museum, is the fact that the light and dark properties of the reflection actually pretty well match what we know as a Rembrandt self portrait. It is as if he wasn't even trying to hide this curiosity but placed it right in front of our eyes. Who knows, maybe this is a kind of self portrait.