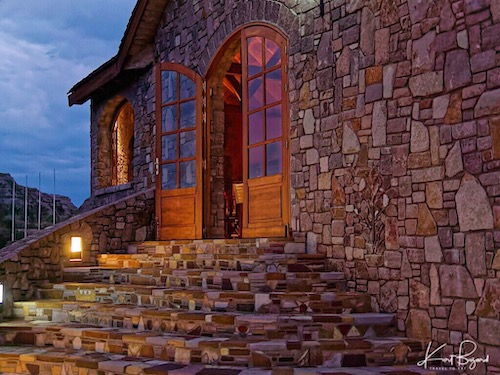 I have decided to do posts on the resorts we visited in Madagascar as part of my tour, not because I have any financial interest in the properties, but because they were uniformly some of the most beautiful places I have ever been and because each of them reflects the surrounding area with unique gardens and plants. I actually found the sumptuous lodgings for tourists somewhat incongruous with the overall poverty of rural Madagascar although this is often the case in other parts of the world. Suffice it to say that there are more than a few wonderful "destination resorts" located around Madagascar that international travelers will find safe and more than comfortable. Relais de la Reine is one of three French-owned hotels situated in private grounds close to Isalo National Park. Isalo National Park is a National Park in the Ihorombe Region of Madagascar. The park is known for its wide variety of terrain, including sandstone formations, deep canyons, a palm-lined oases, and grassland. The closest town is Ranohira, and the closest cities are Toliara and Ihosy. A total of 340 animal species are known to inhabit the area, including 82 species of birds, 33 species of reptiles, 15 species of frogs and 14 species of mammals. We were particularly interested in the Ring-Tailed Lemur (which we saw on the way at Anja Community Reserve), the Red-Fronted Brown Lemur and of course, Verreaux's Sifaka (Propithecus verreauxi) in Zombitse-Vohibasia National Park (56 miles (90 km) to the west of Isalo National Forest).

The Facilities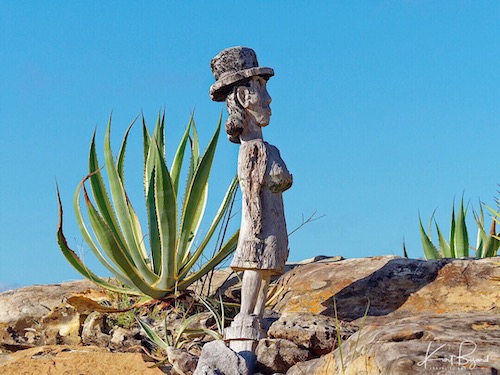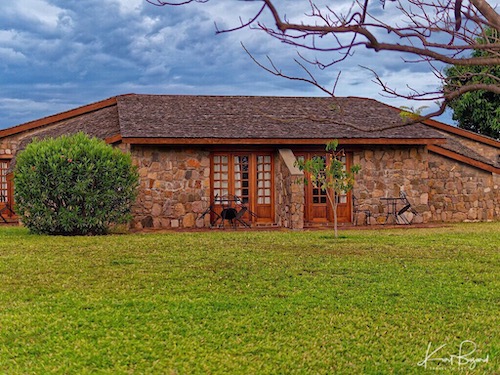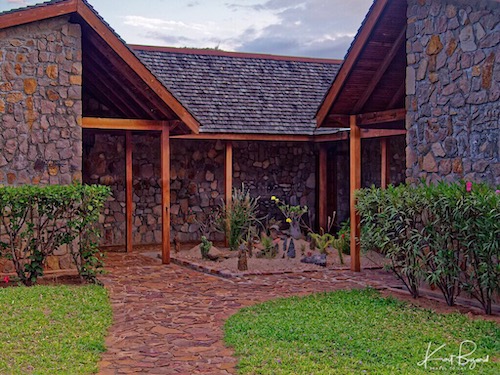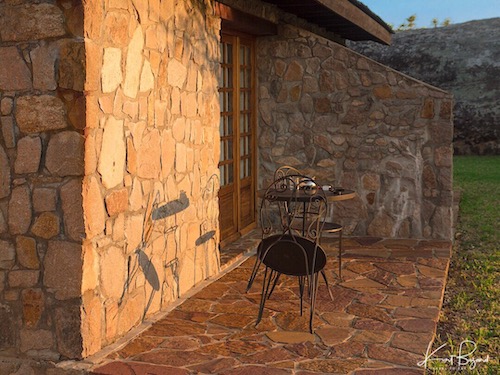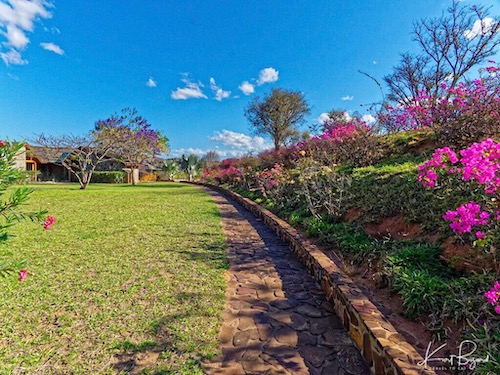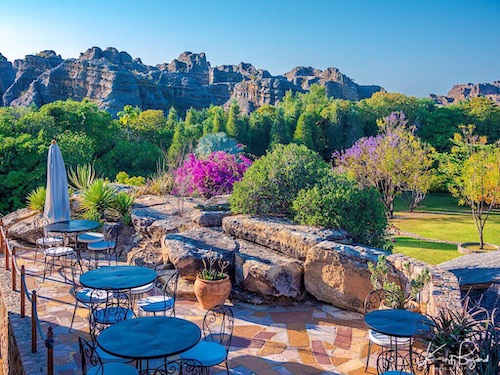 Relais de la Reine, a collection of low-slung granite cottages, blends almost seamlessly into the surrounding area, with spectacular views over the nearby Isalo National Park Massif. Isalo National Park, in central Madagascar, is a moonscape of towering sandstone outcroppings, narrow canyons, and lush forest. The 37 rooms have polished wood floors, canopy beds, hand-carved rosewood furniture and private verandas. There is no air conditioning but a stand up fan is provided and the stone walls keep the rooms relatively cool. The power goes off at 11pm and comes back at 6am although the reading lights by the bed stay on all night. Staff and management are very attentive and really try to make you feel comfortable. The food is really great, probably since it is a French lodge although native Malagasy dishes are available.
Grounds and Activities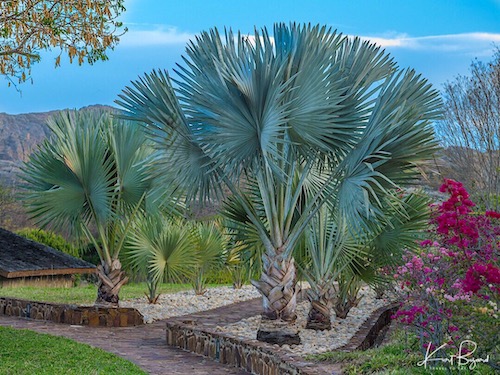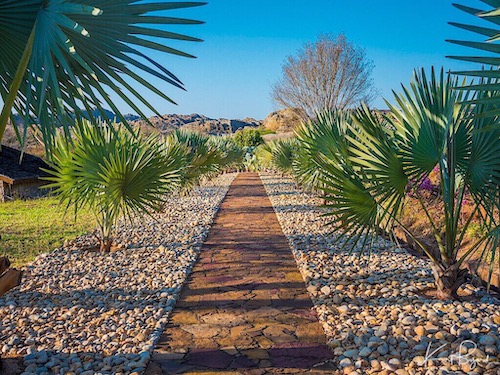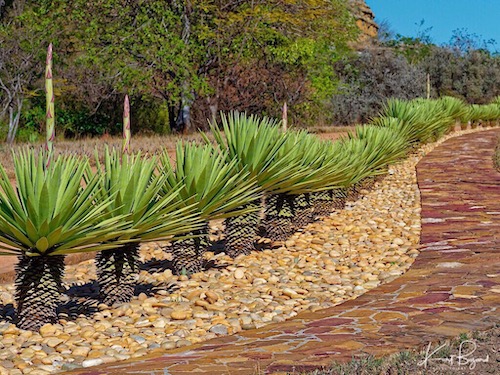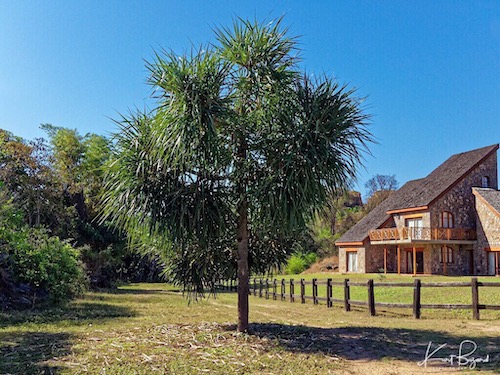 Activities in the area are numerous with lovely walks through the park and grounds, horse riding, massage and even tennis courts are available at the lodge. The walking trails are meticulously landscaped and run for miles. The landscapes are very similar to the American Southwest with many cactus, echinopsis, euphorbia and other low water specimens mixed among the also numerous native palms, trees and succulents native to Madagascar. if you are a fan of unusual cactus and succulents, as I know many of my readers are, it will be time well spent admiring the well thought out collection at the Relais de la Reine. Note that the small palms lining the walkway are green and look a little like Mexican Fan Palms at this early stage, they only turn that splendid silver color when they are larger.
Bismarck Palm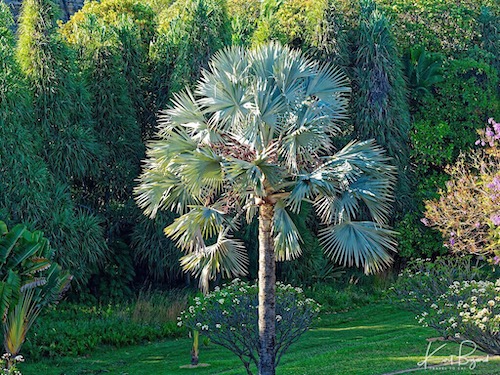 The Bismarck Palm, the only member of it's genus, is named for the first chancellor of the German Empire Otto von Bismarck. Found only in Madagascar, an island well known for its rich diversity of unique specimens, Bismarckia is one genus among a diverse palm flora (some 170 palms of which 165 are solely in Madagascar). They grow in the plains of the central highlands, nearly reaching the western and northern coasts, in savannas of low grass, usually in the red soil common in the south. As much of this land has been cleared with fire for agricultural use, Bismarckias, along with other fire-resistant trees like Ravenala madagascariensis and Uapaca bojeri, are the most conspicuous components of this arid region.
Flowers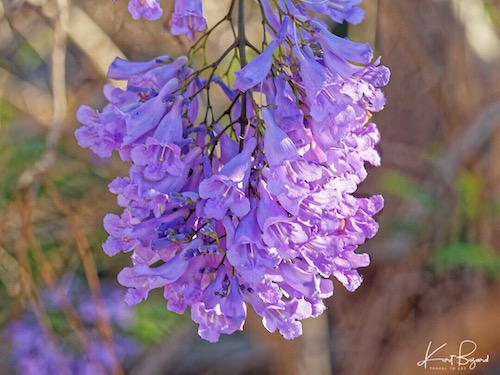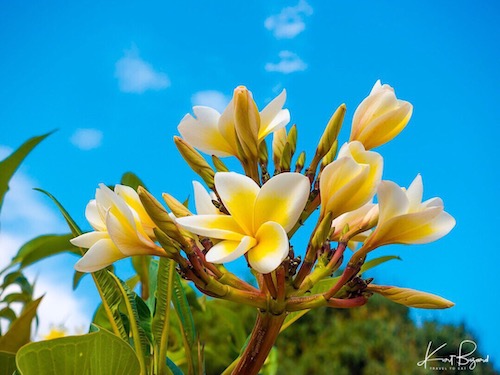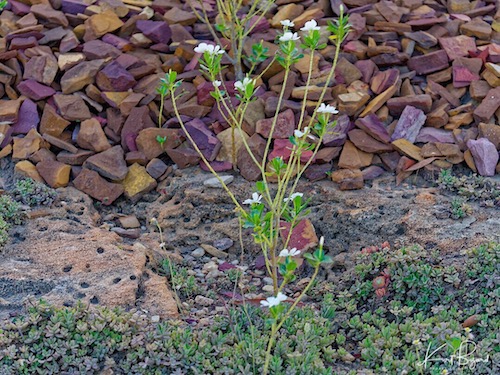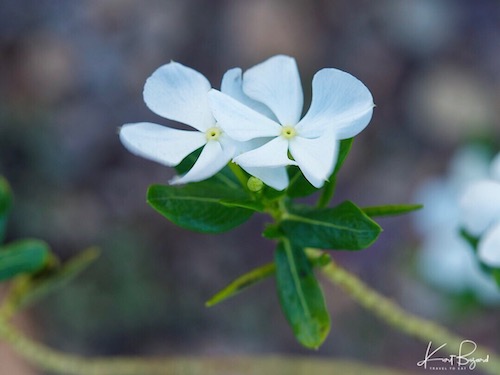 Everyone loves a splash of color, even in xeriscape landscapes, although the lodge had many grass lawns. Like tropical locations everywhere, popular flowering plants are bougainvillea, jacaranda and especially plumeria which we found everywhere on the island. Of course, a Malagasy garden would not be complete without the Madagascar Periwinkle (Catharanthus roseus) and there were many large bushes to admire. I might also add that there are many native variations of Catharanthus roseus and these look different than the ones at the Vakona Forest Lodge.
Home Grown Produce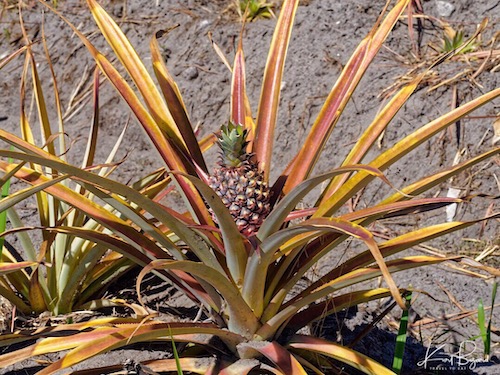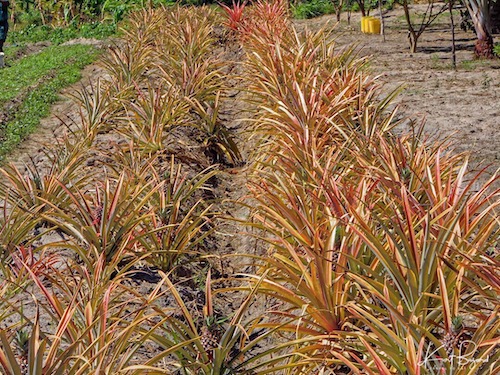 Running a hotel in Madagascar is a little more complicated than it might first appear. There really are no supermarkets or suppliers in most of Madagascar so everything has to be brought in or produced locally. Farming is predominantly a subsistence level affair so most of the produce used at the lodge is grown on the premises. Though warm and wet with a landmass bigger than France, Madagascar produces barely enough to feed its 17 million inhabitants. Poverty, competition for land and government corruption have put pressure on the island's dwindling forests. Agriculture is the mainstay of Madagascar's economy, accounting for more than one fourth of GDP, contributing 70% of export earnings and employing about 80% of the population. However, because of the mountainous terrain, only 5% of Madagascar is farmed, although large areas are used to raise cattle. The chief food crop is rice, which is grown on about one half of the agricultural land. The accumulation of cattle as a sign of wealth and for use in religious sacrifices has also frustrated government efforts to increase the use of cattle for domestic meat consumption and for export.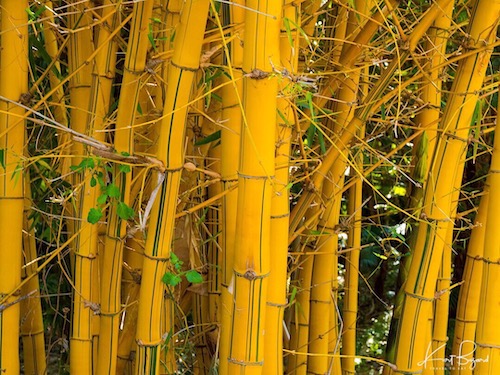 I will end here, with more to come on the gardens. As always, I hope you enjoyed the post, please feel free to leave questions or comments.
References:
Relais de la Reine Natural World Safaris