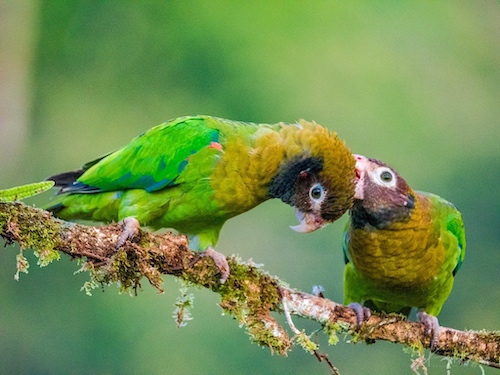 Parrots are among the most intelligent and colorful birds, found in most tropical and subtropical regions and popular as pets. The parrot family includes the most beautiful birds in the bird kingdom, and are broadly divided into families including macaws, eclectus, cockatoos, New Zealand kakapo, Madagascar lovebirds, parakeets, budgerigar and conures. Parrots are found on all tropical and subtropical continents and regions. Macaws are native to Central America and Mexico, South America, and formerly the Caribbean. Most species are associated with forests, especially rainforests, but others prefer woodland or savannah-like habitats. Costa Rica has 17 species of parrots and parakeets of the 365 species in the world. They vary in size, from tiny little parakeets to very large macaws. Parrots and parakeets are widely distributed throughout Costa Rica. The Scarlet Macaw is found from the Central Pacific south to the Osa Peninsula. There are several rescue organizations that are breeding in Guanacaste as well, with some success. Visitors interested in the Great-green Macaw, will need to visit the Caribbean side of Costa Rica. The very small existing population lives on the Caribbean slope. I visited a rescue sanctuary run by a farmer near the SarapiquiS Rainforest Lodge on the Caribbean slopes of Costa Rica where I took most of these photos.

Great Green Macaw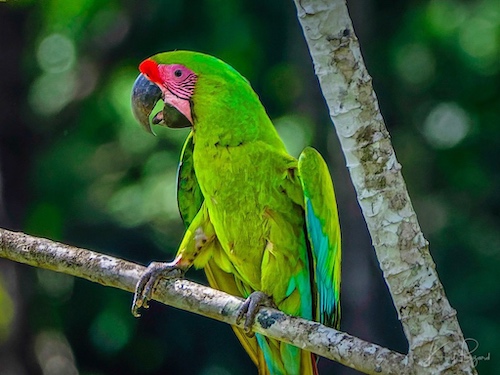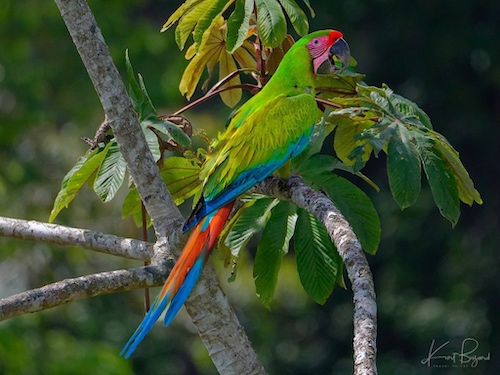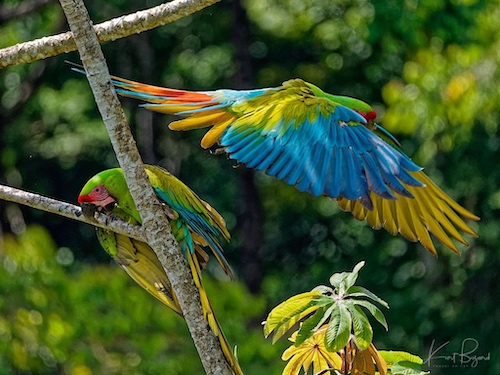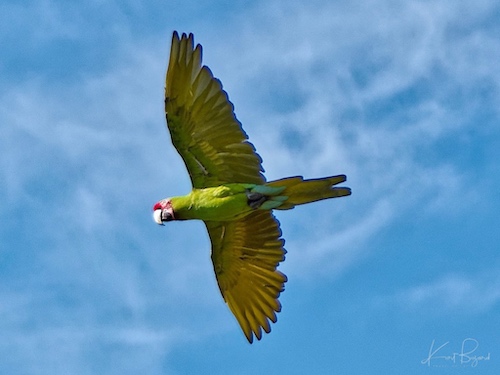 Macaws are long-tailed, often colorful New World parrots. Macaws, like other parrots, toucans and woodpeckers, have their first and fourth toes pointing backward. The Great Green Macaw (Ara ambiguus), also known as Buffon's Macaw, is an endangered parrot found in Nicaragua, Honduras, Costa Rica, Panama, Colombia and Ecuador. Great green macaws are the largest parrots in their natural range and the third heaviest parrot species in the world. This species averages 33.5–35.5 inches (85–90 cm) in length and 2.9 lb (1.3 kg) in weight. The great green macaw lives in tropical forests in the Atlantic wet lowlands of Central and South America from Honduras to Western Ecuador. It is usually observed below 600 m, but can be seen as high as 1500 m above sea level at some times of the year. They are mainly green and have a reddish forehead and pale blue lower back, rump and upper tail feathers. The tail is brownish red tipped with very pale blue. The bare facial skin is patterned with lines of small dark feathers, which are reddish in older and female parrots. The Great Green Macaws current population is estimated at 1,000 – 2,499 individuals.
Scarlet Macaw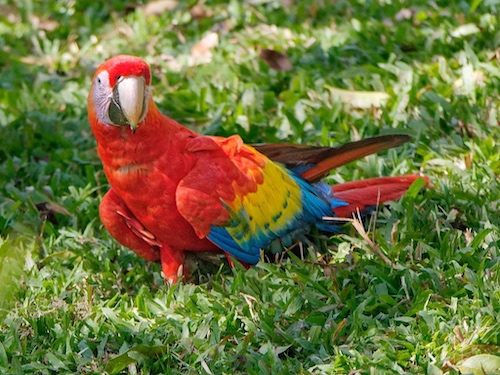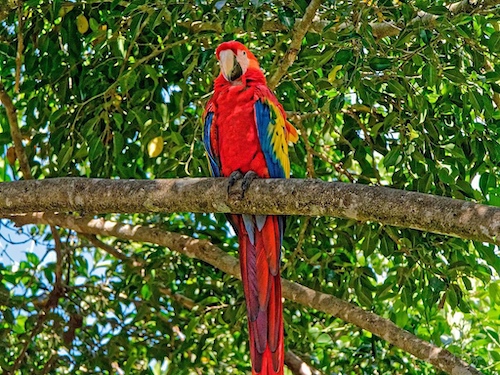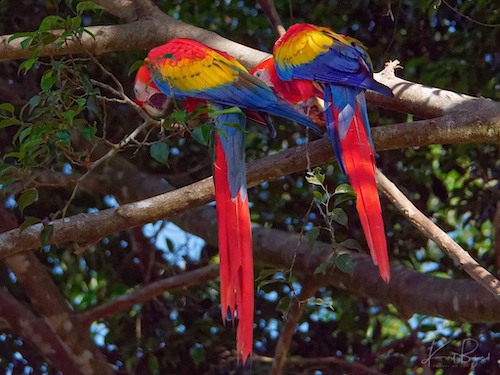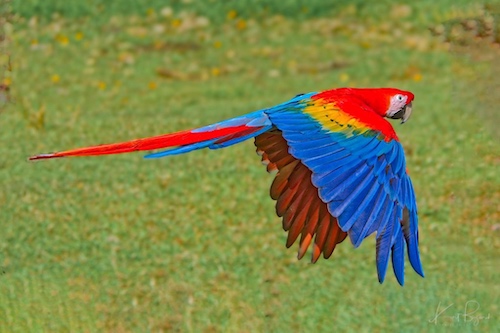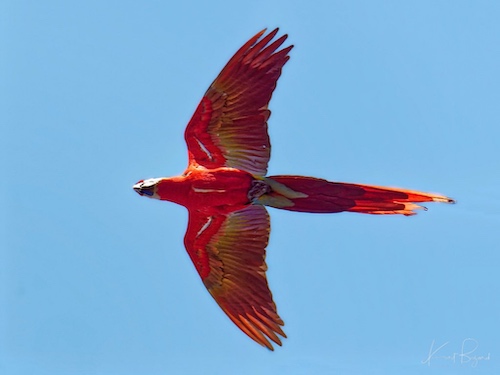 The Scarlet Macaw (Ara macao) is a large parrot native to humid evergreen forests of tropical Central and South America. It has suffered from local extinction through habitat destruction and capture for the parrot trade, but in other areas it remains fairly common. Its range extends from south-eastern Mexico to the Peruvian Amazon, Colombia, Bolivia, Venezuela and Brazil in lowlands of 500 m (1,640 ft) up to 1,000 m (3,281 ft). It is about 32 inches (81 cm) long, of which more than half is the pointed, graduated tail typical of all macaws and the average weight is about 2.2 lb (1 kg). The plumage is mostly scarlet, but the rump and tail-covert feathers are light blue, the greater upper wing coverts are yellow, the upper sides of the flight feathers of the wings are dark blue as are the ends of the tail feathers, and the undersides of the wing and tail flight feathers are dark red with metallic gold iridescence. Some individuals may have green in the wings.
Hybrid Verde Macaws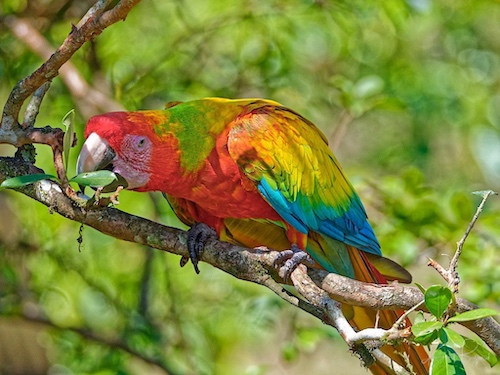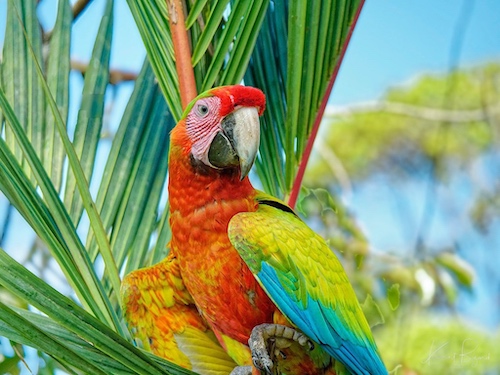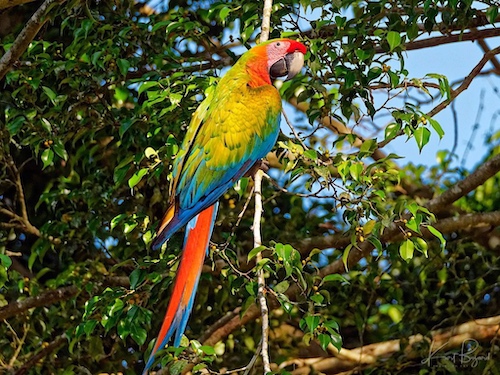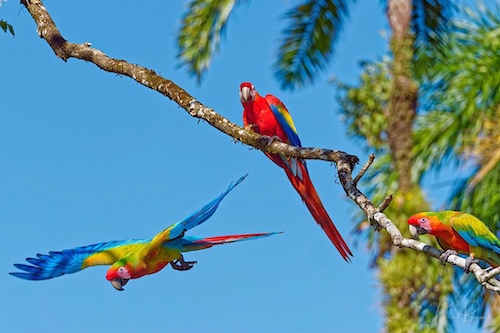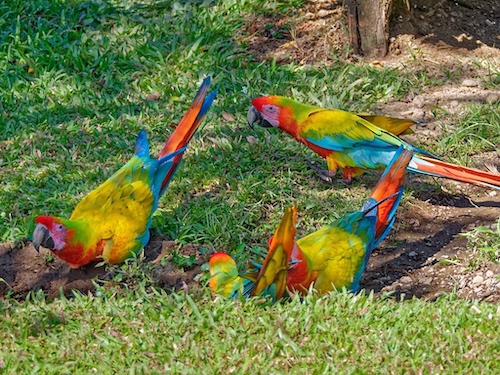 It turns out that Macaws interbreed quite easily and the results are a rainbow of colors. Cross-breeding a bird with a different species of birds produces hybrids. Many aviculturists frown upon this practice as they feel that it is detrimental to the purity of bloodlines. Hybrids are typical macaws, with the only difference from true species being their genetics and their colors. They tend to have intermediate characteristics between the parents, though the appearance seems to be influenced more by the father's genes. The combination of a Great Green Macaw and a Scarlet Macaw has been named a Verde Macaw. A full sized macaw, they can weigh over 2 pounds (0.9 kg). Lengths are generally up to 33 inches (85 cm). I personally think the Verde Hybrids are beautiful, little rainbows of color flying and running about the farm. Finding these macaws for sale is generally hard as they are rare, and they are expensive. I suspect a fair amount of the revenue from the farm comes from the sale of these rare birds.
Crimson-Fronted Parakeet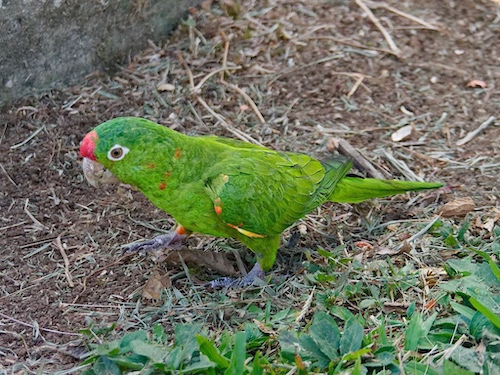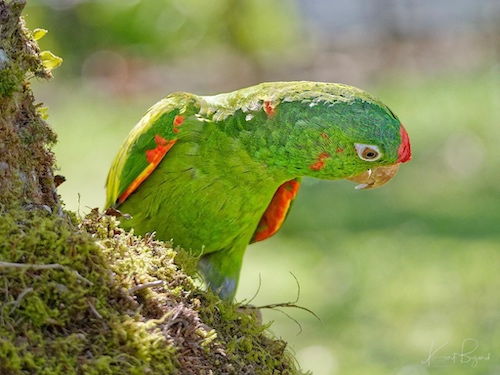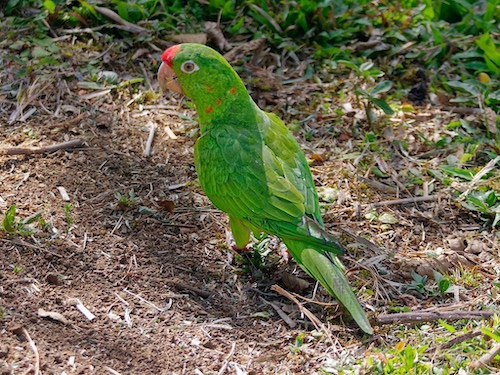 Although Australia and Asia have the most common parakeets, there are a fair number in Central and South America. A parakeet is any one of a large number of small to medium-sized species of parrot, that generally have long tail feathers. The term "conure" is often used by bird dealers for small to medium-sized parakeets from the Americas. As they are not all from one genus, taxonomists tend to avoid the term. The Crimson-Fronted Parakeet (Psittacara finschi), also known as Finsch's parakeet, is a small green Neotropical parrot found in Nicaragua, Costa Rica and western Panama. Its natural habitats are subtropical or tropical moist lowland forest and heavily degraded former forest. It is almost always in small flocks, which feed inconspicuously on fruit in gardens, forest edges, and second growth. It is 11 inches (28 cm) long and weighs 5.3 oz (150 gm). It is found on the Caribbean slopes of Costa Rica. It is a mostly green parakeet with long pointed tail. Look for the isolated red patch on the forehead and red shoulders. Males and females look alike.
Brown-Hooded Parrot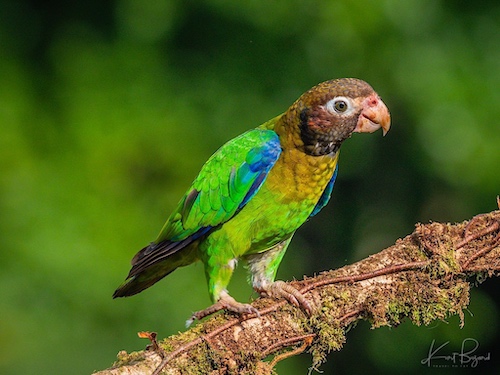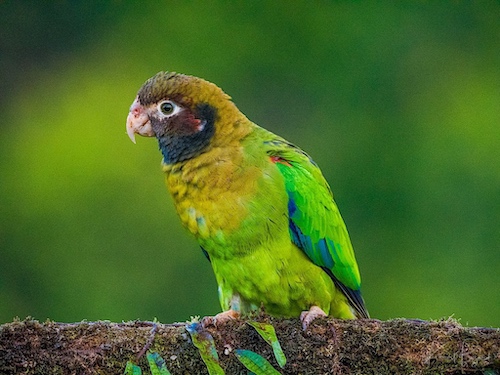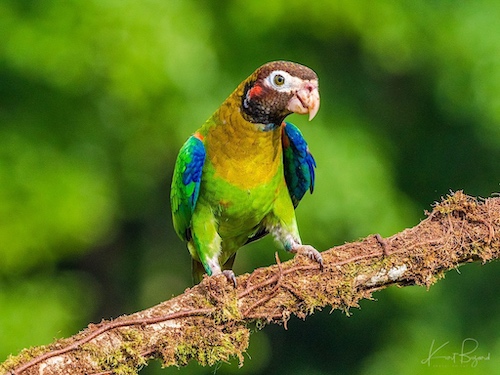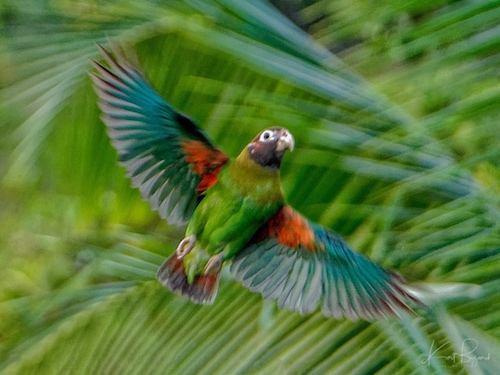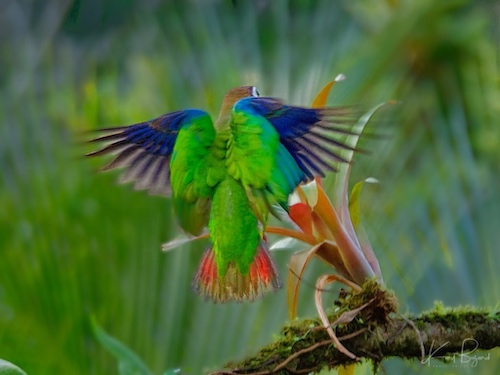 The Brown-Hooded Parrot (Pyrilia haematotis) is a small parrot which is a resident breeding species from southeastern Mexico to north-western Colombia. It is found in lowlands and foothills locally up to 1600 m altitude in forest canopy and edges, and adjacent semi-open woodland and second growth. The brown-hooded parrot is 21 cm long and weighs 165 g. The adult has a brown head and neck, darker on the face, especially in males, and a red ear-patch. The rest of the body is mainly green, with an olive tone to the breast. The wings have blue outer primaries and red linings which show well in flight, and the tail has reddish sides. At the Laguna del Lagarto Lodge, they had a large group of these lovely little green parrots.
I really enjoyed seeing these colorful parrots in Costa Rica and I hope you have enjoyed them as well.
References:
5 Types of Large Talking Parrots
Similarities and Difference Between Parrot and Parakeet
Rare Gentle Giant Verdi Macaws