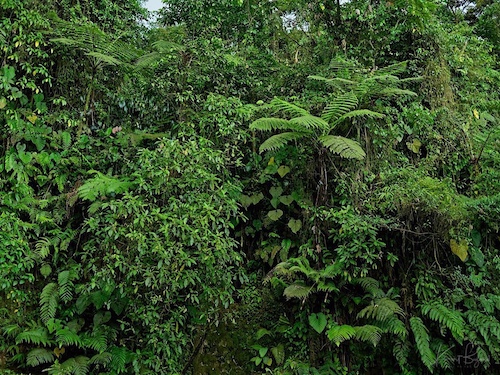 Most of Costa Rica's forests can be primarily classified into three groups; rainforests, cloud forests and topical dry forests. And while rainforests are the most common habitat, the cloud forests of Costa Rica are a magnificent sight to behold. Rainforests can be found in the southwest of the country as well as in the Atlantic lowlands, with towering trees and looping vines that create a magical wispy environment. Receiving a high annual rainfall, these dense forests are characterized by a wealth of plant and animal life. Rainforests are located at lower elevations, and as a result, they tend to be much warmer, especially during the dry season. Cloud forests, on the other hand, are usually located at much higher elevations, and are much cooler. This difference in temperature contributes to the mist and fog that is often visible in cloud forests, as the milder temperatures slow the evaporation process. However, despite being a little cooler than rainforests, cloud forests are very humid. Cloud forests generate water by capturing water from fog (surface clouds). Water condenses on the leaves and branches of cloud forest trees, epiphytes and lichen, drips to the forest floor, and enters streams. The tropical evergreen cloud forests on the slopes of the Cordillera de Talamanca in Costa Rica's southern highlands is of vital importance both as a source of drinking and irrigation water to the main cities in the Valle Central and as a bastion of many endemic species. This is not meant to be a comprehensive survey of the plants in the cloud forest, concentrating instead on important and noteworthy plants in this ecosystem.
Cordillera de Talamanca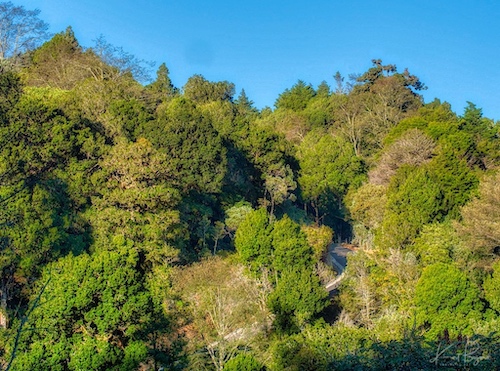 The Cordillera de Talamanca is a mountain range that lies on the southeast half of Costa Rica and the far west of Panama. This range in the south of Costa Rica stretches from southwest of San José to beyond the border with Panama and contains the highest peaks of Costa Rica and Panama, among them Cerro Chirripó with 12,500 feet (3,820 m), and the more accessible high peak of Cerro de la Muerte. Many of the Caribbean areas of the range are still unexplored. The range is covered by the Talamancan montane forests to elevations of approximately 10,000 feet (3000 m). Much of it is covered by rainforests. Above elevations of 6000 feet (1800 m) the forests are dominated by huge Oak Trees (Quercus costaricensis and Quercus copeyensis). These Oak trees are threatened by human activities like farming and using the trees for charcoal. Above 10,000 feet (3000 m), the forests transition to enclaves of sub-páramo, a sort of shrub and dwarf bamboo Chusquea dominated scrub, above 11,000 feet (3,400 m) this becomes Costa Rican páramo, a tropical alpine grassland.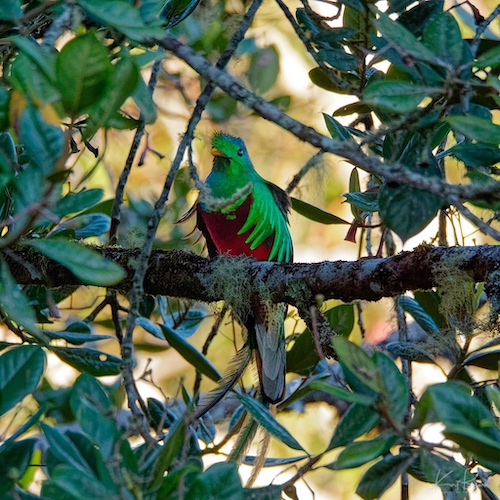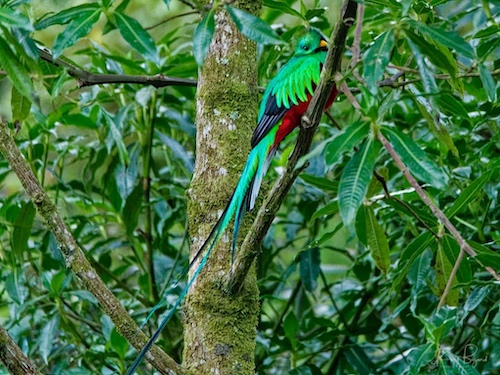 There are at least two species of Costa Rican Oak trees in the upper reaches of the Cordillera de Talamanca, Quercus costaricensis and Quercus copeyensis while there are three other oak species in the rest of Costa Rica; Quercus sapotifolia, Quercus insignis and Quercus tonduzii. As you can see in the above photos, Quercus costaricensis has shorter and rounder leaves than Quercus copeyensis. In both trees the leaves are thick and leathery. Quercus copeyensis is a large deciduous tree up to 115 feet (35 m) tall with a trunk frequently more than 3 feet (100 cm) in diameter. Quercus costaricensis can reach upwards of 165 feet (50 m) with an even larger trunk diameter.
Gunnera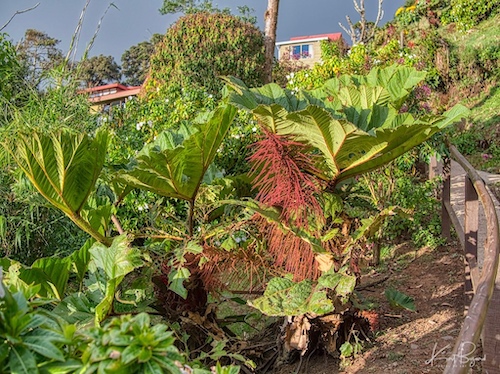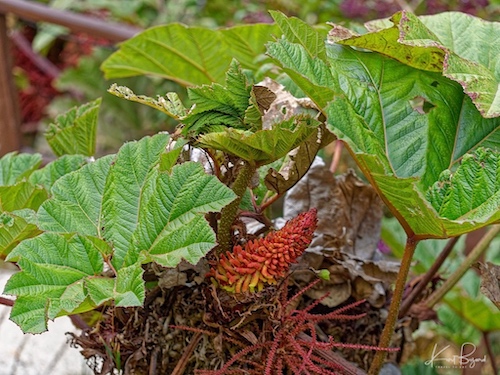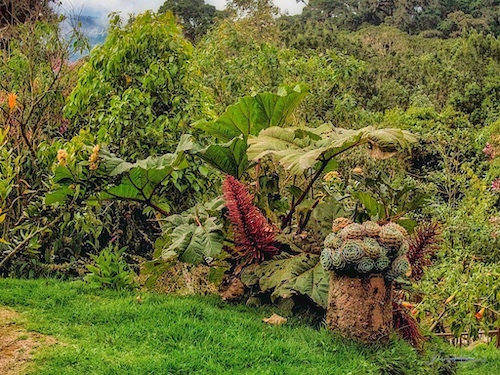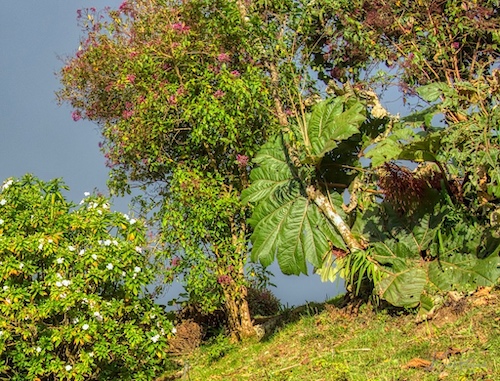 Gunnera is the sole genus of flowering plants in the family Gunneraceae, which contains 63 species and looks a little like giant rhubarb even though there is no relation. Some species have extremely large leaves, the Campos des Loges (Gunnera manicata), native to the Serra do Mar mountains of southeastern Brazil, is the largest species, with leaves typically 4.9 to 6.6 feet (1.5 to 2.0 m) long. Species in the genus are variously native to Central and South America, Australia, New Zealand, Hawaii, Southeast Asia, Africa, and Madagascar. There are two species of Gunnera in Costa Rica, the large Gunnera insignis, often called the poor man's umbrella and the smaller Gunnera talamanca found at high altitudes. Road building, especially of the Pan-American Highway, has established large areas of more or less permanently disturbed habitat allowing the populations of the two different species to hybridize. This is a plant of the high altitude cloud forest.
Bromeliads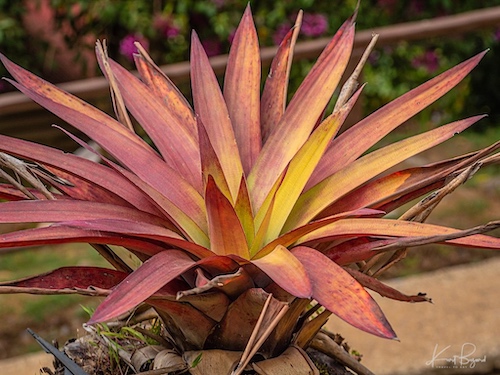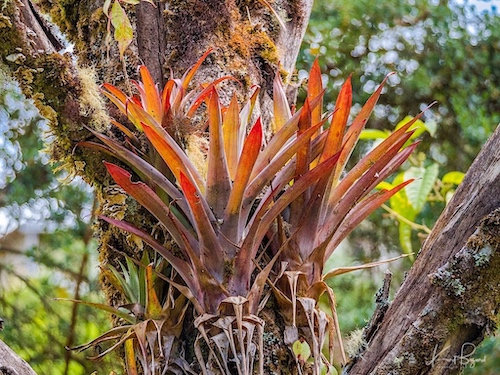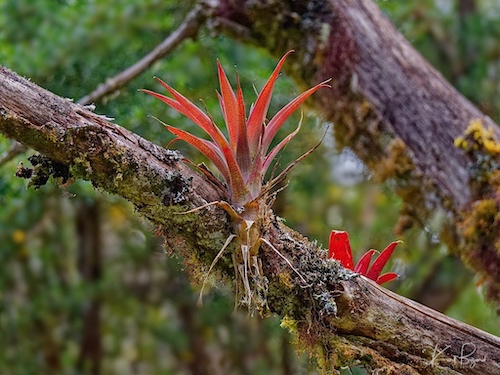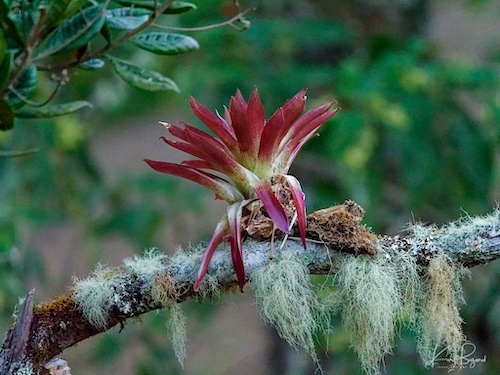 By far, the dominant bromeliad around the Paraiso Quetzal Lodge is Androlepis skinneri, a single species in it's own genus. Their thick, waxy leaves form a bowl shape in the center for catching rainwater, hence the name "tank bromeliads". Some bromeliads can hold several gallons of water and are miniature ecosystems in themselves, providing homes for several creatures including frogs and their tadpoles, salamanders, snails, beetles and mosquito larvae. Androlepis skinneri Is epiphytic, found from near sea level to 10,000 feet (3000 m), from Guatemala to Costa Rica. The more sun the plant receives, the more rust colored it becomes. You can see the last picture has one from higher up in the Cordillera de Talamanca which has a much whiter base. This is one of the few Bromelioideae species that is dioecious, meaning there is a male and female plant.
Succulents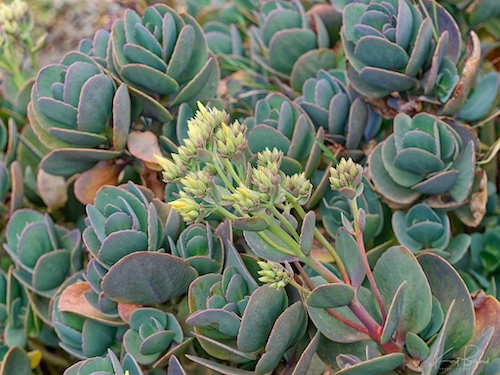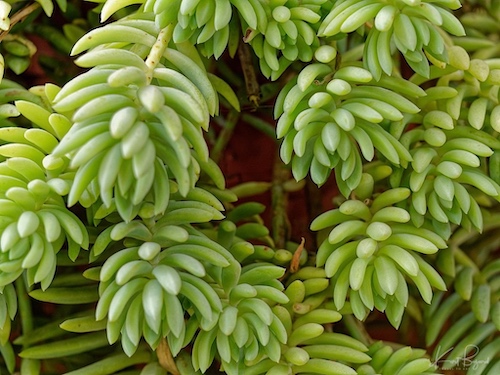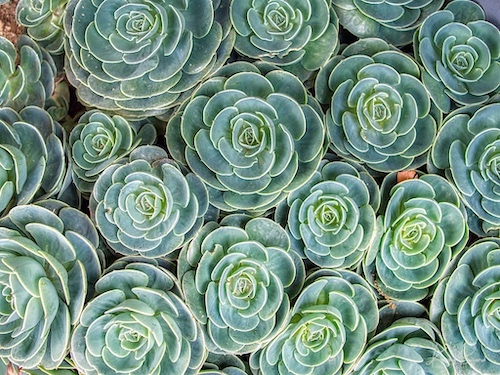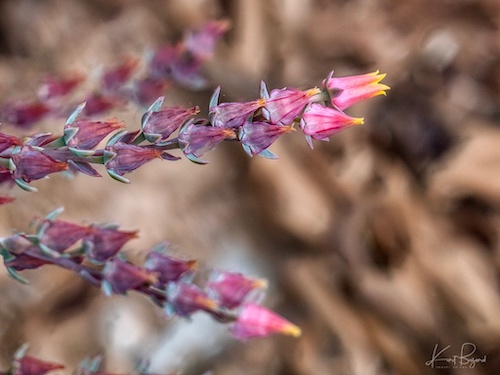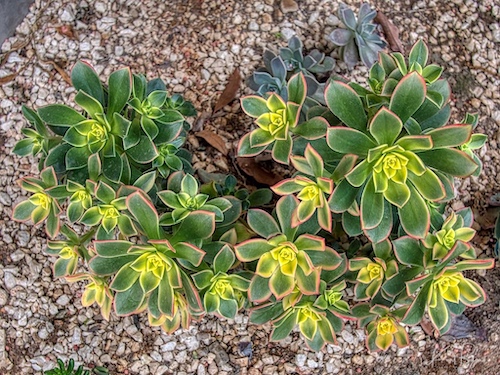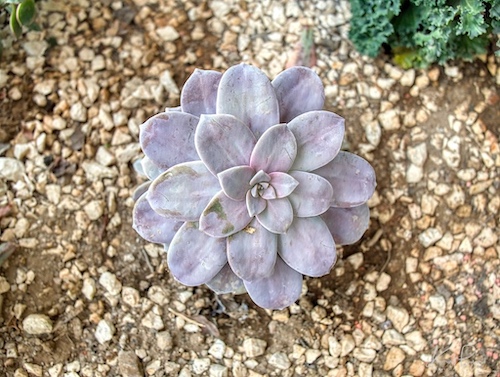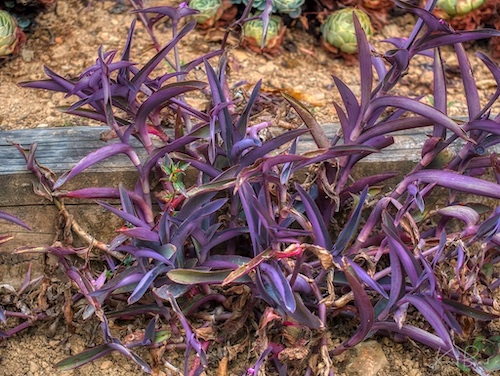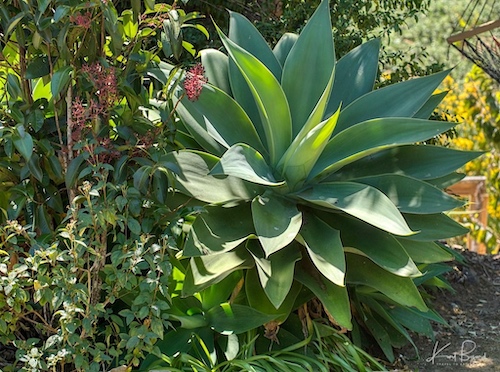 Although none of these succulents are native to Costa Rica, they all seemed to be thriving, despite the much wetter environment compared to their native homes. If you look carefully, you will see that all are planted in well drained sandy or gravelly soil to move the water away. In fact, the soil in the cloud forest is often highly acidic with a relatively thin layer of peat and hummus over a sandy or gravel base.
Flowers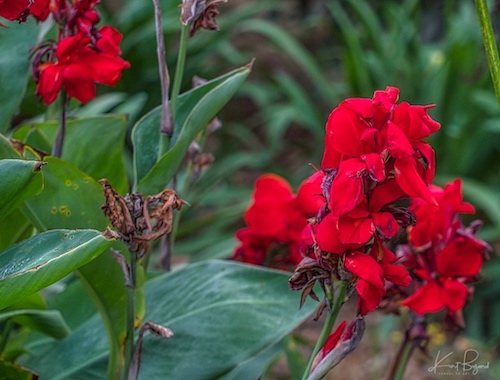 At Batsu Garden, they had the famous Canna indica, native to much of South America, Central America, the West Indies, Mexico, and the southeastern United States. Canna indica, commonly called Achira in Latin America, has been cultivated by Native Americans in tropical America for thousands of years and was one of the earliest domesticated plants in the Americas. The starchy root is edible. The first species of Canna introduced to Europe was Canna indica, which was imported from the East Indies, though the species originated from the Americas. Without exception, all Canna species that have been introduced into Europe can be traced back to the Americas, and it can be asserted with confidence that Canna is solely an American genus.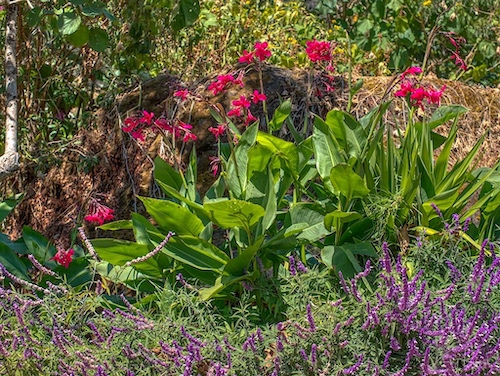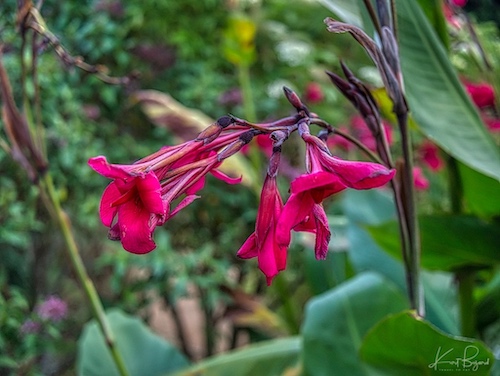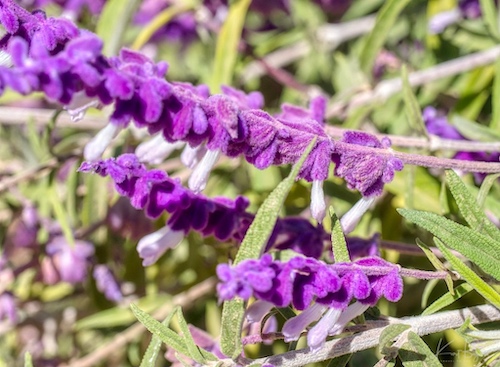 Canna iridiflora is native to Peru, Colombia and Costa Rica at altitudes of 1,800–2,850 m (5,910–9,350 ft). Although most cannas grown these days are cultivars, there are approximately 20 known species of the wild form, and in the last three decades of the 20th century, Canna species have been categorized by two different taxonomists, Paul Maas, from the Netherlands and Nobuyuki Tanaka from Japan. Both reduced the number of species from the 50–100 accepted previously, assigning most as synonyms.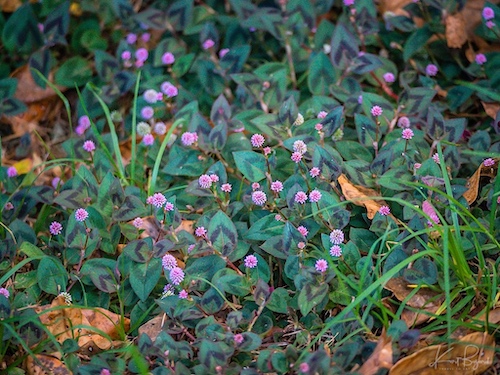 Persicaria capitata, the pink-headed persicaria, pinkhead smartweed, pink knotweed, Japanese knotweed, or pink bubble persicaria, is an Asian species of plants in the genus Persicaria within the buckwheat family. It is native to Asia and grown as an ornamental in other countries.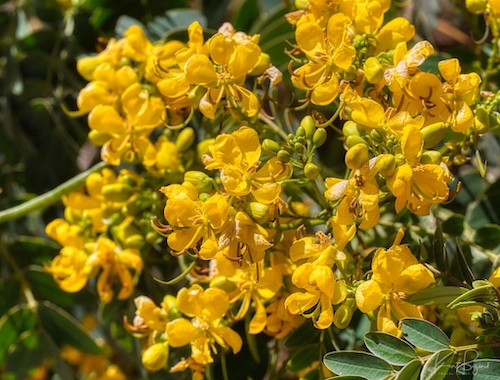 Senna includes herbs, shrubs, and trees throughout the tropics. The leaves on Senna are almost always pinnate with opposite paired leaflets. Senna pallida, also known as twin-flowered cassia/senna or Sonoran senna (cassia), has a range from northern South America to Mexico. The yellow flowers have 5 yellow petals and 7 stamens and occur in pairs.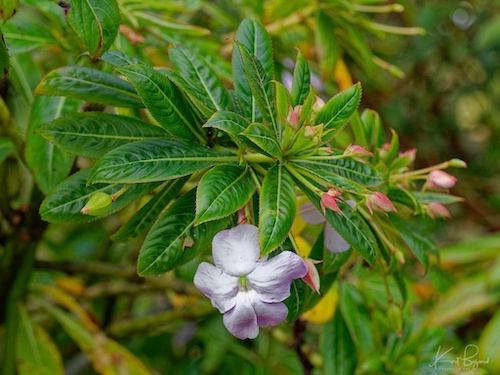 Impatiens sodenii is a species of flowering plant in the family Balsaminaceae known by the common names poor man's rhododendron, Oliver's touch-me-not, and shrub balsam. It is native to Kenya and Tanzania. It is widely cultivated as an ornamental plant.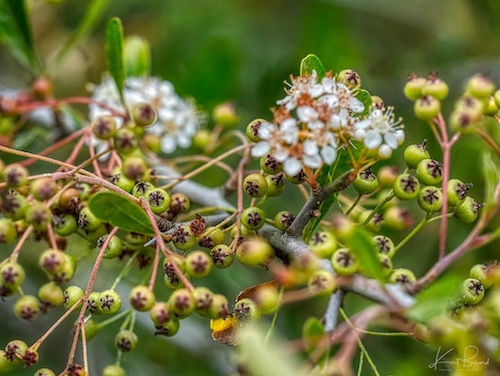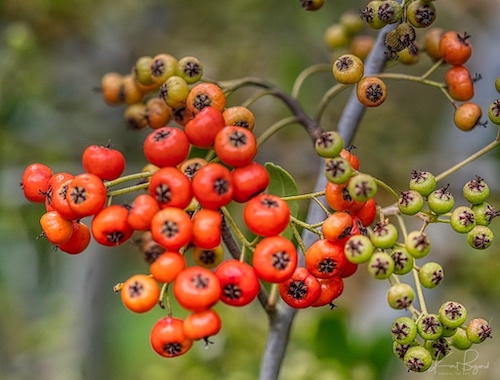 Pyracantha crenulata, the Nepalese firethorn, Nepal firethorn or Himalayan firethorn, is a species of firethorn. It is an evergreen shrub, up to 6 feet (2 m) high, in the rose family with short, rounded, green leaves and bright red berries. The fruits are widely dispersed by birds, which may also nest in the bushes. Their spread is more likely in warm and moist habitats. It is cultivated as an ornamental plant and the leaves are used to make herbal tea. Even though this is not a native plant to Costa Rica, the birds really seemed to enjoy the berries.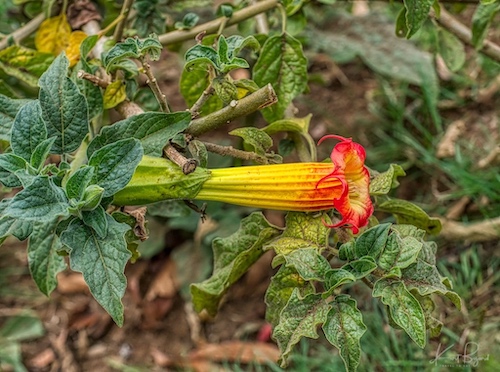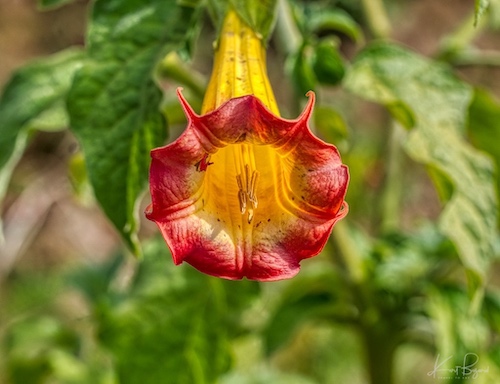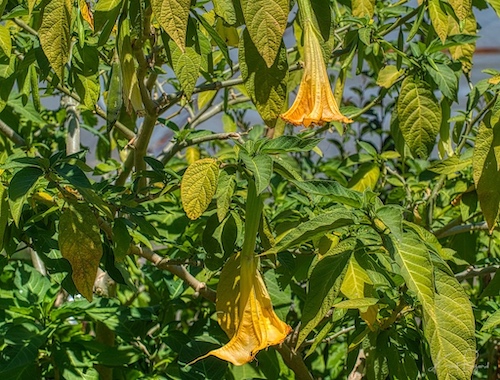 Brugmansia is a genus of seven species of flowering plants in the family Solanaceae. They are woody trees or shrubs, with pendulous flowers, and have no spines on their fruit. Their large, fragrant flowers give them their common name of angel's trumpets. Brugmansia are native to tropical regions of South America, along the Andes from Venezuela to northern Chile, and also in south-eastern Brazil. All seven species are known only in cultivation or as escapes from cultivation, and no wild plants have ever been confirmed. They are therefore listed as "Extinct in the Wild" by the IUCN Red List, although they are popular ornamental plants and still exist wild outside their native range as introduced species.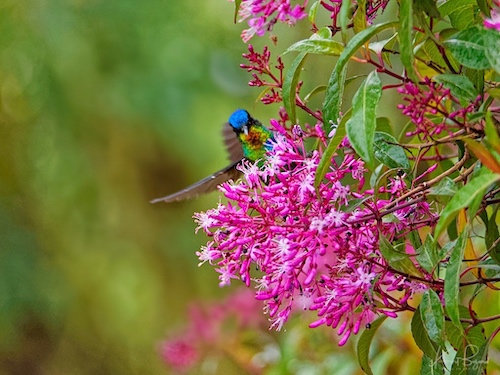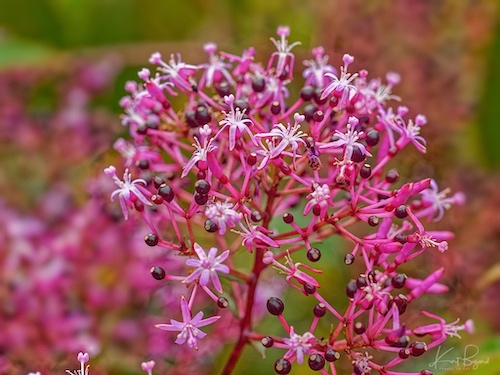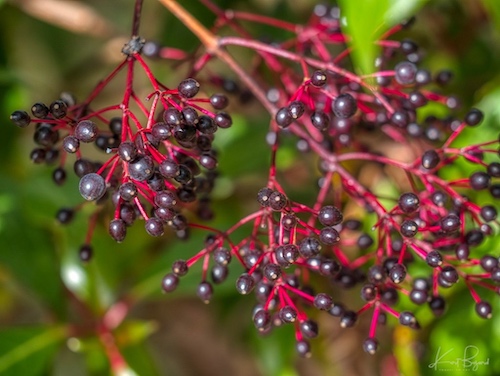 Fuchsia paniculata is a plant of the genus Fuchsia native to Central America from Mexico to Panama at altitudes of 5000–11000 feet (1300–3400 m). It belongs to the section Schufia and is most closely related to Fuchsia arborescens with which it is often confused. Fuchsia paniculata is an erect, deciduous shrub or small tree growing 10–25 feet (3–8 m) tall. Clusters of narrow rose pink/lavender 1" tubular flowers appear in summer, followed by showy clusters of shiny purple/red berries. The hummingbirds love this plant.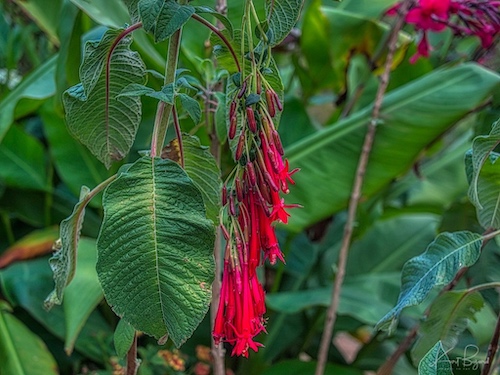 Fuchsia boliviana is a species of Fuchsia native to southern Peru, Bolivia and northern Argentina, where it is found from 2000–10,000 feet (600–3,000 m). It is a fast-growing, erect evergreen shrub or a small tree with arching, pendulous branches. It can grow 10–20 feet (3.5–6 m) tall with a bole up to 2 inches (5 cm) in diameter. A traditional fruit crop of the Inca empire, it is still cultivated as a magic plant in Peru, where the edible fruit is commonly gathered from the wild.
Lichen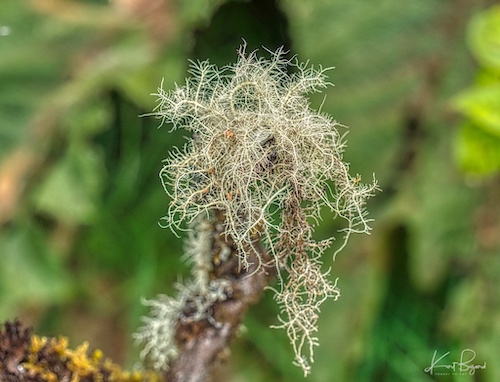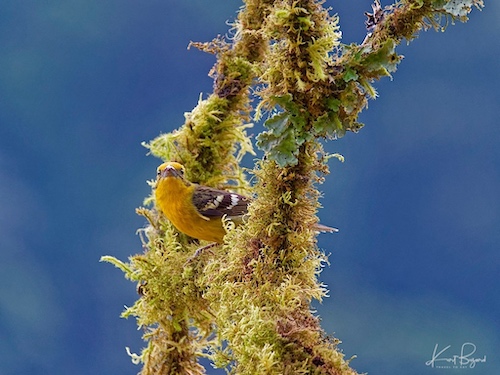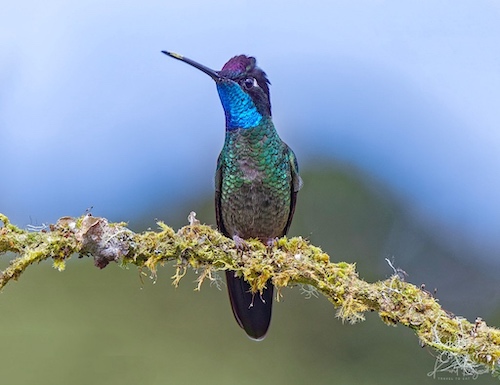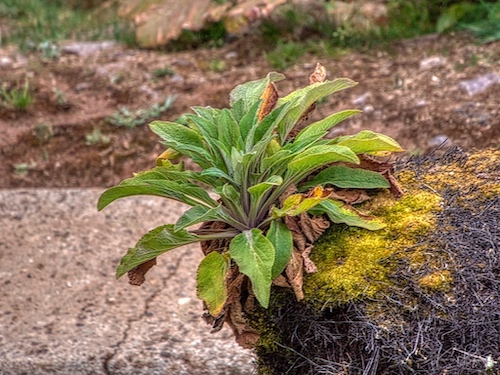 A lichen is a composite organism that arises from algae or cyanobacteria living among filaments of multiple fungi species in a mutualistic relationship. The combined lichen has properties different from those of its component organisms. Lichens come in many colors, sizes, and forms. The properties are sometimes plant-like, but lichens are not plants. Lichens may have tiny, leafless branches (fruticose), flat leaf-like structures (foliose), flakes that lie on the surface like peeling paint (crustose), or a powder-like appearance (leprose) among others. The reason that lichens are so common in cloud forests involves the greatly increased surface area of lichens which is used to draw water from the clouds. Water condenses on the many tiny facets of the lichen while excess water drips down supporting other plants. A single tree can have thousands of different lichens or combinations of algae, cyanobacteria and fungi. In more recent research, ultraviolet photography can provide the key to differentiating similar looking structures. Of course mosses are also quite common.
Ferns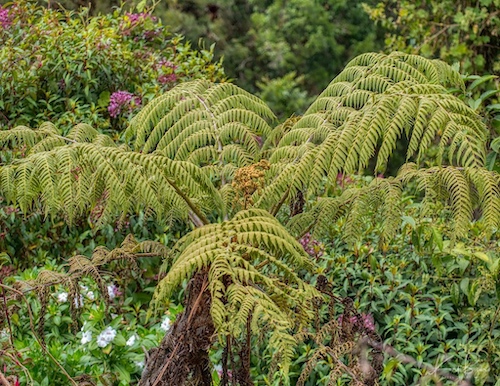 Cyathea is a genus of tree ferns, the type genus of the fern order Cyatheales. There are 25 species of cyathea in Costa Rica. The Mountain Guava or Arborescent Fern (Cyathea bicrenata) has the fronds all at the top with a trunk covered in black roots. The native range is Mexico to Columbia at elevations between 3000–7000 feet (1000–2000 m). With tree ferns, Cyathea and Alsophila seem to be used interchangeably or in parallel, indicating changes in classification too complicated to deal with here. In fact the whole area of fern identification is difficult at best. This is my best estimate of the species, I could be wrong.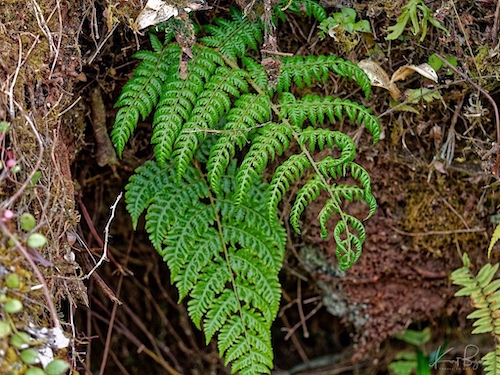 Lophosoria quadripinnata is found in the Americas spanning from Cuba and Mexico to Chile at altitudes of 3000–9500 feet (1000–2900 m). Diamondleaf fern is a common name. In Spanish it is known as 'ampe' (from the Mapudungun añpe) or palmilla, but one has to remember that there are several species of ferns called "palmillas" that have larger or smaller fronds, and which grow in colder climates. It is a medium-sized plant, growing to about 4–5 feet, without a trunk. This is another complicated fern and reproductive cycle which you can read about in the references.
Vines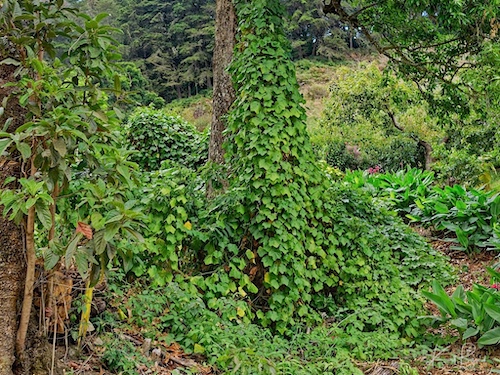 Rytidostylis gracilis , or Chanchito is a plant of the genus Rytidostylis and of the family Cucurbitaceae . It is a herbaceous climbing vine, which can get quite large. Its habitat is in humid and altered areas, from lowlands to middle mountains and is native to tropical America. Rytidostylis gracilis is an annual, climbing plant that can be small or large. It is a multi-branched plant, which often climbs over trees and shrubs, supporting itself by means of tendrils, though sometimes it grows prostrate along the ground.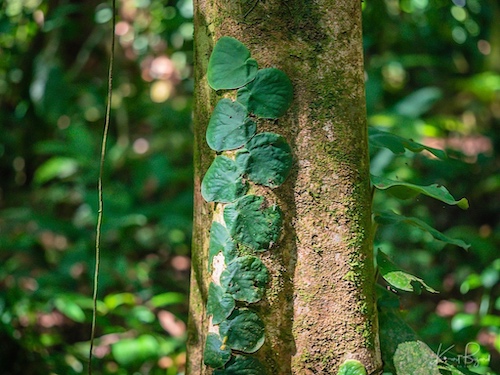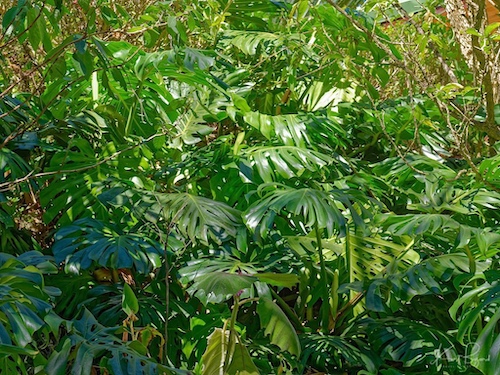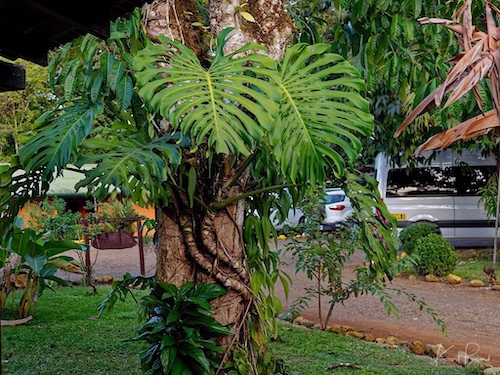 Monstera is a genus of about 50 species of flowering plants in the arum family, Araceae, native to tropical regions of the Americas. The genus is named from the Latin word for "monstrous" or "abnormal", and refers to the unusual leaves with natural holes that members of the genus have. This plant lives in the humid tropical forests, in the lowlands and middle mountains, in the extreme south of Mexico and also in Honduras, Costa Rica, Guatemala and Panama. The seeds fall to the ground, then the seedlings crawl (negative phototropism) until they meet a tree on which to attach. The many adjacent roots thus allow the plant to anchor against its new support and reach the canopy light (although it rarely grows in full sun and prefers a light dimmed by the foliage).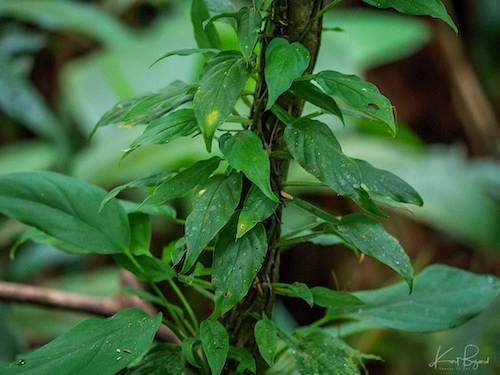 There are about 62 species of Philodendron in Costa Rica and this one is relatively unknown. Philodendron aurantiifolium has a range from southern Mexico to Panama from sea level to 1750 feet. The identifying feature is the "winged stalk" of the younger leaves, about 1/2 inch (1 cm) wide, connecting to the egg shaped pointed leaves. The leaves are arranged alternately on the thin, woody, many branched stem. These can get up to 30 feet (10 m) long.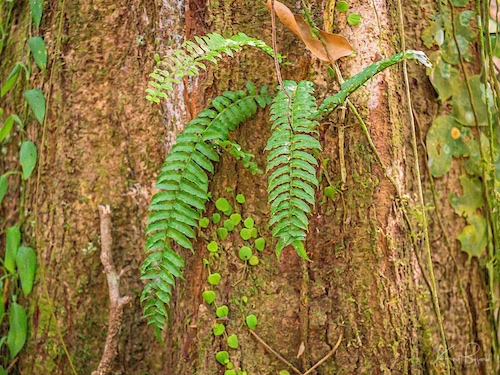 In this photograph you can see three vines and one fern. To the left is Philodendron aurantiifolium, in the center is Peperomia rotundifolia and to the right is a juvenile Monstera deliciosa. Peperomia rotundifolia, also known as jade necklace, trailing jade, creeping buttons and round leaf Peperomia, is a trailing plant species of peperomia native to the tropical rainforest of South America. It was first described by Carl von Linné, and got its current name from Carl Sigismund Kunth. The fern growing out of the tree is Micropolypodium taenifolium, found from Mexico to Ecuador and Guyana, with elevation up to 8000 feet (2500 m). There are eight species of Micropolypodium in Costa Rica, most very similar to this one. It is epiphytic and usually grows on logs and tree trunks.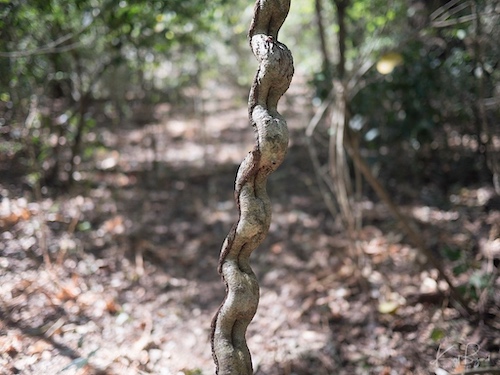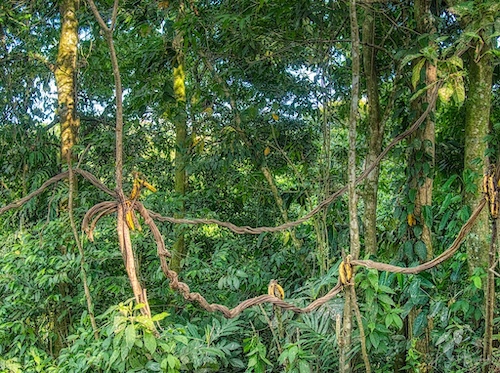 You see a lot of large vines in Costa Rica forests which seem to wander off to nowhere. These vines or lianas were placed in the genus Bauhinia with flowering trees in the past but now have been moved to a new genus, Schnella. This is a genus of flowering plants in the legume family, Fabaceae originating in the New World neotropics. It belongs to the sub family Cercidoideae. This genus differs from Bauhinia in being vines or lianas. Since it looks like all of this is in transition, I have left the plants with the old names.
Understory Plants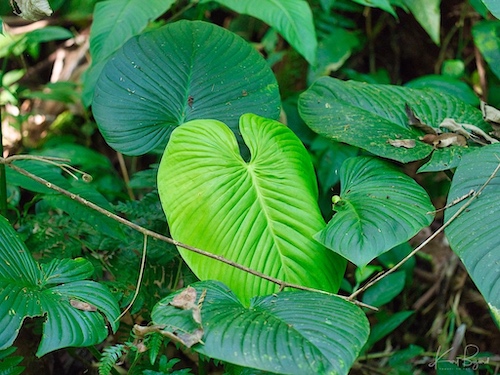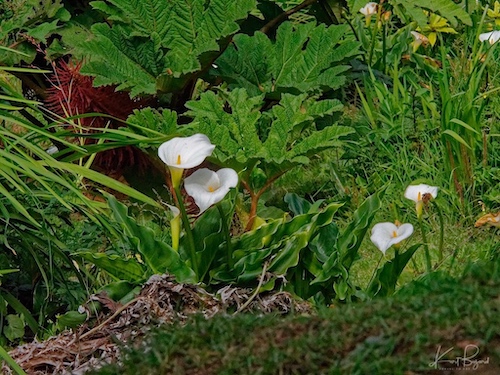 There are about 87 species of Anthurium in Costa Rica and they look very similar to Homalomena which are primarily found in southern Asia and the southwestern Pacific. Both Anthurium and Homalomena are in the family Araceae, flowering plants in which flowers are borne on a type of inflorescence called a spadix. The spadix is usually accompanied by, and sometimes partially enclosed in, a spathe or leaf-like bract. In the Calla Lilly (also in Aracea), seen above, the spadix is yellow and the bract is white. Anthurium caperatum is known from Costa Rica to Panama from sea level to 7000 feet (2000 m), most commonly in tropical wet forest.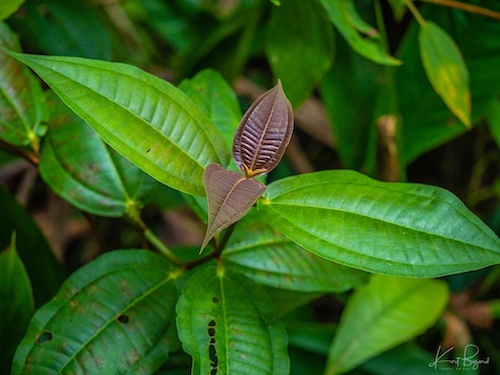 Triolena, a genus of approximately 20 to 25 species, is largely confined to wet forest habitats from southern Mexico southward to the lower Andean slopes and upper Amazon drainage of Bolivia. Triolena hirsuta is found from Nicaragua to Columbia and Ecuador from sea level to 6000 feet (1600 m) but usually at lower elevations. In Costa Rica, there are two additional species, uncommonly seen. Triolena pumila and Triolena spicata (a species formerly known from Panama and Colombia) have been seen in the south of Costa Rica.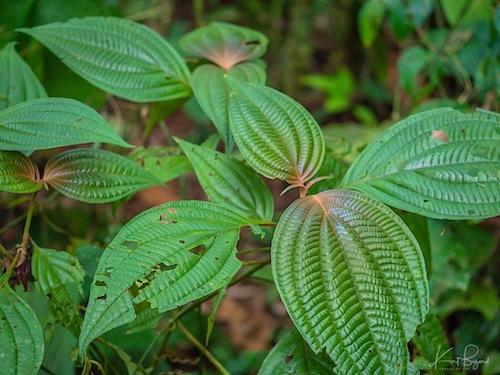 Since the leaves look similar to Triolena hirsuta, I have decided to include Leandra granatensis here, even though it is a low altitude plant never seen in the cloud forest. The range is Nicaragua to Ecuador, usually under 2000 feet (600m). It is found in hot humid tropical forests.
Noni Tree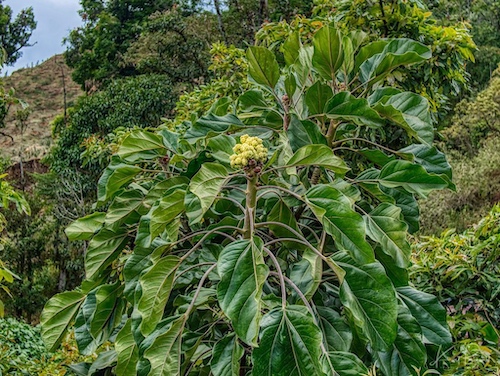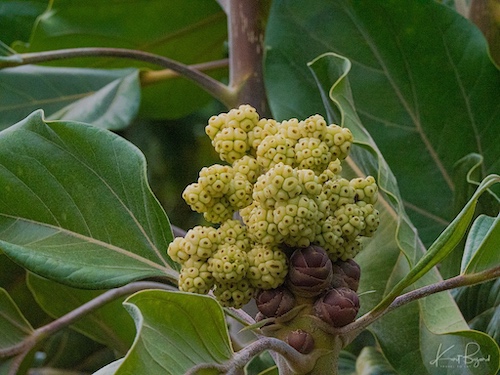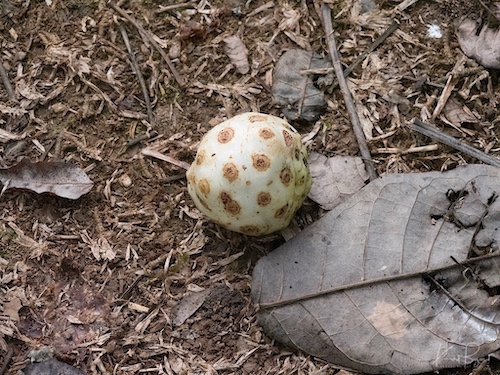 Morinda citrifolia is a fruit-bearing tree in the coffee family, Rubiaceae. Its native range extends across Southeast Asia and Australasia, and the species is now cultivated throughout the tropics and widely naturalized. Among some 100 names for the fruit across different regions are the more common English names of great morinda, Indian mulberry, noni, beach mulberry, and cheese fruit. The plant bears flowers and fruits all year round. The fruit is a multiple fruit that has a pungent odor when ripening, and is hence also known as cheese fruit or even vomit fruit. Morinda citrifolia is especially attractive to weaver ants, which make nests from the leaves of the tree. These ants protect the plant from some plant-parasitic insects. The smell of the fruit also attracts fruit bats, which aid in dispersing the seeds. A type of fruit fly, Drosophila sechellia, feeds exclusively on these fruits. A word to the wise, do not eat or taste this fruit, there is a reason it is called the vomit fruit.
Mountain Papaya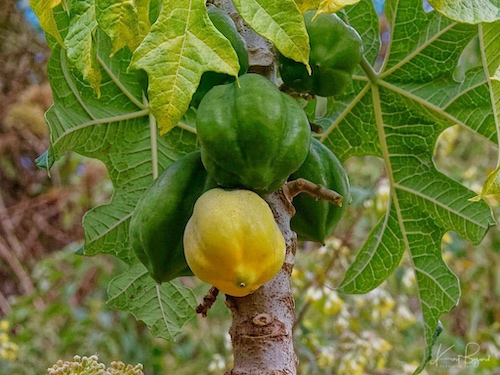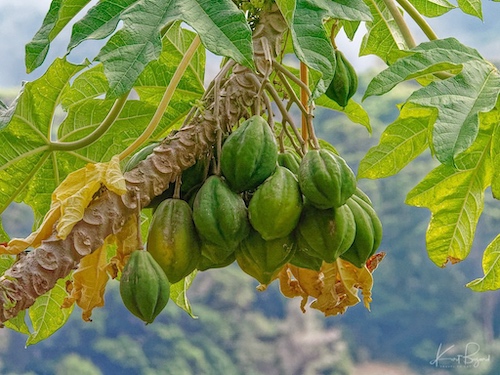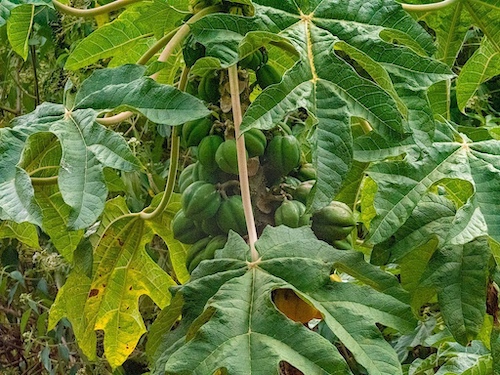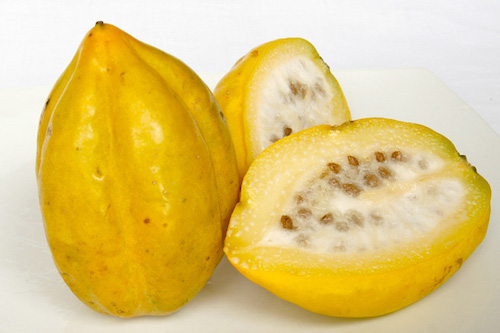 The mountain papaya (Vasconcellea pubescens) also known as mountain pawpaw, papayuelo, chamburo, or simply "papaya" is a species of the genus Vasconcellea, native to the Andes of northwestern South America from Colombia south to central Chile, typically growing at altitudes of 1,500–3,000 metres (4,900–9,800 ft). The edible fruit is gathered from the wild for local use, often being sold in local markets. It is often grown in gardens within its native range, and is also occasionally cultivated commercially. Seldom eaten raw, it is more commonly used in preserves or candied. The sourish pulp of the ripe fruit can be eaten fresh, but it is usually stewed and sweetened as dessert or for preparing juices or jams.
Peach Trees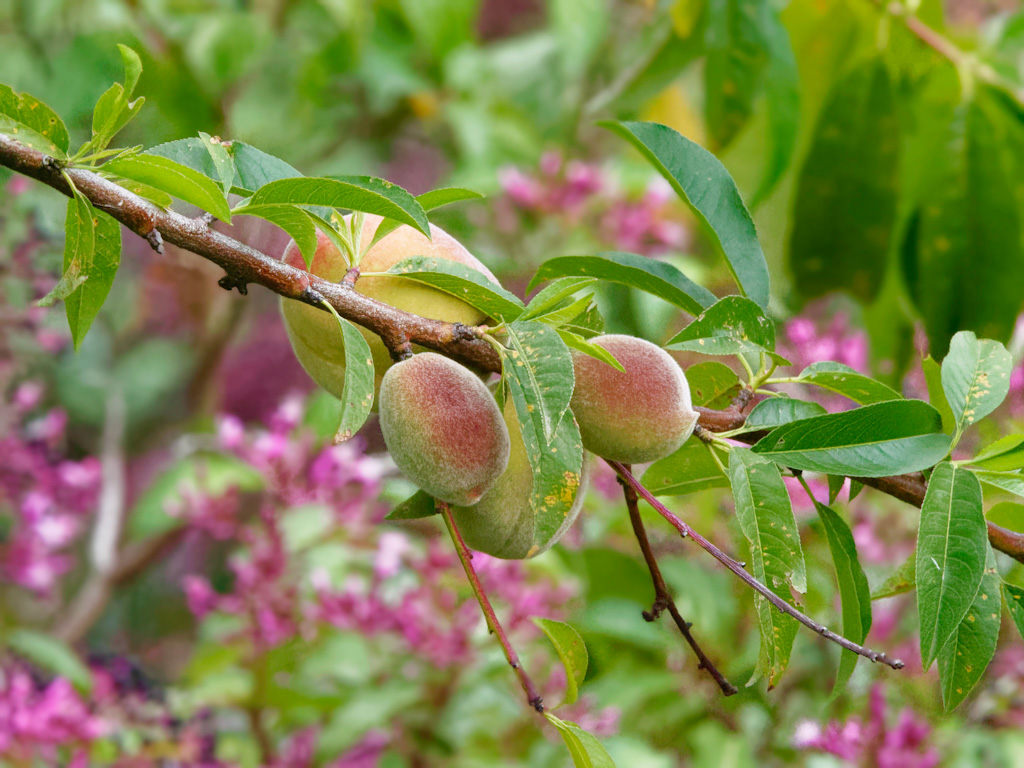 I am going to end here with a photo of peaches which seemed to thrive in the high altitude Batsu Garden. If you visit the Cerro de la Muerte, the highest point in the Costa Rican section of the Inter-American Highway, both Batsu Garden and the Paraiso Quetzal Lodge are worth a look.
References:
Birdwatching at the Paraiso Quetzal Lodge in Costa Rica
A hybrid of Gunnera from Costa Rica. Lawrence Palkovic
Bromeliads. Eden Garden, Auckland, New Zealand