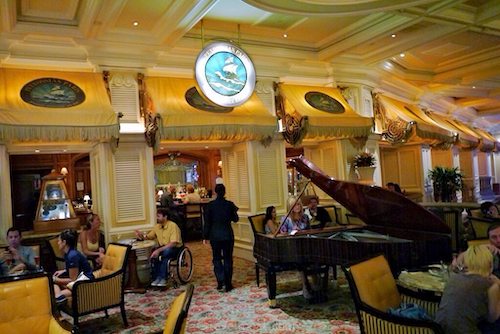 After writing about caviar, I really got hungry and we decided to go down to Petrossian at the Bellagio Casino for an elegant lunch. It is a nice little restaurant, tucked in near the check-in desk for the Bellagio. A great place for people watching and with the live piano most of the time you feel like you are in your own little world. My two favorite places for caviar in Las Vegas are Petrossian and Red Square at Mandalay Bay, there they have really great frozen vodka. Petrossian is also the place to go for high tea in the afternoon if you are in the mood.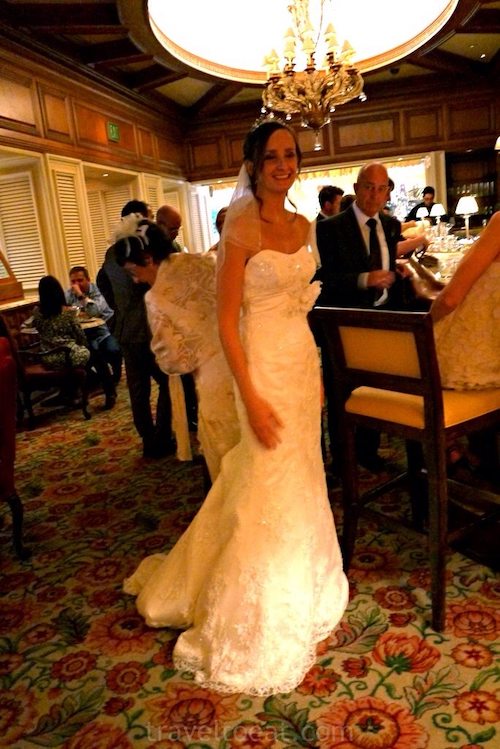 They have a quiet little bar tucked in behind the shutters, this lovely lady just got married.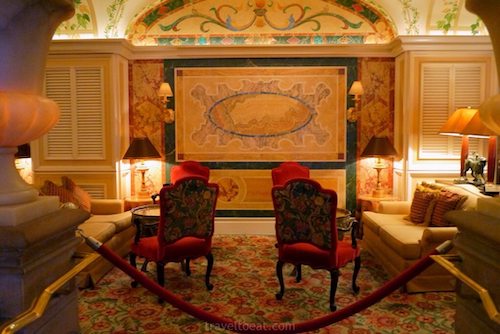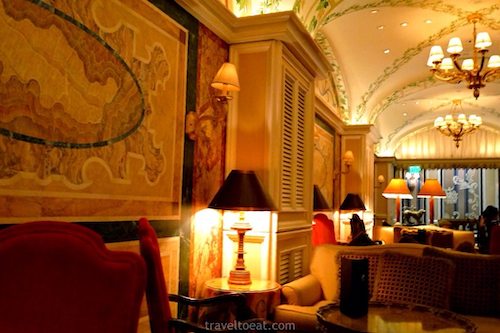 We usually try to sit in the back with the sofas, it feels like a small living room looking out on the casino. This is also where you would have high tea.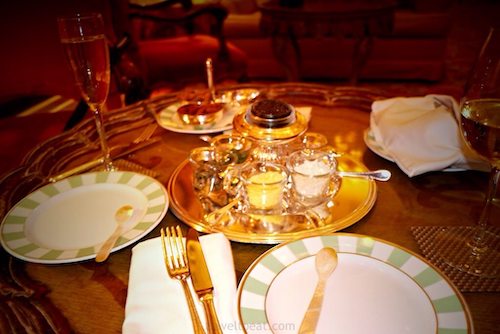 Here we see the caviar with all the accompaniments, capers, finely chopped chives, red onions, egg whites, egg yolks and creme fraiche. Notice the mother of pearl spoons for the caviar.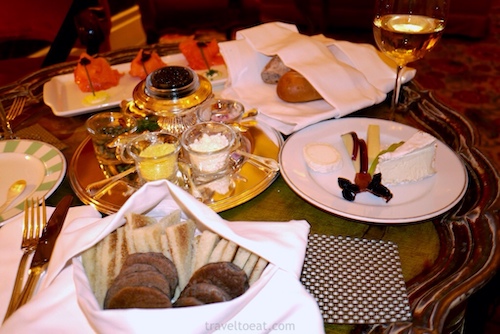 They also provided the traditional toast points and blinis. I happen to love these particular buckwheat bilinis, although elsewhere I don't care for them. Since it was lunch, we also ordered a lovely plate of three cheeses and smoked salmon seen in the back. Petrossian is known for its smoked salmon and this was delicious.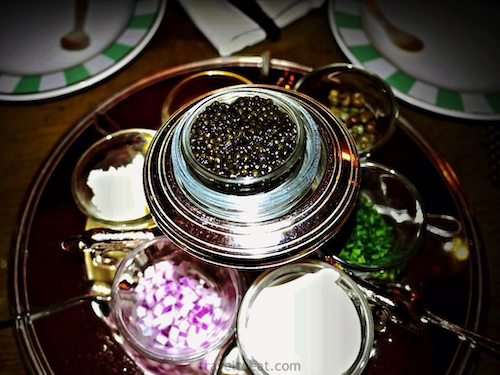 You can tell from the rich chestnut color that this is Ossetra (see my post, also spelled osetra) and specifically the Royal Ossetra. The name Ossetra corresponds to the sturgeon species Diamond Sturgeon (Acipenser gueldenstaedtii) which is much smaller than the Beluga sturgeon (Huso huso). This fish can still grow up to six feet and weigh almost 250 lbs. All Russian sturgeon mature and reproduce slowly, making them highly vulnerable to fishing. This one is sustainable, bred in a fish farm in Russia with no detectable change in taste from the wild variety.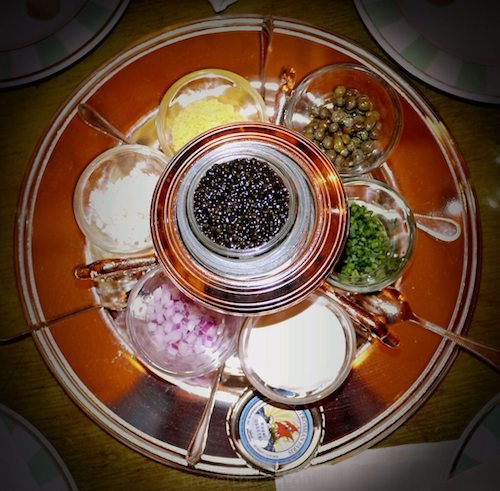 As caviar, it has a firmer texture than the more delicate Beluga caviar. Ossetra is delectably fresh and fruity, ranging in color from light brown to dark brown, its firm grain is pleasing and juicy, with a distinctive nutty taste. The lighter tan version is called Imperial by Petrossian. I personally like Ossetra, good thing since they cannot serve Beluga by law and at least in Las Vegas they don't serve Sevruga.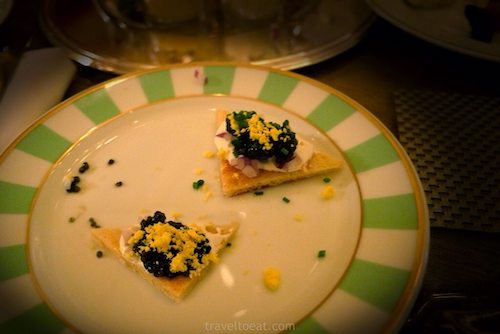 Two tasty morsels just waiting to be eaten.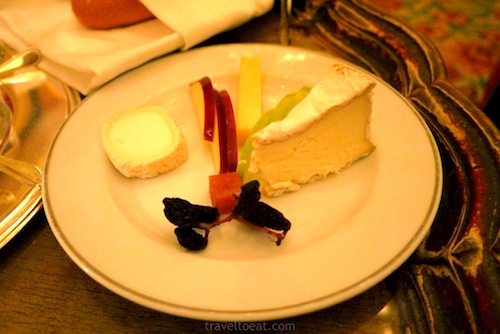 The cheese was unusually good, these are from left to right, Saint Maure goat cheese, Abaye de Beloc and my favorite, Brillat-Savarin which is a soft ripened triple creme cows milk cheese from Normandy whose buttery texture is perfect with caviar. If you happen to find some, buy it and be prepared to be impressed.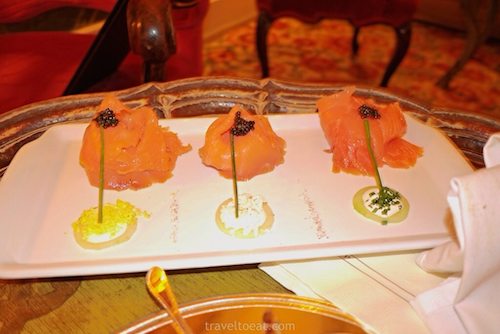 I love the way they plate here. Under each pile of savory smoked salmon is a very tasty potato pancake.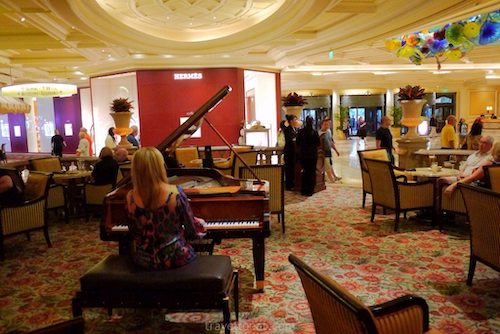 Finally we finished everything, feeling stuffed and left to the sounds of piano music in the front of the restaurant. The service is always great, the location can't be beat and it is a great place to meet up or grab a snack. If you come to Las Vegas and like caviar, consider Petrossian.