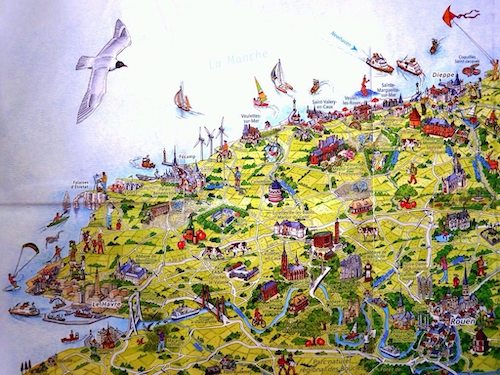 I have been writing posts about the towns along the white cliffs of the Alabaster Coast (Côte d'Albâtre) and I thought I would provide a little overview and some practical information on how to get there from Paris. The Pays de Caux is a plateau of Upper Cretaceous chalk, like that which forms the North and South Downs in southern England. It forms a rough triangle from Rouen and Le Havre on the Seine, to the south, to Dieppe in the north. The name caux is Norman for calcium carbonate or chalk and the white cliffs of the Alabaster Coast are the result of sea erosion of the plateau on the edges. The area is covered with large farms and dotted with mostly small but beautiful towns.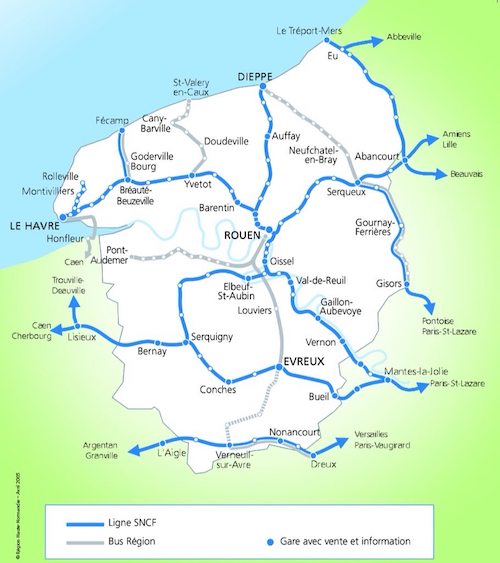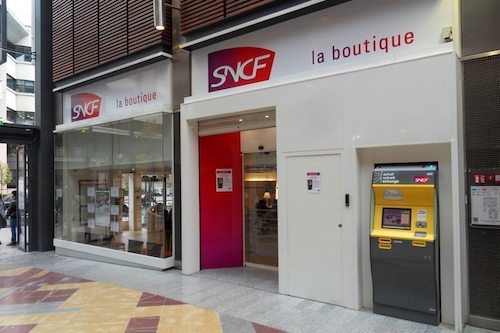 So, how to get there from Paris? As you can see from the intercity train map, you can get to Le Havre and Rouen directly from Paris. You can get to Dieppe by a transfer in Rouen. You can get to Fécamp by a transfer in Bréauté-Beuzeville and St Valery en Caux by a transfer in Yvetot, both just during the summer. Setting up your trip on the train is easy, find a SNCF travel office, they are in most RER stations and also scattered around Paris. They are very helpful and will help you set up your trip. They can also set up rental cars (with Avis) and Accor hotels. These are good midrange hotels and we have usually had good luck with them, but you can set up your hotel on your own if you want.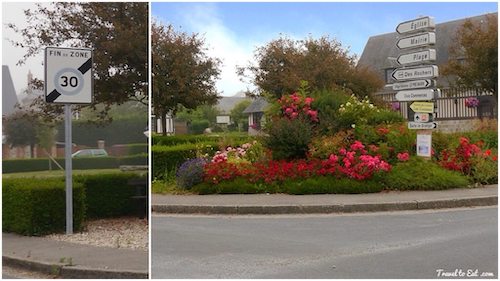 We decided on a car, because we wanted to explore the coast so we took the train to Le Havre and rented a car. Keep in mind, car rentals outside Paris often have no GPS and the staff might not speak English. In our case they also had no maps so we had to go back to the station to buy one. Fortunately, the roads are well marked and once you get out of Le Havre the towns are pretty small. Some French words worth knowing; Église (Church), Marie (Town Hall), Plage (Beach), Des Rochers (Literally rocks, but also the white cliffs), Tous Commerces (All Shops) and the speed limit will be a number surrounded by a circle, highway speed is usually 120 km/hr, 30-50 km/hr in town and on roundabouts, the end of the lower speed zone is marked by a sign like the one above Fin de Zone (End of Zone). They have roundabouts on the highways in Normandy and the different directions will be clearly marked. Be sure to slow down and yield on the roundabout.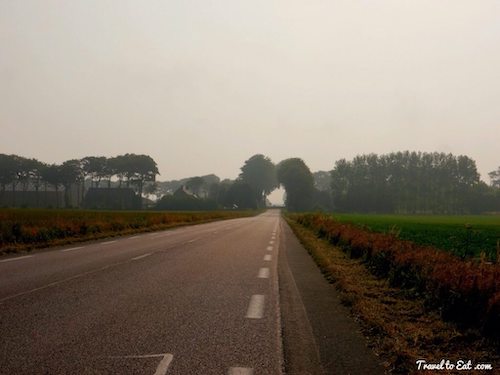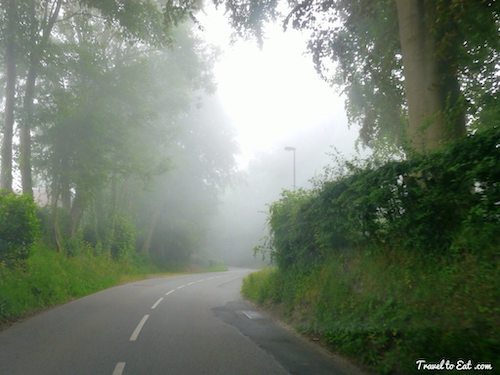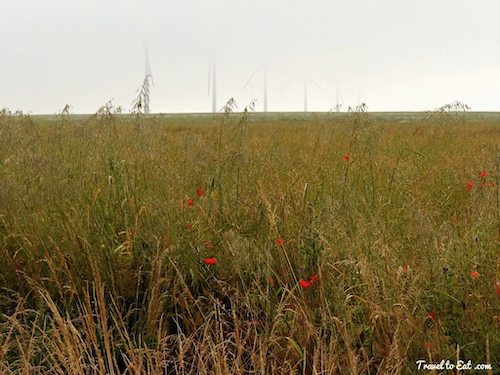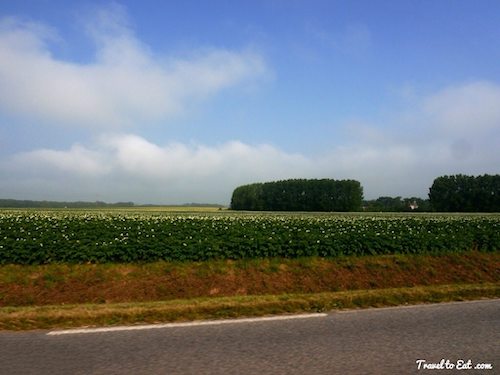 So, what is there to see and more importantly to eat on the Pays de Caux? Well one thing is a lot of beautiful farmland. The plateau's exposure to the winds of the sea may account for one of the features of the rural architecture of the region; the plain, unadorned farmhouses in farmsteads, typically enclosed by high earth banks, walls and a sheltering square of trees. It can get foggy in the morning as the fog blows in from the sea.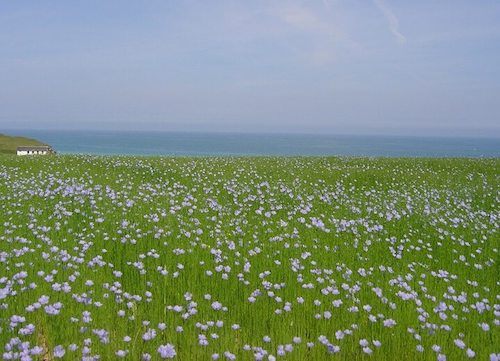 The Pays Caux is France's leading producer of linen fibre. In June, the blue fields of flax burst into bloom and make a dramatic impression on the landscape. There are numerous outlets selling products made of linen and Lin et L'Autre in Varengeville-sur-Mer is well worth a visit. In 1066, William the Conqueror (1027-1087), Duke of Normandy, claimed the English crown. His wife, Queen Mathilda, embroidered the epic tale of this event on the famous Bayeux tapestry, a 70 meter-long linen that illustrates what life was like during that period.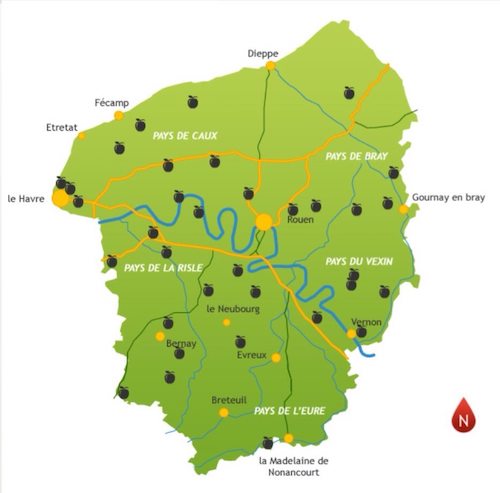 The Normandy cider orchards product 300,000 tons/year of cider apples (sweet, bitter-sweet, bitter, tangy and sharp). Since ancient times the Hebrews consumed a fermented drink made from fruit and Apple called Shekar or Sikera for the Greeks or the Romans Sicera likely. For some historians, the origins of the cider in France and Normandy, date back to the 6th century when a kind of "cider" was used at the Court of Sainte Radegonde. Up North in the pays de Caux and Roumois, apple cider will be a bit more acidic and tannic than in other parts of the region (like the cheeses). There aren't any big cider farms, the production is artisanal and done in small farms. That is the type of cider you're likely to find in Caudebec and Rouen. Please note that the "Boucles" region (along the Seine: Caudebec, Duclair, Jumièges, Boscherville) is an important fruit-growing region, mostly plums and cherries, but plenty of apples too. It is also very beautiful. The best cider in Normandy is the Cidre du Pays d'Auge, which has an AOP and a beautiful balance of sweet, tannic, acidic, aromatic with a slight bitterness that is the trademark of Auge cider. There are many great producers around Cambremer, Lisieux, and Livarot, but my favorite is Domaine Huet, in Cambremer, which also produces top-quality calvados.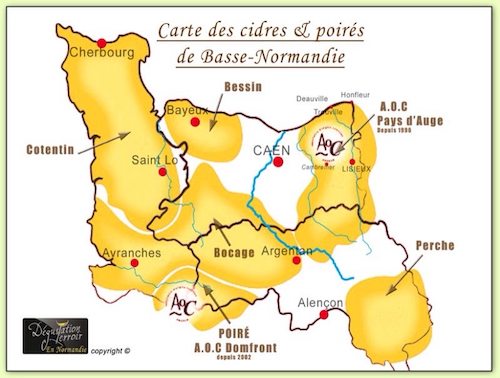 It is also important to mention the other great fruit wine of Normandy, poiré, made from pears. I really like it and I tend to like it better than cider. Pays d'Auge make poiré, but most of the best poiré is made in the Orne, around Domfront. Look for Appellation d'Origine Contrôlée Poiré de Domfront.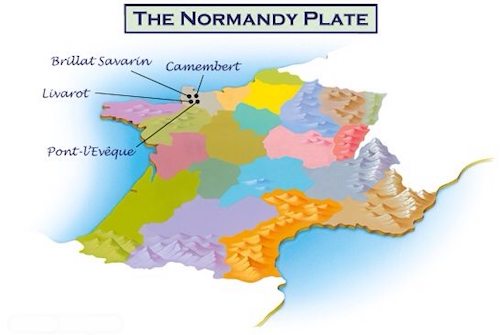 Well known specialty cheeses in Normandy include Camembert, Pavé d'Auge, Livarot, Pont l'Evêque, Neufchatel, Boursin, Brillat-Savarain and Brin de Paille. All of these are melty cows milk cheeses, delicious with fruit and of course cider or white wine. Graindorge Village Fromager in the canton of Livarot (www.graindorge.fr) is one of the dairies that produce all four AOC cheeses. The dairy also welcomes visitors to take a free tour of its cheese making workshops. From the specially-designed viewing galleries you'll have an exclusive peek into the industrious production workshops, whilst video displays, audio presentations and information points explain each stage of the complex cheese making process. No doubt there'll be cheese tasting and you'll also be able to buy some of their famous AOC cheeses.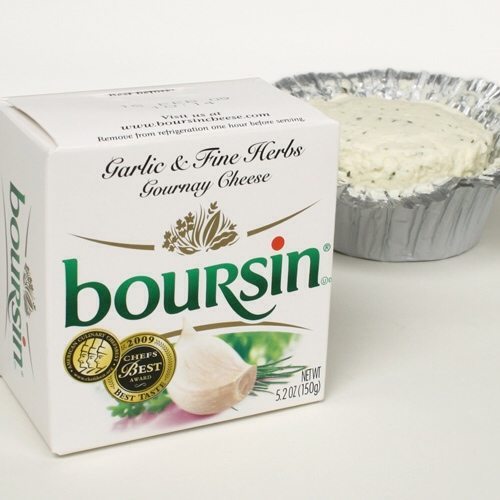 Boursin is a creamy, spreadable brand of Gournay cheese invented by Francois Boursin in 1957. When it was first developed in Normandy, Boursin named it after his small hometown of Gournay and limited the production to Croisy-sur-Eure in France. Boursin is a fresh cream and soft cheese, flavored with herbs and spices. Although, it is just an herb-flavored French cream cheese that can be easily imitated, only Boursin with its buttery flavor and slightly crumbly texture can be labeled as an "All natural Gournay cheese".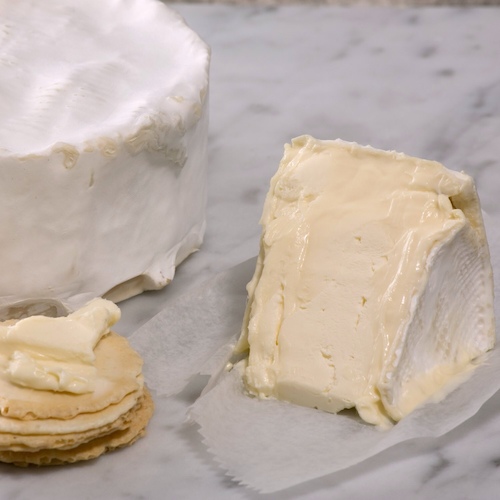 Brillat-Savarin is a triple cream dessert cheese that was created by cheese-maker Henri Androuët in the 1930s. It is named after 19th century gastronome and epicure, Jean Anthelme Brillat-Savarin. Brillat Savarin has an addition of cream to the milk before the cheesemaking process starts. It has a very quick ripening process and therefore has an affinage of between 1 and 2 weeks which takes place in a dry cellar.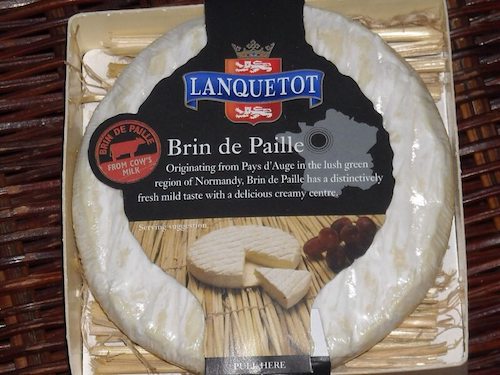 Brin de Paille is a cows' milk cheese from the Pays d'Auge in Lower Normandy. It is a soft and creamy white cheese which is slightly similar to Brie but is much smaller, weighing around 135 g. It has a light flavour and is round in shape. It is left to mature for about ten days.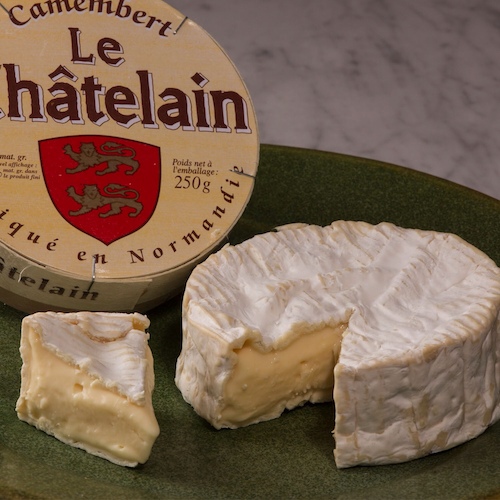 Marie Harel allegedly created the original Camembert cheese from raw milk, in Normandy, France, in 1791. Today, however, a very small percentage of producers make cheese from raw milk with the same process as Marie Harel would have used. Those that do produce cheese using this method can legally call their cheese Camembert Normandie under the AOC guidelines. However, the production of Camembert cheese has now transcended the AOC designation. Very good varieties of Camembert cheese made from pasteurized milk can be found in Normandy today. The best of them is the Camembert Le Châtelain. In 1890, an engineer, M. Ridel, invented the wooden box which was used to carry the cheese and helped to send it for longer distances, in particular to America, where it became very popular. At the President Farm (www.fermepresident.com), the Camembert Museum takes visitors on a journey back to the time when Camembert was first produced and tells the Camembert story.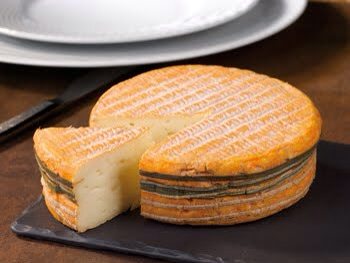 Named after a village in Normandy, from the "Pays d'Auge" region in Normandy and is an AOC (PDO) cheese. Livarot is one of the oldest cheeses in the region. The straps of Livarot are reminiscent of a uniform's stripes, giving the cheese its nickname "The Colonel". Livarot is circled by five straps of rush leaves or paper that prevent the cheese from collapsing during maturing. The artisanal Livarot still follows the ancient making method. The cheese is washed with salty water and turned regularly during the maturing process. Livarot is a very strong smelling cheese. The full spicy flavour gives the cheese a strong personality. Considered as one of the greatest world cheeses among some cheese lovers.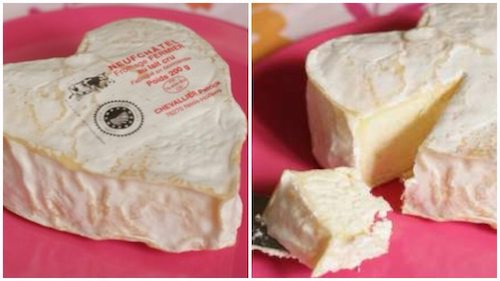 Neufchâtel is produced in Haute Normandie, in the area around the village of Neufchâtel-en-Bray, sort of near Dieppe. Made from cow's milk, it's one of France's oldest established cheeses with production reputedly dating back as far as the 6th century. It looks similar to Camembert, with a dry, white, edible rind, but the taste is saltier and sharper. It has the aroma and taste of mushrooms. One of the reasons for the cheese's consistent popularity is that the town of Neufchâtel-en-Bray is located only 82 miles from the markets of Paris. The heart shape is said to have originated during the Hundred Years War (14th & 15th centuries) when English soldiers were stationed in Normandy. The French farm girls, all of whom made cheese, fell in love with them and started making heart-shaped cheeses. The recipe for production of the cheese, regardless of shape, was granted AOC status in 1969 and is consequently protected. This is sometimes sold as a low fat version of Philidelphia Cream Cheese.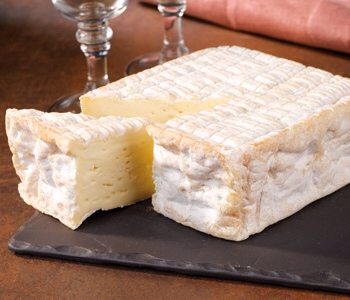 Pavé d'Auge is a term or name that depicts square, flat, washed-rind cow cheeses made in the north of Auge area in Normandy. It is an old version of the Pont-L'Evêque. It is a supple and light cheese with cloudier orange color, bouncy texture with small holes called as 'eyes' and smooth, rich, buttery taste with a hint of sweet pastures.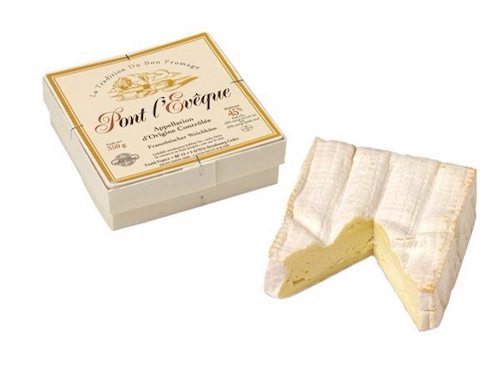 Pont l'Evêque is one of the world's ancient cheeses. It dates back to the thirteenth century and was called d'Angelot. The cheese then took the name of the village in Normandie where it is mainly produced, between Deauville and Lisieux in the Calvados département of Basse-Normandie. Pont L'Eveque is a small square-shaped cheese of a pale yellow color and with a white-orange rind. The cheese is well known for its delicate bouquet, which is rumored to be reminiscent of the Norman countryside. Pont l'Eveque is a very rich and soft cheese with a creamy and full-bodied flavor.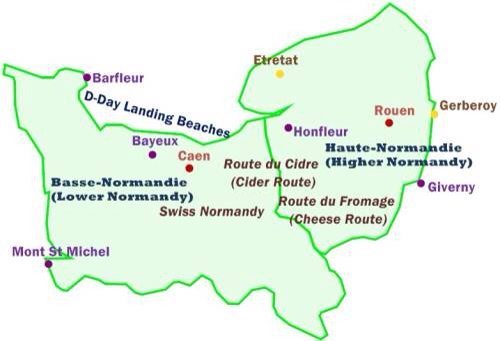 I am going to close here but I would mention in closing that there is both a cider and cheese route in Normandy, in addition to numerous fairs, festivals and celebrations. Normandy is a beautiful place to visit, a delicious place to eat and a nice cool place to go in the summer. There are also a few abbeys, museums and chateaux scattered around the area. If you visit Paris, you can go for the day, be adventurous.
References:
Seine-Maritime Tourism: http://seine-maritime-tourism.com/en
Paix de Caux Tourism: http://www.tourismecauxseine.com/
Terre de Lin: http://uk.tdl.isagri-ingenierie.fr/tourism/come-and-visit-terre-de-lin-792.aspx
Normandy Products: http://www.normandie-degustation-terroir.fr/cidresnormandie/index.htm
Cider: http://www.leshautsvents.com/
Normandy Cheese: https://www.facebook.com/aopnormandie
Fromage de Basse-Normandy: http://www.fromage-normandie.com/
Cheese dot com: http://www.cheese.com/