We were fortunate to obtain tickets to see Ludmila Pagliero and Florian Magnenet perform La Sylphide on July 3, 2013. The world knows La Sylphide mainly through August Bournonville's 1836 ballet, carefully preserved in Denmark and in the repertoire of companies from Covent Garden to St Petersburg. The original Sylphide, however, was French: a showcase for Marie Taglioni that was choreographed by her father Filippo to a different score and soon lost to the vagaries of history. Forty years ago, choreographer Pierre Lacotte set out to recreate it using limited archive material. It is a pastiche of classical ballet in the Paris Opera Ballet repertoire, an elaborate variation on the Romantic style, and it has made a return to the company's stage after a nine-year gap to close the season.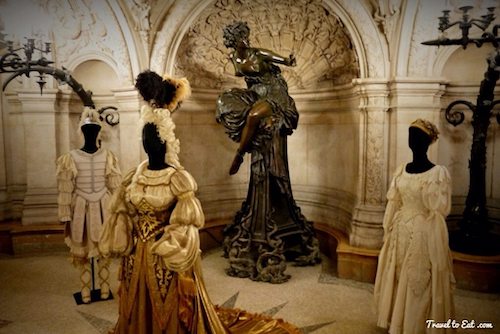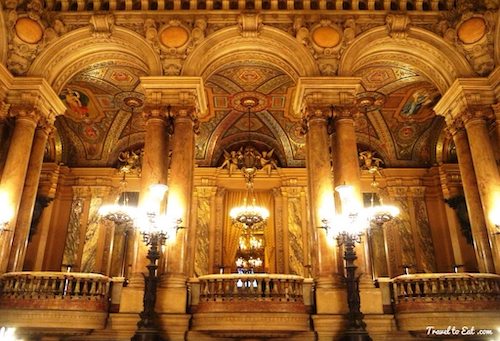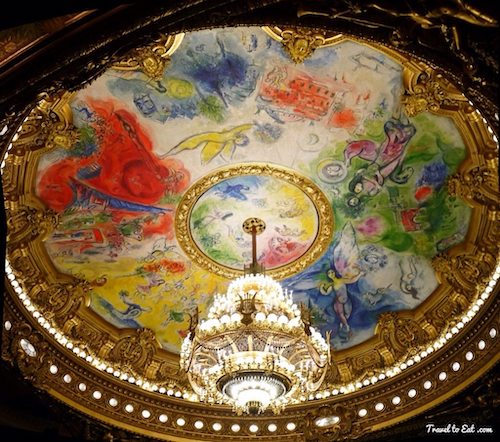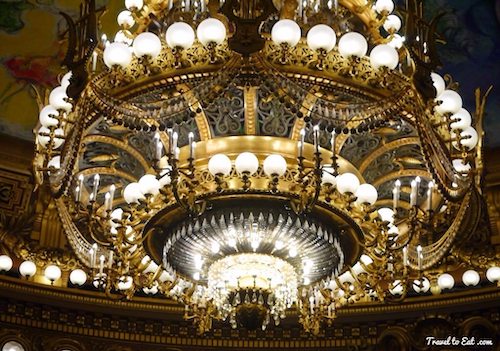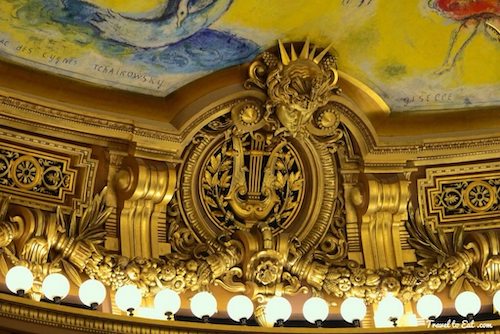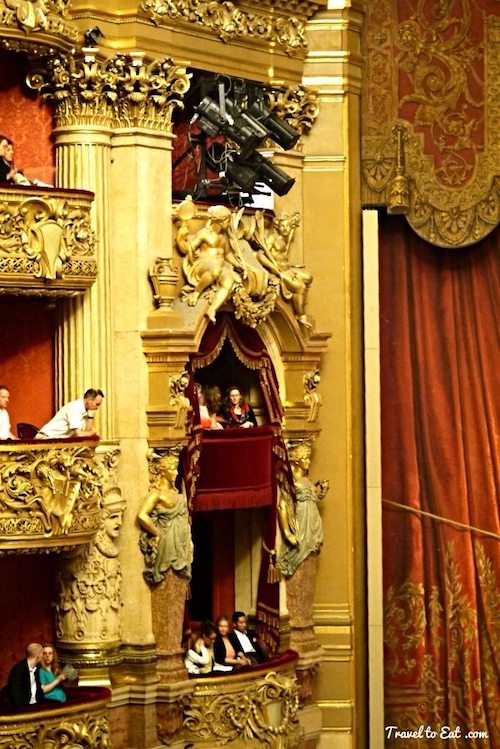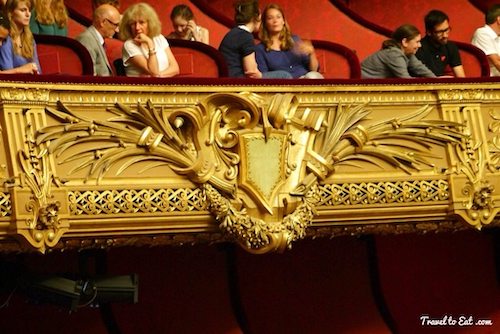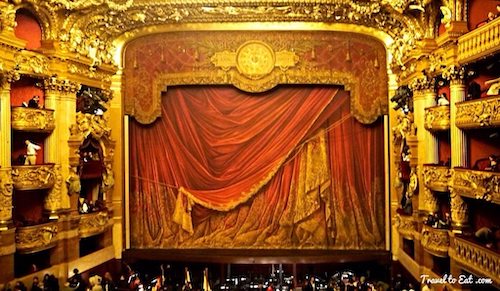 Of course the allure of the Paris Ballet is the famous Garnier Opera house, now used mostly for ballet. Lisa got us excellent seats near the center of the second balcony. Tickets are not easy to get and usually sell out within hours of becoming available. Basically you have to be online, on the computer, at the time they are available, and the site is only in French. Unlike American balconies, above the main floor, they have only box seats with chairs, three to four deep. We were fortunate to get the second row of seats. As a result, we had an excellent view of the stage.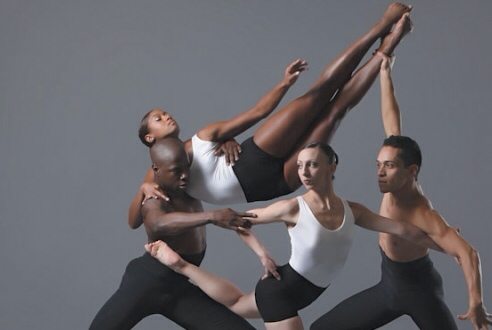 At this point I should probably mention that in college I dated a beautiful and talented dancer in the company of Gus Giordano. Gus Giordano was an American jazz dancer. He was a performer on and off Broadway, in television, film and stage, a gifted choreographer and founder of his company the Giordano Jazz Dance Chicago. Giordano is considered one of the founders of jazz dance, and his influence in jazz dance is still felt. I spent a lot of time then and since going to dance and ballet performances. I am not really a fan of old style ballet with picturesque sets and costumes, I really like dancers as athletes, with precise movements and working together as a team, in fact I love Jazz Dance. As a result my reaction and comments are likely to be biased since this ballet was all about history, fairly dull music, quaint sets, costumes and really antique stagecraft like flying the ballet dancers off on wires.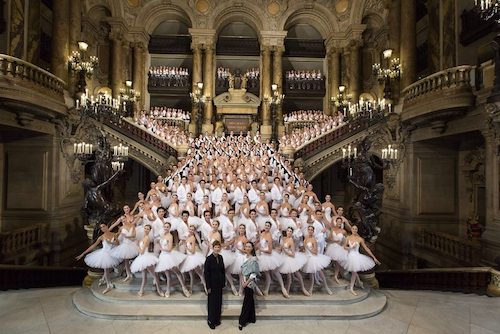 With 154 dancers, 18 étoiles and 14 premiers danseurs, the Paris Opera has one of the largest ensembles in the world, second only to Russian counterparts. They are also civil servants, with long-term contracts that run until their mandatory retirement, with pension, at 42. And with the notable exception of Ms. Lefèvre, directors tend to drop like flies at the Paris Opera. Even Rudolf Nureyev lasted only six stormy, if productive, years in the 1980s, while directors like John Taras and Violette Verdy managed just a few seasons. Its dancers almost all come from the Paris Opera Ballet school, and they rarely leave to dance elsewhere once they have achieved a coveted position in the company.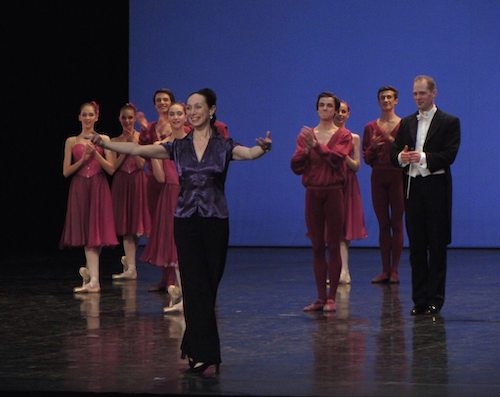 The Paris Opera Ballet School (École de Danse de l'Opéra de Paris) opened in 1713. The Paris Opera Ballet School will be celebrating its three-hundredth anniversary in 2013. The oldest ballet school in the western world is also the world cradle of classic academic ballet. These are meticulously trained dancers, strong, focused, assertive, implacably correct, but to me they're almost uniformly unexpressive. They show us how excellent their technique is, but they tell us almost nothing about the music, the choreography, or themselves. It's an approach to dance that must begin in the Opera Ballet School, with Elisabeth Platel. Paris hasn't had a master choreographer in modern times. Nureyev revitalized the company's dancing, but he was not a talented dance-maker, and none of the other post-Lifar artistic directors have had even his pretensions in this area. Brigitte Lefèvre, the director of dance at the Paris Opera since 1995 has made plans to retire at the end of the 2013-14 season.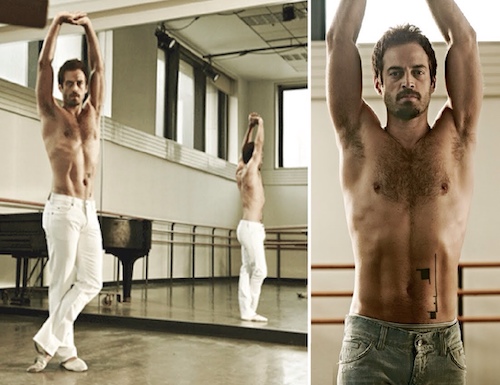 Benjamin Millepied, the choreographer and a former principal at New York City Ballet, will be the new director of dance at the Paris Opéra Ballet, starting in September 2014. The byzantine politics, scale and bureaucracy of the Paris Opera are worlds away from Mr. Millepied's professional experience. He is a prolific choreographer who has created works for major companies (including American Ballet Theater, City Ballet and the Paris Opera Ballet), and his public profile is high, thanks partly to his work on the Darren Aronofsky film "Black Swan" and his subsequent marriage to its star, Natalie Portman. I wish him well with this daunting challenge and, as I would expect, does the entire world community of ballet.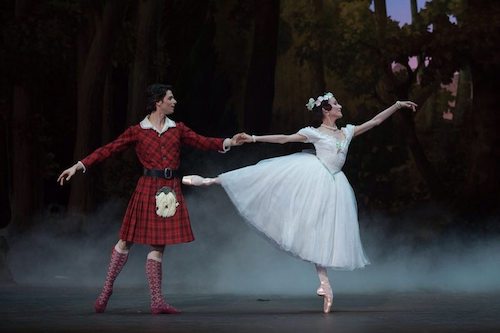 Well, lets get back to the ballet, La Sylphide at the Opera Garnier. The leads, Ludmila Pagliero and Florian Magnenet performed well. I thought she was actually rather exceptional given the banal material she had to work with. Magnenet is no Baryshnikov or Nurerev but he gave a credible performance, not very athletic, the lifts were a little clumsy, his entrechat's were unimpressive and his grand pas did not make me want to applaud. Again, the material was not the best, I have read good things about him. That was the good part, the corps de ballet were the real problem.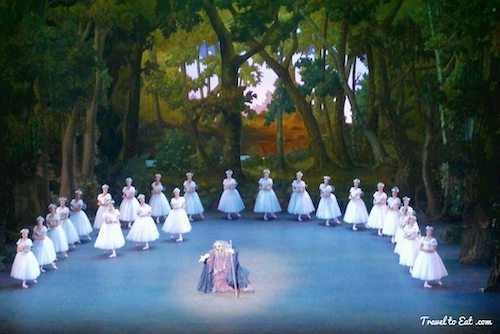 These women looked like exactly what they were, bored civil servants fulfilling their appointed job. They came out in a disorganized group, posed in a scatter of positions and generally did their thing without any consideration to their role as supporting members of the leads. Look at the above picture and you can see they are not lined up properly on the right. When you go to the ABT in New York, the corps is positioned perfectly and their synchronized movements are a thing of beauty. In Paris, hand gestures, movements, and positions were chaotic as though they each were trying to impress the audience rather than trying to work as a group to support the performance. I have seen better behaved corps de ballet in Las Vegas, these women do not represent a major ballet company. The reviews of the Paris Ballet are just as puzzling, almost everyone seems to love them, although most of the reviews are by people who have never been to a ballet performance. Maybe I went on a bad night but I think this huge ballet company works like a corporation, substituting dancers and giving little opportunity for the group to work together. A little organization, some dramatic cuts in the corps might go a long ways toward improving the performance. The schedule of some 180 performances per season in Paris, the French regions and abroad cannot help. In 2012 during a very long run of Rudolf Nureyev's production at the Paris Opera Ballet, injuries played havoc with the casting throughout November and December, with only five performances out of 26 featuring the dancers originally scheduled to dance.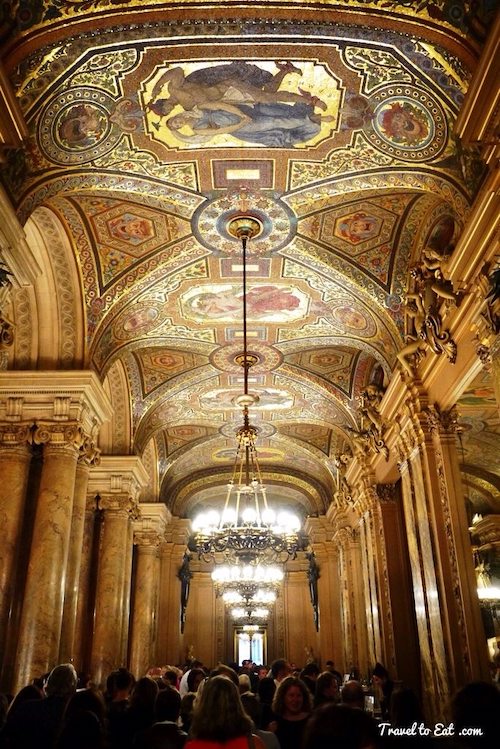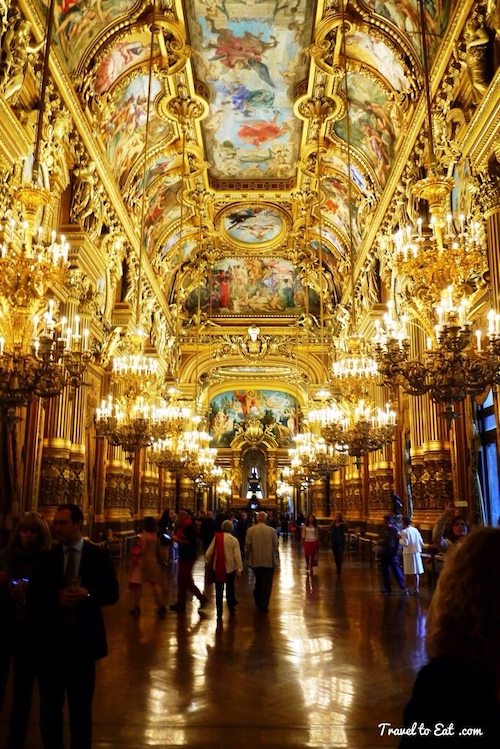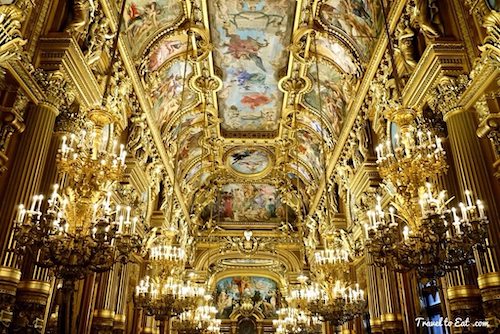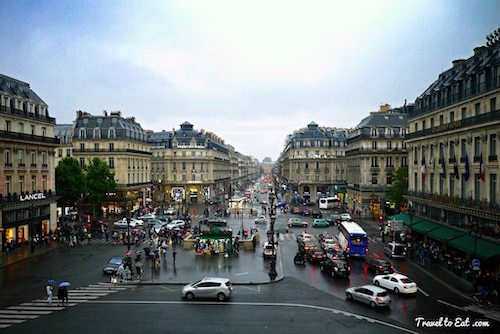 Intermission was a welcome reprieve, I got two coups of champagne and admired the view from the terrace, only to be disappointed again in the second half of the program.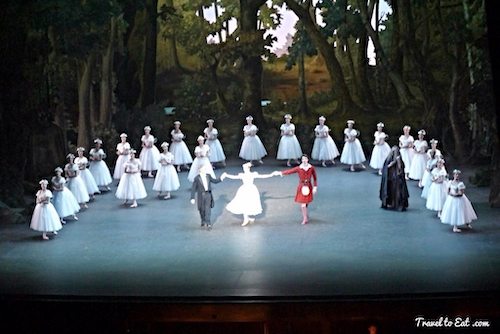 So here is the deal. If you are in Paris and want to see the Opera Garnier lit up like a Christmas tree, by all means go to the ballet, I did. The building is an art museum posing as a theater and the performance brings it alive. I will always remember this experience. If however you are that lonely individual that actually wants to see a memorable ballet performance, save your money and go to the American Ballet Theater, the New York City Ballet, the Joffery Ballet …(all of the other great ballet companies in the world)… or of course to the Bolchoi Ballet.
References:
Official Website: http://www.operadeparis.fr/en/L_Opera/le_Ballet/
Paris Ballet Health: http://dancetabs.com/2013/01/paris-opera-ballet-don-quixote-paris/
Gus Giordano Dance: http://giordanodance.org/
Gus Giordano Dance: http://www.timeoutchicago.com/arts-culture/unscripted-blog/15828616/giordano-dance-chicago-dance-review
Ludmila Pagliero: http://www.pointemagazine.com/issues/junejuly-2012/capturing-paris
Paris Ballet Follies: http://www.nybooks.com/blogs/nyrblog/2009/nov/03/paris-ballet-follies/
Paris Ballet: http://www.operadeparis.fr/L_Opera/L_Ecole_de_Danse/
Benjamin Millepied: http://www.nytimes.com/2013/01/24/arts/dance/benjamin-millepied-to-be-paris-opera-ballet-director.html?pagewanted=all
Joffery Ballet: http://www.joffrey.com/
American Ballet Theater: http://www.abt.org/
Bolchoi Ballet: http://www.bolshoi.ru/en/