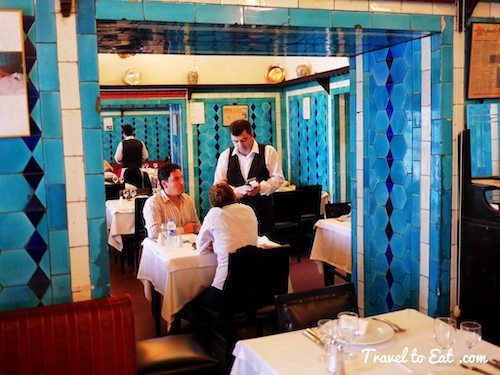 To eat at Pandeli is like taking a step back in time. Pandeli first opened his restaurant in Eminonu in 1901. Pandeli Restaurant has roots that go back to 1901 when it was established by Pandeli ÇobanoğLu, a Greek who had emigrated to Turkey. The resturant is listed in 20 Best Food Cities by "Food and Wine" with their selective Turkish cuisine, shimmering Iznik tiles of the 17th century and scenery of Golden horn, Egyptian Bazaar and Galata Bridge. The restaurant is located on the upper level of the Egyptian Spice Bazaar and has been visited by governors and men of letters, politicians, journalists and artists but mostly gourmets. The full scale restaurant of the same name is now located on the second floor of the Egyptian Spice Bazaar. Ottoman stone and turquoise tiles adorn the walls and floor as they did hundreds of years ago when it was a Turkish bathhouse; the views of the Golden Horn from the windows and the calls to prayer from the mosques nearby; and the sights and smells of the Spice Bazaar outside make the atmosphere here almost magical. Almost 70 different dishes grace the menu, including chicken, fish, and meat. Lunch at Pandeli's is a must for anyone traveling to Istanbul.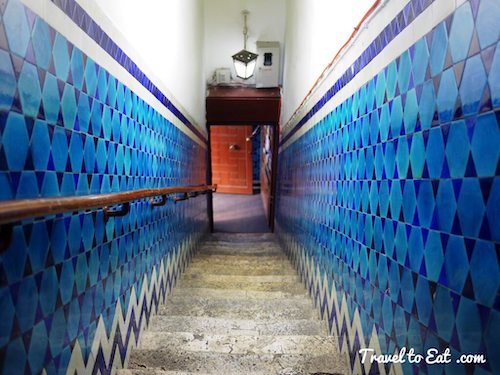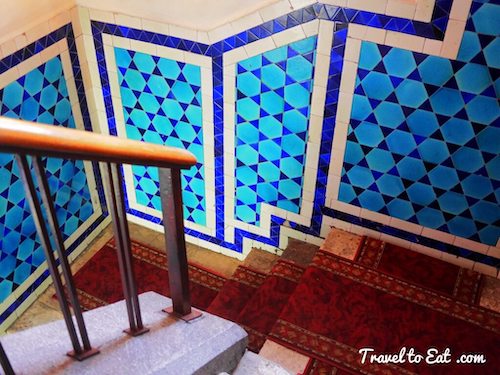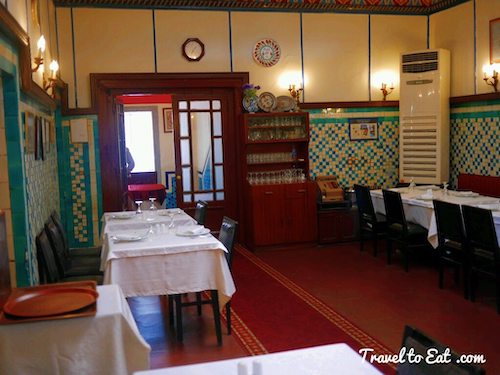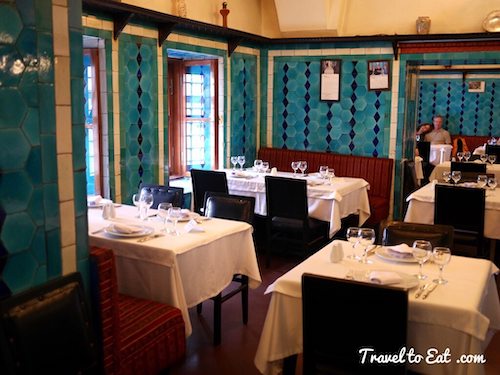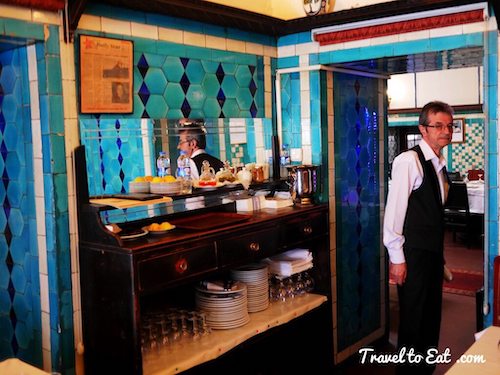 At Pandeli, as is the case with so many places in Istanbul or the world, you are paying for the ambiance and view. But only to an extent, and as these things go, I for one would rather pony up for Pandeli's turquoise tiles and 17th-century domed ceilings than fork over my precious lira for a panoramic city view blocked by grazing socialites. The service is old style and the restaurant is only open for lunch, but the food makes up for everything.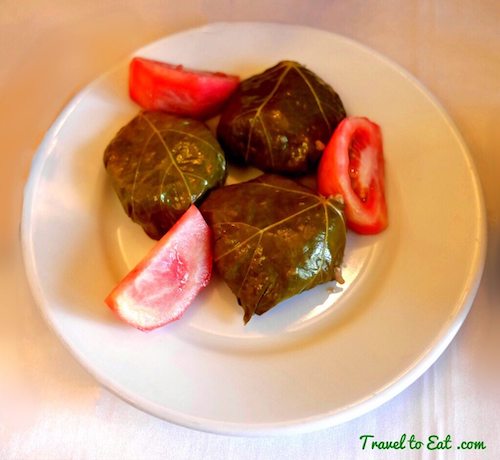 Dolma is a verbal noun of the Turkish verb dolmak, 'to be stuffed', and means "stuffed (thing)". Dolma is a stuffed vegetable, that is, a vegetable that is hollowed out and filled with stuffing. This applies to zucchini, tomato, pepper, eggplant, and the like; stuffed mackerel, squid, and mussel are also called dolma. In Turkey, there are two main categories of dolma; those filled with a meat mixture: minced meat ("kıyma"), onion, pinenut, rice, oil and some spices; and those filled with a rice mixture (without meat): rice, olive oil, pinenuts, currants (or dried figs/cherries), herbs (fresh parsley, dill and mint) and spices (usually allspice, cinnamon and black pepper). Meat dolma is always eaten hot; meatless ones, "zeytinyağlı dolma" (dolma with olive oil) – "yalancı dolma" (false dolma), usually at room temperature, as a meze with lemon sauce.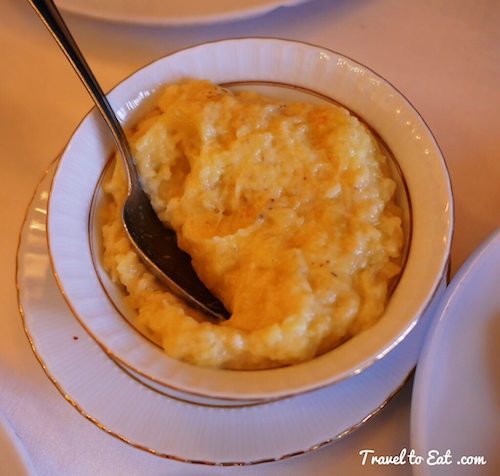 Eggplant salads appear in most meze fridges in the restaurants of Turkey. They differ from restaurant to restaurant – and from region to region – but all use the same basic ingredients. With regards to the ingredients, you can play around with the amounts you use because it's all about your personal taste.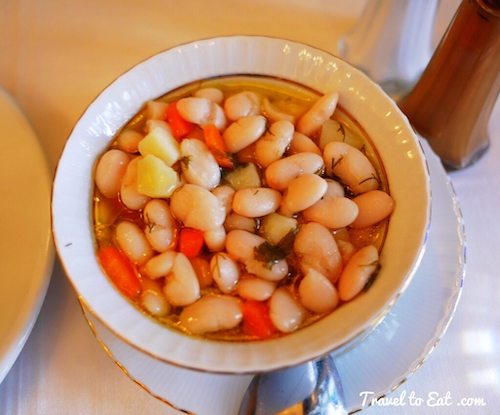 Pilaki is a style of Turkish meze and may refer to several dishes that are cooked in a sauce made out of onion, garlic, carrot, potato, tomato or tomato paste, sugar, and olive oil. Beans prepared in this style (fasulye pilaki, with white beans, or barbunya pilaki, with borlotti beans) are served cold, garnished with parsley and/or slices of lemon.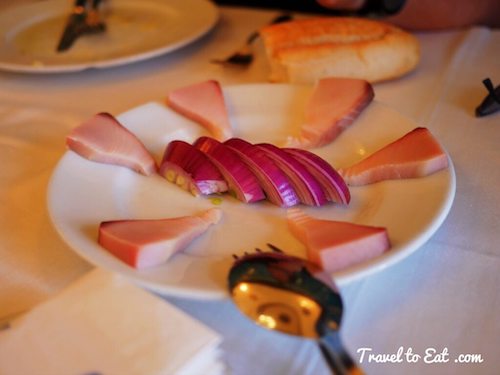 Lakerda is a pickled bonito dish eaten as a meze in the cuisines of the former Ottoman Empire. Lakerda made from one-year-old bonito migrating through the Bosphorus is especially prized. Lakerda is very similar to a prized ancient Greek dish, tarikhos horaion 'ripe salted fish' or simply horaion. Other ancient salt bonito preparations were called omotarikhos and kybion.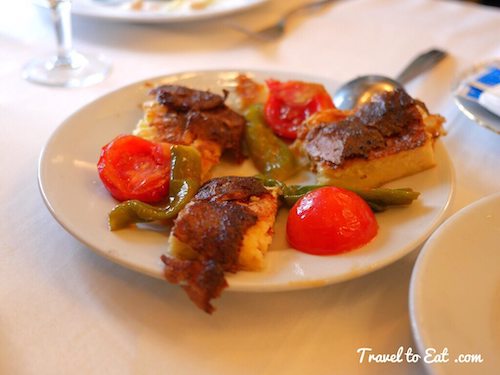 Börek (also burek and other variants) is a family of baked filled pastries made of the thin flaky dough known as phyllo (or yufka in Turkish). It can be filled with cheese, often feta, sirene or kaşar; minced meat, or vegetables. It was most probably invented in what is now modern Turkey, in the Anatolian Provinces of the Ottoman Empire in its early era, to become a popular element of Ottoman cuisine. Patlıcanlı is Turkish for eggplant, hence the name of this dish. Patlıcan Böreği is a popular Turkish dish that represents eggplants stuffed with feta cheese. This vegetarian dish is special for its nutrient and healthy features. To prepare the filling feta cheese is crumbled with a fork and mixed with chopped parsley, black pepper, and one egg.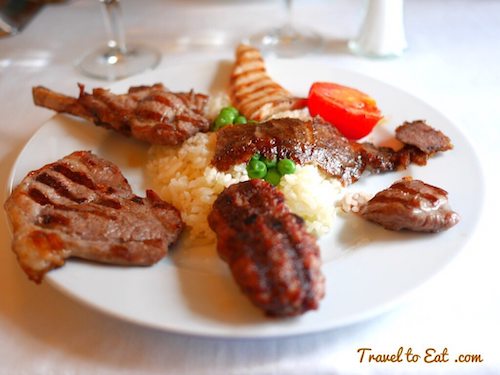 The appetizers or meze were a lunch in themselves. The service was good, the atmosphere incredible, and the food was classic and delicious. By the time we came to the main course, the mixed grill, I honestly was stuffed. This is a classic, famous and excellent place for lunch, which I would recommend to anyone visiting Istanbul, even if it is a little pricey and old school. The opportunity to eat classic Ottoman cuisine in a classic setting is an opportunity not to be missed. Let's finish with the words of Pandeli: "I didn't learn cooking from anyone. If someone wants to learn something, he really needs to be curious about it. Everything starts with curiosity. I used to stand in front of the display cases of famous restaurants for hours and look at the food, dishes and talk to them in order to discover how they ended up like that. Then I tried to have the same result myself. When I didn't achieve, which happened often, I didn't fall into despair and I looked for the causes of my failure and tried again and again. Until I thought I had the flawless result."
References:
Pandeli Website: http://www.pandeli.com.tr
TripAdvisor: http://www.tripadvisor.com/Restaurant_Review-g293974-d3611052-Reviews-Pandeli-Istanbul.html
Food and Wine: http://www.foodandwine.com/articles/20-best-food-cities
How to Istanbul: http://howtoistanbul.com/en/century_old_brand/pandeli-lokantasi
Yaprak Dolmasi: http://www.bbc.co.uk/worldservice/learningenglish/specials/2009/04/090430_recipes_apr3.shtml
Patican Salatas: http://seasonalcookinturkey.blogspot.com/2011/08/patlcan-salatas-classic-aubergine-meze.html
Pilakisi: http://www.saklilezzetler.com/2010/09/02/istanbul-usulu-fasulye-pilakisi/
Patlıcan Böreği: http://allah-ne-verdiyse.blogspot.com/2012/07/patlican-boregi-afyon-usulu.html