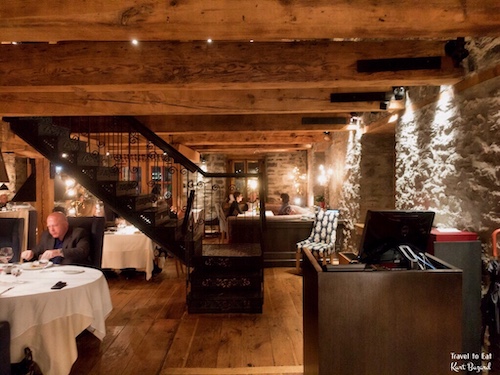 Panache is an award-winning four-diamond restaurant nestled within the stone walls and exposed wooden beams of a maritime warehouse dating back to 1822. A dining room offering exceptional intimacy, along with stunning views of the St. Lawrence River, Panache is a dining destination popular with both locals and visitors to Québec City. The tone is established from the moment you walk into the building, the tables elegantly set with silverware and crystal, catching the natural light streaming in through the windows and the glittering lamp fixtures. Everything seems light and airy, an impression enhanced by the relaxed, friendly manner of the staff. Panache sources much of its produce from its farm on Île d'Orléans, which you can see from one of the window tables. It specializes in what it terms as "high-end comfort food," offering a contemporary twist on local Quebec specialities. When chef Louis Pacquelin isn't in the kitchen, he can be found on the farm on Île d'Orléans.
Interior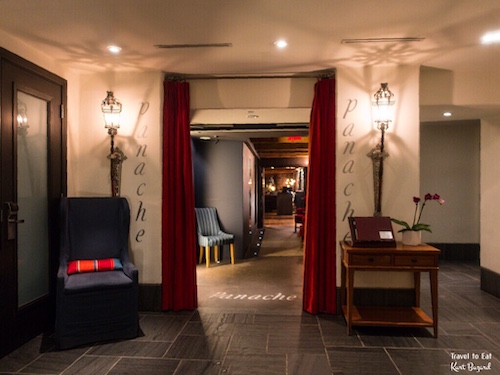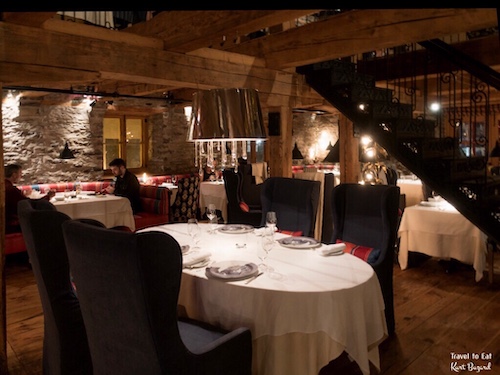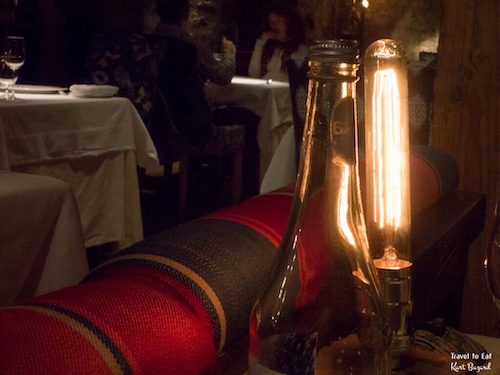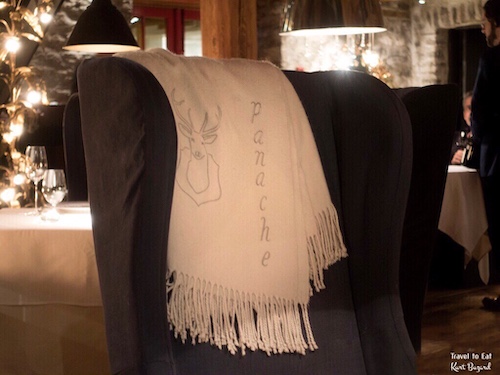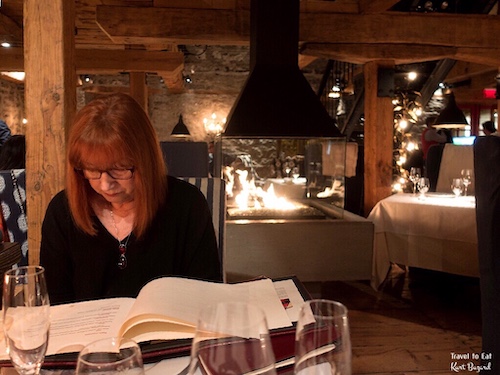 It was a cold and rainy night that we visited Panache. The exposed beams in the two story restaurant were warm and comforting in the cold night. Little touches like the Panache throws and the lighting were exceptional. We felt comfortable and warm in the lovely atmosphere,
Amuse Bouche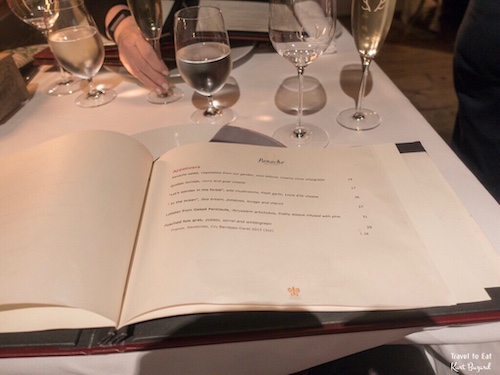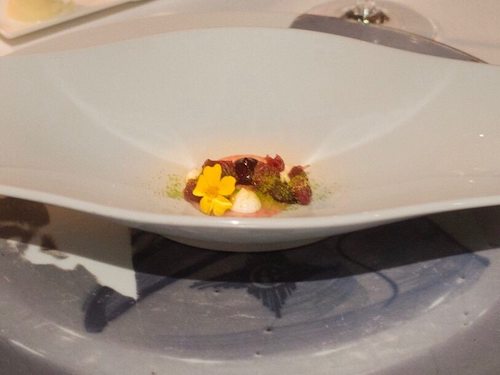 We decided to order from the menu rather than the tasting menu. The amuse bouche was tasty and well presented.
Tawse Sparkling Riesling 2014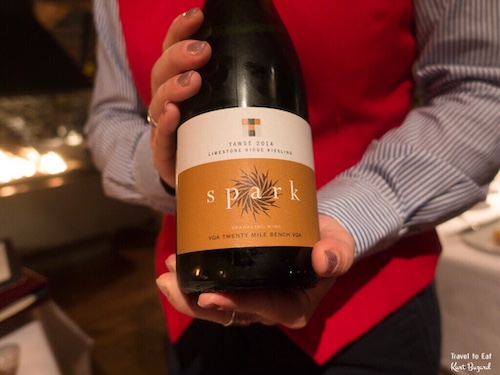 The sommelier kindly pointed us toward the Tawse Sparkling Riesling, a dry sparkling wine. The common assumption is that all Rieslings are very sweet, and while most Rieslings have at least a touch of sweetness, many Rieslings can be very dry as well. Rieslings from Germany and California tend to be sweet while Rieslings from Austria, Alsace, New York and Washington State tend to be dry. Whether the wine is dry or very sweet just depends on where the wine was grown. This is the third vintage of Sparkling Riesling from the now certified Organic and Biodynamic Limestone Ridge Vineyard. Made in the traditional method, this wine displays a shy nose at first but is soon followed by ripe apples, citrus and minerality on the mouth. The extreme cold of winter 2014 resulted in a much reduced crop size giving us a sparkling wine with intense and concentrated flavors. It is an inexpensive wine, about $20. We liked this wine very much.
Appetizers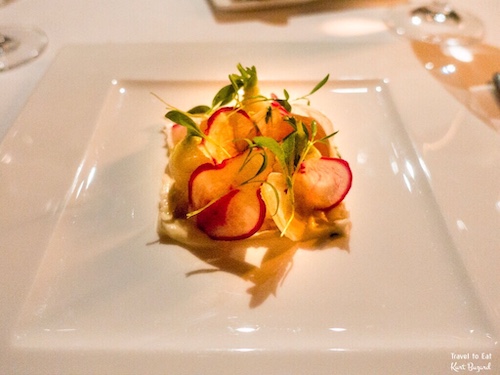 Lisa chose the "In the Ocean" appetizer consisting of Sea Bream, potatoes, radishes, lovage and chervil. Sea bream are a variety of fish species that are very popular for eating, especially in Europe. They are sought after because of their mild, white meat, considered some of the best of any white-meat fish. Lovage is one of the old English herbs that was formerly very generally cultivated, and is still occasionally cultivated as a sweet herb, and for the use in herbal medicine of its root, and to a lesser degree, the leaves and seeds. Chervil is another herb that we'd really like to use more often, but can never think how. It looks like parsley and tastes like mild basil, but it's flavor has a tendency to evaporate into thin air in a lot of dishes. I tasted this and it was delicious.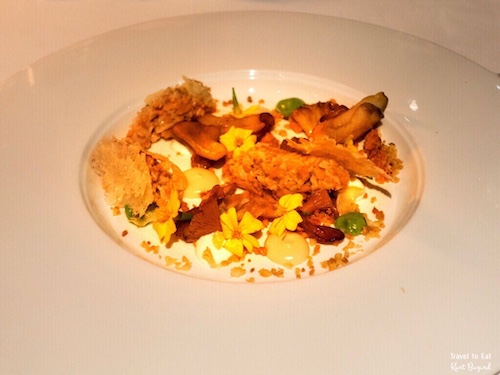 I was not as fortunate with my selection, "Let's Wander in the Forest", consisting of wild mushrooms, fresh garlic and Louis d'Or cheese. Louis d'Or is a rich, flavourful and complex washed-rind cheese produced in Quebec, similar to Comte or Gruyere. The mushrooms were clumsily breaded with what appeared to be panko bread crumbs with only a few spots of sauce. They were dry, cold and lifeless when they appeared on my plate. Most mushrooms, with the exception of porcini mushrooms, are delicate affairs best prepared with butter, cream or mushroom sauce. If I decided to bead mushrooms, I would employ a teriyaki technique to preserve the moisture of the mushrooms, rather than the clumsy breading presented at Panache. As an aside, the Louis d'Or cheese was nonexistent on the plate, unless it was contained in the dots of sauce.
Entrées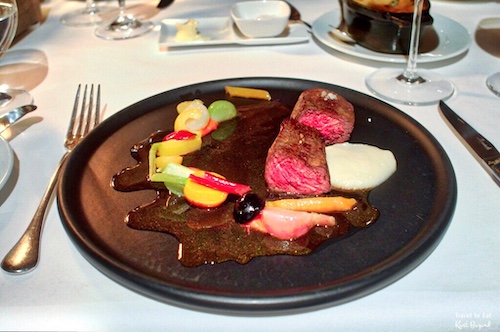 For the entrée I chose the "Loin of Red Deer" with Orleans island fruits and vegetables. Simply put, the meat was dry and tasteless. I grew up eating wild deer and I know first hand how devoid wild deer is of fat, especially the loin. I personally love the slight gamey taste of deer but it requires special techniques to make it soft and juicy. Souls Vide is one such technique with a pat of butter or olive oil, another is cooking the tenderloin in creme, butter or sauce. It definitely cannot be treated, as it was in this case, seared as a tenderloin of beef since this will result in a dry piece of prime meat. As an aside, I have had wonderful deer meat in restaurants in Colorado and elsewhere, where the chefs appreciate the difficulties of this particular cut of deer.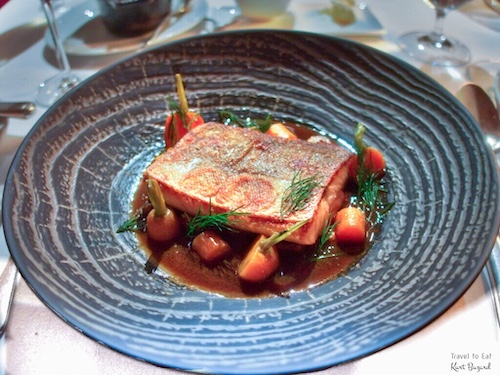 Lisa chose the Arctic Char, a wonderful fish with light airy white meat. The fish was cooked with a nice crispy skin but it would have been so much better with a creamy white sauce instead of the hearty brown sauce as it was presented. Arctic char is currently farmed in Canada, Iceland, Norway and the US, with the majority of US supply originating in Canada and Iceland. No other freshwater fish is found as far north; it is, for instance, the only fish species in Lake Hazen on Ellesmere Island in the Canadian Arctic. I have had this fish cooked in creme, it was delicious although the decision to cook in a brown sauce is puzzling.
Desert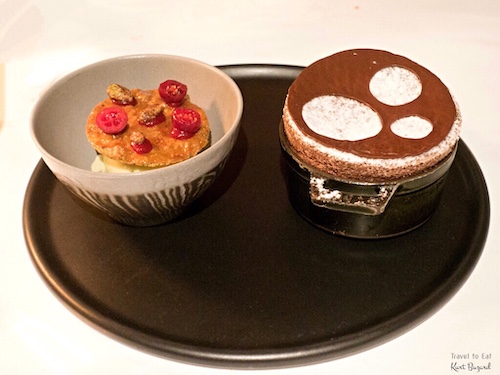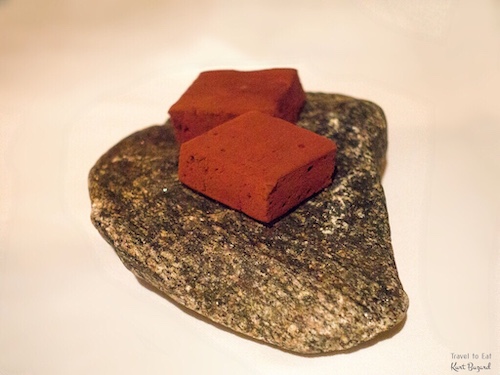 For desert we shared a chocolate soufflé, unfortunately served without a a sauce for the center. Some of the most experienced home cooks are afraid of soufflés. They'll never rise, they'll immediately fall, they're difficult to make, they're temperamental. Yet people do want to make soufflés, or want them made for them. It is really a given in the modern world that a sauce will accompany the Soufflé, sadly not at Panache. The homemade French chocolate marshmallow was a delicious and welcome surprise.
Summary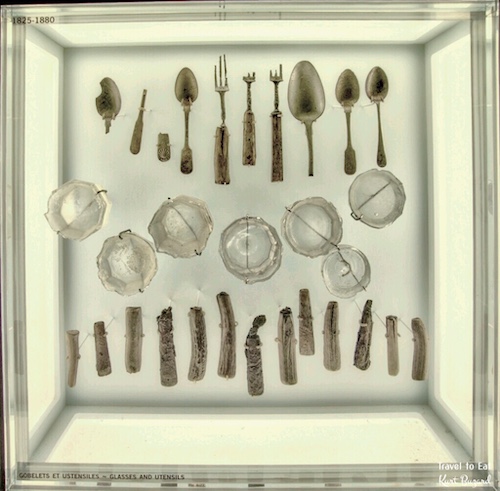 This is a restaurant that is difficult to grade. The surroundings are exquisite and reflect the comfort portrayed by the menu, thoughtfully presented and comforting in the extreme. Unfortunately the food does not live up to the surroundings or to the four diamond rating for the restaurant. Given the opportunity, I would not return to this restaurant, although I hope that they find their way back to a four diamond status. The staff and the surroundings are there, the food is not. Thank you for visiting, please leave a comment.
References:
Panache: https://saint-antoine.com/en/panache/panache-restaurant/
Tawse Spark Riesling: https://www.tawsewinery.ca/products/8724-spark-riesling-limestone-ridge/
Louis d'Or Cheese: http://www.tasteofcheese.ca/cheese-dictionary/louis-dor/
Wild Mushrooms of Quebéc: http://northernbushcraft.com/guide.php?ctgy=edible_mushrooms®ion=quebec
Mad about Mushrooms: http://montrealgazette.com/life/food/mad-about-mushrooms
Arctic Char: http://www.seafoodchoices.com/archived%20smartchoices/species_char.php
Chocolate Soufflé: http://cooking.nytimes.com/recipes/1012671-chocolate-souffle
Chocolate Soufflé with Rum Sauce: https://www.splendidtable.org/recipes/chocolate-souffle-rum-sauce
Sent from my iPad