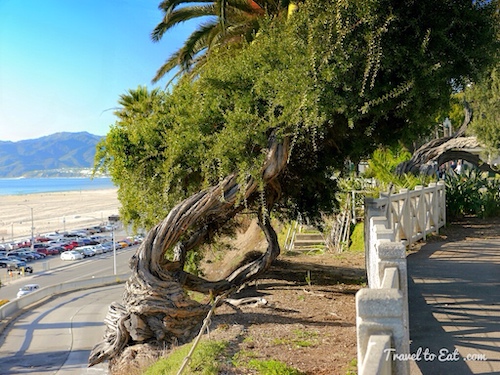 Ocean Avenue is the westernmost street in Santa Monica, and for most of its course it runs parallel to Palisades Park, whose bluffs overlook Pacific Coast Highway and Santa Monica State Beach. Palisades Park is a little gem of a park, long and thin with breathtaking ocean views.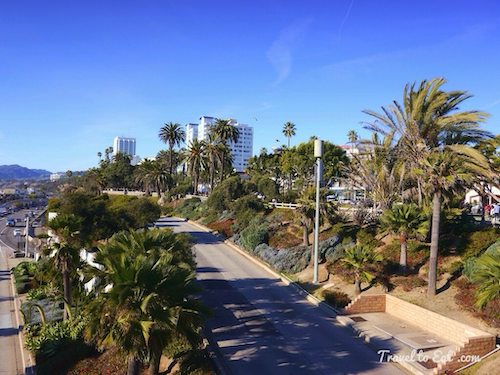 What makes this park so special is that it is located above a cliff overlooking the ocean. Also it has been here so long that it has amazing mature landscaping.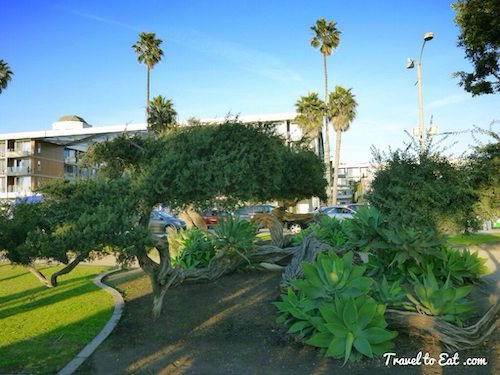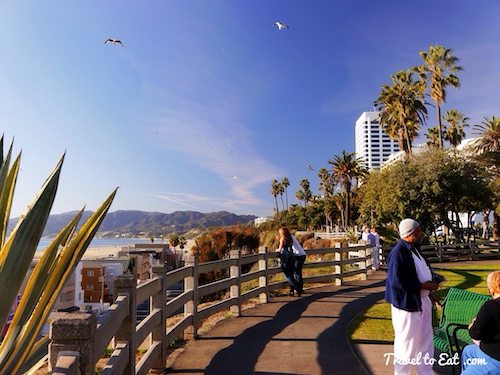 The seagulls like to coast right along the cliff edge where they get an updraft. You can literally spend hours just watching the birds. In the picture above, you can see Malibu in the distance.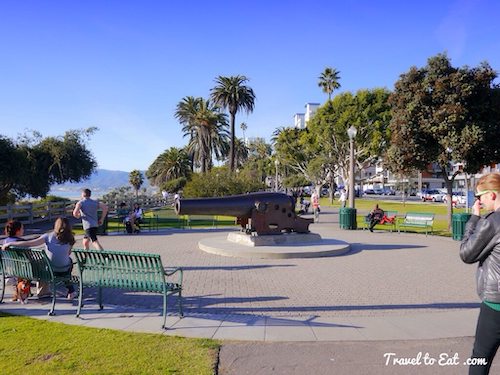 There are lots of historical objects as you walk along the park, like this old cannon.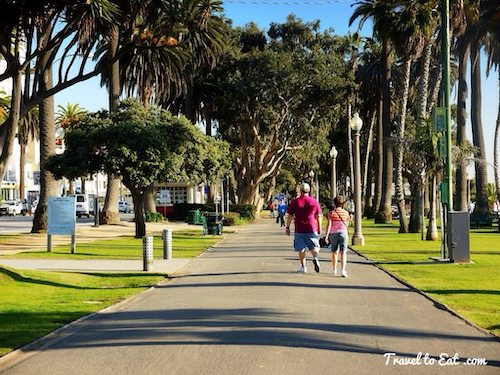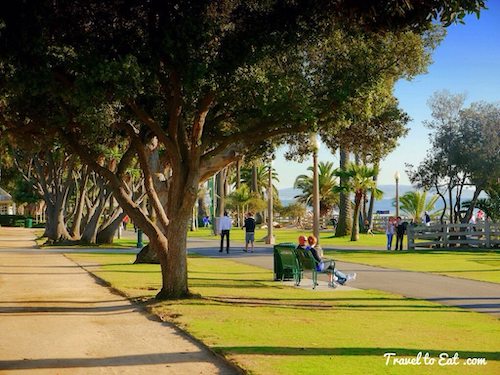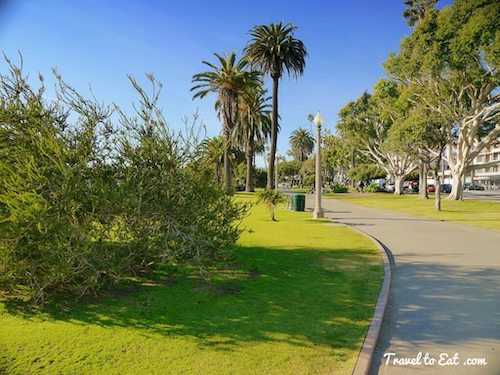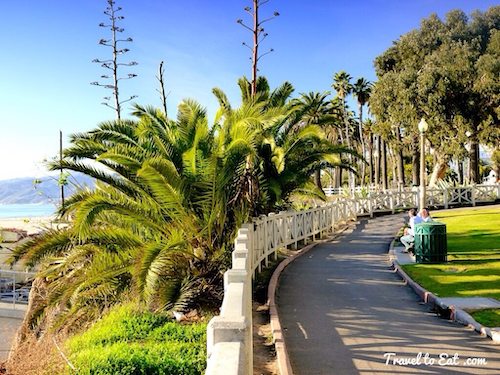 This park is a great place for photography.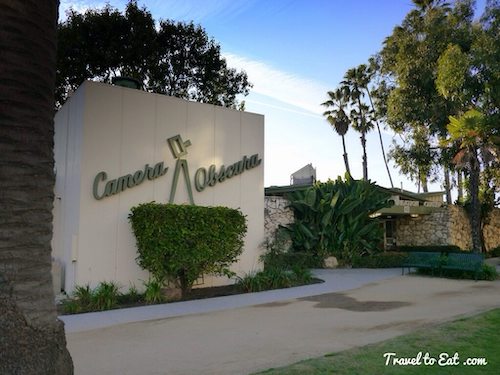 In the 19th century, with improved lenses that could cast larger and sharper images, cameras became very fashionable and the camera obscura flourished at the seaside and in areas of scenic beauty. A camera obscura is basically a pinhole camera, light goes through the pinhole and makes an inverted image inside a darkened room. For practical purposes you are inside the camera. Inside Santa Monica's Camera Obscura, visitors can rotate an old ship's wheel to operate the roof-top revolving turret. The turret houses a mirror that acts as the "lens", reflecting a live image from Ocean Avenue outside onto a table inside. The Santa Monica camera obscura was built in 1898 by Robert Jones, nephew of city founder Senator John P. Jones and originally was located on the boardwalk at the beach. The city bought it in 1910 and moved it to its current site housed in the senior recreation center (to the right in the above picture). It is free to go in, you leave your ID at the senior center. If you visit Santa Monica you should definitely visit, there are only two in California.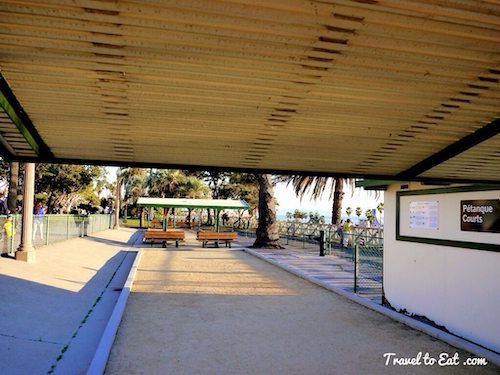 They also have a Pétanque court in the senior center. Pétanque is a form of boules where the goal is, while standing inside a starting circle with both feet on the ground, to throw hollow metal balls as close as possible to a small wooden ball called a cochonnet. The current form of the game originated in 1907 in La Ciotat, in Provence, in southern France. The casual form of the game of Pétanque is very popular in southern France, played mostly by tourists during their summer vacations. During the summer these courts are very busy.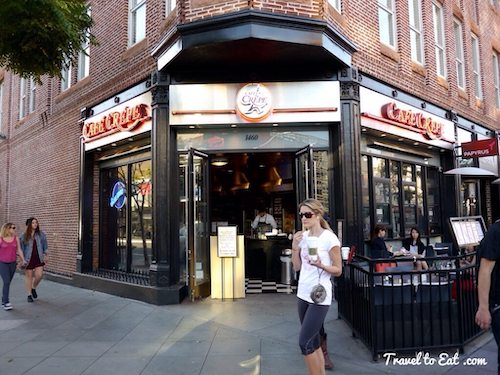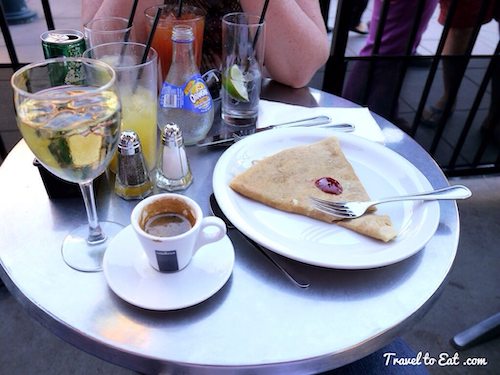 We wandered over to the Third Street Promenade for a bite to eat and found the Café Crêpe; we felt like we were back in Paris. This area has been extensively redeveloped; for 3-4 blocks it is a pedestrian mall with lots of shops and restaurants.