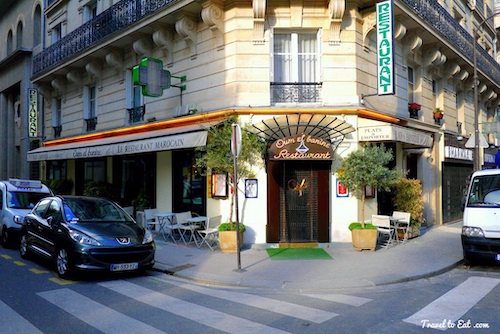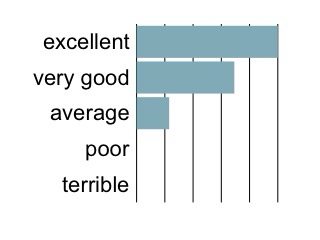 We were in the mood for something different and decided to try Oum el Banine near where we live. The restaurant is a small family place on Rue Dufrenoy, just off Boulevard Flanderin established in 1993. I happen to love Moroccan food since I have visited Morocco in the past and we have Moroccan restaurants in Las Vegas and LA. This food is nothing like American Moroccan food. Moroccan cuisine is extremely refined, thanks to Morocco's interactions and exchanges with other cultures and nations over the centuries. Moroccan cuisine has been subject to European, Berber, Moorish, and Arab influences. The cooks in the royal kitchens of Fes, Meknes, Marrakesh, Rabat and Tetouan refined it over the centuries and created the basis for what is known as Moroccan cuisine today. The Treaty of Fez (signed in 1912) made Morocco a protectorate of France. In late 1955, Mohammed V successfully negotiated the gradual restoration of Moroccan independence within a framework of French-Moroccan interdependence. Morocco and France have a close relationship and there are a number of Moroccan restaurants in Paris.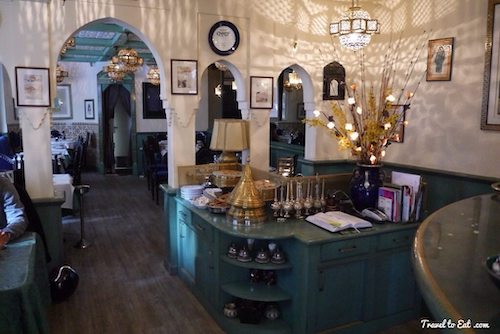 Back to this particular restaurant, just about everyone who eats here loves the food. The chef took our order and with the quiet decor and soft Moroccan music we felt a world apart from Paris. One thing that becomes increasingly evident as one lives in Paris is the very mild character of the food and in fact the uniformity of preparation. The food is excellent, uniformly, made with fresh ingredients and soft nuances between flavors. However, in typical bistro or café food, almost the same dishes are served everywhere and there are no spices although a few herbs are employed.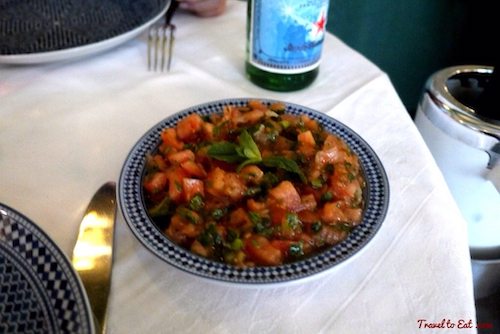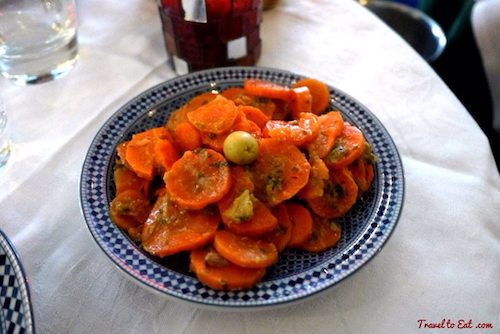 We began with some typical Moroccan cold salads, tomatoes with mint and spiced carrot salad. The difference between this and a typical French salad was immediately evident. There is only one vinaigrette salad dressing in all of France, they don't even ask. Here, the salads were softly nuanced with cumin, mint and coriander. The result reminded me of the market in Marrakech. To say these were delicious is an understatement.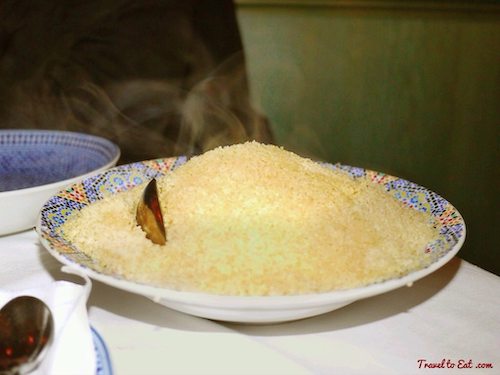 Next they brought out a steaming plate of fresh couscous. To those of you who do not know, couscous is a type of tiny pasta, made from seminola flour, served with nearly all Moroccan food. Israeli couscous is larger and common in middle eastern food. Couscous makes a nice alternative to rice when cooking at home. Couscous was voted as the third favorite dish of French people in 2011 in a study by TNS Sofres for magazine Vie Pratique Gourmand and the first in East of France. Couscous was originally made from millet. Historians have different opinions as to when wheat began to replace the use of millet. The conversion seems to have occurred sometime in the 20th century, although many regions continue to use the traditional millet.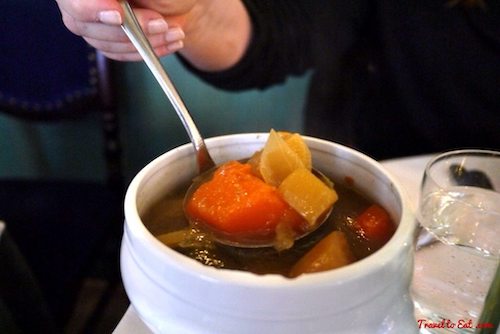 Lisa had the lamb with couscous, as a nice surprise it came with a delicious vegetable stew, served in a bowl that looked like a small Tangia. We forgot to take pictures of the lamb skewers but the meat was very good and softer than the usual grilled lamb, it must have been cooked first.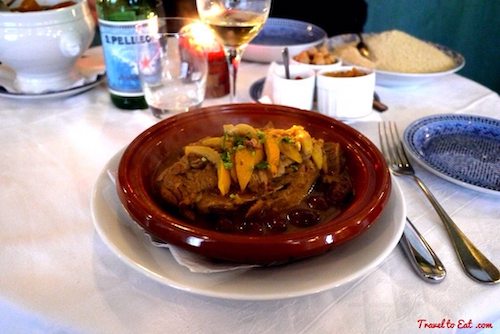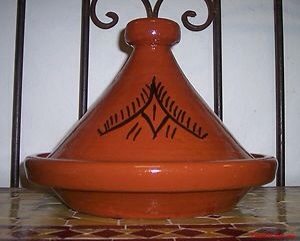 I had a lamb Tangine with olives and pickled lemon peels, cooked in the traditional ceramic pot. The traditional tajine pot is formed entirely of a heavy clay, which is sometimes painted or glazed. It consists of two parts: a base unit that is flat and circular with low sides and a large cone- or dome-shaped cover that sits on the base during cooking. The cover is designed to promote the return of all condensation to the bottom. With the cover removed, the base can be taken to the table for serving. Tajines are also used and made in Morocco. Tagines are primarily used to slow-cook savory stews and vegetable dishes. Because the domed or cone-shaped lid of the tagine traps steam and returns the condensed liquid to the pot, a minimal amount of water is needed to cook meats and vegetables to buttery-tenderness. This method of cooking is very practical in areas where water supplies are limited or where public water is not yet available. Although tagines are traditionally made of clay or ceramic, some Western cookware companies are now making tagines from other materials. The use of ceramics in Moroccan cooking is probably a Roman influence. Romans were known for their ceramics, and likely brought that tradition to their rule of Roman Africa.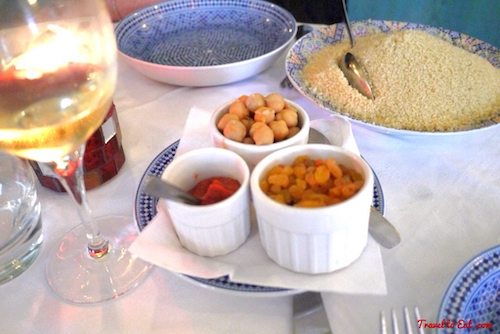 The dishes were served with condiments, raisins, chickpeas and a hot sauce. Everything was delicious and cooked with fall off the bone tenderness.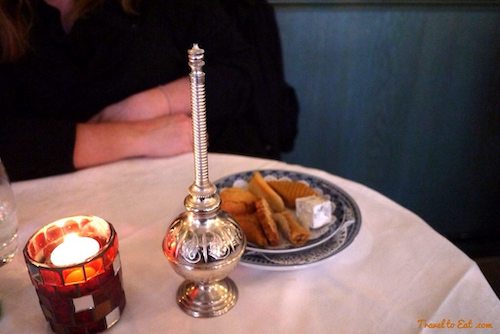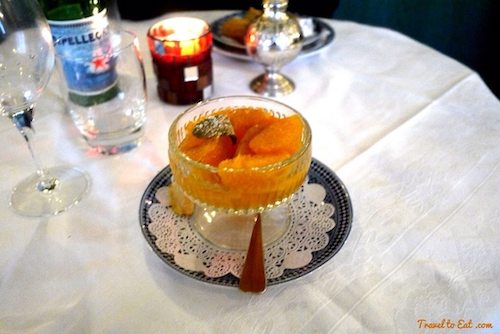 They sprinkled our hands with rose water and brought us the traditional hot mint tea served in small glasses. I had segmented orange slices with cinnamon, Lisa had Moroccan pastries. Both of us really loved this restaurant, the food was great, the atmosphere was serene and it was a nice change of pace. Almost everyone on TripAdvisor agrees, this is voted one of their top restaurants. If you are in Paris, visiting the Eiffel Tower, walk down Georges Mandel to Fladrin, turn right, and try Oum el Banine.
References:
Oum el Banine: 16,rue Dufrenoy, Paris, France (Passy) 01 45 04 91 22
Oum el Banine: http://iphone.oumelbanine-restaurant.fr/