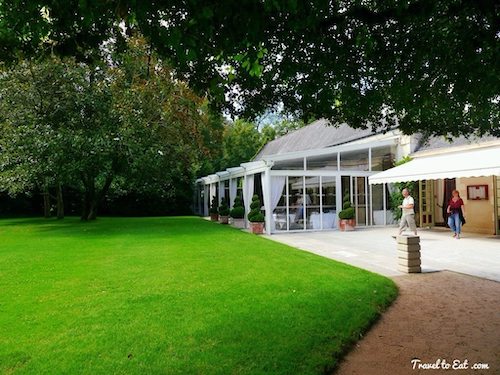 We decided to have lunch in the Orangerie, the gourmet restaurant for Chenonceau. It overlooks the Green Garden designed by Bernard Palissy and is located behind the old stables or Building of the Domes. The Green Garden is beautiful and the whole setting is serene and quiet. They also have a tea room open every day from 3 pm to 5 pm. There is a take-away restaurant in the old stables or Building of the Domes, but I don't know why you would eat there, the gourmet restaurant is very affordable and the setting is memorably beautiful.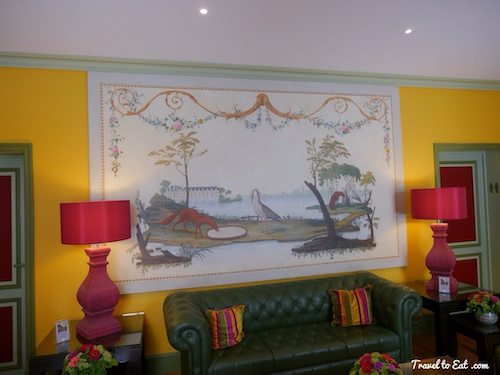 You enter into a pleasant lobby with a painting of the château, fresh flowers and a door to the bathrooms.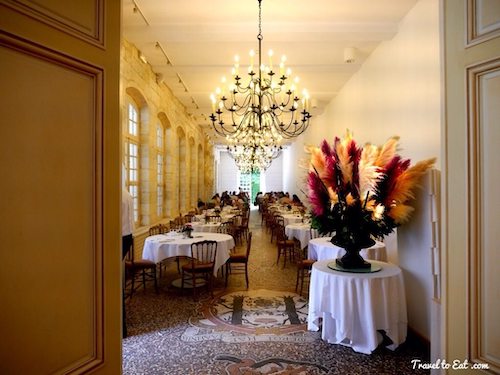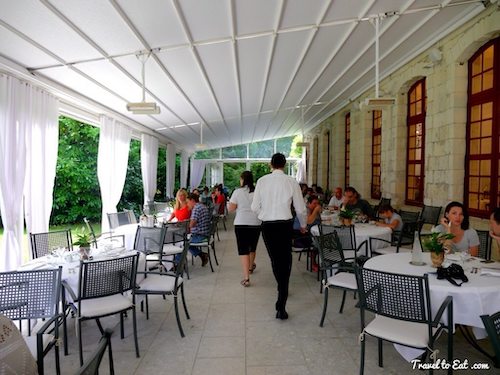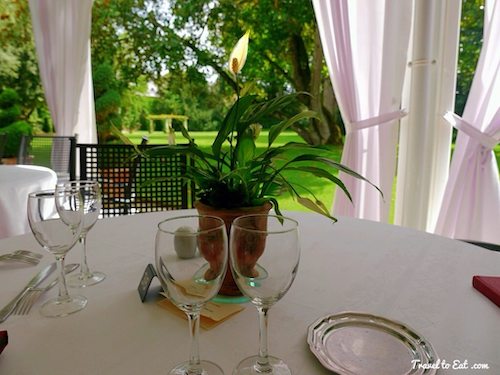 The seating is either inside the building with the trademark bouquet or outside on the shaded terrace.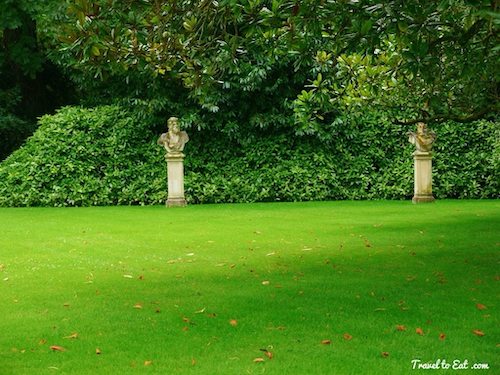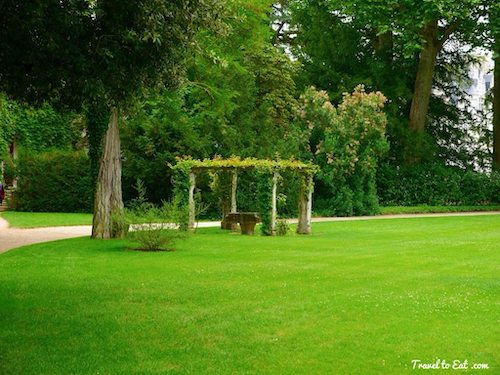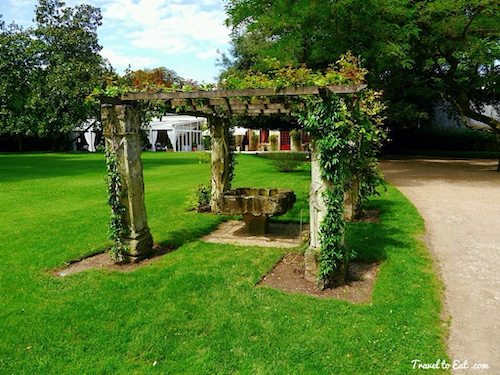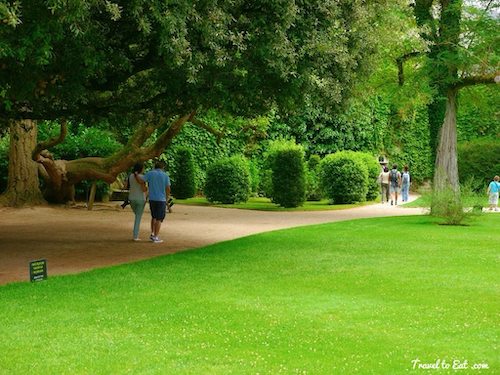 The restaurant looks out over the Green Garden designed by Bernard Palissy. It is a lovely green lawn to enjoy during the meal.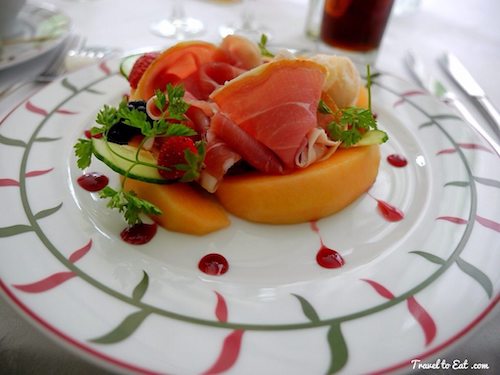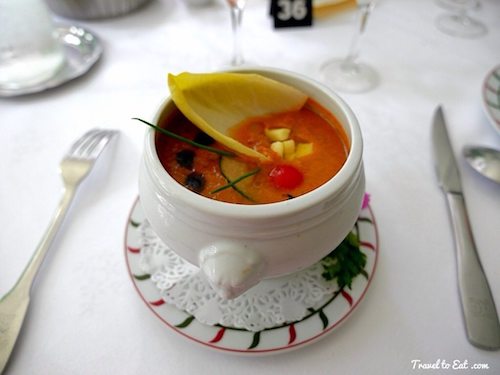 For our entrées I had the Prosciutto and Melon, Lisa had the Gazpacho. Both were delicious and nicely plated.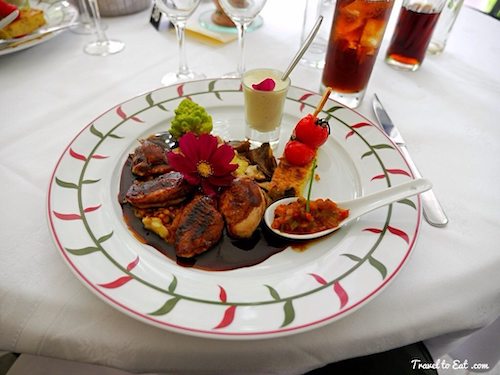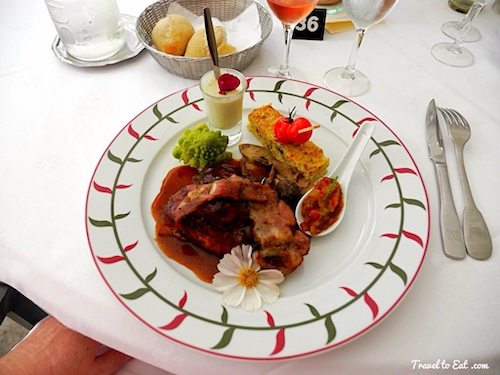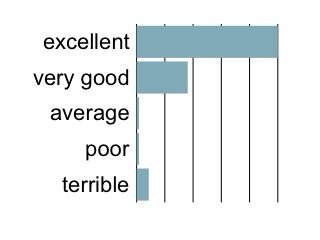 For our plats I had the the duck and Lisa had the roast saddle of lamb. As you can see, the meat varies but the plating is similar. Both were plated very well and both were delicious. Normally we would not expect this level of quality in a touristy location like Chenonceau. Food quality was excellent and prices reasonable, for the type of food being provided and for the excellent level of service. They had a very nice wine list as well. Touraine Chenonceaux is a relative youngster as French wine appellations go. It was introduced in November 2011 as a sub-appellation of the generic, regional Touraine title, to cover 25 parishes around the village of Chenonceaux. The title is reserved for dry red and white wines, and does not cover sweet, sparkling or rosé styles, which must fall back to the regional Touraine appellation. Their white wines are made exclusively from Sauvignon Blanc. We had a white Touraine Chenonceaux bottled at the château (or very near) and it was dry, fruity and delicious. Generally the reviews on TripAdvisor agreed with us, there was one review I just have to share, a UK patron complained about being charged 25 cents for a carton of milk for their tea … a bargain if you ask me. In any case, if you visit Chenonceau, you should eat at the gourmet restaurant. We did not have a reservation and we still got a beautiful table. The prices are inexpensive and the experience is miles away from the fast food place.
References:
Chenonceau: http://www.chenonceau.com/index.php/en
TripAdvisor: http://www.tripadvisor.com/Restaurant_Review-g187123-d1846854-Reviews-L_Orangerie-Chenonceaux_Loire_Valley_Centre.html