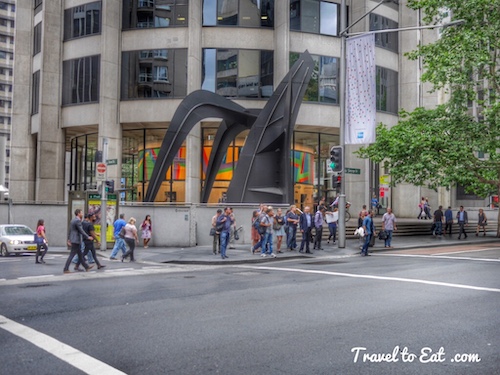 When we were in Sydney I wanted to take Lisa for a nice birthday dinner and the hotel suggested the O Bar. Previously known as The Summit restaurant, O Bar and Dining has a revolving floor which captures a 360 degree view across Sydney as well as two bar areas – one which forms part of the building's stationary center floor and the other which makes up part of the revolving outer section of the restaurant. It sits forty-seven floors above Sydney, in Australia Square Tower, which was built in 1967. O Bar may be Sydney's loftiest landmark, but still manages to retain some neighborhood warmth. The food is based on chef/owner Michael Moore's healthy eating philosophy from his best-selling book Blood Sugar. Moore still owns it, but he recently made the move of installing fellow Englishman Darren Templeman to run the kitchen as executive chef. His is a great "High Anglican" cooking of the sort you find in Michelin restaurants in London and around the world, French-influenced but not dominated.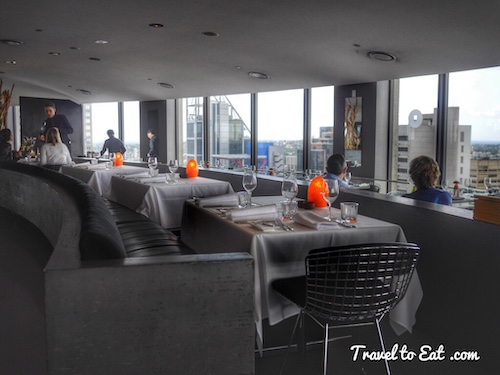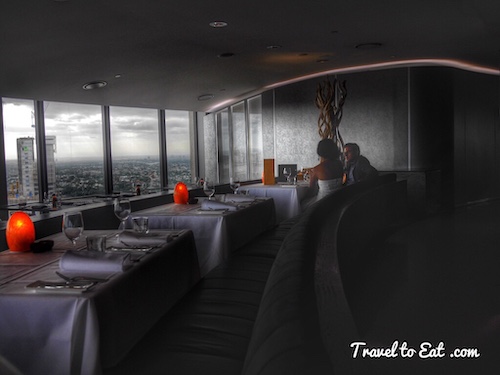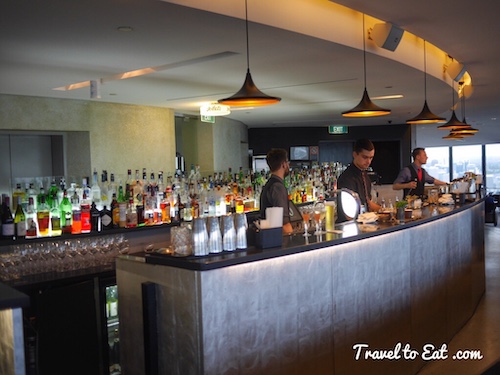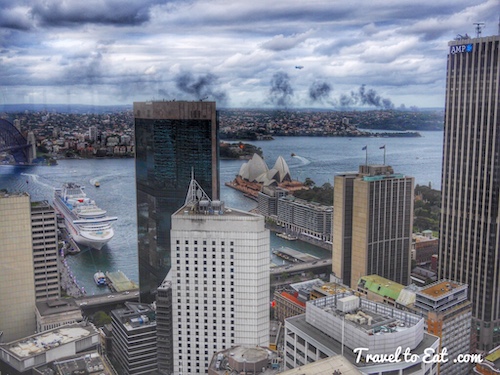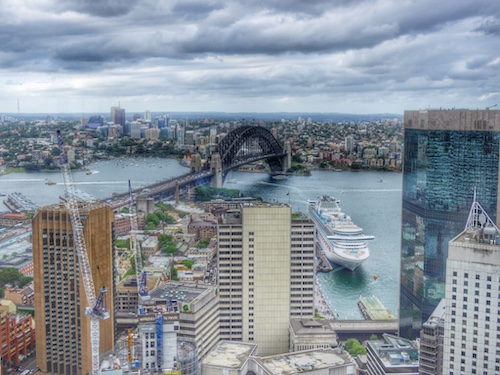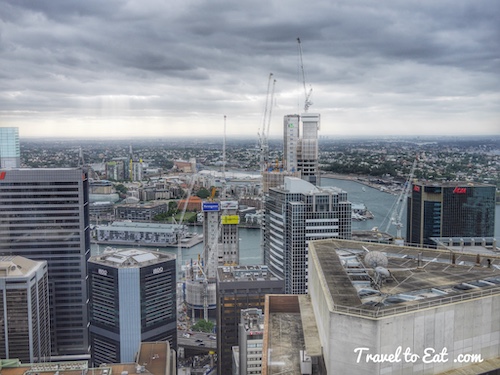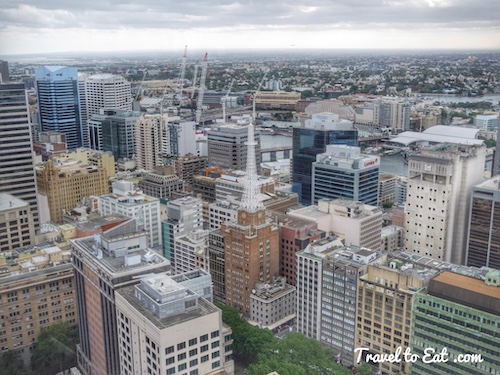 When you walk in, the dining area is overwhelmed by the view but has all the elements of fine dining with white tablecloths, a sommelier, and attentive waiters. The resturant takes 90 minutes to make a full revolution. We had an early reservation and it was quiet when we arrived but filled up completely by the time we left. Reservations are a must for the O Bar, it is one of Sydney's most popular spots. The views of Sydney were spectacular; we were hoping to see the sunset but it was overcast. You can really appreciate how large Sydney is when you see it from above.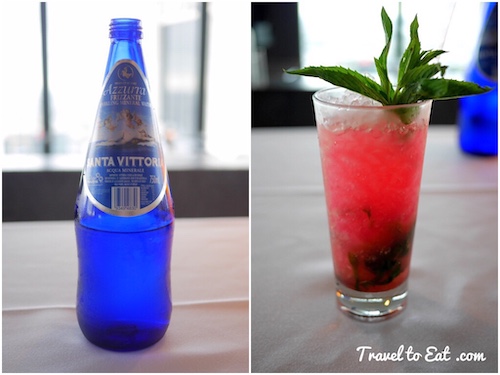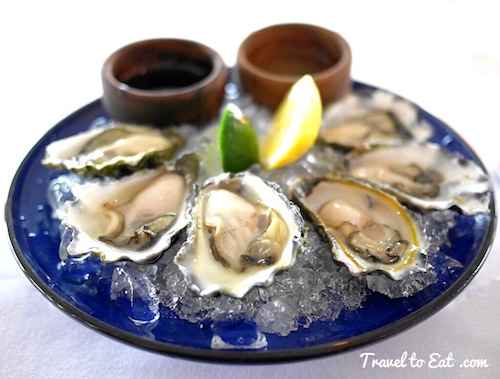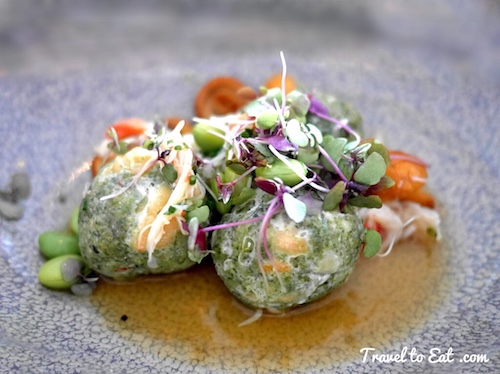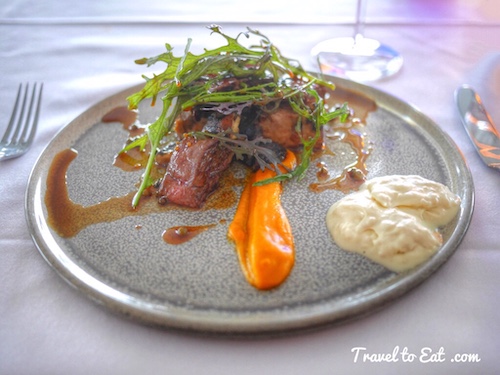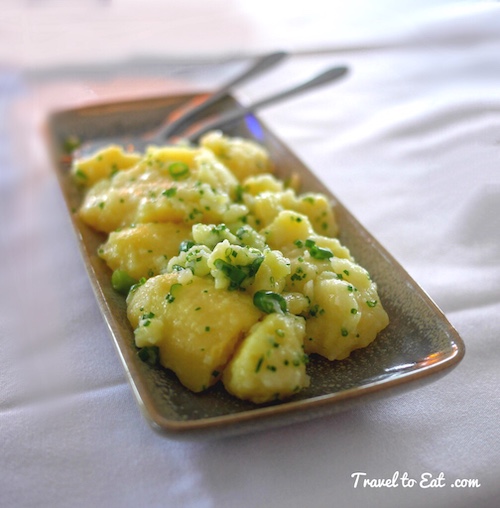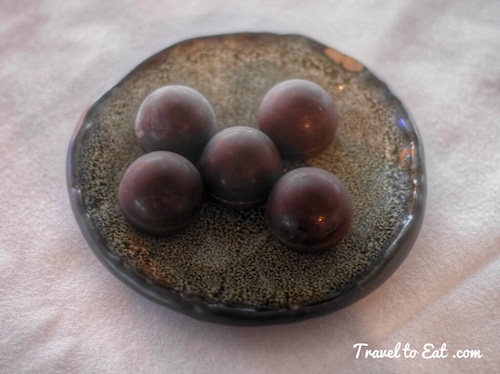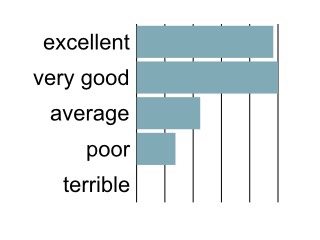 For appetizers, I decided to have another go at Australian oysters which come with cucumber verjuice mignonette and light citrus soy. I had no problem getting some additional Tabasco which I like with oysters. These oysters were much fresher and better than the ones I had at the Opera Bar but the taste was still a little off. It was then that I remembered that it was the middle of summer in Australia, a time I normally never eat raw oysters, the water warms up and it is breeding season (remember the "R" rule for raw oysters). I passed on oysters for the rest of the trip. Lisa had a Blood Peach Mojito which was just one of a list of inventive cocktails which was exceptionally good. She also had a heavenly steamed prawn and crab dumpling, one of the best I have had. For our main courses, Lisa had the tenderloin that you could cut with a fork and I had a really well prepared Angus beef and shortribs that literally fell apart. As a side we had garlic charisma potatoes made with kale, lemon, chili, and raw almonds, another tasty addition. For desert, we had the iced chocolate truffles, a delicious end to a lovely meal. We would certainly return and the reviews from TripAdvisor agreed. A great meal with an unbeatable view and excellent service, a nod to our French waiter who was just the right balance of friendly and helpful.
[mappress mapid="80″]
References:
Menu: http://www.obardining.com.au/wp-content/uploads/2014/11/Blood-Sugar-Menu-Spring.Summer.pdf
Website: http://www.obardining.com.au/
TripAdvisor: http://www.tripadvisor.com/Restaurant_Review-g255060-d3618428-Reviews-O_Bar_and_Dining-Sydney_New_South_Wales.html
Prickwithafork: http://prickwithafork.com/2014/12/27/eppur-si-muove-you-spin-me-right-round-baby-at-o-bar-dining/
Oysters: http://www.buzzfeed.com/emofly/the-only-7-things-you-need-to-know-about-oysters#.odXQxGbjQ
Oyster Guide: http://www.oysterguide.com
Chocolate Truffles: http://www.laruefinechocolate.com/%23larue