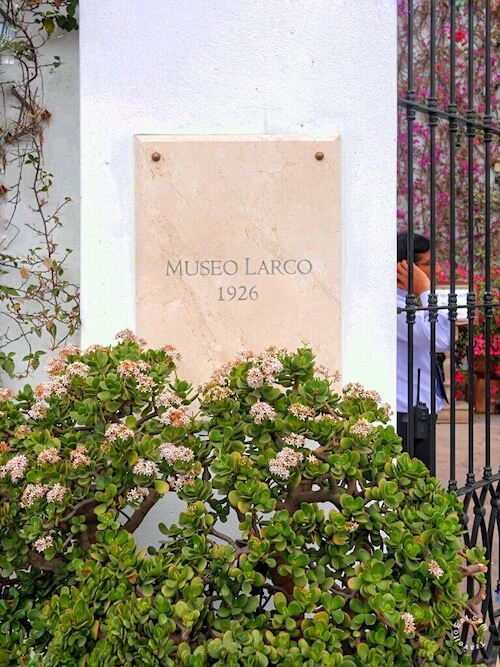 The Larco Museum (Museo Arqueológico Rafael Larco Herrera) is a privately owned museum of pre-Columbian art, located in the Pueblo Libre District of Lima, Peru. The museum is housed in an 18th-century vice-royal building built over a 7th-century pre-Columbian pyramid. It showcases chronological galleries that provide a thorough overview of 4,000 years of Peruvian pre-Columbian history. It is well known for its gallery of pre-Columbian erotic pottery. Rafael Larco Hoyle (May 18, 1901 in Chicama Valley, Peru – 1966), raised at Chiclin, his family's estate, was sent to school in Maryland, USA, at the age of twelve. He later entered Cornell University to study agricultural engineering and by 1923 returned to Peru to work on the family's sugar cane plantation. Peruvian archaeology was in its infancy and Larco Hoyle realized many typologies were yet to be recognized. He set out to correct that and approached archaeological research academically. During the 1930s, he discovered many distinct Peruvian cultures such as Viru, Salinar, Cupisnique, and Lambayeque. In Lima, Larco purchased the Luna Cartland family house, built in 1700, to house his museum. The grounds of the museum are surrounded by beautiful gardens that won the prize for best gardens in Peru in January 2009.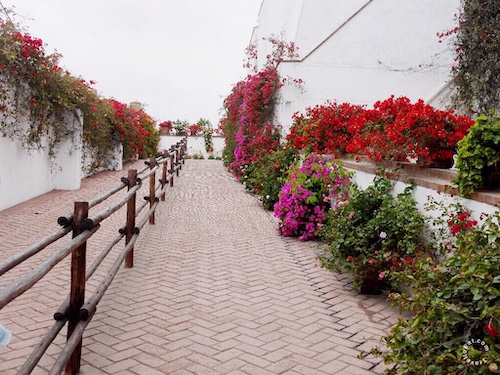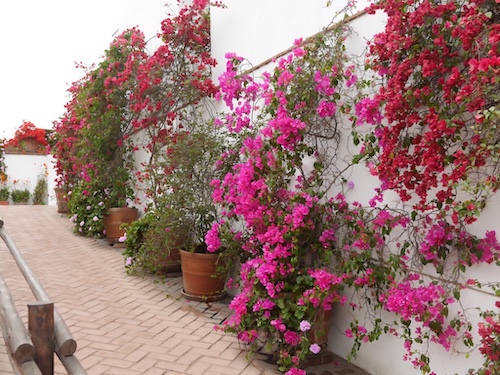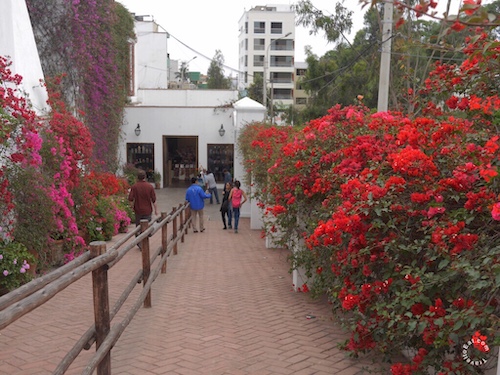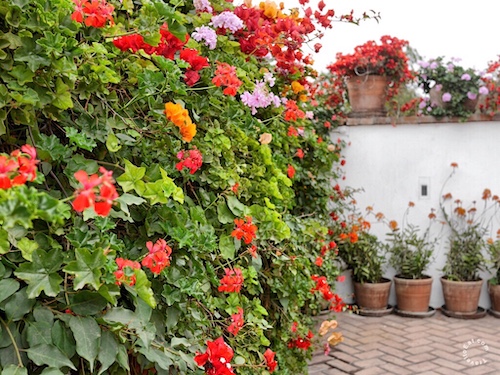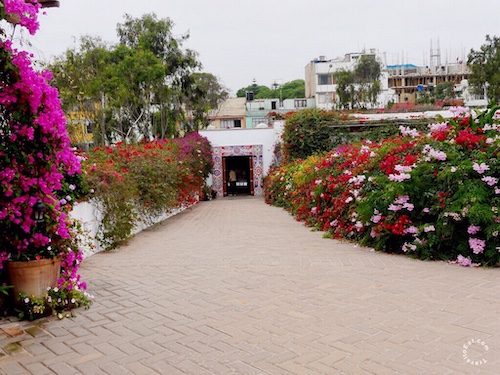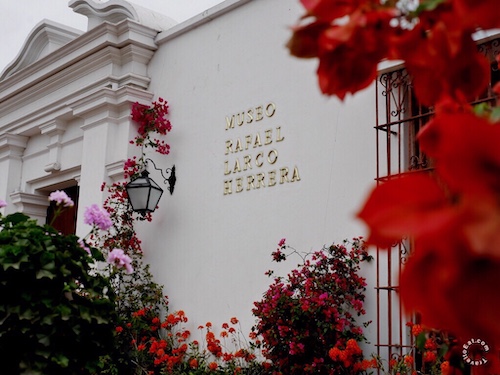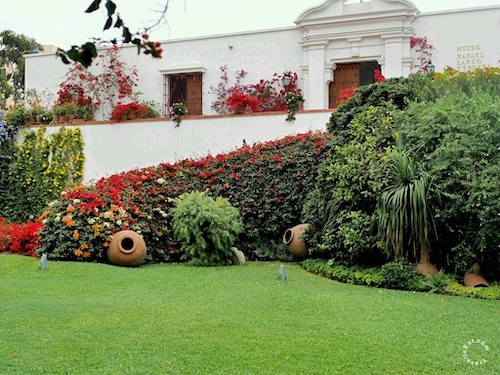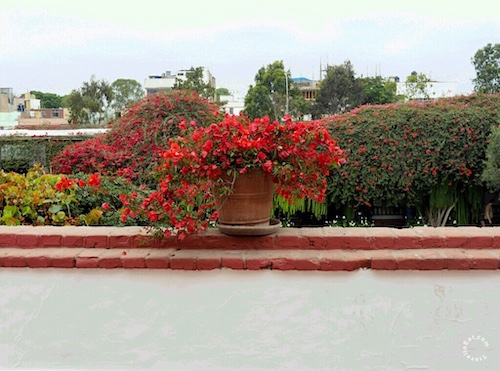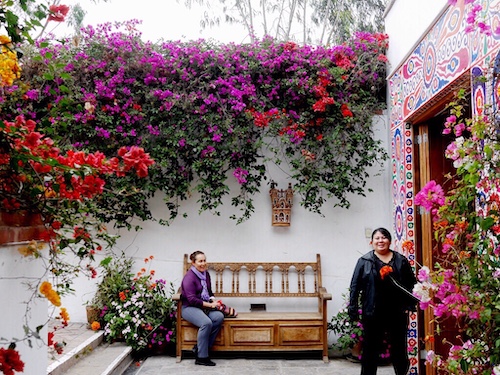 The garden is a true colorful festival of perfumes and colors that is uniquely Peruvian. Throughout my travels, almost every tropical destination has had bougainvillea, which I had never suspected came from South America. As expected, they had a variety of the colorful bougainvillea. Lima's weather and climate isn't what one would expect when travelling to a city located just 12° south of the equator. It's usually described as mild and warm throughout the year without noteworthy rain making Lima one of the driest capitals in the world. The average temperatures range from 12°C/54°F to 18°C/64°F (low) and 24°C/75°F to 28°C/82°F (high). Relative humidity is very high, and produces quickly passing morning fogs from December to April and persistent low clouds and mist from May to November. Sunny, moist and warm summers (December – April) are followed by cloudy, damp and cool winters (May-November). It was overcast the entire time we visited at New Years.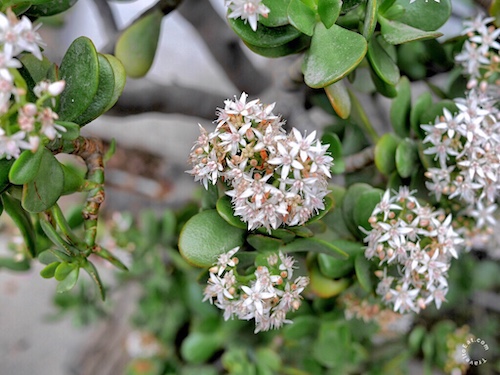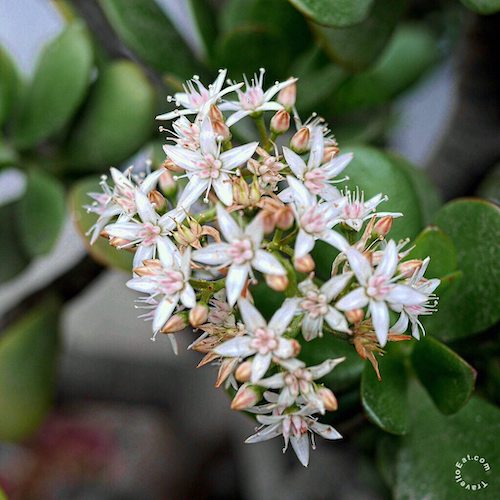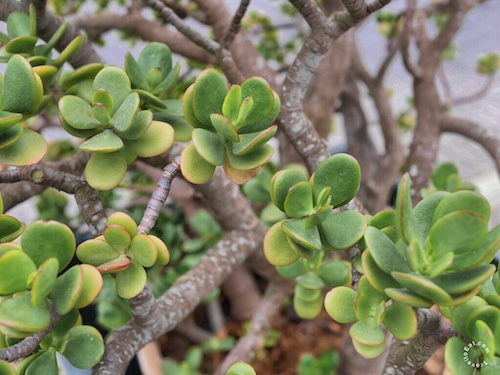 At the entrance they have the largest Friendship Tree (Crassula ovata) I think I have ever seen. A number of rather similar, large shrub-like succulent Crassulas are widely grown as house plants with common names of Jade Plant/Tree, Money Plant, Dollar Plant/Tree. All are varieties of Crassula ovata which is synonymous with several older names. Jade plants are popular because they are incredibly easy to grow. With proper care and time they make fine specimens not unlike bonsai trees. The jade plant is an evergreen with thick branches. It has thick, shiny, smooth, leaves that grow in opposing pairs along the branches. Leaves are a rich jade green, although some may appear to be more of a yellow-green. Some varieties may develop a red tinge on the edges of leaves when exposed to high levels of sunlight. New stem growth is the same color and texture as the leaves, but becomes brown and woody with age. Under the right conditions, they may produce small white or pink star-like flowers in early spring.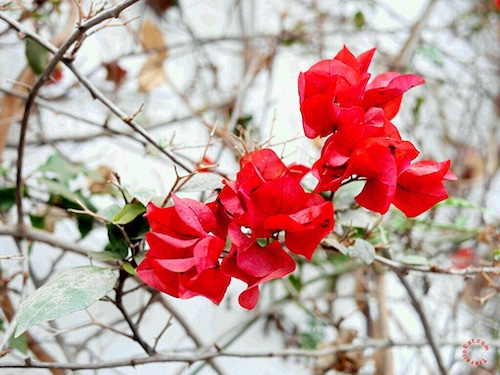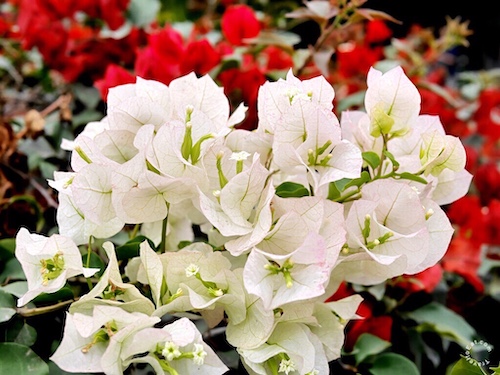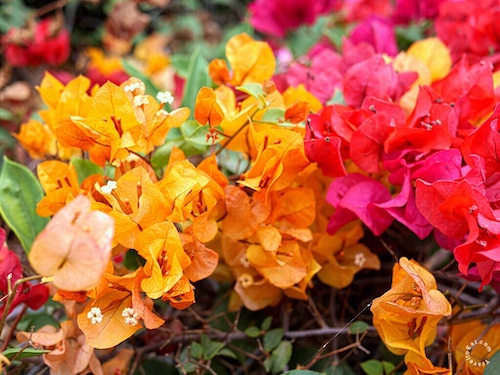 Bougainvillea is a genus of thorny ornamental vines, bushes, and trees with flower-like spring leaves near its flowers which I have referenced many times in this blog. Different authors accept between four and 18 species in the genus. They are native plants of South America from Brazil west to Peru and south to southern Argentina (Chubut Province).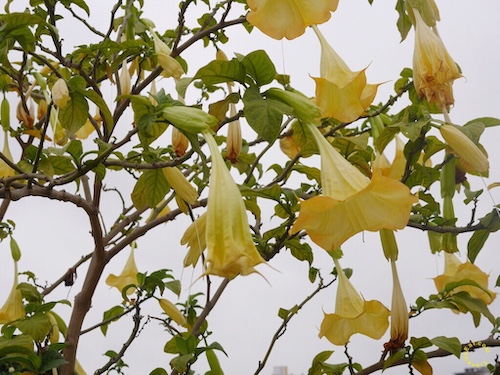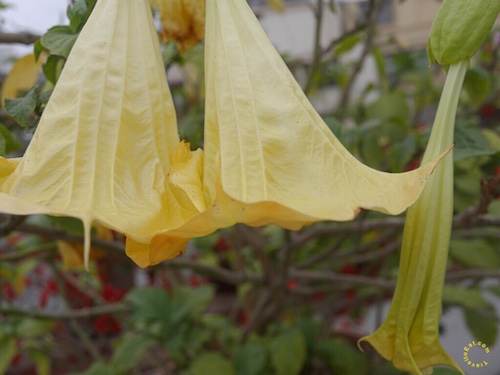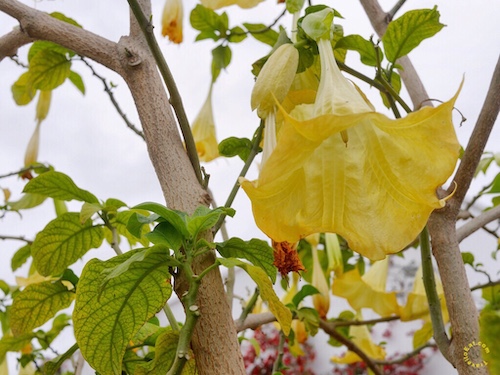 Brugmansia is a genus of seven species of flowering plants in the family Solanaceae. Their large, fragrant flowers give them their common name of angel's trumpets, a name sometimes used for the closely related genus Datura. Brugmansia are native to tropical regions of South America, along the Andes from Venezuela to northern Chile, and also in south-eastern Brazil. Everything about an angel's trumpet is dramatic, pendulous floral bells sway gracefully from sturdy branches, perfuming the sultry evening air with fabulous scent. Its celestial color chart ranges from pristine white to peachy pink and creamy yellow, and mature specimens put on a truly stellar show in full bloom. Brugmansia pittieri (Golden Angel's Trumpet) is a species of plant in the Solanaceae family. It is endemic to Ecuador although listed as extinct in the wild.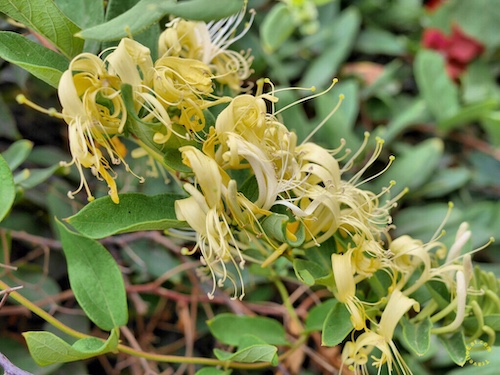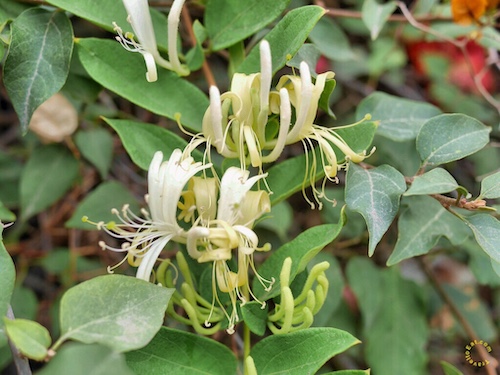 Japanese Honeysuckle (Lonicera japonica) is a plant almost everyone knows. Children love it, because they can suck the sweet nectar from its flowers. Many adults hate it, since it grows quickly and can strangle other plants. Japanese Honeysuckle can be a shrub or a vine. Usually it's seen as a vine, growing up tree trunks or covering another shrub. This plant was brought here from Asia and has spread steadily. It is is usually seen on the edges of woods, streams, or roads. It also lives in fields and gardens. Japanese Honeysuckle has three-inch leaves which are green and oval-shaped. They are opposite, which means two leaves grow as a pair from the same spot on the stem, but on opposite sides.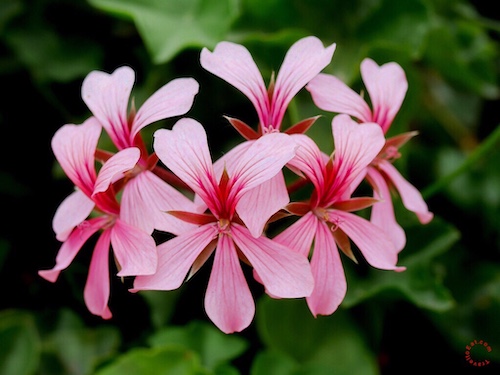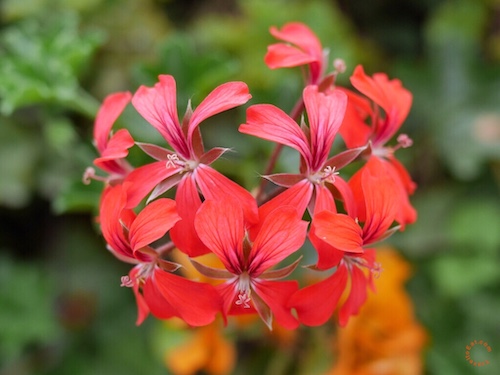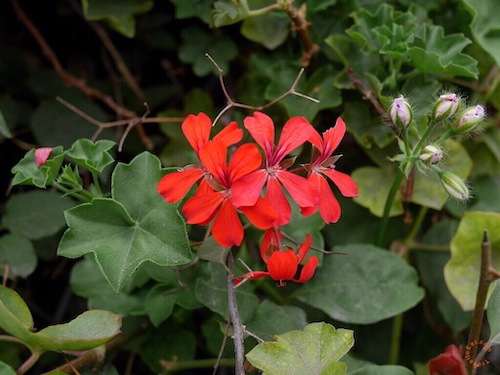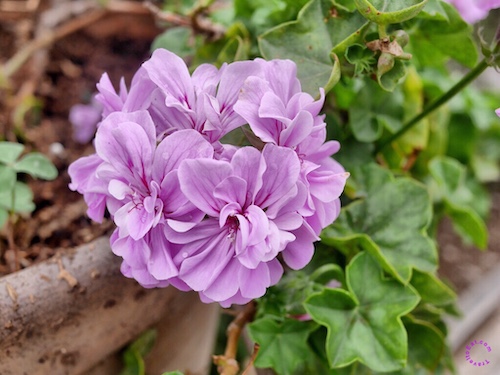 Pelargonium peltatum is a species of pelargonium known by the common names ivy-leaf geranium and cascading geranium. It is native to southern Africa, particularly South Africa. It is commonly grown as an ornamental plant. This is a subshrub which can reach two meters in height, its branches prostrate, spreading, trailing, or climbing. The thin, somewhat succulent leaves are peltate, their petioles attached at the middle of the ivy-shaped leaf blades. The inflorescence is an umbel of 2 to 9 pink flowers, with 5 dark-streaked or marked petals each up to 2 centimeters long. The "double hybrid" Ivy Geraniums can be very showy and durable as you can see in the above photograph. This could be a Madame Crousse, Lara Gem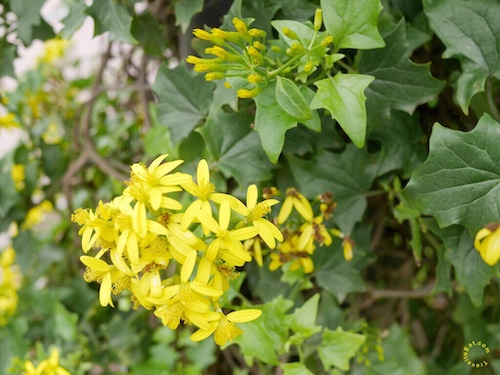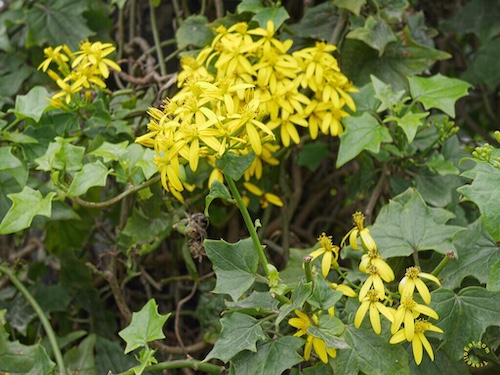 Senecio angulatus also known as creeping groundsel and sometimes as cape ivy is a climbing succulent perennial from the family Asteraceae of the genus Senecio; a native of South Africa, an alien in Australia, a problem weed in New Zealand, naturalized in North Africa, and cultivated elsewhere.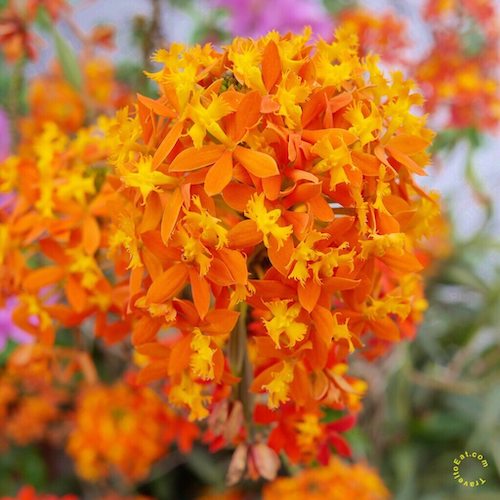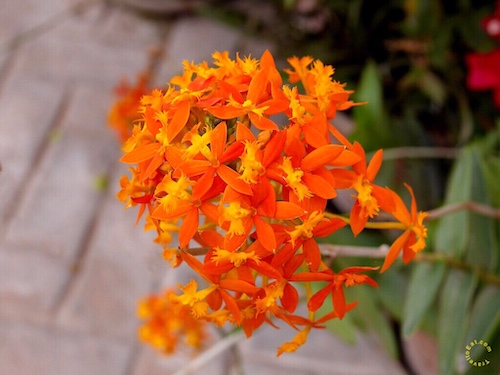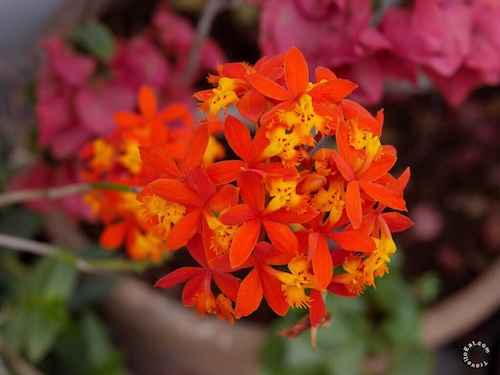 I personally consider the Epidendrum crucifix orchids to be the most exotic and beautiful orchids I have seen. Epidendrum ibaguense is a species of epiphytic orchid of the genus Epidendrum which occurs in Trinidad, French Guyana, Venezuela, Colombia, Peru and Northern Brazil. Epidendrum radicans is a species of orchid with common names including ground-rooting epidendrum, fire-star orchid, rainbow orchid, and reed-stem epidendrum. It is a common roadside weed at middle elevations in Central America. Epidendrum orchids are native to the tropics and subtropical regions of the American continents, from North Carolina to Argentina. Their habitat can be epiphytic, terrestrial (such as E. fulgens), or even lithophytic (growing on bare rock, such as E. calanthm and E. saxatile). Many are grown in the Andes, at altitudes between 1,000 and 3,000 m. Their habitats include humid jungles, dry tropical forests, sunny grassy slopes, cool cloud forests, and sandy barrier islands.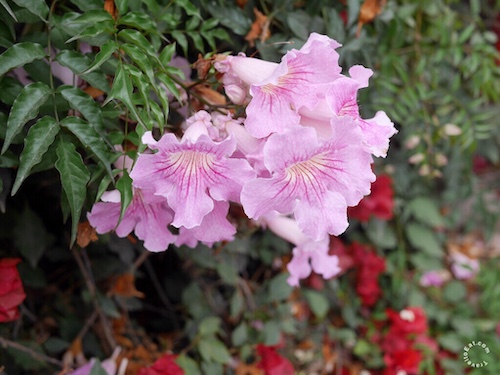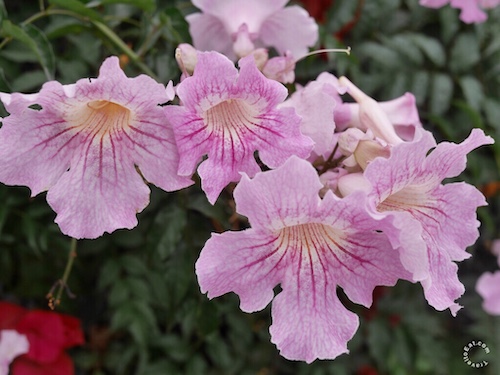 Podranea ricasoliana with its glossy foliage and abundance of attractive pink flowers is a very showy plant, well known to many South African gardeners. It is a vigorous, woody, rambling, evergreen climber without tendrils.The leaves are compound and a deep glossy green. It sends up many tall strong stems, 3 to 5 m up to 10+ m high if left unchecked, that have long spreading branches with a graceful arching habit. Large bunches of fragrant lilac-pink, trumpet-shaped, foxglove-like flowers are produced all summer long (November to March).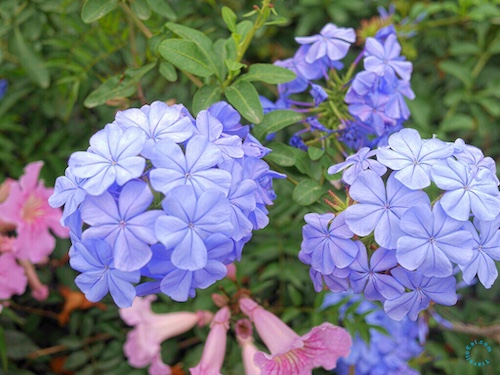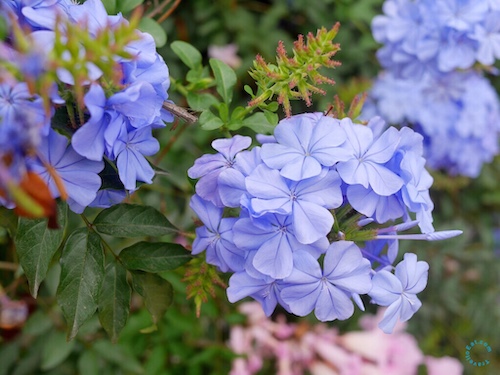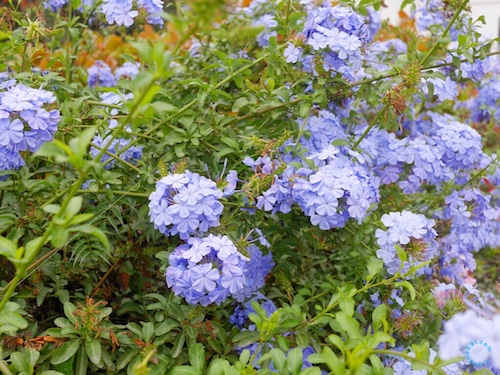 Plumbago is another of my favorite flowering plants. Plumbago is a genus of 10-20 species of flowering plants in the family Plumbaginaceae, native to warm temperate to tropical regions of the world. Common names include plumbago and leadwort (names which are also shared by the genus Ceratostigma). The generic name, derived from the Latin words plumbum ("lead") and agere ("to resemble"), was first used by Pliny the Elder (23-79) for a plant known as μολυβδαινα (molybdaina). This may have referred to its lead-blue flower color, the ability of the sap to create lead-colored stains on skin, or Pliny's belief that the plant was a cure for lead poisoning. Plumbago auriculata (common names blue plumbago, Cape plumbago or Cape leadwort), syn. P. capensis, is a species of flowering plant in the family Plumbaginaceae, native to South Africa. The specific epithet auriculata means "with ears", referring to the shape of the leaves.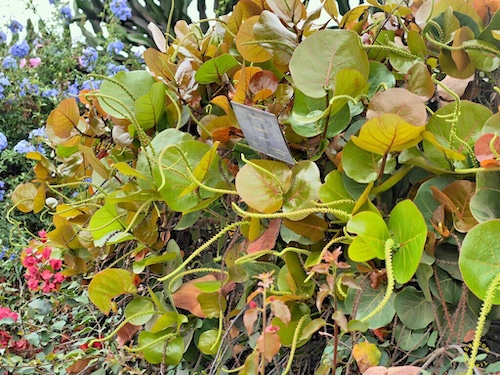 Coccoloba is a genus of about 120–150 species of flowering plants in the family Polygonaceae. The genus is native to tropical and subtropical regions of the Americas, in South America, the Caribbean and Central America, with two species extending into Florida. Coccoloba uvifera is a species of flowering plant in the buckwheat family, Polygonaceae, that is native to coastal beaches throughout tropical America and the Caribbean. Common names include Seagrape and Baygrape. The sea grape is native to Central and South America. It extends south as far as northern Peru and Brazil. The sea grape is now widely grown around the world in tropical and subtropical areas such as Hawaii, southern Florida, the Bahamas and Bermuda. In Puerto Rico and other Spanish-speaking areas, it is known as Uva de mar. The Latin name for the plant comes from the Greek words for berry and pod.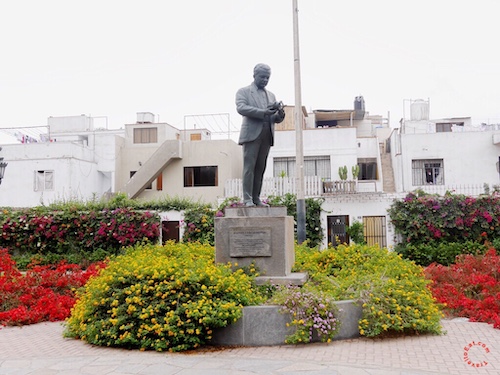 The Larco Museum is about 25 minutes by taxi from San Isidro/Miraflores. It's open from 9 a.m. to 6 p.m. daily; admission is $11.50. If you visit Lima, you should visit this museum, if only for the beautiful garden. Please leave a comment and tell us what you think.
References:
Larco Museum: http://www.museolarco.org/
Angel's Trumpet: http://www.southernliving.com/home-garden/gardens/angels-trumpets
Daves Garden Plumbago: http://davesgarden.com/guides/pf/go/414/
Orange Crucifix Orchid: http://davesgarden.com/guides/pf/go/201719/
Japanese Honysuckle: http://www.fcps.edu/islandcreekes/ecology/japanese_honeysuckle.htm
Ivy Leaf Geraniums: http://davesgarden.com/guides/pf/go/63917/
Ivy Leaf Geranium Hybrids: http://blog.pennlive.com/gardening/2014/04/new_geraniums_turn_two_flaws_i.html
Sea Grape: https://zoom50.wordpress.com/2011/01/04/uva-de-playaseagrapela-coccoloba-uvifera/