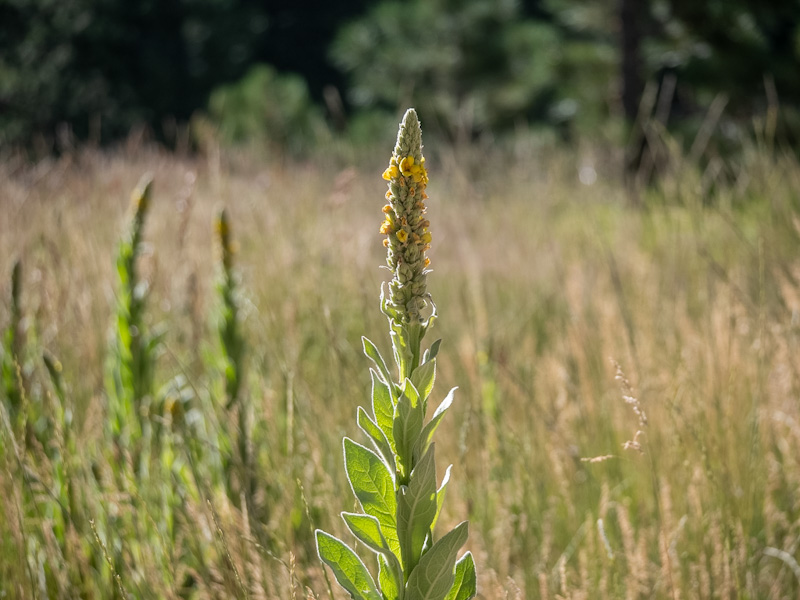 Common Names: Mullein, Great Mullein, Greater Mullein, Common Mullein
Synonyms: Verbascum thapsus
Taxonomy: Figwort (Scrophulariaceae)
Habit: biennial plant
Size: up to 6'
Flowers: yellow
Bloom: Jun, Jul, Aug
Leaves: alternate
Fruit: capsules
Description:
The leaves are large, up to 20" (50 cm) long. The second-year plants normally produce a single unbranched stem, usually 3-6' (1–2 m) tall. In the eastern part of its range in China, it is, however, only reported to grow up to 4.5' (1.5 m) tall. The tall, pole-like stems end in a dense spike of flowers that can occupy up to half the stem length. Flowers have five stamen, a five-lobed calyx tube, and a five-petalled corolla, the latter bright yellow and an 0.5-1" (1.5–3 cm) wide. A given flower is open only for a single day, opening before dawn and closing in the afternoon.
Distribution: It is native to Europe, northern Africa, and Asia, and introduced in the Americas and Australia in the 18th century.
Seen: UT, NV (Mount Charleston)
Habitat: grows in a wide variety of habitats, but prefers well-lit, disturbed soils, where it can appear soon after the ground receives light, from long-lived seeds that persist in the soil seed bank.