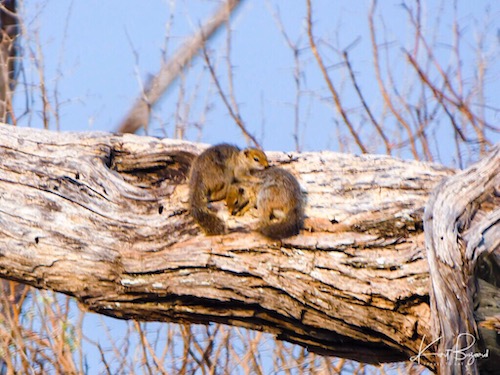 I thought I would write a little about the smaller animals in Botswana who are often overlooked with regards to the more popular lions, elephants and giraffes. As gardeners, we tend to think of squirrels as pests. They dig up freshly planted seeds, dig holes in lawns, drop the scales of pine cones everywhere, and they often get to green tomatoes and fruit before it is picked. Yet squirrels are important to the well being of forests. The caching behaviour of seeds by squirrels is very important for the renewal of many tree species, particularly plants that produce heavy seeds that have few chances to sprout when they fall near the parent plant. Conservationists have long regarded mongooses as an enemy to native wildlife and ecosystems when introduced to islands without natural predators. In its natural habitat, southern Eurasia and mainland Africa, they are a natural part of the food chain, eaten by jackals, wild dogs and hawks. The mongoose is carnivorous, consuming mostly insects, but also other small mammals, lizards, snakes and eggs of all kinds. Also, like squirrels, they will supplement occasionally with berries and seeds.
Smith's Bush Squirrel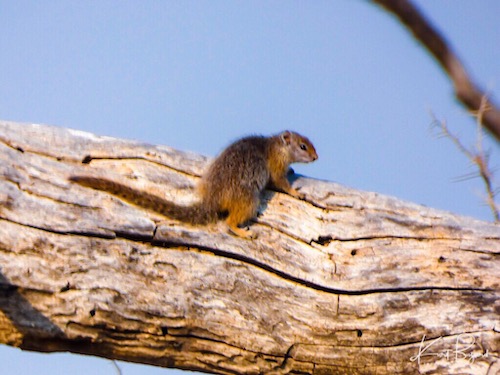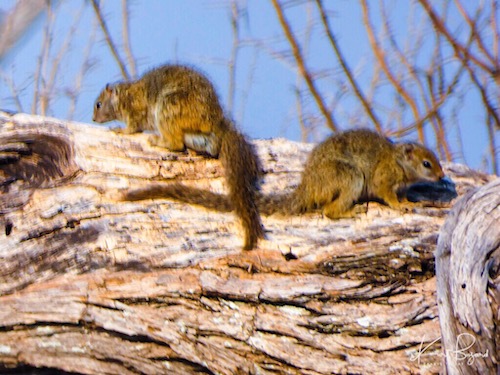 The African bush squirrels are a genus, Paraxerus, eleven squirrels of the subfamily Xerinae, only found in Africa. Smith's bush squirrel, the yellow-footed squirrel, or the tree squirrel in South Africa, Paraxerus cepapi, is one of the African bush squirrels found in Botswana and surrounding regions. The length of this species (including the tail) is 14 in (35 cm), and it weighs 6.7 oz (190 g), quite a bit lighter and smaller than the western gray squirrel (Sciurus griseus) which weighs 1–2 lb with a length of 17–24 in. The coat color varies throughout the region. In the western and arid parts of its range, it is pale grey, and in the eastern localities, more brown. Its head and legs are a rusty color. Coloration on the chest varies from yellowish to buff in the east, to white in the west.
Yellow Mongoose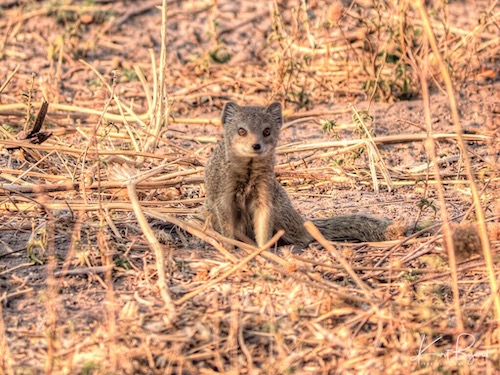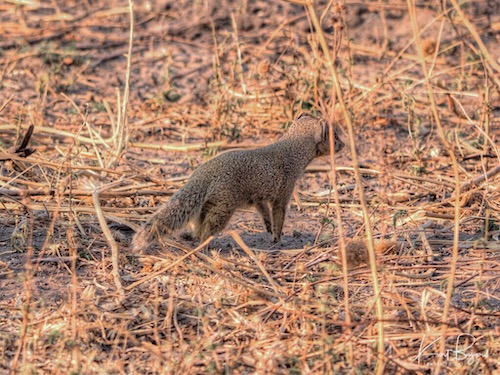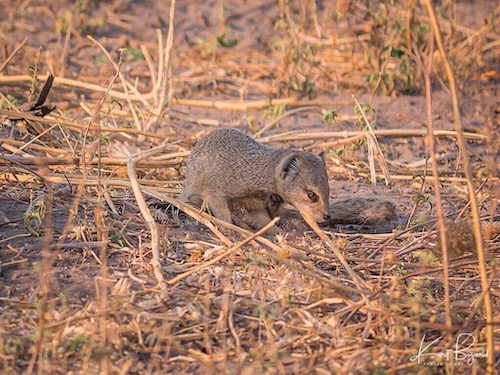 The yellow mongoose (Cynictis penicillata), sometimes referred to as the red meerkat, is a member of the mongoose family averaging about 1 lb (1/2 kg) in weight and about 20 in (500 mm) in length. It lives in open country, from semi-desert scrubland to grasslands like those found in the Okavango delta. As many as 12 subspecies of yellow mongoose have been recognized in the past, distinguished predominantly by color, size, and length of hair and tail. There is a zone of rapid geographic change which separates individuals from northern Nambia, Botswana and northern Transvaal from individuals in the south. Individuals between these two areas may be intermediate in traits. This creates variations, making the distinction between subspecies impossible. Southern specimens (South Africa, Namibia) are usually larger with tawny-yellowish fur whereas northern individuals (as seen in the photo above from Botswana) are smaller with a grizzled, greyish-yellow coat.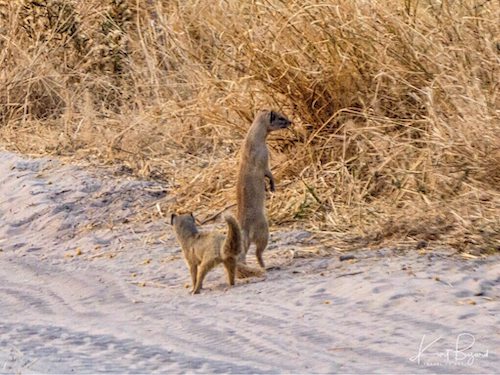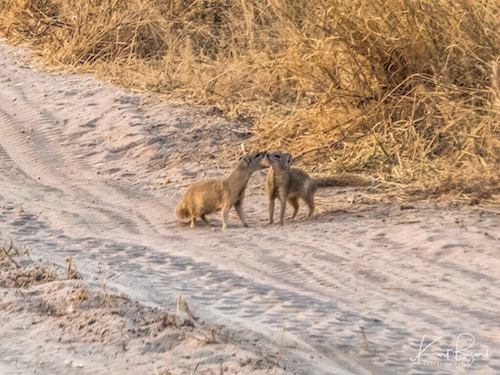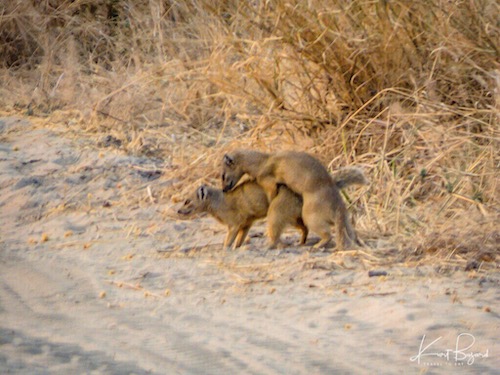 This second set of photos also show a yellow mongoose couple, but these look completely different than the first set. They are more yellow and they stand up on two legs, balanced by the tail, like meerkats. The tail has a white tip and these are larger in size than the first set. Also they have a double black stripe over the ears. This combination of features is indicative of the more southern subspecies of the yellow mongoose. You may have noticed that the mongooses are courting and mating in the photos. The mongoose emits a high-pitched noise, commonly known as giggling, when it mates and during courtship. Also the male makes a soft purring sound while the female bites or licks the male's ears and neck continuously. The gestation period varies between 42 and 57 days. The birth season is estimated to occur from August to November, possibly extending into January. The reproductive season might be more prolonged in northern specimens of the yellow mongoose. Young are born in clean chambers in the burrows which are devoid of bedding material. The mean litter size is about 2 young per litter.
Dwarf Mongoose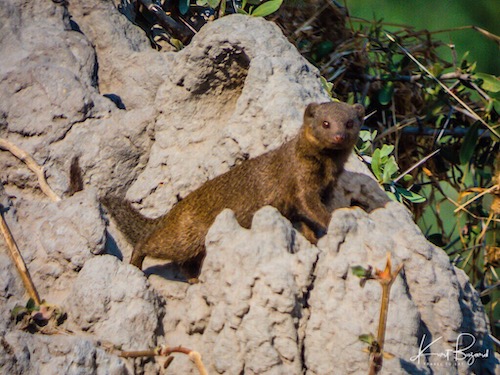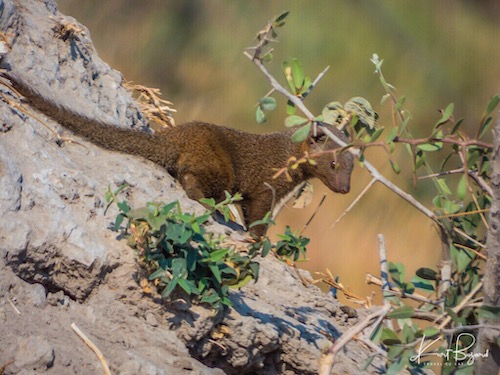 The common dwarf mongoose (Helogale parvula), sometimes just called the dwarf mongoose, is another species of the 29 members of the mongoose family (Herpestidae). It can be distinguished from other mongooses by its size. It is much smaller than most other species 7–8 in (18 to 28 cm), 7.5–12 oz (210 to 350 g); in fact, it is Africa's smallest carnivorous mammal. The soft fur is very variable in color, ranging from yellowish red to very dark brown, as seen above. The dwarf mongoose is primarily found in dry grassland, open forests, and bush land, up to 6,600 ft (2,000 m) in altitude. It is especially common in areas with many termite mounds, their favorite sleeping place. As you can see from the photos, the dwarf mongoose I photographed is indeed on a termite mound.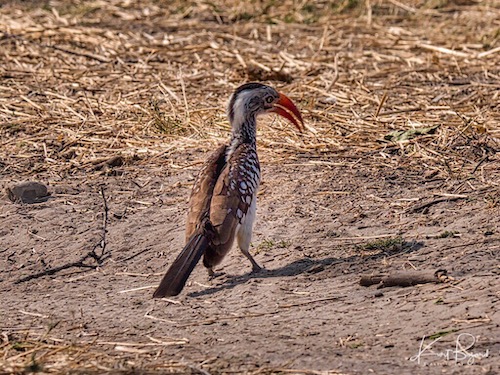 A mutualistic relationship has evolved between dwarf mongooses and hornbills, in which hornbills seek out the mongooses in order for the two species to forage together, and to warn each other of nearby raptors and other predators.
Meerkat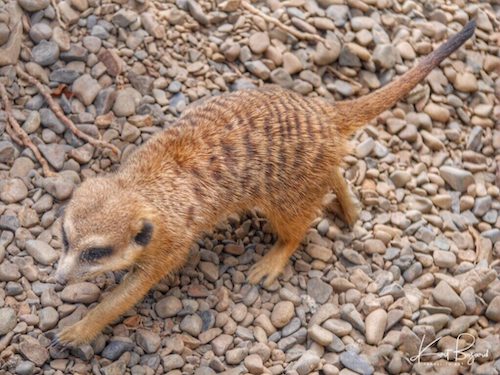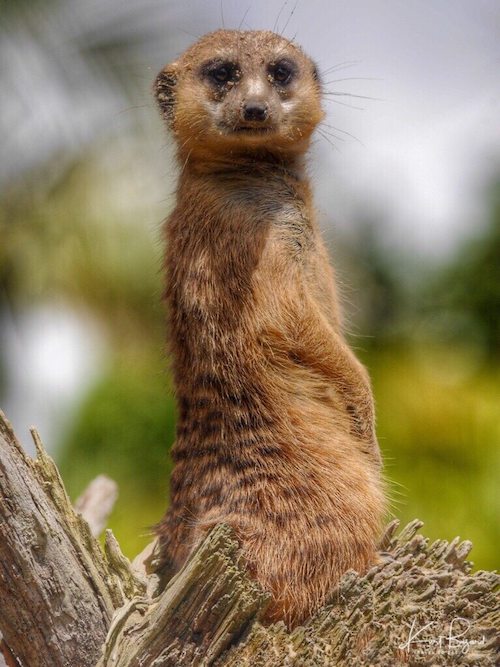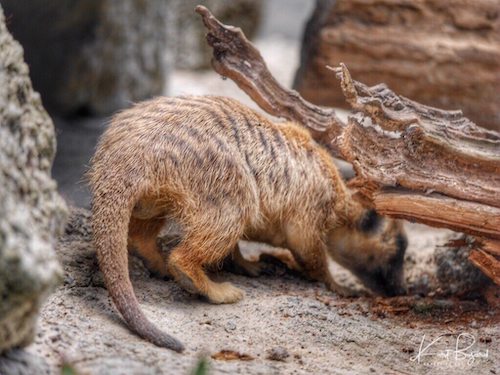 The meerkat or suricate (Suricata suricatta) is probably the best known member of the mongoose family (Herpestidae). It is the only member of the genus Suricata. Meerkats live in all parts of the Kalahari Desert in Botswana and surrounding countries. The meerkat weighs on average about 1.1 to 5.5 lb (0.5 to 2.5 kg). Its long slender body and limbs give it a body length of 14 to 20 in (35 to 50 cm) and an added tail length of around 9.8 in (25 cm). The meerkat uses its tail to balance when standing upright, as well as for signaling. At the end of each of a meerkat's "fingers" is a claw used for digging burrows and digging for prey. Claws are also used with muscular hindlegs to help climb trees. Meerkats have four toes on each foot and long slender limbs. While Botswana has meerkats, this particular photo was taken in New Zealand at the Auckland zoo.
Ring-Tailed Mongoose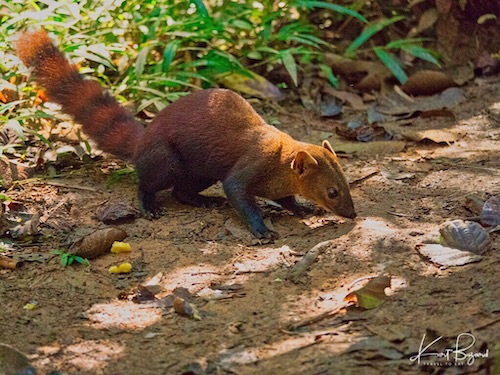 This beautiful ring-tailed mongoose (Galidia elegans) is a mongoose in the subfamily Galidiinae, native to Madagascar. This beautiful mongoose also has a family secret. Recent molecular studies indicate that the 10 living species of Madagascar carnivores evolved from one ancestor that is thought to have rafted over from mainland Africa 18–24 million years ago. So while they are related to modern African mongooses in the family Herpestidae, they have their own subfamily Galidiinae. The ring-tailed mongoose is relatively small but is the largest member of the subfamily Galidiinae. It is usually 12.5 to 15 in (32 to 38 cm) long and weighs only 25 to 32 oz (700 to 900 g). Its body is long and slender, and the rounded head has a pointed snout. The body is a dark red color and the feet are black. As the name implies, its bushy tail is covered with black and red rings and is similar to the red panda.
As always, I hope you enjoyed the post, please leave a comment.
References:
The Mammals of the Southern African Subregion, Skinner and Smithers 1990