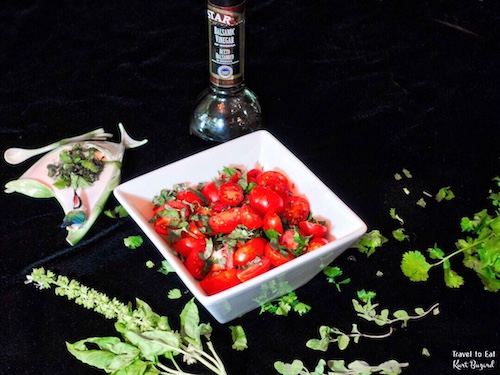 I just love it when the tomatoes come in at the beginning of spring. My little garden is brimming with tomatoes and I grow basil, cilantro and oregano as well. Naturally I grow the tomatoes to eat them and I thought I would share my thoughts on preparing a truly delicious tomato salad.
My Tomato Garden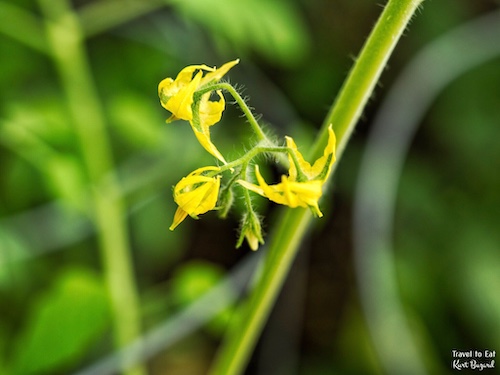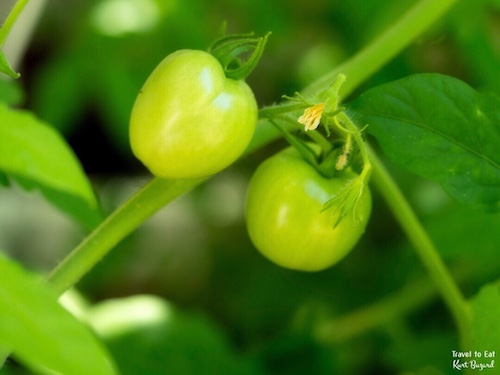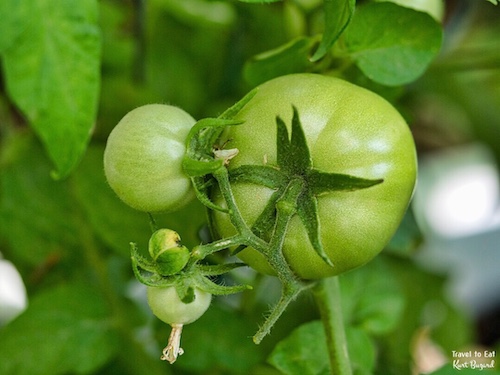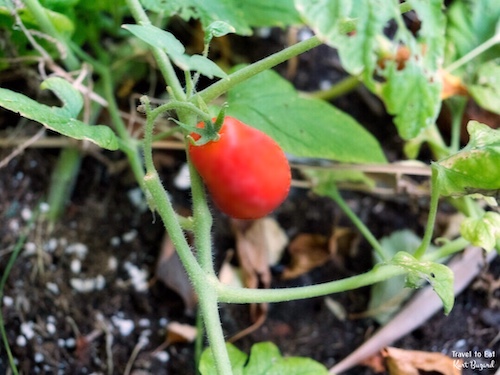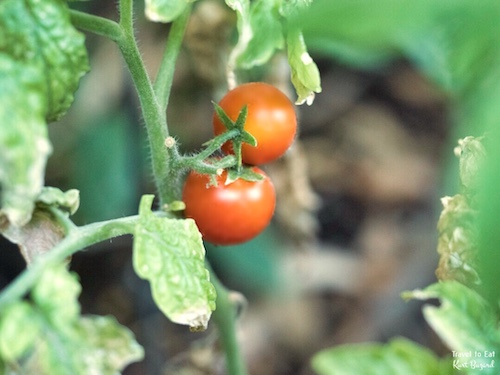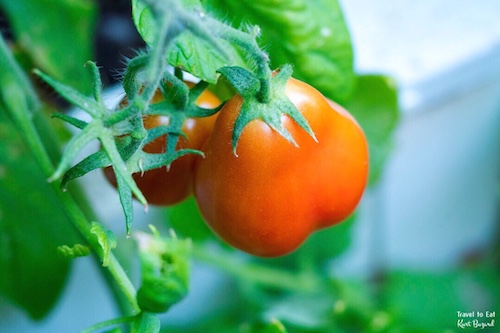 The growing season is quite different from other parts of the country with our mild winters and very hot summers. I usually plant my tomatoes in February and my crop lasts until June. The hot summer heat eventually kills the plants after that. There is something very pleasant about visiting the garden each morning, the tomato flowers, green tomatoes and the the onslaught of the crop. There is nothing like going out to the garden to snack on sweet tomatoes plucked from the vine. You should try growing a garden, it really is not that hard.
Basil, Oregano and Cilantro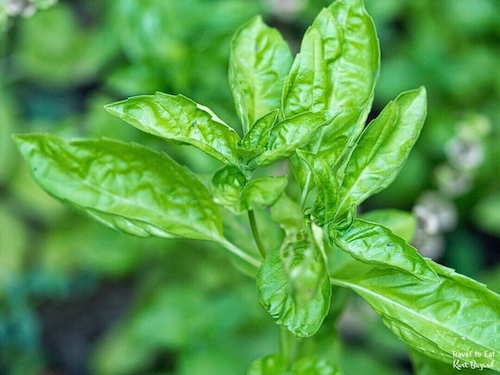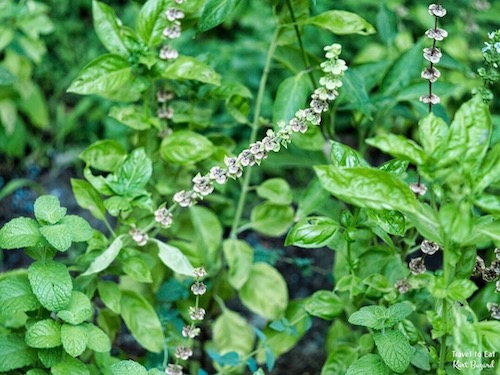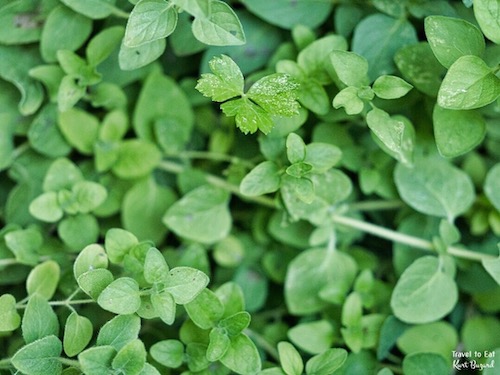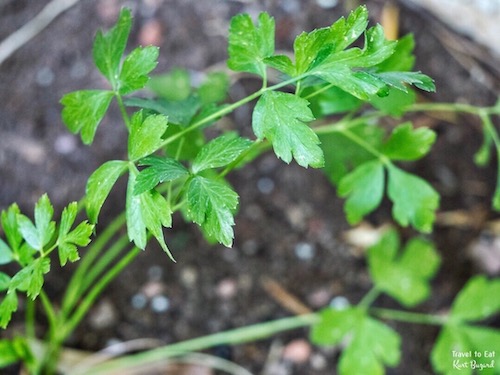 Surprisingly the herbs continue to grow all summer despite the heat. My garden is on the east side of the house and is protected from the strongest afternoon heat. As the weather gets hot the basil begins to flower, sending the basil plants into overdrive. They send up stalks of purple flowers every day if you let them. They are pretty flowers, but they are also a sign that the plant is shutting down and going into reproduction mode (instead of growth mode, shooting out more basil leaves for my pesto cravings). Pinching off these flowers helps keep the plant growing. In fact, while pinching off the flower buds will help, it's even better to whack off half the plant and make pesto. Give it a week or two and you'll find an even more robust basil plant grown back.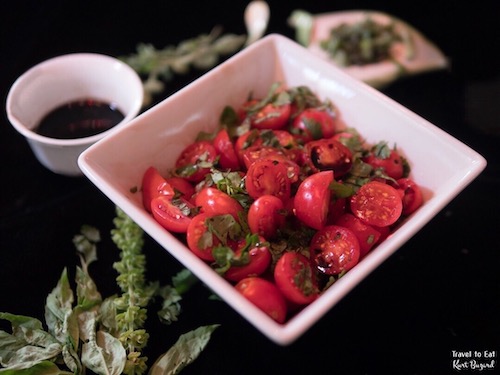 Ingredients
Cherry Tomatoes cut in two, about a cup or 10 oz per person
Balsamic Vinegar about a tablespoon per person
Fresh Cilantro or Parsley finely chopped, about 2 teaspoons per person
Fresh Basil finely chopped, about 1/2 teaspoon per person
Fresh Oregano finely chopped, about 1/2 teaspoon per person
Salt to taste
Preparation
Really, this is so simple that you just put the fresh ingredients together and eat. I do have a few helpful thoughts though. The flavor is brought out by salting the tomatoes, so don't skip this. Some people get worried about putting this much salt on their food, but the bulk of it will drip off, leaving you with really beautiful, intensely flavored tomatoes. I like to use a finishing salt like Fleur de Sel or truffle salt but regular fine salt is also ok, don't use kosher salt as it takes too long to dissolve.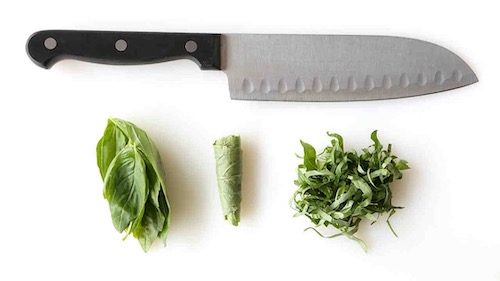 I lay the fresh basil leaves in a pile and add the oregano leaves on top. Then roll the plackage in a tight roll and cut very fine slices. The French call this a chiffonade. For the cilantro or parsley, I remove the larger stems, ball it up and do the same fine cutting. I am not really that careful about the amount of herbs I use, I usually just go out to the garden and pick a few. The amounts can vary with personal taste.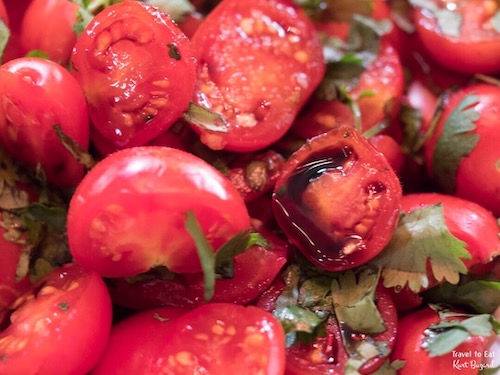 The dressing is a matter of choice. Since I am on a perpetual diet, I usually go for the balsamic vinegar which is sweet and complex with only 15 calories per tablespoon. I find I really don't like much oil in the summer and I will sometimes substitute red wine vinegar with a pinch of sugar (or Truvia) for the balsamic dressing, especially on cucumbers. If you like vinaigrette, try olive oil (1/4 cup), red wine vinegar (3 tsps), sugar (1 1/2 tsps) and salt (3/4 tsps). This will make enough for 4 servings although the calories increase to 30-50 calories. Be sure to coat the herbs with the dressing of your choice in a separate bowl prior to pouring it over the tomatoes. I then cover and place in the refrigerator for at least an hour so the flavors can marinate and the salad becomes nice and cold.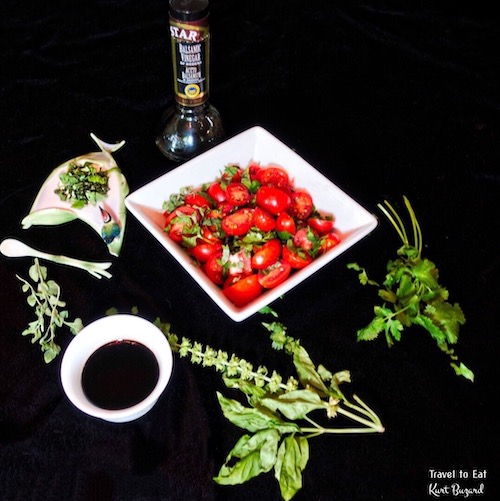 You can add countless extras to these tomatoes, slices of avocado, crumbled feta cheese on top or even garlic added to the vinaigrette. As always, I hope you enjoyed the post, please leave a comment.
References:
Marinated Cherry Tomato Salad: http://allrecipes.com/recipe/14151/marinated-cherry-tomato-salad/
Basil Flowers: http://www.thekitchn.com/flowers-on-your-basil-plants-p-151221
Chiffonade: http://veganyumyum.com/2007/01/how-to-chiffonade-basil/index.html
Chiffonade Video: http://www.marthastewart.com/967607/how-chiffonade
Vinaigrette Dressings: http://www.food.com/recipe/basic-vinaigrette-dressing-with-8-variations-213989