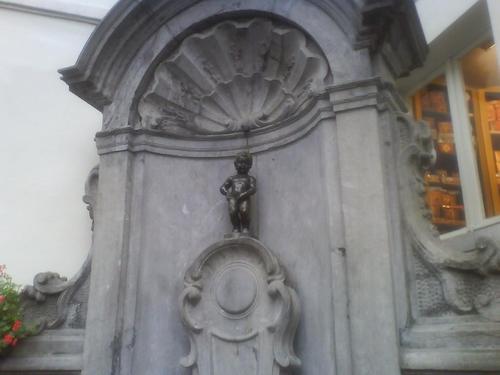 I know this is a little out of order since I am currently in Paris, but I found this charming photo from our trip to Brussels a few years ago and I thought I would share. Manneken Pis (literally Little Man Pee in Marols, a Dutch dialect spoken in Brussels, also known in French as le Petit Julien), is a famous Brussels landmark. It is a small bronze fountain sculpture depicting a naked little boy urinating into the fountain's basin. It was designed by Jerome Duquesnoy and put in place in 1618 or 1619. It bears a similar cultural significance as Copenhagen's Little Mermaid.
It is a really small statue (61 cm) and has been repeatedly stolen (much like the little mermaid in Copenhagen) the current statue is a copy from 1965. The original is kept at the Maison du Roi/Broodhuis.
There several legends concerning his origins including a two year old prince urinating on invading troops in 1142, a young boy named Julianski urinating on the fuse of explosives set at the town wall by invaders, thus saving the town and finally a young boy awakened by fire which he was able to put out by peeing on it, thus saving the king's castle.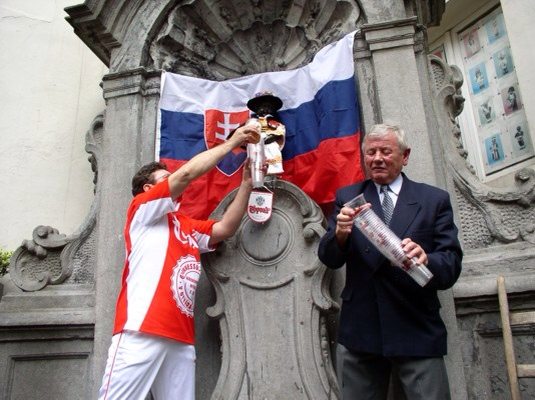 It has become a tradition to dress the little guy up and several times a week he is dressed in different costumes according to a schedule posted on the fence in front of him. At times they even hook him up to a keg of beer and pass out glasses as shown above! It has become customary for visiting heads of state to bring him a costume reflecting their nation of origin. His wardrobe consists of several hundred different costumes, many of which may be viewed in a permanent exhibition inside the City Museum, located in the Grand Place, immediately opposite the Town Hall.
The Manneken Pis is a must see if you happen to be in Brussels.