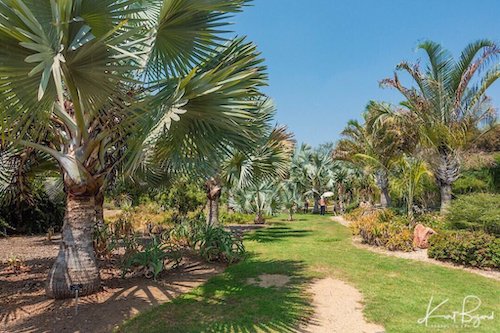 I have arbitrarily split the Madagascar Spiny Forest at the Los Angeles County Arboretum into two portions, roughly larger and smaller plants. This installation is a must for anyone planning to visit Madagascar or for those obsessed with succulents. The Madagascar Spiny Forest at Los Angeles County Arboretum & Botanic Garden was the brainchild of Superintendent Timothy Phillips. Fascinated with unusual plants since childhood, it is no wonder that Tim developed an interest in Malagasy plants later in life. This new garden nicely complements nearby collections (South Africa, Australia, New World succulents, cacti), the Water Conservation Garden, and other gardens featuring plants from the mediterranean climate regions of the world. Though it had challenges, the Spiny Forest definitely meets the landscape requirements for a collection that tolerates and, in fact, thrives with low water consumption. Tim's passion for this project and the resulting garden experience is actually understated in his comments:
"The Madagascar collection was and is an experiment of sorts, one that pushes the horticultural limits. It's an adventure of the spiniest kind, and I have the pin-cushion memories to prove it! I wanted to create an immersion experience, one that would take our guests to an alien land—one that arouses curiosity, intrigue, and amazement. It is supposed to be a fun, interactive, botanical, and horticultural experience, with a subtle conservation education message."

Palms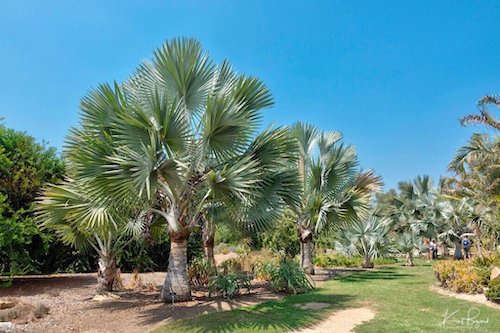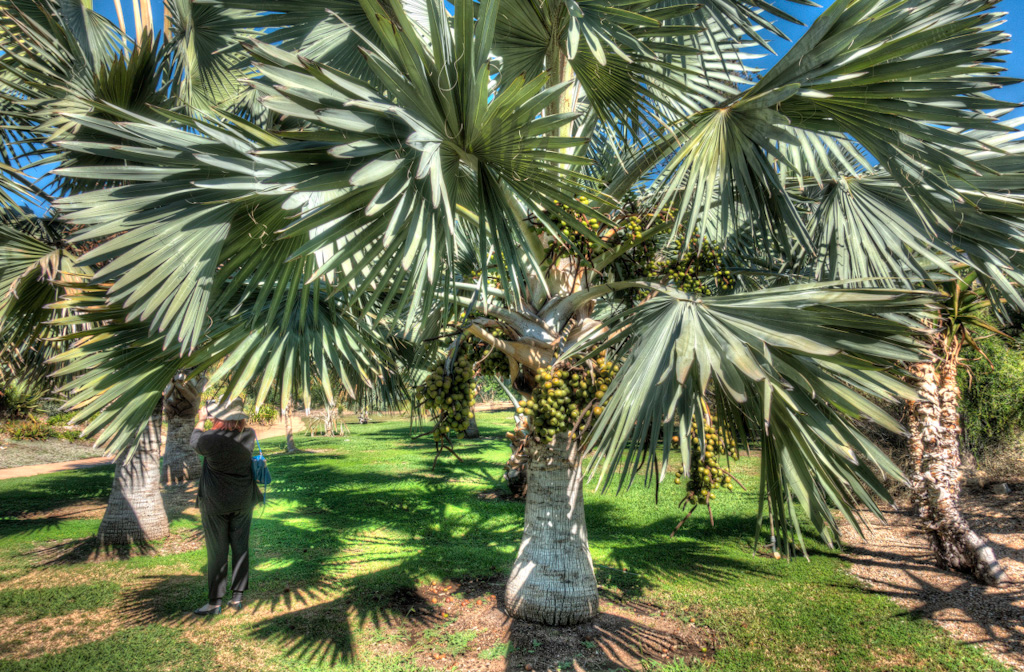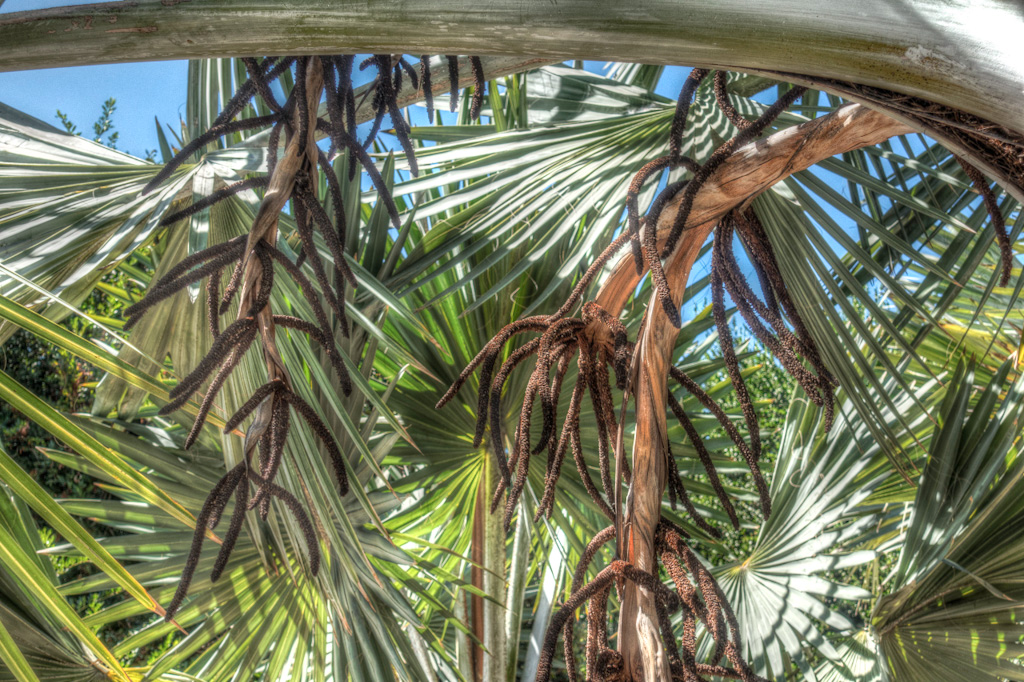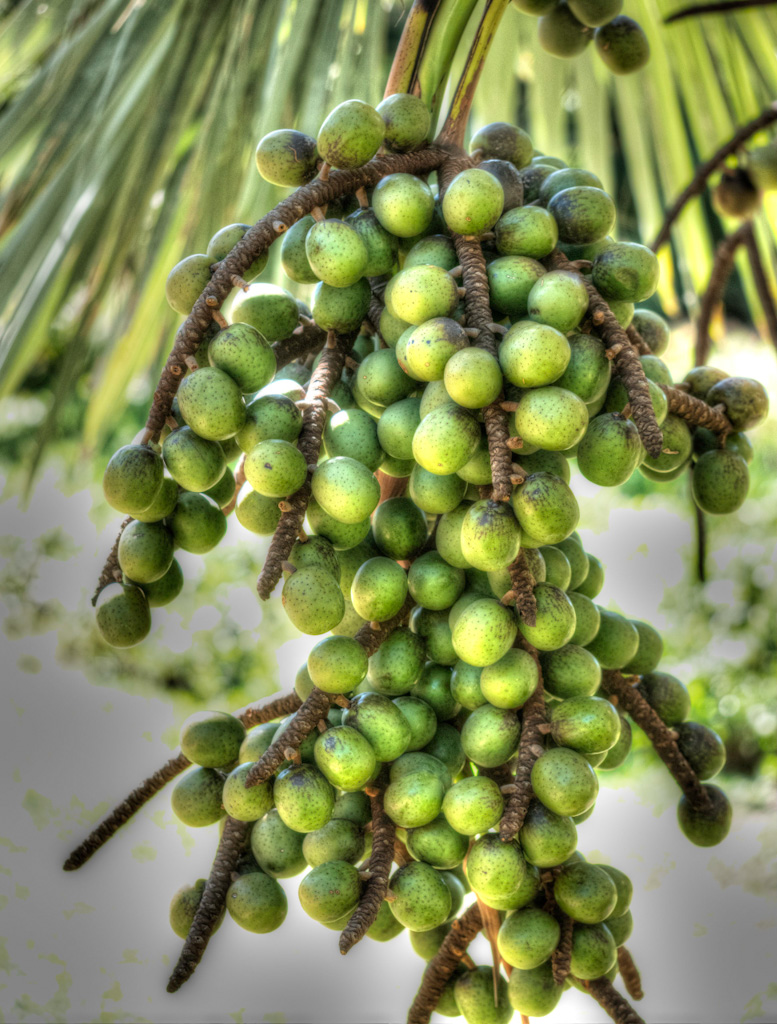 The Bismarck Palm, botanical name Bismarckia nobilis, is an elegant, medium to large fan palm that is sure to be a focal point in your landscape. Native to Madagascar, this magnificent specimen wows with its stout trunk and beautiful symmetrical crown. You can't help but take notice of its bold and striking fronds that range from eye-pleasing blue-green to bronze-green colors. The genus is named for the first chancellor of the German Empire Otto von Bismarck and the epithet for its only species, Bismarckia nobilis, comes from Latin for 'noble'. Found only in Madagascar, an island well known for its rich diversity of unique taxa, Bismarckia is one genus among a diverse palm flora (some 170 palms of which 165 are solely in Madagascar). They grow in the plains of the central highlands, nearly reaching the western and northern coasts, in savannas of low grass, usually in lateritic soil. As much of this land has been cleared with fire for agricultural use, Bismarckias, along with other fire-resistant trees like Ravenala madagascariensis and Uapaca bojeri, are the most conspicuous components of this arid region. Bismarck palms trees, like so many others, get flowers in a sort of string. The flowers are actually a dark almost black color. There are either male or female trees. The female must be pollinated by a nearby male to produce fruit. The fruits are not edible for us and will be a brownish color once they are ripe.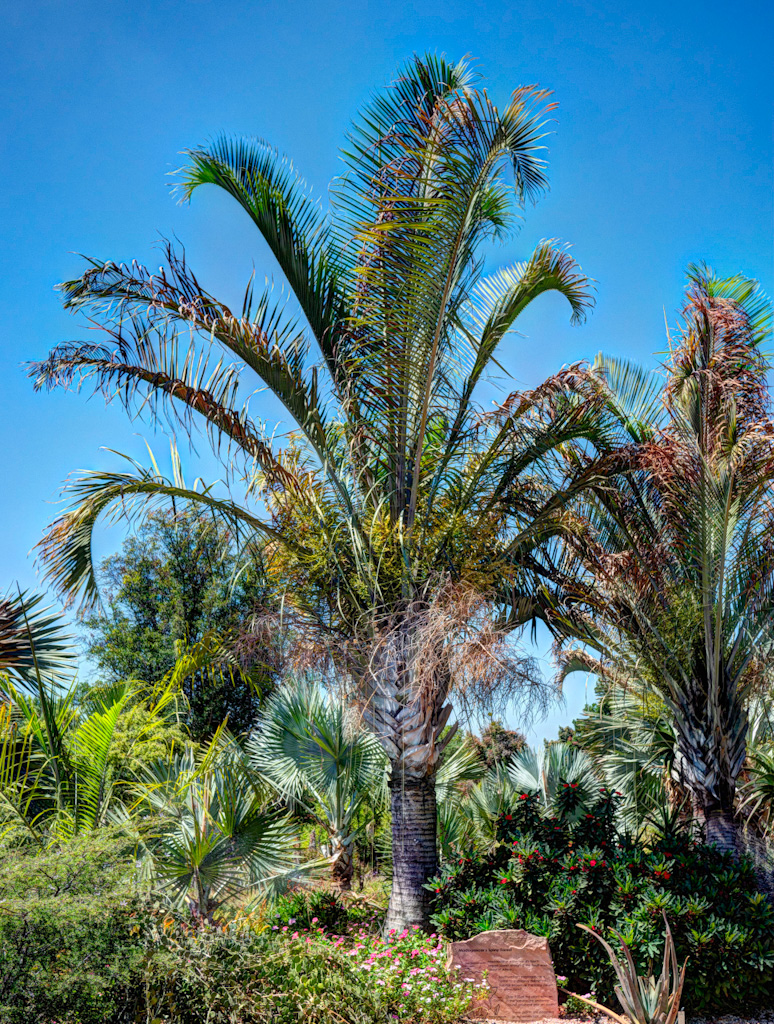 Dypsis decaryi is a palm tree commonly known as the Triangle palm. It is indigenous to the Madagascan rainforest. Some specimens grow to a height of some 49 feet (15 m) in the wild. It is relatively new to cultivation however, so outside its native habitat it rarely achieves anything like that height. The leaves are about 8 ft 2 in (2.5 m) in length, growing almost upright from the trunk and arching gracefully outward about 3 feet (1 m) from their tips. The leaf bases are arranged in three vertical columns set about 120 degrees apart on the main stem, forming a triangular shape in cross section. This shape has given rise to the palm's common name.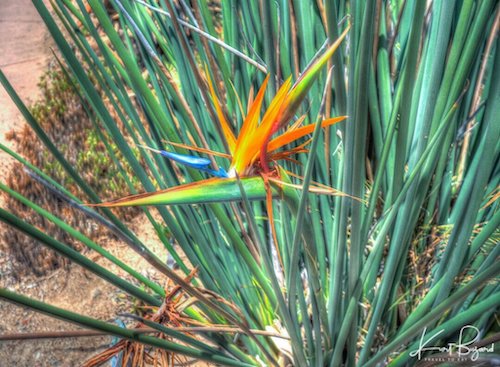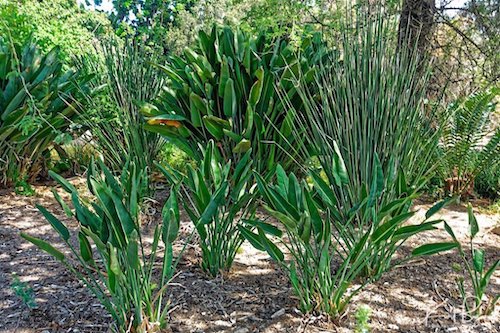 These plants are either South African Strelitza (Bird of Paradise) or very young Traveler's Palms. Ravenala is a genus of flowering plants with a single species, Ravenala madagascariensis, commonly known as Traveller's tree or Traveller's palm, from Madagascar. It is not a true palm (family Arecaceae) but a member of a monocotyledonous flowering plant family, Strelitziaceae. The genus is closely related to the southern African genus Strelitzia and the South American genus Phenakospermum. Some older classifications include these genera in the banana family (Musaceae). While I am hoping these are budding Traveler's Palms, they are probably Strelitzia but the picture brings home the interrelated nature of the species.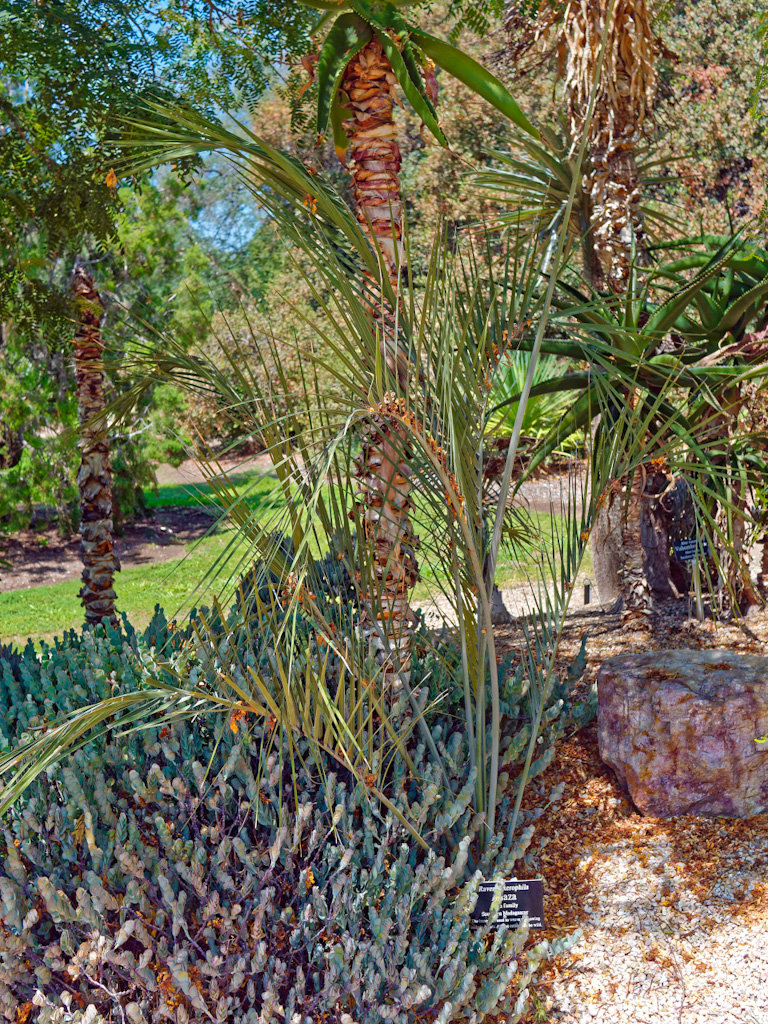 Ravenea xerophila is a solitary medium-sized palm in the family Arecaceae. It is found only in southern Madagascar, and is threatened by habitat loss. Trees grow from 5–25 feet (1.5–8 m) in height, and 6–12 inches (13–30 cm) in diameter. Ravenea xerophila is an unusual Ravenea but one of the most sought after species for warm and desert gardens of southern California. This palm has a curious, succulent-like root system that, as a seedling, resembles that of a cycad, but with maturity, becomes quite extensive, thick but extremely delicate. A nice blue-grey, exotic look for the right climates.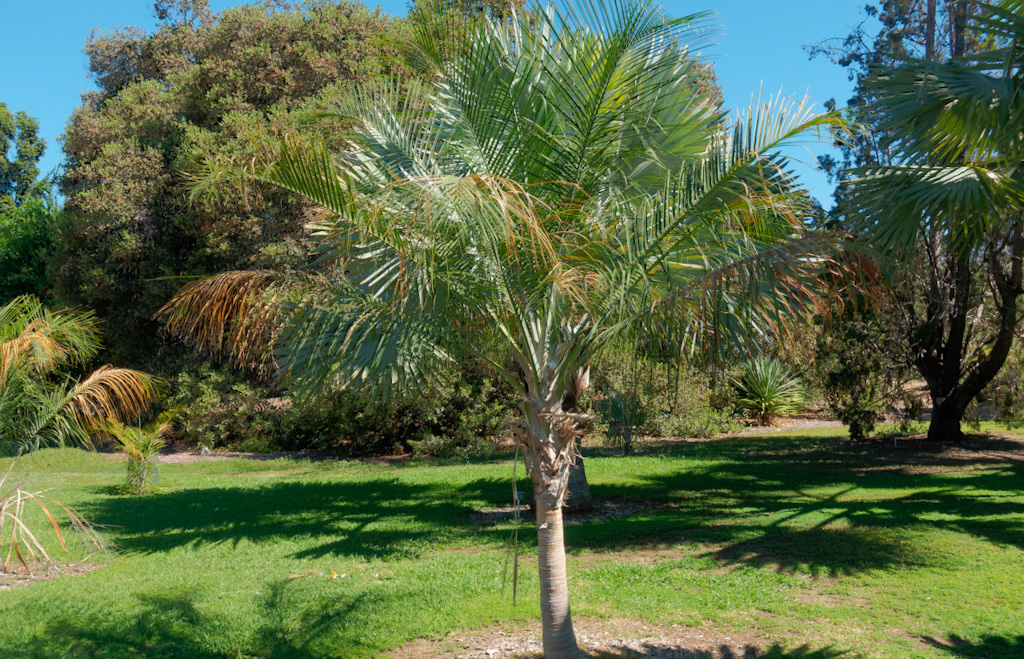 For palm collectors in California and other Mediterranean climates, Ravenea glauca, a native of Madagascar, has become a very popular palm tree over the last two decades. Some of the reasons for the popularity of Ravenea glauca stems from its overall hardiness in terms of cold tolerance, pest resistance and its ability to grow in many types of soil. Not only does it do well in full sun or mostly shade, it can also handle a lot of water in well-draining soil, while also being proven to be drought tolerant once established. Ravenea glauca is actually quite limited in Isalo National Park. The overwhelming majority of the remaining Ravenea glauca in Isalo National Park can be found growing in two canyons. The Isalo Ravenea glauca have beautiful, graceful dark green leaves. The leaf is flat with no recurve to it and the leaflets usually hold on a flat or slightly arching plane. One thing you will pick up on in the photos is that the trunk of the Isalo Ravenea glauca is quite slender.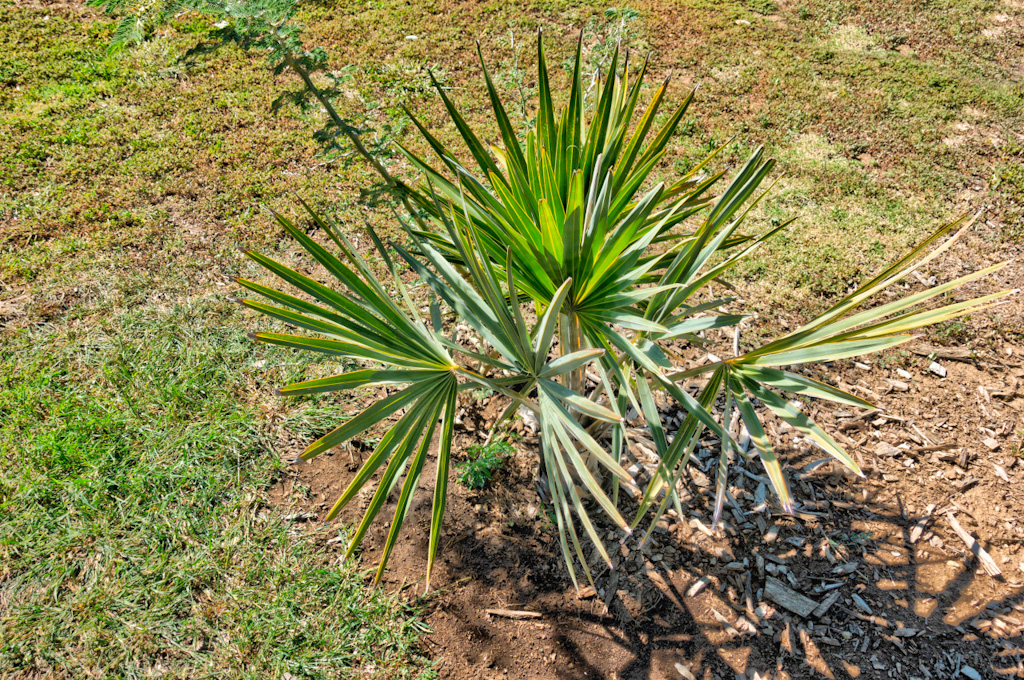 The Lala palm (Hyphaene coriacea) is a species palm tree native to the eastern Afrotropics. It occurs in eastern Africa from Somalia to Kwazulu-Natal, South Africa, and is also found in the coastal flats of Madagascar and on Juan de Nova Island in the Mozambique Channel Islands. As you can see it is a fan palm and fibers from the leaves are used for baskets.
Plumbago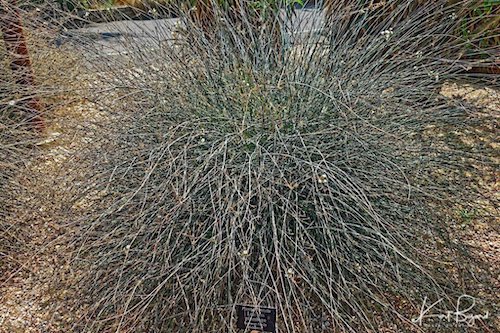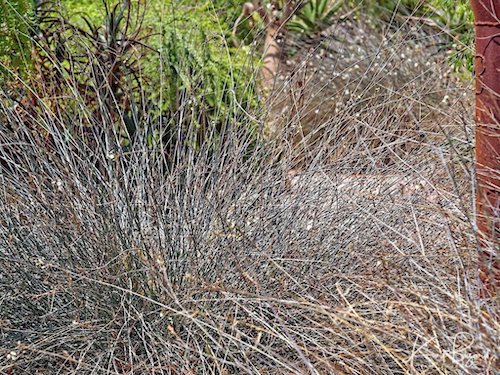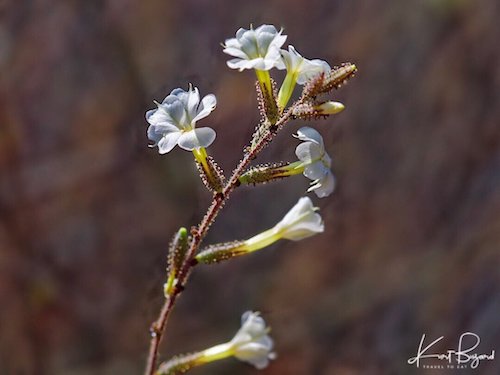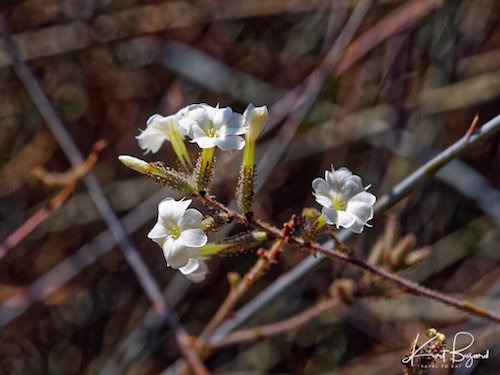 Plumbago is a genus of 10–20 species of flowering plants in the family Plumbaginaceae, native to warm temperate to tropical regions of the world. Common names include plumbago and leadwort (names which are also shared by the genus Ceratostigma). As you can see, Plumbago aphylla is a leafless shrub 3–5 feet tall with beautiful tiny white flowers. Plumbago aphylla occurs mostly on the coast on coral rock and is probably dependent on bird guano there. It also occurs on volcanic soil. It is restricted to coastal habitats in Madagascar and some other Indian Ocean islands and may be in danger of genetic erosion. In Madagascar a decoction of the whole plant of Plumbago aphylla is taken to treat diarrhea and infections of the mouth and applied as an eyewash in case of cataract. A root decoction is taken as an analgesic and antispasmodic. A decoction of the aerial parts is used for a massage in case of dislocation. Plumbago aphylla is sold at the medicinal herb market of Antananarivo, Madagascar.
Aloe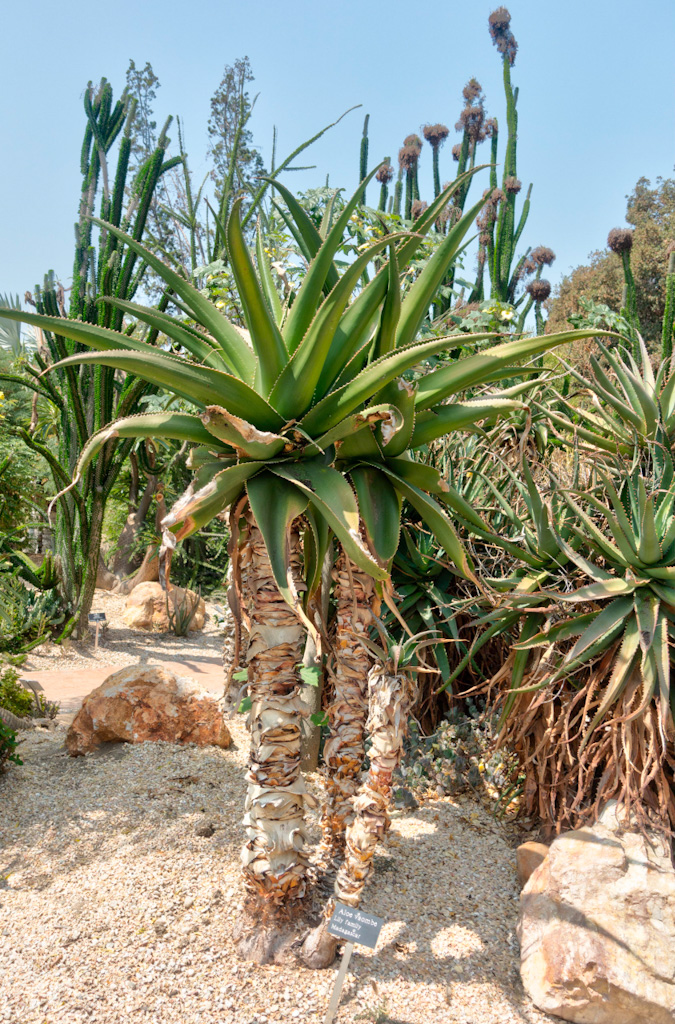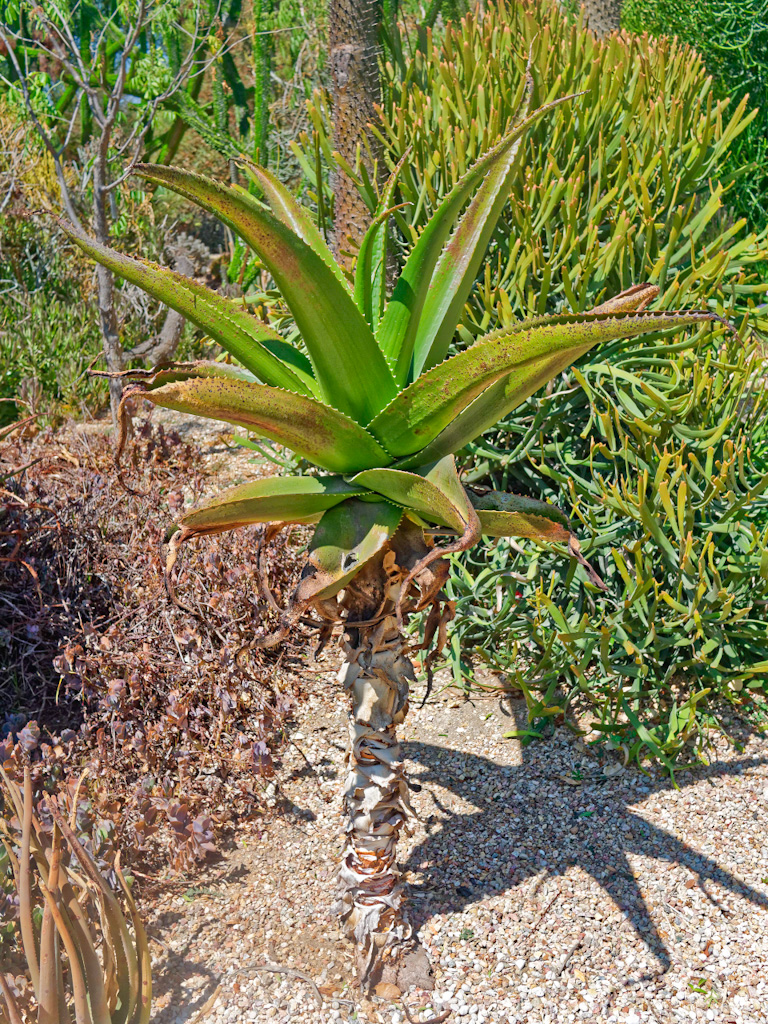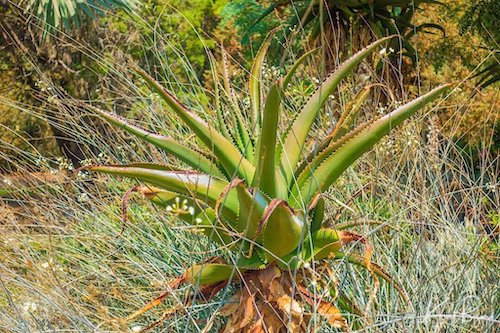 Aloe vaombe, the "Madagascar Tree Aloe" is one of the most beautiful large tree aloes, making a stunning centerpiece specimen for a garden. Native to Madagascar, it grows un-branched to 12 feet or taller with large single rosettes growing to 5 feet in diameter. Aloe vaombe has long smooth green leaves which are recurved with white teeth. These leaves are curved/cupped-shaped when viewed in cross section and take on a deep red color in cold or sun. Aloe vaombe has bright deep red flowers which are borne in erect branched racemes in mid-winter, attracting bees and birds.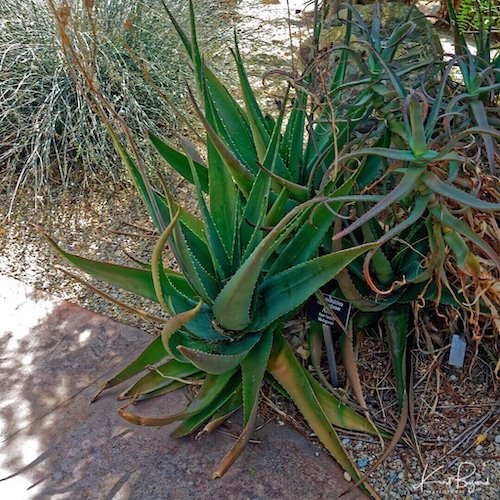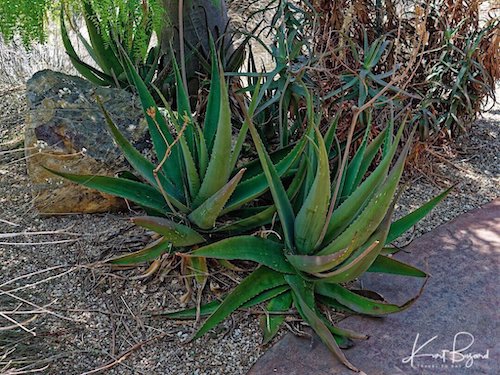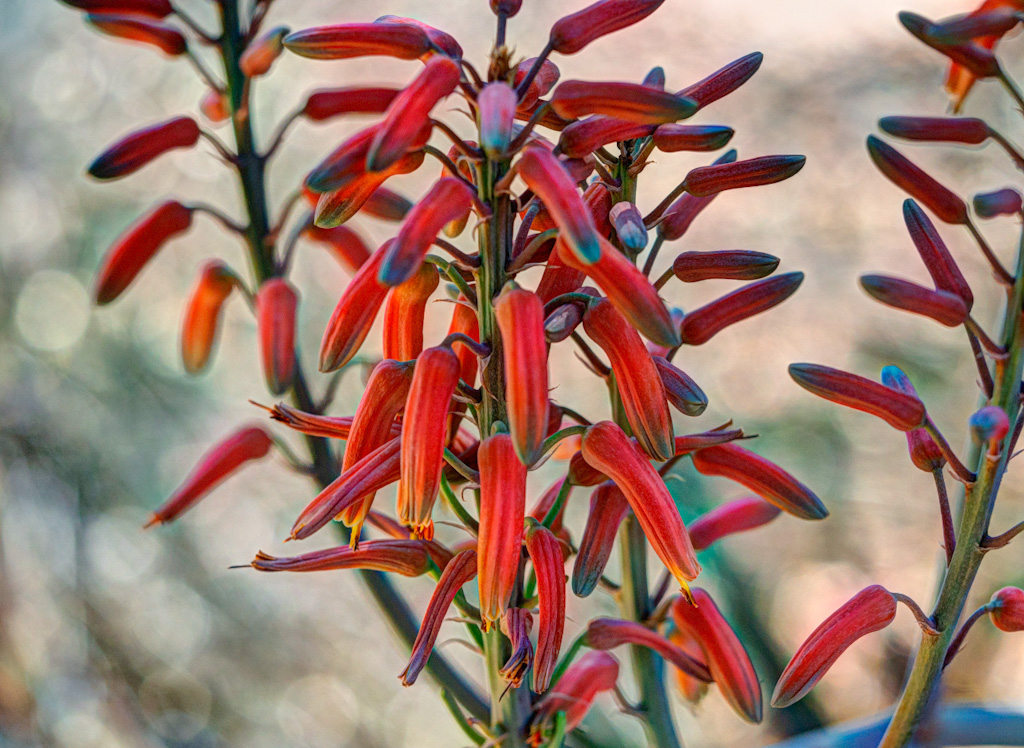 Aloe bulbilifera var paulianae is a solitary stemless rosette forming plant with 2 foot long bright green flattened and ascending lanceolate leaves that have evenly toothed margins of the same color that look like they were cut with pinking shears. In winter appear the 5 to 7 foot long wand-like arching inflorescences that branch near the ends bearing open racemes of yellow tipped orange flowers and having small plantlets (bulbils) at the base of each inflorescence branch. This variety paulianae differs only from the species by having bulbils arising only on the main flower peduncle and not the side branches. This plant inhabits the dense rain forests of the Analamaitso Forest and moutainous Sambirano region from 1,000 to 2,600 feet of elevation in the Mahajanga Province in northwestern Madagascar. The specific epithet is from the Latin words 'bulbilla' meaning "small bulb" and '-fer' maning to bear in reference to the bulbils that develop. The varietal name honors Liane Paulian, wife of Dr. Renaud Paulian, the deputy director of the Institut Scientifique de Madagascar, who first collected this plant.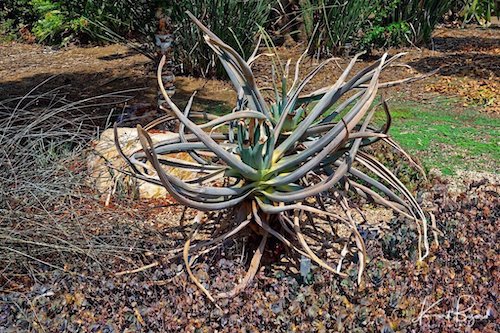 Aloe suzannae is an endangered species of plant in the genus Aloe, indigenous to the south of Madagascar. Its long tubular leaves are relatively soft and rubbery in texture, with rounded tips, and can assume a pink or turquoise colour. Aloe suzannae is extremely slow-growing, but eventually becomes tall and arborescent. It has been observed in the wild with flowers open during the day. This aloe is endemic to Madagascar, occurring in the dryer south and south-west of the island (Ambosary and Itampolo). Here it grows in sandy soil near the coast, or among rocks.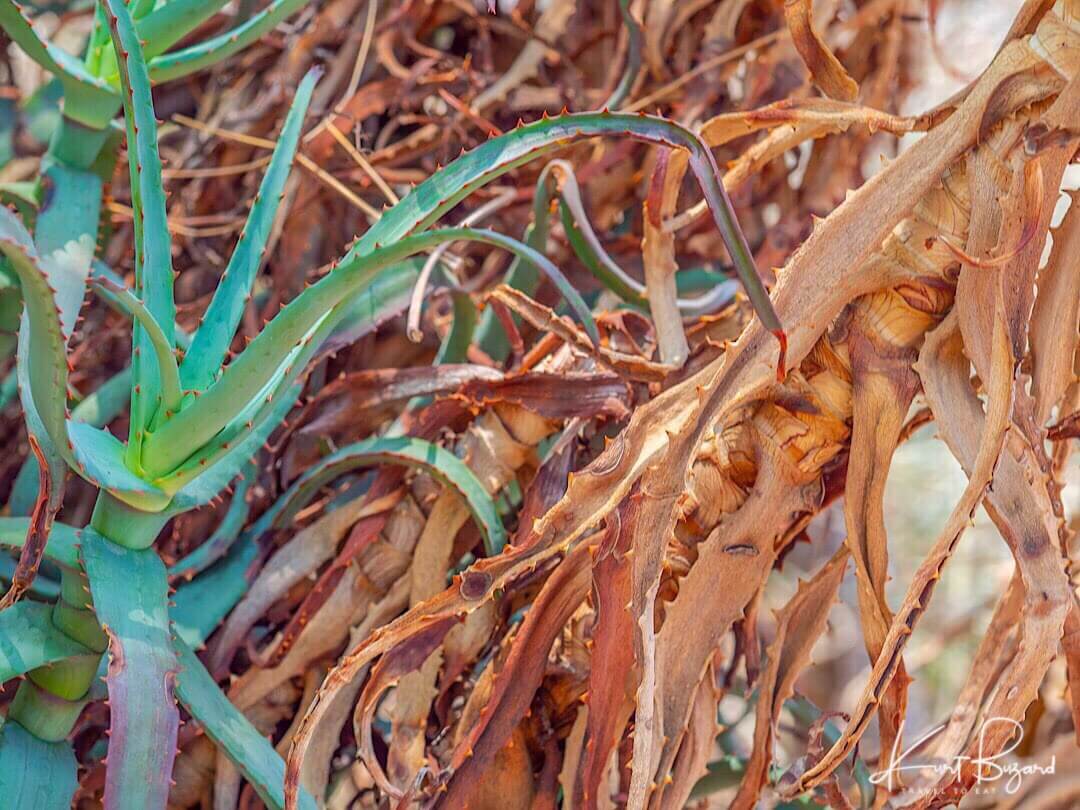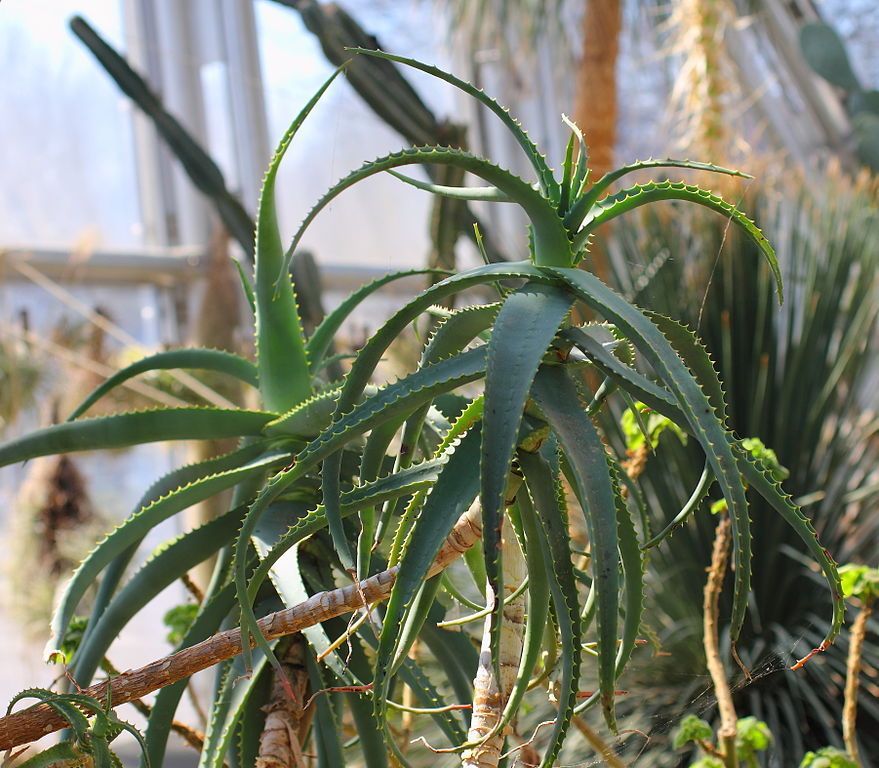 Aloe acutissima variety antanimorensis is a shorter version of the acutissima Blue Aloe Spider species, and has small blue leaves. Endemic to Madagascar, this many-branched shrub produces a number of relatively short (<2 feet) stems. This variety antanimorensis, comes from near Antanimora in Toliara province. The leaves are blue-green, narrow, and recurved downwards. The flowers are red. In full sun the leaves can turn a bright orange. Note the red teeth along the margins of the leaves.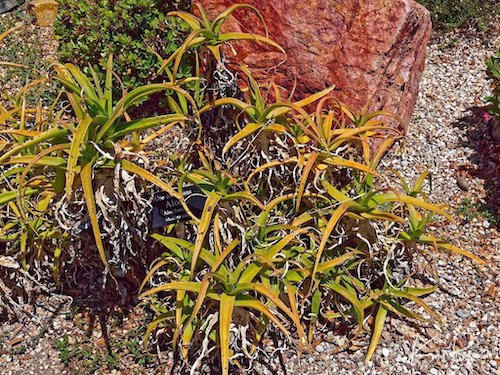 Described in 1998, this is one of the many recent discoveries of Swiss explorers W. Röösli and R. Hoffmann; their annual journeys into the wilds of Madagascar continue to yield new and wonderful succulents for cultivation and study. This species is somewhat unusual in forming thickets of nearly uniform understory vegetation in forests. Actually, its tolerance for shade is more characteristic of the subgenus Lomatophyllum, to which this species belongs. The fleshy-fruited lomatophyllums are now considered by many authors not to merit generic distinction, hence the original description of this species as an aloe.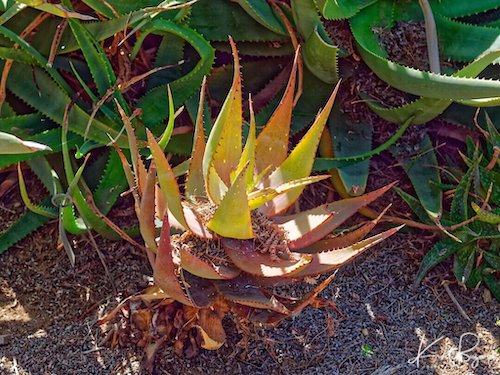 Aloe ibitiensis is endemic to Madagascar: Vakinankaratra Region (Antananarivo Province), Amoron'i Mania Region (Fianarantsoa Province) and Ibity Massif, Itremo/Ambatofinandrahana. This species grows at elevations between 1400 to 2000 metres above sea level. Aloe ibitiensis grows in inselberg/Rock Faces (granitic outcrops, quartzite cliffs and ledges) in open grassland. It is a deep burgundy species (when stressed) from Central Madagascar- rare in cultivation. It has a roughly serrated leaf. It looks a little like Aloe imalotensis from Isalo without the serrations. This is not labeled so I could be wrong.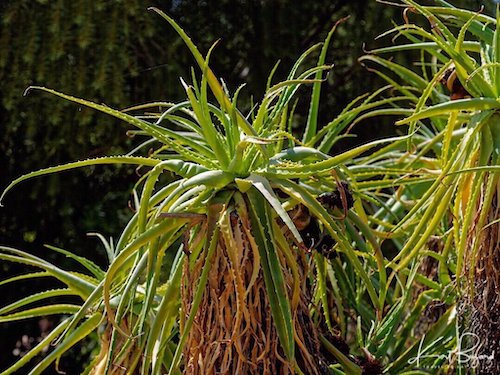 This is another guess, this tree aloe looks a little more delicate than Aloe vaombe and reminds me of Aloe helenae from Isalo. This arboreal aloe is another rare species which grows on sand dunes and littoral limestone in the Tolanaro region. The many leaves are deeply channeled with dentate margins, 59 inches (1.5 m) long, 6 inches (15 cm) wide at base. Aloe helenae is slow growing and rare in cultivation.
Euphorbia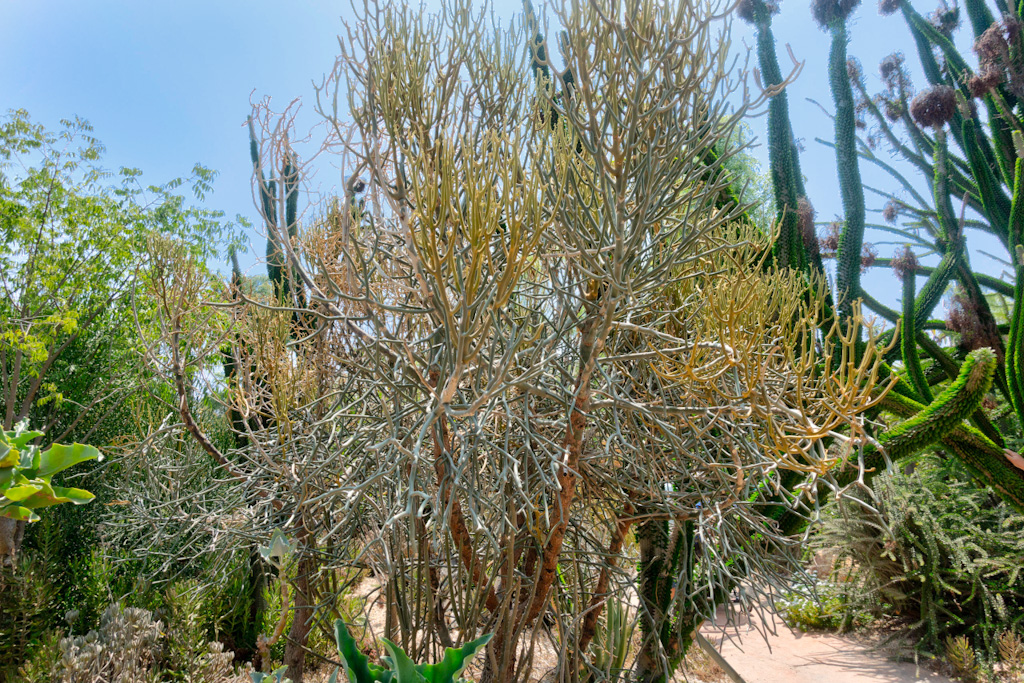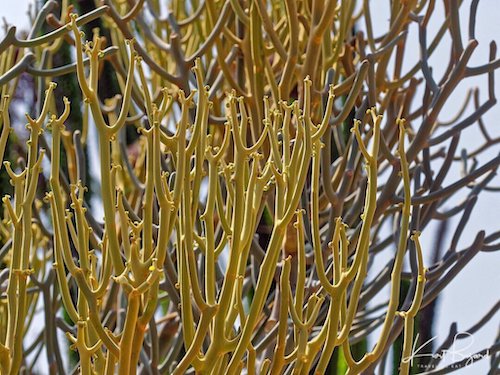 Euphorbia kamponii is a species of plant in the Euphorbiaceae family. It is endemic to Madagascar. Its natural habitats are subtropical or tropical dry forests and subtropical or tropical dry shrubland. It is threatened by habitat loss. It also differs from E. tirucali and other so-called coralliform euphorbias in the zig-zag structure and pubescence of its branches. When young these are usually slightly compressed and are therefore oval in cross section despite Rauh's comment in the original description that "all branches are circular in cross section". The species is named for Kampon Tansacha, director of his own botanical garden in Chonburi, Thailand, called Nong Nooch Tropical Garden, home to a vast array of succulents, cycads and tropical plants. They planted the Alluaudia dumosa at the base of this species, no doubt to confuse the visitor.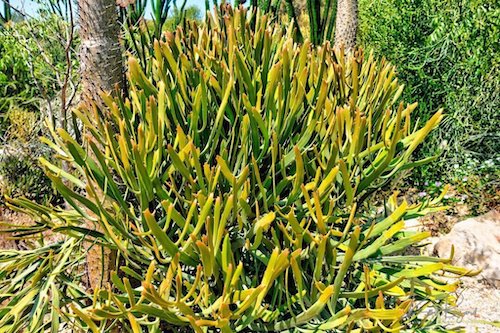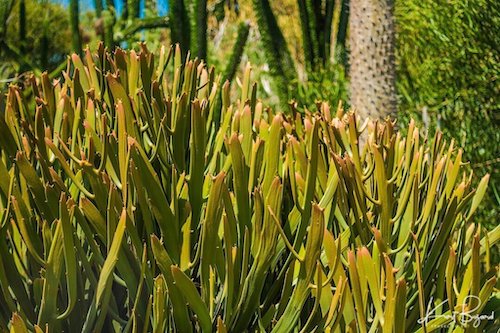 Euphorbia xylophylloides (synonym Euphorbia enterophora) is a flat stemmed succulent with new growth tips yellowish in more shade to a burnt orange color in sun, intermediate growth is dark green later turning dull grayish-green or blue color on older growth. Individual stems average 1/2" to 3/4" inch wide and 4" to 8" long with multi-branching. This rare euphorbia has no spines and has thick skin. There are minute green colored leaves on new growth that are deciduous. This species has several synonyms including Euphorbia enterophora, Tirucallia enterophora and Tirucallia xylophylloides and may in fact not be a euphorbia at all. Euphorbia enterophora is a 'cactoid' Euphorbia forming a large much branched shrub or even tree with with a broad crown and woody base occasionally up to 65 feet (20 m) tall. It grows upward at first but as it adds branches the plants sprawl laterally forming a large irregular mass. It is almost leafless and one of the few species with fleshy, flat, ribbon-like shoots reminiscent of the Christmas Cactus (Zygocactus, Epiphyllum, Phyllocactus in Cactaceae). It is native to Madagascar from Tulear to Fort-Dauphin also in central Madagascar in the Ihosy area, Zazafotsy and the Comoros islands. This is a fairly rare plant.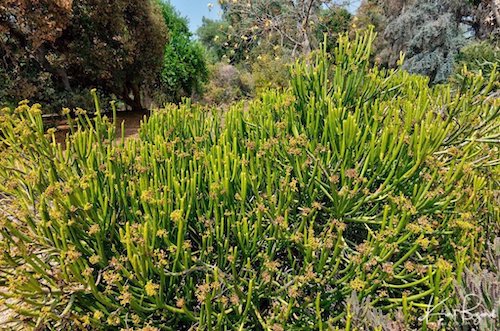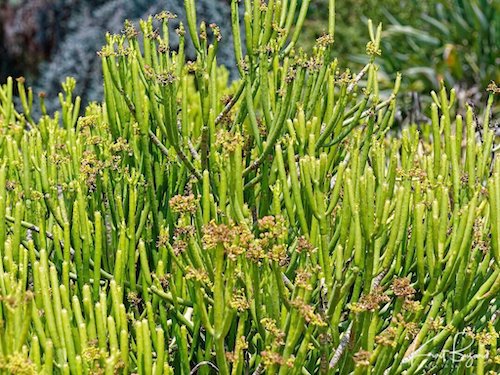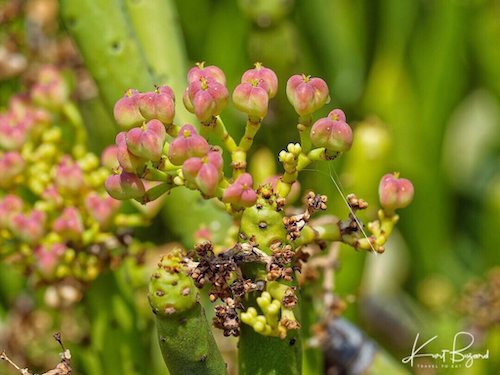 Euphorbia leucodendron (Cat Tails Euphorbia) is an interesting spineless succulent shrub that grows to 4 to 6 feet tall but can ultimately reach to 12 feet. It has narrow pale green cylindrical and jointed stems that rise erectly and then arch outwards to form a mass as wide as tall. The stems are tipped in summer with many 1/2 inch long green leaves and are dotted with brown marks where the leaves were previously attached. In spring and summer at branch tips also appear the very small yellow-green flower structures (cyathia) that hold the even smaller flowers and the developing fruit is red and somewhat heartshaped. This unusual plant looks a bit like horsetail and is one of the succulent euphorbias sometimes called "coraliform" or "coraliformes" types, with common names such as Stick Plant, Stick Cactus. It is somewhat similar to the Euphorbia tirucalli but with much smaller diameter stems and is less branching, though it is sometimes commonly called Pencil Tree and Milk Bush, the same names as used for E. tirucalli and it is also sometimes called the Yellow-leaf Bush Euphorbia. This plant is native to central and southern Madagascar where it grows in rocky scrublands. Plants in the drier central areas are shrubs but with more moisture to the south, can be small trees to 12 feet tall. The specific epithet comes from Greek words 'leuco' meaning "white" and 'dendron' meaning "tree" in reference to the plant's white sap. The plant was described as Euphorbia alluaudii in 1903 by the French botanist Emmanuel Drake del Castillo (1855–1904). Its likeness to another Madagascar plant, Alluaudia dumosa in the Didiereaceae, gave this plant the name of Euphorbia alluaudii Drake and though this name is listed as the current name on The Plant List (collaboration between the Royal Botanic Gardens at Kew and the Missouri Botanic Garden) most references still use the name Euphorbia leucodendron Drake for this plant.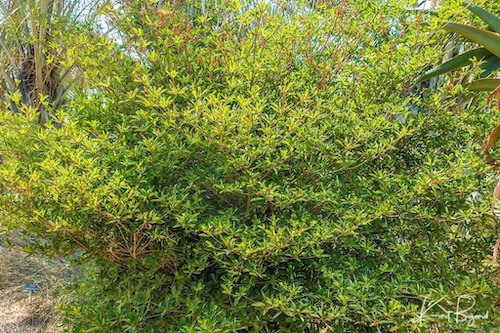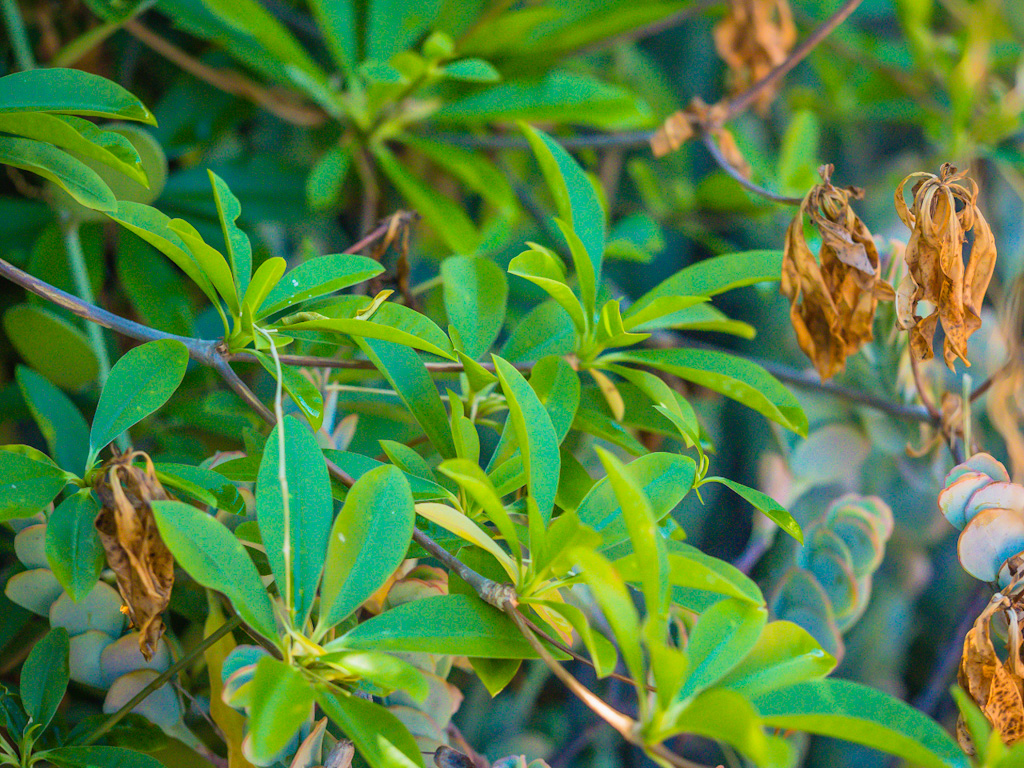 This euphorbia has wide spreading branches with green-leafed rosettes at the ends through the summer and fall. As you can see it is capable of creating a very large bush, approximately 10 feet wide by 6 feet tall. Euphorbia umbraculiformis is a shrub up to 6 feet (2 m) tall, closely related to Euphorbia hedyotoides and Euphorbia bongolavensis. All these peculiar plants are differentiated into an upright branchless stem and a many-branched, umbrella-like crown. The main stem stops elongating by the formation of brachyblasts (short, densely crowded shoots bearing clusters of leaves) that produce an umbrella like open crown. Though not really a succulent it is a very slow growing xerophyte, a species of plant that has adaptations to survive in an environment with little liquid water.
Kalanchoe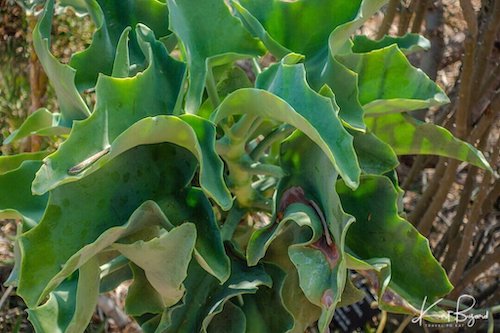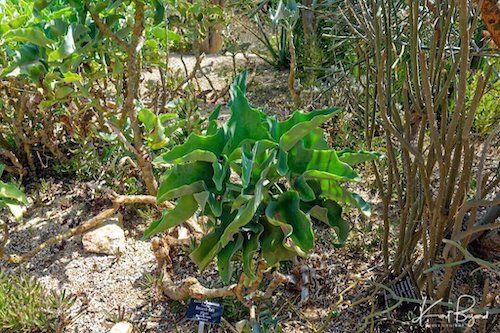 Kalanchoe beharensis (commonly known as elephant's ear kalanchoe, felt bush, or feltbush) is a plant species in the succulent genus Kalanchoe, and the family Crassulaceae. Kalanchoe beharensis is native to Madagascar. K. beharensis is an evergreen shrub, 3–5 ft (1–2 m) tall. The stem is about 4.9 ft (1.5 m) long, slender and knotted. Leaves are olive green, triangular-lanceolate shaped, decussately arranged (pairs at right-angles to each other) with leaf margins that are doubly crenate (crinkled). Each leaf is about 4 in (10 cm) long and 2–4 in (5–10 cm) wide. The bottoms of the leaves are glabrous (smooth and glossy), and covered with a woolly hair towards the apex. The leaf hairs are brown, and the tips of the teeth are darker. The hairs on the stem, younger leaves, and petioles (leaf stalks) are white. A sign of older leaves is concavity on the upper surface. Inflorescences are 20–24 in (50–60 cm) high, forming a branched corymb. Flowers are on short pedicels (stalks). The calyx is 7 mm long with lobes that are oblong and acuminate (tapering to a point). The corolla tube is urn-shaped and 7 mm long. Blooming occurs from spring to summer, and flowers are small and yellowish.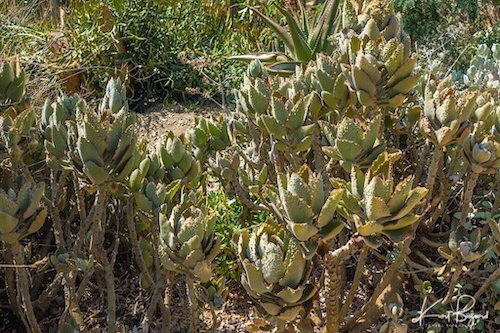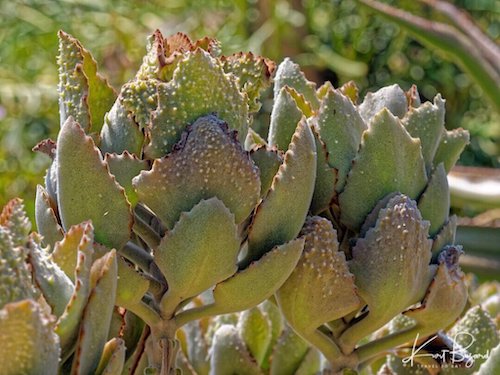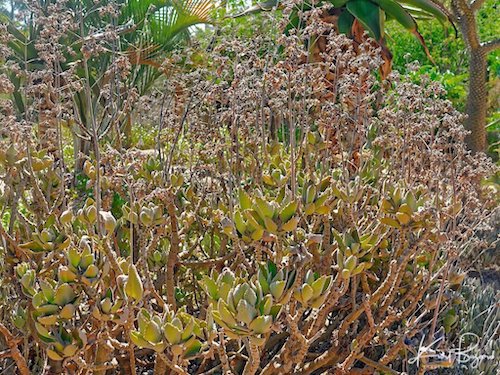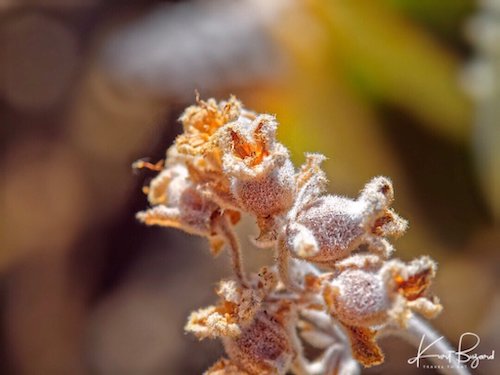 This upright slow-growing succulent from 2–3 feet tall has 3–4 inch long velvety leaves that are unlobed but have dentations along the entire margin. The leaves are a golden-brown color when grown in the sun or a silvery-gray in the shade and have dark brown spots along the leaf margin and hooked tubercles across the upper half of the backsides of the leaves. These fang-like tubercles, which give the cultivar its name are most noticeable up the upwardly inclined new leaves. Occasionally it will flower and while the pale yellow flowers with red striations are interesting, it is the foliage that makes this plant attractive. the dried flowers seen above contain seeds that can propagate the plant.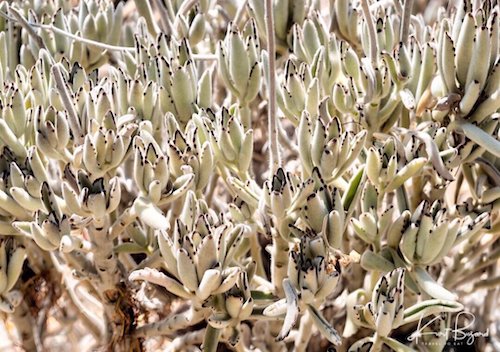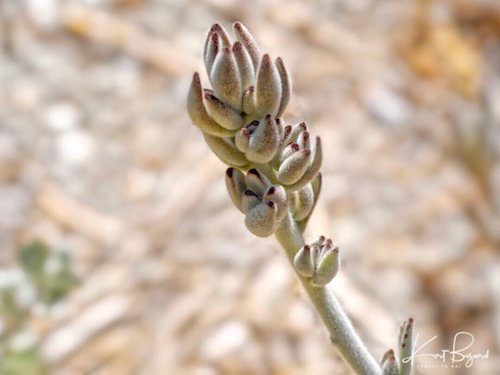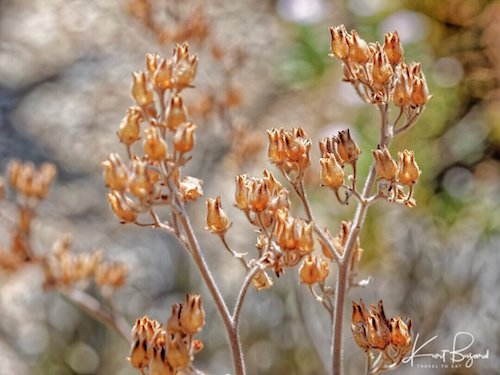 Kalanchoe tomentosa or panda plant, also known as pussy ears and chocolate soldier, is a succulent plant in the genus Kalanchoe. A native of Madagascar, it is a fairly popular houseplant because of its small size, ease of care, and dark-red rimmed foliage. Kalanchoe is a genus of about 125 species of tropical, succulent flowering plants in the family Crassulaceae, mainly native to Madagascar and tropical Africa. Kalanchoe was one of the first plants to be sent into space, sent on a resupply to the Soviet Salyut 1 space station in 1971.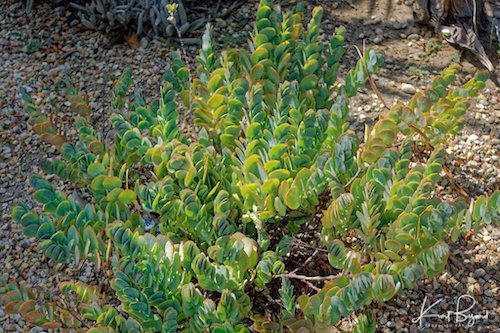 Kalanchoe marnieriana (Marnier's Kalanchoe) is an evergreen succulent groundcover with flat, rounded, blue- green leaves. Paddle-shaped, the leaves are arranged oppositely and resemble clam shells. It grows 12–18 inches tall and 24–36 inches wide, and has these interesting flat blue-green leaves that look like neatly stacked plates on a stem. The leaves are rimmed in red, and during the late fall and early small stalks of brilliant pinkish red blooms hang down.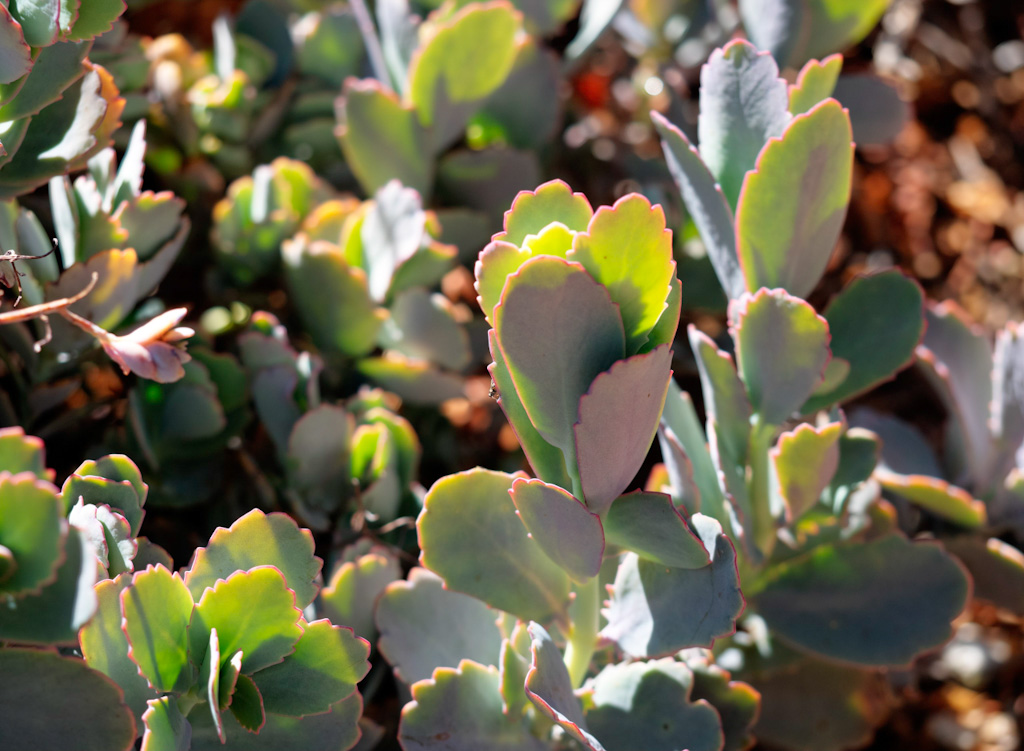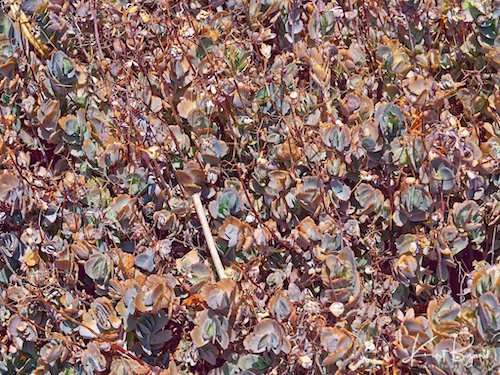 Lavender Scallops (Kalanchoe fedtschenkoi synonym Bryophyllum fedtschenkoi) are a species native to Madagascar widely sold as a house or garden plant that has established itself in the wild in some southern parts of the United States of America. The specific epithet fedtschenkoi honors botanist Boris Fedtschenko (1873–1947).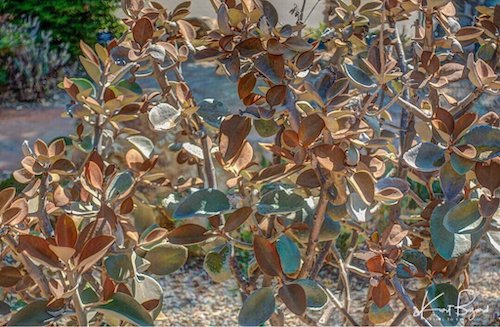 Kalanchoe orgyalis (Copper Spoons) is a multi-branched slow growing shrub that can reach to 3–6 feet tall or taller with support but is more often seen as a smaller plant. It has spathulate ovate leaves that fold upward from the middle and are a bronze to gray color on the underside while the top side is felted with fine cinnamon colored hairs that eventually age to the same color as the lower surface. In the late winter to early spring appear the bright yellow flowers in terminal clusters at the branch tips. This plant is native to rocks and dry soils in southern and southwestern Madagascar. The name Kalanchoe is somewhat of a mystery – there is some thought that it comes from a phonetic transcription of the Chinese words 'Kalan Chauhuy' meaning "that which falls and grows", likely in reference to the plantlets that drop from many of the species but others believe it from the ancient Indian words 'kalanka' meaning "spot" or "rust" and 'chaya' meaning "glossy" in reference to the reddish glossy leaves of the Indian species Kalanchoe laciniata. The specific epithet is derived from the Greek word 'orgya', a classical measure of the distance of about 6 feet, also called a fathom, which was the distance between the tips of the fingers when the arms extended. Likely this was in reference to the size of this plant.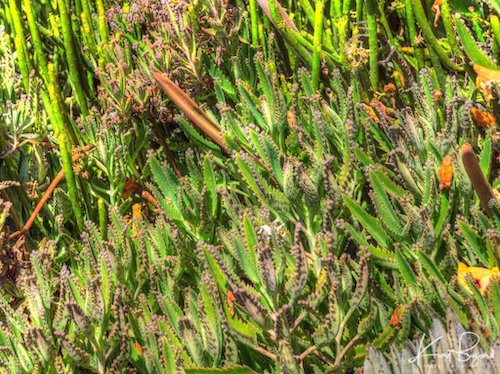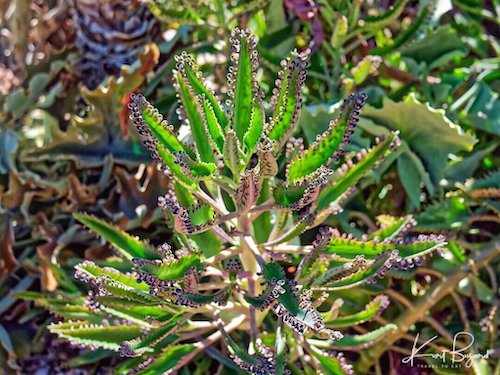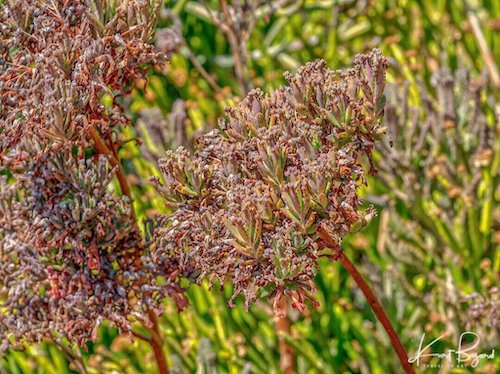 Bryophyllum (from the Greek bryon/bryein = sprout, phyllon = leaf) is a plant genus of the Crassulaceae family that has sometimes been included within the genus Kalanchoe. There are about forty species in the group, native originally of South Africa, Madagascar, and Asia. The group is notable for vegetatively growing small plantlets on the fringes of the leaves; these eventually drop off and root. These plantlets arise from mitosis of meristematic-type tissue in notches in the leaves. Bryophyllum daigremontianum, commonly called devil's backbone, mother of thousands, alligator plant, or Mexican hat plant is a succulent plant native to Madagascar. Like other members of its genus Bryophyllum, it is able to propagate vegetatively from plantlets that develop on its phylloclade margins. Plants of the genus Bryophyllum have sometimes been included in the genus Kalanchoe, where this species is known as Kalanchoe daigremontiana Hamet & Perrier. Plants grow up to 6 feet (1.85 m) tall and have opposite and whorled, fleshy oblong-lanceolate phylloclades which grow up to 11 inches (28 cm) long and 5.5 inches (14 cm) wide. They are green above and blotched with purple underneath. Phylloclade margins have spoon-shaped bulbiliferous spurs which bear plantlets which may form roots while still attached to phylloclades. A plant may also develop lateral roots on its main stalk, as high up as 4–6 inches (10–15 cm) above the ground. A plant's upper phylloclades may grow large, causing its main stalk to bend downward. Then the lateral roots may enter soil and new vertical shoots may grow from the original shoot.
Seyrigia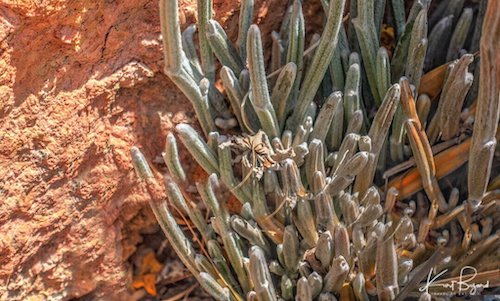 Seyrigias are not famous in cultivation. The most known of them is Seyrigia humberti a curious succulent cucurbit from Madagascar that has small potato like tubers that look like testicles and remarkable white felt covered vines that protect themselves from hot and bright sun. Whilst the stems are attractive the tiny flowers are outstanding. The tubers which can get 3 inches (8 cm) in diameter work as storage of water during dry periods. These tubers, often improperly considered a caudex, can easily be raised above ground level out of the pot for ease of contemplation and can look quite attractive. This member of the Cucurbitaceae family was described by Monique Keraudren in 1960. It is found on Madagascar, growing epiphytic with some water and lots of sun. It will form an underground caudex which can get 8 cm in diameter. The grey stems will reach for 25 cm. The flowers are orange and the small fruits dark orange to red. It can be reproduced both by seeds and cuttings.
Xerosicos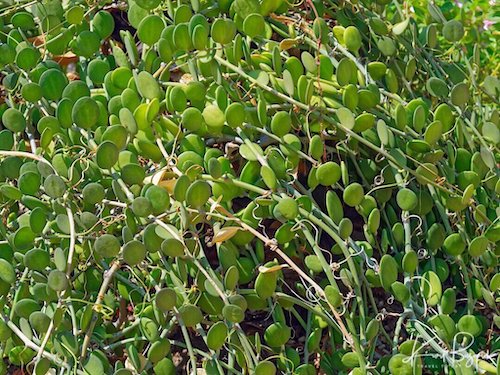 Xerosicyos is a flowering plant genus of the family Cucurbitaceae. Its name comes from Greek xeros (meaning "dry") and sicyos ("cucumber"). There are three species, all endemic to Madagascar. Xerosicyos danguyi is a large liana with thick stems and round, gray succulent leaves. It is common in cultivation and often called the "silver dollar" vine. Xerosicyos perrieri is also a liana with thinner stems and smaller, ovate green succulent leaves. Xerosicyos pubescens is entirely different from the previous species. It forms a large caudex from which deciduous vines emerge. The leaves are lobed and semi-succulent and die back in the dry season and during prolonged periods of drought.
Malagasy Periwinkles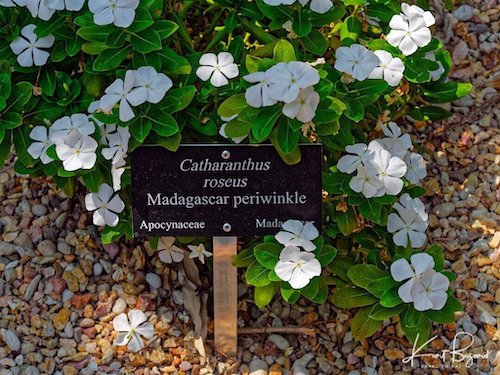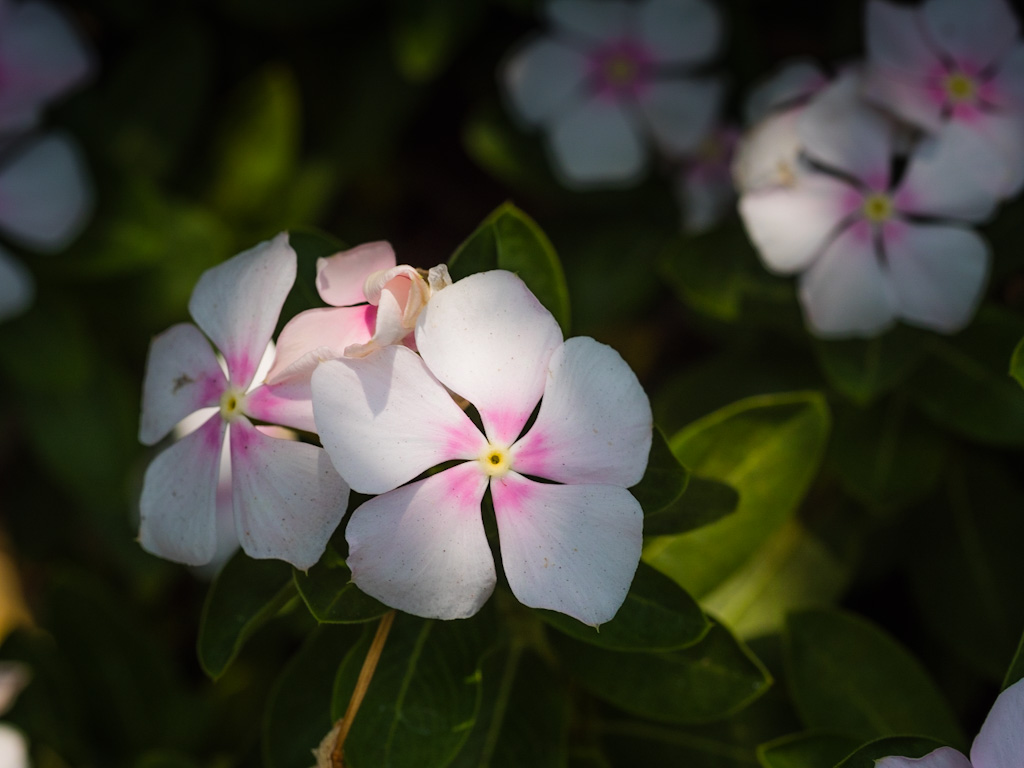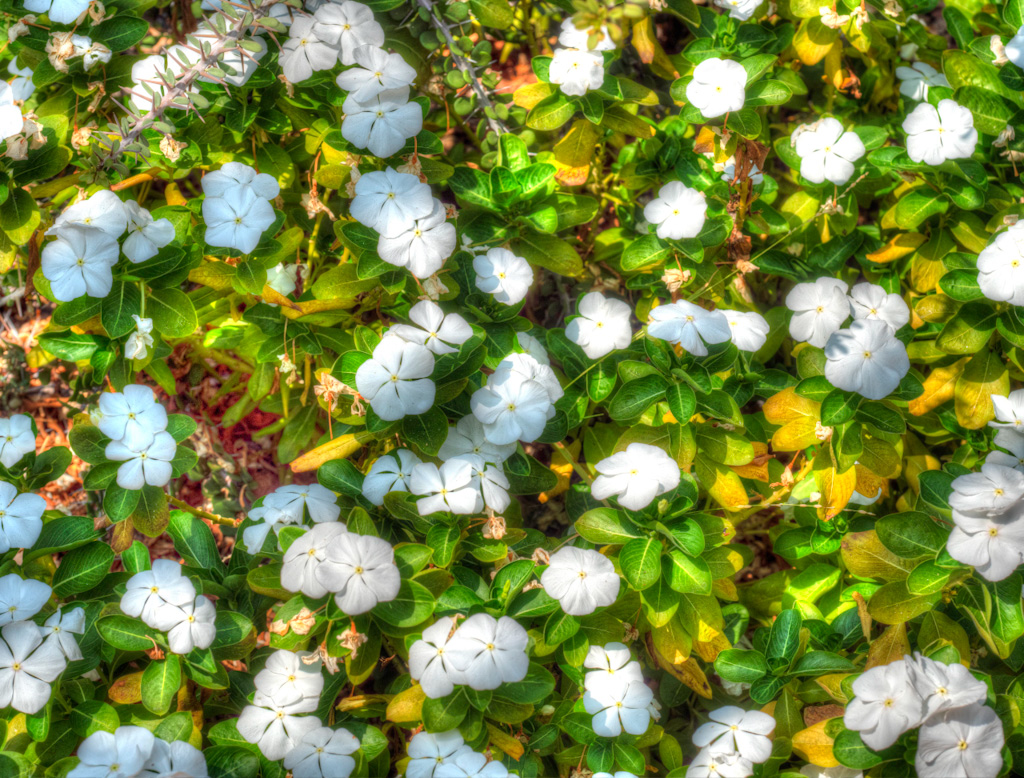 Catharanthus roseus, commonly known as the Madagascar periwinkle, rose periwinkle, or rosy periwinkle, is a species of flowering plant in the dogbane family Apocynaceae. It is native and endemic to Madagascar, but grown elsewhere as an ornamental and medicinal plant, a source of the drugs vincristine and vinblastine, used to treat cancer. Other English names include '"Cape periwinkle" and "old-maid". In the wild, it is an endangered plant; the main cause of decline is habitat destruction by slash and burn agriculture. They have a nice collection of the different types at the arboretum.
As always, I have done my best at identification, regular readers will help me out when I am wrong. All of these beautiful and unusual plants are endemic to Madagascar. I hope you enjoyed the post, please leave a comment.
References:
Madagascar Spiny Forest at the LA Arboretum
Aloe bulbilifera var paulianae