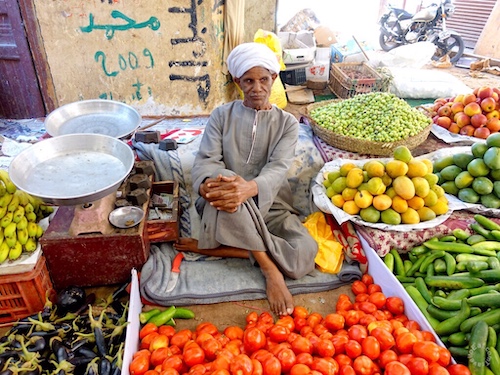 The Souks, or the local markets, and the larger bazaars are among the most remarkable attractions of Egypt. Unlike Lebanon, Syria and Turkey, Egypt doesn't really have a restaurant culture although it does have an exciting street food scene. Located behind and around the Temple of Luxor, Sharia el-Souq was converted into a charming, yet unauthentic, covered pedestrian zone. The newly paved and renovated street accommodates many shops that sell that same Egyptian merchandise, catering only for tourists. While items are the same, the pleasant surroundings make for a generally better shopping experience, albeit highly artificial. For a more authentic experience, however, continue north onto Sharia Ahmos where the local Luxor souk is located and where these pictures were taken.
Fruits and Vegetables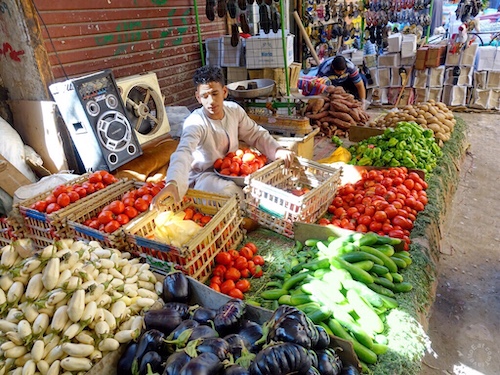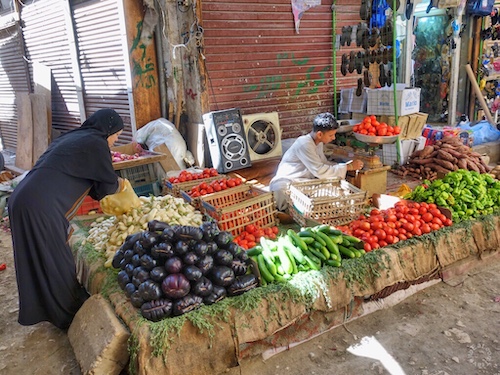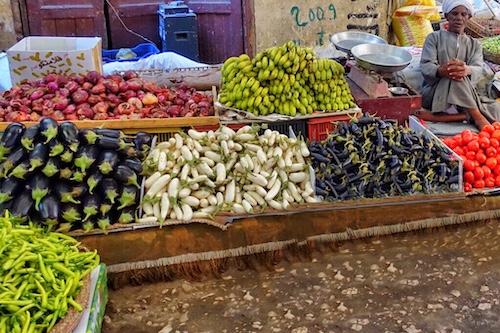 In Egypt, there are three popular types of eggplant, and each variety stars in its own dish. The most popular is the large, purple-brown globe variety, known as bitinjan rumi, or translated literally as Roman eggplant (it's safe to assume that it was originally imported from southern Europe). There are also the purple-brown, long slender ones called bitinjan arus, literally "bride" eggplants. Finally, there are the white, slender eggplants, which come either stocky or long, called bitinjan abyad, literally "white eggplant". You can see the three varieties in the above pictures. The thin ones are used for stuffed eggplant which is delicious.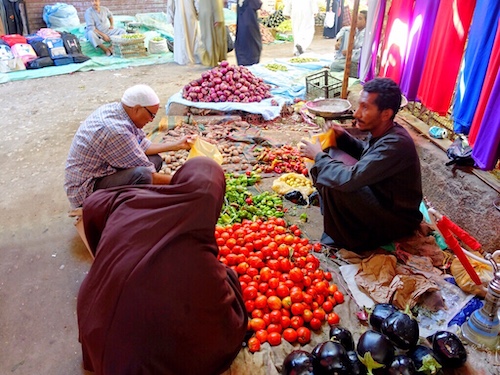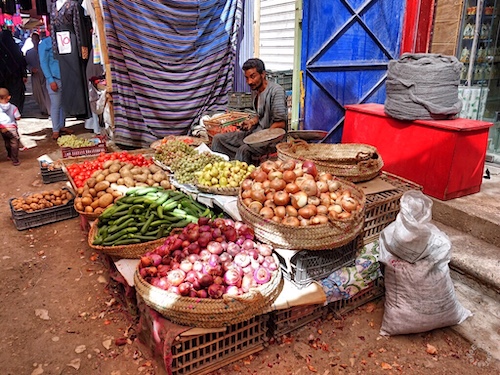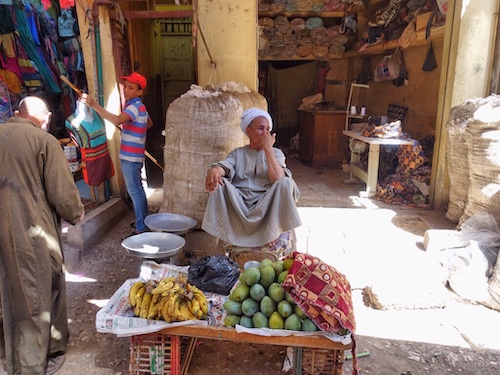 Egyptian mangos are polyembryonic, in contrast to most Indian cultivars, and their predominant external color, a greyish-green, considered unappealing in many markets, is different from the clear or sometimes blushed yellow that is common to many Indian cultivars. Most Egyptian cultivars, and many Baladi seedlings, bear fruit that is low in fiber. Most are sweet with a strong, spicy flavor, and those which bring the best market prices have a pronounced, appealing aroma. Mangos aren't cheap by Egyptian standards, though they might seem so with the application of exchange rates. During the three or four months that they are in season, they sell for anywhere from 6-15/20 EGP (Egyptian Pounds) per kilo. The price varies with the variety of mango (there are hundreds of varieties) and the rarity of the variety, along with how good they look and their ripeness.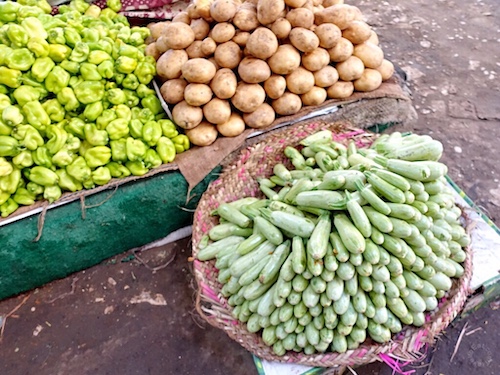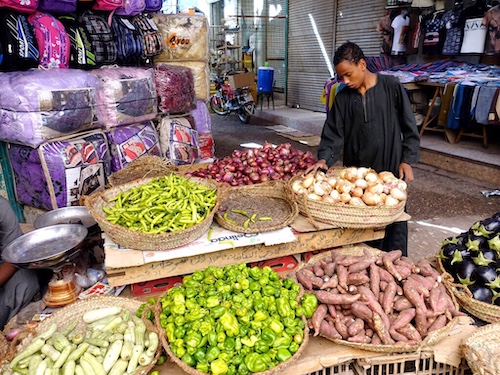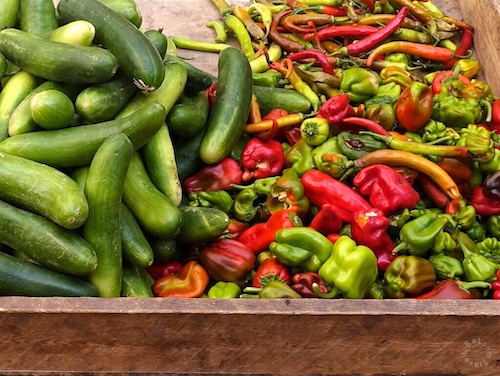 Wild chilies probably originated in Bolivia and were carried into Central America by birds. By the time Europeans arrived they were cultivated all over the Americas and the Caribbean. Columbus encountered them in 1492 being cultivated by the Arawak Indians on Hispaniola. He mistook them for "pepper", an unrelated spice from Asia, the same way he mistook native Americans for "Indians" which is why we now have "bell peppers," "chile peppers" and "hot peppers". There are two basic types of peppers or capsicums: 1) mild or sweet varieties; and 2) hot and pungent varieties. Most mild varieties are relatively large.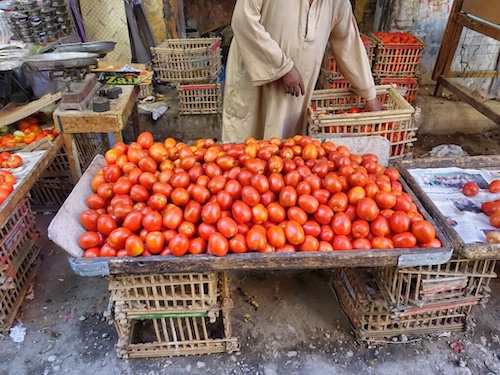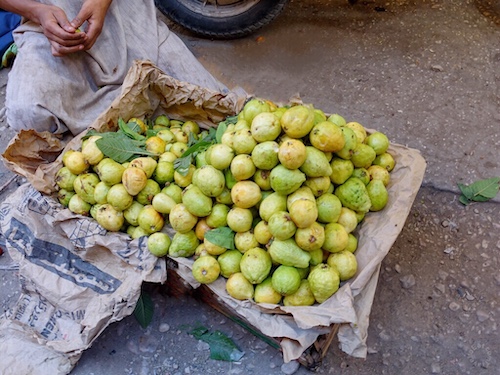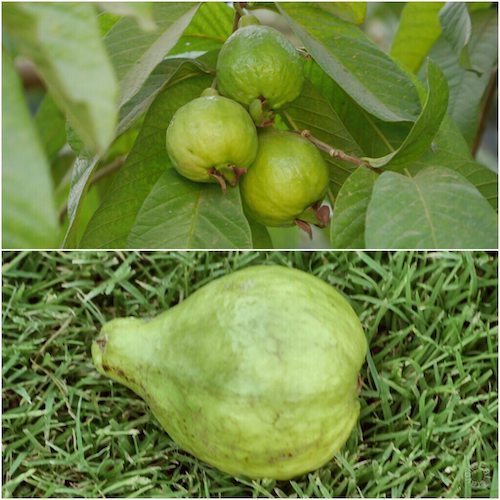 There are countless varieties of guava in the world and the prevalent one in Egypt is the yellowish pear-shaped kind with thick white flesh. It contains fewer seeds than some of other guava varieties.
Pasta and Beans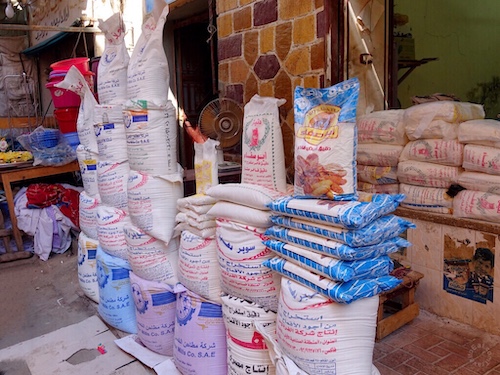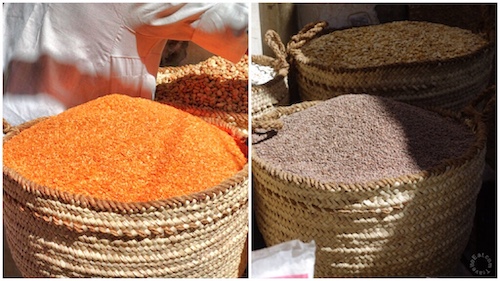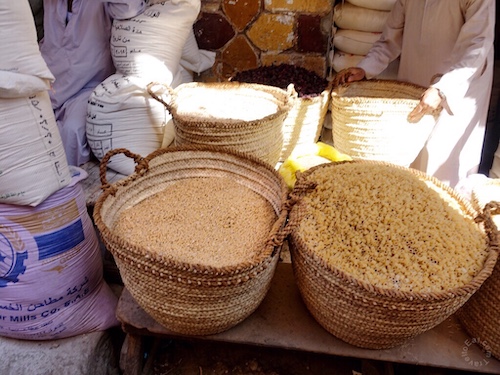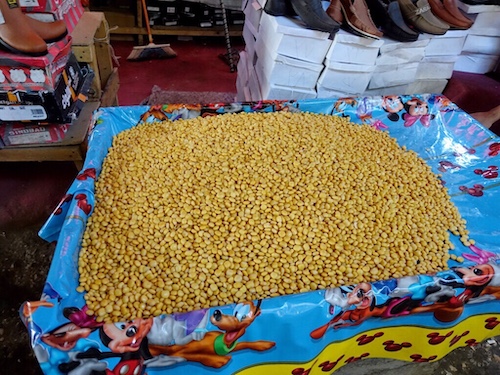 They seem to get rice, grains and dried beans in large sacks and sell them in wicker baskets or on plastic sheets.
Fresh Fish, Feseekh فسيخ and Melouha ملوحة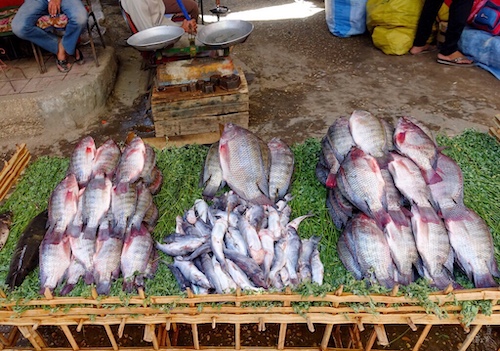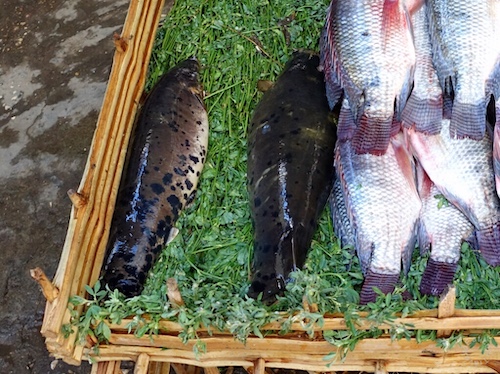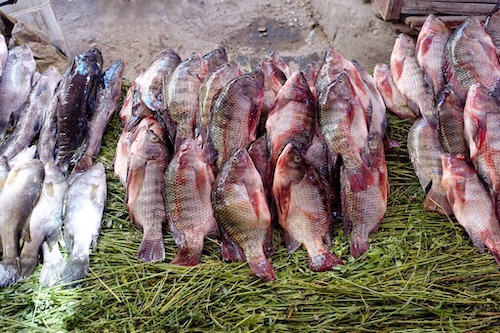 The common fish species caught around Luxor are tilapia species (Oreochromis niloticus, Oreochromis aureus, Sarotherodon galilaeus and Tilapia zilli) as well as Catfish (Bagrus bajad, Calrias gariepinus and Heterobranchus longifilis). Aquaculture of the Nile tilapia dates back to Ancient Egypt. In modern aquaculture, wild-type Nile tilapia are not farmed very often because of the dark color of their flesh, that is undesirable for many customers, and because of the reputation the fish has as being a trash fish. However, they are fast-growing and produce good fillets; leucistic ("red") breeds which have lighter meat have been developed to counter the consumer distaste for darker meat as seen above. I did not ask if these were farmed or caught in the wild.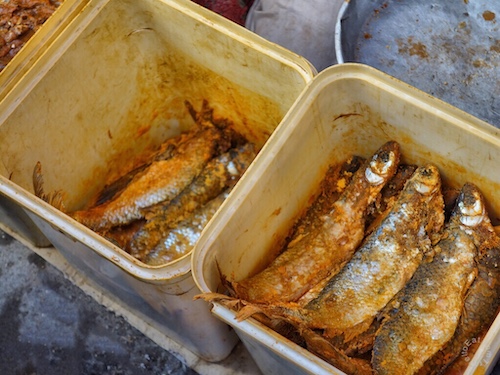 Feseekh is a traditional Egyptian fish dish consisting of fermented, salted and dried gray mullet. Feseekh is eaten during the Sham el-Nessim festival, which is a spring celebration from ancient times in Egypt. The traditional process of preparing Feseekh is to dry the fish in the sun before preserving it in salt. The process of is quite elaborate, passing from father to son in certain families. The occupation has a special name in Egypt, fasakhani. Melouha is considered a delicacy in the south (Upper Egypt). It is a freshwater fish called Seer or Kingfish (صير), possibly from the Chad family, dried in much the same way. Egyptians spend at least one billion EGP a year on Feseekh and herring, according to the Egyptian Chambers of Commerce, and the Health Ministry spends more than two million EGP to treat patients from food poisoning from eating it. I did not ask for a taste, the smell was bad enough taking the picture.
Chicken and Beef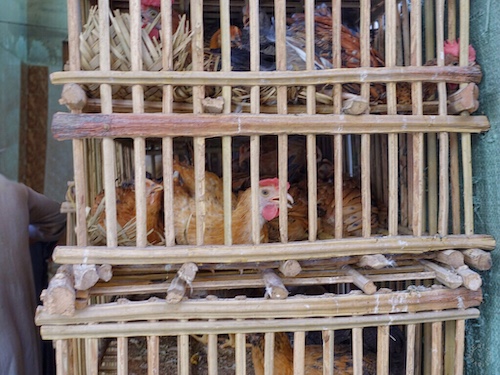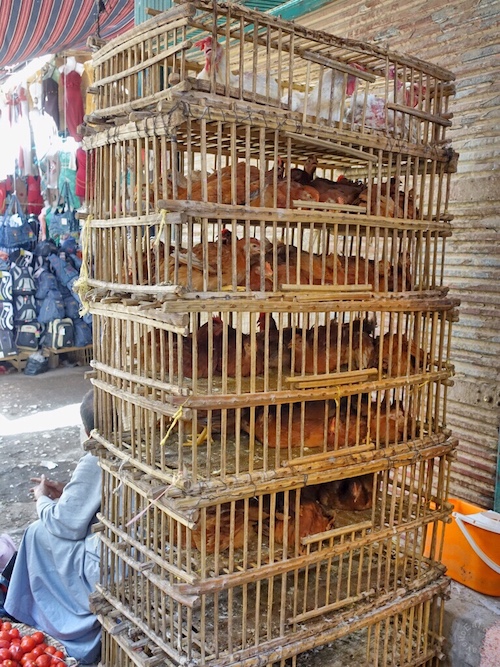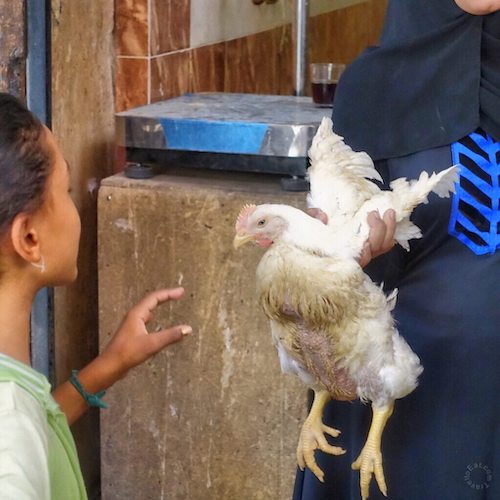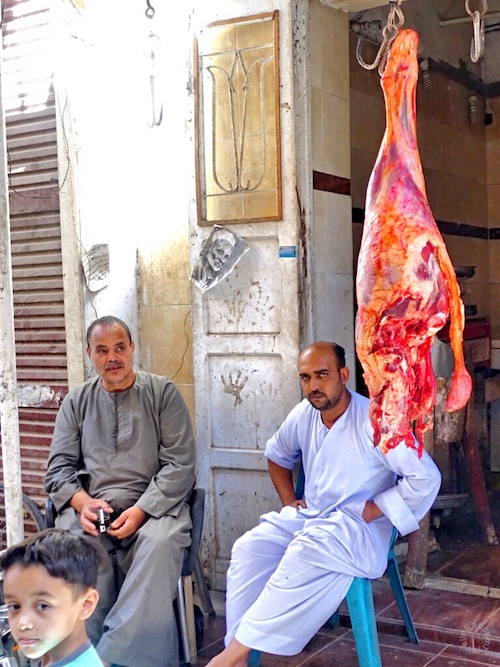 Fresh chicken and beef take on a whole new meaning in Egypt. They had cages of live chickens for sale and a leg of beef still dripping with blood. Not much refrigeration, so it seems best to buy as fresh as possible.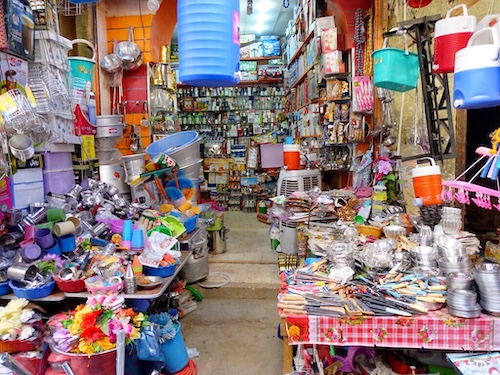 Home goods are arrayed behind the food stalls and just about anything you could want is sold here but good luck finding it.
People Watching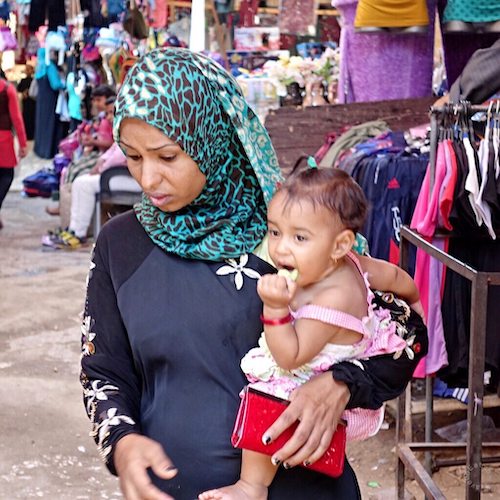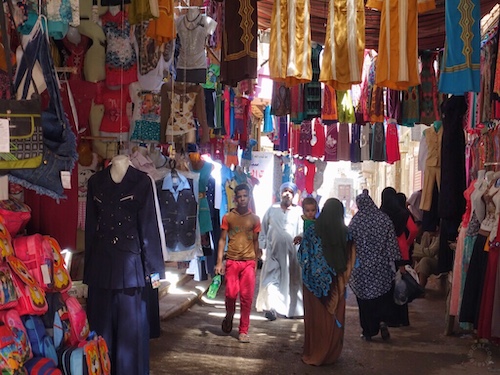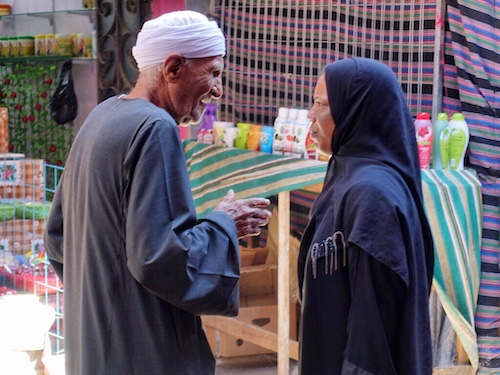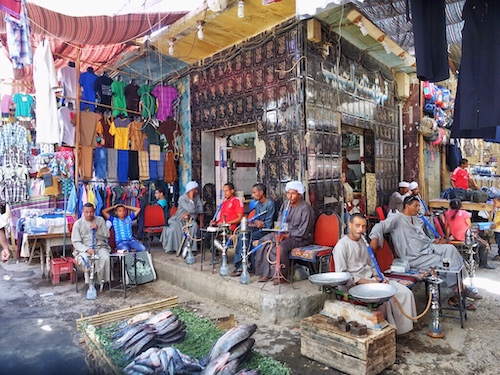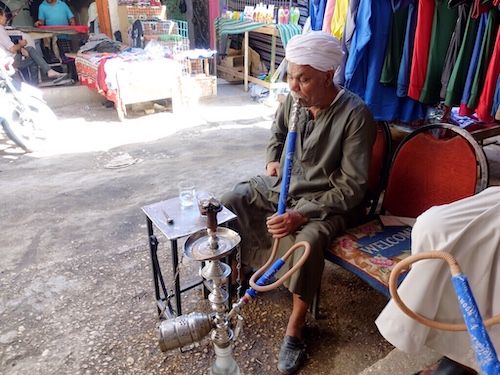 No market would be complete without a coffee house or (q)ahwa and the pervasive shisha pipes.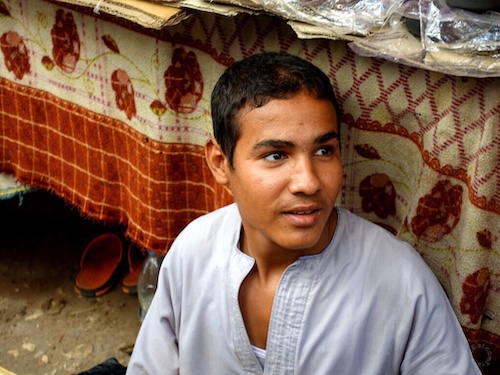 If you visit Luxor, be sure to visit the souk for a walk back in time.
References:
Feseekh and Melouha: http://baheyeldin.com/egypt/feseekh-and-melouha.html
Nile Fishes: http://cdn.intechopen.com/pdfs-wm/46630.pdf
Zucchini Varieties: http://forums.gardenweb.com/discussions/1924600/best-lebanese-zucchini-coosa-mid-eastern-summer-squash-kusa
Summer Squash: http://horttech.ashspublications.org/content/6/1/6.full.pdf
Stuffed White Eggplant: http://mideats.com/bitingan-abyad-mahshi-stuffed-white-eggplants/
Cuisines of Arabia: http://www.pimsleurapproach.com/resources/arabic/articles/cuisines-of-arabia/
Ful Mudammas: http://shakeforkcommunityfarm.com/recipe/dried-fava-beans-ful-mudammas-a-traditional-egyptian-dip