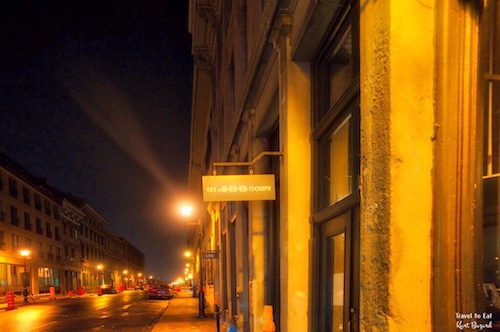 Established in Old Montreal since 2010, Les 400 Coups offers a stimulating and enriching culinary experience. The restaurant proposes a refined and accessible cuisine which promotes local talent by using, as much as possible, local ingredients. The team is composed of passionate individuals who share their love for gastronomy, wine and service. Because Montreal has few captivating views and chances are your waiter will more likely be wearing a checkered shirt than a tuxedo, Montreal is rarely the backdrop of the foodie's dream dinner. To compensate for the lack of fabulous settings, their chefs dazzle with technique. Sharp technique is the basis of all great professional cooking, and I certainly experienced quite the dazzling display on the plates that night at Les 400 Coups. Chef Jonathan Rassi has an commitment to work, as often as possible, with local products to find his creative and natural flavors.
Interior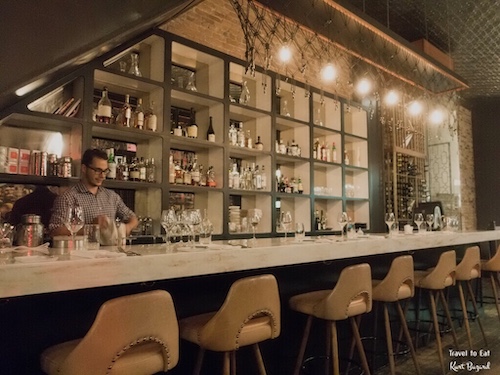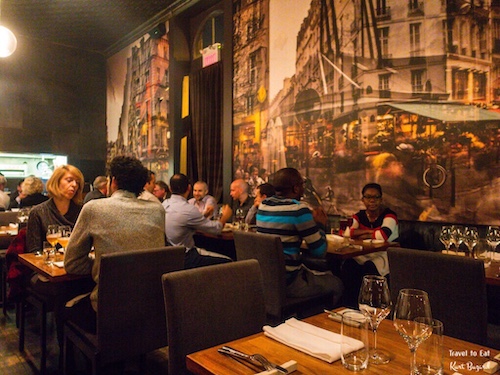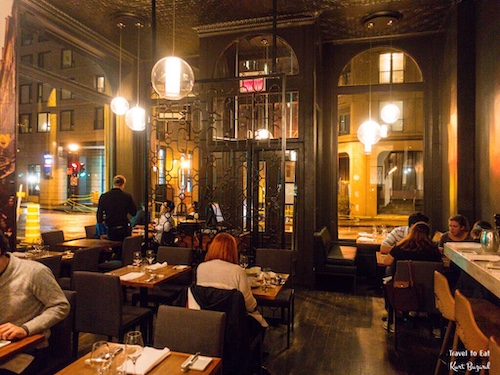 The setting of Les 400 Coups is reminiscent of a nineteenth century saloon with its high tin ceilings, enormous windows at the front and a basic black color scheme with the west wall adorned with huge pictures of Paris's Boulevard St-Germain, taken at intervals. It is both vintage and modern, combined with snappy and enthusiastic service, a great sommelier and fantastic food, an eminently comfortable place to dine. We decided on a tasting menu with wine pairings.
Louis-Antoine Lyte Blanco Chileno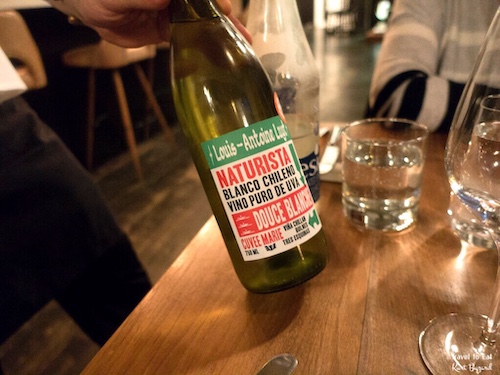 The line Louis-Antoine Luyt gives a nod towards the Chilean wine culture. Indeed this line reveals a very "terroir" spirit for the varietal wines used and it also re-uses a very popular image in Chile, the itineraries advertised in the old buses of Santiago. The fruit for Louis-Antoine's wines are literally rooted in over three centuries of history. The grape vine is not indigenous to Chile and was first brought over in 1548 by Francisco de Carabantes. Just three years later the first recorded vintage in Chile took place. By the 1640s grapes were so abundant that they could not be disposed of. Luyt sources his fruit from 14 small family farmers who dry farm organically and who tend to their vineyards by horse plowing. He has hunted out old, disused or unappreciated vineyards from local growers in the far south of Chile. I was initially skeptical of a Moscatel pairing as they are often too sweet for me but this Moscatel d'Alexandrie was dry, assertive and very interesting.
Amuse Bouche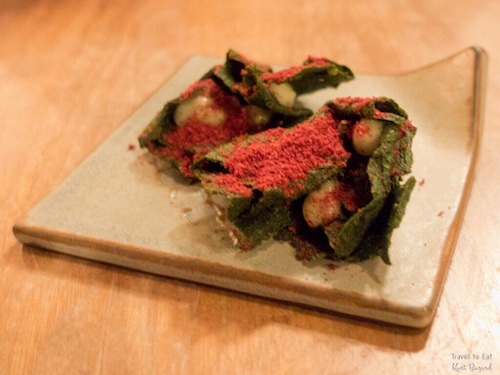 Amuse-bouches are different from appetizers in that they are not ordered from a menu by patrons, but are served gratis and according to the chef's selection alone. These, often accompanied by a complementing wine, are served both to prepare the guest for the meal and to offer a glimpse into the chef's approach to the art of cuisine. This was sorrel chips and green olives topped with raspberry powder, delicious.
Magic of Ju-Ju Chenin Blanc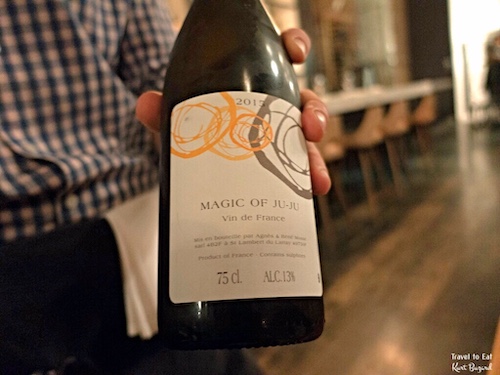 Agnes and Rene Mosse started out owning a wine bar in Tours but eventually decided to sell it and try to become wine makers. Their professors at the local wine making program were legends like Thierry Puzelat and Christian Chaussard so they had a good foundation. They bought a 20 acre domaine in 1999 from a retiring wine maker who had no heirs to take it over and immediately set about de-chemicalizing and revitalizing the land. Over the years since, their drive and passion and attention to detail have brought them international attention and a reputation as some of the best natural wine makers in the central Loire, particularly of Chenin. Their vineyards at Saint Lambert du Lattay are immaculately maintained and the Bonne Blanches vineyard is where their oldest Chenin Blanc vines are to be found. The well known 2014 is almost the equal of 2015, in fact I think I like the 2015 better.
Potato Foam with New Potatoes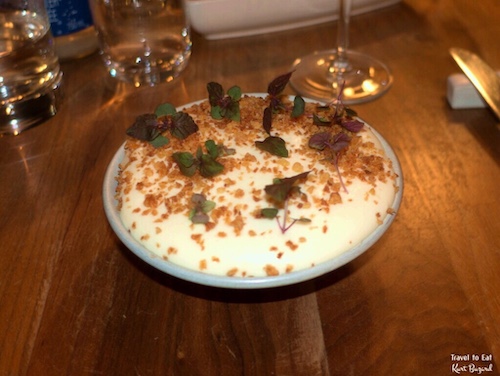 The star of this meal was the warm potato foam with new potatoes. I honestly may never be able to eat mashed potatoes again, it was that good. Topped with crisp bacon bits and micro arugula this was just more than good, it was life changing. 'Espuma' is Spanish and means 'foam'. So what we have here is a potato foam using a siphon and nitrous oxide. This technique was delevoped by Ferran Adrià in his restaurant el Bulli, the cradle of molecular cuisine.
Experience Kydonitsa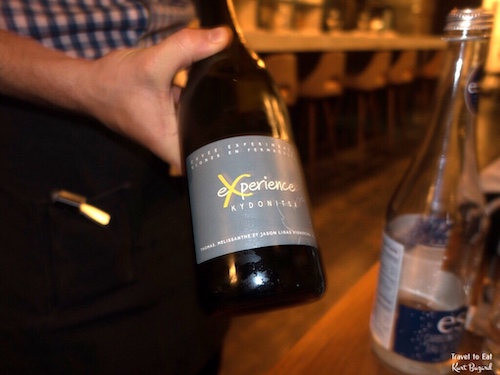 The Vatistas Vineyards are located in Neapoli at the southeast tip of the Peloponnese in Greece. Fanourios Livanos, is the man in charge of the day-to-day activities. The estate was established in 1990, although the first vineyard was created 4 years before that. Today, about 30 hectares are planted with mostly Greek grape varieties and many varieties that are only home in Laconia. They cultivate Petroulianos, Asproudi, Thrapsa, Mavroudi, Monemvasia, Kydonitsa, Roditis, Mantilaria, as well as Assyrtico, Aidani, Athiri, Agiorgitiko, Malagousia, Moschofilero and some international varieties. Yiannis Vatistas, who comes from a family with a long tradition in land cultivation, after strenuous and persistent effort, in 1986, created the first cultivated vineyard at his family estate in St Nicolas. This was one our favorites, a dry white wine with an initial taste of fruity flavors from yellow fruits, green quince, pear and citrus.
Sashimi de Dorade Royale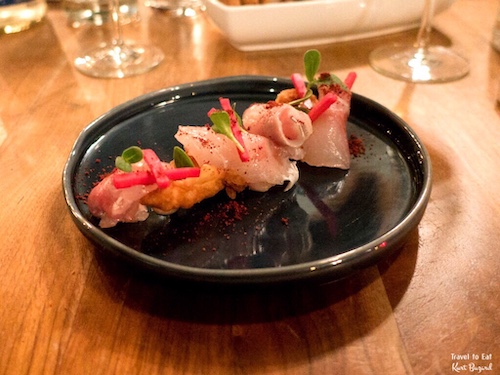 Culinary travelers have met varieties of dorade under many names. In the United States, it is marketed as dorade, but here and in other English-speaking countries, it has also often been called sea bass, sea bream or red drum. The dorade that North American chefs have been using in recent months, however, is not the wild Mediterranean fish, which has been in extremely short supply because of pollution and overfishing in the Mediterranean. The dorade being served here is a farmed fish produced by an Israeli cooperative called Ardag. This sashimi of Dorade Royale with pickled turnips, pita and sumac (a lemony middle eastern herb) was memorably delicious.
El Petit Carlania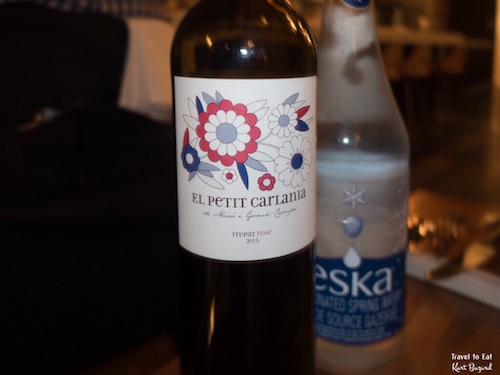 This vibrant red wine comes from 50 year old vines on a small organically farmed vineyard. While the Trepat grape is commonly used in the production of blended rose style wines, El Petit Carlania is crafted as a nice garnet red, with aromas of pomegranate, spices, and red petals. It is slightly spicy on the palate, and finishes fresh and dry. The wine is crafted from 50 year old vines, and all the grapes that go into this lovely bottle of wine are organically farmed from the Els Corrals vineyards. To maintain the quality of the grape, El Petit Carlania's producers pick grapes by hand in 20kg cases, and then macerate the grapes on the skins for 15 days, giving El Petit Carlania its unique flavor, medium bodied with fresh aromas of pomegranate.
Cavitelli Boudin Noir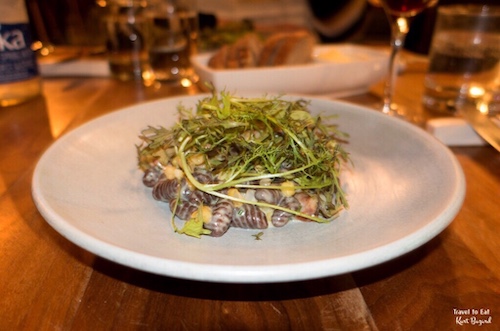 Cavatelli are one of the most unique and most delicious, pasta shapes. Formed from an eggless semolina dough, they are thick and chewy, with ridges to hold onto the robust sauces that often accompany them. Cavatelli are the perfect comfort food, and they really can't be manufactured on a large scale. To really experience these chewy little nuggets, you have to make them from scratch. Boudin noir is a dark-hued blood sausage, containing pork, pig blood, and other ingredients. Variants of the boudin noir occur in French, Belgian, Cajun and Catalan cuisine. The Catalan version of the boudin noir is called botifarra negra. In the French Caribbean, it is known as boudin Créole. In Britain it is called "black pudding", the word "pudding" being an anglicized pronunciation of boudin, and probably introduced after the Norman invasion. In Louisiana cuisine, a sausage similar to boudin blanc, but with pork blood added to it. This originated from the French boudin noir. I happen to love blood sausage, top the pasta with a rich mushroom and lobster sauce, top with corn and frisée and you have a dish which you will always remember. My only quibble would be to add some bits of blood sausage to give me more of taste mentioned in the description.
Luke Lambert Shiraz "Crudo"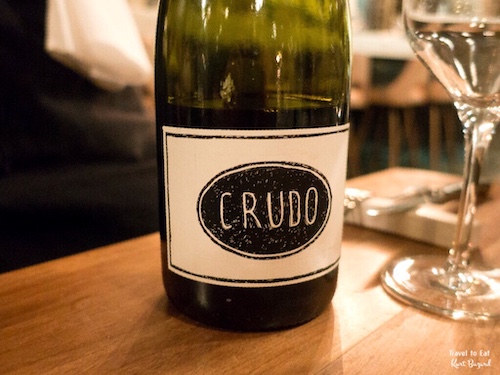 Crudo Shiraz is made in a very similar way to Lambert's Syrah and Reserve Syrah but it's declassified fruit from a lower part of the vineyard which has a bit more soil fertility and available soil moisture and tends to crop slightly bigger berries and as a result lighter wine, built more around a core of acid and bright red fruit. This makes for a lovely light-medium bodied Shiraz and is very flexible as a food wine. Wild yeast fermented, wild malo, and bottled without fining or filtration. 40% whole bunches are used, skin contact is limited and the wine doesn't see any new oak, half the volume is matured in 27 year old puncheons the other half is matured in tank. Crudo is all about retaining the vibrancy, freshness and lightness of the wine.
Suckling Pig and Smoked Scallops with Beurre de Carotte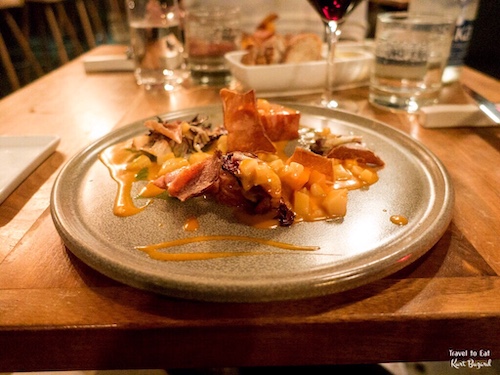 In this dish, tenderloin of suckling pig was paired with smoked scallops. Several pieces of crispy pigskin completed this pork feast. The sauce was Beurre de Carotte, basically fresh carrot juice reduced with butter (or preferably French Beurre). The use of carrots in American cuisine is generally limited to stews and soups. That is a sad fact given the delicious taste of this root vegetable as both a soup or sauce. I have never seen carrot soup on an American menu, but trust me, if you see it, order it. Trévise (Treviso) is a longer, thinner, looser version of tight-headed radicchio with a similar bitter edge and rounds out the flavor profile of the dish, giving a gentle bitter note cutting through the richness of the sauce, pork and scallops. I have not had the pleasure of eating suckling pig often in my life but this was among the best I have ever had, moist and succulent and surrounded by the complex flavors developed in the dish.
Yarra Valley Shiraz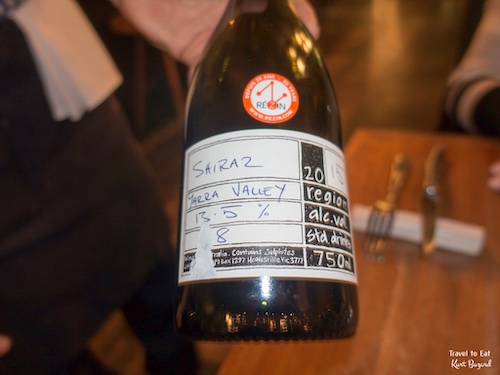 The Yarra Valley is a well-respected Australian wine region which occupies the eastern half of the Port Phillip viticultural zone in the diminutive state of Victoria. At complete odds with the usual, hot and dry Shiraz-growing image of Australia, Yarra Valley is best known for its bright, complex wines made from Pinot Noir and Chardonnay. Modern Yarra Valley wines generally include a range of premium red and white table wines, made from an established set of grape varieties in different mesoclimates. This paired beautifully with the suckling pig and is a wine I will try again.
Dark Chocolate and Sea Salt Cake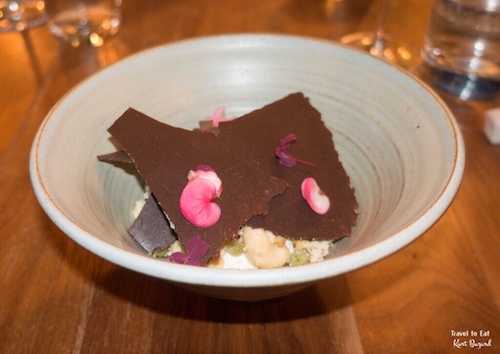 For me, this was the least successful dish. I really don't know the name of the dish but it consisted of dark chocolate over a sorbet and cake. It was desert but sort of disjointed and not very appealing.
Chef Jonathan Rassi and Staff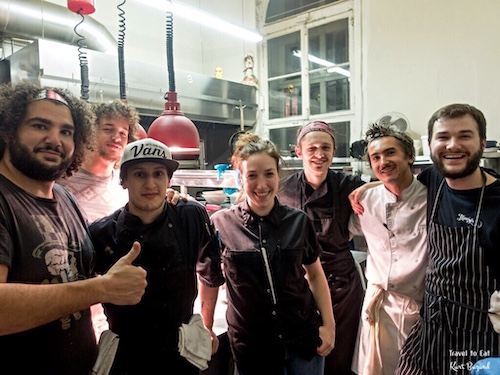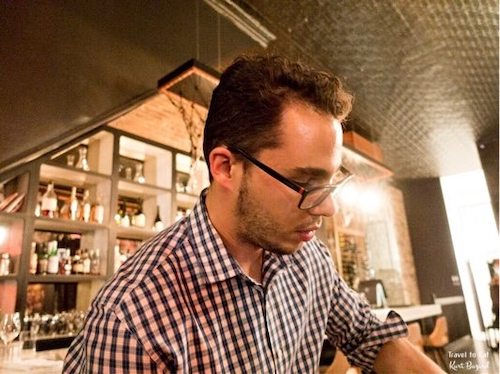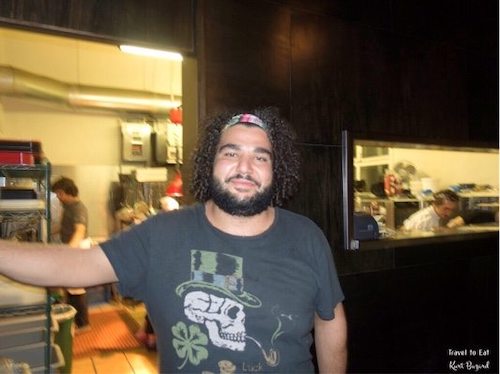 Raised in a family of Lebanese origin, good food has always had an important place in the life of Jonathan. Having discovered his passion for cooking from a young age, he began his training at the Institute of Tourism and Hotel du Québec (ITHQ) in 2008. In the spring of 2016 Jonathan came back to Montreal to take the reins of the restaurant Les 400 coups as executive chef, continuing the tradition that has made it renowned.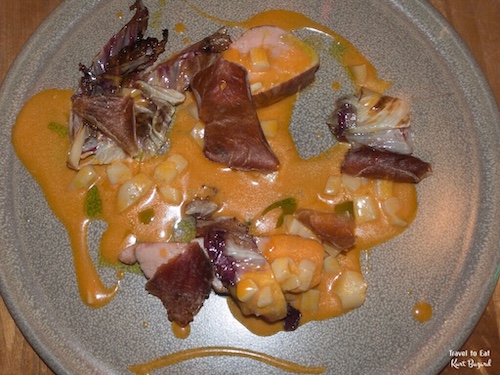 Every once in a while, I find a French restaurant that renews my faith in French cuisine. Guy Savoy, Joel Röbuchon, and now Jonathan Rassi have rekindled my faith in traditional French cuisine. For over four hundred years French cuisine has eschewed trendy "bold spices" in favor of traditional flavors of the local produce and herbs. While Rassi accepts molecular gastronomy, he also embraces traditional French cuisine. A shout-out also to Jonathan, the sommelier. He was passionate about wine, explaining the histories of the vineyards and why he chose the specific wines, extremely knowledgeable, and it was exciting to experience his wine pairings. This restaurant is a "must visit" for anyone in Montreal. As always I hope you enjoyed the post, please leave a comment.
References:
Les 400 Coups: http://www.les400coups.ca/en
Luis Antoine Lyte: http://zesterdaily.com/drinking/chilean-natural-wines-with-french-pedigree/
Domaine Mosse Magic of Ju-Ju: http://www.thewinedoctor.com/weekend/mosse_magicofjuju_2014.shtml
Potato Foam: http://www.foodpeopleplaces.com/potato-espuma/
el Bulli Hot Potato Foam: http://www.foodswinesfromspain.com/spanishfoodwine/global/products-recipes/recipes/4459102.html
Vasistas Vinyards: http://www.elloinos.com/wines-and-winemakers/the-next-really-hot-wine-region-in-greece
Dorade Royal: http://www.nytimes.com/1997/02/26/garden/small-fish-big-taste-the-dorade-royale-lands-in-new-york.html
Cavitelli: http://www.mariobatali.com/videos/cavatelli/
Blood Sausage Cavitelli: http://blog.ideasinfood.com/ideas_in_food/2010/09/blood-sausage-cavatelli.html
Crudo: http://differentdrop.com/2015-luke-lambert-crudo-shiraz
Beurre de Carotte: http://www.cuisineetvinsdefrance.com/,beurre-de-carotte,110276.asp
Yarra Valley Wines: http://www.wine-searcher.com/regions-yarra+valley
Identifying Flavors in Wine: http://winefolly.com/review/identifying-flavors-in-wine/
Sent from my iPad