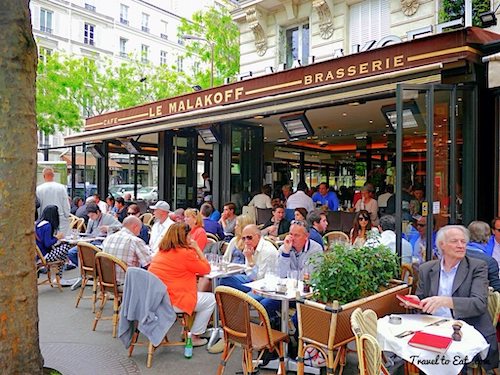 This is part of my series on the six restaurants of the Place du Trocadéro. They include Le Wilson, Le Coq, Kléber, Pâtisserie Carette and Le Malakov. We happened to be down at the Trocadéro for a change of pace and because in our neighborhood, in August, everything is very quiet. This is going to be a fairly short post since Le Malakoff and Le Wilson are owned by the same people, share the same menu and prices and even have the same business cards. If you choose between these two very good restaurants, it should be on the basis of seating and perhaps a slightly better view of the Eiffel Tower.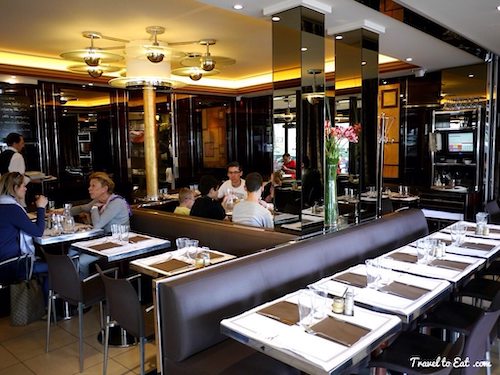 The interior is also very similar to Le Wilson, modern chic, clean and well maintained.

As you can see from the panoramic photo shown above, Le Malakov, is in the middle of Café Trocadéro and Pâtisserie Carrette, between Ave Raymond Poincaré to the left and Ave Kléber to the right.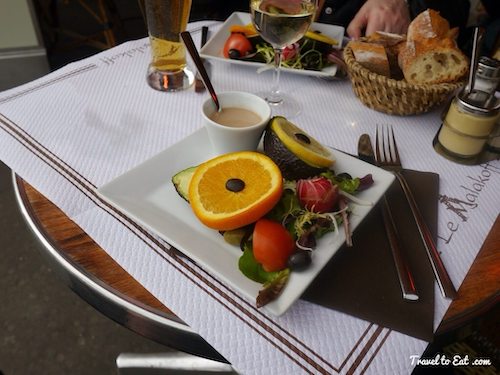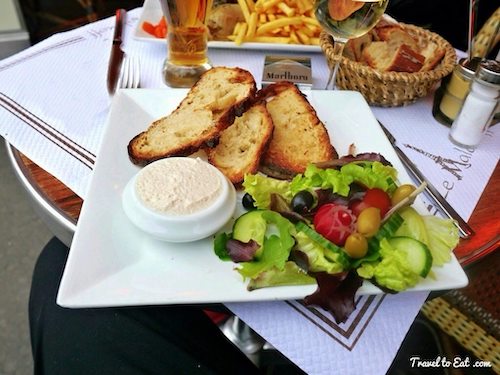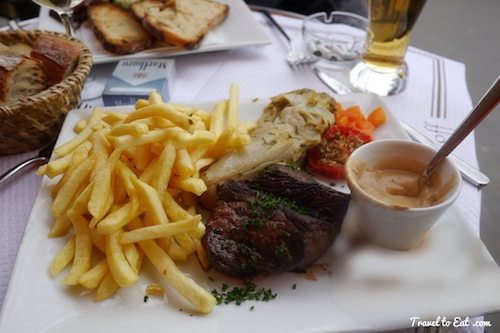 We began with one of our favorites, avocado with citrus for Lisa and tuna rilletes for me. Rillettes are a preparation of meat similar to pâté. Originally made with pork, the meat is cubed or chopped, salted heavily and cooked slowly in fat until it is tender enough to be easily shredded, and then cooled with enough of the fat to form a paste. Eventually several preparations for seafood rillettes were developed including an anchovy, tuna, and salmon version. Though the fish is not actually cooked in the fat, it is blended with fat to form the characteristic paste-spread. The soft, smooth texture is a deciding factor in determining a good rillette dish. For our plat we both had steak au poivre with artichoke hearts and French fries.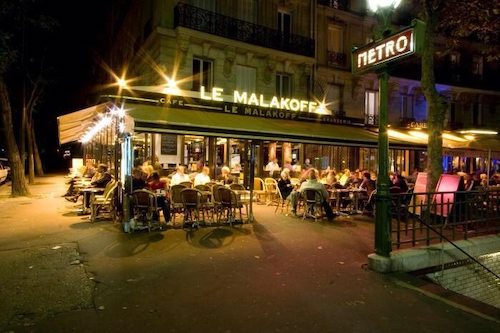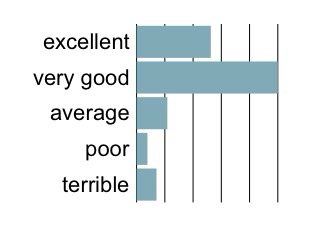 So what is the final verdict for Le Malakoff? This is a busy restaurant in the heart of the Trocadéro. All of the restaurants here are packed all summer. Much of the time the choice is not dictated by the best restaurant but instead by where a seat is available. This is a nice little restaurant which offers decent dishes at a reasonable price if chosen from the proposed menus. This is traditional French food almost identical to Le Wilson. The waiters are good, the food is good and this is not a bad place to settle down after a hard day of touristing.
References:
Website: http://www.le-malakoff.com/
TripAdvisor: http://www.tripadvisor.com/Restaurant_Review-g187147-d1035507-Reviews-Le_Malakoff-Paris_Ile_de_France.html