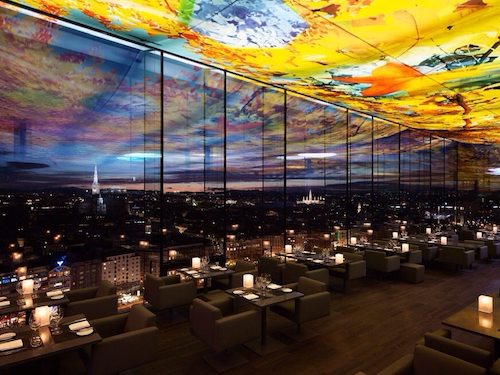 While we were in Vienna we decided to we decided to splurge on a gourmet restaurant with an outstanding view over the city of Vienna. So we went to Le Loft, the restaurant on the 18th floor of the Sofitel Hotel. The Alsatian inspired restaurant is a hotspot for lovers of gourmet food thanks to the kitchen concepts of French chef Antoine Westermann. With his numerous awards, including three Michelin stars, he is considered one of the most celebrated chefs in France. An absolute highlight is the floor to ceiling windows. From this slightly different Vienna restaurant you can enjoy an unprecedented view of Vienna, with Stephansdom right at your fingertips.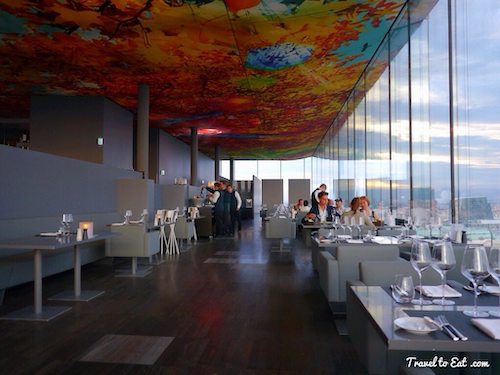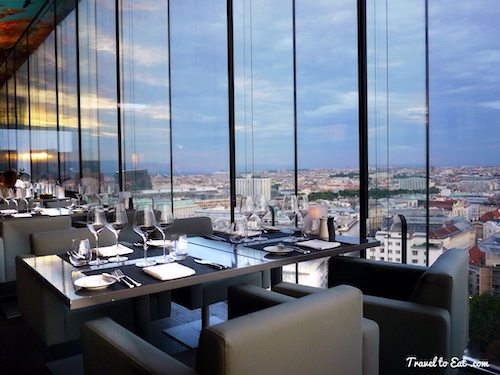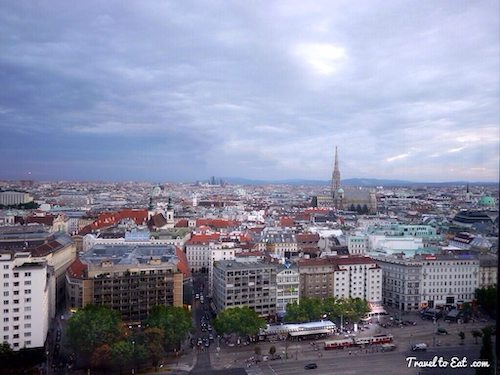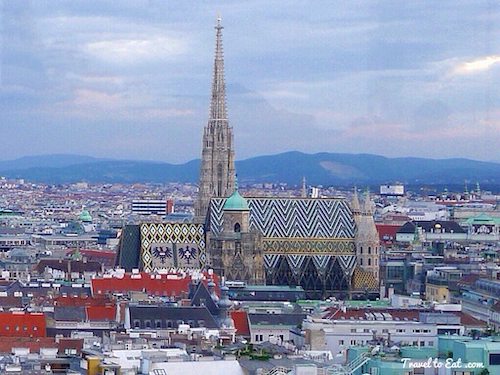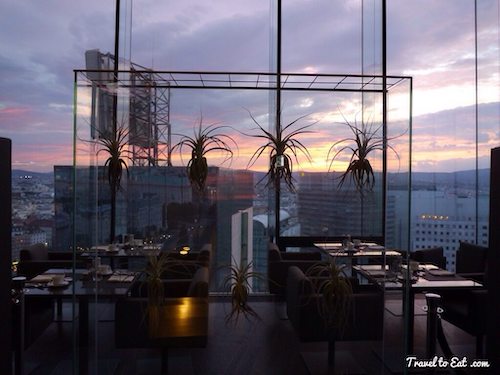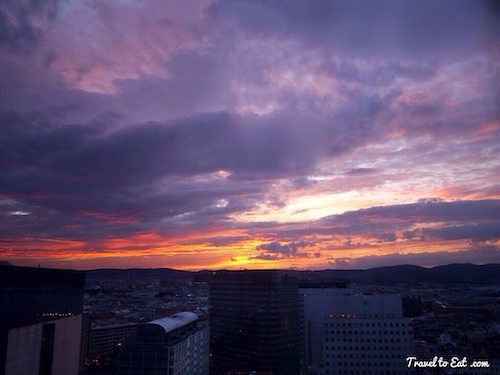 The interior is spacious and modern with floor to ceiling windows all around giving a fabulous view of the surrounding Vienna city-scape. The ceiling as well as the short videos you can admire in the ceiling are done by the famous Swiss artist called Pipilotti Rist. She is very famous for her colorful art, which shows the things from a different point of view. The videos are from the view of a child looking up to the world.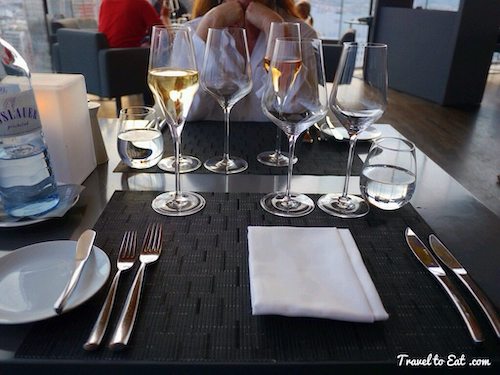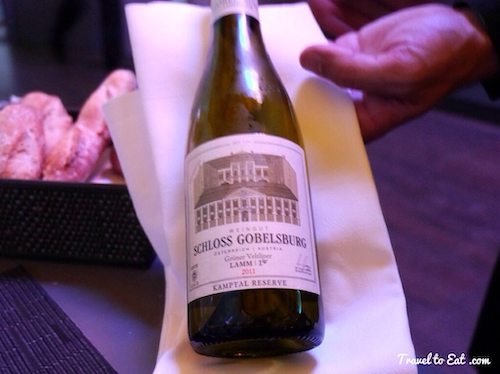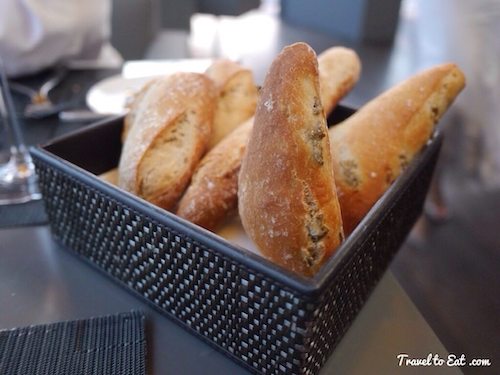 The table setting was crisp and modern. We had a glass of champagne to start. The bread basket was warm and delicious with good French buerre. The waiters were pleasant, an anomaly for Vienna, and even spoke French. The sommelier was very knowledgable and suggested a 2011 Schloss Gobelsburg, a dry white wine. Grüner Veltliner – the "signature" grape of Austria, is by far the nation's most widely planted wine grape. As Austria battles its way back onto the international wine market as a key wine-producing nation, crisp, subtly spicy Grüner Veltliner has been its flagship wine. This particular bottle from Lamm was doubly delicious, because of its Austrian origins and because of its complex earthy floral finish. Grüner Veltliner is not generally that expensive, buy a bottle and try it yourself.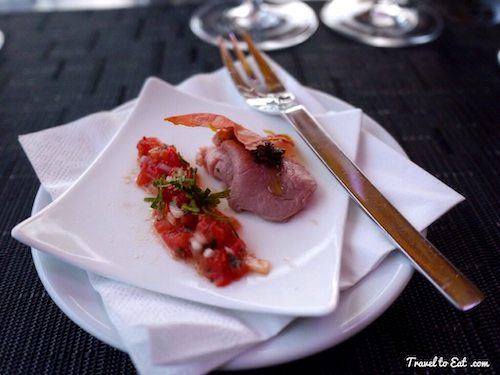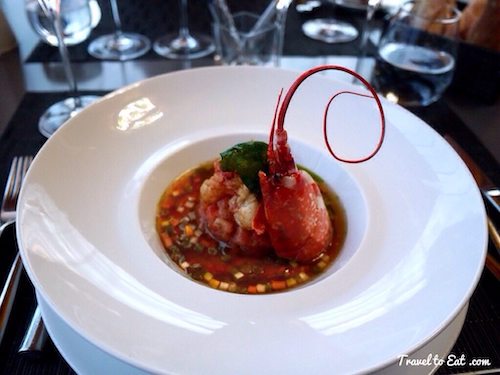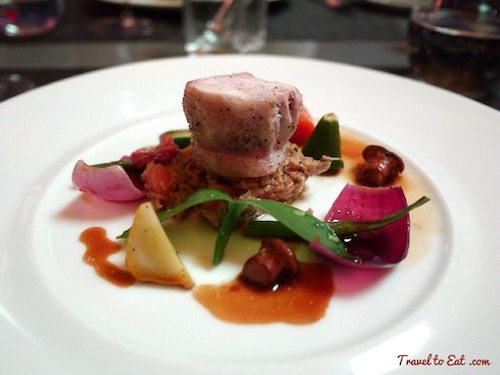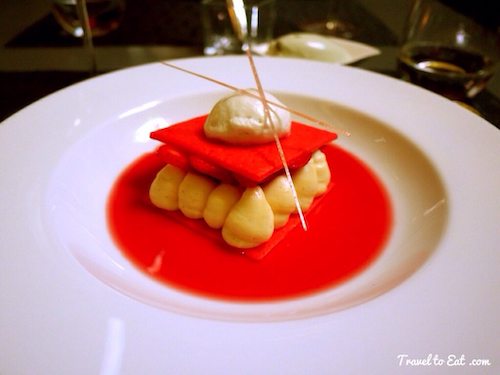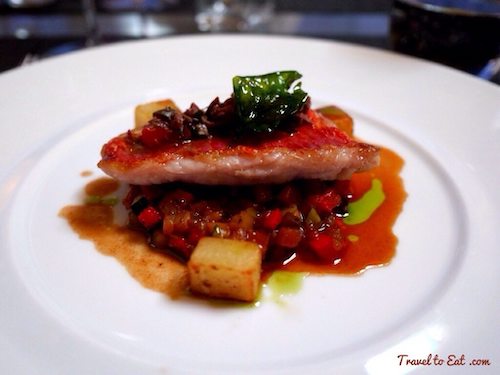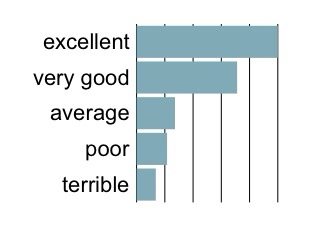 I chose the four plate tasting menu, Lisa had the Saint Peter's Fish with ratatouille niçoise. The cuisine blends French, inspired by his childhood memories of Alsace, with Austrian flavors. Unlike many consultant chefs, Antoine plays an active, hands-on role flying in at least four times a year. His ex-Chef de Partie at Le Buerehiesel and protégée, Raphael Dworak, helms the kitchen every day for breakfast, lunch, and dinner. "I am always on the telephone with Raphael. What's important is Raphael thinks like I think, he cooks like I cook. He knows me really well. I told Accor if you want me to be the chef and shape the menu, then give me confidence and I want to hire Raphael as Executive Chef."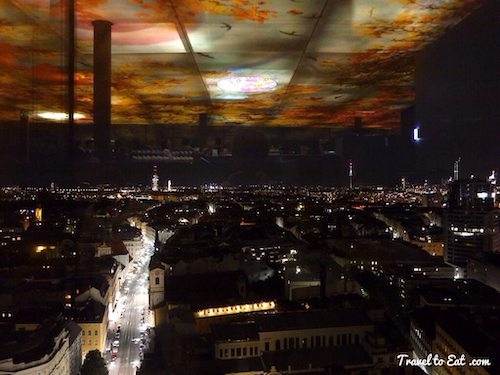 My tasting menu was superb, from the perfectly cooked lamb to the strawberry mille-feuille. The presentation was beautiful and the brunoise vegetables were a pleasing aesthetic touch. This was easily the best food we had in Vienna. Le Loft is one notch below a Michelin restaurant, without the white linens and fussy service. It is however a breathtaking venue with really good food and without the price tag that goes with the Michelin rating. TripAdvisor reviews reflected the same sentiments, most were wowed by the view and most loved the food. If you visit Vienna, I would say Le Loft should be on your dining list. With a landmark location, inspiring interior, slick service, and Michelin cuisine at an affordable price, what more could you ask for?
References:
Website: http://www.sofitel-vienna-stephansdom.com/en/le-loft-restaurant.html
Gourmet Travel: http://www.ahlanlive.com/gourmet-travel-le-loft-vienna-161813.html
TripAdvisor: http://www.tripadvisor.com/Restaurant_Review-g190454-d1986369-Reviews-Le_Loft-Vienna.html
Schloss Gobelsburg, Grüner Veltliner Lamm 2011: http://www.gobelsburg.at/en/wines/schloss-gobelsburg/gruner-veltliner-lamm/awards-2011

Grüner Veltliner: http://www.wine-searcher.com/grape-209-gruner-veltliner