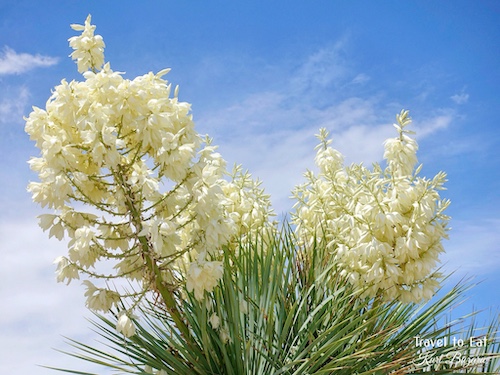 Each year I write on the spring flowers in my home city, Las Vegas. This year I have decided to focus on plants used in public landscapes. Every city and town has a certain ambiance or sense of place. Often the ambiance is due to the people, sometimes the food, music or architecture but frequently it is the mix of plants and landscapes in the particular location. Although the plantings may reflect the surrounding area, sometimes plants are imported from elsewhere and over time become considered as a a native part of the environment. Even if two places are nearby, the landscapes can be completely different, based on water availability, affluence and even history. Las Vegas is not that far from Los Angeles yet the landscapes could not be more different. Not long ago I wrote about the succulents that are recently wildly popular in Los Angeles in part because of the mild climate. Las Vegas suffers from the same water shortages but it's landscapes are distinctly different, reflecting the deserts in the surrounding areas. This is not a complete list, but it will give you a sense of landscaping in Las Vegas and you will get to see some beautiful flowers.
Yucca Gloriosa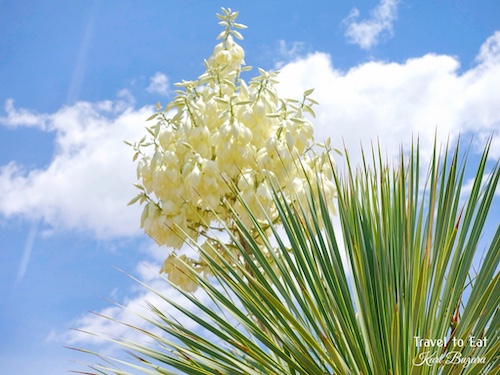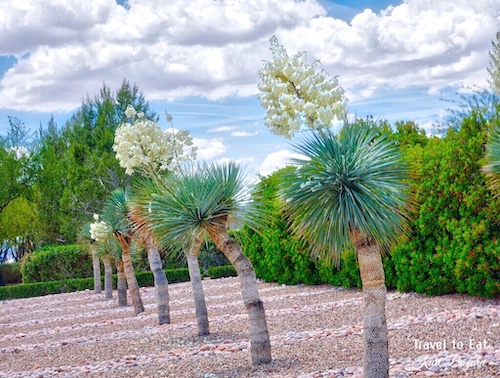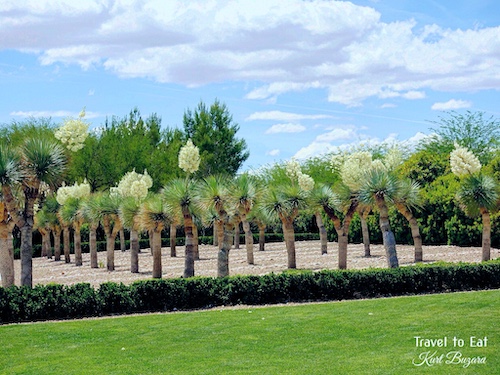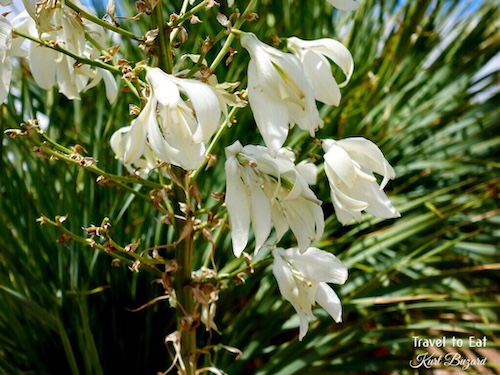 Beaked Yucca (Yucca Rostrata) is native to Western Texas and Northern Mexico, a tree-like yucca used as ann ornamental and slow-growing evergreen. Known to be one of the toughest trunk-forming yuccas, Yucca rostrata is drought-tolerant and a popular garden attraction in the UK, US, and Canada. It is attractive and the bloom stalk is particularly nice. It will grow happily in the hottest, brightest part of the yard; it will also grow on soil where nothing else will. There are over forty yucca species. Yucca rostrata, or Big Bend yucca is often confused with a similar member known as Yucca rigidia, which is a slow-growing, medium-sized tree-like yucca, native to Mexico. Yucca rigidia is commonly found in nurseries where xeriscape plants are sold. Yucca rostrata also has a cultivar called "Sapphire Skies" that produces creamy-white flowers between mid to late summer. It can grow up to 5′ feet tall and resemble a palm tree. The cultivar likes full sun and dry soils, as do all other yucca species.
Leucophyllum frutescens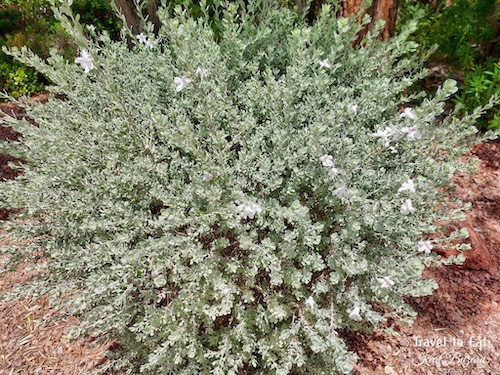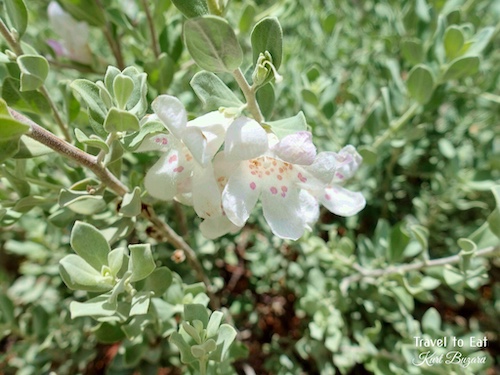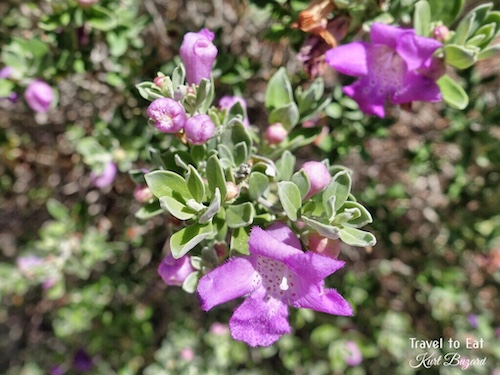 Leucophyllum frutescens is the most common species in Texas and by far the most commonly available. This gray-leaved plant gets larger than most people expect, up to 8 feet tall. It has the most variable flower color of any Texas sage, from white, pink or lavender to purple. It is also the most tolerant of poor drainage and overwatering, but that is not an excuse to abuse the plant's good nature. It is hardy to 5 F. An explosion of interest in Texas sage followed the work of the late Benny Simpson, a pioneer in the use of Texas natives in landscapes. Simpson developed the 'Cloud' series of cultivars, introducing new foliage and flower colors. 'White Cloud' has brilliant white flowers on gray foliage, providing a bright effect in the garden.
Feathery Cassia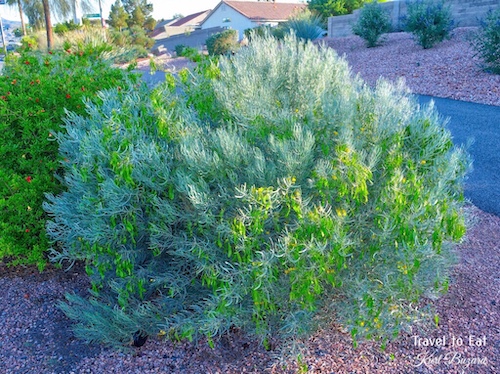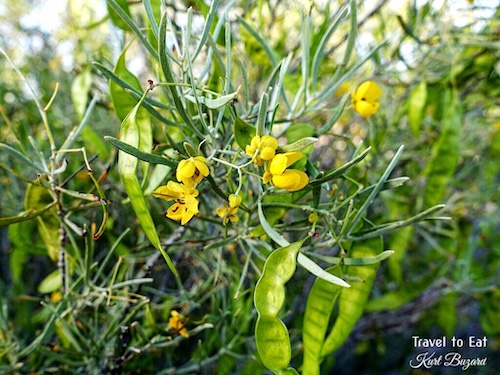 Senna artemisioides ssp zygophylla. Senna artemisioides is a flowering plant in the family Fabaceae. It is commonly known as silver senna, silver cassia or feathery cassia although "cassia" generally refers to the largest-growing Cassiinae. Some of its distinct subspecies also have common names of their own. This plant is endemic to Australia, where it is found in all mainland states and territories, except for Victoria. The species was first described in 1825 by Charles Gaudichaud-Beaupré based on work by Augustin Pyramus de Candolle and placed in Cassia, but today it has been moved to Senna. It produces an abundance of yellow flowers in winter and spring which are about 1.5 cm in diameter, followed by 2 to 7 cm long flat green pods which age to dark brown.
Oleander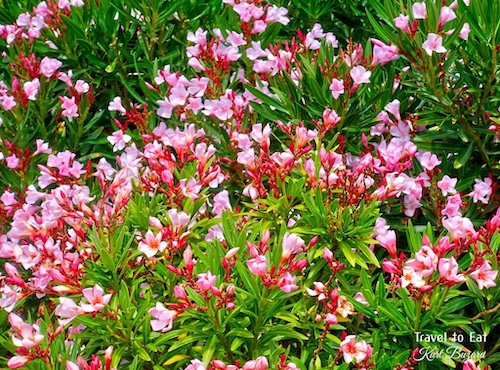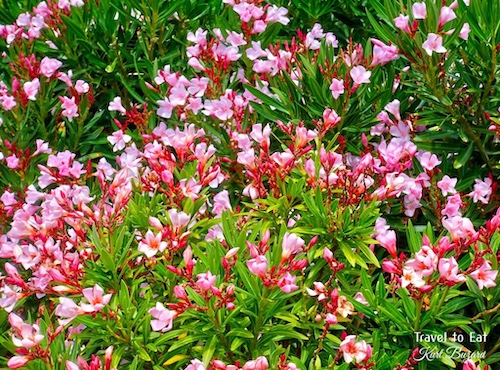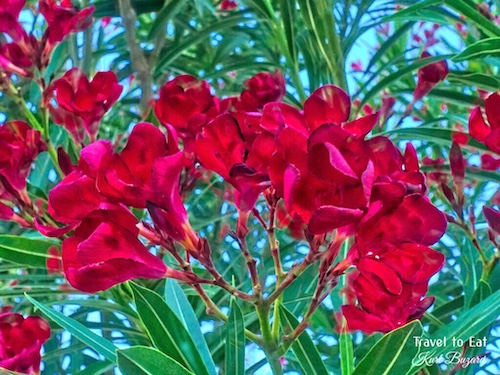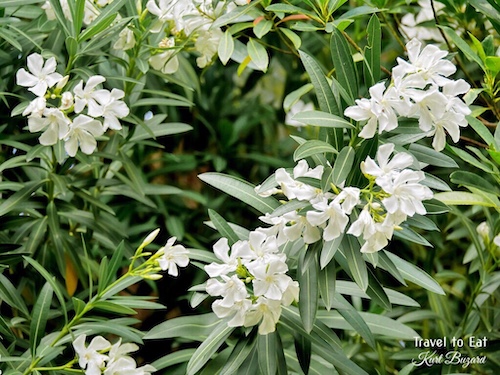 Oleander (Nerium oleander) is an evergreen shrub or small tree in the dogbane family Apocynaceae, toxic in all its parts. It can be formed into a bush, shrub or even a tree. It is everywhere in landscaping in Las Vegas and has become naturalized here. It is so widely cultivated that no precise region of origin has been identified, though southwest Asia has been suggested. It thrives in full sun, and is tolerant of poor soils and drought, although it will flower and grow more vigorously with regular water. Nerium Oleander also responds well to heavy pruning, which should be done in the autumn or early spring to keep plants from becoming unruly. In Las Vegas they come in white, deep red and pink.
Lantana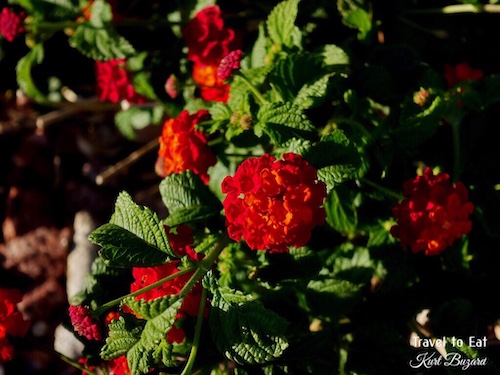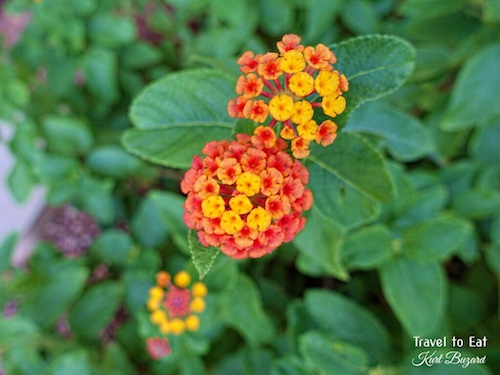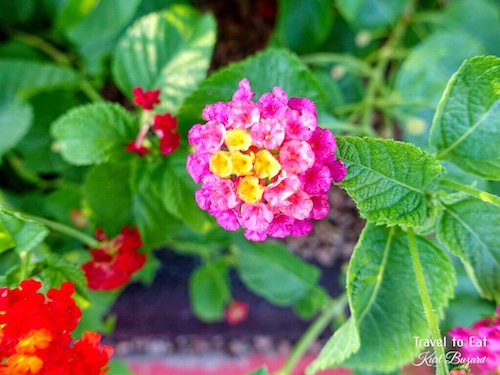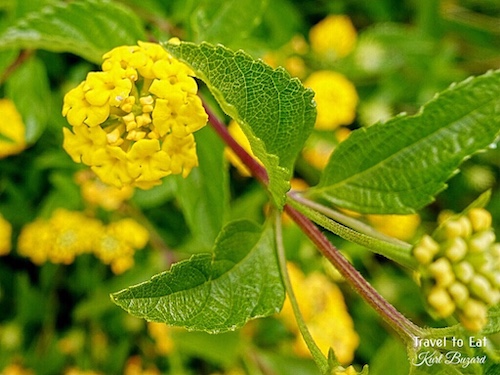 Lantana is found everywhere in Las Vegas since it is hardy, blooms all summer and requires little water. Lantana is a genus of about 150 species of perennial flowering plants in the verbena family, Verbenaceae. They are native to tropical regions of the Americas and Africa but exist as an introduced species in numerous areas, especially in the Australian-Pacific region. The genus includes both ground hugging herbaceous plants and shrubs growing to 0.5–2 m (1.6–6.6 ft) tall. Their common names are shrub verbenas or lantanas. Lantana's aromatic flower clusters (called umbels) are a mix of red, orange, yellow, or blue/purple and white florets. Other colors exist as new varieties are being selected. The flowers typically change color as they mature, resulting in inflorescences that are two or three-colored.
Mexican Bird of Paradise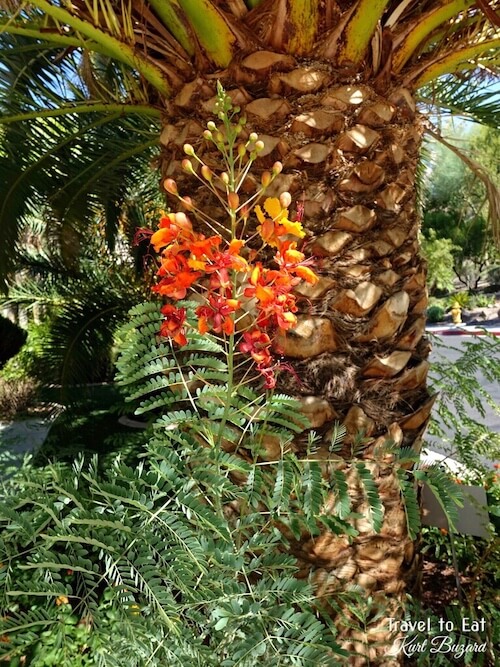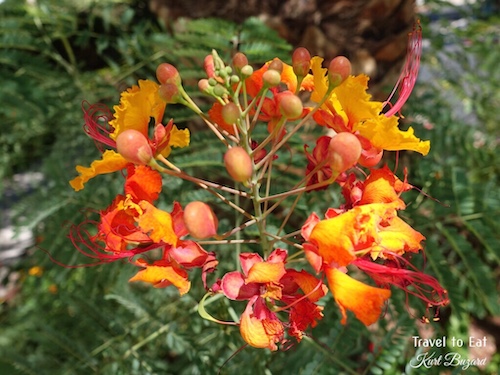 Caesalpinia pulcherrima is a species of flowering plant in the pea family, Fabaceae, that is native to the tropics and subtropics of the Americas. It could be native to the West Indies, but its exact origin is unknown due to widespread cultivation. Common names for this species include Poinciana, Peacock Flower, Red Bird of Paradise, Mexican Bird of Paradise, Dwarf Poinciana, Pride of Barbados, and Flamboyant-de-Jardin. It actually blooms all summer and fall in Las Vegas but they are just coming out so I included it in spring flowers.
Jasmine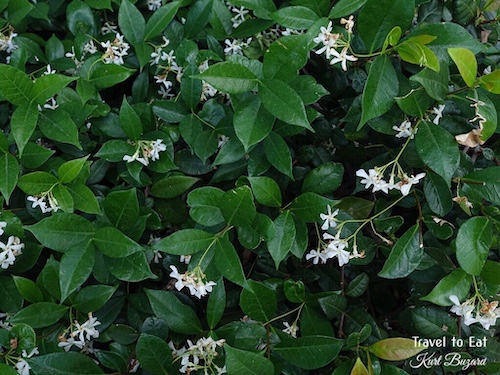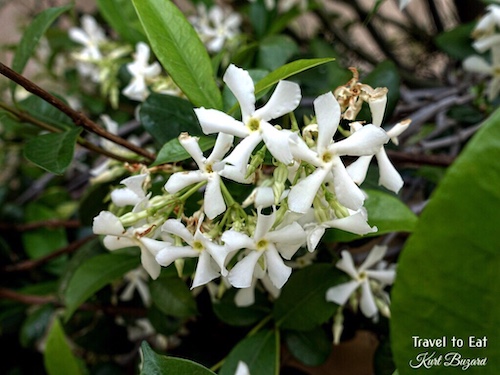 Star Jasmine (Trachelospermum jasminoides) is a species of flowering plant in the family Apocynaceae, native to eastern and southeastern Asia. Also called Confederate jasmine, star jasmine (Trachelospermum jasminoides) is a vine that produces very fragrant, white blossoms that attract bees. Native to China and Japan, it does very well in Las Vegas and the southern US, where it provides excellent ground cover and climbing decoration. You see this everywhere in Las Vegas along with the sweet smell of Jasmine.
Red Yucca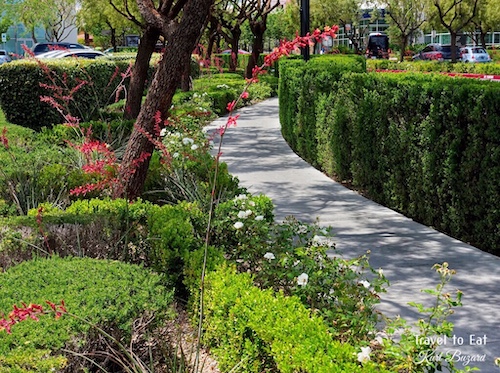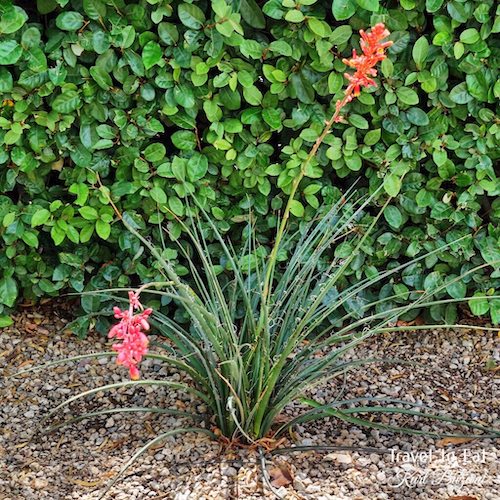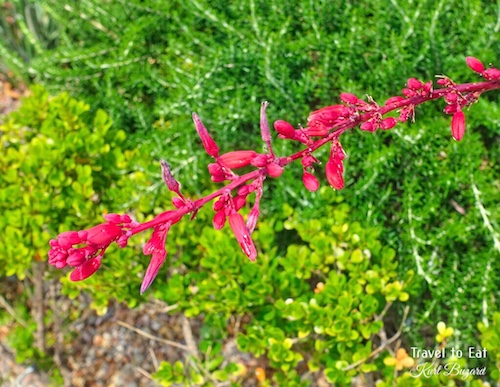 Red Yucca (Hesperaloe parvifolia) also known as hummingbird yucca, redflower false yucca and samandoque, is a plant that is native to Chihuahuan desert of west Texas east and south into central and south Texas and northeastern Mexico around Coahuila. Hesperaloe parviflora has narrow evergreen leaves with a fringe of white threadlike hairs along their edges and grows in clumps 3–6 ft (0.91–1.83 m) high and wide. Red or yellow tubular flowers are borne on branching flower stalks (inflorescences) up to 5 ft (1.5 m) tall from late spring to mid-summer. Again it is almost everywhere this time of year in Las Vegas.
Butterfly Iris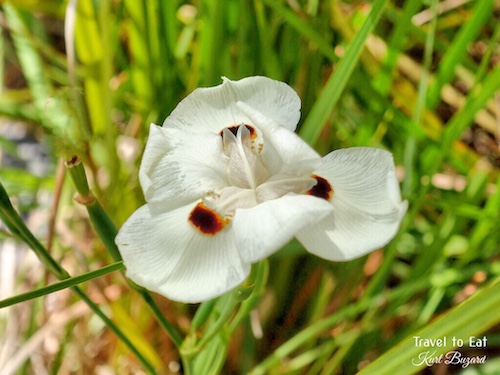 Butterfly Iris (Dietes bi-color) is a genus of plants of the family Iridaceae, first described as a genus in 1866. Common names include wood iris, Fortnight lily, African iris, Japanese iris and Butterfly iris, each of which may be used differently in different regions for one or more of the six species within the genus. Most species are native to southern and central Africa, with one (Dietes robinsoniana) native to Lord Howe Island off the coast of Australia. Like Moraea, they differ from Iris in having flowers with six free tepals that are not joined into a tube at their bases. They do particularly well in Las Vegas.
Gardenia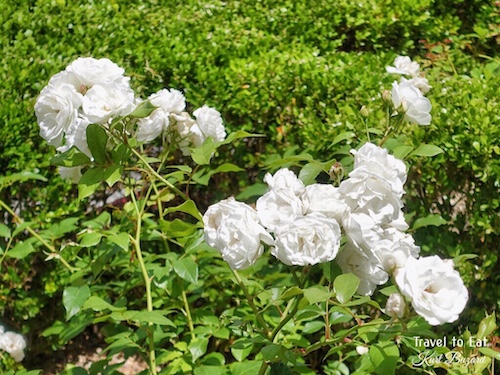 Gardenia, Cape Jasmine or Gandharaj (Gardenia jasminoides) is an evergreen flowering plant of the family Rubiaceae. It originated in Asia and is most commonly found growing wild in Vietnam, Southern China, Taiwan, Japan, Myanmar, and India. With its shiny green leaves and heavily fragrant white summer flowers, it is widely used in gardens in warm temperate and subtropical climates, and as a houseplant in temperate regions. It has been in cultivation in China for at least a thousand years, and was introduced to English gardens in the mid 18th century. Many varieties have been bred for horticulture, with low growing, and large-and long-flowering forms. In Las Vegas, the water is hard and the soil is alkaline while gardenias prefer acid soil. We add either sulfur or vinegar to the soil to keep them healthy.
Pink Powderpuff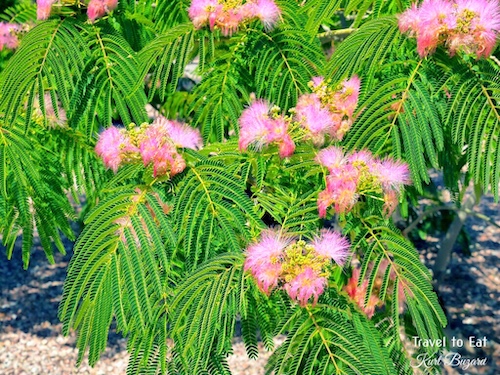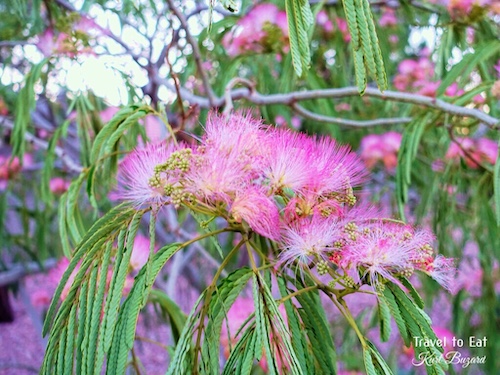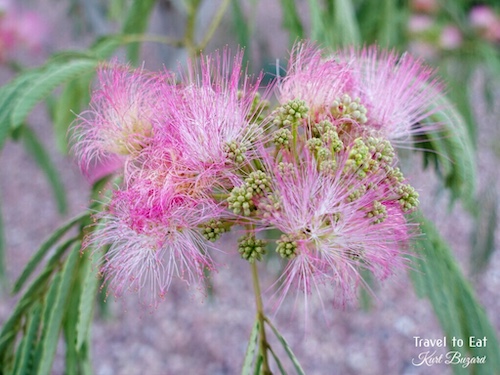 Pink Powder Puff or Surinamese Stickpea (Calliandra surinamensis) is a low branching evergreen tropical shrub that is named after Suriname, a country in Northern South America. Calliandra is a genus of flowering plants in the peafamily, Fabaceae (the pea family), subfamily Mimosoideae. It contains about 140 species that are native to tropical and subtropical regions of the Americas. Showy pink flowers, like a powderpuff, are bright pink on the surface and pale pink to white inside the "powderpuff" ball. The plant has evergreen bipinnate, oblong leaves that are pointed (unlike C. haematocephala which leaves are more oval). Pink powder puff has a dense foliage and is a fast grower. A flat pod, first green later brown, contains 5 – 6 seeds; it curls open to release the brown seeds.
Yellow Palo Verde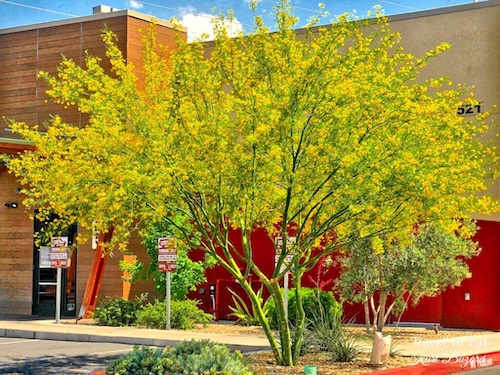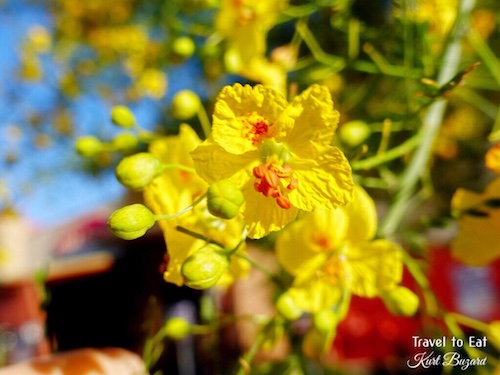 The Yellow Palo Verde (Parkinsonia or Cercidium microphylla) is a very strange looking shrub or small tree which grows in the Sonoran Desert of the southwestern United States and northern Mexico. It has adapted in unique ways to survive the killing heat of the desert sun. Palo verde, or "green wood" in Spanish, has a thin, almost waxylooking green bark studded with thorns. The smooth greenish trunk and branches have for a large part taken over the photosynthesis. The green bark contains chlorophyll, which gives it the ability to carry on photosynthesis when the tree has shed its leave during dry, hot periods. This way the tree doesn't have to shut down completely and can still store up energy in its roots. The tree has a very deep root system to access any underground water supply. Palo verdes are "branch deciduous", meaning that they may shed some of their branches during severe droughts, becoming a smaller tree.
Yellow Bells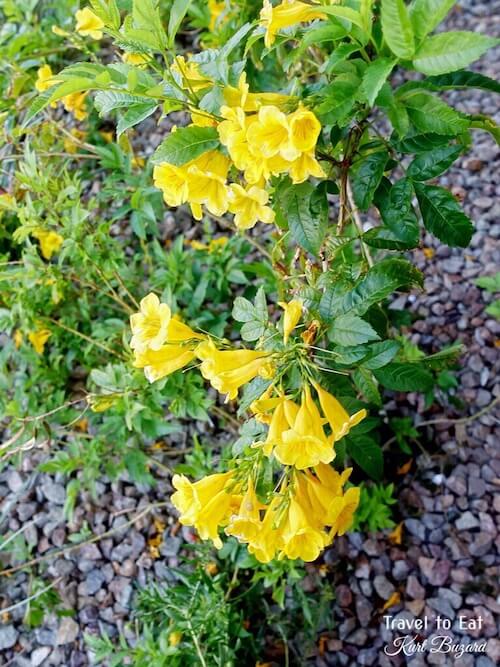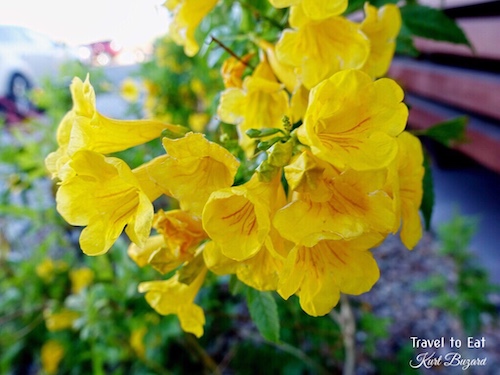 Tecoma Gold Star or Yellow Bells (Tecoma stans) is a species of flowering perennial shrub in the trumpet vine family, Bignoniaceae, that is native to the Americas. Common names include yellow trumpetbush, yellow bells, yellow elder and ginger-thomas. Tecoma stans is the official flower of the United States Virgin Islands and the floral emblem of the Bahamas. It grows well in Las Vegas, providing a flash of yellow color in landscapes.
Pomegranate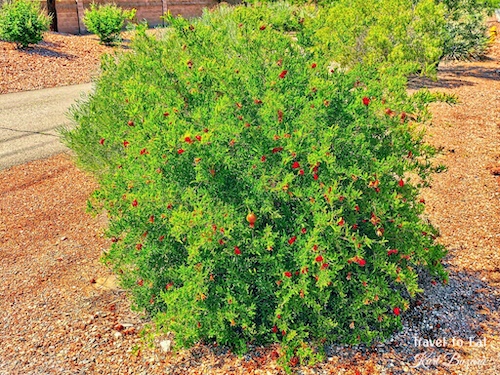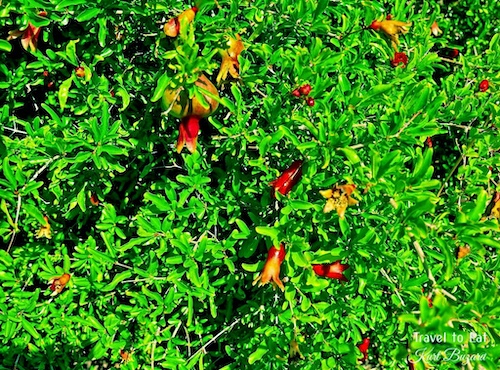 The pomegranate (Punica granatum) is a fruit tree quite commonly seen in Las Vegas. In the spring, beautiful red blossom flowers are seen on the pomegranate tree.The pomegranate was first known in Iran and the Himalayas in northern India and has since been spread to many kinds of dry areas with seasonal rainfall, like Las Vegas. The name pomegranate comes from Medieval Latin meaning "seeded apple." It has been named in many ancient texts from the Book of Exodus in the Torah, the Quran, the Homeric Hymns, and Mesopotamian records, to name a few. Pomegranates were highly valued in Ancient Egypt, and were part of the supply of fruits required in a pharaoh's residence (1600 BC). It was revered enough to have been painted on walls and tombs to symbolize life after death. The pomegranate had many uses, including the fruit as food, the juice as a tonic to kill parasites, the blossom was crushed to make a red dye, and the peel was used to dye leather. This starts out as a bush and can grow into a tree if properly pruned.
Chaste Tree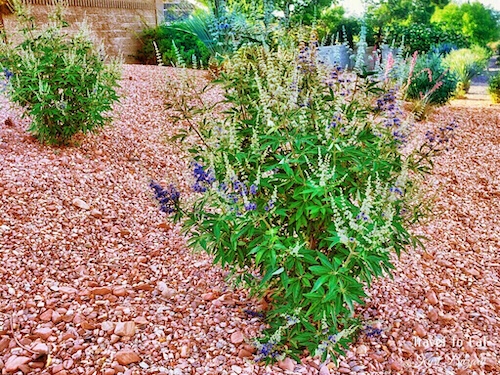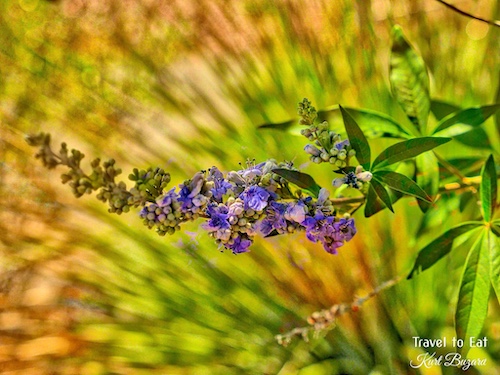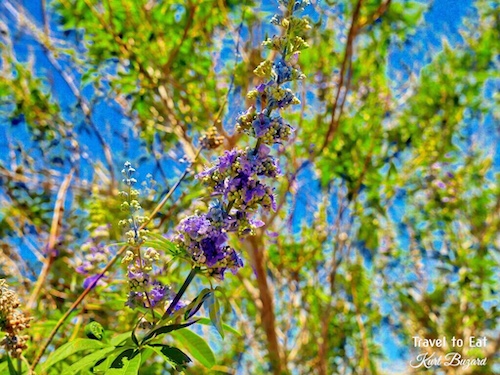 Chaste Tree (Vitex agnus-castus) also called Vitex, chasteberry, Abraham's balm, lilac chastetree or monk's pepper, is a native of the Mediterranean region. It is one of the few temperate-zone species of Vitex, which is on the whole genus of tropical and sub-tropical flowering plants. Vitex grows into a small tree, perfect for the smaller yards of Las Vegas.
Chilopsis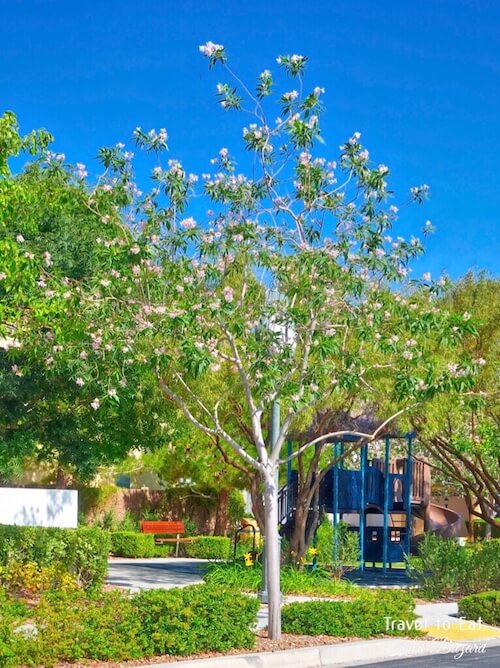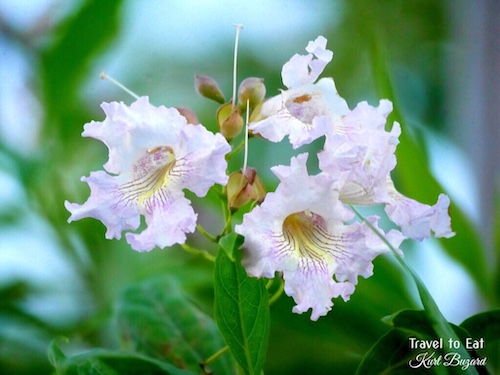 Chilopsis is a genus of flowering plants containing the single species Chilopsis linearis. It is a shrub or tree native to the southwestern United States and Mexico. The common name is desert willow because of its willow-like leaves, but it is a member of the catalpa family, Bignoniaceae. It is commonly seen in washes and along riverbanks at elevations below 1800m in its range. These are hardy trees and are seen all over Las Vegas.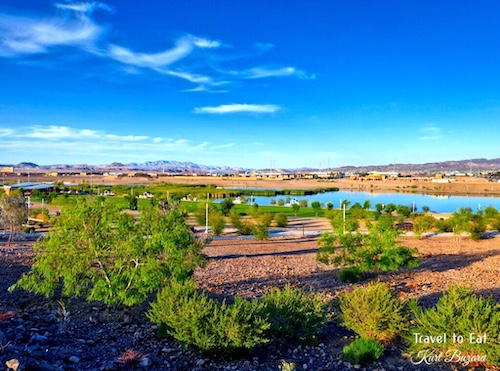 I am going to stop here, as I said in the introduction, this is not a complete list but it will give you an idea of Las Vegas landscapes. As always, I hope you enjoyed, please leave a comment.
References:
Yucca Guide: http://swbiodiversity.org/seinet/taxa/index.php?taxon=4289
Southern Nevada Water Authority: https://www.snwa.com/apps/plant/index.cfml
White Cloud Sage: http://www.azplantlady.com/2009/11/most-shrubs-arent-meant-to-be-cupcakes.html
Native Texas Sage: http://www.dallasnews.com/lifestyles/home-and-gardening/headlines/20110901-native-texas-sage-thrives-in-hot-dry-landscapes.ece
Palo Verde Tree: http://www.blueplanetbiomes.org/palo_verde.htm
Henderson Plant List: http://www.cityofhenderson.com/docs/default-source/community-development-docs/snrpc/snrpc_regional_plant_list_final_06-30-11.pdf?sfvrsn=4
History of Pomegranate: http://www.naturalnews.com/042282_pomegranates_history_superfood.html