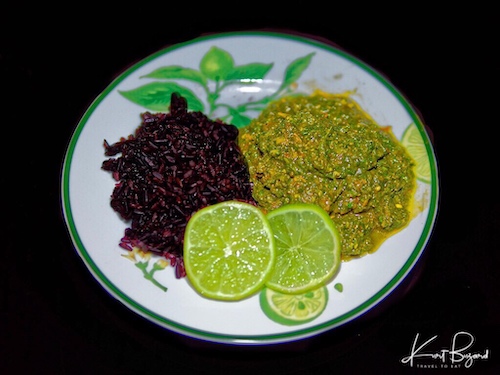 I love lamb saag and not just because it tastes great. Saag is a leaf-based (spinach, mustard leaf, collard greens, basella, etc.) dish eaten in the Indian subcontinent with bread such as roti or naan, or rice (in Nepal, Odisha and West Bengal). Saag can be made from spinach, mustard leaves, finely chopped broccoli, or other greens, along with added spices and sometimes other ingredients such as paneer. Paneer is a fresh cheese common in South Asia, especially in India, but Saag goes really well with Tufu as well. On some menus, it is called saagwala. Saag/Saj however can be a catch-all term for various green-leaved dishes. It is one of the important dish of Mahaprasad (Jagannath Temple), where it has been served to the Lords for centuries. Saag aloo (spinach potato) and saag gosht (spinach and goat) is a common dish in Punjabi cuisine as served in restaurants and take-aways in the Western world (where the goat is commonly replaced with lamb). However, as many people are vegetarian, saag is eaten as it is plain, with the yellow roti or naan. It consists of leafy greens such as spinach, broccoli, kale, and others. To me the taste is reminiscent of pesto, which I also love but Saag has less calories (less oil) and something I could (and have) eaten for days on end.

Ingredients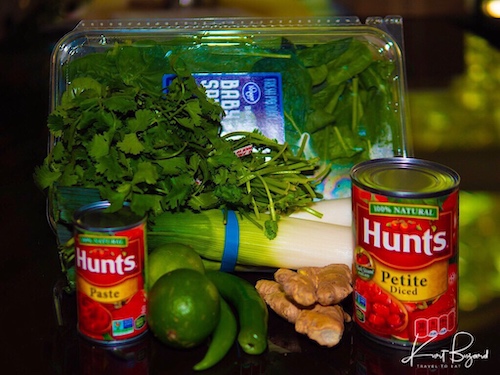 2 pounds (900gm) lamb shoulder or leg cut into one inch pieces
3 tablespoons extra virgin olive oil but ghee is so much better
3 large onions, I used Leeks- finely chopped
2 tablespoons garlic paste about 15 cloves of garlic mashed to a paste with a little water
2 tablespoon ginger paste (3 inches ginger – grated and mashed to a paste with a little water.)
1 tin of chopped tomatoes (400ml)
2 tablespoonfuls of Tomato Paste
1 tablespoon cumin powder and 1 tablespoon of cumin seeds
1 tablespoon coriander powder
1 tablespoon of cardamon powder
1 tablespoon of mustard seed and mustard powder
1 tablespoon of Turmeric
250g – about four large handfuls of baby spinach leaves
2–3 fresh green jalapeño chillies (I use a lot, you can use the amount to match your heat profile)
1 bunch fresh coriander leaves
Juice and zest of one lime
salt and pepper to taste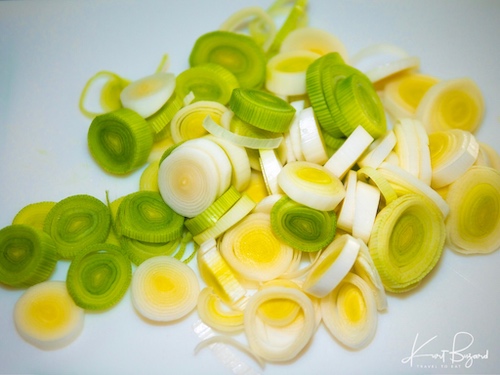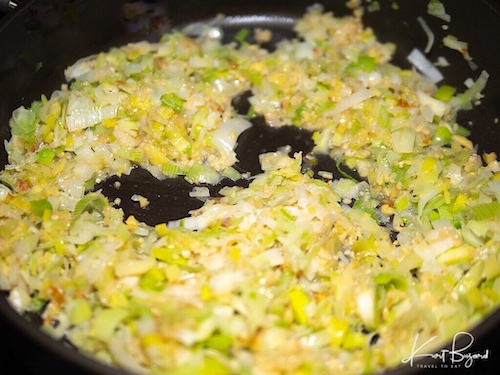 When I am cooking curry, I feel a certain amount of freedom in utilizing ingredients that are not permissible in more rigid European recipes. The base of almost all curry is onion, and while you can use any old onion, I like to mix things up with leeks. The leek is a vegetable, a cultivar of Allium ampeloprasum, the broadleaf wild leek. The edible part of the plant is a bundle of leaf sheaths that is sometimes erroneously called a stem or stalk. The genus Allium also contains the onion, garlic, shallot, scallion, chive, and Chinese onion. The Hebrew Bible talks of חציר, identified by commentators as leek, and says it is abundant in Egypt. Dried specimens from archaeological sites in ancient Egypt, as well as wall carvings and drawings, indicate that the leek was a part of the Egyptian diet from at least the second millennium BCE. Texts also show that it was grown in Mesopotamia from the beginning of the second millennium BCE. The leek was the favorite vegetable of the Emperor Nero, who consumed it in soup or in oil, believing it beneficial to the quality of his voice. With a more delicate and sweeter flavor than onions, leeks add a subtle touch to recipes without overpowering the other flavors that are present. Although leeks are available throughout the year they are in season from the fall through the early part of spring when they are at their best. Of course you may choose the onion of your choice, but consider the historic and delicious leek in your cooking. As far as the spices go, the guram masalla is my personal favorite from mid India. Feel free to make adjustments, I personally do not like cinnamon or star anise so I never add them.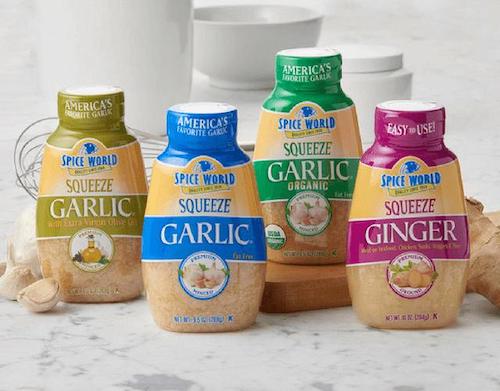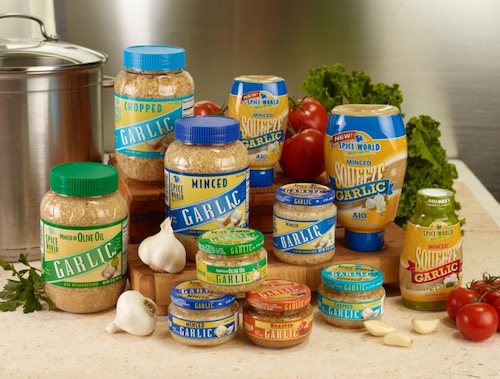 There is no right amount of ginger and garlic to add to food. Personally I subscribe to the adage, more is better. Because ginger and for the record turmeric is a fibrous root, creating a paste is a time consuming process. I rely on Spice World products to reduce the time of preparation. Just so you know , I have no relationship with Spice World. That said, precut spices are a little less than fresh , so I always add fresh garlic and ginger, garlic with a microplane and ginger with a mandolin. You might question my technique, but the the thin mandolin shaved ginger, properly reduced with chopping adds a unique flavor to the dish, little pops of ginger to the taste. Obviously, ginger and garlic are added prior to the spices with the onions.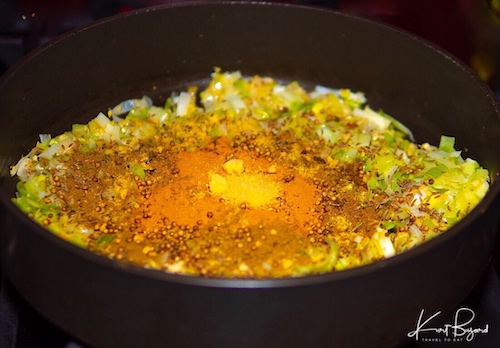 Many cooks encourage warming the spices before cooking. Obviously, the smell of fresh Indian spice enhances the cooking experience. For me however, the warmth of the onions, garlic and ginger make warming the spices and enhancing the pleasures of cooking even greater. I like to use whole seeds rather than ground spices even though that is not always possible. Cumin is one of my favorites, I use both ground and whole cumin, cardamon pods are harder to come by but I love the taste of cardamon. Whole mustard seed is common and I like to mix with both whole and ground mustard. Some seeds do not blend well, like sumac which has a bitter taste when not ground. Generally, I prefer to use Mexican spices, mainly for price and quality, although mainstream spices will usually do just fine. the mix of spices is personal, a specialty spice I always us is turmeric, hard to source from Mexican stores. Turmeric is one of the key ingredients in many Asian dishes, imparting a mustard-like, earthy aroma and pungent, slightly bitter flavor to foods and of course the lovely color.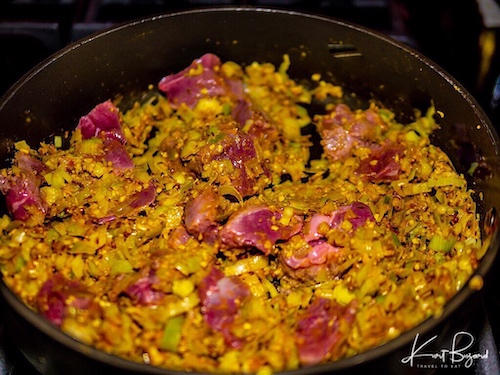 Next I add the meat, in this case lamb cubes. The lamb absorbs the spices and sears off beautifully. Since I am going to finish this in a slow cooker, the sear is all I am looking for.
At this point I add the diced tomatoes and two tablespoons of tomato paste. Personally I think the two tablespoons of tomato paste are enough. The meat has been removed and the tomato has been added. At this point you can do the the traditional thing and grind the onions into a paste or just leave them to cook away in the slow cooker for four hours. In this case, just leave the meat in place. The tomato paste just gives a burst of flavor with only a little substance/volume. Personally, I just put the whole thing in the slow cooker for four hours to cook the lamb but if you must, grind the onions into a paste and add the lamb for cooking.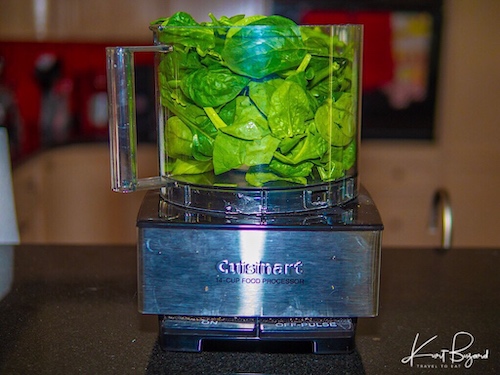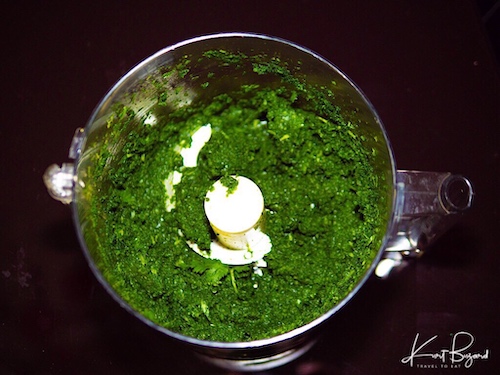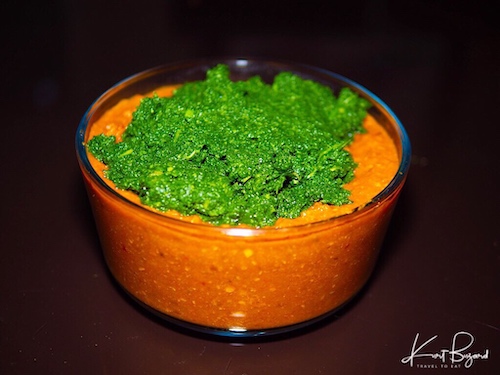 The spinach is prepared in the cuisinart with the juice and zest of one lime. Well, this is the magic result of all this work. The lamb mixture with onions and tomatoes has cooked for four hours in my little slow cooker on high. To me, this combination of vivid green and red is the essence of "love in a dish". My grandmother, long gone, was a a southern cook more inclined to biscuits and hamburger gravy (recipe to come) but I know there is an Indian Grandma who appreciates this dish. I hope she is looking down from heaven and knows that her love of cooking for me has born this dish. I know my recipes are often essays on the various ways to prepare a dish, but I hope this one has inspired you to try something new. Believe me, you will and your children will enjoy the results.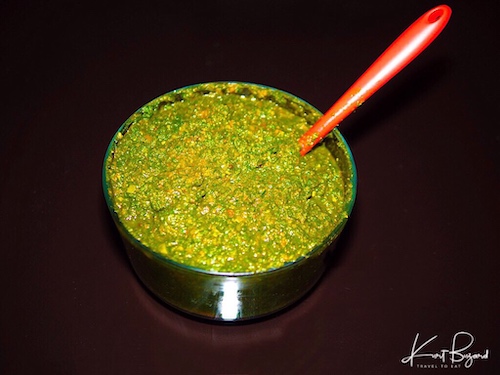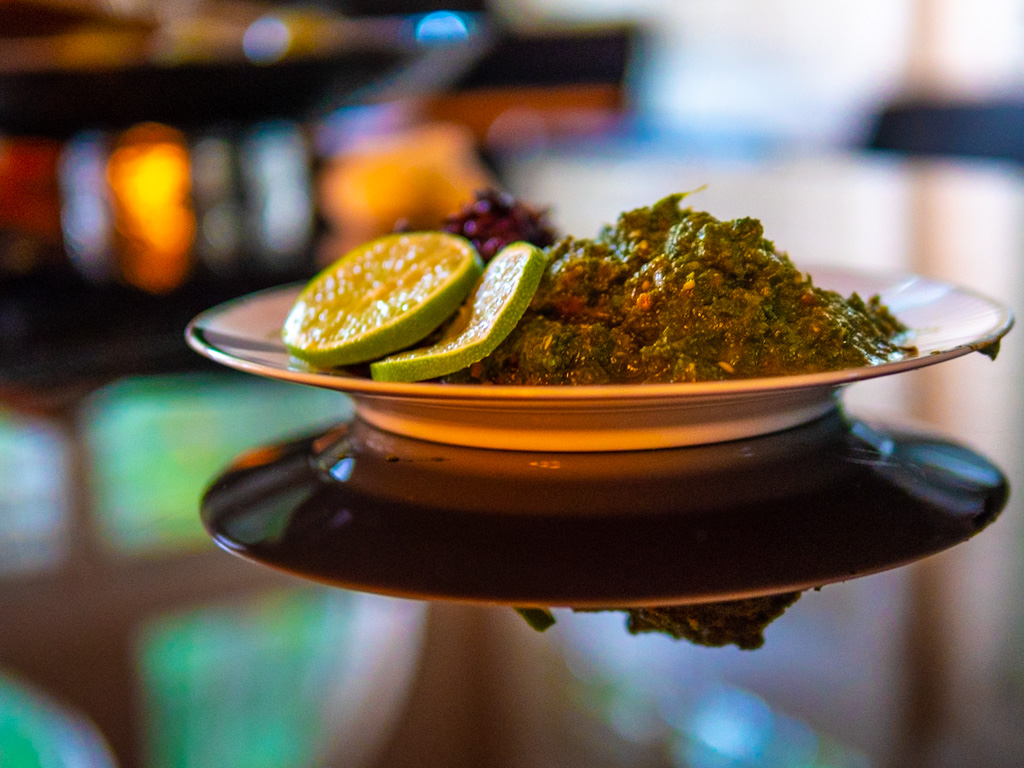 I hope you will try lamb saag, you will love it.
References: