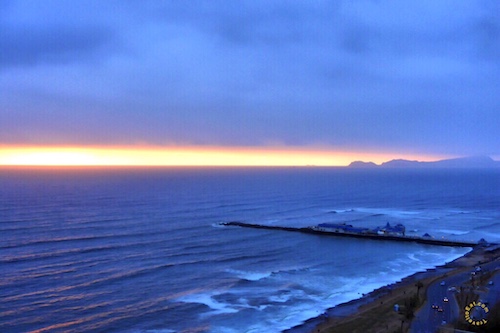 One of Lima's best restaurants, La Rosa Nautica, is located just down from the cliffs of Miraflores. The restaurant is on a pier that is kind of on a desolated stretch of the highway, with nothing else around it, we had to take a cab to get there and get a cab back that was furnished by the restaurant. This emblematic Lima restaurant is located in an ancient wharf on the Costa Verde in Miraflores. Since its opening in 1983, some of the most important chefs of the country have cooked here. La Rosa Nautica serves up impeccable nouveau-Peruvian cuisine. But the real reason to dine here is the unparalleled charm of its location and architecture. Perched atop railway piles in the ocean, this rambling Victorian structure, reached via a boardwalk, features views that are intoxicating even before you've had your first pisco sour from its famous bar. Sunset is, as you would expect, La Rosa Nautica's magic hour.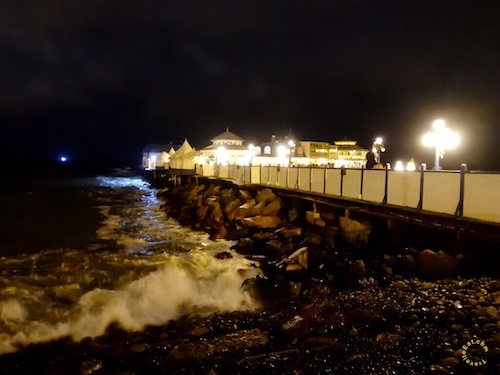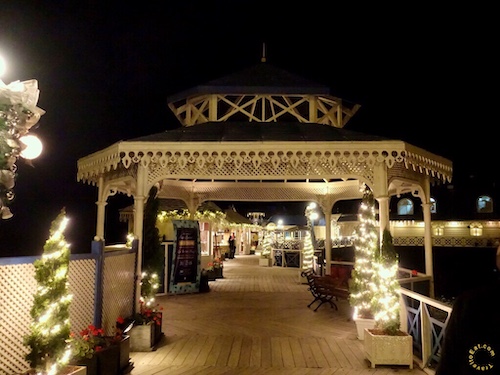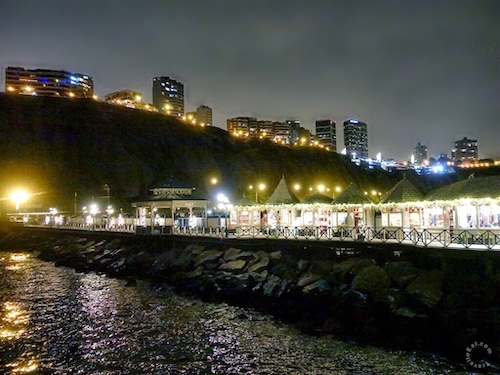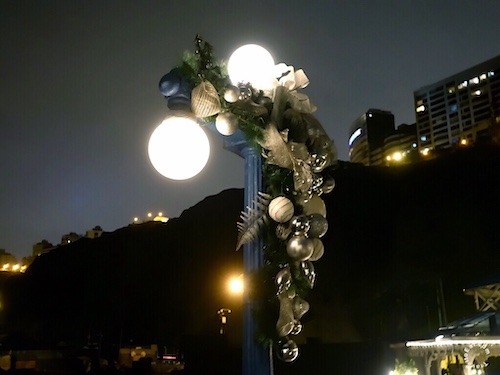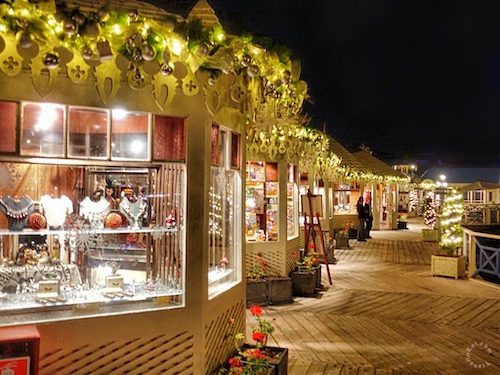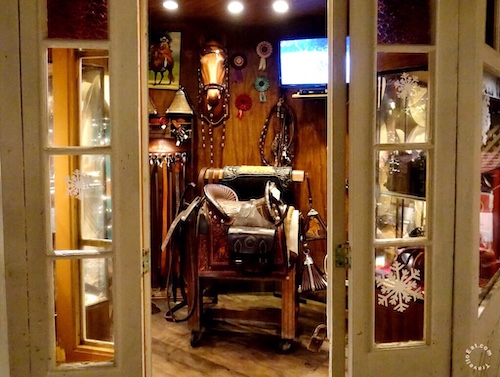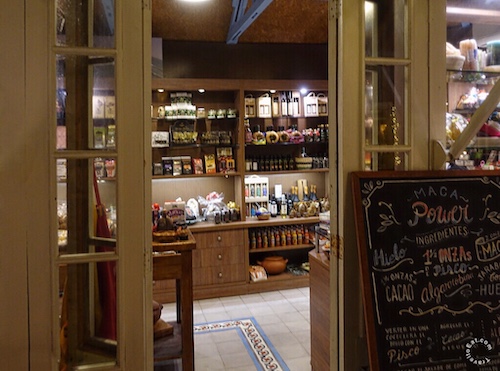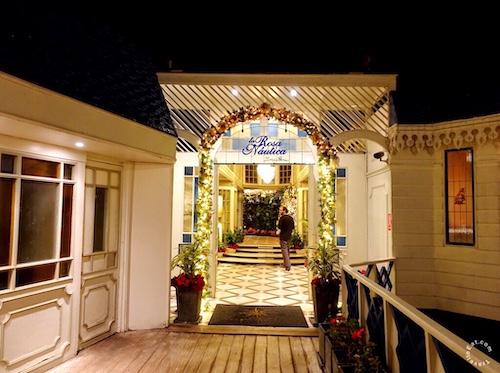 On the way to the restaurant you pass by amazing little shops. Even though this is an isolated location, you feel quite at home with the many small shops and people taking in the views. It was near Christmas, so there were decorations everywhere which only added to the intimate atmosphere.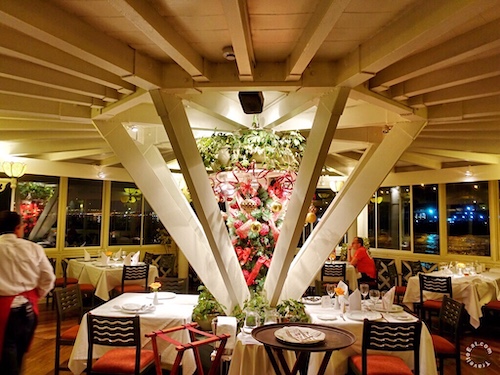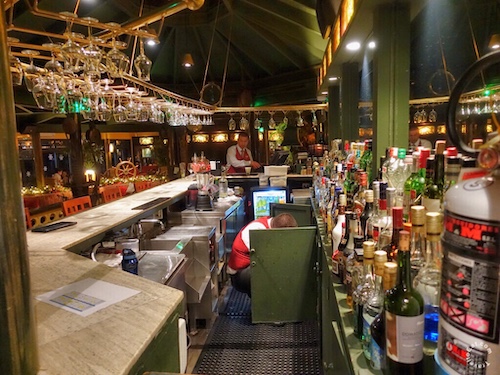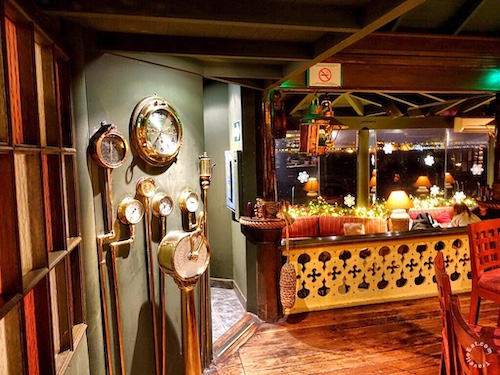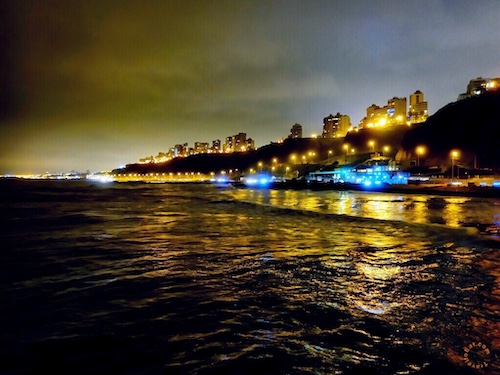 This is one of those restaurants with an unbeatable location. It is a short cab ride from Miraflores but once there, you are away from the crowd. On the pier, there are a number of interesting shops. The interior is well thought out, with many design touches that add to an overall positive reaction. It has a very nice and famous bar. There are great views of Lima just about everywhere in the restaurant and bar.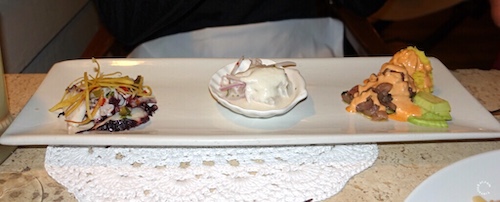 We decided to go two routes, we ordered the prix fixed menu and also ordered from the menu. Pictured above is yellow mashed potatoes Causa (right), octopus slices salad (left) and classic fish cerbiche (center). This was a "deconstructed" Causa, usually it is a cylindrical shape with layers of potato, avacado and meat. The name Causa comes from the Incan Quechuan word 'Kausaq,' meaning "that which gives life." During the colonial period in Peru, the newly arrived Spaniards adapted many of the native foods and combined them with foods they brought from Europe, creating the distinctive Peruvian cuisine that exists today. Causa is one of these hybrid dishes: a combination of the ancient potato, avocado and aji amarillo that are all native to Peru, and the lime, garlic, and chicken imported from Europe.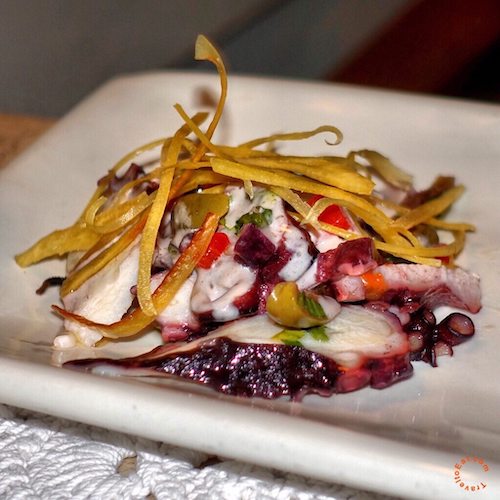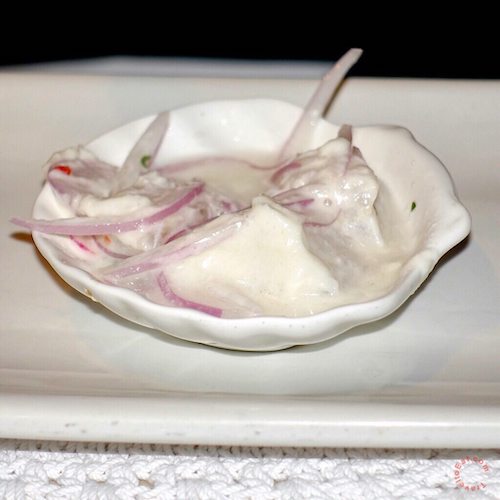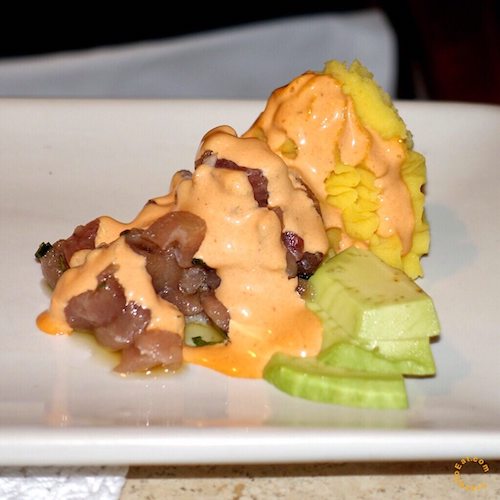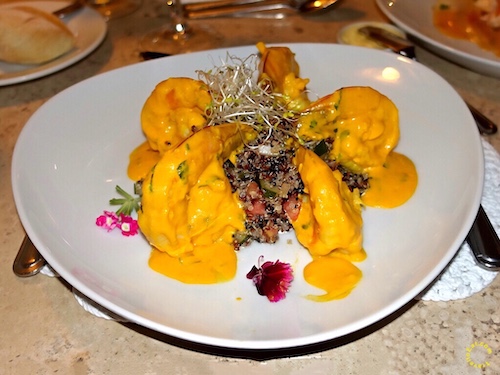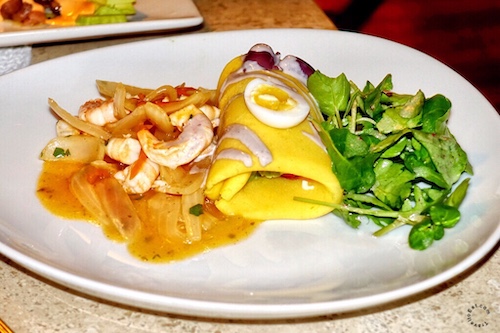 I decided on the quinona crunchy shrimp, warm marinated shrimps with a yellow chili pepper cream over a quinona taboula and the unorthodox shaped "deconstructed" yellow mashed potato Causa roll with shrimp which was delicious. Elsewhere in the world, a mashed potatoe "taco" would probably go over poorly, but in Peru, the home of potatoes and Causa, it was innovative and delicious. I really did not care for the yellow sauce/gravy which made the shrimp less than crunchy.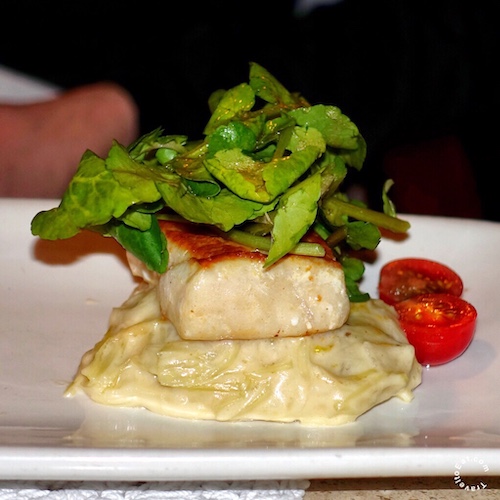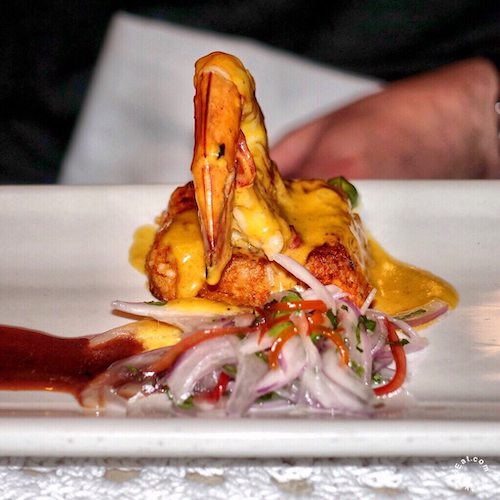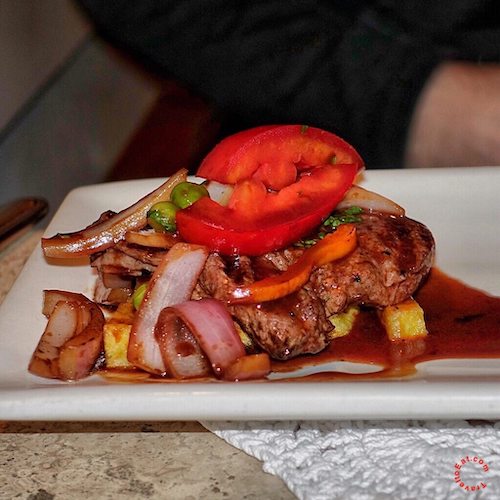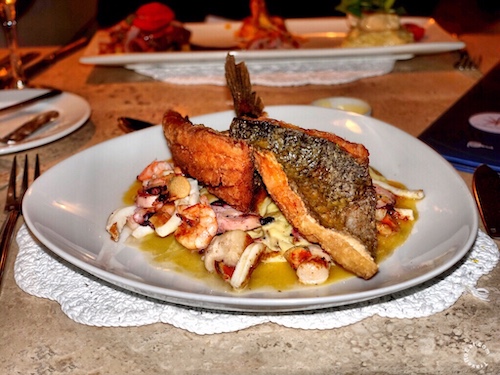 For the main course I ordered the Fisherman's Rockfish, a local specialty called Tramboyo in Peru. It was cooked perfectly with a crispy skin and flakey interior, served with shrimp. The tasting menu had sautéed beef (not beef heart), shrimp in a chili stew and catch of the day which was halibut. Everything was well cooked and the presentation was lovely.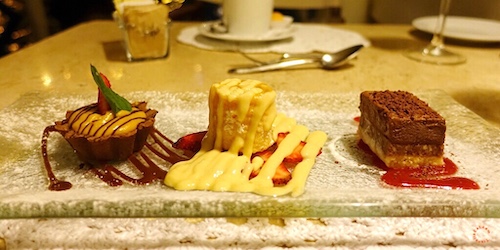 For desert, we had the chocolate tarte with lacúma mousse and surprise of dark chocolate (right), Ponderación with vanilla Manjar and fresh strawberries (center) and crunchy chocolate mousse with berries couli (right). Peruvians adore lucumas. These fruits are the epitome of desserts in Peru, and they are used in countless recipes, from milkshakes to cheesecakes, mousses and ice creams. Nowadays, some chefs are even making tasty savory sauces with them. The weights are a typical sweet of Lima, created by nuns cloistered convents colonial city. It is a fried dough thin oil, which traditionally has a spiral shape which is obtained by a special mold, to present is sprinkled with granulated sugar. This sweet serves mainly as an accompaniment to ice cream and if you want to eat them alone will mostly be sweetened blancmange or jam. All deserts were very typical of Peru and Peruvians really like their desserts.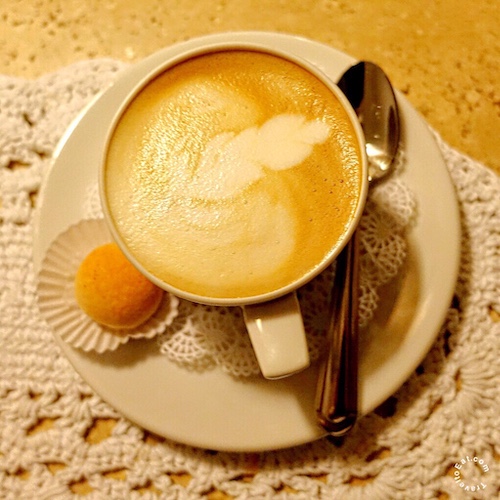 Over the years I have visited many picturesque restaurants in the beach, the best of them located on piers, as in the case of La Rosa Nautica. Due to the unusual geography of Lima, perched high on cliffs, the beach is mostly deserted but the owners have done a good/great job of creating a little oasis on the otherwise deserted beach. These restaurants always specialize in seafood and special occasions due to the lovely views. If you want a romantic and intimate spot with lovely views and good food, you cannot do better than La Rosa Nautica. The service was a bit brusque but very professional, the waiter spoke excellent English and the wait for the food was a little long but compensated by the time to admire the view. As a tourist, this was perhaps not the most typical or best food but it was well prepared and presented beautifully. In sum, I would rate La Rosa Nautica as a must visit restaurant if you visit Lima. As always, please leave a comment.
References:
Website: http://www.larosanautica.com/movil
Website: http://bookersnap.com/LaRosaNautica-Peru
TripAdvisor: https://www.tripadvisor.com.ph/Restaurant_Review-g294316-d969815-Reviews-La_Rosa_Nautica_Restaurante-Lima_Lima_Region.html
Fat Belly: http://www.twofatbellies.com/2010/10/la-rosa-nautica-lima-peru/comment-page-1/
Mousse de Lacouma: http://www.peruvianfood.com/mousse-de-lucuma/
Lacouma: http://perudelights.com/sweetfridays-lucuma-frozen-mousse/
Weights or Ponderación: http://esolercocina.blogspot.com/2012/02/ponderacion-peruana.html
Jetsetter Lima top Restaurants: http://www.jetsetter.com/feature/best-restaurants-lima