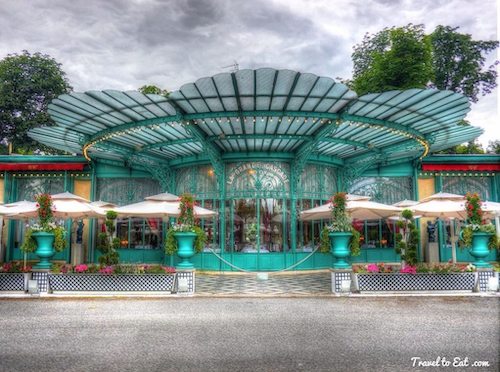 It has been raining quite a lot in Paris, we were getting a little stir-crazy, so we decided to get out for lunch to a famous Paris restaurant, La Grande Cascade. The building started out as a cottage for Napoleon III and was converted to a restaurant for the Universal Exhibition of 1900 by Gustave Eiffel. As our waiter put it, "the flower is by Eiffel". The restaurant been directed by many chefs including Alain Ducasse from 1995-1997 and the current chef Frédéric Roberts who moved from Lucas Carton. Over the years, the Grande Cascade has evolved while maintaining its "retro-modern" style. Le Grande Cascade is a place of memories, the grand alleys of the Bois de Boulogne, the splendor of the Second Empire, the elegance and lavish lifestyle of living La Belle Époque. Currently the restaurant has one Michelin star but a second star is expected by almost everyone who has eaten there.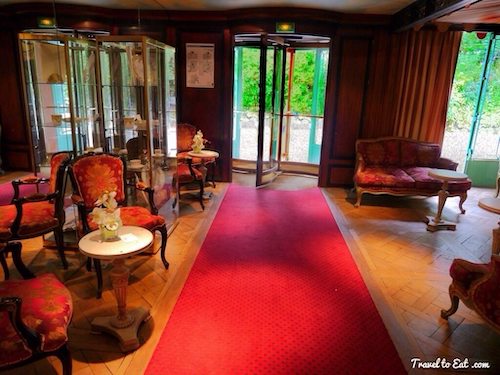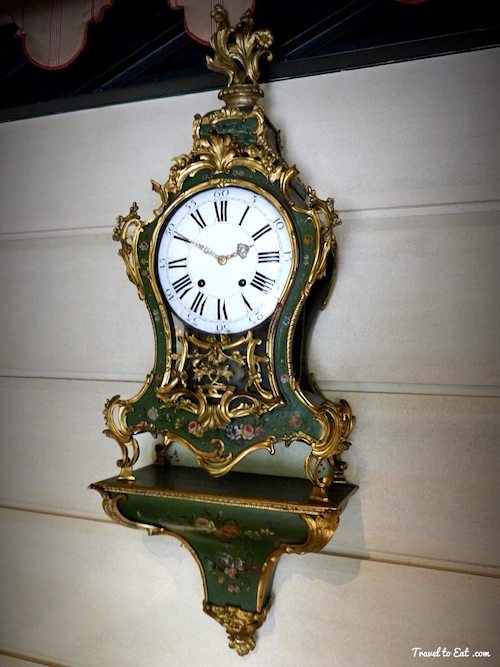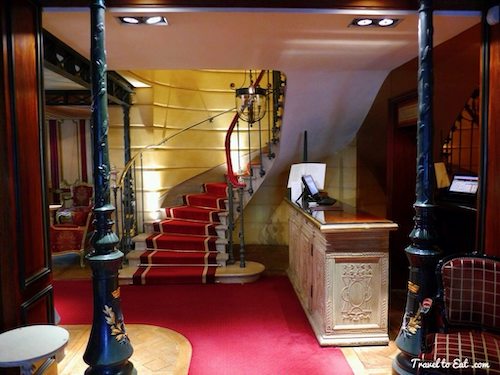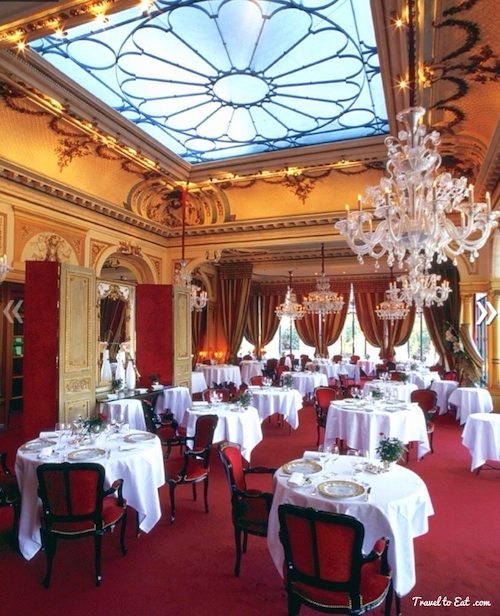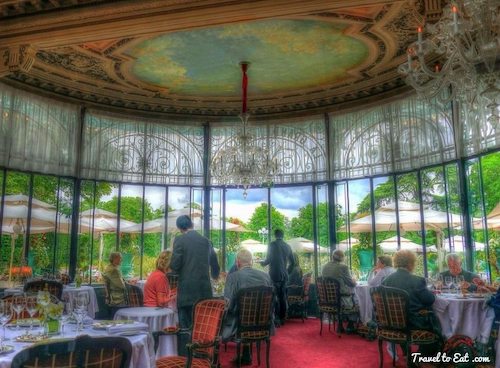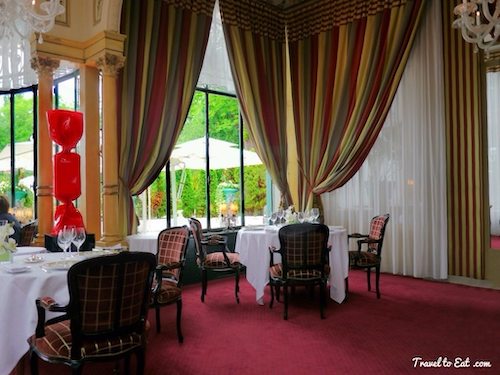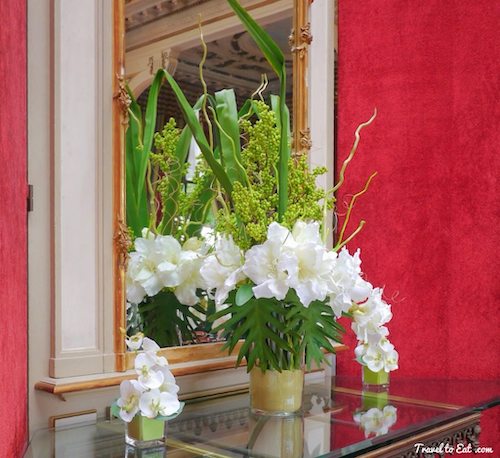 When you enter the restaurant it really seems like you are being transported back in time. The clock, the ornate steel pillars, the skylight, the entire decor is reassuringly familiar, yet feels like a movie set. It is serene, elegant and beautiful, all at the same time. You can almost imagine Gustave Eiffel sitting at the next table, telling his friends about the enormous steel tower he just finished.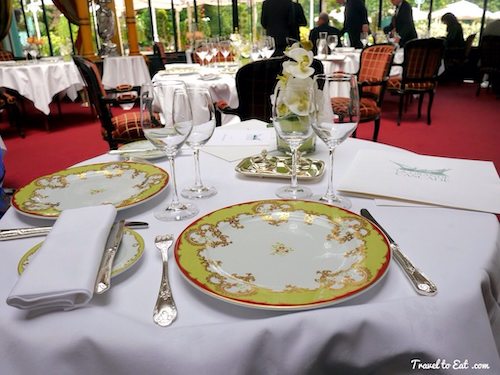 The table was set with beautiful French chargers and silverware. You can order à la carte or choose a set menu, we decided on the menu découverte.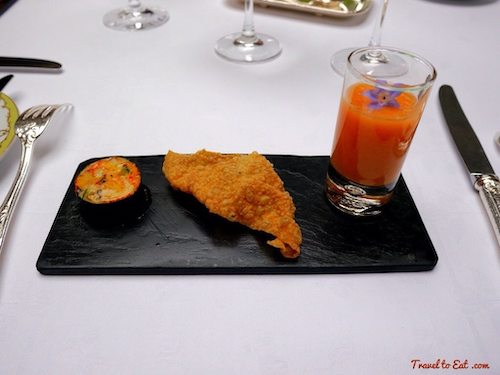 The amuse bouche was small bits of langoustine with zucchini wrapped I think in seaweed (left), corn crisp (center) and cold melon (cantaloupe) purée (right).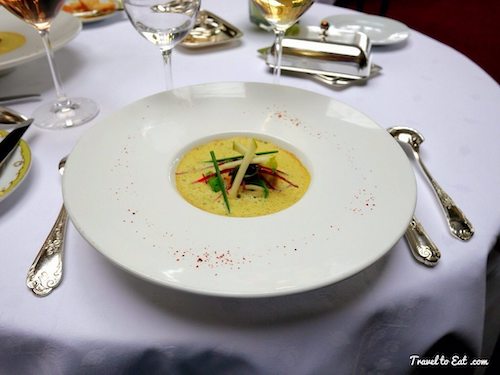 The soup was "Queues de langoustines saisies à la plancha" which translates to grilled langoustines in a bouillon with lemongrass, cocoa and curry. Above the soup was a lovely foam with apple spears and chives and other things I could not identify but in whole was very tasty. Just in case you find yourself trying to decipher a French menu, "Queues" means tails and "à la plancha" means grilled.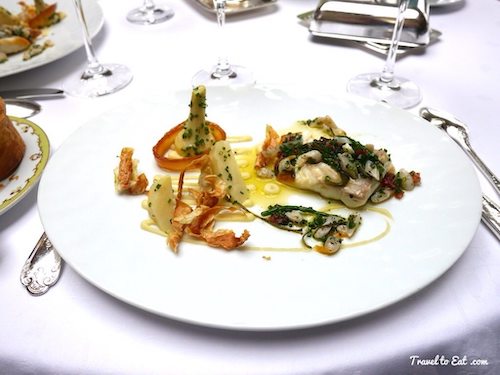 The next course was "Turbot cuit sur la peau, artichauts violets en variation" which consisted of Turbo (right) with violet artichokes (left) with finely diced shellfish in a vinaigrette sauce and kombu seaweed. Not only is Kombu kelp delicious on its own, but it is different from other seaweed in that it produces the base for Japanese Dashi broth. By the way "cuit sur la peau" means cooked on the skin. The end result was mouthwatering delicious.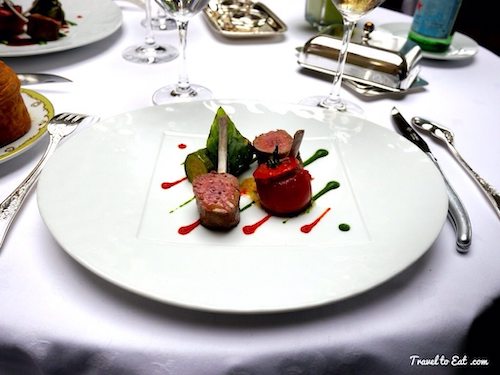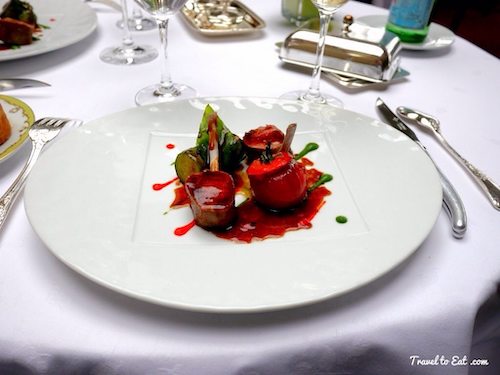 Next up on the menu was "Carré d'agneau fermier de Lozère rôti au thym-citron". The Lozère Lamb (l'agneau de Lozère) has its own AOC and the Lozère is the northern most part of Languedoc-Roussillon in the Pyranees. The lambs are raised in the mountains of Lozère and the Pyrenees. Before they are fully weaned, they are fed on grass from the meadowland, as well as their mother's milk. The tomato is stuffed with a "Riviera" condiment of pesto and pimentos. To get the meaning of this dish, you have to realize that Riviera tomato sauce is popular in France and the chef has deconstructed the sauce into a tomato stuffed with pesto (basil) and pimentos. In any case the lamb was cooked perfectly and it was delicious.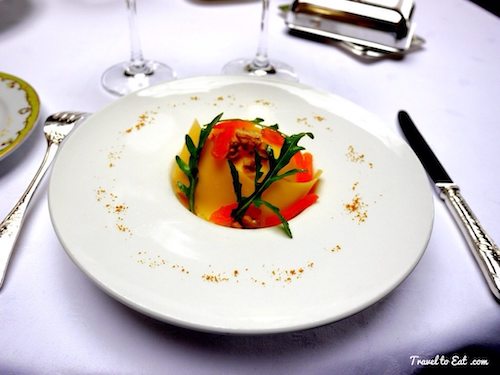 To start the dessert rounds (a little pun there), we began with "Comté affiné dix-huit mois en copeaux, noix, abricot et roquette" which translates to the cheese Comté Affiné that has been aged for 18 months with walnuts, dried apricots and arugula. Comté holds a Controlée Appellation d'Origine (AOC) since 1958, the first in France. The cheese is made exclusively from milk from the Montbeliard French Simmental cow in Franche-Comté in the far east of France in Burgundy. This cheese would be more recognizable to Americans by its other name, Gruyère de Comté. Gruyère is a hard yellow cheese, named after the town of Gruyères now in Switzerland. French Gruyère style cheeses include Comté and Beaufort but at one time these areas were all in one union. Production of this cheese has been going on since the 12th century and it is currently the most popular cheese in France, with its strong nutty flavor and the sweet hints of caramel running through it. The cheese ages well, but after a year, some rounds must be sold. At 18 months, the surviving rounds are considered premium quality and it tasted very nice.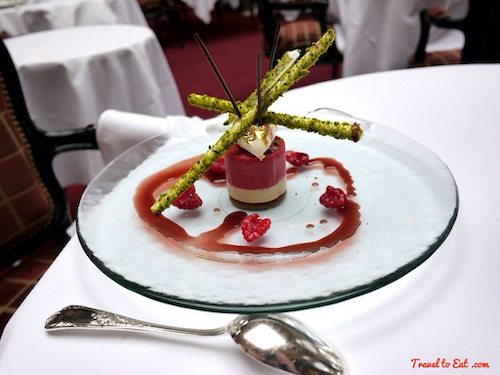 The actual dessert was "Vacherin aux framboises et pistaches de Sicile parfums de poivre sauvage" which translates to Pavlova with raspberries and pistachio flavors of Sicily with wild pepper. Pavlova is a meringue-based dessert named after the Russian ballet dancer Anna Pavlova. It is a meringue desert with a crisp crust and soft, light inside. The dessert is believed to have been created in honour of the dancer either during or after one of her tours to Australia and New Zealand in the 1920s. Pavlova is traditionally decorated with a topping of whipped cream and fresh soft fruit such as kiwifruit, passionfruit, and strawberries. Vacherin is a French dessert, a meringue crust filled with crème Chantilly and fruit. The two deserts have become more or less synonymous. This dessert is a deconstruction of the dessert into meringue sticks coated with Sicilian pistachios with separate chocolate sticks over a pistachio whipped creme coated with gold foil. The entire thing is over a raspberry sorbet over a pistachio ice creme on a chocolate cookie base (whew!). Oh, and by the way, it tasted great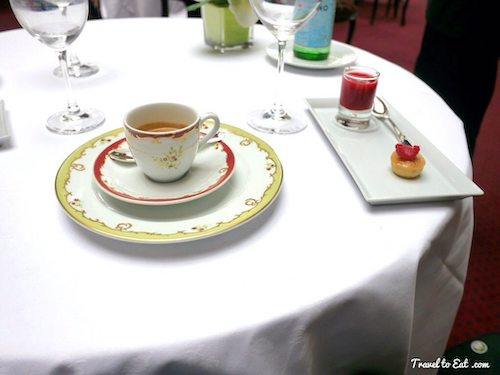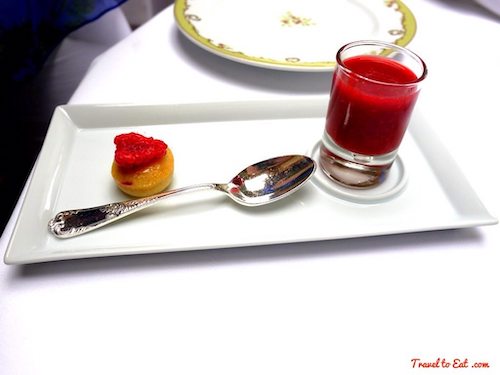 We finished with expresso and this small pairing of a raspberry tartlet and purée of raspberry.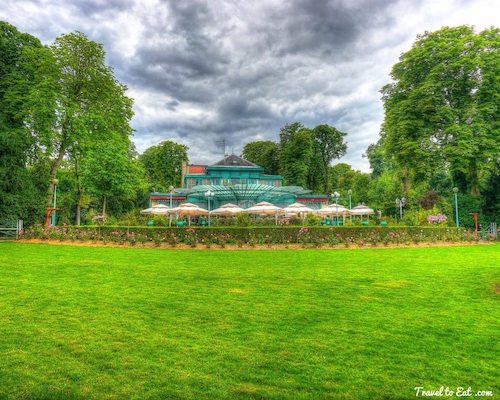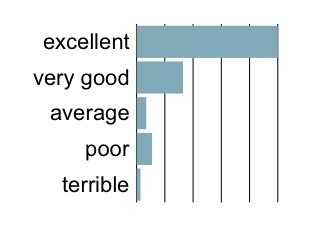 So my final thoughts on La Grande Cascade Restaurant. It is located just down the street from the Bagatelle and not far from Le Chalet des Isles but the culinary experience is completely different. This restaurant represents the ideal when Americans dream of a "famous French Restaurant". The setting inside the forest is ideal, the building and grounds represent a historical setting that is difficult or impossible to duplicate. The food is excellent, creative, plated beautifully and served by a staff that is gracious, attentive and friendly. Although it currently has only one Michelin star, while Guy Savoy has three, I would not worry much, the Michelin process is a Byzantine political process which has long since lost touch with reality. I would say the two restaurants are among equals. I did not get the opportunity to taste La Grande Cascade's famous stuffed macaroni, I will have to go back. In general TripAdvisor patrons loved it, as I did, and made it #159 in 9,774 Paris restaurants with a 2013 Certificate of Excellence. It is worth noting that this restaurant is about half the cost of Guy Savoy with comparable food. I can recommend this restaurant without reservation, it is an experience not to be missed in Paris.
References:
Official Site: http://www.restaurantsparisiens.com/restaurant-la-grande-cascade
The Menu: http://www.restaurantsparisiens.com/cartes/carte-internet-grandecascade.pdf
Lozére Lamb: http://ladies-with-bottle.blogspot.fr/2010/03/languedoc-roussillon-suckling-lamb.html
Compté Cheese: http://www.comtecheese.co.uk/
Chefpedia Pavlova: http://chefpedia.org/wiki/index.php?title=Pavlova
Pavlova: http://www.inmamaskitchen.com/FOOD_IS_ART/reference/pavlova_history.html