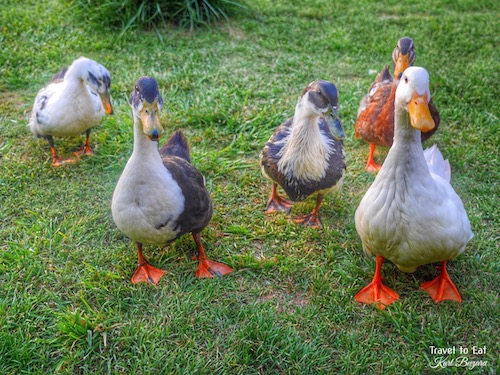 I have decided to write a series of posts on eastern Turkey, a pivotal historical area, from Kars in the north to Sanliurfa in the south based on my travels last summer. This is a relatively untraveled area, strictly Muslim today and generally inhospitable to most western travelers. Vanand is the name used to describe the area of historic Armenia that roughly corresponds to the Kars Province of present-day Turkey. Named after the Armenian family of Vanandi, it was a principality of the Kingdom of Armenia (321 BCE to 428 CE) and a later province of the Democratic Republic of Armenia. Its historic capital was the city of Kars. The region fell to numerous invaders including the Assyrians, Greeks, Romans, Byzantines, Arabs, Mongols, Persians, and the Ottoman Turks. As Chorzene, the town appears in Roman history (Strabo) as part of ancient Armenia. During the Turkish–Armenian War in late 1920, Turkish revolutionaries captured Kars for the last time. This post is not about history, I will cover that in a separate post, this is about Kars today.
Castle of Kars (Kars Kalesi)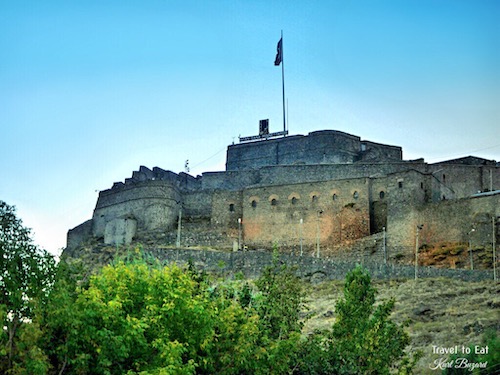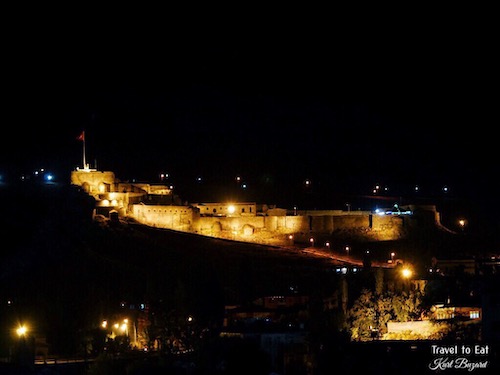 By far the oldest structure in Kars is the Castle of Kars (Kars Kalesi). It was built in 1153 by Vizier Firuz Akay commissioned by Saltuk Sultan Malik Izzeddin Saltuk II. The outer walls surrounding the city were built in the 12th century. The castle, which was destroyed by the Mongol Timur (1320-1485 CE) in 1386, was rebuilt again in 1579 by Lala Mustafa Pasha, who came to Kars ordered by the Ottoman Sultan Murat III. It is said in the Ottoman sources that the castle was rebuilt with the help of one hundred thousand soldiers and workers. In 1606, the castle was destroyed by the Iranian Shah Abbas I, and in 1616 and in 1636 it was restored twice and new elements were added to it. The castle was heavily damaged after the occupation of the Russians after the Ottoman-Russian War of 1877-1878, and partially changed after 40 years of occupation.
Fethiye Mosque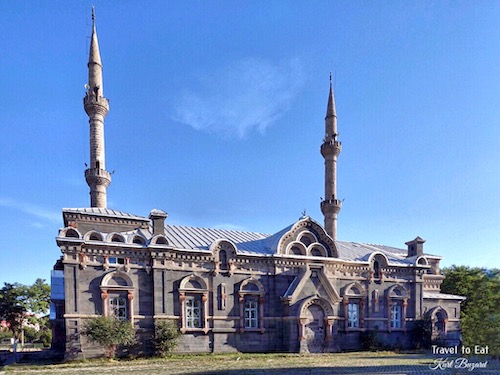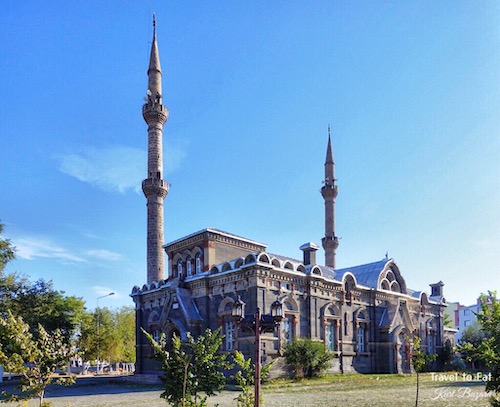 There are a few reminders of the Russian occupation in town including the Fethiye Mosque. Yes, it's got two pencil-thin minarets, but other than that, it looks very much like the Russian Orthodox church it once was. Around the turn of the century Kars was almost 50% Armenian and Christians represented a sizable part of the population. Today there are no Christians and no Armenians in Kars.
Kars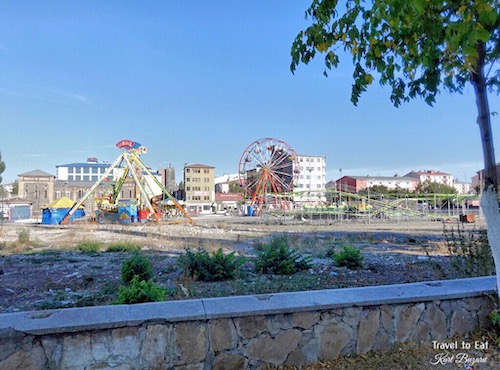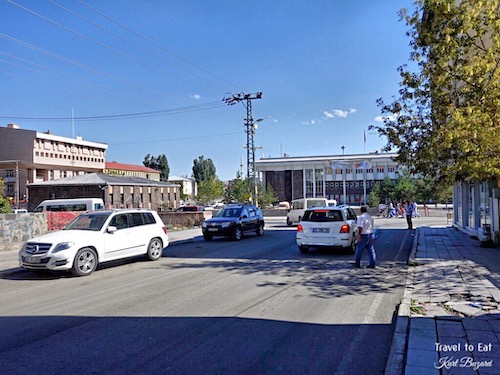 Despite the impressive history, today Kars is a small agricultural based town of about 80,000 people, making it the largest Turkish city on the border with Armenia. Among the most famous food products special to Kars region of Turkey are Kars honey, Kars Kasseri cheese, Kars Gruyère cheese, which tastes like Swiss Emmental cheese, and Kars style roasted goose. Kasseri cheese is a medium-hard pale yellow cheese made from unpasteurized sheep milk with very little, if any, goat's milk mixed in, made in both Turkey and Greece. Originally it was made by Greek immigrants but today there are no Greeks left. Kars gravyer cheese is made of high-fat cow's milk. It looks like French gruyère cheese, tastes like Swiss emmental cheese and takes a long time to produce. It usually takes 10 months to age. There are holes of 1–2 cm in the cheese, which is yellow while the rind should be darker. If the holes are both big and small and irregular, it means the cheese is not of good quality.
Kars Honey and Cheese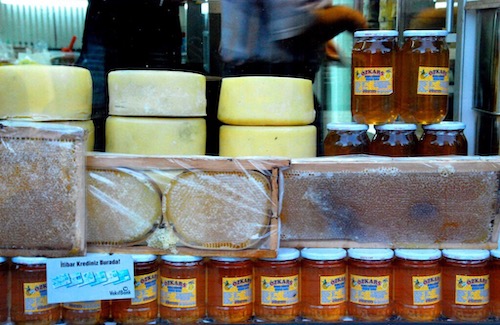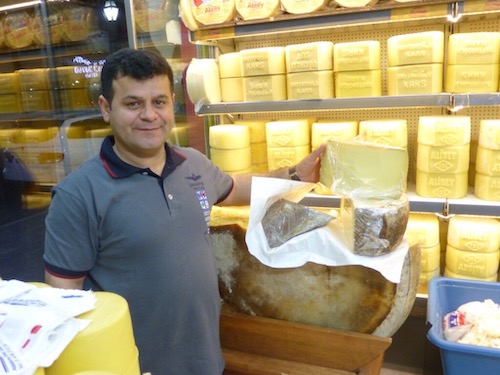 It's no coincidence that the Kars honey market is so robust. People here eat honey by the kilo. The region is widely believed to be the birthplace of the Caucasian bee, the bee sub-species with the longest tongue, which allows it to drink nectar from even the deepest of the region's 500 endemic wildflower species. In the summer months migratory bee-keepers from around Turkey come to the Kars region to reap the benefits of its floral diversity, drastic altitude differentiation, and vast untainted open spaces.
Kars Geese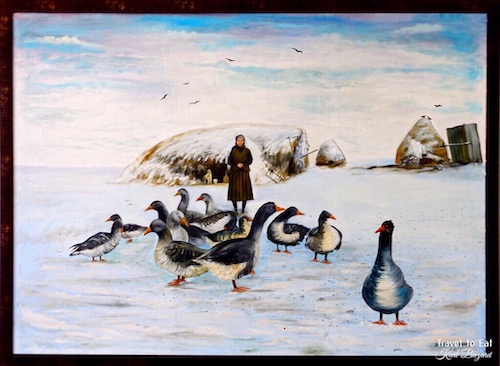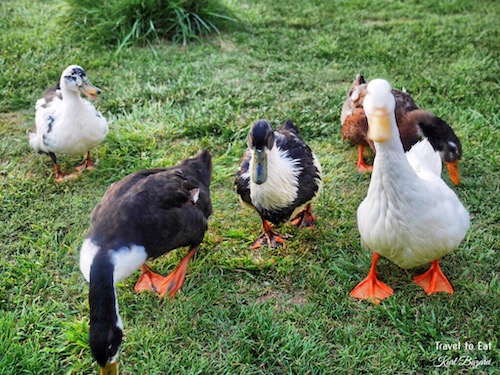 The local Kars goose variety, or Kars kazı, is raised in a geographical area starting from the Susuz district of Kars and spreading to the Arpaçay province of Kars, in northeastern Turkey along the border with Armenia. This valley is known as Cilavuz Valley, and here the climate conditions are very harsh, characterized in winter with low temperatures and snow and by dry, hot summer.
Kars Kazevi Restaurant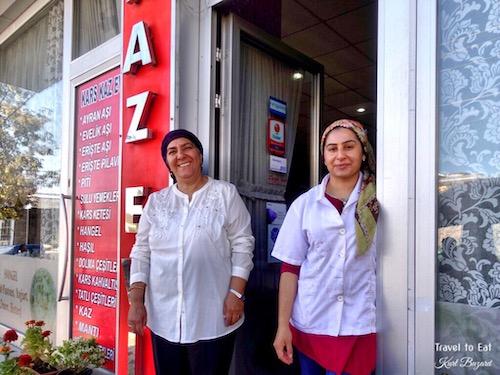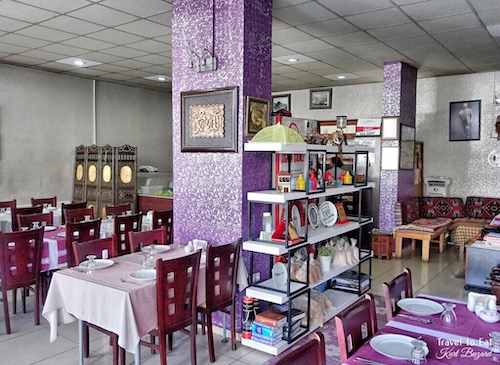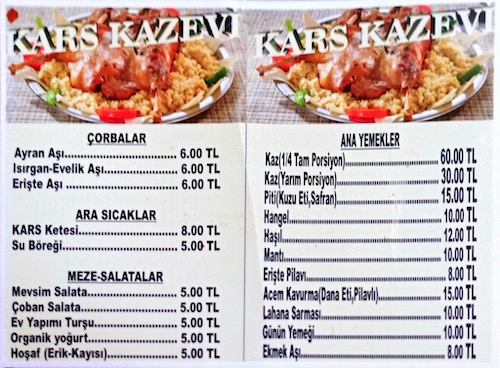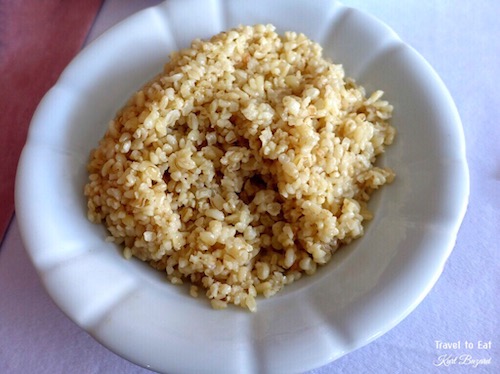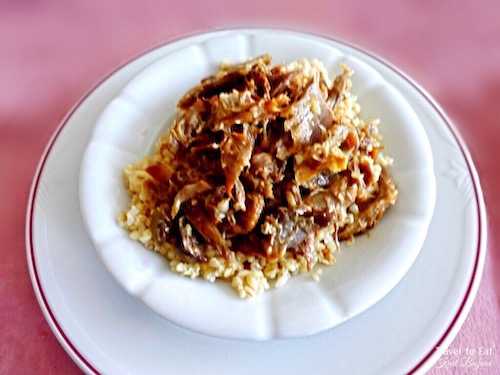 We decided to eat at the Kars Kazevi Restaurant, a local restaurant known for goose (Kaz). The reviews from TripAdvisor are mediocre at best and our tour group still decided to eat there, probably because of a kickback from the restaurant. A modest place, run by a local lady in her 50s, she has dedicated her life to furher enhance the tourism of Kars via goose breeding. She has participated to many international conferences and functions on the topic as a speaker. No one in the restaurant speaks English, although the workers are still very friendly. The food is plentiful, the prices small but the goose, the star of the menu, was greasy and unremarkable.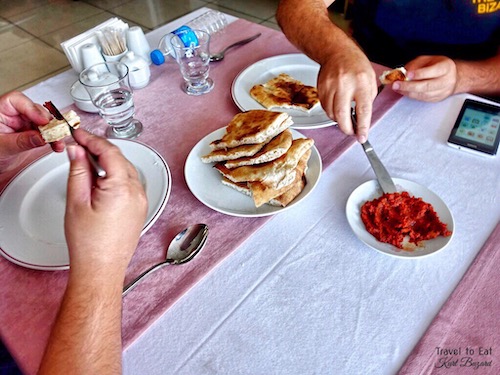 Biber salçası (literally "pepper paste"; also called kırmızı biber salçası, literally "red pepper paste") is a thick, deep red paste made from red chili peppers or sweet long peppers and salt. The peppers' stems and seeds are removed, and then the pepper is crushed and salt added. The crushed peppers are sun-dried for six to seven days (depending on the strength of the sun) until the mixture develops intense sun-dried flavor and a pasty consistency. It is a part of the cuisine of Anatolia and is enjoyed by different ethnic groups in the region. It is used mainly for flavoring main dishes, as well as to fill pide and börek. Another common use is as a spread, typically on bread or crackers. This really not very spicy spread is a nice complement to unleavened bread.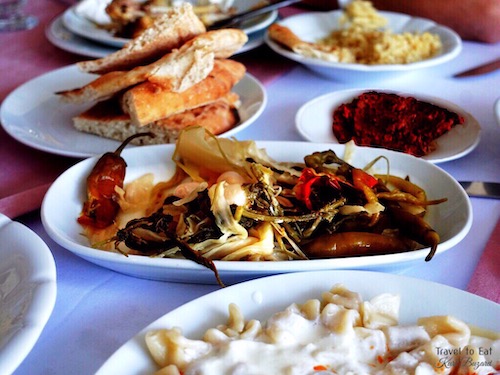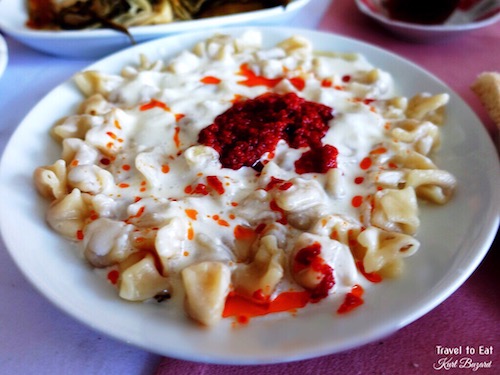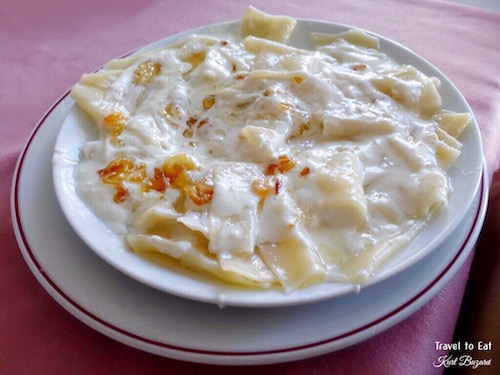 On the subject of the side dishes, let me be clear that I am not a fan of plain yoghurt, especially warm plain yoghurt. I am a fan of using yoghurt as a thickening agent in Indian cuisine and I like Greek yoghurt with fruit and toppings. That said, yoghurt is a staple of Turkish food with noodles. Manti is dumplings with a whole lot of yoghurt and a little amount of seasoning. This is not "Bizarre Food" with Andrew Zimmer, you will not like the Turkish yoghurt and you, as I do, should ask them to leave the yoghurt off. They will stare at you, like you have lost your mind, but the food will be much more acceptable to a western pallet without the yoghurt. Hangel, Hingel or Yaprak Manti is a dish that is similar to Manti dumplings but there is no stuffing. These are simply square noodles topped with warm yoghurt and onions. At the Kars Kazevi Restaurant they are pretty stingy with the onions.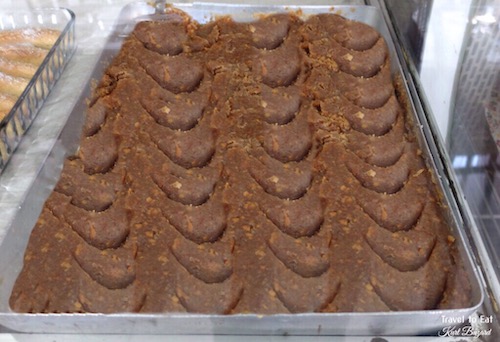 Helva or flour helva is usually cooked after someone has died, irmik helvası cooked with semolina and pine nuts), yaz helvası made from walnut or almond, tahin helvası (crushed sesame seeds), kos helva, pişmaniye (floss halva) are all variations on the same theme. We had this for desert, not the worst I have had but not the best. All told, this restaurant has pretty average but authentic Turkish food.
Han-I Hanedan Restaurant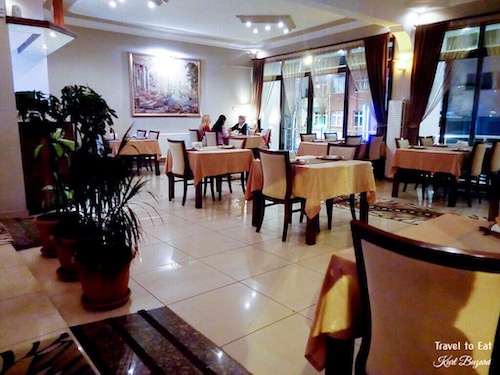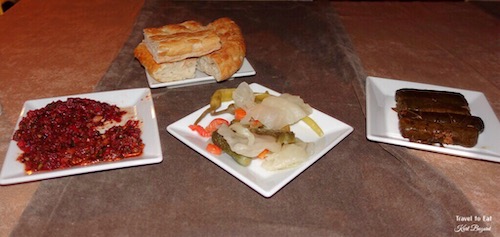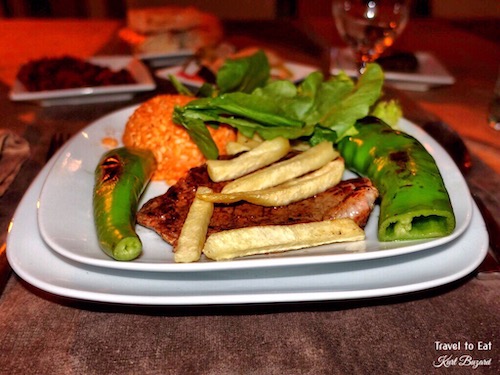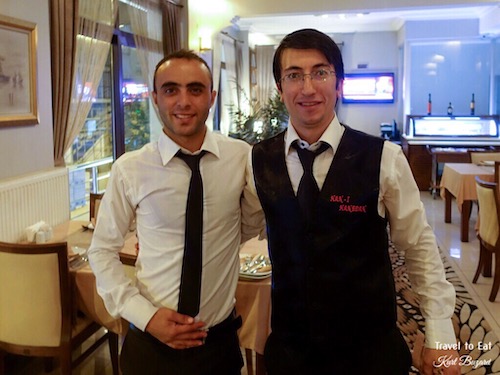 If you are in Kars and actually want to eat at a good restaurant with the option of drinking alcohol, seriously consider Han-I Hanedan. It is on the second floor, serves great food, with excellent service and reasonable prices. If you are on a tour, leave the group and eat here. I hope you enjoyed the post, please take the time to leave a comment.
References:
The Russian Houses of Kars: http://www.minorsights.com/2014/10/turkey-russian-houses-of-kars.html
Kars Geese: http://www.fondazioneslowfood.com/en/ark-of-taste-slow-food/kars-goose/
Kars Cheese and Honey: http://www.eatstowest.net/kars-turkey/
12foot3: http://12foot3.com/?p=1154
Turkish Breads: http://www.turkishculinaryacademy.com/page/89/breads
Firin Breads: http://zesterdaily.com/world/firin-eastern-turkeys-wood-fired-ovens/
Kars Kazevi Restaurant: https://www.tripadvisor.com/Restaurant_Review-g298011-d2685218-Reviews-Kars_Kazevi_Restaurant-Kars.html
Han-I Hanedan Restaurant: https://www.facebook.com/pages/Han-%C4%B1-Hanedan/628798453864026