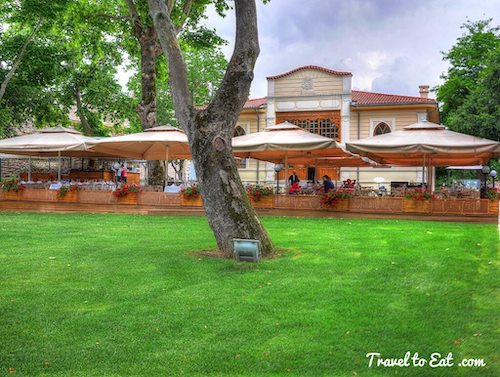 The Karokol Restaurant lies just inside the gate to the Topkapı Palace. The indoor area is housed in a building that used to be the palace's exterior guard post during the Ottoman era, which was since renovated and is now decked out in chandeliers and black lacquer. Still, I would avoid eating inside since the terrace has such a beautiful view. This is essentially a museum café, arguably the best one I have ever visited, with a drop dead view of the Bosphorus and the entrance to the Topkapı Palace grounds, huge green lawns, the ancient Saint Irene church just next door and really good food. In fact, the restaurant serves as a research center and teaching lab for ancient, historical dishes and dining traditions from Ottoman Cuisine researches and practices.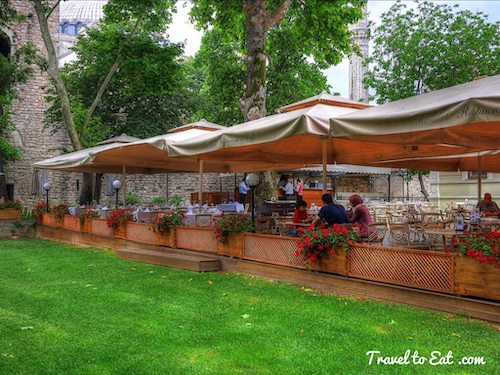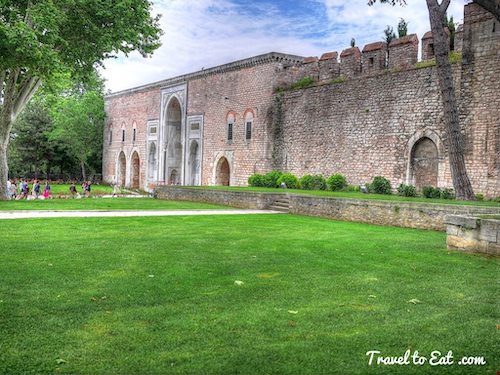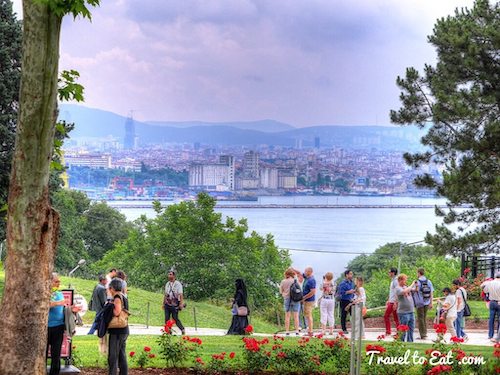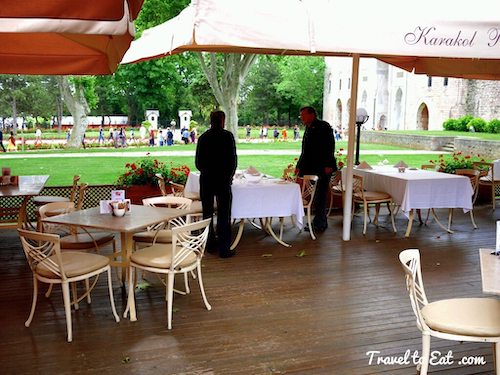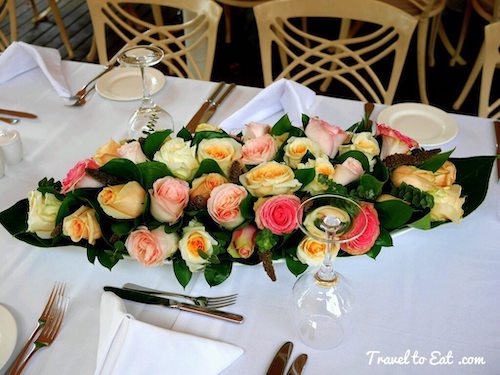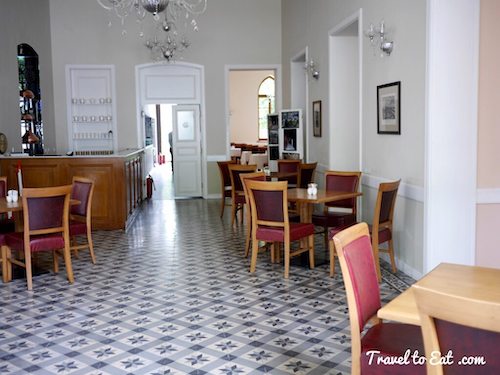 Usually, museum venues have a cafeteria or at best a small café with a limited view. This place is huge, with enough chairs for tour groups and excellent waiters in tuxedos.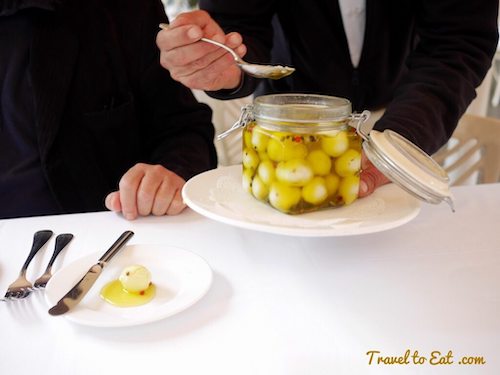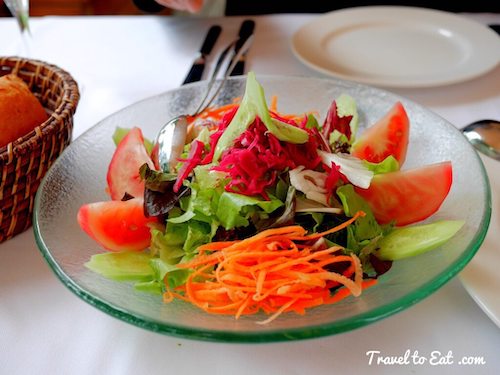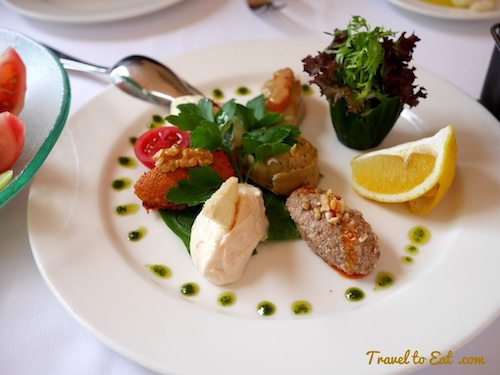 I have previously written on the importance of Meze or starters in a typical Turkish meal. Here we had Gelenksel meze çesitilera (Traditional meze platter) with hummus, Tamara or Taramasalata, muhammara (walnut paste), yogurta pathican (yoghurt with Aubergine), bakla fava (mashed broad beans) and çerkez tavugu (circassian style chicken with walnuts). Taramasalata is traditionally made from taramas, the salted and cured roe of the cod or the carp, though blends based on other forms of fish roe have become more common. The roe is mixed with either bread crumbs or mashed potato, and lemon juice, vinegar and olive oil. It is usually eaten as a dip, with bread and/or raw vegetables. Muhammara is a hot pepper dip originally from Aleppo, Syria, found in Levantine and Turkish cuisines. In western Turkey, muhammara is referred to as acuka. In the thirteenth-century Arabic cookbook Kitāb al-wusla ilā al-habīb there are three recipes for a dish called ma'mūniyya that has some resemblance to Circassian chicken. This is a dish made by Circassians, a people from northwest Caucasia who have communities in a couple of Russian republics and other communities in Turkey, Jordan, and Syria.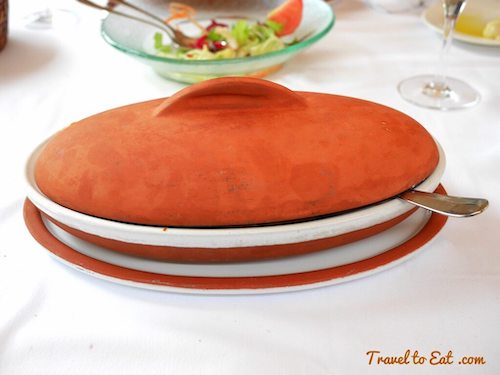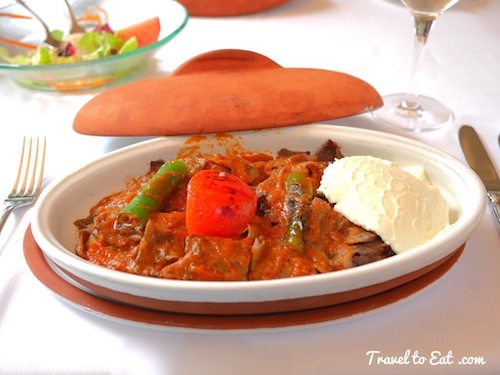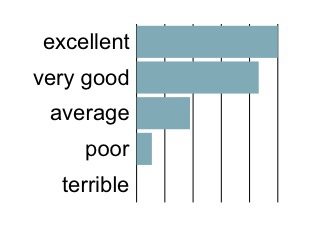 For our main course we had Ïskender Kebab: dömer servers on diced pita bread, tomato sauce, burned butter and yoghurt (Ïskender kebab: Pide emerging üzerinde döner, karemelize tereyag, domates sos ve tava yoghurt ile). The Ïskender kebab, named after its inventor (yes, inventor) Ïskender Efendi is to say the least a fabulous dish of food. Few words can give justice to this lush dish. And, as the covered clay pot hit our table, the lids were lifted and heavenly aromas came from the table. Large morsels of tender meat topped with fresh yoghurt, and doused with sprigs of coriander and a luscious, hearty tomato sauce, with chunks of fresh tomato that just came off the stove top. The addition of diced pita bread added a new dimension to the dish. The combination was heavenly. I only have two quibbles, they served bread rolls rather than pita with the meal and no wine.
Generally people liked the Karakol restaurant, particularly the surroundings. The prices are higher than comparable local restaurants and because of recent changes in the government toward a more religious state, no alcohol is served. In fact, this is not just a problem here, but throughout the country. There are concerns, both in Turkey and abroad, that the sole secular Muslim state in the world may be moving toward a new Islamic Turkish state.
References:
Karakol Restaurant: http://www.karakolrestaurant.com/index-en.html
TripAdvisor: http://www.tripadvisor.com/Restaurant_Review-g293974-d1788584-Reviews-Karakol_Restaurant-Istanbul.html
Sephardic Tamara: http://www.turkish-cuisine.org/english/pages.php?ParentID=3&FirstLevel=119
Tamara: http://americanfoodieabroad.wordpress.com/2014/04/07/tarama/
Muhammara: http://www.maureenabood.com/2012/09/20/roasted-red-pepper-walnut-dip-muhammara/
Bakla Fava with Dill: http://hodmedods.co.uk/recipes/bakla-fava-bean-and-dill-puree/
Çerkez Tavugu: http://www.whats4eats.com/poultry/cerkez-tavugu-recipe
Circassian Chicken: http://www.cliffordawright.com/caw/recipes/display/bycountry.php/recipe_id/846/id/14/
Labneh Cheese: http://chefindisguise.com/2012/05/12/homemade-labneh-recipe/