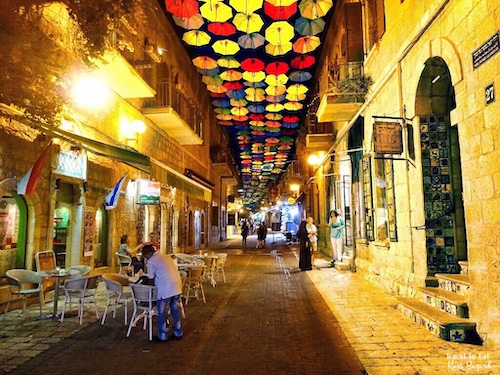 I don't do a lot of street photography but I often enjoy going out when I encounter a new city at night, just to get a sense of the place. I collected together a few photographs of Jerusalem at night to share in this post. What is usually known as the Umbrella Sky Project began several years ago in Agueda, Portugal, and has since spread to streets in Turkey, Serbia, Germany, Cambodia and other countries during the month of July. It was first implemented in Israel in 2013, when 600 colorful umbrellas were suspended over Tel Aviv's Rothschild Boulevard to celebrate the arrival of free Wi-Fi across the city. Downtown Jerusalem welcomed summer this particular year with a thousand colorful umbrellas suspended by barely visible string over Yoel Moshe Solomon Street in the historic Nachalat Shiva district just off the Ben-Yehuda pedestrian mall. It never rains in Israel during the summer months, but the sun is strong enough to cook shakshuka on the pavement. So let's call these decorative umbrellas "parasols."
Jerusalem Light Rail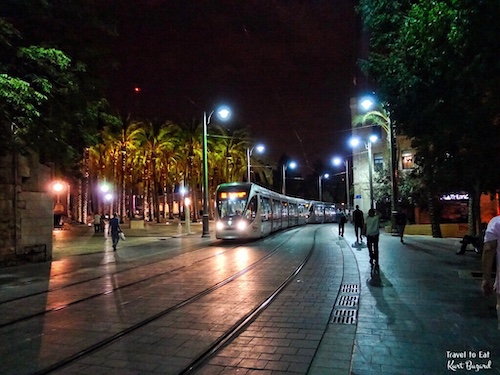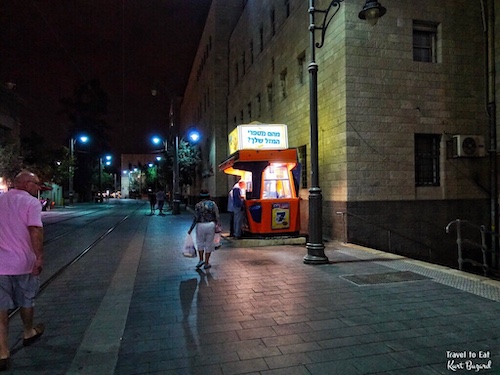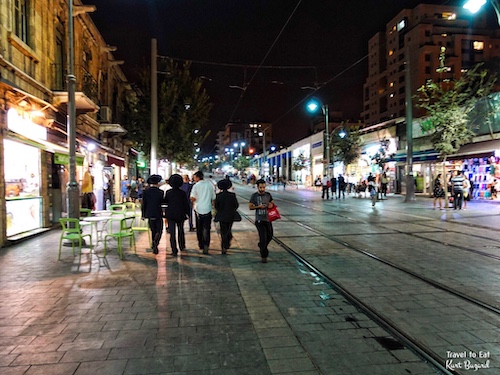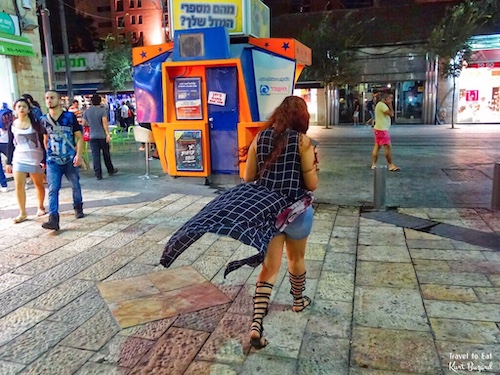 Jaffa Road is one of the longest and oldest major streets in Jerusalem, Israel. It crosses the city from east to west, from the Old City walls to downtown Jerusalem, the western portal of Jerusalem and the Jerusalem-Tel Aviv highway. It is lined with shops, businesses, and restaurants. It joins with Ben Yehuda Street and King George Street to form the Downtown Triangle central business district. Major landmarks along Jaffa Road are Tzahal Square (IDF square), Safra Square (city hall), Zion Square, Davidka Square, the "Triple" intersection (Hameshulash) at King George V Street and Straus Street, the Ben Yehuda Street pedestrian mall, the Mahane Yehuda market, and the Jerusalem Central Bus Station. Jaffa Road has been redeveloped as a car-free pedestrian mall served by the Jerusalem Light Rail.
Ben Yuda Pedestrian Mall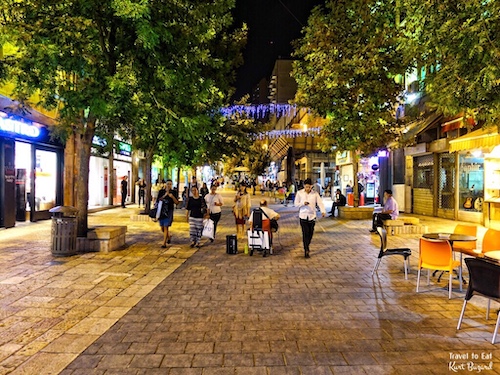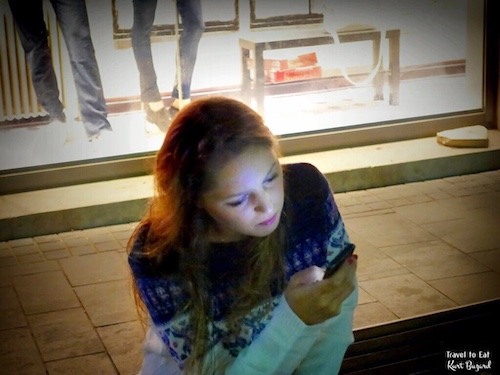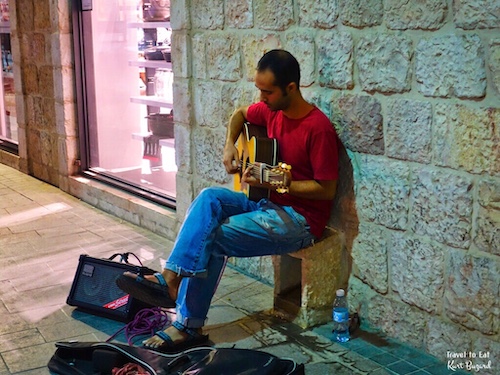 Ben Yehuda Street, most commonly referred to simply as the midrachov (pedestrian mall), is the heart of Jerusalem's downtown business district and the axis around which much of its tourist life revolves. Ben Yehuda Street was a main street in Jerusalem even before the founding of the state. As a busy thoroughfare, it has been a prime target for terrorist bombings. Dozens of mostly indistinguishable gift shops, offering the ubiquitous Hebrew Coca-Cola shirts, Judaica and commemorative knickknacks, line the smoothly paved street and street musicians play there throughout the day. Restaurants tend toward the falafel and ice cream end of things, with only minimal holdouts from the era when Jerusalem residents crowded intimate downtown cafes.
East vs West Jerusalem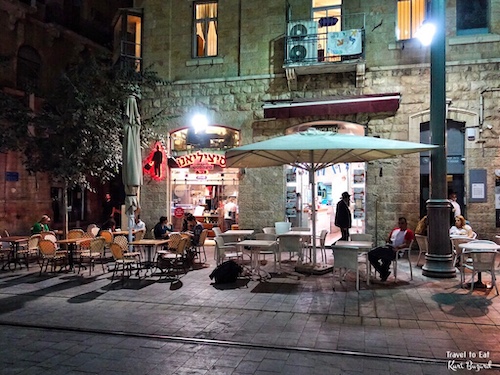 Jerusalem's dining scene is smaller and more modest than Tel Aviv's, but is steeped in 4,000 years of culinary traditions. Among Jewish residents, more than a century of immigration has infused the local fare with the best of Kurdish, Moroccan, French, Polish, Yemenite, and Italian flavors. On the Palestinian side, most restaurants rely on a rich heritage of family cooking. On both sides, an elite class of chefs has begun combining the best of local ingredients with advanced cooking techniques and imaginative serving styles. Nowhere is the tension between Israel and the Palestinians more evident than in Jerusalem. At night, east Jerusalem is pretty much dead, you must walk to the west side for most restaurants, bars and nightlife.
New Deli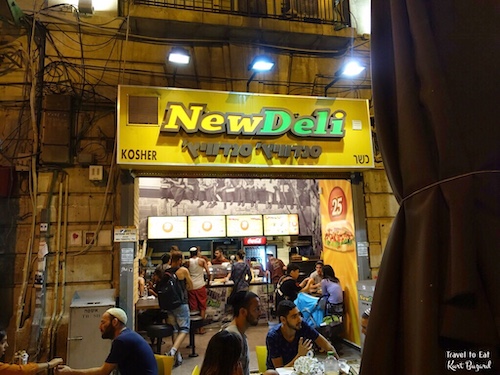 In the land where the pita reigns as undisputed king, it's comforting for some people to know they can still find a place that serves enormous stacks of deli meat on good, old-fashioned Western bread. And that's pretty much what you'll find at New Deli – a healthy selection of kosher meats in the glass case at the counter where you order, primed to satisfy carnivores and threaten vegetarians. They also have the best crispy fries in Jerusalem.
Cofix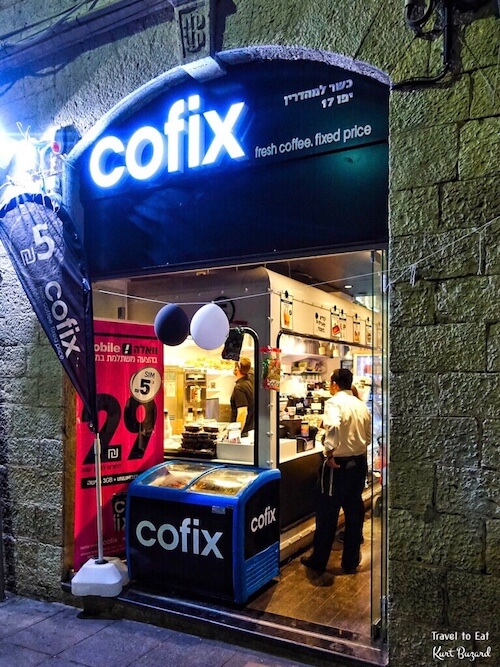 Cofix is most famous for its Cofix chain of cafes, where everything from soup to nuts (and, of course, coffee) sells for five shekels ($1.28). Super Cofix, the grocery store, opened its first store in September 2013 and today counts 10 branches, with another 11 in development. Each Super Cofix carries a range of about 600-700 products on its shelves, but despite the limited selection Super Cofix says it offers all the basic necessities a typical household needs, each for five shekels. They also have opened a series of Cofix bars that serve alcohol.
Café Rimon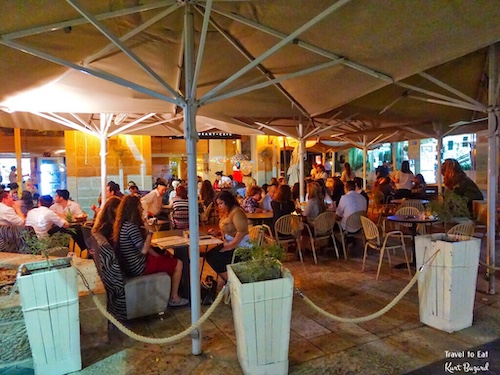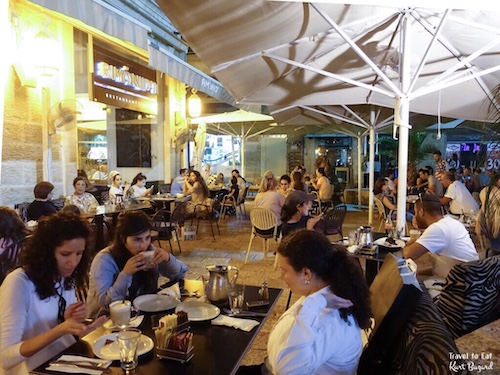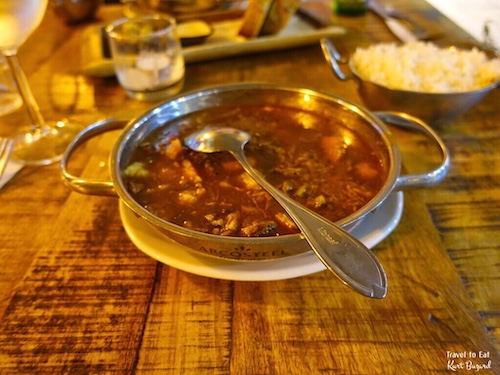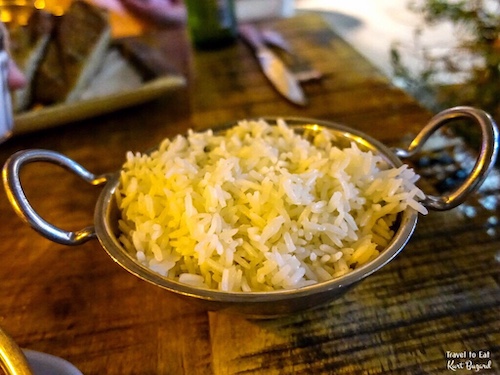 We decided to eat dinner at Café Rimon, primarily because it was the busiest eatery we had seen. Café Rimon opened their first location, near Ben Yehuda, in 1953. Originally Café Rimon was a meat restaurant and in 1983 switched to dairy. In 2007 they added Rimon Bistro to their Ben Yehuda location, serving as their meat restaurant, in addition to opening their second dairy location in Jerusalem. In 2014 they opened another location in Beit Shemesh. The owner Ronen Rimon, proudly employees both Jews and Arabs at his restaurants, despite being the subject of multiple terror attacks. Although the restaurant was busy, the food was pretty unremarkable. I ordered the goulash, more of a goulash soup with rice and very bland.
Mikes Place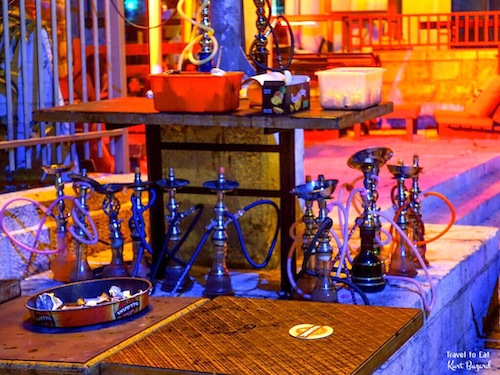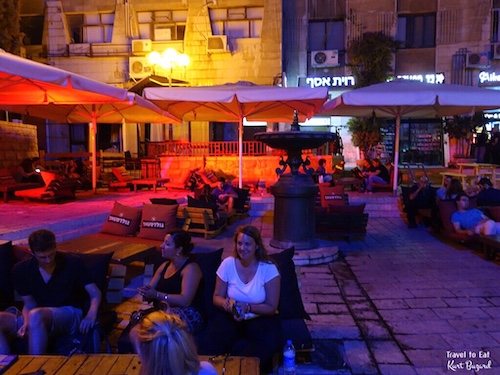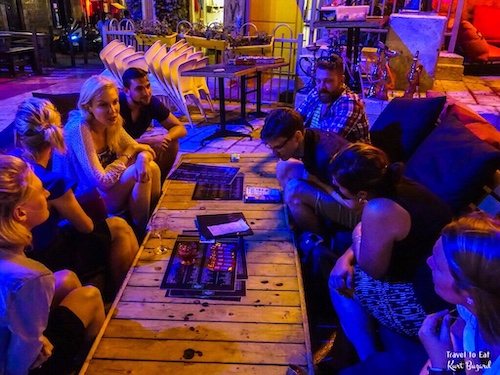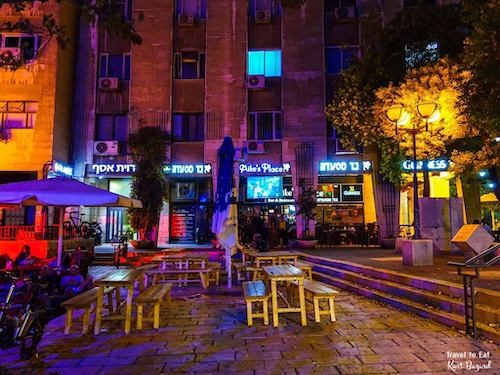 We met up with some friends at Mikes Place. Mike's Place is an Israeli chain of sports bars, with six bars around the country. American-style hamburgers, a myriad of international beers and a super friendly staff means anyone stumbling into Mike's Place for the first time will automatically feel welcomed. Extended across two floors, the lower level offers live bands and open-mic nights, billiard tables and a huge comfortable bar. The outdoor area is more than comfortable with 70's style sunken seating, red and blue lighting and hookahs. I had a burger, since I was still hungry after dinner at Café Rimon and it was delicious.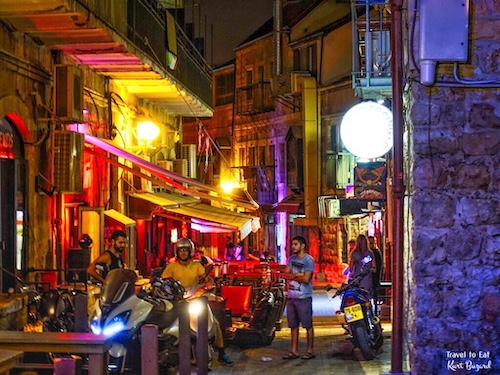 Jerusalem is a complex place, made all the more so by the tension between Palestinians and Jews. As a tourist, the divide becomes east vs west with West Jerusalem as the place to eat and drink at night. I hope you enjoyed the post, please leave a comment.
References:
Umbrellas Street Project: http://www.israel21c.org/1000-parasols-shade-a-jerusalem-street-2/
Jerusalem Light Rail: https://www.itraveljerusalem.com/article/jerusalem-light-rail/
New Deli: http://www.gojerusalem.com/items/462/New-Deli/
Cofix: http://www.cofix.co.il/en/
Cafe Rimon: https://www.tripadvisor.com/Restaurant_Review-g293983-d1763874-Reviews-Cafe_Rimon-Jerusalem_Jerusalem_District.html
Mikes Place: https://www.tripadvisor.com/Restaurant_Review-g293983-d4419335-Reviews-Mike_s_Place-Jerusalem_Jerusalem_District.html
Sent from my iPad