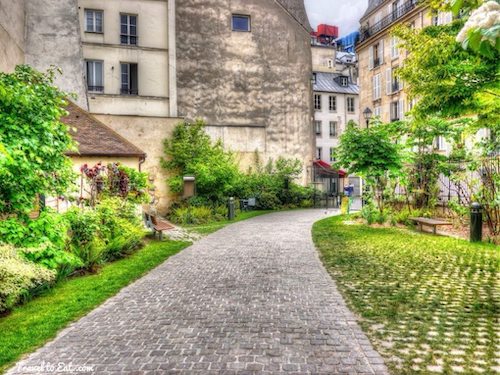 The Anne Frank garden, opened in 2007, is just behind the Centre Georges Pompidou which is just peeking out in the upper right hand corner of the picture above. Part of the present garden used to be the gardens of a big 17th century mansion, Hôtel de Saint-Agnan, still there and which now is a museum of Judaism history and another 17th century mansion, Hôtel de Montmor, where Descartes (Cartesius), Molière and others were guests. It can be a little hard to find, it is just to the right as you leave the Rambuteau metro on a little dead end street, Impasse Bertaud. The small horse-chestnut tree to the right is a graft from the tree mentioned by Anne Frank in her diaries.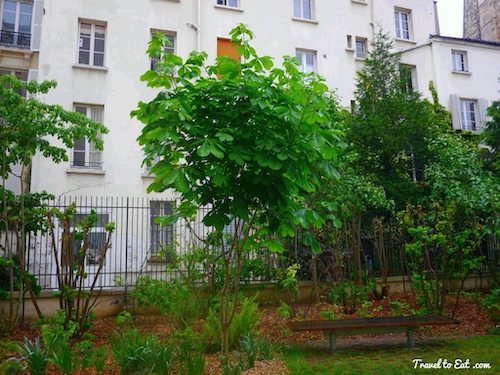 Anne Frank wrote in her diary: "Nearly every morning I go to the attic to blow the stuffy air out of my lungs, from my favorite spot on the floor I look up at the blue sky and the bare chestnut tree, on whose branches little raindrops shine, appearing like silver, and at the seagulls and other birds as they glide on the wind. As long as this exists, I thought, and I may live to see it, this sunshine, the cloudless skies, while this lasts I cannot be unhappy." On August 23, 2010 the original horse-chestnut tree in Amsterdam, almost 150 years old, was blown down by high winds during a storm, breaking off approximately 1 meter (3.3 ft) above ground. It was reported that a small side shoot was growing out of the stump below where it broke, and it is hoped that it will grow into a new tree.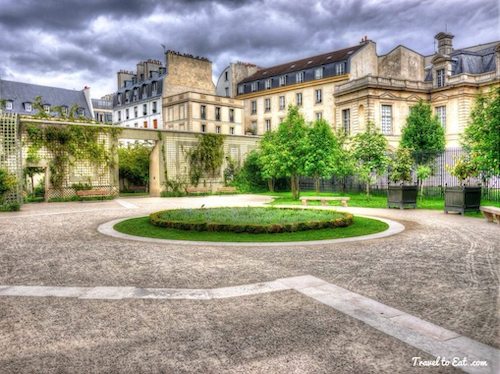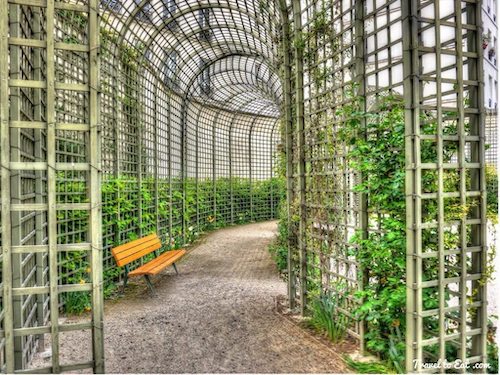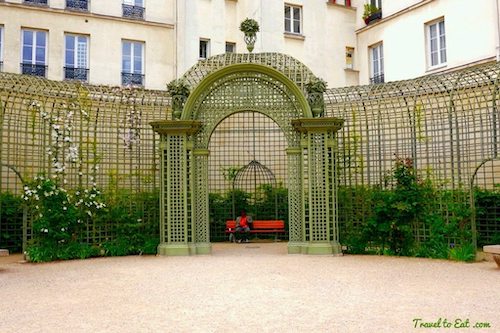 This is a beautiful little garden, a quiet refuge only a few feet from the crowds along Rue Beaubourg and the Pompidou center. I love this semicircular pergola, this is a DIY project on steroids.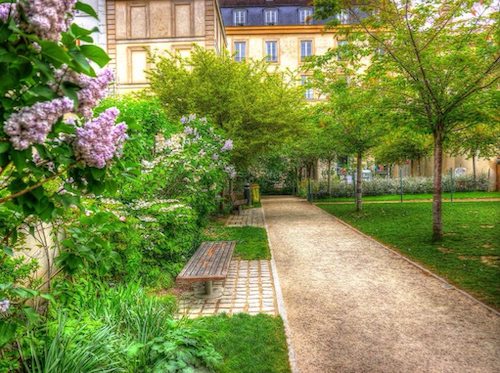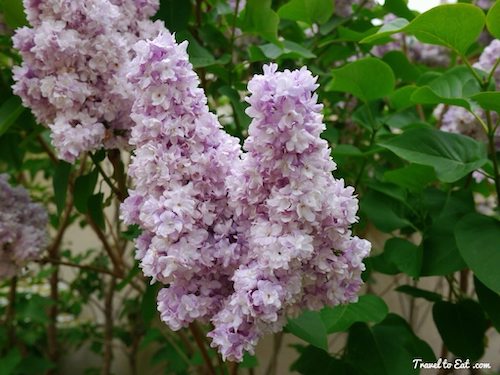 In the back are flowering lilac trees (both white and purple) and and a small garden for the birds. Syringa vulgaris (lilac or common lilac) is very popular in Paris. Between 1876 and 1927, the nurseryman Victor Lemoine of Nancy introduced over 153 named cultivars, many of which are considered classics and still in commerce today. Lemoine's "French lilacs" extended the limited color range to include deeper, more saturated hues, and they also introduced double-flowered "sports", with the stamens replaced by extra petals. I think these are Lemoine Lilacs although I don't know the cultivar.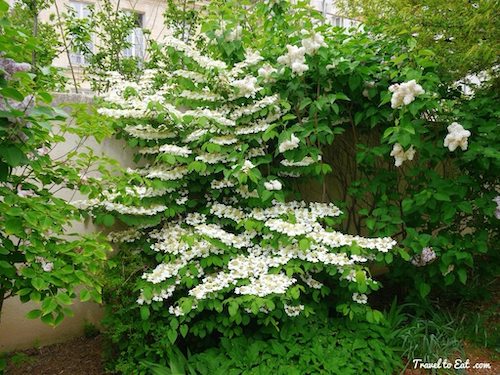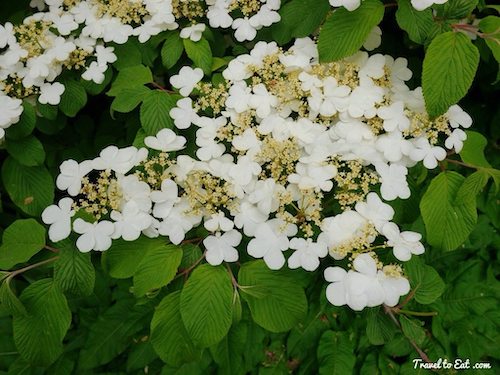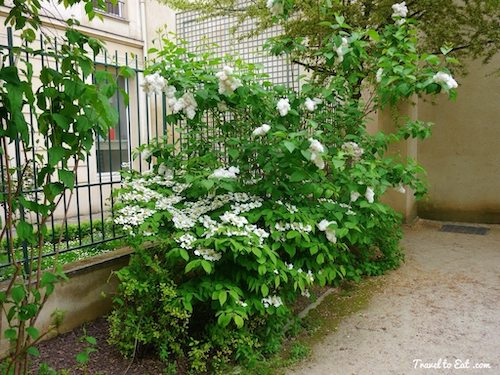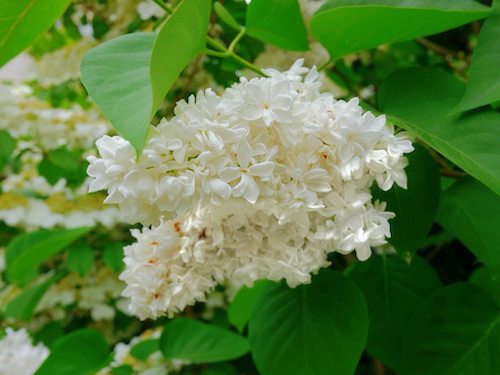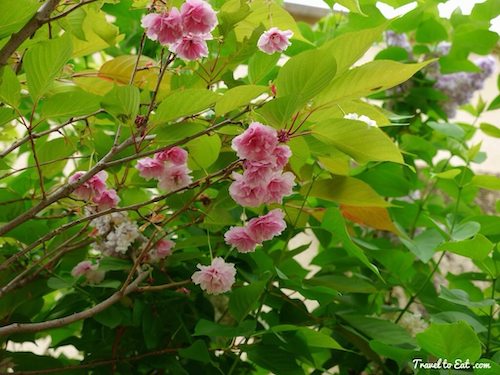 The last of the cherry blossoms are still on. Viburnum "Summer Snowflake" is definitely a favorite here because of its compact shape and profuse flat white flowers that last throughout summer and somewhat resemble a dogwood bloom. They look really pretty mixed with the white lilacs.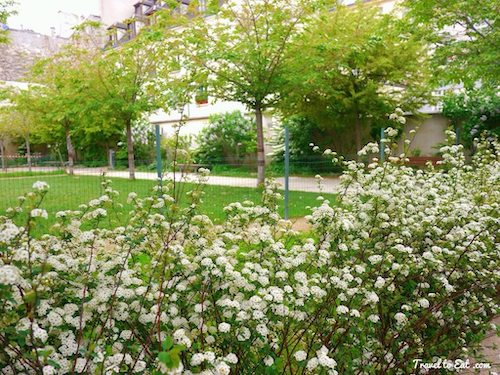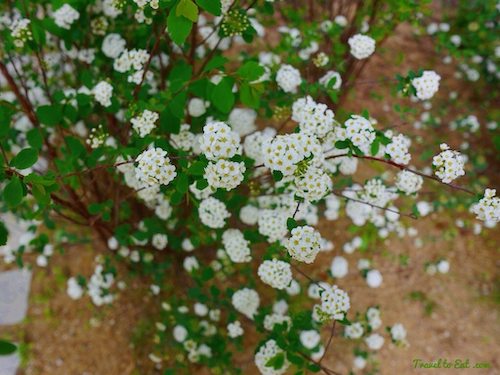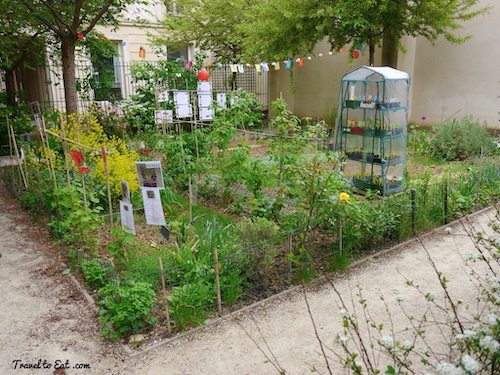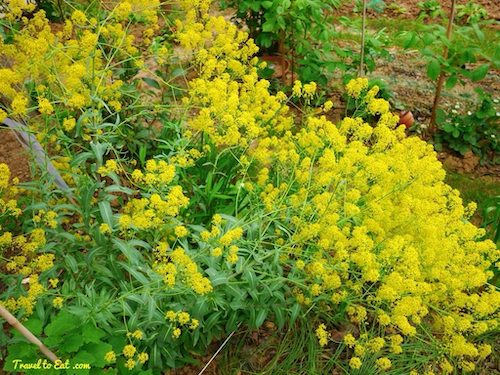 This pretty hedge of Spiraea Alpine Spring flowers is at the back of the garden. I am fairly certain that is the correct name, at least the Spirea part, this also goes by the name Meadowsweet. I believe the yellow flower is Goldenrod, given the garden that had lots of pictures of birds and their eggs. Goldenrods are attractive sources of nectar for bees, flies, wasps, and butterflies. Goldenrod is a companion plant, playing host to some beneficial insects, and repelling some pests. It is a little unusual to see it in the spring but there are varieties that blossom in the spring (Solidago verna).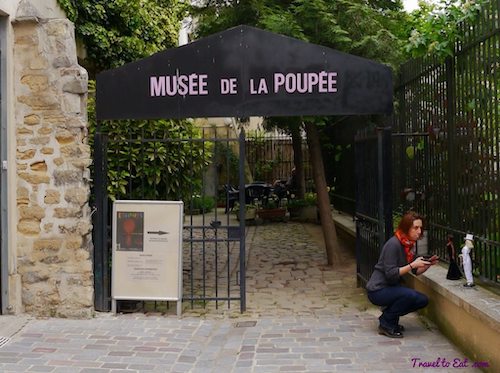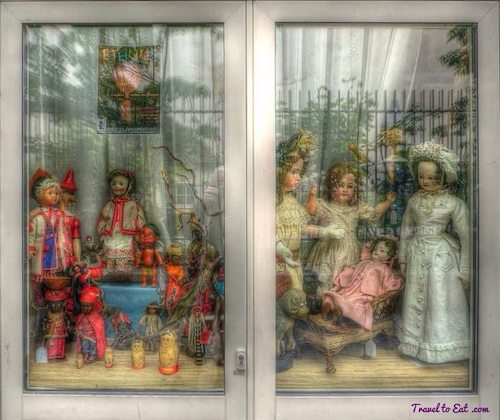 Well, that's all from the Jardin Anne Frank; next door is the Musée de la Poupée (poupée means doll in French). Another one of those unfortunate homophones (a word pronounced the same, but has a different meaning.) If you are staying in the Marais, you should definitely visit. The park has a playground and you can visit the doll museum. Also the Musée d'Art et d'History du Judaïsme is right around the corner. It is a great museum, with manuscripts, funerary steles, art and beautiful silver objects from the 9th century onwards, but no pictures are allowed, so I have none to share.
References:
Poupée Museum: http://www.museedelapoupeeparis.com/?lang=en
Musée d'Art et d'History du Judaïsme: http://www.mahj.org/en/