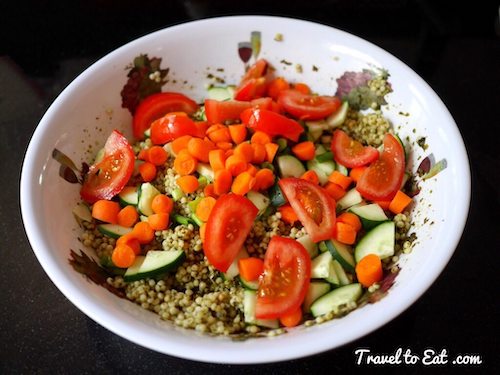 When I was away in Turkey at the beginning of the summer, Lisa visited her friend in San Rafael and returned with the recipe for this salad. Like most salads, this can be a simple recipe, although the taste of it will linger with you and make you want to eat more. In the summer we made this or tabbouleh at least once a week since it is so easy and so flexible, using pretty much the vegetables we had on hand. The two classic dishes from which this recipe derives are Mideastern tabbouleh salad and Italian pasta with pesto, usually linguine, tortellini or even spaghetti. Because it is so tasty and so classic, there are many riffs on the basic recipe. One direction is to go toward Tabbouleh by adding mint ant parsley to the recipe, even adding feta cheese or even make the pesto from these herbs. The other direction is to make pesto from herbs other than basil, like arugula or spinach and to add pine nuts to the recipe. Because I like things simple, I will present the basic recipe and allow my readers to experiment with their own variations.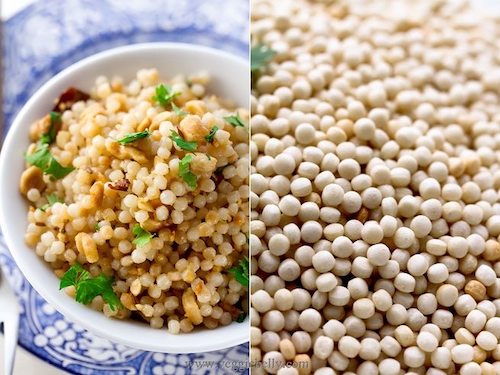 "Ptitim" or Isaeli Couscous was invented during the austerity period in Israel (from 1949 to 1959). Israel's first prime minister, David Ben-Gurion, asked Eugen Proper, one of the founders of the Osem food company, to quickly devise a wheat-based substitute to rice. Consequently, it was nicknamed "Ben-Gurion's rice" by the people. Commonly, ptitim are prepared with sautéed onions or garlic (vegetables, meat, chicken or sausages can also be added); the ptitim are then added, and fried for a short time before adding water. To prepare Israeli or pearl couscous, you'll need about 1 1/4 cups of water or vegetable broth for every 1 cup of dry grain. Simmer the grains stovetop, covered, for 5-10 minutes. The grains fluff up just slightly, and, like barley, they have more an "al dente" mouth feel when when done cooking. For a basic recipe with a bit more flavor, toast the dried pearls for a minute or two in a bit of butter, vegan margarine, or olive oil before cooking, just like you would do for making a risotto.
Ingredients:
1 tbsp Olive Oil
2 cups Israeli Couscous
7-8 ounces of pesto, I use a plastic package of Buitoni
1-2 Englich cucumbers cut into 1/4 inch quarter slices
2 carrots cut into 1/4 inch quarter slices
Diced fresh tomatoes or cherry tomatoes cut into halves
Add whatever vegetables, herbs, feta cheese or even pine nuts you have available, diced or cubed into bite sized chunks
Directions:
Heat oil in a large non stick skillet or pot. Add couscous. Stir the couscous on low heat till it turns color and becomes light brown, about 1-2 minutes. Add 2 1/2 cups water. Bring to a boil. Reduce heat, cover the skillet and simmer till all the water is absorbed, 6-8 minutes. Couscous should not be mushy. You can also just fill a pot with water, bring to a boil, add Israeli couscous and cook for 8-10 minutes.
Drain the couscous and add the pesto right away since it will absorb the pesto flavors
Place in refrigerator until chilled and add vegetables
Enjoy, it will keep in the refrigerator for about a week but you will probably eat it all before then.
References:
Israeli Couscous and Tomato Salad with Arugula Pesto: http://www.foodandwine.com/recipes/israeli-couscous-and-tomato-salad-with-arugula-pesto
Israeli Coucous Tabbouleh: http://www.epicurious.com/recipes/food/views/Israeli-Couscous-Tabbouleh-51175480
Israeli Couscous with Herb Pesto: http://thecafesucrefarine.com/2012/07/israeli-couscous-salad-with-tomatoes-and-herb-pesto/
Peanuts and Iseali Couscous: http://www.veggiebelly.com/2010/07/easy-israeli-couscous-with-roasted-peanuts-ready-in-10-minutes.html