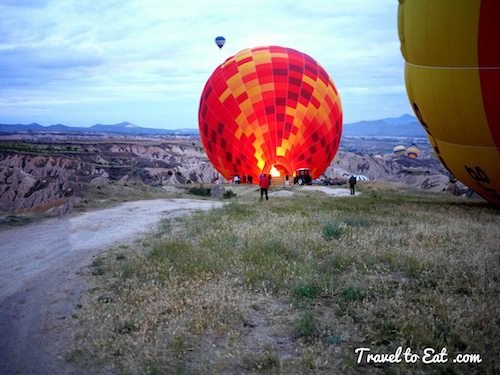 Cappadocia is known around the world as one of the best places to fly with hot air balloons. The spectacular surrealistic landscapes combined with excellent flying conditions allow the balloons to gently drift over and between fairy chimneys, pigeon houses hewn into the unique rock formations, orchards and vineyards – through impressive valleys, each with distinctive rock formations, colors and features – and then float up over rippled ravines for breathtaking views over the region. The way the hot air balloons work is that the lift is greatest in cold or cool air. Hence, the operators pick you up between 5-6 AM, along with 20 companions for your adventure. There are also private balloon rides, albeit for a higher price. They inflate the balloon and all 20 of you pile into the straw basket. We chose a ride that follows the Rose valley. As the ride progressed, we were able to witness the sunrise, even though it was cloudy in Cappadocia, a beautiful and amazing sight.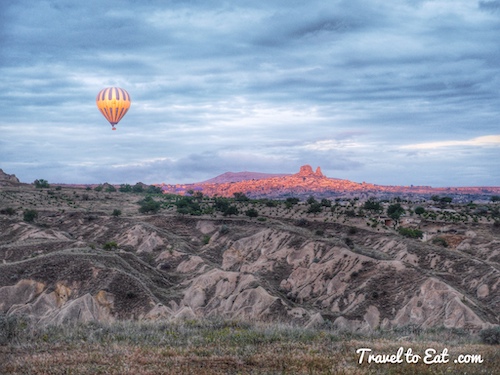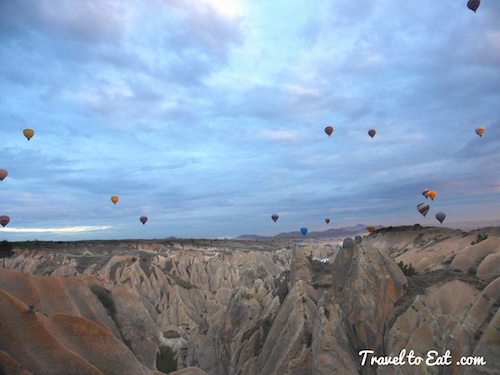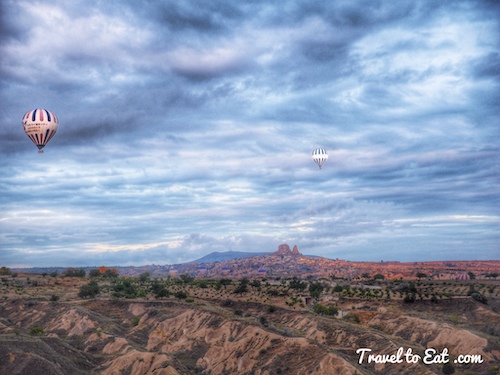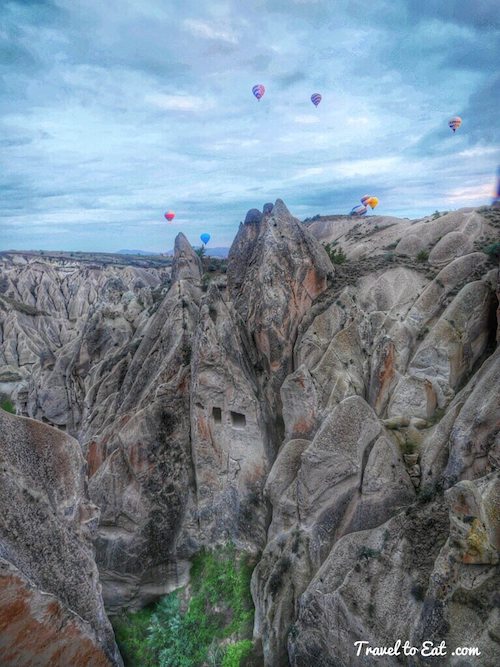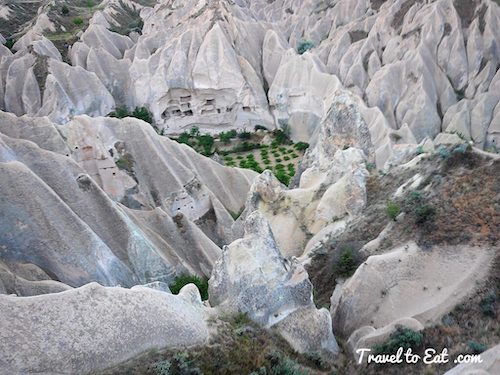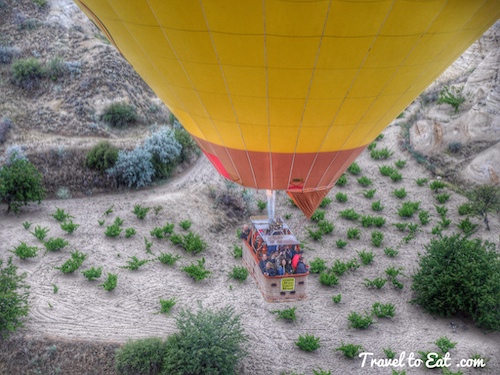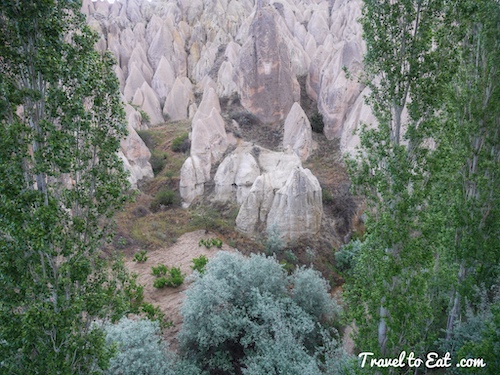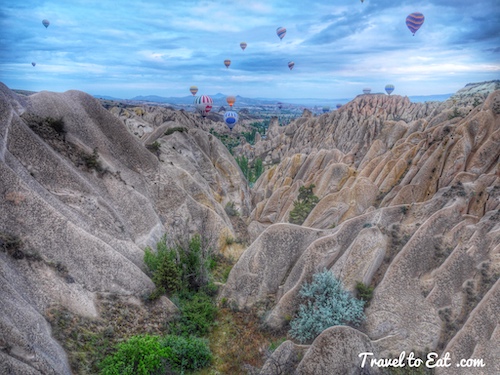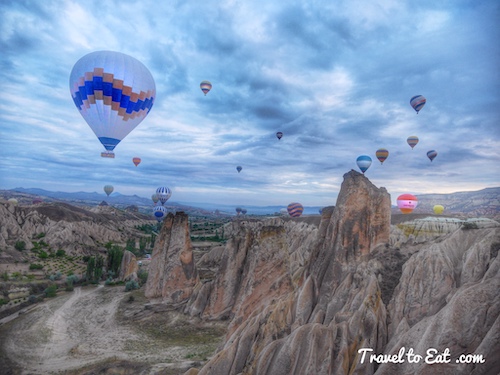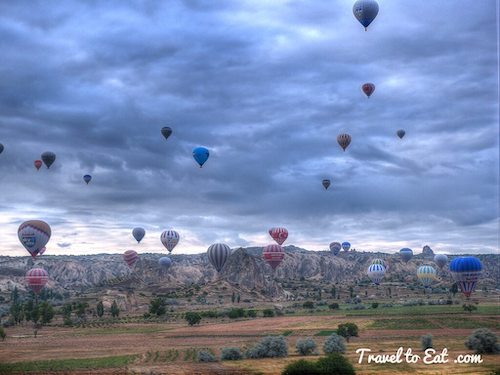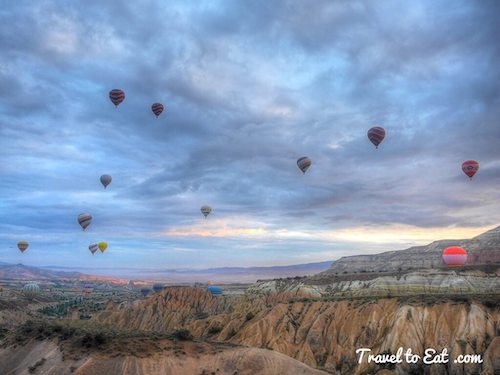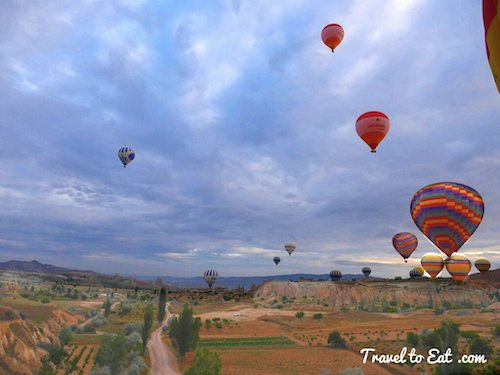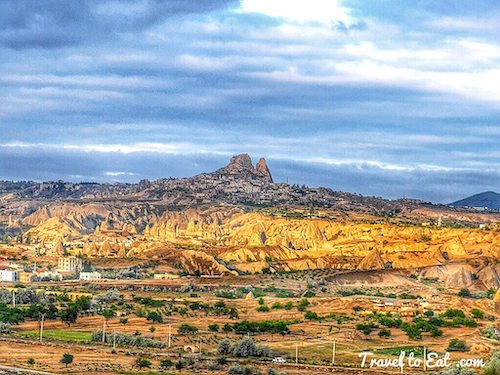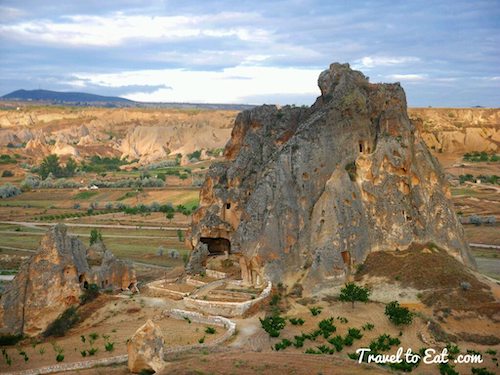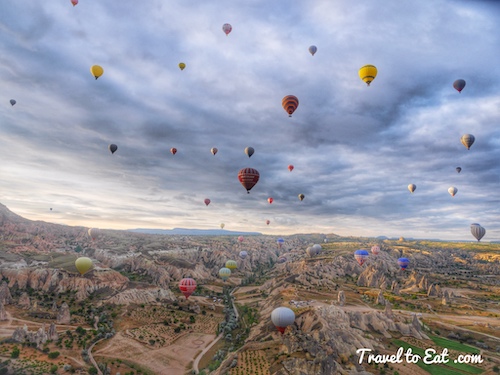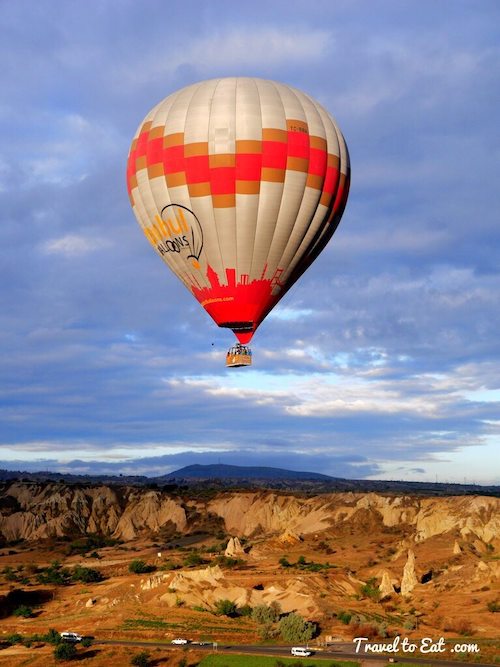 I have chosen to chronical the flight in pictures rather than words. It was a lovely experience and if you visit Cappadocia, you should try it yourself.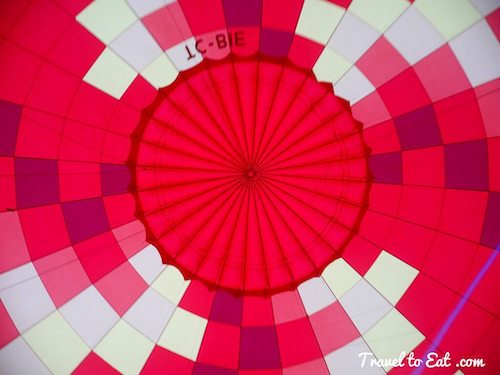 The top of the balloon usually has a vent of some sort. This enables the pilot to release hot air to slow an ascent, start a descent, or increase the rate of descent, usually for landing. The most common type of top vent is a disk-shaped flap of fabric called a parachute vent, invented by Tracy Barnes. The fabric is connected around its edge to a set of "vent lines" that converge in the center. The arrangement of fabric and lines roughly resembles a parachute—thus the name. These "vent lines" are themselves connected to a control line that runs to the basket. A parachute vent is opened by pulling on the control line. Once the control line is released, the pressure of the remaining hot air pushes the vent fabric back into place. A parachute vent can be opened briefly while in flight to initiate a rapid descent. Slower descents are initiated by allowing the air in the balloon to cool naturally. The vent is pulled open completely to collapse the balloon after landing.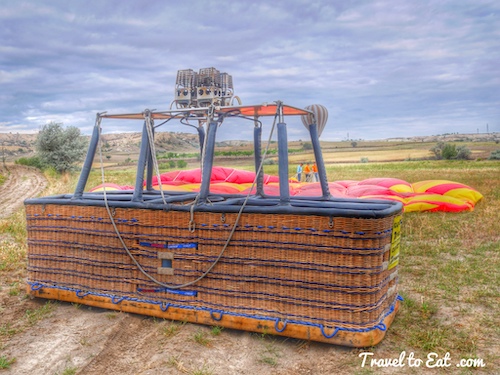 The balloon experience is lovely but there are a few caveats to consider when choosing a hot air balloon operator. The higher you go, the better the views. However there is a risk/reward in the higher path. If you go high, the winds become more unpredictable, making landing more difficult if the crew is not there to assist. In fact, you could land miles from the anticipipated landing site, for instance, on the side of a mountain. One might suggest that a quick ascent followed by an equally rapid descent, using the vent on the top of the balloon, would limit the the potential danger. Let me remind you that if the vent is opened too widely, it does not close. As a result you will become a flaming comet directed toward the ground along with your 20 companions. For myself, the risk/reward and the fact that I was in Turkey, meant that I chose the conservative option. As a result we did not go more than about 100 feet above the ground, following the contours of the Rose canyon to a safe and controlled landing with the assistance of the ground crew. If your operator cancels at the last minute, don't be angry, be thankful they place your safety above their profits. Just be careful in a foreign land when choosing your adventures, it is still a breathtaking experience shared with hundreds of other balloons worth doing. I chose to use Sultan Balloons, a beautiful quote appears in their brochure:
The winds have welcomed you with softness
The sun has blessed you with its warm hands
You have flown so high and so well
That even God has joined you in your laughter
And He ha gently set you back
Into the loving arms of Mother Earth    
References:
TripAdvisor: http://www.tripadvisor.com/Attraction_Review-g297983-d1134547-Reviews-Ballooning_Cappadocia-Goreme_Cappadocia.html
Turkey Travel Planner: http://www.turkeytravelplanner.com/special/balloon/
Comparisons of Companies: http://www.captivatingcappadocia.com/cappadocia-hot-air-balloon-company/
Uçhisar: http://www.turkeytravelplanner.com/go/CentralAnatolia/Cappadocia/uchisar/
Sultan Balloons: http://www.sultanballoons.com/