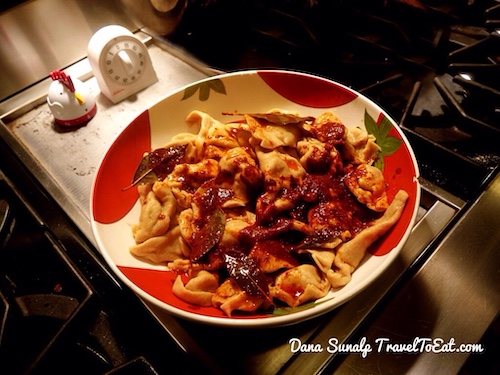 Manti is believed to be originated by Uyghur Turks living in China as mantou, and was carried across Central Asia to Anatolia by migrating Turkic and Mongol peoples in the Chingizid-Timurid periods. In particular, according to one Armenian researcher, manti first reached Cilician Armenia as a result of the cultural interaction between Armenians and Mongols during their alliance in the 13th century. According to Holly Chase, 'Turkic and Mongol horsemen on the move are supposed to have carried frozen or dried manti, which could be quickly boiled over a camp-fire'. In Turkey, it is also called Tatar böregi (Tatar bureks), which indicates its relation to nomadic peoples. Korean mandu is also said to have arrived in Korea through the Mongols in the 14th century. However, some researchers do not discount the possibility that manti may have originated in the Middle East and spread eastward to China and Korea through the Silk Road.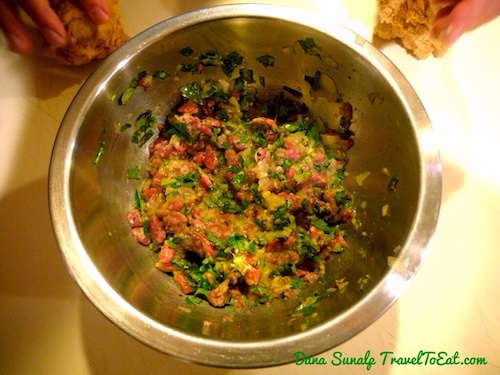 Ingredients:
2 cups flour
1/2 teaspoon salt
2 eggs
1/2 teaspoon water, or as needed
2 onions, peeled
1/2 pound ground beef
salt and pepper to taste
3 tablespoons vegetable oil
1 tablespoon red pepper flakes
1 tablespoon minced garlic
1 (8 ounce) container plain yogurt
Instructions:
Combine the flour and salt in a mixing bowl. Add the eggs and water, mixing well with your hands. Add more water, if needed, to form a soft dough. Cover and set aside for at least 30 minutes.
Shred the onions and place them in a colander or sieve set over a bowl; drain the juice and discard. Combine the onion, ground beef, salt, and pepper; mix the meat well with a spoon until mashed.
Divide the dough into two portions and lightly flour a work surface. Keep one piece of dough covered while you roll out the second portion into a rectangle, rolling the dough as thin as you can. Cut the rectangle into 2-inch squares with a knife or pastry wheel.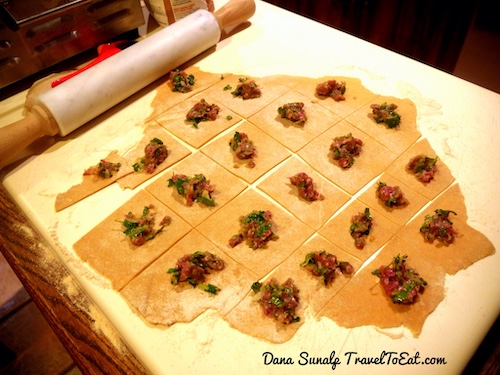 Place about 2 teaspoons of the meat filling in the center of each square. Seal the dumplings by gathering the edges of the dough and pinching them together at the top to form a bundle. Transfer the finished manti to a floured plate, and sprinkle more flour over the manti to prevent sticking. Repeat with the second piece of dough.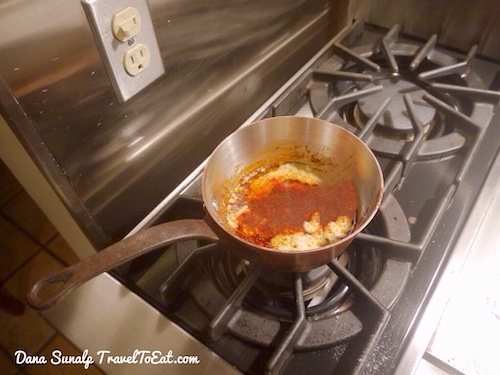 Heat the oil and red pepper flakes in a small skillet over low heat just until the pepper flakes have started to color the oil; don't let them burn. Remove from the heat and keep warm. Stir the minced garlic into the yogurt and set aside.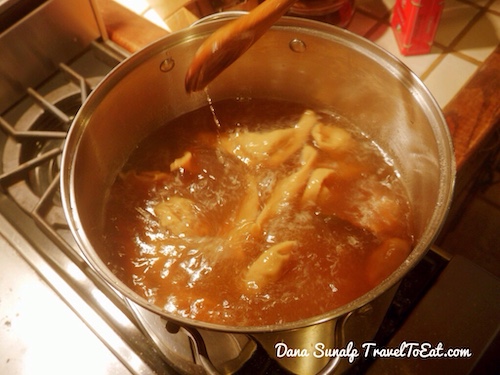 Bring a large pot of salted water to a boil over medium-high heat, and cook the manti until the filling is no longer pink, and the dough is tender, 20 to 25 minutes. Drain well. Divide the manti among four plates. Spoon the yogurt sauce over the manti and drizzle each serving with the hot pepper oil.
References:
Allrecipies: http://allrecipes.com/recipe/homemade-manti-traditional-turkish-dumplings