For my 60th birthday we decided to go to Guy Savoy for dinner. Guy Savoy is a world-renowned French chef, and is the Head Chef and owner of the Guy Savoy restaurant in Paris and sister restaurant in Las Vegas. We have never visited in Las Vegas so we decided to go in Paris. Guy Savoy is the youngest of the group of renowned chefs who invented "Nouvelle Cuisine", taking a lighter and more delicate approach to classic French cooking. The Paris restaurant has garnered 3 Michelin stars, being elevated in 2002. The restaurant was ranked 34th in the Elite Traveler World's Top Restaurants Guide 2012 and has been ranked multiple times in the Restaurant Magazine Top 50 Restaurants in the world. We took a cab since it was raining and we were dressed up. As we arrived, a greeter, quite separate from the handsome young man pictured above, opened the cab door and greeted us quite warmly, as if we were old family friends.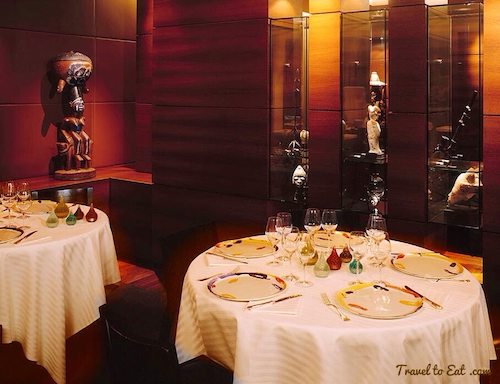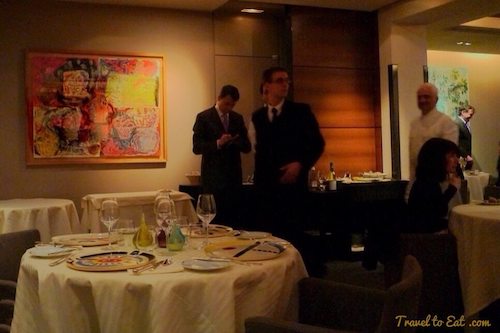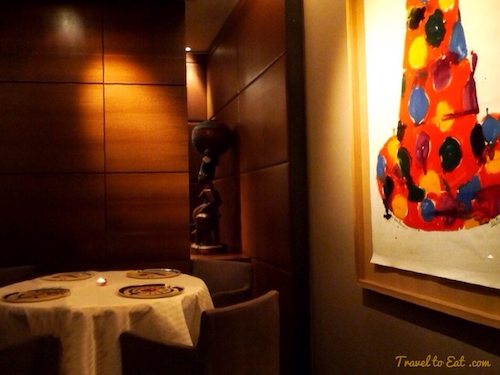 The two rooms are intimate yet have generous space between the tables, six in the front room and four in the second. We were seated at one of the four tops in the second room, a lucky coincidence for us, we got the reservation at the last minute and someone must have cancelled. The restaurant is full of his personal treasures, for instance the painted wood sculpture from Mopti, near the Niger valley seen above. Guy Savoy had never heard of the Bozo when he encountered this statue. He was captivated by its exaggeratedly elongated forms and its delicate polychromy. As with all his favourite pieces, he asked Jean-Michel Wilmotte to design a special place for the statue, to create just the right setting. Guy Savoy commissioned the clown's hat from Georges Autard as a New Year's decoration to welcome in 2005. When January came to an end, Guy Savoy could not bear to give up the whimsy, the sensitivity of a painting so joyous, so festive – in short, so symbolic of a restaurant. So he purchased the original, which has now found a home in the restaurant dining room.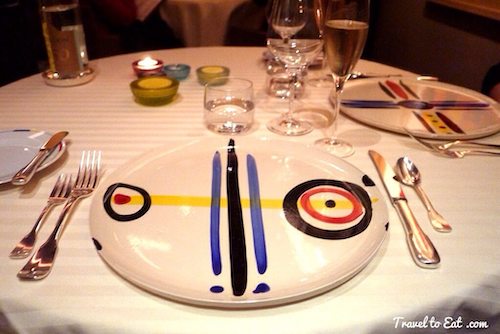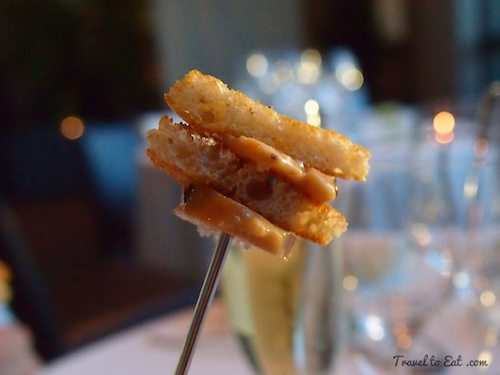 As soon as we sat down, we were presented the small foie gras "sandwich" on a silver stick seen above. It was a creamy, crunchy delightful bite. We were offered champagne from an enormous cart with several varieties being chilled in ice, as an aparitif, we both had a glass. I love the charger plates, they apparently are handmade and signed on the bottom.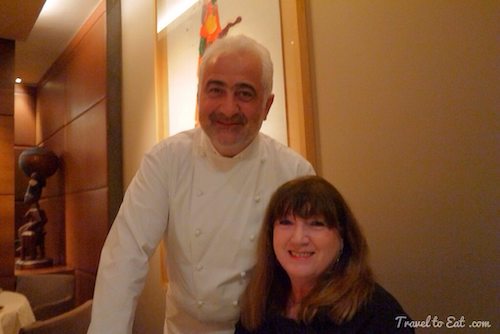 Chef Guy Savoy himself next came up to the table to welcome us to his restaurant. He was charming and even posed for pictures with us. During the meal, he walked through the the restaurant several times to chat and check on the service.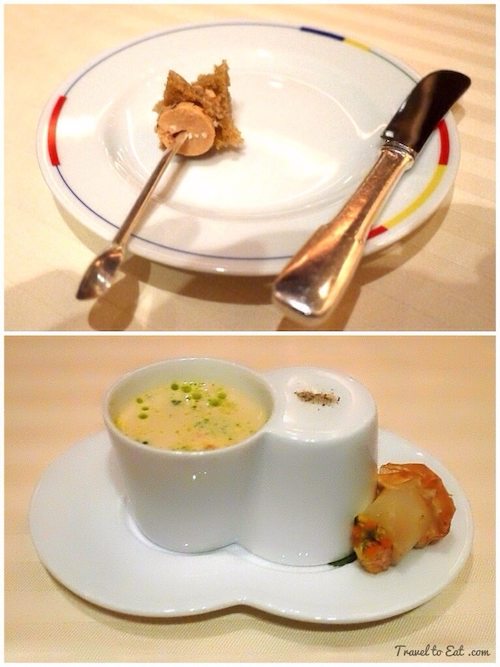 On the bottom above you can see the amuse-bouche. Traditionally an amuse-bouche is served at the beginning of a meal and was only to be found in top end restaurants. However, in recent years many restaurants that are aspiring for a Michelin star will offer diners an amuse-bouche to showcase their skills and creativity. Like many things culinary, the term amuse-bouche is French in origin (you will also hear the term amuse-gueule which effectively means the same thing but is not in common usage in English speaking countries). This one consisted of a lobster soup with a surprise (which I exposed in the picture), a small puff pastry. To the right are spices which you can add to the soup (I did), tasted great.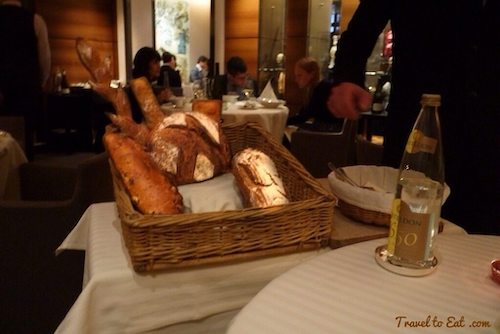 They have a nice fresh bread tray including seaweed, olive oil, sourdough, rye and of course baguettes. Throughout the meal they provide suggestions for additional bread pairings with each course. We had never encountered bread pairings before. Needless to say we were provided with a large bowl of good French buerre.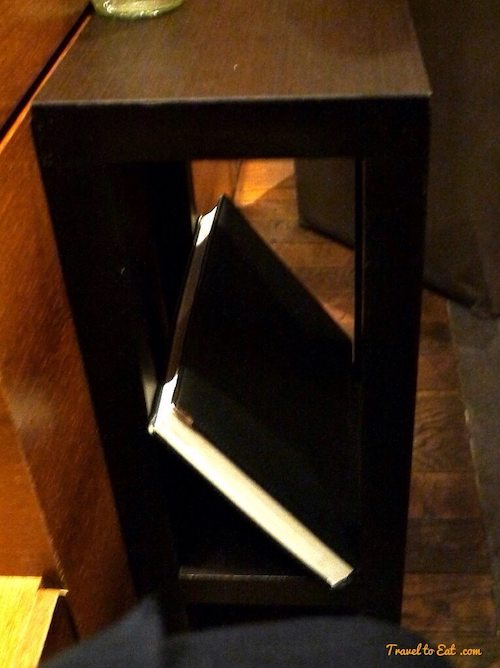 Since it was my birthday we decided to get a bottle of wine, the sommelier brought out the wine bible shown above. It is so thick it has its own table. We ordered a bottle of 1996 Chateau Margeaux, a lovely red Bourdeaux with nice "legs".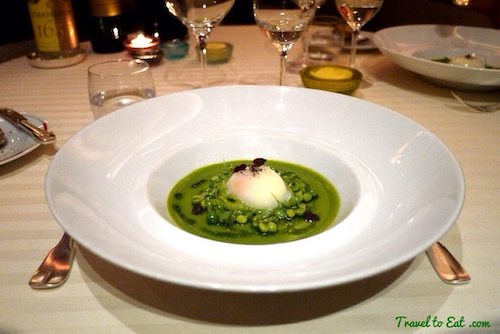 Myriad of Young Peas is quintessential Guy, he loves green. Petit Pois as the French call them should be small and fresh as these were. It concentrates on a simple seasonal product and combines a three-stage transformation on one plate. There is the jellified juice, the purée and the barely cooked pea itself. Add a soft-boiled egg, a few drops of chive-infused olive oil, some edible flowers and herbs, salt and pepper et voilà, a star is born. I happened to find the recipe which I share below. The dish was as delicious to eat as it was beautiful to look at. The vegetables and herbs are delivered by market gardeners from the Parisian region, beginning with the "pope" of them all: Joël Thiebault. These market gardeners guarantee fresh, varied produce each day.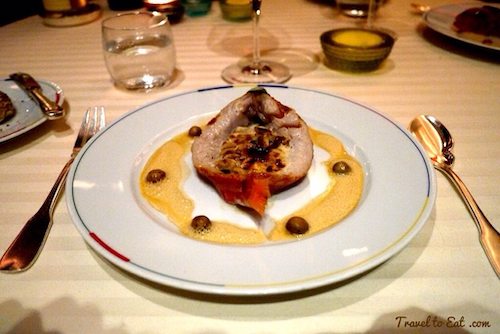 Oven Roasted Stuffed Red Mullet with a foam of its liver stock stuffed with tiny sliced mushrooms. This was really delicious, the fish was cooked perfectly and the tiny mushrooms were a lovely accompaniment. Savoy is fascinated with mushrooms and has been known to serve a dozen types, especially in autumn. Every evening, one of the chefs, Michel, talks to the suppliers (small-scale fishermen in Brittany) about the catch so as to see what he can order. On average, the supplies are delivered twice a day, which is one of the advantages of being based in Paris.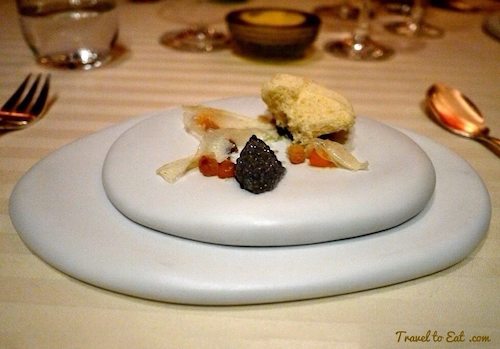 He avoids blinis as the traditional caviar accessory, instead presenting the caviar on its own on a chilled plate with bits of cauliflower, shallot and an iced whipped egg yolk over yet more caviar. This was one of my favorite dishes. The flavor of the Baeri caviar was transformed, the the ingredients really did transform the caviar. One small quibble, no mother of pearl or equivalent spoon to eat the caviar, I am certain it was an oversight. This dish is a testament to the skill of the chefs and serving staff, everything has to come together precisely on time to pull it off.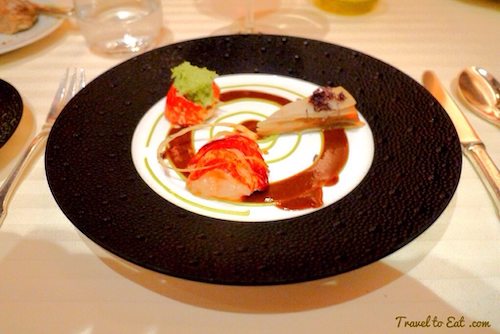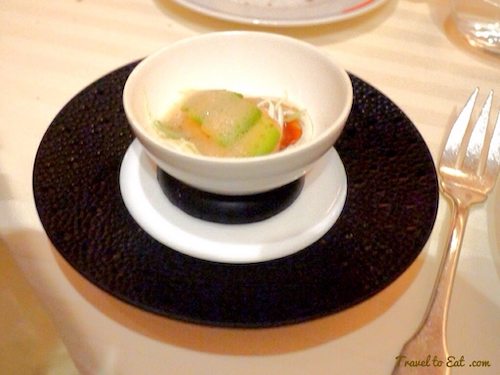 The next dish was lobster, I love the plates it was served on. This is the first part of the "surf and turf". The lobster is "barely cooked" with a tart of cooked and raw heart of palm. The green bit in the lobster shell tasted like bread. The small plate above is the rest of the lobster covered with avacado and a lobster foam.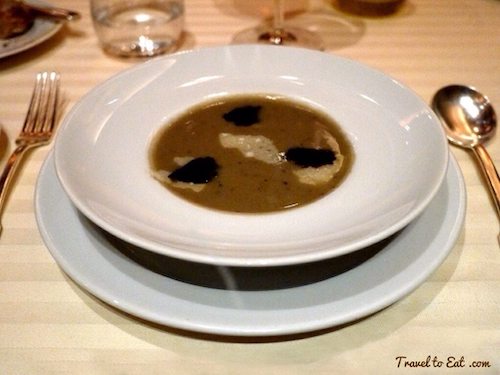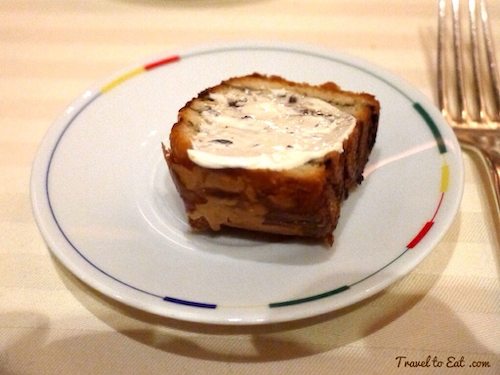 The artichoke soup with black truffles and shaved parmesan is his signiture dish. Just as important is the warm brioche layered with black truffle and topped with truffle butter that is meant to be dipped in the soup. Apparently the soup is made without cream or milk, simply thickened with truffle juice. The layers of earthy flavor cannot adequately be described with words. When you dip the brioche you get a truffle party going off in your mouth.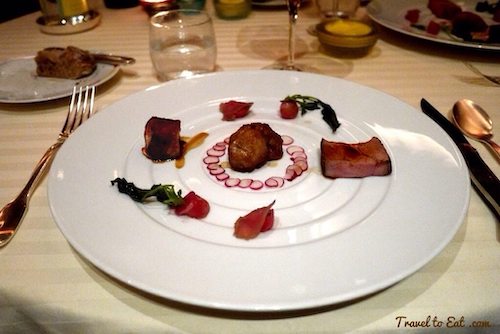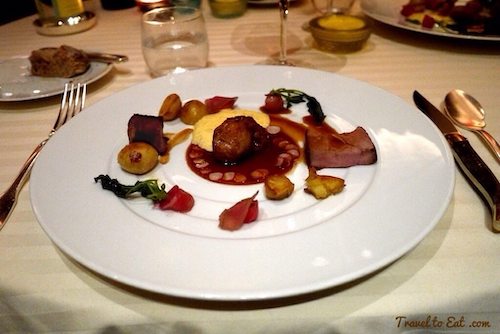 This is the second dish of the "turf and surf" was morsels of veal served three ways. To the right is veal tenderloin, veal sweetbread in the center and veal cheek to the left. This is surrounded by finely sliced radishes, new potatoes, a veal reduction and a veal foam. Everything was cooked perfectly, the sweetbread was crispy on the outside and creamy inside all of it could be cut with a fork.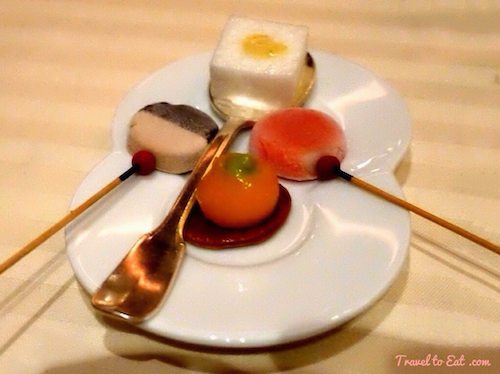 As an amuse-bouche prior to desert they brought out this plate with a spoon containing an elegant marshmallow and a little tarte. They handed us each two lollipops which I placed on the plate to take the picture. Surprisely, the lollipops were perfectly soft and delicious. It takes a lot of technology and planning to get each of these plates just right.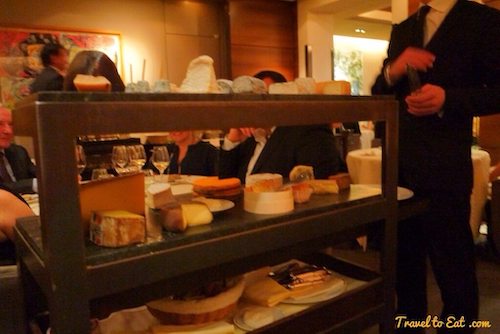 The aged cheeses came next, a large cart of just about every conceivable cheese. I had Camembert, Brie and Blue cheese, they offered an apricot bread that went perfectly with the cheese.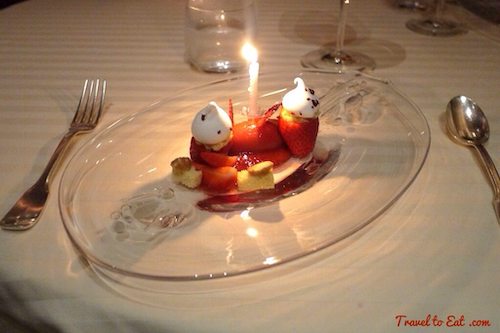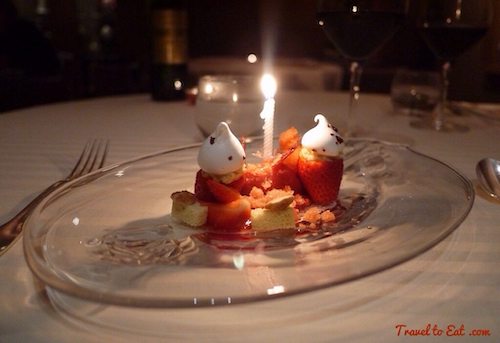 Since it was my birthday, the staff kindly put a birthday candle in my strawberry desert. This is deconstructed strawberry shortcake with strawberries served in just about every conceivable way. A quenelle of strawberry gelato sits on top of a sweetened strawberry purée (essentially homemade strawberry jam) with dried strawberry chips and sprinkled with a coarse strawberry granita. The deconstruction continues with little cubes of shortcake and two small meringues sitting on top of strawberries stuffed with ganache. Aside from all of the techniques used to make it, it was delicious.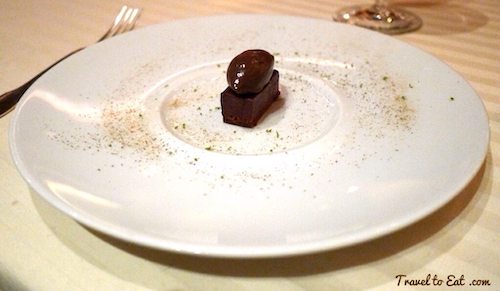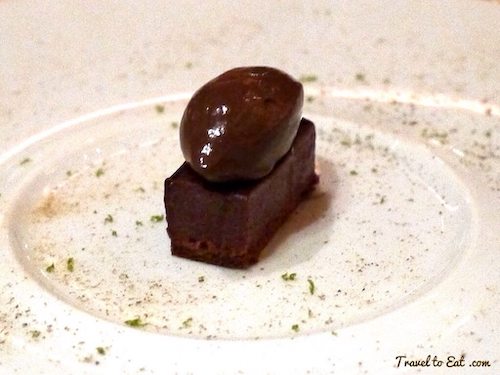 Just as I was trying to make an exit for home so I could loosen my pants, they brought out this lovely quenelle of chocolate/pepper gelato on top of a chocolate brownie with lime, surrounded by ground pepper and lime zest. They call it "All Black". I think I tasted the black pepper and lime, it certainly was one of the best chocolate deserts I have ever eaten.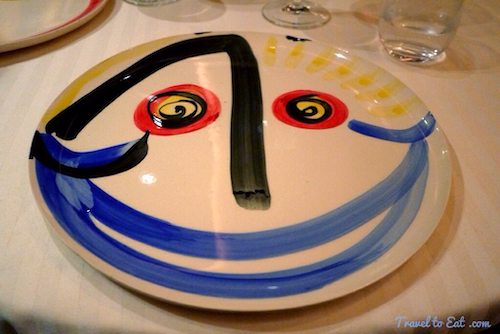 Lisa loved this cheerful charger they brought out at the end of the meal.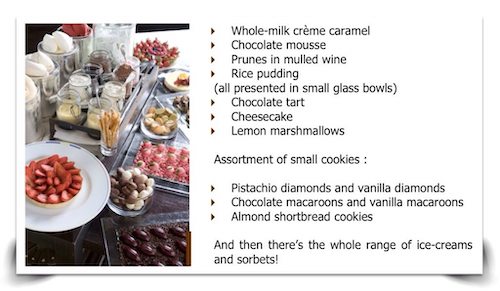 As if all of this was not enough, they wheel out the desert cart after the meal filled with enough calories to support an army. Thinking back, I probably should have tasted something but we were both stuffed. Thankfully they called us a cab and tucked us safely inside.
So what was the bottom line on the restaurant? We have been to many restaurants over most of the world and I can honestly say this was one of the best if not the best place we have ever eaten. It is not inexpensive but compared to other Michelin restaurants I believe it is a good value. The food is sourced locally and the ingredients are all high quality. I found the dishes playful and the technical expertise is demonstrated by my long winded attempts to even describe them. The service was the absolute best I have ever had. At one time we counted ten staff members in our dining room alone. Each had a task and they functioned perfectly together as a team. Yet, we were treated as if Guy Savoy had invited us to his home for dinner, they were unfailing friendly and helpful. In a sense, it is really true that eating in this intimate restaurant, surrounded by art hand-picked by Guy Savoy, is like eating at his ideal home. I cannot imagine a better way to spend my 60th birthday and I thank Guy Savoy and his wonderful staff for an unforgettable night out.
References:
Guy Savoy Menu: http://www.guysavoy.com/guysavoy/mobcarte
Guy Savoy Dossier: http://www.guysavoy.com/assets/dossier_presse_guysavoy_en-bab36fa670dd105deb78f797e5bd8554.pdf
Guy Savoy and the Pea: http://iamthereforeicook.blogspot.fr/2009/06/guy-savoy-and-pea.html