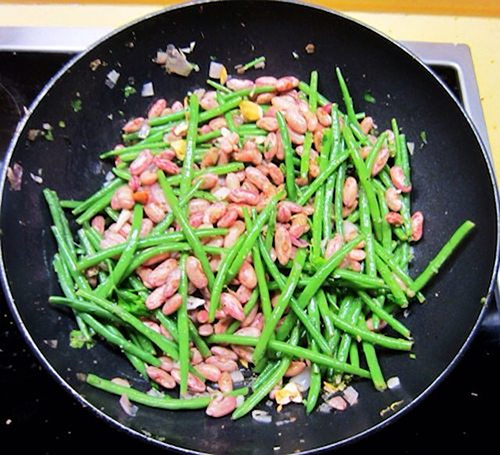 In a previous post, I mentioned that I had bought some fresh haricot a ecosser (cranberry shelling beans) and that I was going to make a salad with them. In the US we don't usually get them fresh, usually they are dried, canned or frozen. I started with about a 1 cup of haricot a ecosser, and put them in lightly salted boiling water for about 30 minutes, until they were cooked but still firm. I drained them and put them aside. I then blanched a handful of green beans (about 3-4 minutes in the same water) and drained those. While those were cooking, I sautéed two shallots and two cloves of garlic in about 1/4 stick of butter. I then tossed in the beans as seen above, and added the zest of 1/2 lemon and about 1/8 cup slivered green almonds. I cooked for about 5 minutes and put them in the refrigerator to chill.
While those were chilling, I sautéed 2 additionaI shallots and cloves of garlic in olive oil. I took about 1/2 kilo of fresh lamb that I got from the local butcher and threw those into the pan with olive oil, salt and pepper to brown. I added two teaspoons of herbs de Provence, a liberal amount of fresh cilantro cut by chiffinade and the remaining zest from the lemon. When they were close to done, I added the juice from 1/4 lemon, took the chilled bean salad out and used 1/4 lemon juice on that as well.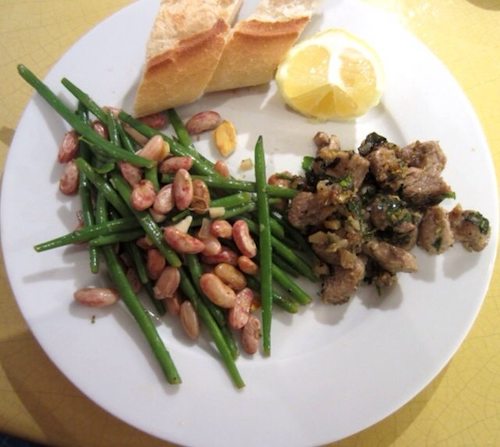 The final result is seen above. This is a really easy dish to make and pretty yummy. This is meant for two people, although I had some bean salad left over. You can use other kinds of beans and even add asparagus and/or cherry tomatoes if you like. Try to get firm beans if you can, I think Garbonzo beans would be good. You don't have to use green almonds, I had them and the taste is very nice. The cold and crisp green beans with the al dente cranberry beans are really good, especially on a hot day (we had it with cold beer). Make the recipe even larger and take it to a potluck picnic.