« Back to Glossary Index
If separate staminate (Male) and carpellate (Female) flowers are always found on different plants, the species is called dioecious. Thus a dioecious plant species reproduces with separate male and female plants.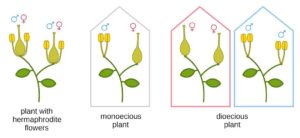 Merriam-Webster Online Dictionary
dioecious
(
adjective
)
1.
having male reproductive organs in one individual and female in another
2.
having staminate and pistillate flowers borne on different individuals
« Back to Glossary Index