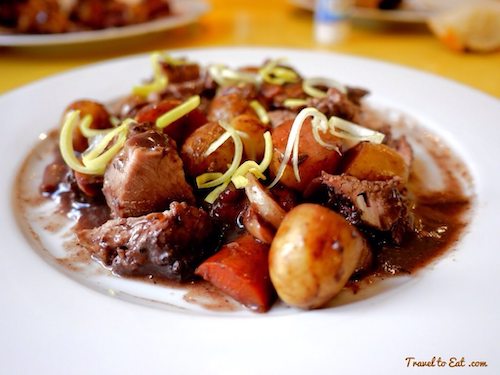 Since we are in Paris, we eat a lot of lamb. France is a very important destination for Irish lamb, accounting for approximately half of their exports, or about 23,000 tons of lamb in 2009. The majority of lamb imported into France is traded through the Rungis market in Ireland, and Irish lamb prices in France are usually quoted based on what they are selling for on the Rungis market. Fifty percent of British lamb production goes to France. The French and Britons are the highest consumers of lamb in the European Union accounting for 50% between them. In any case, high quality lamb is readily available here and I decided to make Gigot d'Agneau (leg of lamb). It turned out so well I decided to post the simple recipe.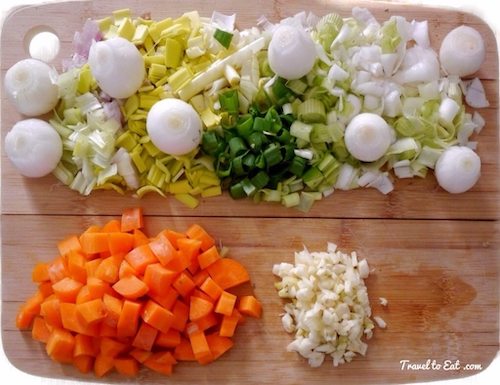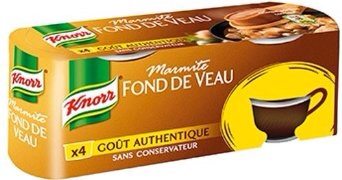 Ingredients (serves 4 generously):
2 kg leg of lamb
2 carrots roughly diced
6 cloves of garlic finely diced
2 leeks diced
2 shallots diced
6-7 pearl onions
1 dozen new potatoes
2 tablespoons Herbes de Provence
1 tablespoon olive oil
1 Knorr Veal Stock Pot
1/2 cup good Red Wine
Salt and pepper
Several sprigs of fresh thyme
Bay leaves
Parsely
Directions:

Preheat the oven to 220 C or 425 F. I made a bouquet garni from one of the outside leaves of the leek and wrapped my thyme, bay leaves and parsley inside. I then tied it all up with string. I cut the new potatoes in half and put them in a plastic bag with olive oil and one teaspoon of Herbes de Provence and shook them to coat them with oil ands herbs. I find this is the least messy way to get this done. I used several different kinds of onions because they are easily available here in Paris, and I really like leeks but you can use plain onions. I greased my glass baking dish, added the onions on the bottom, along with the bouquet garni and added the veal stock (you can leave it out if you can't find it). I find that the Knorr veal stock really adds flavor to the dish, but it may be hard to find in the US. I covered the lamb with salt and pepper and placed it in the pan with the potatoes, carrots and onions. Fill the pan half way up with a good red wine or about 1/2 to 3/4 cup.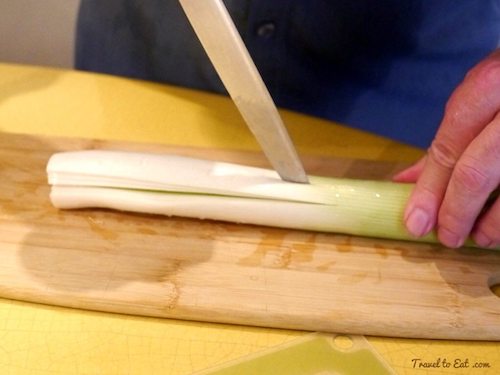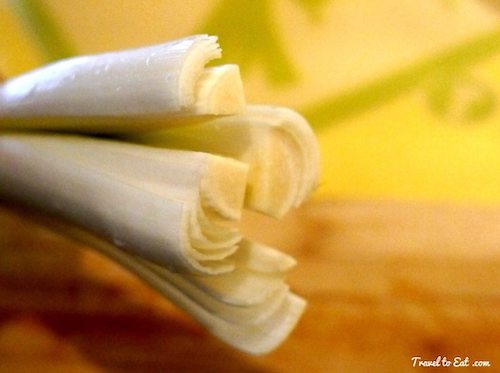 I thought I would add a tip on dicing leeks. Cut off the end with the roots and then cut lengthwise through the entire white part of the leek. Turn it ninety degrees and make another lengthwise cut, the leek will now be cut in quarters and simply slicing it up crossways will result in diced leeks.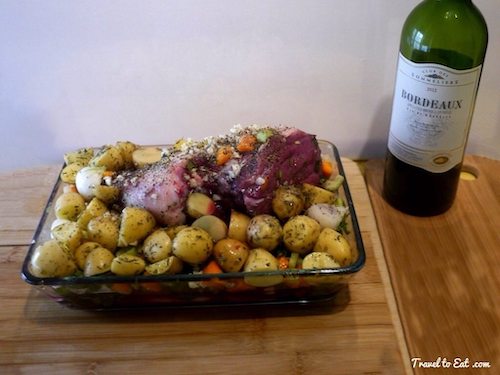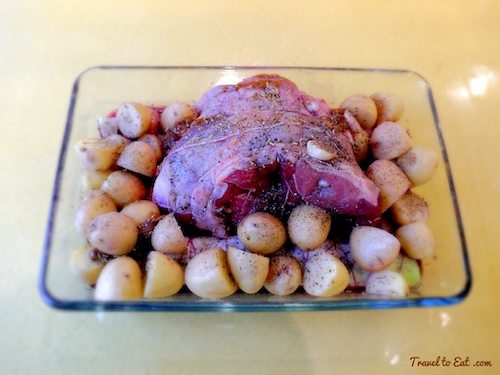 Place in the oven at 220 Celsius (425 Fahrenheit) and cook according to the amount of lamb. It takes about 30 minutes for 1kg (2.2 lbs), 40 minutes for 1.5 kg, and 50 minutes for 2 kg (4.4 lbs). Turn the lamb half way through cooking. When it is done, take the lamb out and cover with foil to rest. Remove the bouquet garni. Reduce the remaining fluid along with the carrots, potatoes and onions to make a delicious sauce. I personally just do it in the baking dish to save on dishes. I do not use flour or cornstarch to thicken, I think it leaves a funny taste, I just reduce down.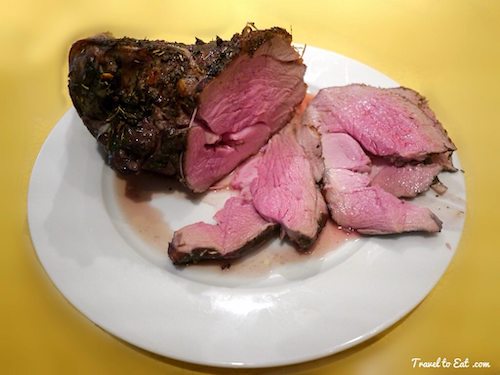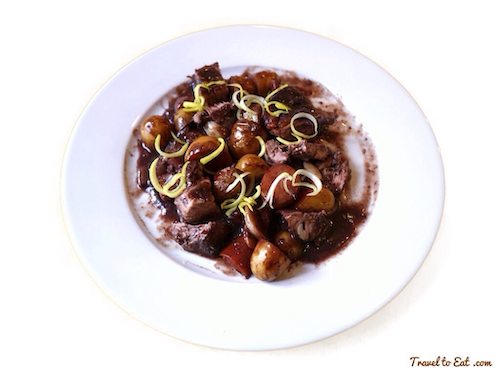 Garnish with some finely cut leeks and enjoy, this is really delicious. The recipe is sort of a take on beef bourguignon but with lamb. We have made this several times and it has always turned out well; hope you enjoy. This is an easy recipe that comes together in one dish in about an hour. You can use a Burgundy red wine but since we are in France, Bordeaux is lighter and just as inexpensive.