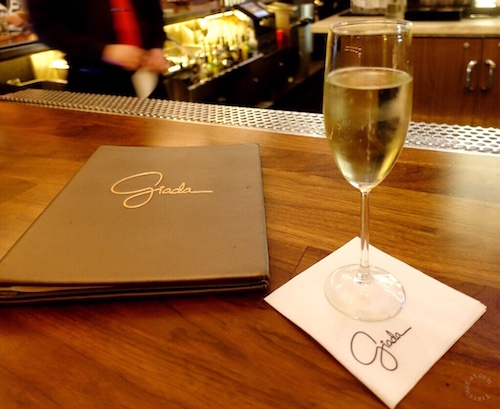 The current Cromwell Casino has a long and interesting Las Vegas history. Bugsy Siegel opened The Flamingo Hotel & Casino at a total cost of $6 million on December 26, 1946 right next door. Billed as "The West's Greatest Resort Hotel," the 105-room property and first luxury hotel on the Strip. He refused to buy the thin slice of land separating the Flamingo from the famous intersection of Flamingo and the strip. The Flamingo became the Flamingo Hilton in 1971 and the Flamingo Las Vegas in 1999. The thin slice of land was the site of Empey's Desert Villa from 1952. Over time, this property, along with others owned by Gaughan would become "The Barbary Coast". In July 2005, the Barbary Coast was bought by Boyd Gaming and sold to Harrah's Entertainment in 2007, rebranded as Bill's Gamblin Hall and Saloon. Plans announced in late 2013 indicated that Giada De Laurentiis would open her first restaurant in the new hotel and that Caesars would run the hotel. The 260-seat restaurant, Giada, from De Laurentiis, her first such venture has taken over the second-floor space that once housed a hotel parking garage. Giada is open daily for breakfast, lunch and dinner and offer views of the Strip, the Bellagio fountains, Caesars Palace and Bally's Grand Bazaar Shops. Along with the venerable after hours club Drai's, Giada forms the the nucleus of offerings at the Cromwell. It doesn't hurt that the second floor Giada has killer views of the Bellagio fountains with floor to ceiling windows.
The Cromwell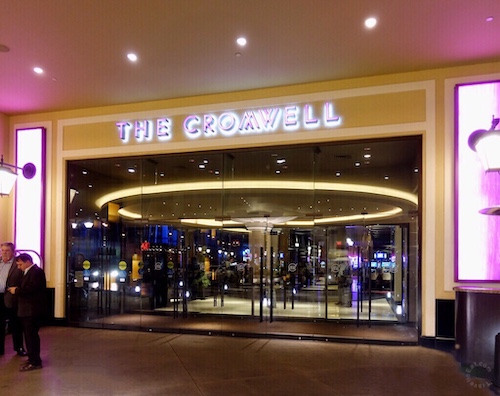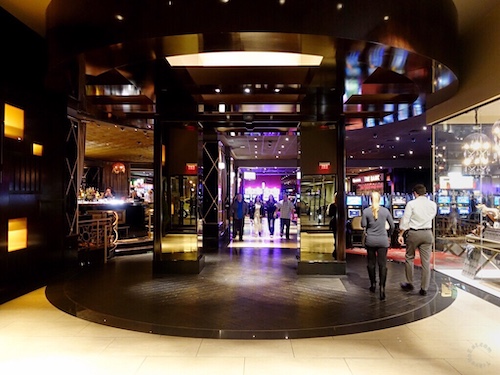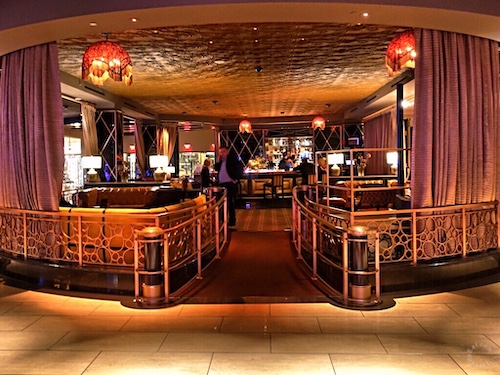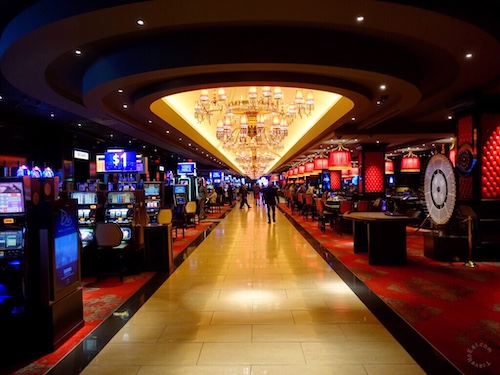 The Cromwell, renovated at a cost of $185 million, was converted as a planned outpost of the New York-based Gansevoort Hotels chain of boutique luxury hotels, with 188 rooms, a 40,000 square foot casino, and a 65,000 square foot indoor/outdoor beach club/nightclub overseen by Victor Drai. In October 2013, however, the agreement with Gansevoort was terminated, and Caesars said that it would continue the redevelopment of Bill's without the Gansevoort name. The move came after Massachusetts gambling regulators recommended denying Caesars a license for a proposed casino at the Suffolk Downs racetrack, due to alleged connections between Gansevoort investor Arik Kislin and the Russian mafia. As you can see from the photos above, the renovation looks great indoors although the exterior and signage leave something to be desired.
Giada Restaurant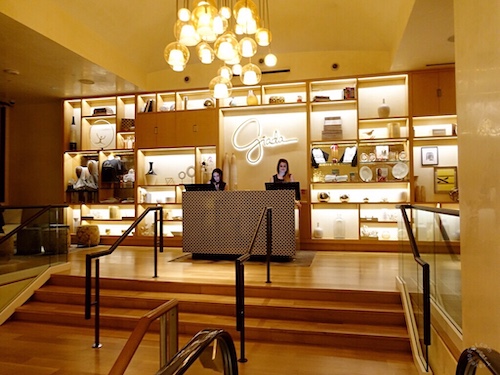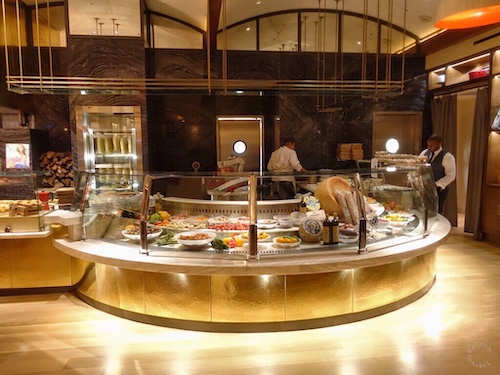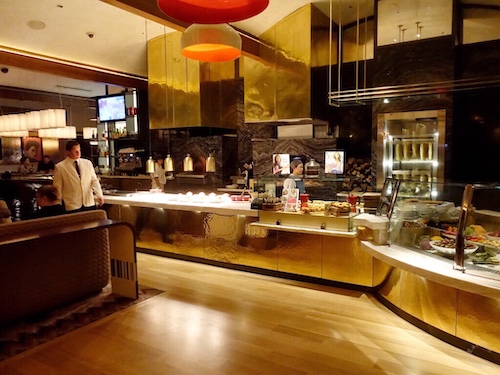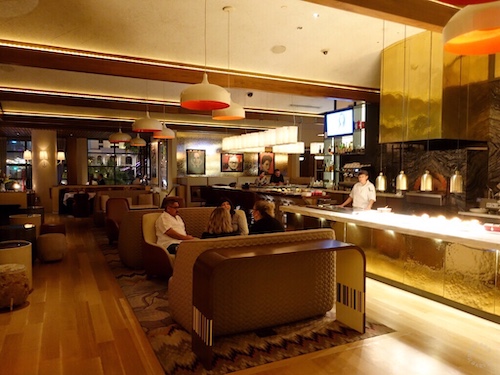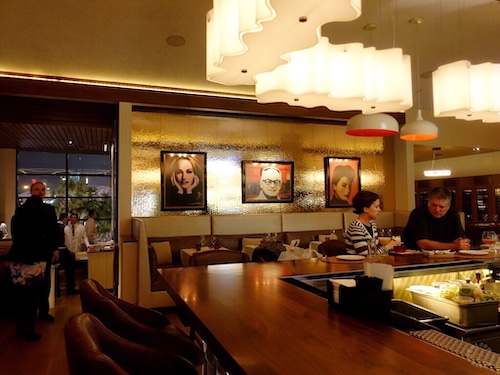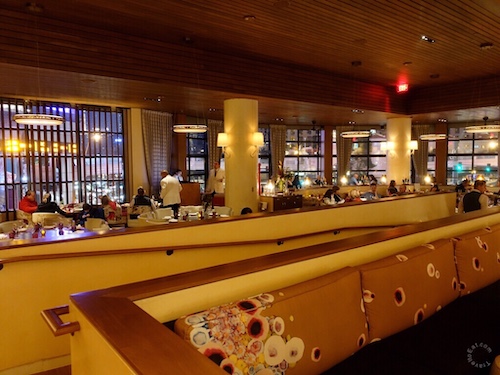 Although I must say, Giada's toothsome smile leaves me wincing, I have personally tried some of her recipes and found them authentic and quite delicious although there has been much debate on this issue. The new restaurant cost well over six million dollars to construct and seeks to invoke a feeling of a cosmopolitan California home. From the glassware to the tiles to the chairs and textiles, De Laurentiis had a hand in choosing everything. The entryway of the restaurant, complete with a kiosk/shrine of cookbooks and tourist paraphernalia for sale, leaves no doubt that you have entered the California/Italian world of the commercial "Giada of the Food Network". "Giada" is stenciled on a large pink canvas that hangs on a wall. Her words, familiar to her television audience, are even repeated in six chandeliers around the dining room, cut out in silhouette so that light beams from behind: "I eat a little bit of Everything and not a lot of Anything." Behind the bar is a poster of the sci-fi film "Barbarella, which her grandfather "Dino" De Laurentiis produced. Many other posters of his movies are on the kitchen walls. In May 2014, two weeks before Giada was scheduled to serve its first meal, Ms. De Laurentiis fired her executive chef, Arturo Moscoso. As of October 2014, Vincenzo Scarmiglia has taken over the job of executive chef at Giada. He was executive chef at Siro Ristorante at the Aria Casino from 2009-2013 and Fiamma Tratoria in the MGM from 2013-2014.
Giada Restaurant Food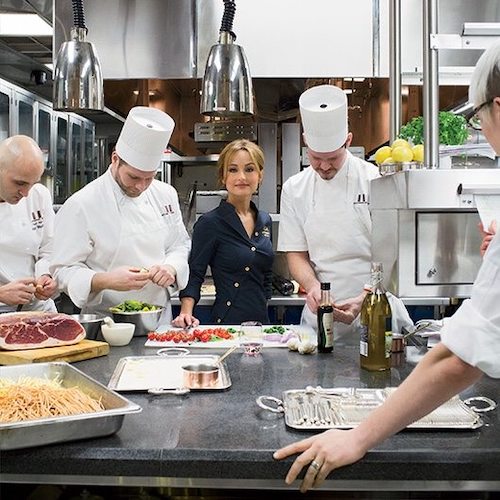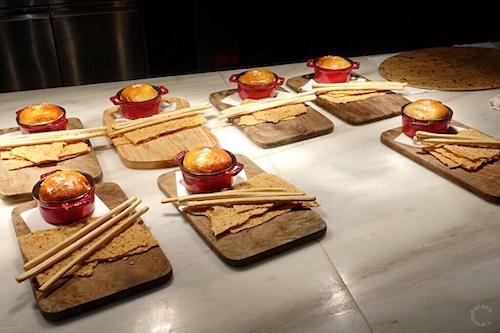 The Giada menu is "Italian cuisine with Californian influences", including "lemon spaghetti, chicken cacciatore, marsala herb chicken meatballs, rosemary focaccia, lemon flatbread and vegetable Bolognese rigatoni". Family-style, vegan, and gluten-free options are also available, as well as an antipasto station. Restaurant guests can watch chefs prepare food from the "open kitchen" although most preparation seems to occur behind closed doors. I was rather taken with the appearance of the Le Creuset red petite cocotts but the focaccia that filled them was rather less so, I prefer my focaccia more dense and I tasted no Rosemary, maybe a California thing. Also, I really could not taste the lemon in the flatbread. Each table is served one of these boards of warm rosemary focaccia, Parmesan flatbread and Grissini (bread sticks) with lemon mascarpone butter, pesto, chile flakes and salt.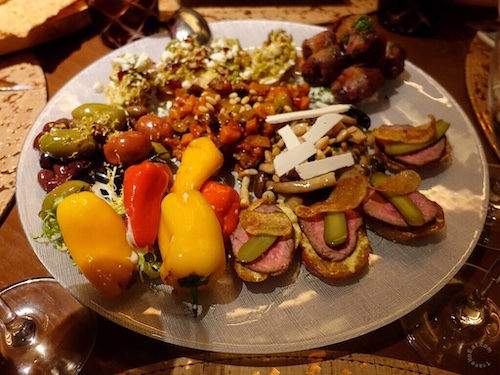 I invited my good friends Lou, Steve and his significant other to celebrate the New Year with me at Giada (Lisa could not attend). I have made a New Years resolution to sample more of the celebrated restaurants in Las Vegas and our son Matthew had given a "thumbs up" for Giada. We began with a platter of antipasti, named appropriately "Giada's Favorites". Among the individually priced items were baby peppers stuffed with goat cheese (the best of the plate), marinated olives, wood roasted wild mushrooms (no taste of the smoke or wood), caponata (Sicilian sweet and sour version of ratatouille), cipollini agrodolce (sweet and sour onions), bacon wrapped dates with spicy Italian sausage & gorgonzola crema (very dry and I did not see the crema), Finocchiona salami, Prosciutto de Parma, Gorganzola dolce and I think seared tenderloin with madras curry aïoli, potato chip and pickle. As antipasti go, these were just good, perhaps a little inconsistent for pretty basic Italian starters and really not enough for four people.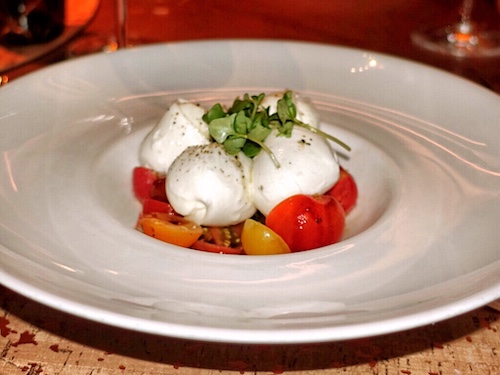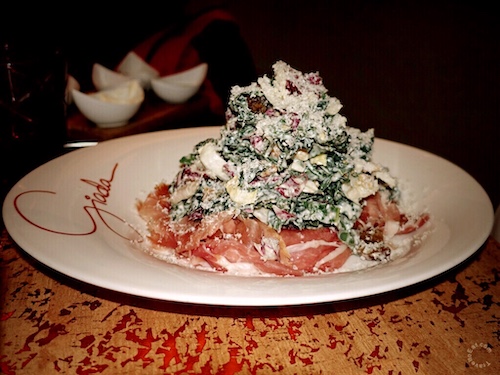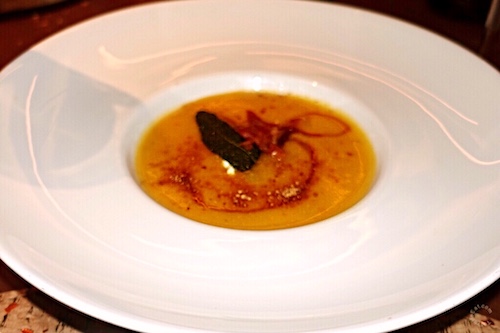 For appetizers, we decided on the butternut squash soup (very good but tiny portion), Tricolore salad with Prosciutto, Gorgonzala, Dates, Walnuts, Tuscan Kale, Yellow Endive and Radicchio (huge but overdressed) and the Caprese Salad with cherry tomatoes (good but small). I like beefsteak tomatoes with a Caprese salad and I usually get them three to four times bigger. Plating seems to be the point, with beautiful colors but very small portions. As a photographer I can appreciate the sumptuous appearance of the dishes but as a diner there was just not enough food.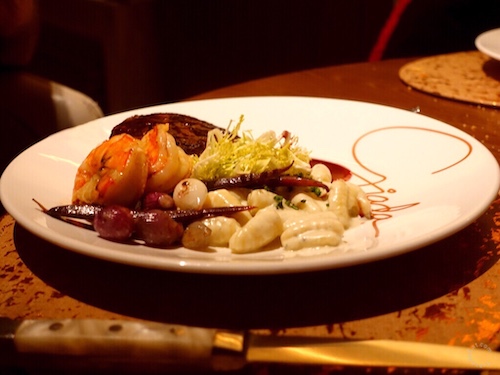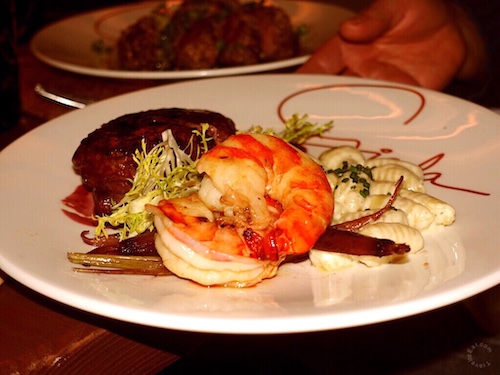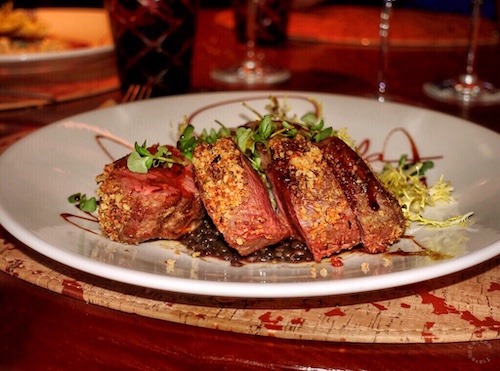 For the main courses two of us had rack of lamb which was served on a bed of lentils and was expertly cooked while the others had "surf and turf" with gnocchi. The surf consisted of two rather small shrimp/prawns and a well cooked small 7 oz filet. I tasted the gnoichi and they were light and fluffy, obviously made by hand with a fork, unfortunately not enough of them. Not a huge thing but the smallest filet I have ordered was 8 oz and I usually get one larger than that. I will say, the lamb chops were among the best I have ever had and the serving size was perfectly appropriate.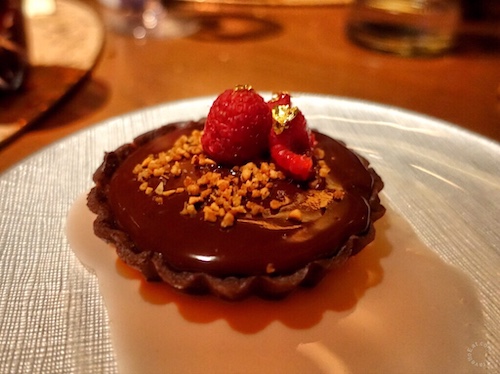 For desert we had the chocolate tart with decaf expresso. The desert was the best part of the meal. I would have had the Zeppoles but I don't think they were on the menu that evening although I could be mistaken.
Summing Up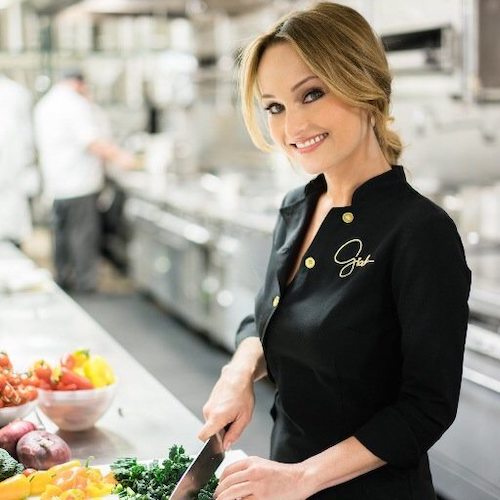 So, you ask, what is the bottom line? If you like/love Giada on the Food Network, this will be like a trip to Disneyland with tons of stuff and quite possibly Giada herself reminding you that you are actually eating in her well appointed restaurant. They even have a free photo booth to commemorate your visit with selfies that spits out three images with Giada in the foreground and with the Giada's signature at the bottom. The restaurant served more than 260,000 visitors in its first year (that is a lot…lol). For the rest of us, the experience is more of a mixed bag. The restaurant is expensive, even by Las Vegas strip standards and that is saying something. The portion sizes are tiny on some dishes and only adequate in (only a few) others, perhaps explaining Giada's tiny figure. The food itself is really good in some dishes like the rack of lamb but not consistent (as in the "Wonder Bread" Rosemary focaccia) and certainly not memorable. The service is polite but only just, they seem more intent on running up the bill than providing real satisfaction. Giada is a restaurant with beautiful decor, a gorgeous view, exceptional products, a more than competent chef and server staff but saddled with a celebrity chef lending conflicting direction from the top. I might eat here again but only for an expensive drink and hors d'oeuvres to admire the lovely view. For this particular review I am really soliciting comments, let me know what you think.
References:
Giada Restaurant: http://www.giadadelaurentiis.com/vegas/
Giada Menu: https://www.caesars.com/content/dam/dlv/Giada/Menus/GiadaFallWinterMenu%2011.16.15.pdf
Trip Advisor: http://www.tripadvisor.com/Restaurant_Review-g45963-d6698355-Reviews-Giada-Las_Vegas_Nevada.html
NY Times: http://www.nytimes.com/2014/08/13/dining/you-dont-need-to-tell-them-giada-sent-you.html
LA Times: http://www.latimes.com/food/dailydish/la-dd-giada-at-the-cromwell-20150327-story.html
Food and Wine: http://www.foodandwine.com/blogs/2014/04/08/giada-de-laurentiiss-ambitious-new-las-vegas-restaurant
Chef Vincenzo Scarmiglia: http://www.travelsintaste.com/sirio_maccioni__exclusive_interview__vincenzo_scarmiglia-listing2437.aspx
Taleggio Cheese: http://www.cheese.com/taleggio/
Finocchiona: http://italianfood.about.com/od/italianmeatrecipes/ig/Salumi–Italian-Cold-Cuts/Finocchiona–made-with-fennel.htm
Coppa: http://www.salumicuredmeats.com/story/salumist/coppa.htm
Bresaola: http://andhereweare.net/2014/02/make-bresaola.html/
Bacon Wrapped Dates: http://www.giadaweekly.com/issue15/Bacon-Wrapped-Dates-with-Parmesan-recipe