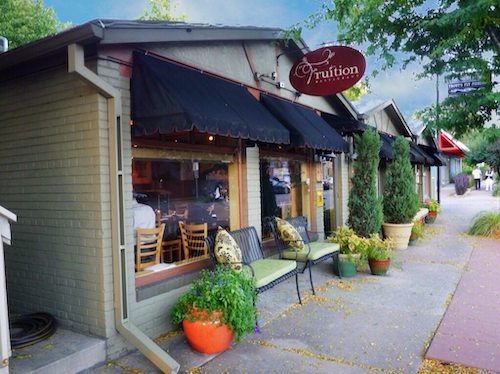 We wanted to take my parents to a very good restaurant in Denver, so Lisa did some research and came up with Fruition, the number one rated restaurant in Denver and rated one of the ten best new restaurants in America. Chef Alex Seidel, named as one of the Best New Chefs in 2010 by Food & Wine and 2013 nominee for the James Beard award, teams up with maitre d' Paul Attardi at this upscale restaurant in the Country Club neighborhood of Cherry Creek. Serving seasonal comfort food with a flair for plating, Chef Seidel has produced signature dishes like the Maple Leaf Farms duck breast served with carnaroli risotto as well as grilled arugula that is grown on the chef's farm. It is also convenient to downtown on east sixth avenue.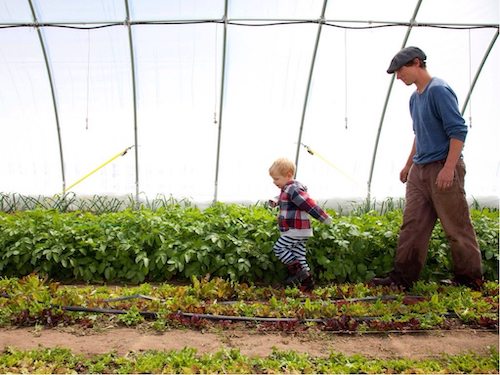 In May of 2009, Alex Seidel purchased a 10-acre farm just south of Denver in Larkspur, CO. A partnership with Josh Halder from Verde Farms included the vision to create a learning center and a sustainable relationship between farm and restaurant. In November 2009, the vision began to grow. Former Fruition Restaurant Sous Chef, Jimmy Warren, joined the "Farm" which helped to solidify the foundation and direction that has taught many in the community and local restaurants the fundamentals of farming produce, animal husbandry, and the creation of artisanal products. This local sourcing "farm to table" represents the best practice for great restaurants around the world. Today they provide greens to 25 restaurants. They also have chickens laying fresh eggs, and are working on a sheep dairy project with a cheese-making room.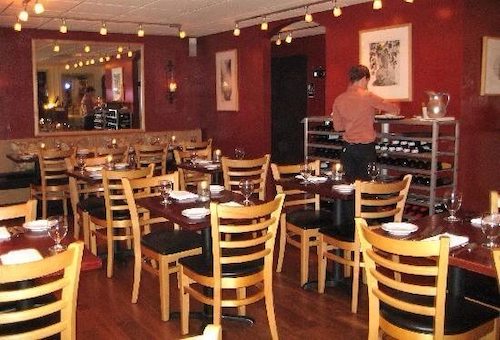 The interior is small but comfortable. The night we were there it was packed, be sure to make reservations.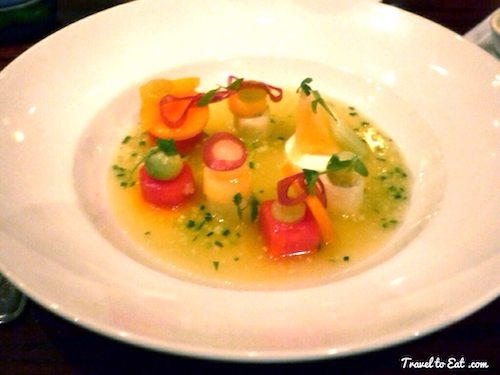 We began with a Rocky Ford Melon Gazpacho, with Blue Crab and Melon Cannelloni, Sheeps Milk Yougurt Panacotta and Finger Limes. This dish was a work of art with inventive plating and delicious to eat. My father used to work out at Rocky Flats, it brought back fond memories.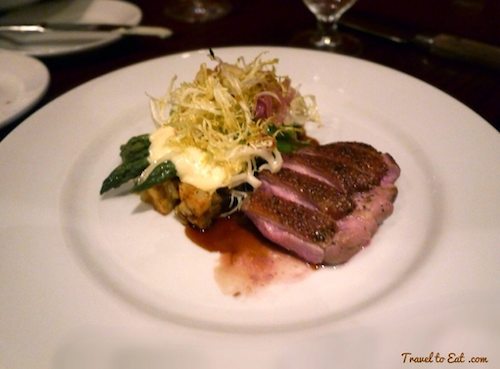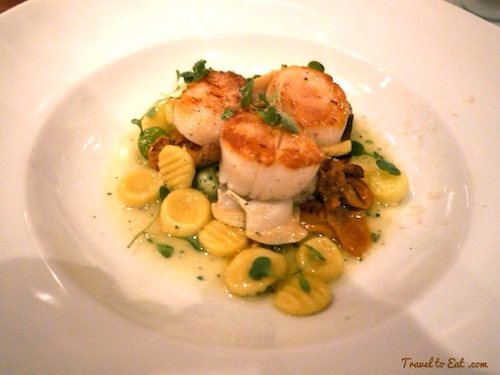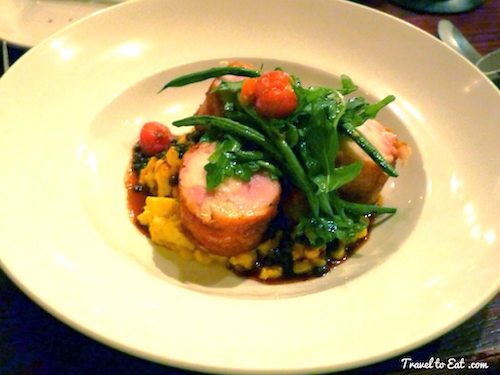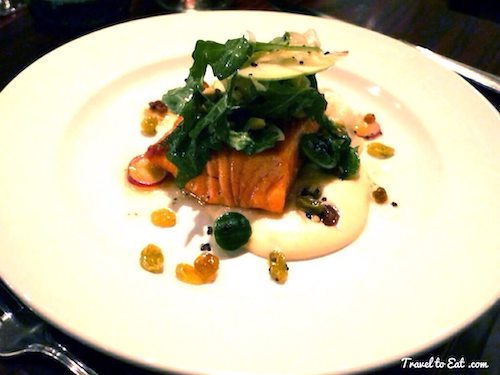 For our plats my father ordered the signiture Maple Leaf Duck Breast with Duck Confit and Potato Hash, Poached Asparagus with Preserved Meyer Lemon Hollandaise and Duck Crackling Salad. I ordered the Pan Seared Diver Scallops with Orecchiette and Little Clams Vongole, Squash, Roasted Chanterelles and Cured Foie Gras Powder. Orecchiette is a kind of home-made pasta typical of Puglia or Apulia, a region of southern Italy. Its name comes from its shape, which reminds one of a small ear. Vongole means clams in Italian, and often refers to Palourde, or carpet-shell clams, vongola verace. Spaghetti alle vongole (spaghetti and clams) originated in Naples and is very popular throughout the surrounding Campania region in addition to Rome. In America small cherrystone clams are often substituted. Lisa had the Fruition Fried Chicken with Olathe Corn Spoon Bread, Grilled Haricot Vert and BBQ Black Lentils. Mom had the Pan Roasted Loch Etive Steelhead with Celery Root Crema, Cripy Quinona, Granny Smith Apple and Fennel Salad and Red Grape Ver Jus. Fruition prides itself on serving comfort food and these dishes were perfectly cooked, beautifully plated and a joy to eat. My scallops were cooked perfectly, the duck was pink with a beautiful crispy skin, the "fried chicken" was a surprise but had the comforting and delicious flavors of Parisian chicken and the Loch Etive Steelhead was tender, moist and delicious.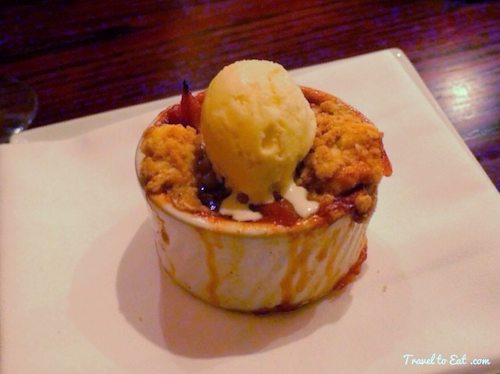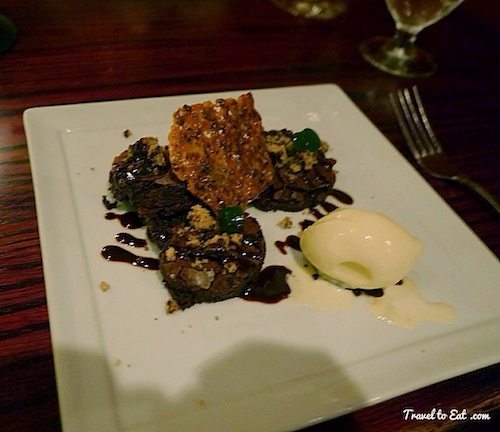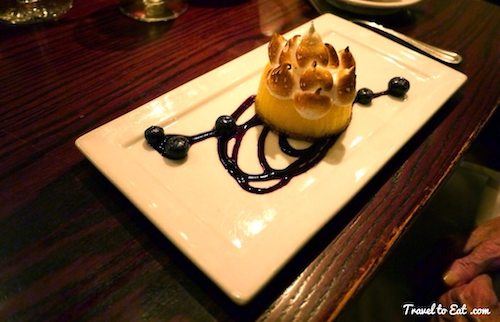 For desert I had the Crème Fraîche Coffe Cake with Toasted Almond Streusel and Vietnamese Coffee Ice Creme. Lisa ordered the Palisade Peach Cobbler with Brown Butter Crumble, Buttermilk Buscuit and Vanilla Bean Ice Creme. Dad had the Mint Chocolate Brownie with Cocoa Nib Tuille, Chocolate Shortbread Crumble and Mint Ice Creme. Mom ordered the Lemon Meringue Pie with Graham Cracker Crust and Fresh Blueberry Compote. I tasted each of the deserts and all were delicious in a different way although I must admit the Lemon Meringue with the blueberries was outstanding and in a class of it's own.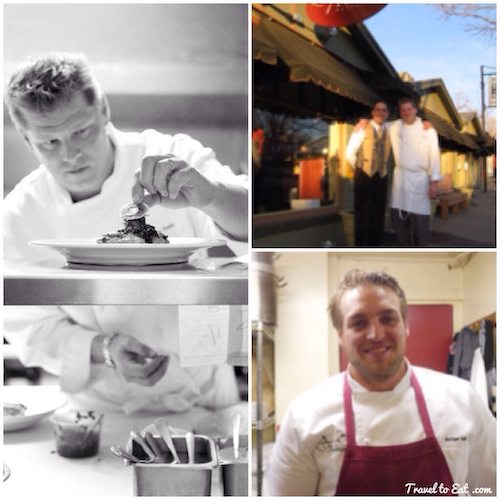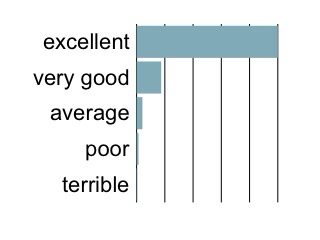 There is a reason why Fruition has been voted the best restaurant in Denver. Don't be fooled by the unassuming location this is a world class restaurant. The playful juxtaposition of international cuisines along with artistic plating puts Fruition among the top of the best restaurants we have visited anywhere. Add to this a seasonal menu based on local products, many from the local Fruition Farms and you begin to see why the restaurant is packed almost every evening. Great food in a comfortable atmosphere, excellent service and an adequate wine list. Chef Alex Seidel is to be commended in putting together a great restaurant and a farm in such a short time and of all places in Denver. In many ways this invites favorable comparison to the French Laundry of Chef Thomas Keller, a comparison that I am sure will improve over time. If you are visiting Denver and love great food you must visit Fruition. We go to Denver a few times a year and we will be back.
References:
Fruition Website: http://fruitionrestaurant.com/
TripAdvisor: http://www.tripadvisor.com/Restaurant_Review-g33388-d823221-Reviews-Fruition_Restaurant-Denver_Colorado.html
Alex Seidel: http://www.foodandwine.com/best_new_chefs/alex-seidel
James Beard: http://www.jamesbeard.org/awards
Food and Wine: http://fruitionrestaurant.com/wp-content/themes/fruition/img/press/Food_Wine_July_2010.pdf