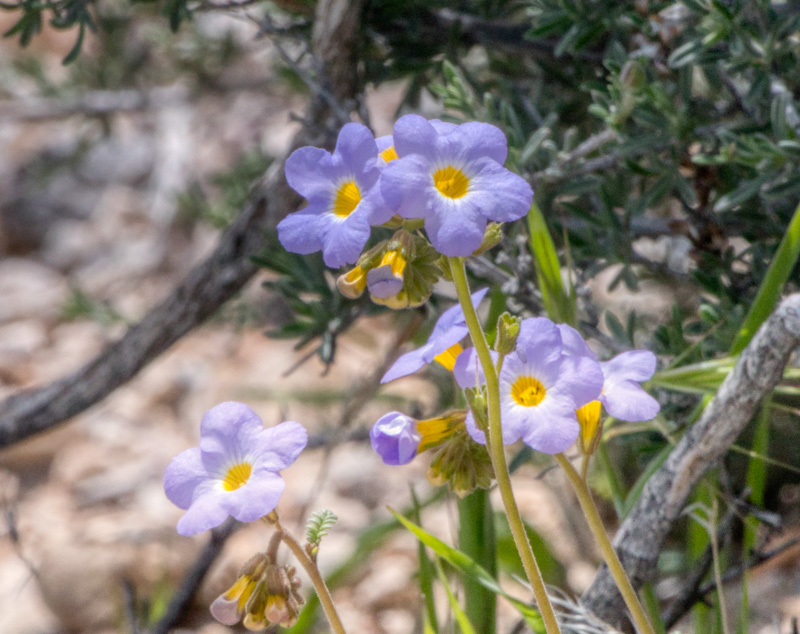 Common Names: Fremont's Phacelia
Synonyms: Phacelia fremontii
Taxonomy: Boraginaceae (Borage/Forget-Me-Not)
Habit: annual forb/herb
Size: up to 12 inches (30 cm)
Flowers: purple, yellow, white, blue
Bloom: Mar, Apr, May, Jun
Leaves: alternate
Fruit: capsule
Description:
It is hairy, and glandular toward the inflorescence. The leaves are deeply lobed or divided into rounded leaflets, 15–50 millimetres (0.6–2.0 in). Calyx lobes are about 1/4"  (3–5 mm), linear to oblanceolate, with short glandular hairs. The flower has a funnel- or bell-shaped corolla up to 1" (1.5 to 2 cm) long. It is blue, pink, or purple with a yellow throat.
Distribution: AZ, CA, NV, UT
Seen: NV (Red Rock Canyon)
Habitat: sandy or gravelly soils in several habitat types, including scrub and grassland. 2,000 to 5,000 feet