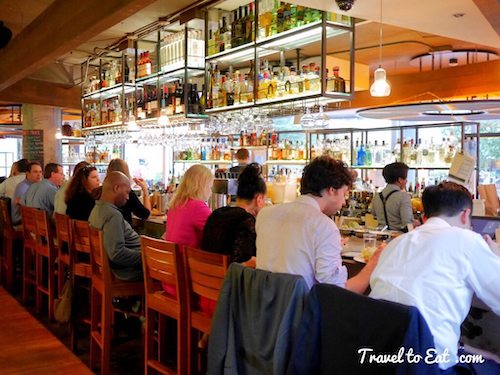 When we visited Washington DC, we had a chance to eat at Founding Fathers Restaurant. This is a very popular restaurant, usually packed, they cancel your reservation if you are more than 15 minutes late. It is a virtual institution in Washington DC for Sunday brunch. The American family farmer is truly at the heart of Founding Farmers because the restaurant is owned by genuine, hardworking, American family farmers. The Founding Farmers name represents a combination of ideas: it is a celebration of the land and the American family farmer; it is a nod to the founding fathers of our country, many of whom owned and farmed land that surrounds Washington, DC and it is a place where true, sustainably farmed, grown and harvested American foods are brought to the diners. They are a 3-star Certified Green Restaurant™ and were one of the first to earn this distinction in DC, as well as being the first LEED Gold Certified restaurant in the city. They have an intensive composting and recycling program and take conservation very seriously.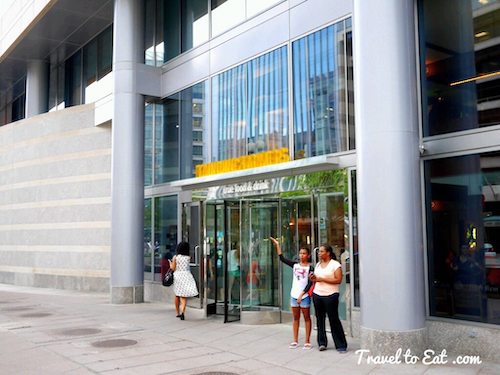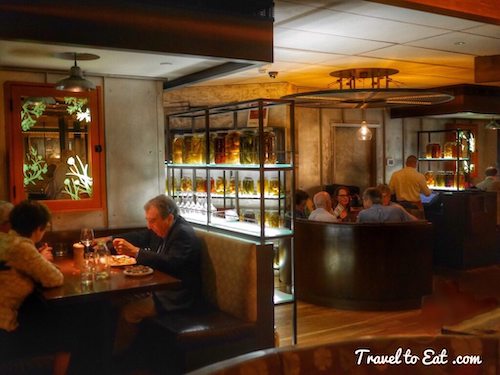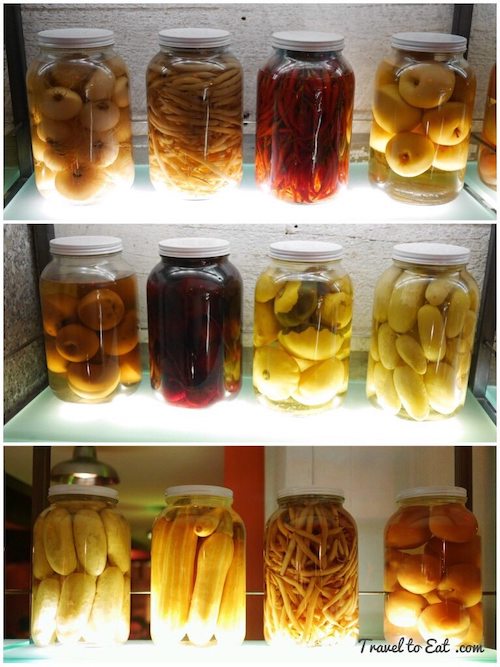 Founding Farmers' currency is Modern American comfort fare, outsize portions, mostly wallet-friendly prices, and a green sensibility with low-voltage lighting, reclaimed wood and recycled menus on two levels. Founding Farmers has one of the most unique bar programs in DC and their liquor selection is immense. Along with an amazing selection of spirits, Founding Farmers' bartenders make excellent cocktails and there is no limit to their talent. You can put yourself completely in their hands and order a "Dealers' Choice." This is where you describe a flavor profile and the bartender makes a special concoction just for you. Most items including pasta, breads, and preserves are made in-house. Massive jars of carrots, tomatoes and corn make a farm-to-table impression at the entrance, where guests can hang their wraps on tree-shaped coat stands. The menu is printed on recycled paper, we're told, and only wild, line-caught or sustainably farmed fish are offered. And among many of the other ingredients, the restaurant is owned by the North Dakota Farmers Union, are from farms, fisheries, and meat purveyors in Pennsylvania and West Virginia, some from farther afield in Maine and Wisconsin. Their new vegan menu is really extraordinary. They now offer six housemade vegan entrees that are all on the main menu.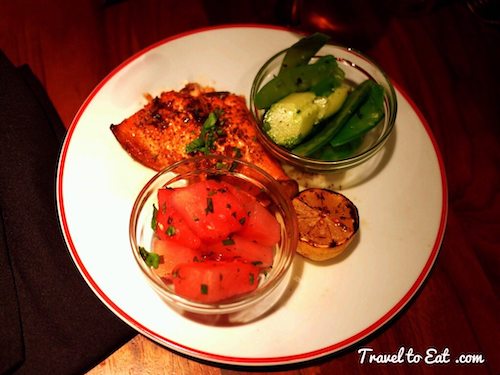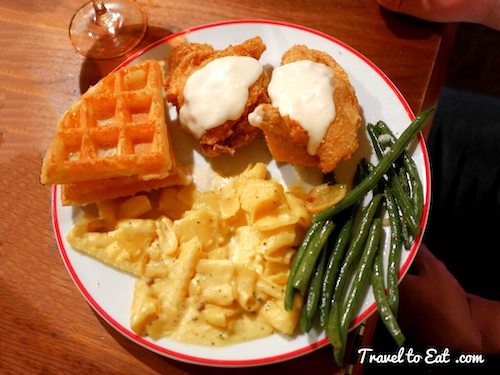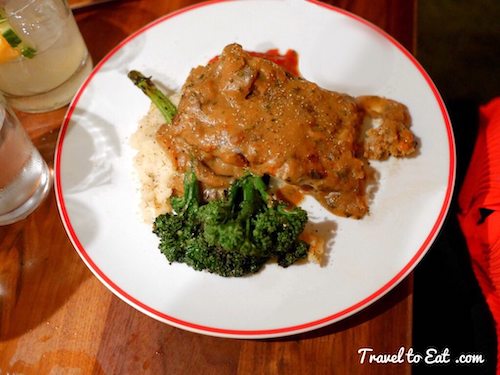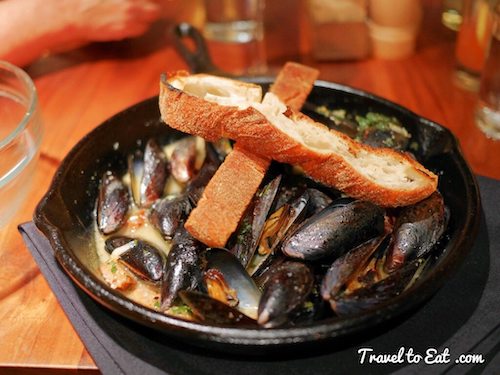 Unfortunately we did not make it for breakfast of brunch, the four of us went for dinner, probably not the showcase meal as there are a lot of sandwiches and flatbreads on the menu. The menu can be described as Modern American comfort, and the cooking, Joe Goetze is the chef, is both good and not so much. The chef indulges patrons with contemporary American cooking that includes such old-fashioned-yet-new appetizers as the deviled eggs with lobster, crab and smoked salmon. The remainder of the menu tackles other American favorites with a contemporary spin that include the chef's riff on chicken potpie and meatloaf. I had the mussels, cooked in the traditional Belgium Moules marinières with white wine and butter, which were delicious. Lisa had the meat loaf which was covered with a decadent mushroom gravy. Matthew had the fried chicken and waffles with good waffles but so-so chicken and the plating was not my favorite for this famous southern dish. Ruby chose the salmon and I personally felt it was over cooked although she liked it. The service was slow but acceptable, the prices were reasonable for a mid-tier restaurant and most people liked the restaurant. As a popular dining location in Washington DC it is definitely worth a visit but I would highly suggest that visit for breakfast or brunch.
References:
Website: http://www.wearefoundingfarmers.com/
TripAdvisor: http://www.tripadvisor.com/Restaurant_Review-g28970-d1167468-Reviews-Founding_Farmers-Washington_DC_District_of_Columbia.html
Washington Post: http://www.washingtonpost.com/gog/restaurants/founding-farmers,1153804.html
Huffington Post: http://www.huffingtonpost.com/maria-rodale/restaurant-review-foundin_b_323545.html
Washingtonian: http://www.washingtonian.com/restaurantreviews/2009/05/founding-farmers.php