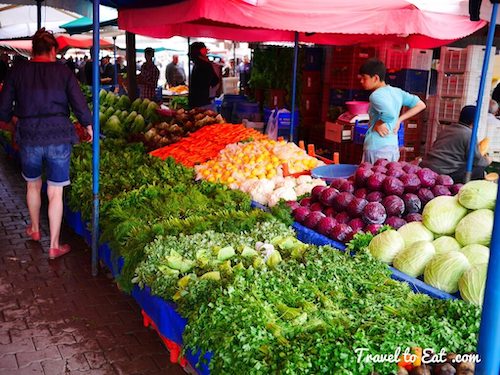 We decided to visit the "farmers market" in Nevşehir, Cappadocia. This was a really large market. Usually the market is one long aisle, here it was at least 5×5 aisles, coverering a small city block. Farmers markets are called Pazar in Turkish. More and more Turks seek out organic and sustainably farmed foods for the sake of their family's health and the health of the planet. Farmers markets in Cappadocia include: Saturdays in Ürgüp, Sundays and Mondays in Nevşehir, Wednesdays in Göreme, Fridays in Avanos. The term "farmers market" in Turkey assumes a new level of interest, with live chicks, goslings and rabbits in addition to spices and exotic fruits and vegetables. Street markets in Turkey are one of the greatest pleasures and attractions for locals and for tourists, with their bright colors and delicious mingled scents. The herb and spices stalls always attract me by the wonderful glowing rich colors of paprika, cumin, saffron, cloves, mustard seeds, fenugreek, cardamom and ginger and their heady, enticing fragrances. Strings of dried vegetables and innumerable fresh fruits and vegetables are on artistic displays.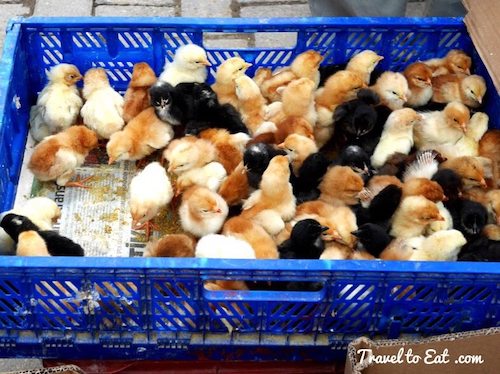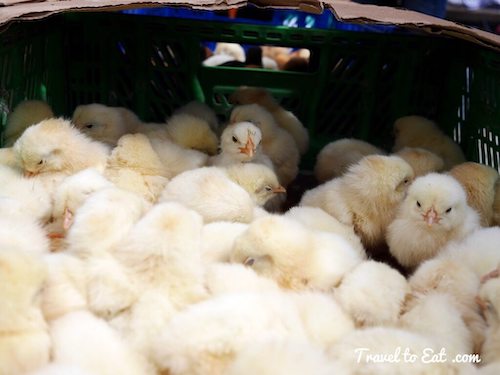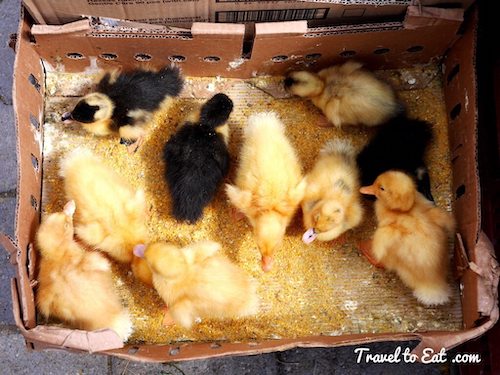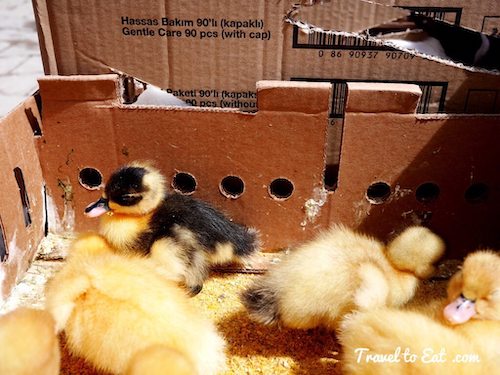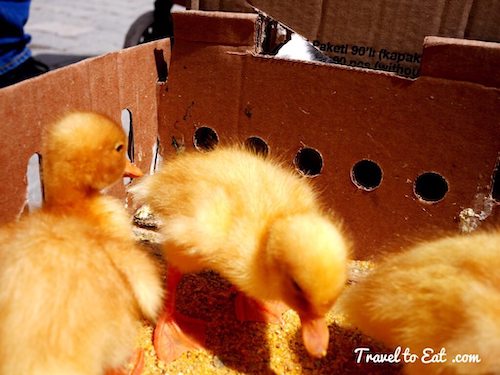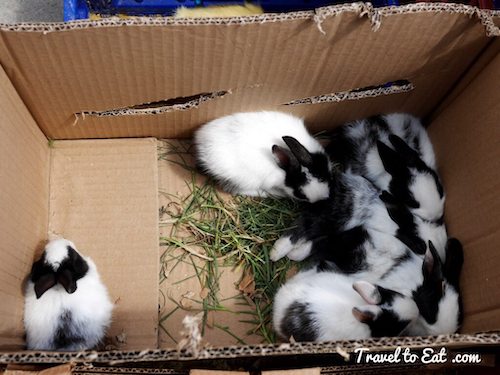 These baby chicks, goslings and rabbits were for sale but also evoked that "ahhh" reaction from passers-by. These babies reminded me of Easters gone by when we received baby chicks, ducks and rabbits. Unfortunately for the babies, I also recall that we eventually ate them for Thanksgiving, Christmas, etc.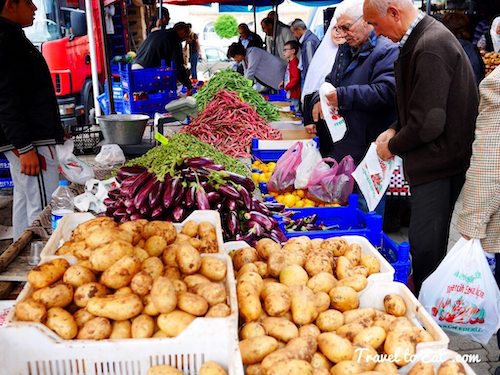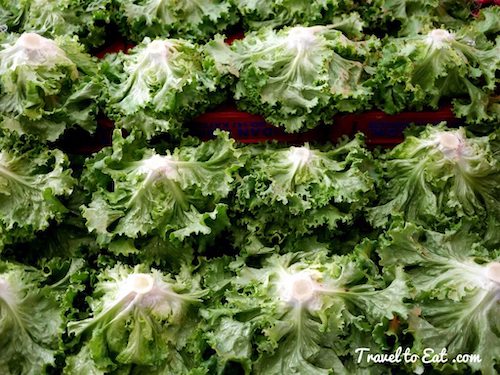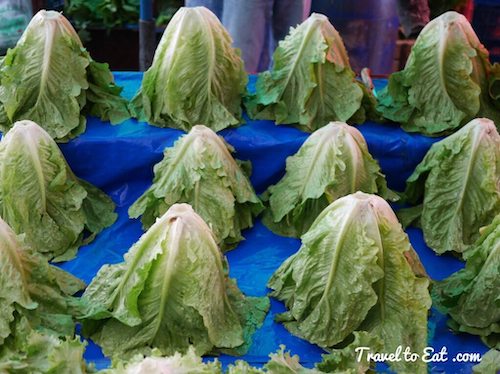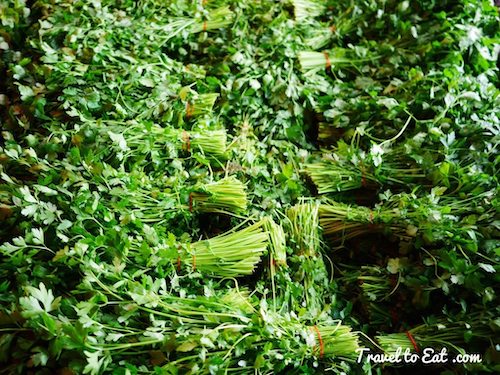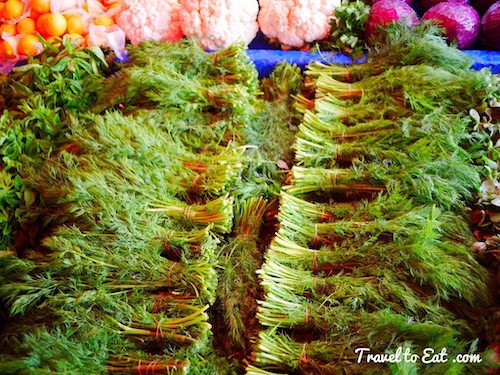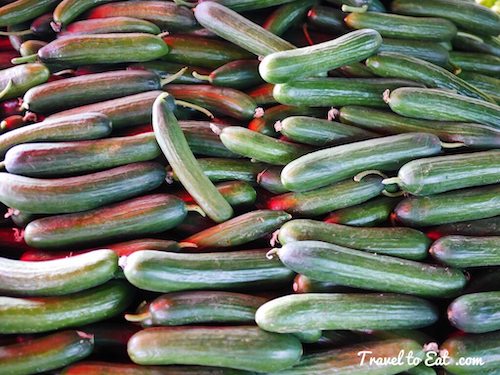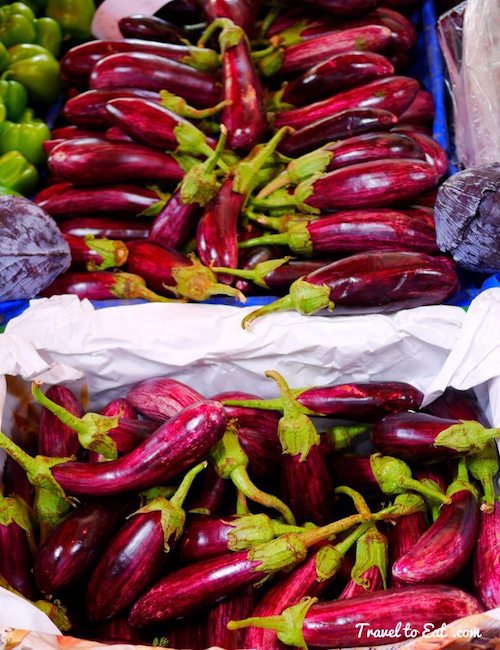 The amazing thing about Turkish farmers markets is the wide variety of foods available. A wide variety of fresh lettuce (Salata) is available, along with more specialized herbs like flat leaved parsley, red and white cabbage. Lettuce is categorized into six different types, also known as subspecies or botanical varieties. The six types of lettuce are Crisphead (Iceberg and Batavian), Romaine, Butter, Latin, Leaf and Stem. All lettuce types except for Iceberg occur in red and green leaf form. Oak Leaf lettuce is a type of Butter lettuce. Butter lettuces are known for their compact heads, their quilted leaf texture and their mellow flavor. They are also great short season varieties as well as more heat-tolerant than Crisphead lettuce. Of course the Turkish fascination with Aubergine or eggplant was represented by big swaths of the purple vegetable.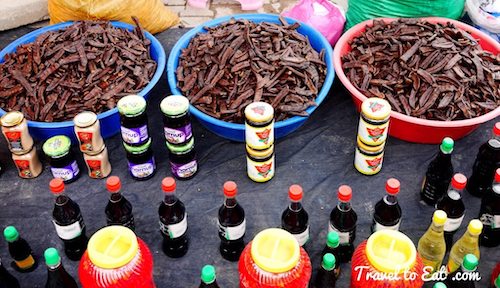 Ceratonia siliqua, commonly known as the carob tree, St John's-bread, or locust bean is a species of flowering evergreen shrub or tree in the pea family, Fabaceae. It is widely cultivated for its edible pods, and as an ornamental tree in gardens. The ripe, dried pod is often ground to carob powder which is used as a substitute for cocoa powder. Carob pods were an important source of sugar before sugarcane and sugar beets became widely available. In Lebanon, carob molasses was traditionally used as an alternative to sugar. Mixed and served with tahina or sesame paste, for example, it is still eaten as a dessert called dibs bi tahina. Pekmez, or fruit molasses, is often made of sultana grapes. Another kind of pekmez made from carob is called Keçiboynuzu Pekmezi or Harnup Pekmezi. Carob Molasses has been touted for its respiratory and antianemic benefits. Carob was eaten in Ancient Egypt. Carob juice drinks are traditionally drunk during the Islamic month of Ramadan.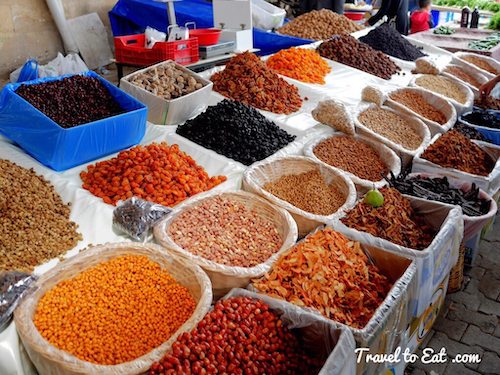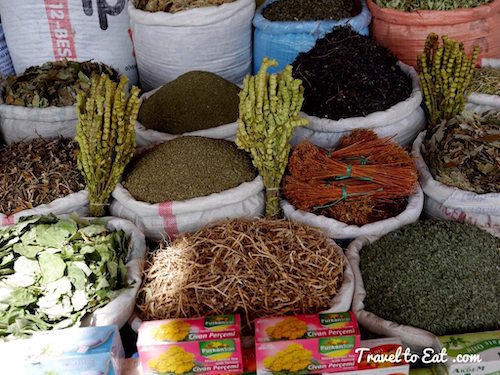 They had a stall with more spices than I could recognize. I was making lamb curry and I had a terrible time asking for the right spices. To help you, my readers, I have assembled a rudimentary list of spices with their Turkish names. The list is: Basil (Feslegen), Bay Leaf (Defne Yapragi), Cardamon (Zencefilgillerden Bir Bitki), Cinnamon (Tarçin), Coriander Seed (Kisnis Tohumo), Cumin (Kimyon), Ginger (Zencefil), Mustard (Hardal), Oregano (Kekilkoto), Paprika (Kirmizi Pulbiber) Nutmeg (Muskat), Red Pepper (Kirmizi Bibir), Saffron (Safran) and Turmeric (Zerdeçal). They also have spices you may not have heard of, like Sumac and Fenugreek. Another plant of interest is Harmal (Peganum harmala) Its big, whitish green, circular fruits contain numerous black seeds. The plant grows widely in Iran. The plant contains Flavonoids, Thiamine and various types of alkaloids which abound more in the seeds. In Iran's traditional medicine, Harmal is used to increase milk secretion in mothers, strengthen sex drive, and help rheumatism, asthma, cough and allergy. It has also proved to be an effective anti-microbial agent.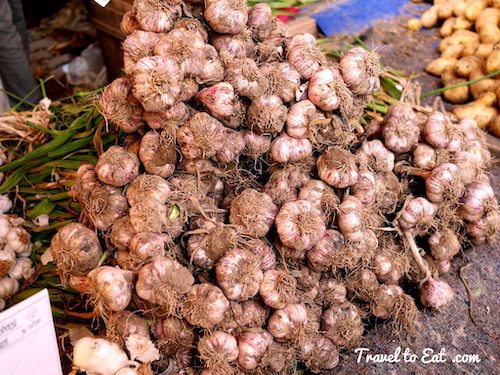 Apart from its undeniable attractiveness, l'Ail Rose de Lautrec is distinguished for its aromatic and subtle taste, sweeter and milder than its white cousin. It also keeps for much longer, six months to a year. It can be used anywhere you would normally use garlic: raw or cooked, sliced, chopped, crushed or but also in a variety of recipes created especially for it: a pink garlic soup, a walnut and pink garlic tart, a lime and garlic sorbet, and even a pink garlic chocolate cake! Of course pink garlic is available around the world. The Turkish pink garlic looks the same as l'Ail Rose de Lautrec and when I used it for cooking, it tastes very similar if not the same. The name for garlic in Turkish is Saramsak. This looks to me like Maiskij garlic, a Turban hardneck garlic originating from Turkmenistan. The name refers to May, the month it is harvested. It has beautiful deep purple striping and tastes as good as it looks. It is early, large, and vigorous. Turban garlic named because of the bright purple streaks and blotches on both bulb wrappers and clove skins, these are the most attractive looking garlics. They are also very flavorful, usually winning "best baked garlic" taste tests conducted by Rodale, Sunset Magazine, Martha Stewart and others. Of course they also have the more common white garlic.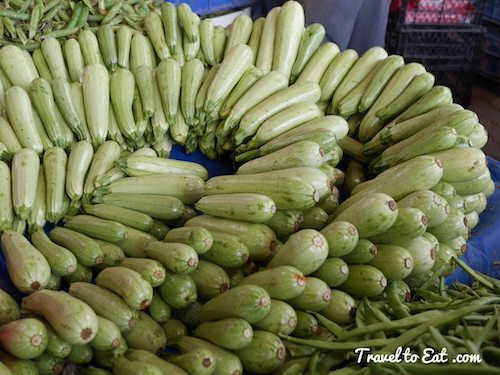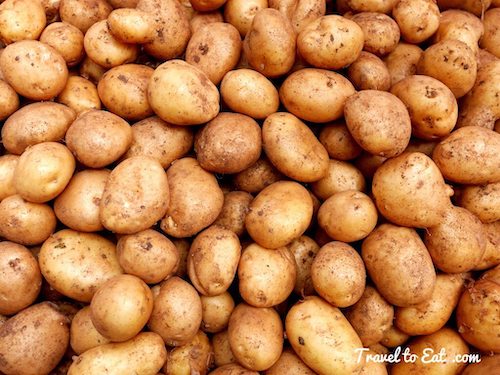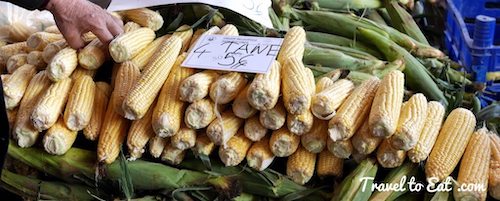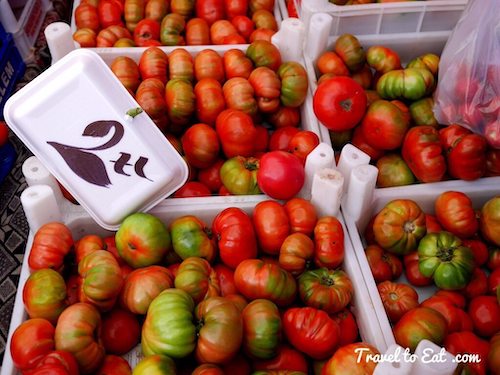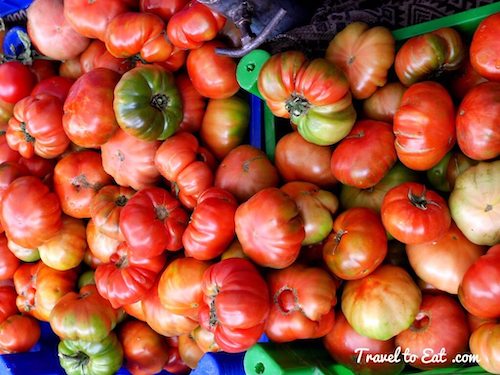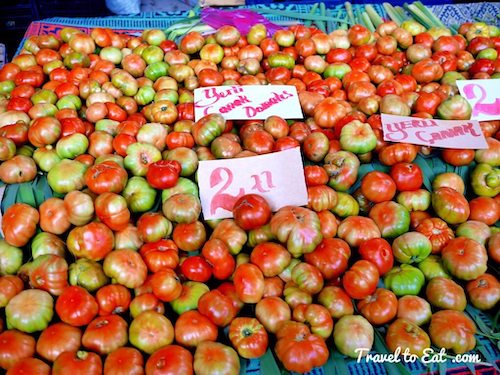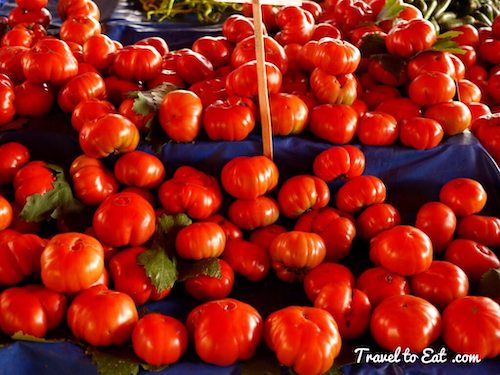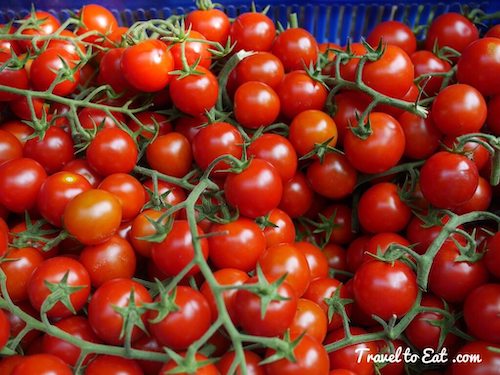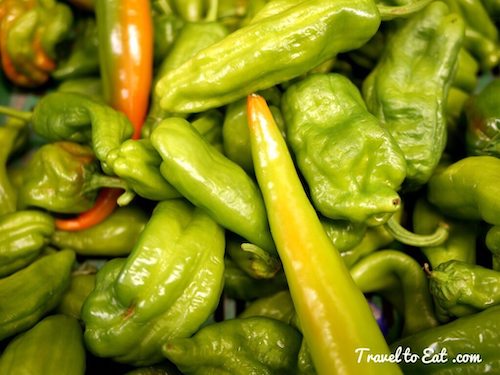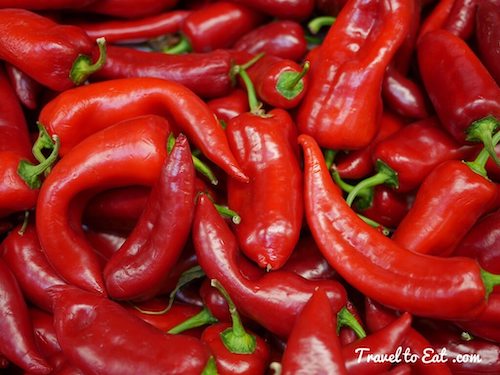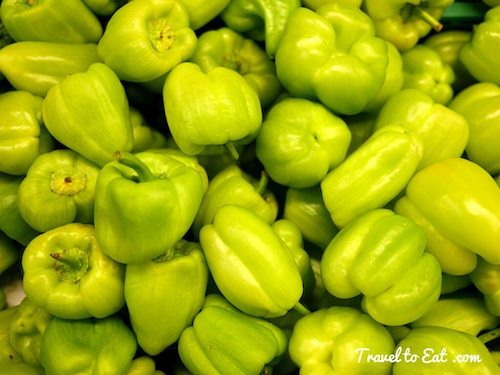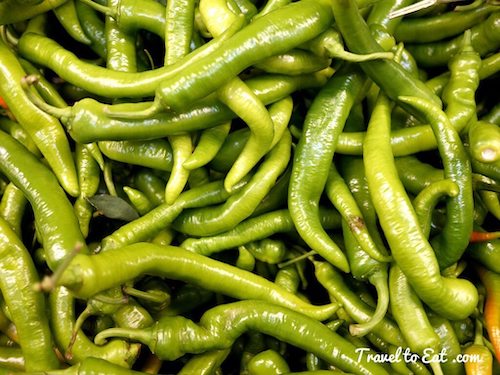 New world crops such as potatoes, corn, tomatoes, zucchini and peppers are well represented. Cucurbita pepo is a cultivated plant of the genus Cucurbita. It yields varieties of winter squash, zucchini and pumpkin, but the most widespread varieties belong to Cucurbita pepo, often called summer squash. C. pepo is one of the oldest, if not the oldest domesticated species. The oldest known locations are in southern Mexico in Oaxaca 8,000-10,000 years ago and Ocampo, Tamaulipas, Mexico about 7,000 years ago. The heirloom tomatoes with green and red are much more flavorful than completely red as I noted in a previous post. In general terms the peppers are not particularly spicy in Turkey, with the exception of peppers grown in the southeast of Turkey and northern Syria like the red peppers of Aleppo, Kirmizi, Maras and Urfa. Sivri Biber is a mainstay of Turkish cooking, producing fruit that are elongated, slightly curved and pointed. Kirmizi Biber peppers are mildly spicy. Dried Kirmizi Biber is one of the most useful spices in Turkish cooking. It is a fine blend of chilli peppers hot and sweet flaked and rubbed with olive oil and gently roasted until nearly black giving it an unmistakable flavor and aroma. If you have ever served up hummus, pita bread, and chilli sauce it must have been lost without the kirmizi biber on the top of the hummus!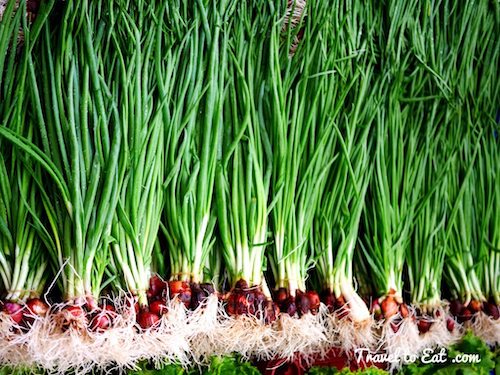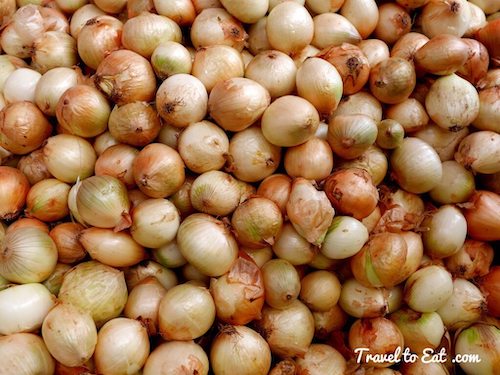 The onion is one of the Neolithic founder crops that were domesticated by early Holocene farming communities in the Fertile Crescent region of southwest Asia, the greatest historical agricultural region within the world. Neolithic founder crops formed the basis of systematic agriculture in the Middle East, North Africa, India, Persia, and eventually Europe. Onions are now the most widely cultivated and distributed allium in the world, adapting to a variety of climates from cold to temperate, semi-tropical and dry.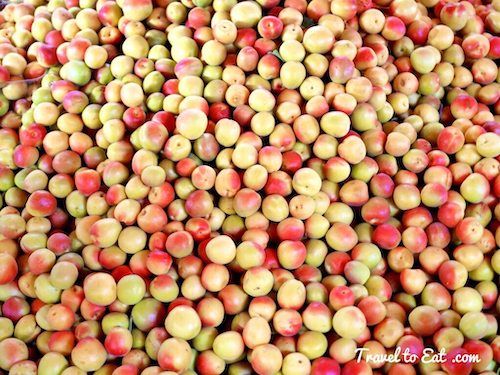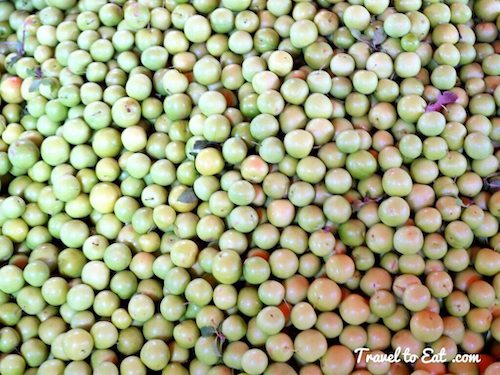 If you have happened to be around someone from Turkey during spring, then you probably know how the people of Turkey are crazy about their immature sour green plums. These tart, crunchy plums dipped in salt are enjoyed as snacks or sometimes as meze with raki/arak/araq throughout the Middle East. In the Western parts of Turkey, green plums are used for making compote only when they soften or turn yellow. However, in the Eastern provinces they are frequently used in meat stews for their tartness. Plums stewed with fresh garlic give an incredible flavor to beef. Young, sour plums have traditionally been enjoyed in the Middle East and Asia, where they may be eaten raw or preserved. They're known as goje sabz in Iran, jarareng in Lebanon, erik in Turkey, mei in China, and ume in Japan. Although these are not all the same variety of plum, they may be used in similar ways.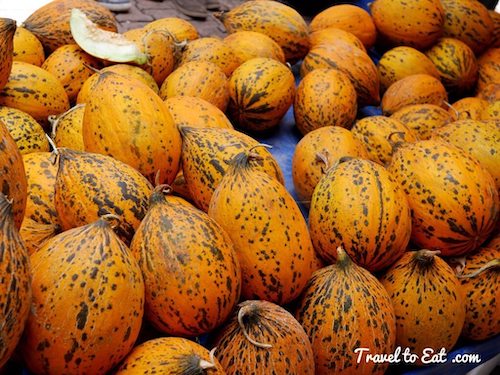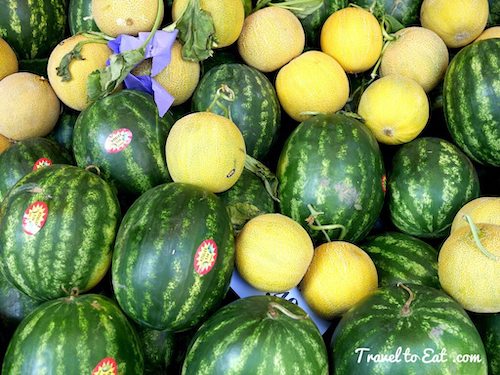 The Turkish word for melon, kavun, comes from an older Turkic word, kagun. The plant was probably brought to Anatolia by the Tatars or the Turks. Anatolia is an ideal region for growing melons. They were being grown in Central Asia, in the Khorezm and Fergana regions (today's Uzbekistan), before the 13th century. The Khorezm melon, cultivated between the 13th and 15th centuries, was world famous. These melons were sliced and dried in the sun, and exported to India and China. The world famous Cantaloupe was brought to Rome from Turkey by Armenian Catholic priests, and became established in the Cantaluppi farm. Later, seeds were taken to France during the reign of Charles VIII (1483-1498). In Turkey, this melon is still known as dilimli kavun, or "sliced melon."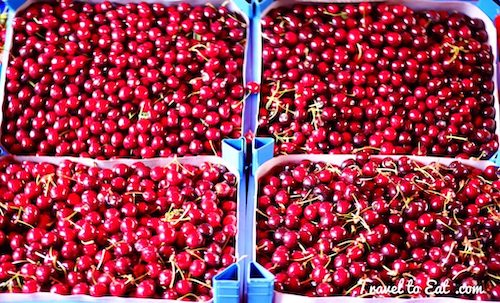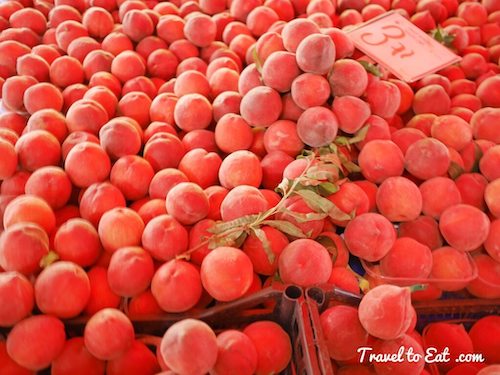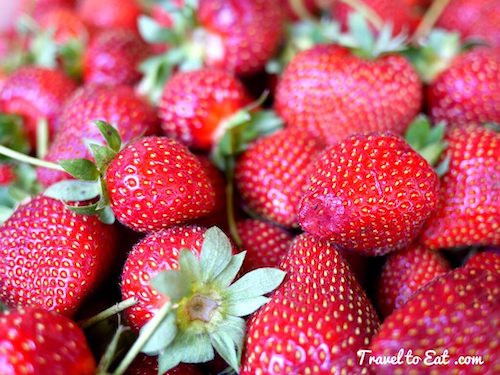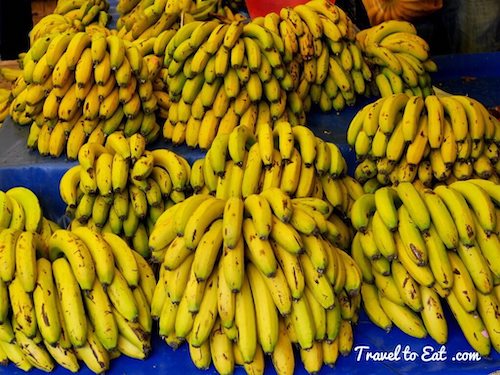 The other fruits were also represented, including some succulent peaches, bing cherries, big delicious strawberries and surprisingly, local bananas. In Turkey bananas are raised in the Mediterranean region, particularly in the areas of Anamur and Alanya.
References:
Street Markets in Cappadocia: http://www.topofturkey.com/en/streetmarkets.html
Carob Molasses: http://blog.foodnetwork.com/fn-dish/2013/03/carob-molasses-next-best-thing-you-never-ate/
Carob Molasses Health: http://www.livestrong.com/article/410741-health-benefits-of-carob-molasses-and-grape-molasses/
Taskopru International Garlic and Culture Festival: www.taskopru.gov.tr
Red Garlic Varieties: http://www.seedratings.com/category/vegetables/garlic
Red Peppers: http://aneducatedpalate.wordpress.com/2009/05/22/aleppo-kirmizi-maras-and-urfa-red-pepper/
Beef Stew with Green Plums: http://almostturkish.blogspot.com/2012/06/beef-stew-with-tart-green-plums-yesil.html