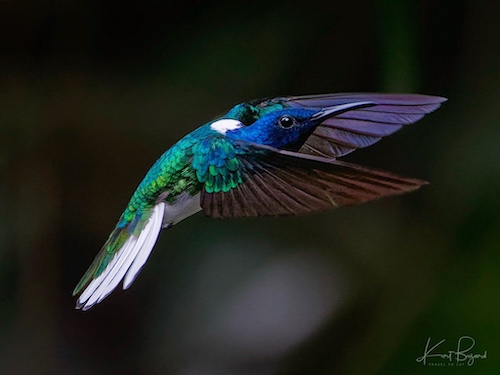 I can honestly say that the hummingbirds of Costa Rica are the most beautiful birds I have ever seen and I will share them with you in this post. Hummingbirds are from the New World and constitute the family Trochilidae. They are some of the smallest birds in the world and have the greatest metabolism of any animal. To keep energy when food is limited, and nightly when not foraging, they go into dormancy, a state similar to hibernation, slowing metabolic rate to 1/15th of its normal rate. They are known as hummingbirds because of the humming sound generated by their whipping wings which wave at high frequencies audible to humans. They flutter in mid-air at rapid wing-flapping rates, typically around 70 to 80 times per second, allowing them also to fly at speeds exceeding 34 miles per hour. Hummingbirds fall into nine main groups or clades, the Topazes and Jacobians, Hermits, Mangoes, Brilliants, Coquettes, the giant hummingbird Patagona, Mountain Gems, Bees, and Emeralds as established by DNA evidence. These clades also define their relationship to nectar-bearing flowering plants and the birds' continued spread into new geographic areas. The brilliant, iridescent colors of hummingbird plumage are caused by the refraction of incident light by the structures of certain feathers. Like any diffraction grating or prism, these structures split light into its component colors, and only certain frequencies are then refracted back to your eyes. Thus, you have to be in a particular location with respect to the light and hummingbird to see the bright colors of the head and neck or gorget. I have arranged the hummingbirds in this post roughly by elevation with the highest elevations first and the lowest elevations last.

Lesser Violetear Hummingbird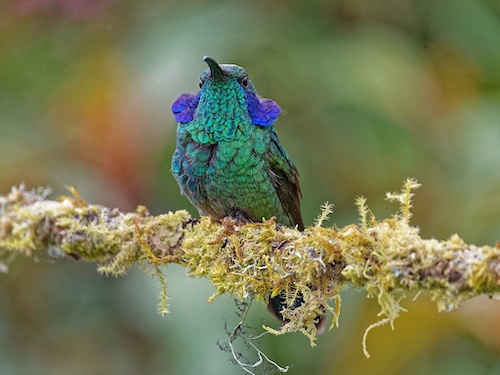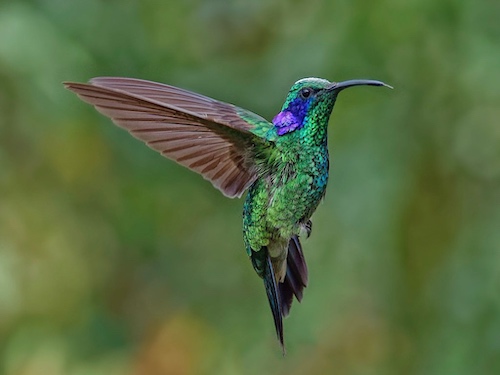 The Lesser Violetear (Colibri cyanotus), also known as the mountain violet-ear, is a medium-sized, metallic green hummingbird commonly found in forested areas from Costa Rica to northern South America. It is a member of the Mango clade or group based on DNA evidence. The length is 3.8 to 4.7 inches (9.7–12 cm) and it weighs 0.17 to 0.20 oz (4.8 to 5.6 gm). These birds come readily to nectar feeders, and show no fear of humans. I actually had one fly into my cabin and it let me catch it to take outside. They are aggressively territorial, and at feeders or flowering shrubs they spend much time chasing other hummingbirds, rather than feeding. It is found in the mountains in Costa Rica from 4700 to 10,000 feet (1450–3000 m), but it descends to 3000 feet (1000 m) after breeding. Males and females look similar.
Talamanca Hummingbird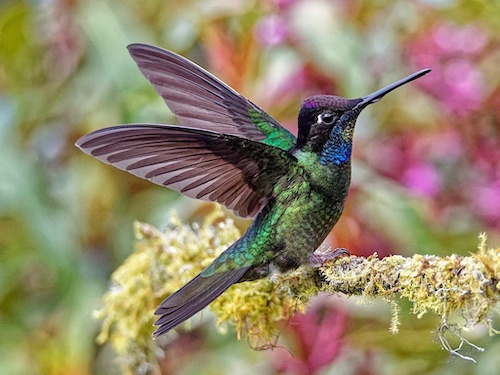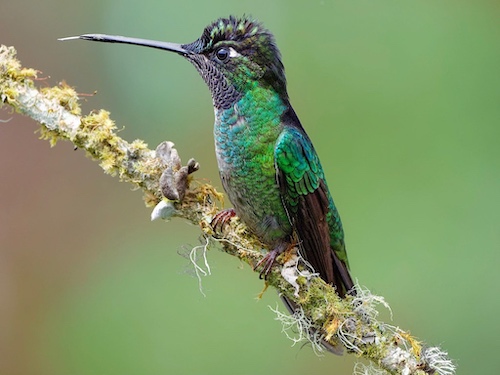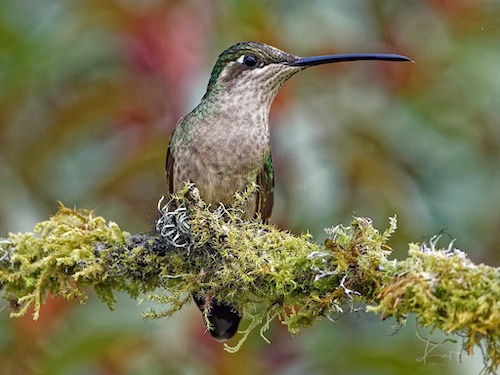 The Talamanca Hummingbird (Eugenes spectabilis) is a large, long-billed hummingbird that occurs in the highlands of Costa Rica and western Panama. It is placed in the Mountain Gem clade or group by DNA testing. The Talamanca Hummingbird looks a lot like Rivoli's Hummingbird (Eugenes fulgens), with the exception of the green breast, which is found from the southwestern United States south to northern Nicaragua. In fact these two formerly were classified as a single species. The length ranges from 4.3 to 5.5 inches (11–14 cm) and it weighs from 0.21 to 0.35 oz (6–10 gm), with males typically a little larger than females. The Talamanca Hummingbird also likes nectar feeders and is moderately aggressive, with little fear of humans. In Costa Rica, the Talamanca Hummingbird occurs from 6000 feet (2000 m) up to treeline, but is most common above 8000 feet (2500 m). The females are quite different than the males in this species with long bills to differentiate them from other plain female hummingbirds.
Fiery-Throated Hummingbird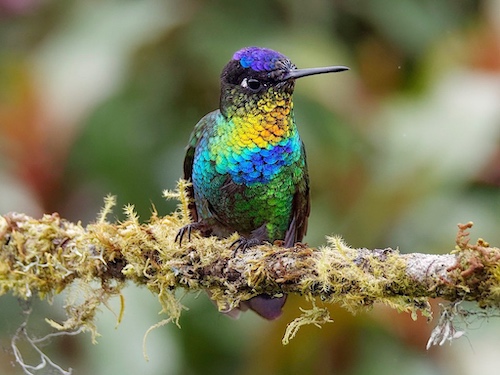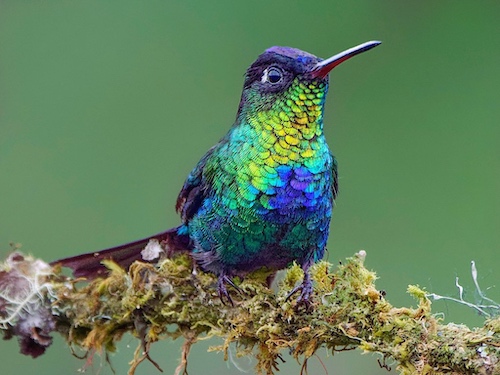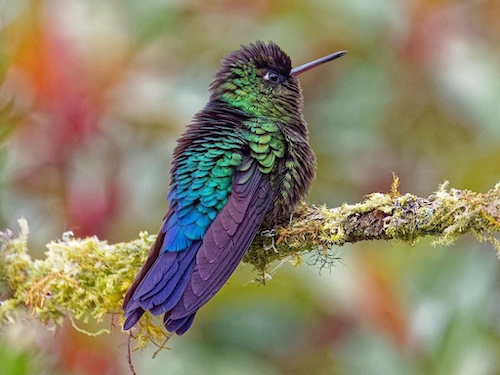 The fiery-throated hummingbird (Panterpe insignis) is a medium-sized hummingbird of the Talamancan montane forests of Costa Rica and western Panama. It is the only member of the genus Panterpe and is also placed in the Mountain Gem clade or group by DNA testing. The length averages 4.3 inches (11 cm) and it weighs 0.2 oz (6 gm). This is a common to abundant bird of montane forest canopy above 4600 feet (1400 m), and also occurs in scrub at the woodland edges and clearings. Both sexes are aggressive and defend flower territories during the nonbreeding season, even from larger hummingbirds. Males and females are similar in appearance and generally look green with blue tails. From the proper angle, one can also catch a glimpse of the glittering, red-yellow fiery throat, blue chest and/or the glistening violet-blue crown.
Scaly-Breasted Hummingbird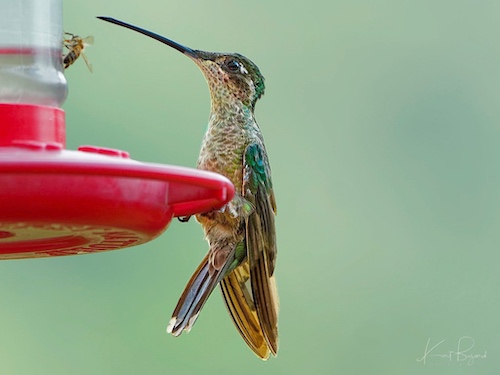 As you can see above, the Scaly-Breasted Hummingbird (Phaeochroa cuvierii) is a medium to large size, rather scrawny hummingbird with few of the spectacular colors of its peers. However, the feathers it does have are a rather pretty turquoise-green. It is the only member of the genus Phaeochroa and is placed in the Emeralds clade or group by DNA testing. It averages 4.5 inches or 11.5 cm in length. It is divided into six subspecies which occur in a patchwork in the lowlands and foothills of the Caribbean slope from southeast Mexico to Panama on the Pacific Slope of Costa Rica and Panama and the coastal region of Northern Colombia. It has a dark blue-green tail with white tips on the outer tail feathers which are helpful in identification. This is a solitary hummingbird that is apparently comfortable both in the lowlands of Costa Rica and at least the 8000 feet of Batsú Garden.
Striped-Tailed Hummingbird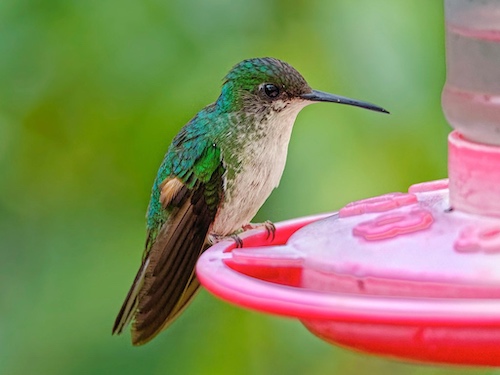 The stripe-tailed hummingbird (Eupherusa eximia) is a medium sized hummingbird endemic to subtropical moist forest and adjacent clearings of Middle America, from the Gulf slope of southeastern Mexico to Panama. It is placed in the Emeralds clade or group by DNA testing. It averages 3.9 inches (10 cm) in length, and weighs up to 0.15 oz (4.3 gm). In Costa Rica it is found at 5000 feet (1500 m) to timberline. This is another loner hummingbird with a straight black bill, square-tipped tail with white stripes in the tail, and most importantly a rufous wing patch. I only saw the female, the males have a mostly metallic green plumage all over while the females and juveniles are whitish / pale grey below (throat, chest, abdomen).
Volcano Hummingbird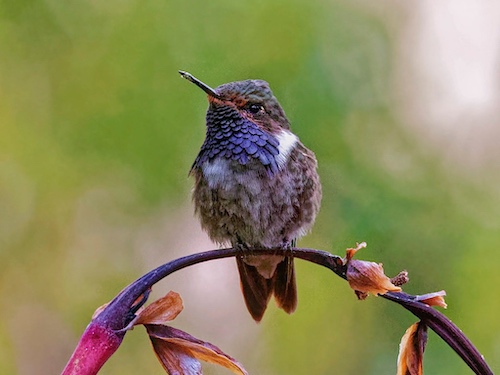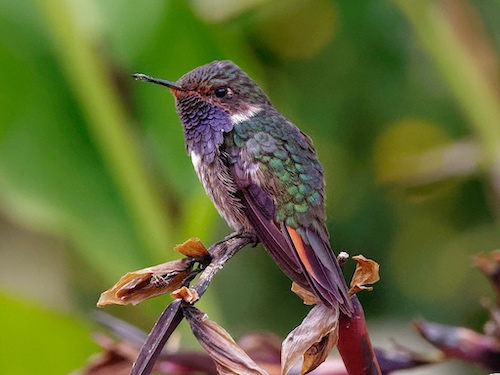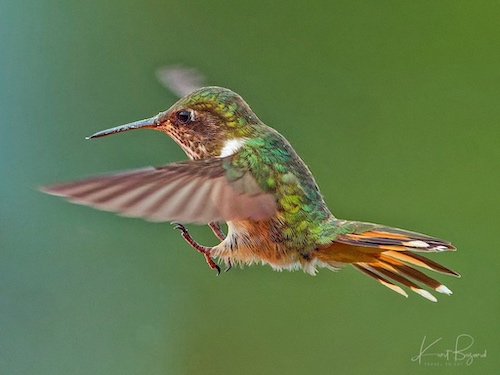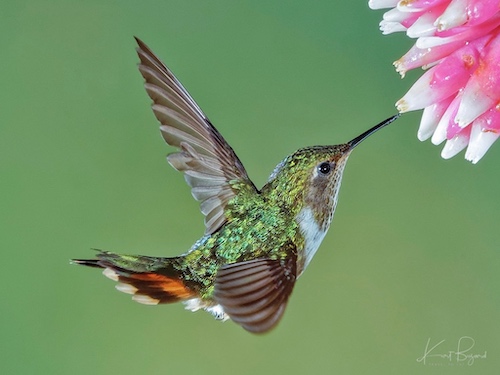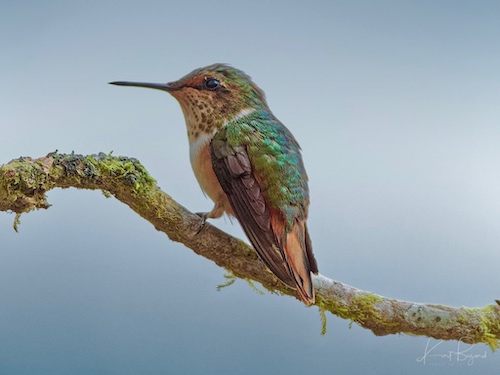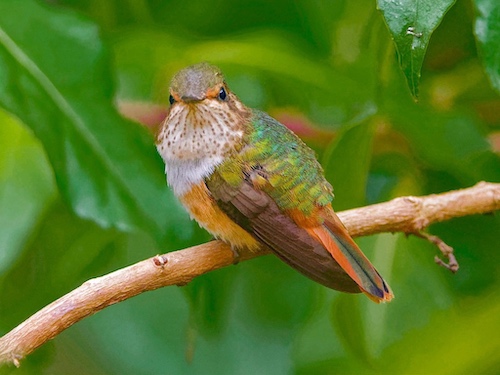 The Volcano Hummingbird (Selasphorus flammula) is a very small hummingbird, native to the Talamancan montane forests of Costa Rica and western Panama. Because of its small size you would expect it to be in the Bees Clade or group and it is indeed part of that clade by DNA testing. It is only 3 inches (7.5 cm) long. The male weighs 0.08 oz (2.5 gm) and the female 0.1 oz (2.8 gm). It is found in the Talamancan mountains above 6000 feet (2000 m). There are many more females and adolescents than males. I only saw one male with dozens of adolescents and females. While Male Volcano hummingbirds are easy to identify from male Scintillant hummingbirds (purple vs orange gorget or throat) the females are much more confusingly similar, especially where they overlap at around 6000 feet (2000 m). According to Patrick O'Donnell:
"Volcano Hummingbirds have green central rectrices while those of Scintillants are rufous. Both species also have dark subterminal bands but this characteristic is broader in Volcanoes. Volcano hummingbirds also have less rufous on the underparts and tend to show a thin, rufous eyebrow that extends to the chin."
Gray-Tailed Mountain-Gem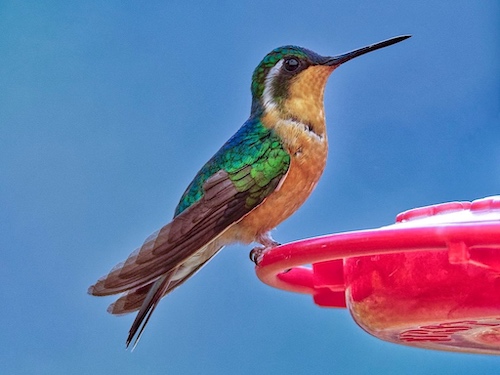 The white-throated mountaingem (Lampornis castaneoventris) breeds in the highlands of southern Costa Rica and western Panama. Some authorities have separated the Costa Rica variant with the Gray-Tailed Mountain-Gem (Lampornis cinereicauda) which obviously has a gray tail. It is placed in the Mountain Gem clade or group by DNA analysis. It is about 4 inches (10.5 cm) in length. The male is slightly larger – weighing about 0.22 oz (6.2 gm), the female about 0.18 oz (5 gm). They inhabit forested areas in hilly terrain at altitudes from about 6,000 feet (1850 m) to the timberline in the Talamanca range in Costa Rica. I only saw the female, the male has bronze-green upperparts and underparts except for a brilliant blue-green crown, pure white throat and grey tail.
Rufous-Tailed Hummingbird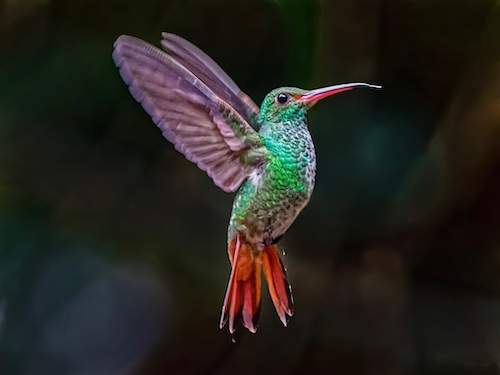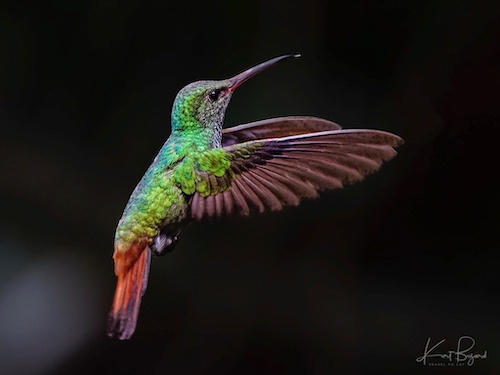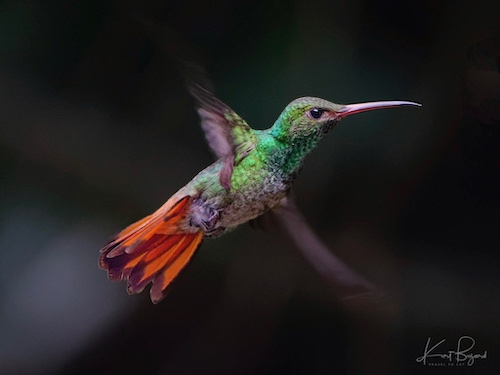 The rufous-tailed hummingbird (Amazilia tzacatl) is a medium-sized hummingbird that breeds from east-central Mexico, through Central America and Colombia, east to western Venezuela and south through western Ecuador. It is placed in the emeralds clade or group by DNA analysis. The adult rufous-tailed hummingbird is 3.9–4.7 inches (10–12 cm) long and weighs approximately 0.18 oz (5.2 gm). In Costa Rica it primarily occurs in the lowlands, up to 6000 feet (1850 m). The male's throat is green, the female's is edged whitish, honestly they are hard to tell apart.
Sapphire-Throated Hummingbird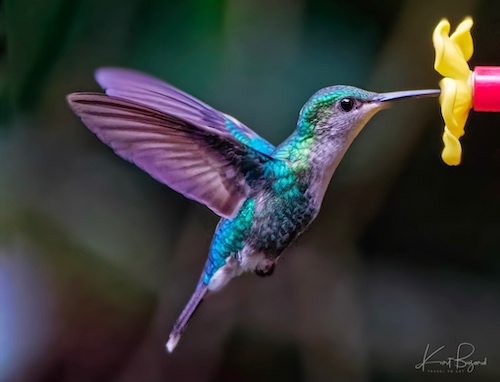 The Sapphire-Throated Hummingbird (Lepidopyga coeruleogularis) is a shiny metallic-green hummingbird found in Panama, Colombia, and more recently Costa Rica. Its natural habitat is subtropical or tropical mangrove forest although it is adaptable. It is placed in the emeralds clade or group by DNA analysis. It is about between 3.3 to 3.7 inches (8.5–9.5 cm) in length and weighs between 0.14–0.16 oz (4–4.5 gm). The male is blue-green overall, with a blue throat and dark tail. The female has has a white-patched throat with distinct green spots along the sides of its breast and a tail tipped in white. The subspecies Lepidopyga coeruleogularis conifis is found on the Caribbean side of Panama and Costa Rica and has a more turquoise tone.
White-Necked Jacobin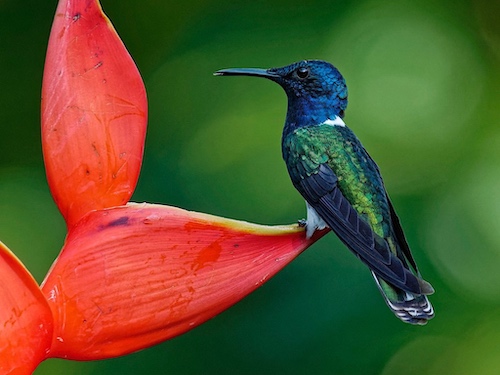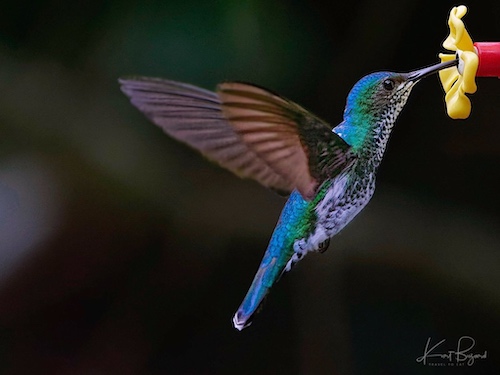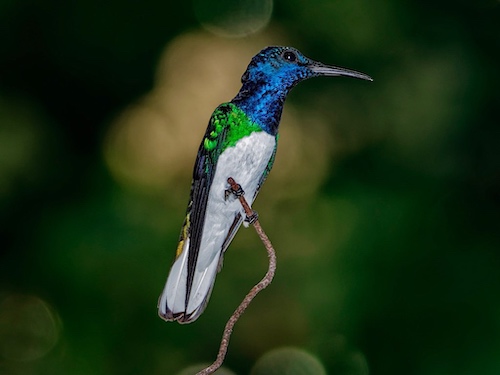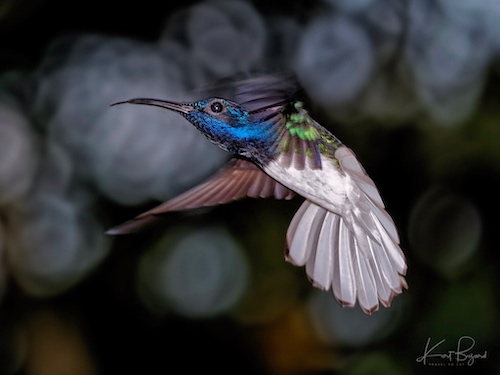 The White-Necked Jacobin (Florisuga mellivora) is a large and attractive hummingbird that ranges from Mexico, south to Peru, Bolivia and south Brazil. The White-Necked Jacobin is a widespread inhabitant of forests, usually being seen at a high perch or just above the canopy. It is less common at lower levels, except near hummingbird feeders. It is placed in the Topazes clade or group by DNA analysis. The approximately 12 cm long male white-necked jacobin is unmistakable with its white belly and tail, a white band on the nape and a dark blue hood. Females are highly variable, and may resemble adult or immature males, with dark spotting below and a mostly green tail with white tips.
Long Billed Hermit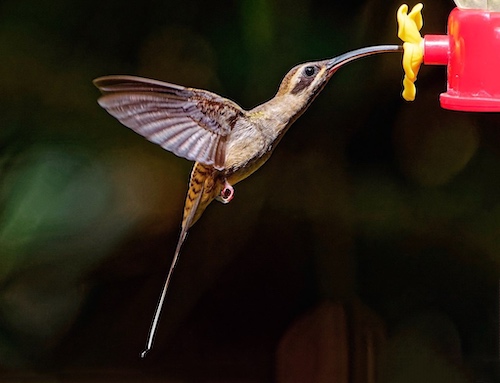 The long-billed hermit (Phaethornis longirostris) is a large hummingbird that is a resident breeder from central Mexico south to northwestern Colombia, extreme western Venezuela and western Ecuador. The long-billed hermit inhabits forest undergrowth, usually near water and its preferred food plants. It is 6 inches (15 cm) long and weighs 0.2 oz (6 gm). The bill is very long and decurved (1.3–1.45 inches or 3.4–3.7 cm), with a black upper and pale orange lower mandible, and the central feathers of the tapered tail are long (2.5–2.7 inches or 6.3–6.8 cm) and white-tipped. The sexes are similar, although the female is slightly smaller, but young birds have buff fringes to the feathers of the upperparts and head. The colors change throughout the range.
Stripe-Throated Hermit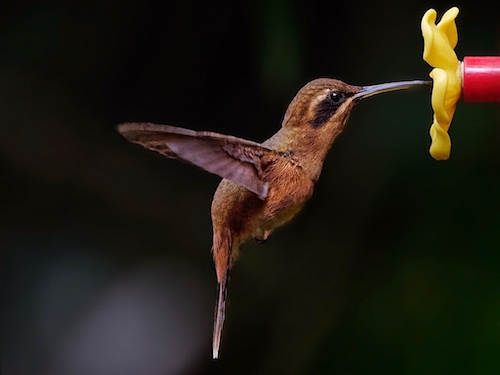 The stripe-throated hermit (Phaethornis striigularis) is a small hummingbird from Central America and north-western South America. This hummingbird is found in a wide range of wooded habitats, e.g. forest, woodland, clearings, thickets and gardens; typically in humid regions, but locally also in drier, deciduous habitats. It is 3.5–3.9 inches (9–10 cm) in length and weighs of 0.07–0.11 oz (2–3 gm). The sexes are virtually identical. Juveniles apparently have the entire back pale rufous. Mainly found in lowlands and foothills, it has exceptionally been recorded up to an altitude of 5,900 feet (1,800 m).
Bronze-Tailed Plumeleteer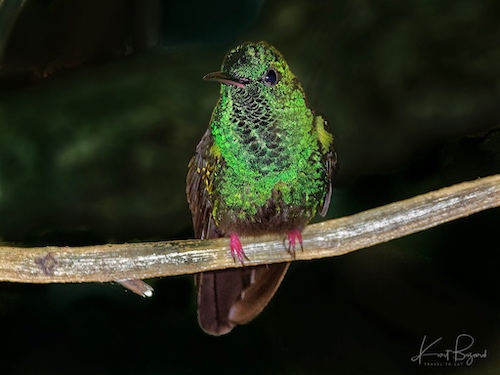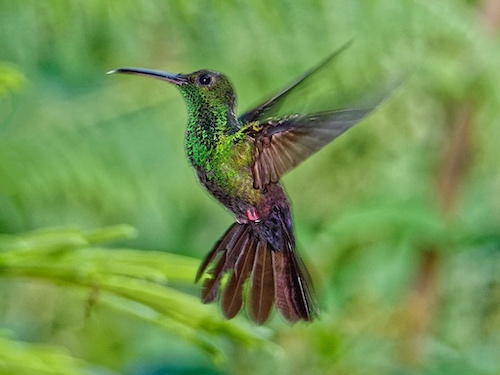 The bronze-tailed plumeleteer (Chalybura urochrysia) is a large hummingbird resident in Central America and South America from eastern Honduras to northwestern Ecuador. The birds inhabit forests and have a preference for edges, gaps and secondary growth. The Red-Footed Plumeleteer (Chalybura urochrysiais melanorrhoa) is the Costa Rican subspecies and has a black, not bronze, tail. It is placed in the emeralds clade or group by DNA analysis. It is 4.3 inches (11 cm) long and weighs 0.21–0.24 oz (6–7 gm) with males slightly heavier than females. The male has bronze-green upperparts, glittering green underparts, a dusky lower belly and a bronzed or purple-black tail depending on subspecies. The female has bronze-green upperparts, grey underparts, including the lower belly, green speckling on the flanks and grey corners to the dusky bronze tail. Both sexes have pink or red feet.
Violet-Headed Hummingbird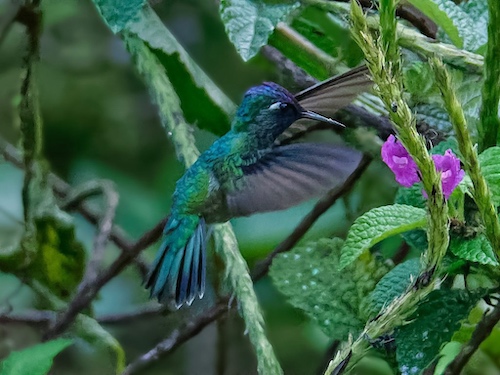 The Violet-headed Hummingbird (Klais guimeti) is a tiny hummingbird of a variety of humid forests from Honduras and Venezuela south to Bolivia and has a very patchy distribution. It is placed in the emeralds clade or group by DNA analysis. They are on average 3.2 inches (8.1 cm) in length with a short, straight bill that averages 0.51 inches (13 mm) in length. The head and throat of the male are intense violet or blue (depending on the angle viewed) with white spots behind each eye that stands out against the dark head. The back is metallic bluish-green (or bronze-green depending on the angle) and breast is green fading to a grey belly. The female is duller with a blue cap, green back and grey throat, breast and belly.
Phylogenetic Tree of Hummingbirds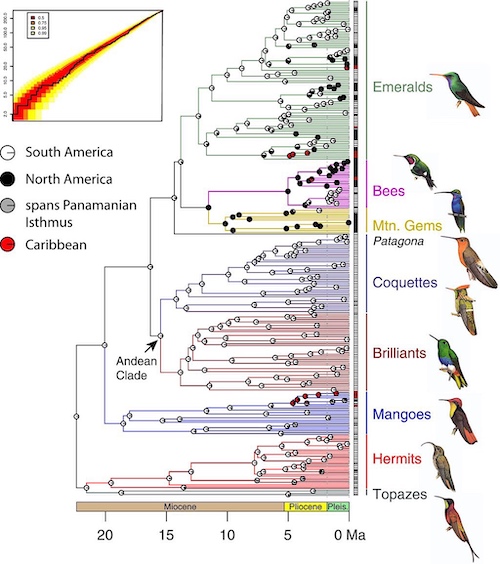 I hope you enjoyed the post, the hummingbirds in Costa Rica are truly exquisite jewels of nature. I have included a DNA chart showing the divergence of Hummingbirds from Swift's about 20 million years ago with the nine different clades or groups.
References:
Hummingbird Groups and Evolution
Hummingbird Species You Can Find Only In and Around Costa Rica
The Insider's Guide to the Hummingbirds in Costa Rica
Hummingbirds of Costa Rica. Tropical Feathers
Hummingbirds of Costa Rica. Birds and Blooms
Hummingbirds of Costa Rica. CBS
15 Fascinating Facts About Hummingbirds and How to Attract Them to Your Yard
Identification Tips when Birding Costa Rica Small Plain Hummingbird Species
Scaly Hummingbird: Beauty of Birds
Stripe-Tailed Hummingbird: Beauty of Birds
Gray-Tailed Mountain-Gem: Beauty of Birds
Variations, alterations of color and reproductive aspects of White-necked Jacobin