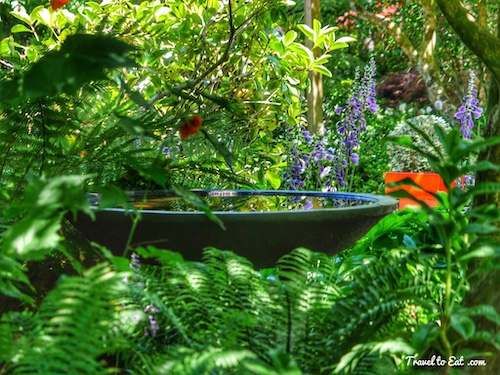 My first post on Eden Garden showed closeup photographs and identification of some of the exotic flowering plants. It would be a disservice to neglect the beauty and serenity of the garden as a whole or to quote an old proverb, the trees without the forest. Since I am from Las Vegas, where a tree and a few succulets form a garden, the green landscape here is almost overwhelming. Throughout the gardens many native New Zealand trees can be found including giant Nikau palms, Kauri, Rimu, Totara and ferns. The topography of this garden with little and large vistas adds greatly to the appeal of the gardens. There are also an abundance of native birds, including Tuis, Wood Pigeons, Fantails and Kingfishers, whose chirping only adds to the atmosphere.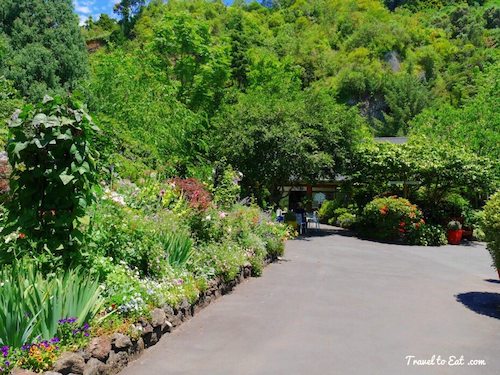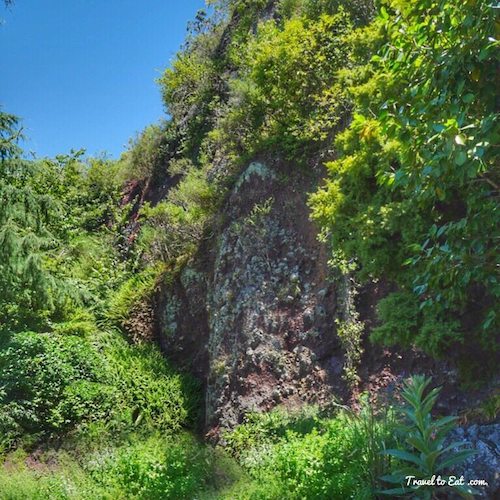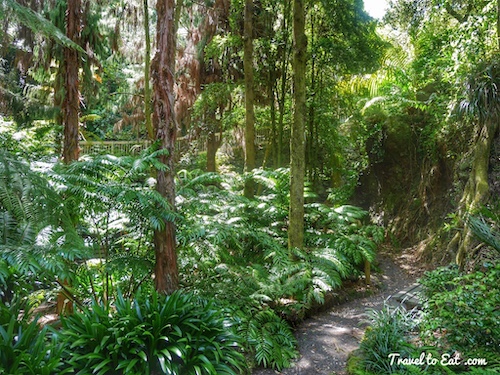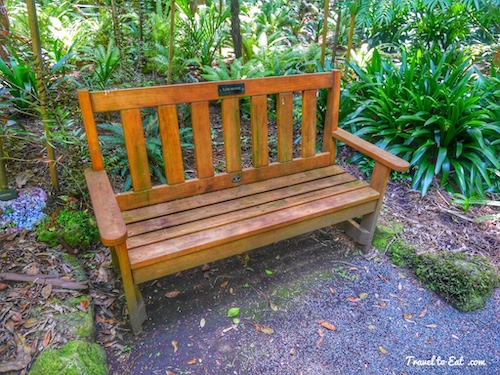 As I have said before, Eden garden is constructed on the site of an old quarry. Now and again you run into the edges of the garden and find quarried walls of stone. Now they are covered in moss, lichens and lovely plants, a gentle reminder of the history of the place and the boundaries of the garden. Also, since it is located on a hill, the garden paths have a fair amount of climbing up and down although there are strategically placed benches to rest.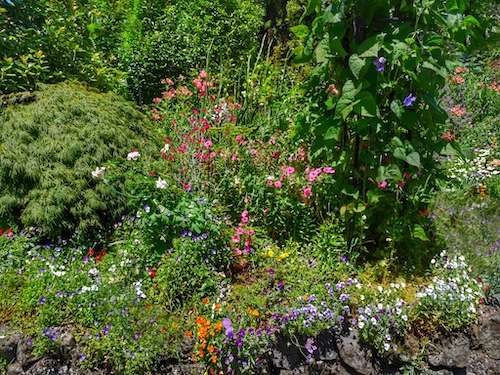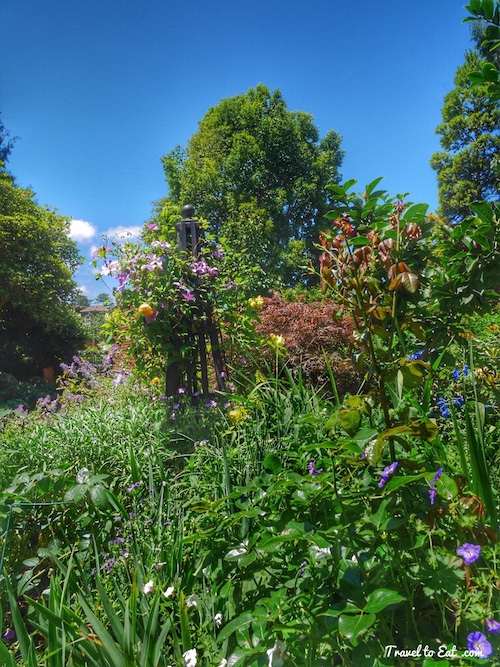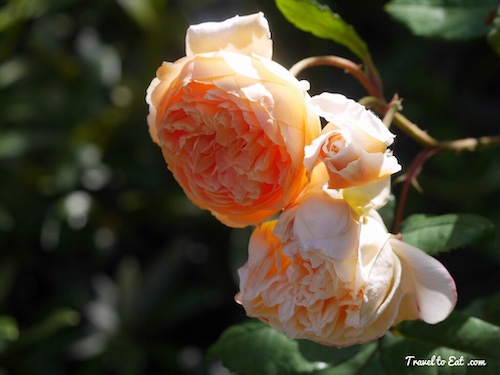 To say the landscapes are lush is a bit of an understatement, beautiful and unusual plants are wedged into every nook and cranny. I haven't mentioned roses but I think the light pink rose seen above is the famous "Souvenir de la Malmaison" named after the Château de Malmaison where Joséphine de Beauharnais (1763–1814) had created a magnificent rose garden.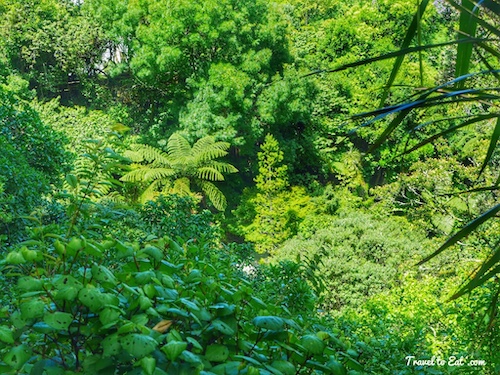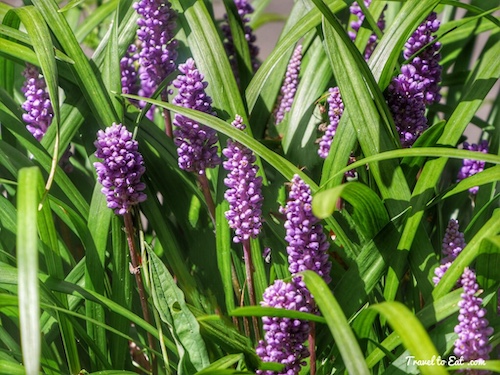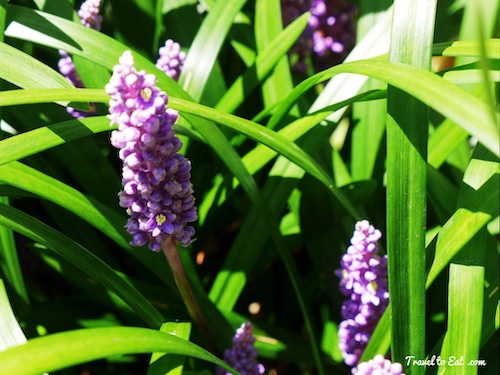 Liriope muscari is a species of low, herbaceous flowering plants from East Asia. Common names in English include big blue lilyturf, lilyturf, border grass, and monkey grass. It is a perennial with grass-like evergreen foliage and lilac-purple flowers which produce single-seeded berries on a spike in the fall. They had this along several of the garden pathways.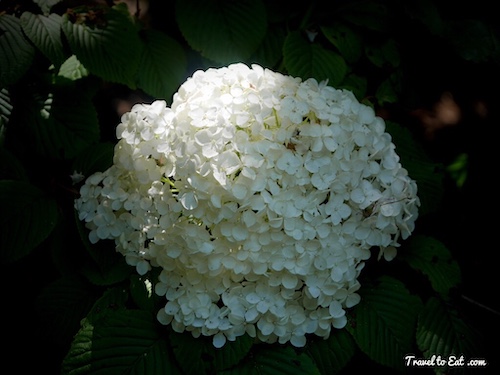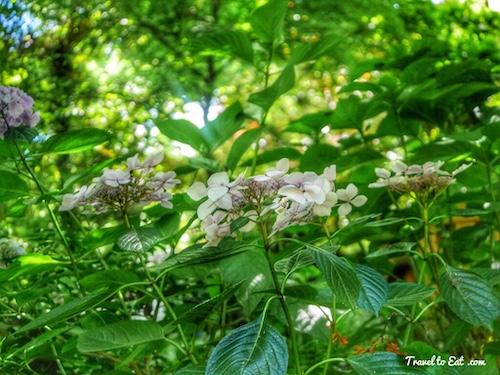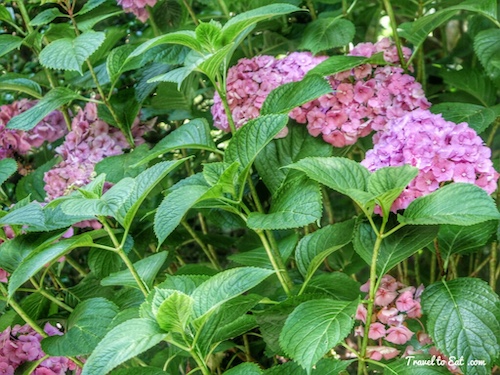 Thoughout the garden, hydrangea snowballs and lacecaps gave splashes of color to the the green foliage.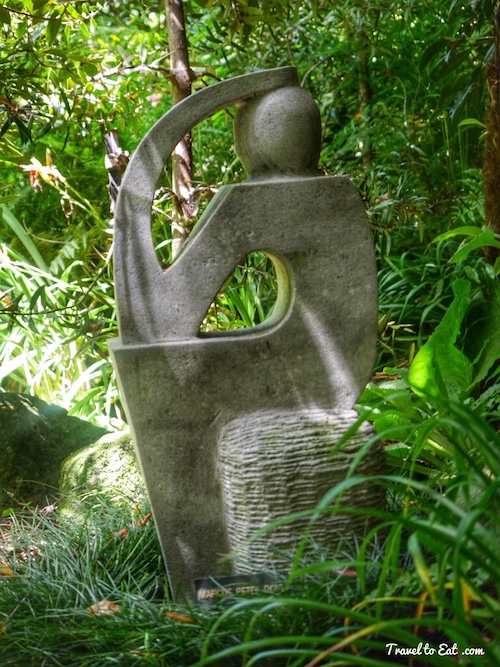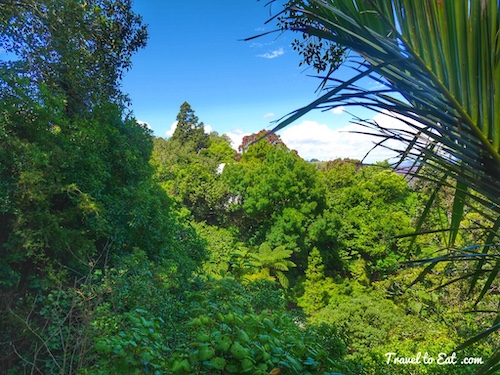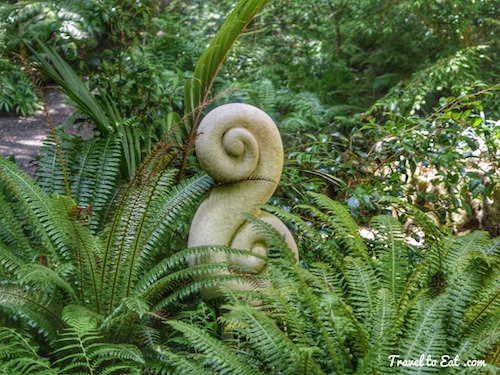 Dotted around the garden are statues in white stone although I don't know who the sculptor was. They certainly add another dimension to the garden.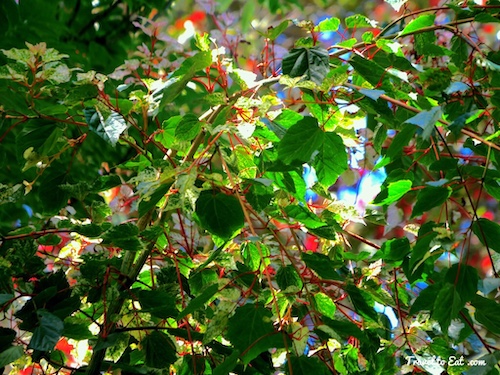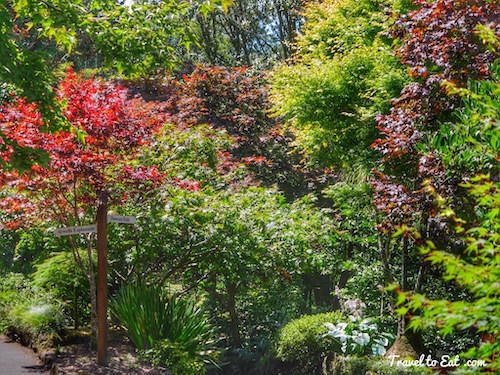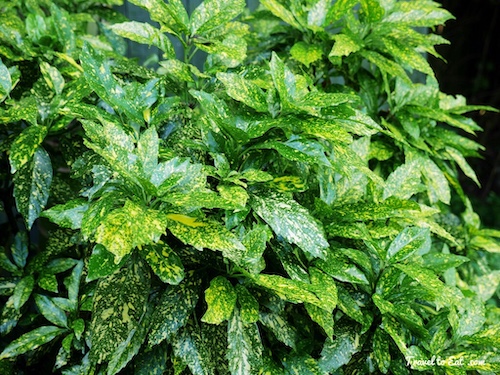 Even without flowers, the visual contrasts of unusual varigated leaves, outright red leaved maples and even red stemmed leaves was visually striking.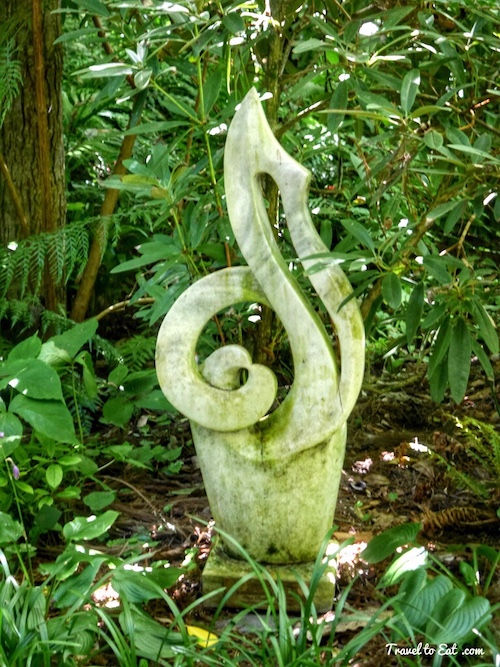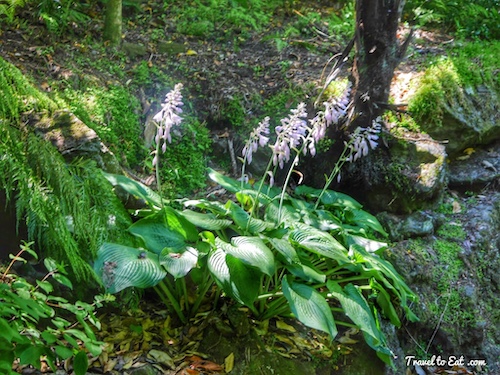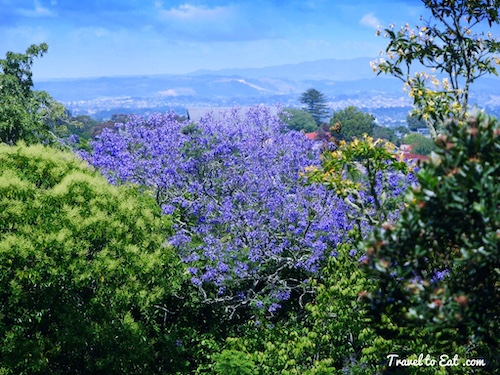 They have a little area to enjoy the view at the top of the hill, made more beautiful by some strategically placed jacarandas.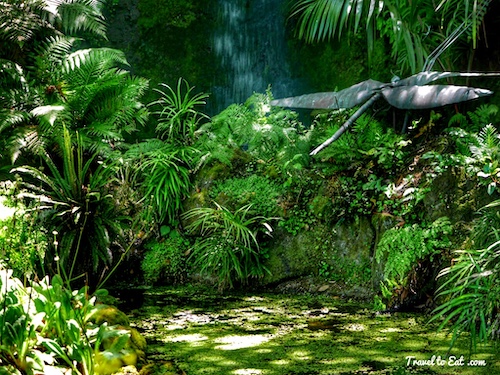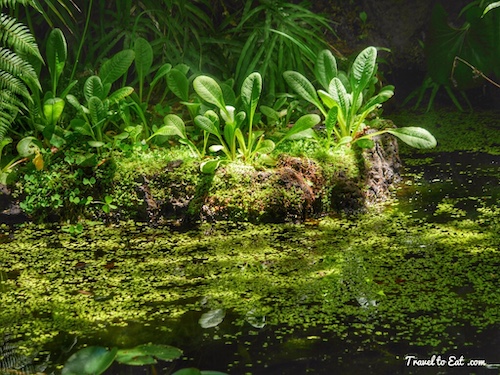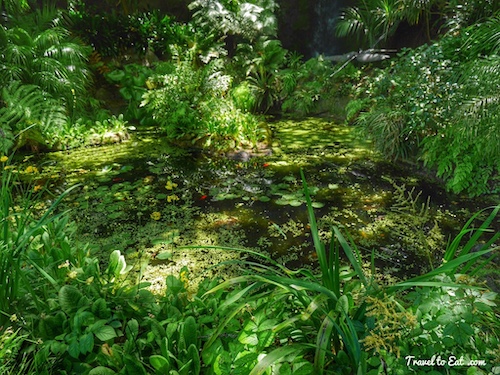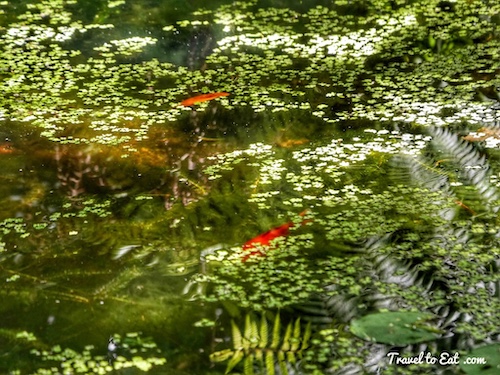 A particularly restful spot was the Koi pond with the sound of falling water and the shade of tree ferns. This photo of the Koi pond has reflections of the undersides of the famous New Zealand Silver Ferns and red coy in the water. If you are in Auckland, consider a visit to the Eden Garden, lovely almost any time of the year.
References: