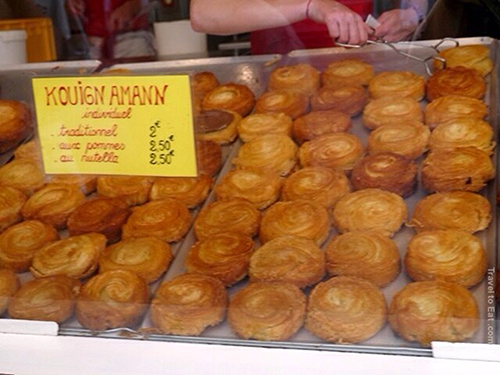 During the day that we spent in Saint Malo, we ate a little of this and that, I didn't take many pictures. The Kouign Amann seen above is one of my absolute favorites. It is a little like a creme puff but crispy and more airy (and often no filling). It is a round flakey cake, made with bread dough containing layers of butter (lots of butter) and sugar folded in, similar in fashion to puff pastry albeit with fewer layers and more flakey. The resulting cake is slowly baked until the butter puffs up the dough (resulting in the layered aspect of it) and the sugar caramelizes. The name derives from the Breton words for cake ("kouign") and butter ("amann"). We must have eaten at least a half a dozen of this light and flaky cake. Unfortunately, I did not take a picture of the place that sells them, but if you go, you will recognize the sign and the line waiting to buy.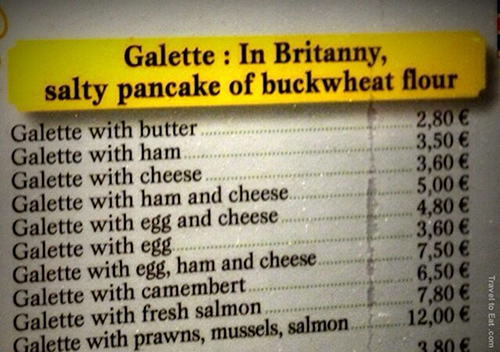 We had Breton Galettes, of course..in Saint Malo, how can you avoid them. A Galette is a type of thin large salty buckwheat pancake mostly associated with the regions of Normandy and Brittany. Buckwheat was introduced as a crop suitable to impoverished soils and buckwheat pancakes were known in other regions where this crop was cultivated, such as Limousin or Auvergne.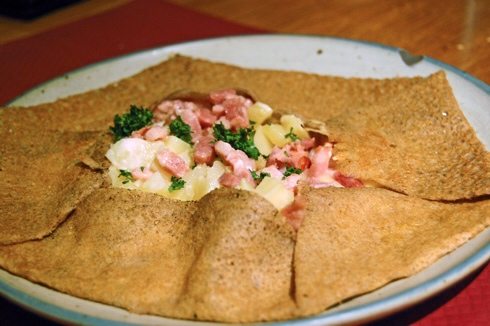 For practical purposes this is a buckwheat crepe since they are made large and thin. As shown above, you can have it plain with butter, with egg, meat, fish, cheese, cut vegetables, apple slices, berries, or really just about anything. One of the most popular varieties is a galette covered with grated Emmental cheese, a slice of ham and an egg, cooked on the galette. This is known as a galette complète (a complete galette). You eat Galettes any time of the day or night, preferably with beer, they like beer and cider here, not so much wine. I had mine with ham and cheese (and Heineken).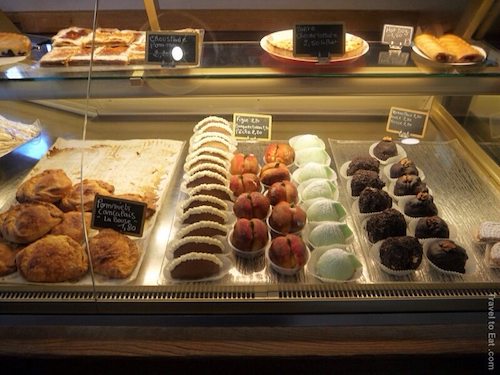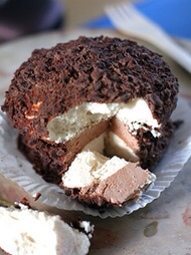 Merveilleux, a chocolate-flecked pastry stacked with meringue and cream inside are on the right side of the picture above, really a Paris pastry but this particular bakery seemed to specialize in Meringues. We split one of those with coffee, it is one of the best things I have ever put in my mouth. We tried one each of the rough chocolate exterior and the ones dipped in liquid chocolate, both were amazing. The green mint maroons were also good (just part of one of them).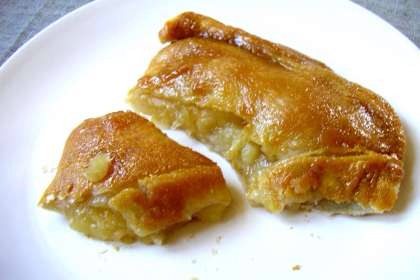 Finally the Pommé Cancalais or a rough equivalent would be Brittany apple turnovers with salted caramel. They are also called cabbage Cancale although there is no cabbage! These are a Brittany tradition from way back. (just one split by two) Caramel itself is a tradition in Bretagne and like the butter and Galettes, it is salty sweet caramel.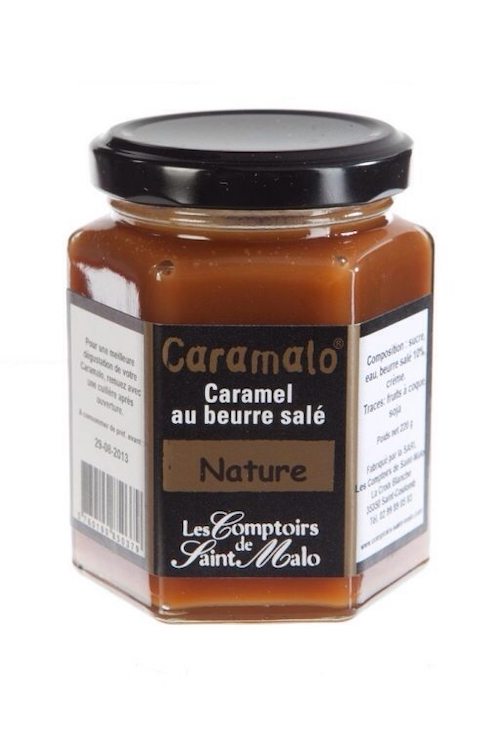 Almost every store in Saint Mao has jars of it. Caramel au Beurre Salé made perfect geo-culinary sense, as salted butter from Brittany was a long-established speciality of the region. Le caramel au beurre salé was once a bretonne oddity. The uncanny account for the local tradition of salting butter. But its enchanting taste and redempting qualities made it popular beyond its bigounden nest. Over the past few years, le caramel au beurre salé has become Parisians' battle flag in their inner battle against guilty feelings. Le caramel au beurre salé is now to be found virtually in anything sweet: la glace, les macarons, les bonbons…
We had to go back to the room to rest and digest…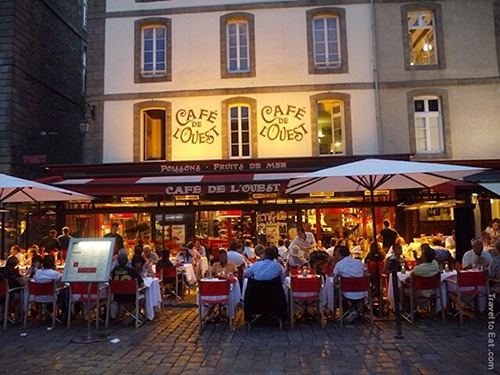 We ventured back out around sundown. Lots of people with badly sunburned skin were strolling along the beach. To be honest, we chose the first nice restaurant inside the gates, artists drawing, music playing, dancers dancing and lovely lighting all over the place. We chose Cafe de Quest, shown above.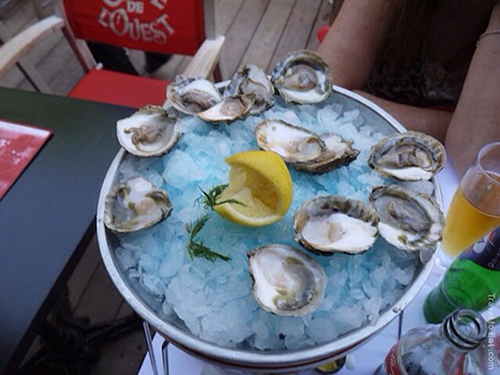 I ordered oysters to start…the specialty of Saint Malo and really of nearby Cancale. Sorry about the picture, I had gobbled half a dozen when Lisa reminded me to take a picture. Usually I have them with horseradish and cocktail sauce or with Tabasco, but they had a vinegar dip that was truly amazing. I tried to get the secret from the waiter, but he really did not understand what was so special. Maybe it was just the oysters, so fresh, so sweet and so good.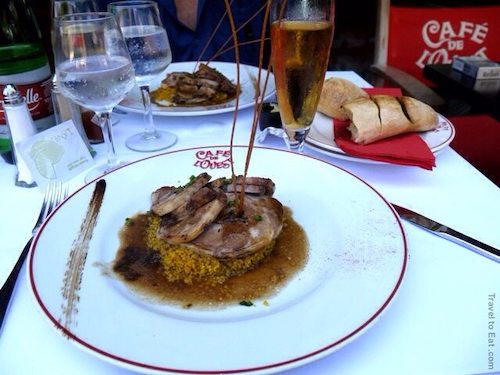 We both had the lamb saddle over spiced couscous. The plating was beautiful, the food delicious and the atmosphere unbeatable. The waiter suggested baguette garlic bread with lots of good Brittany butter (bless his heart, almost no one but a French born man can pry butter from a French cafe). I would definitely go back to this cafe, although I will admit by this time we were both under the spell of Saint Malo and were planning when we could come back.
Well, that's it from Saint Malo, this is one of those rare places that if you go, the food will be good almost everywhere. Eat on the street, try stuff and definitely drink a lot of beer!