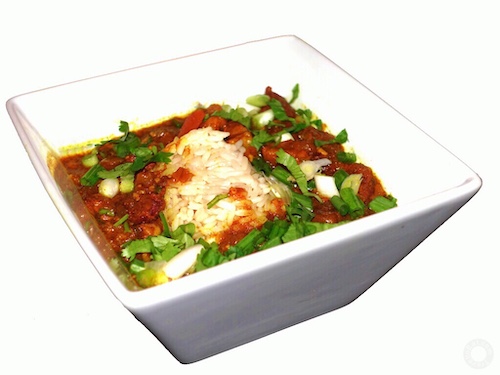 The great Indian 'kari', which stems from the word for sauce in Tamil, is known to have originated sometime during the ancient Indus civilization. Since then it has travelled beyond boundaries and created many fans across the globe. Britain's love affair with curry is no secret, curries in China and Thailand are also common knowlege. In fact, chicken tikka masala is the most popular restaurant meal in England and Texas meat-only chili is closely related to curry. There are many varieties of dishes called "curries". For example, in original traditional cuisines, the precise selection of spices for each dish is a matter of national or regional cultural tradition, religious practice, and, to some extent, family preference. Such dishes are called by specific names that refer to their ingredients, spicing, and cooking methods. Curries were spread east by Bhuddist priests and occur in the cuisines of China and Southeast Asia. This post is a bit more personal and really limited to the curry traditions of India. My introduction to curry stems from my college years when I and my Indian friends, particularly my mentor Arun Saha, would create a curry made from whatever we had available and spices sent from family in India.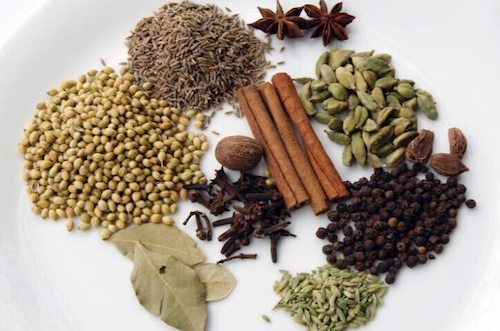 The concept of mirepoix or sofrito in the flavor profile of Latin countries of the Mediterranean and Europe falls apart in Indian and far eastern cuisine. Dishes of highly spiced meat are thought to have originated in pre-historic times among the inhabitants of the Indus Valley Civilization. This is not to say that European cuisine is devoid of strong flavor but as we move east beyond the Mediterranean, flavors become more dependent on the garam masala, huli pudi (sambar powder), or mixture of spices and less on the aromatic base vegetables involved. The word garam refers to "heat" in the Ayurvedic sense of the word, meaning "to heat the body" as these spices, in the Ayurvedic system of medicine, elevate body temperature. In fact, the precise mixture of spices can almost pinpoint the origin of the cook, with more spices involved as you move southwards in India. Arun's family lived just south of Mumbai, so my comfort level is from approximately that region, although it lies in the middle of northern and southern Indian traditions.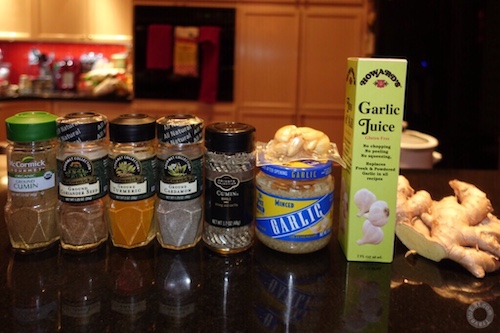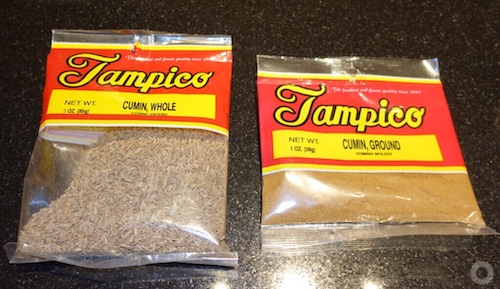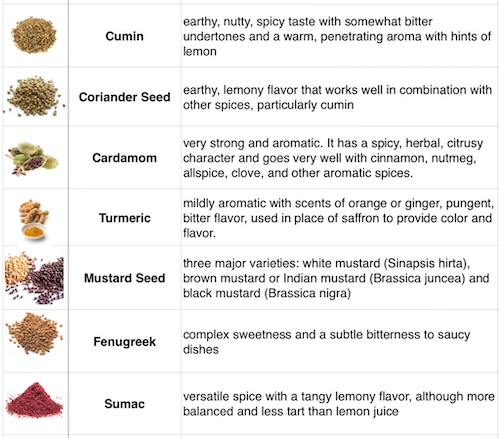 Seen above are the base spices I use to make curry. I never use powdered garlic or ginger and generally my curries use a fair amount of these two ingredients. Also, I usually toast and grind the spice seeds to make powders although I also use pre-ground spices in small quantities. Additionally, I always use fresh hot peppers to add heat and since I have a Bay Laurel tree (no curry tree yet) in my yard, 2-3 bay leaves in my curries (reasonable since meat curries are really a kind of stew). Let me point out right now that supermarket "curry powders" are to be avoided like the plague and real curry tree leaves are usually not available. For different situations I also add so called "warming spices"; cinnamon, nutmeg, cloves and star anise. I will also use mostly tamarind but also amchoor (dried mango powder) for sour dishes. Because these spices are so integral to the curry, I thought I would give a short taste profile for each as seen above. As a final general observation, those little glass jars of spices in the supermarket are expensive and will be used up in only a few meals. Find a specialty market that sells spices in bulk.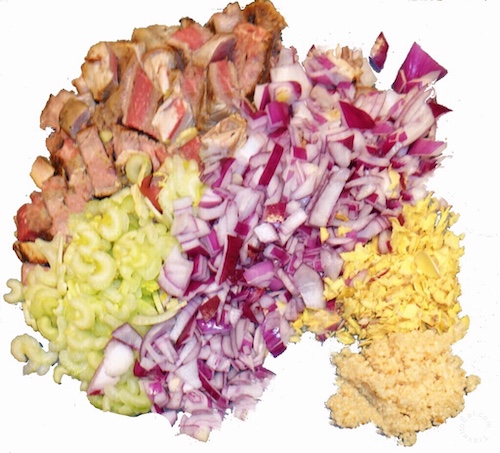 For this recipe I am going to make a basic curry, that for me at least is the Indian version of comfort food. I had some leftover lamb chops that we had brought home (about half a pound) for my protein. I make no excuses that this is not an authentic Indian recipe, think of this as an introduction to the vast world of Indian cooking, there will be more posts on the subject to come. Each decision in this fairly simple recipe can lead to a different curry, representing a different location, tradition or even family.
Ingredients
cubed chicken, lamb or beef about 1 pound
kosher salt
freshly ground black pepper
5-10 cloves of minced garlic (more or less to taste)

1 thumb-sized piece of fresh ginger (more or less to taste)
1-4 onions
extra virgin olive oil or vegetable oil
2 fresh bay leaves
2 heaping teaspoons ground cardamom
2 heaping teaspoon ground cumin
2 heaping teaspoon ground coriander
2 heaping teaspoon ground turmeric
1 stick of cinnamon (optional)

1 pinch of ground cloves (optional)

100 g low-fat natural yoghurt, plus extra to serve (optional)
1-2 cans of chopped tomatoes or 4 ripe tomatoes (optional)
1-2 fresh Anaheim chilies

½ a bunch of fresh coriander
one bunch of scallions
Notes
The original recipe called for ghee (clarified butter), we used plain butter when I was a student but I am older now and counting calories, so I use a little extra virgin olive oil. Ghee (clarified butter) or vegetable oil is used predominantly in North India and coconut oil lends a unique flavor to Southern curries. Mustard oil brightens up the curries from East India and the West is known for the heavy use of sesame and groundnut oil.
Instructions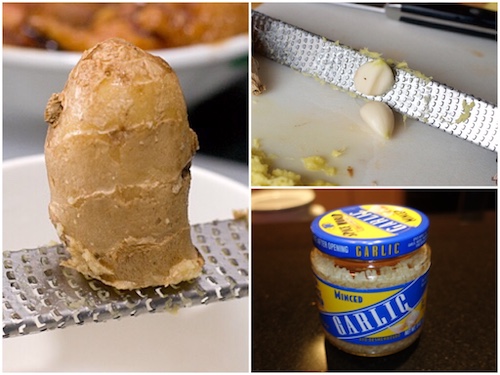 Ginger and garlic are are a special issue for prep since garlic is small and slippery and ginger is fibrous. Garlic presses are useless as many chefs will attest, I usually use a microplane but for when cooking for myself I have taken to using minced garlic in a jar and roughly chopped very thin ginger slices. I have also found that I like the little crunch of ginger slices, based on making a lot of Tom Yum soup and sushi.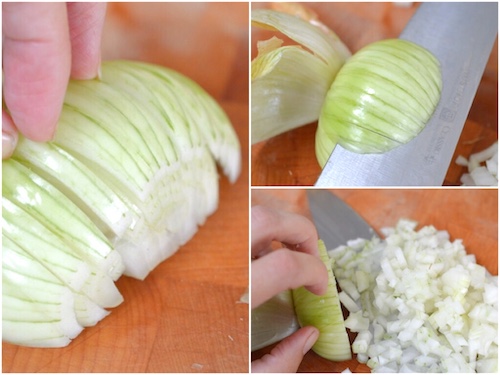 Onions are the backbone of most savory dishes but onions can produce a wide range of flavors depending on how you cook them. From the sharp pungency of raw to the sweet silkiness of caramelized, how you cook your onions will have a big influence on your recipe's outcome. Stir in the onions, ginger, garlic, salt and pepper with virgin olive oil. On low to medium heat, stirring often, cook until the onion is translucent and the garlic scent begins to bloom, about 3-4 minutes. Add the chicken and one heaping teaspoon each of ground cardamom, coriander, turmeric, cumin and whole cumin. I use whole cumin because at the end, you get little pops of cumin when you eat the dish, assuming of course that you like cumin. The point is to coat the meat and onions with spices and here we confront a crossroads. If you are using chicken or another protein, it may be necessary to add more oil to prevent burning the onions. If you, like me are dieting, consider grilling/cooking the meat prior to incorporating it into the curry as many curry recipes suggest. Continue cooking for about 10 minutes for a total of about 15 minutes.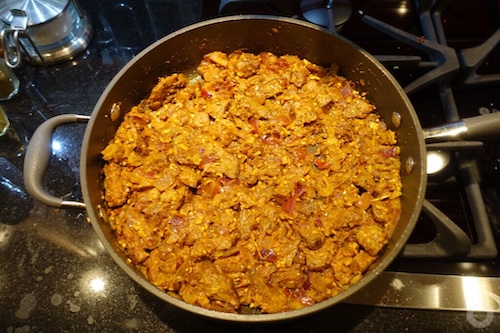 If you are still reading, at this point the kitchen smells heavenly and you have a spicy meat and onion mash. This is another decision time, what liquid to add to finish the cooking and create the curry sauce. Options include adding ripe tomatoes (canned are better) for a tikka masala or butter type curry, yoghurt (Korma or Rogan Josh style) or coconut milk (Malvani or Thai Mussman curry style) for a creamy sauce or water/broth for a thinner/drier curry. This a also a point to consider adding tamerind as in Chicken Xacuti (Shakuti) or lemon/sumac as in Mangalorean Kori Rotti. The possibilities are pretty much endless and this introduction will be the source of future posts.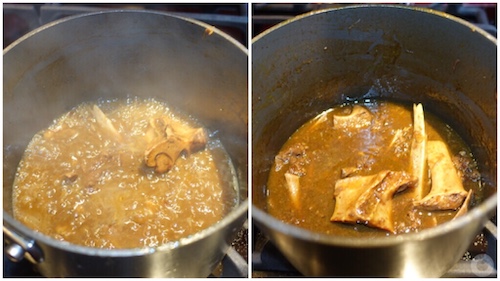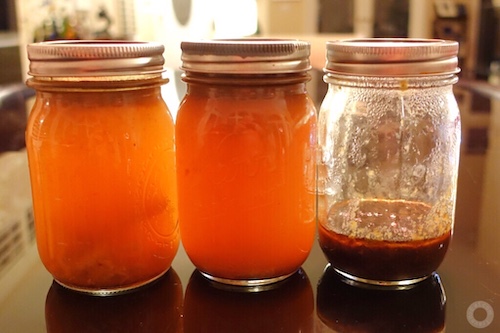 In my own case, I had made a lamb broth and glace d'agneau from the lamb scraps, bones and vegetables (waste not, want not). Glace is a stock that has been reduced napé (coats the back of spoon) and d'agneau means lamb in french. It is nothing more than a concentrated stock, which has been reduced by 75% or more, and is jelly-like when refrigerated without the addition of starch or gelatin. Although this is another post, when straining the broth, line the strainer with paper towels to filter out the fat. I added about a cup of this lamb broth (with plans for a future lentil soup with the rest) to the mixture and turned the heat to low for about 20 minutes to finish cooking and reduce the added liquid. Adding too much fluid will extend the cooking time and diminish the flavor of the spices, too little will result in a dry curry with inconsistent cooking. You can use store bought vegetable, chicken or beef broth or just add water. Add the bay leafs at this point.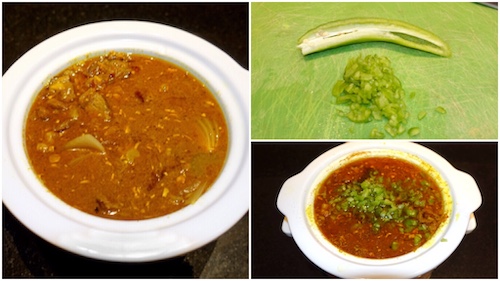 I transferred the "mash" to a small slow cooker to finish cooking while I cleaned up. Normally I add the fluid in the pan to save on cleanup but I had the pots from the lamb broth. Immediately after adding fluid, I add my hot pepper, in this case an Anahiem de-seeded and finely chopped pepper. You can choose a more spicy pepper or just add more. After 5-10 minutes, it is time to refresh the spices and add the final ingredients. Add up to a teaspoon each of the four cardinal spices; ground cumin, coriander, cardamom and turmeric to taste. Also add a teaspoon of ground mustard and adjust with salt if necessary. Mustard is added toward the end since cooking enhances it's flavor but cooked too much, the flavor is lost. If you add extra spice right at the end of cooking, they will not mellow and can get gritty.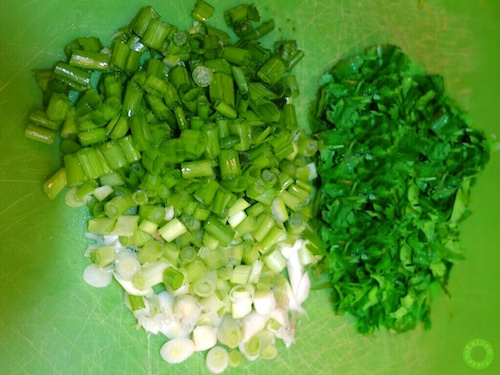 Finally, about five minutes before serving cut up a bunch of scallions, including the green part, to add brightness to the curry. Add about half and keep the rest for garnish. You can skip this step but it adds to the flavor. Also chiffonade some fresh cilantro to add as a garnish. The name "chiffonade" sounds more complicated than it is, just ball up the leaves in your hand and cut finely, making strips of the leaves. Remove any stems.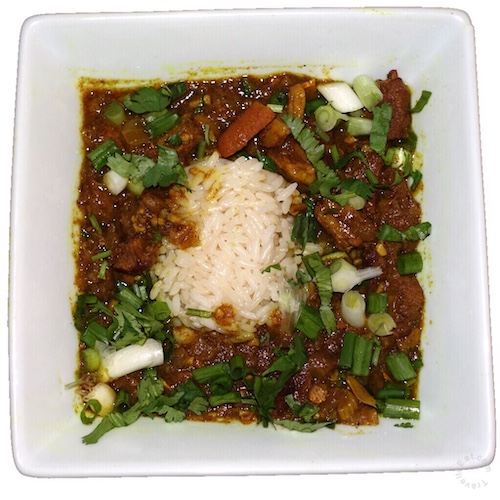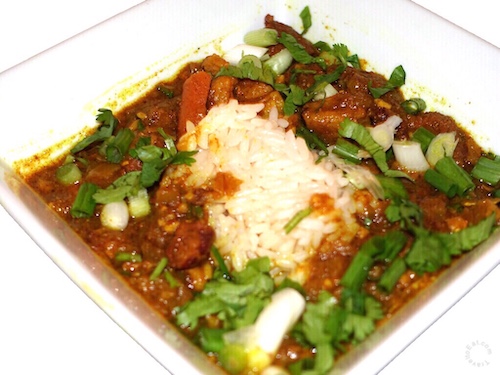 Serve with rice of your choice, jasmine rice goes well with curry. As with chili this tastes even better the day after. This seems more complicated than it really is since I have been careful to explain the reasoning for each step. There is no better way to revive leftovers, it is delicious and easy to make. Don't get thrown off by all the Indian words, curry is just home cooking. Give curry a try, add or subtract ingredients and create your own signature curry, leave a comment and share your ideas and results.
References:
Spice Hunting: http://www.seriouseats.com/spice_hunting/index.html
North vs South India: http://food52.com/blog/12848-the-differences-between-northern-southern-indian-food
North vs South India: http://spiceroutecuisine.com/the-difference-between-northern-and-southern-indian-food/
Huli Pudi: http://www.kannadacuisine.com/2013/04/huli-pudi.html
Curry Recipes: http://food.ndtv.com/lists/10-best-indian-chicken-curry-recipes-696185?desktop=true
Vegetarian Curry Recipes: http://www.vegrecipesofindia.com/recipes/indian-curry-recipes/
Chicken Tika Masala: http://food.ndtv.com/food-drinks/how-to-make-the-perfect-chicken-tikka-masala-695029?desktop=true
Chicken Xacuti (Shakuti): http://allrecipes.co.in/recipe/457/chicken-xacuti—shakuti-.aspx?o_is=Hub_TopRecipe_1
Mangalorean Kori Rotti: http://allrecipes.co.in/recipe/292/mangalorean-kori-rotti.aspx?o_is=Hub_TopRecipe_2
Chop and Chiffonade Herbs: http://www.seriouseats.com/2010/04/knife-skills-how-to-chop-and-chiffonade-herbs.html