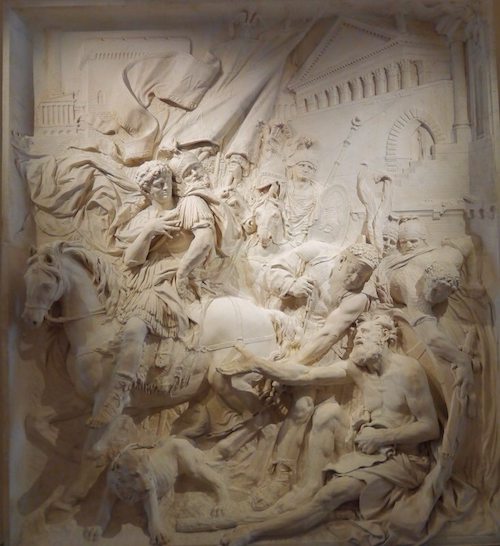 According to legend, Alexander the Great came to visit the Greek philosopher Diogenes of Sinope. Alexander wanted to fulfill a wish for Diogenes and asked him what he desired. According to the version recounted by Diogenes Laërtius, Diogenes replied "Stand out of my light." Plutarch provides a longer version of the story:
Thereupon many statesmen and philosophers came to Alexander with their congratulations, and he expected that Diogenes of Sinope also, who was tarrying in Corinth, would do likewise. But since that philosopher took not the slightest notice of Alexander, and continued to enjoy his leisure in the suburb Craneion, Alexander went in person to see him; and he found him lying in the sun. Diogenes raised himself up a little when he saw so many persons coming towards him, and fixed his eyes upon Alexander. And when that monarch addressed him with greetings, and asked if he wanted anything, "Yes," said Diogenes, "stand a little out of my sun." It is said that Alexander was so struck by this, and admired so much the haughtiness and grandeur of the man who had nothing but scorn for him, that he said to his followers, who were laughing and jesting about the philosopher as they went away, "But truly, if I were not Alexander, I would be Diogenes."
In 1670 Pierre Puget found in the dockyards at Toulon two blocks of marble which had been abandoned there, and after some difficulty he got Colbert's permission to use them for statues. From them he carved the Milo of Crotona and the relief of Alexander and Diogenes. The relief represents the meeting of Alexander the Great and Diogenes "the Cynic", the Greek philosopher (about 412 BC-399 BC), which probably occurred at the Isthmian Games.
This work is the most important marble relief which came from the hand of Puget. It bears the same relation as the Milo to Roman Baroque. The work with which it most obviously challenges comparison is Algardie's relief of the Meeting of Leo I and Attila in St Peter's. But the differences are more striking than the similarities.
Puget was born in Marseille. At the age of fourteen he carved the ornaments of the galleys built in the shipyards of his native city, and at sixteen the decoration and construction of a ship were entrusted to him. Soon after he went to Italy on foot, and was well received in Rome by Pietro da Cortona, who took him into his studio and employed him on the ceilings of the Palazzo Barberini and on those of Palazzo Pitti in Florence. Things did not work out for him in Italy. The artist's desire to paint gradually subsided before his passion for sculpture, and a serious illness in 1665 brought Puget a prohibition from the doctors which caused him to stop painting.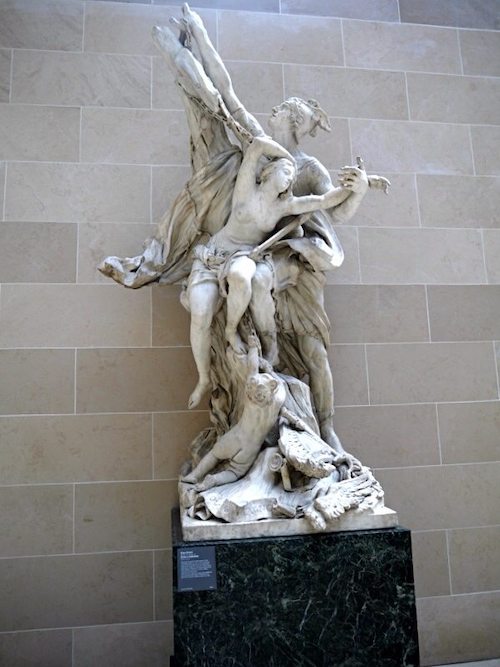 Jean-Baptise Colbert asked Puget return to France, and in 1669 he again took up his old work in the dockyards of Toulon. The arsenal which he had undertaken to construct there under the orders of the Francois de Vendôme, Duc de Beoufort was destroyed by fire in the course of construction and was rebuilt by another architect. Disheartened, Puget left Toulon, and in 1685 went back to Marseille, where he continued the long series of works of sculpture on which he had been employed by Colbert. His statue of Milo of Croton (Louvre) was completed in 1682, Perseus and Andromeda (Louvre) in 1684 (as seen above), and Alexander and Diogenes (bas-relief, Louvre) in 1685, but, in spite of the personal favour which he enjoyed, Puget, on coming to Paris in 1688 to push forward the execution of an equestrian statue of Louis XIV, found court intrigues too much for him. He was forced to abandon his project and retire to Marseille, where he remained till his death. His last work, a bas-relief of the "Plague of Milan", which remained unfinished, was placed in the council chamber of the town hall of his native city.