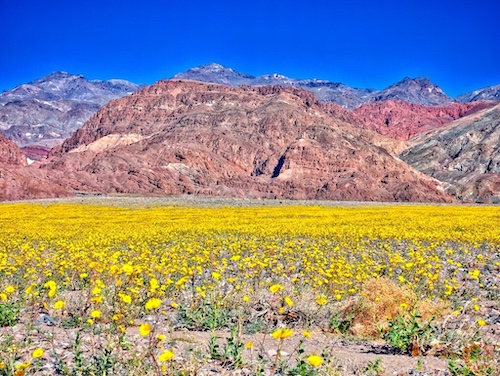 Death Valley is famous for its spectacular, spring wildflower displays, but those are the exception, not the rule. Only under perfect conditions does the desert fill with a sea of gold, purple, pink or white flowers. Although there are years where blossoms are few, they are never totally absent. Most of the showy desert wildflowers are annuals, also referred to as ephemerals because they are short-lived. Oddly enough, this limited lifespan ensures survival here. Rather than struggle to stay alive during the desert's most extreme conditions, annual wildflowers lie dormant as seeds. When enough rain finally does fall, the seeds quickly sprout, grow, bloom and go back to seed again before the dryness and heat returns. The majority of these blooms are produced by Desert Gold (Geraea canescens). The Badwater Road along the side of Death Valley is still the go-to destination for those huge expanses of endless flowers. Fortunately for me, Death Valley is only about two hours from Las Vegas.
Super-Bloom 2016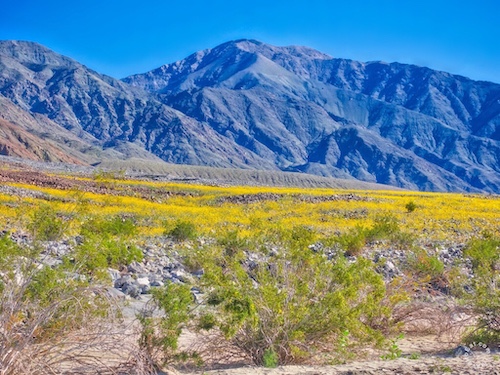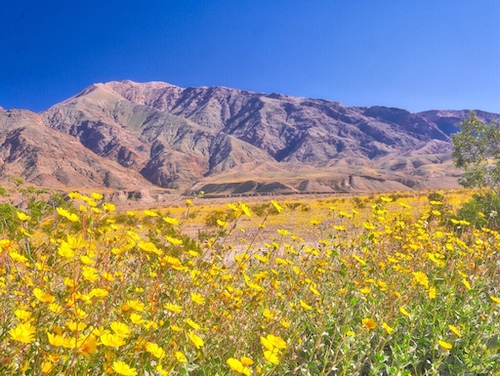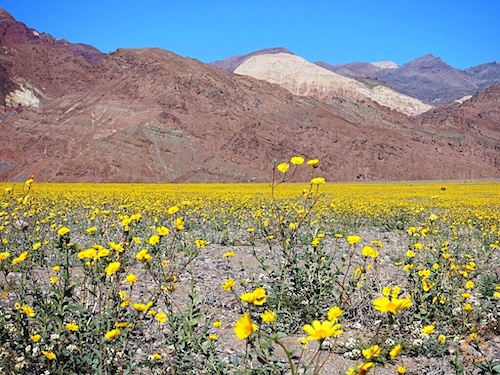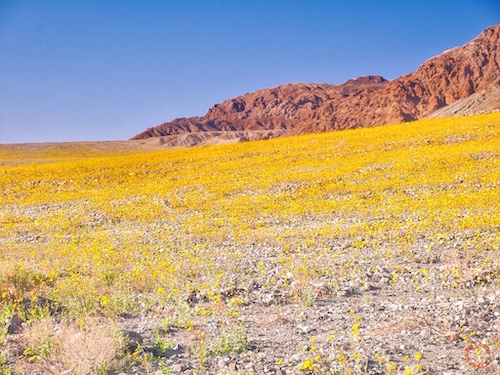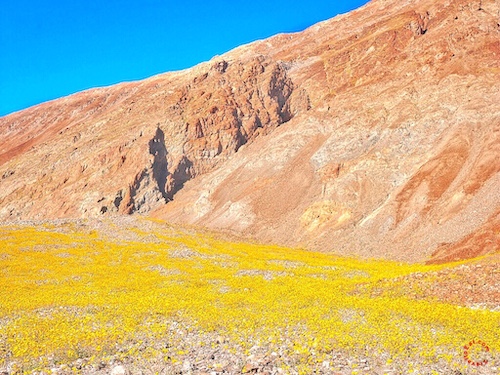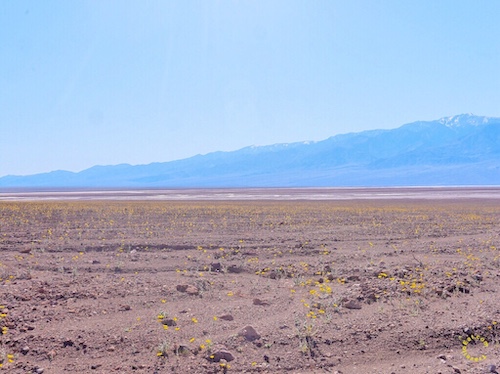 In October 2015, the park announced that a super bloom may be possible coming into February this year because of the autumn rainstorm that brought two inches of rain into Death Valley, which was a key factor for the early sprouting of annual wildflowers seeds. The park said the predicted El Niño weather pattern could bring regular rain throughout winter to keep the plants growing and blooming, which is the same situation that occurred with the super blooms of 1998 and 2005. The last super bloom occurred in February 2005. Along the Bad Water Road, the flowers are most dense against the mountain, thinner toward the salt flats. "When I first came to work here in the early 1990s I kept hearing old timers talk about super blooms as a near mythical thing – the ultimate possibility of what a desert wildflower bloom could be," said Park Ranger Alan Van Valkenburg in a statement. "I never imagined that so much life could exist here in such staggering abundance and intense beauty." Just like the last two super blooms, this one is coming in an El Niño year. It started at the park's lower elevations on the south end and has steadily blossomed northward to the Furnace Creek Wash and is stretching beyond, the Park Service said.
Desert Gold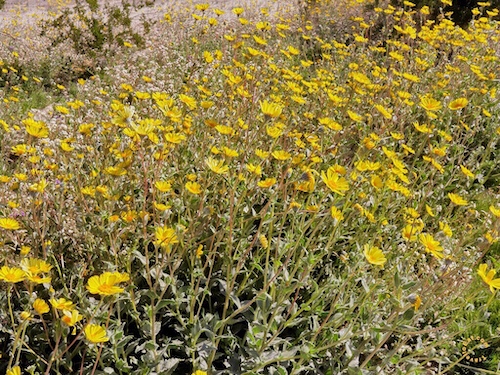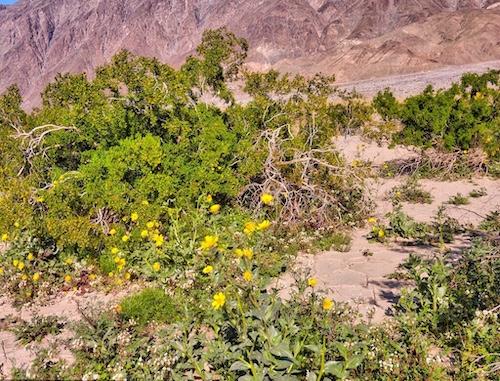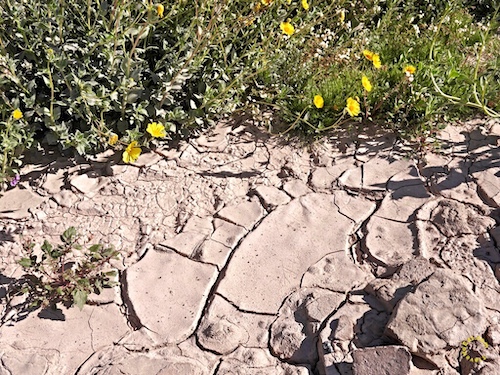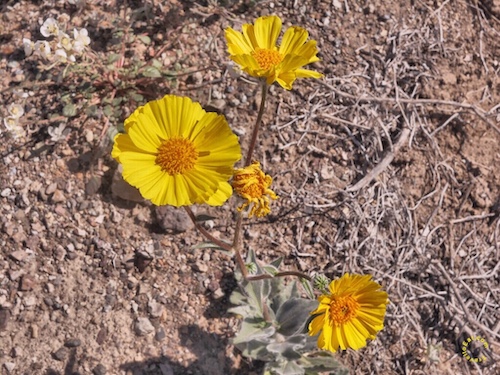 Desert Gold (Geraea canescens), commonly known as desert sunflower, hairy desert sunflower, or desert gold, is an annual plant in the family Asteraceae. "Geraea" in its scientific name comes from the Greek geraios ("old man"), referring to the white hairs on the fruits. Geraea canescens bears yellow sunflower-like flowers on slender, hairy stems. It grows 1–3 ft (0.30–0.91 m) high. The leaves are gray-green and grow to 3 in (8 cm) long. It flowers February through May after sufficient rainfall. Geraea canescens is native to western North America, specifically Arizona, Nevada, California, and Utah. A drought-avoiding annual plant, it can be found in the California, Mojave, and Sonoran Deserts. It grows from −130 to 3,700 ft (−40 to 1,130 m) in sandy desert soil in the company of creosote bush (Larrea tridentata). They stay dormant and re-germinate during the short rains in the fall. There are two varieties, Geraea canescens var. canescens and Geraea canescens var. paniculata.
Golden Evening Primrose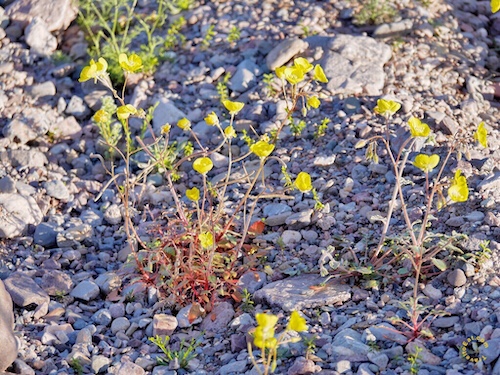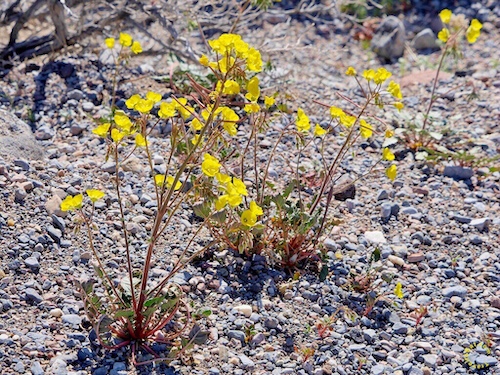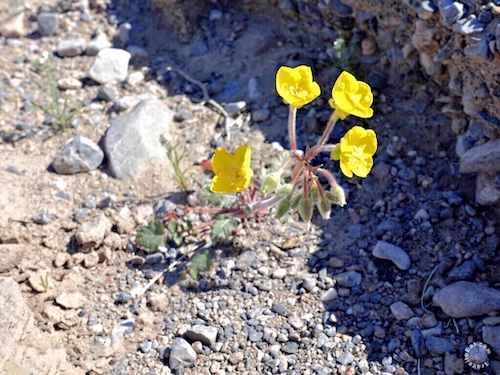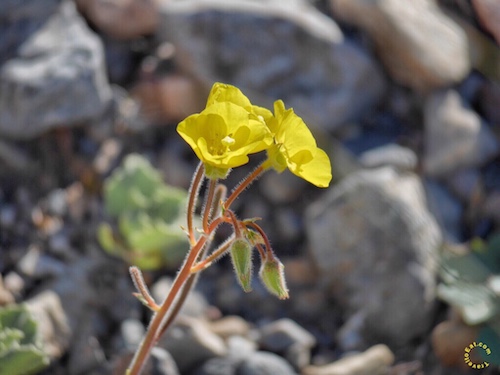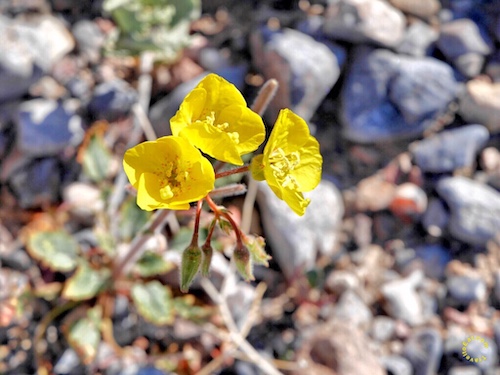 Golden Evening Primrose (Camissonia brevipes) is a hairy plant with buttercup-like yellow flowers. These peculiar flowers bloom at sunrise instead of sunset. Chylismia brevipes is a species of wildflower native to the American desert southwest known by the common names yellow cups, Mojave suncup, and golden suncup. This hairy annual with tall stems, often reaching over half a meter in height, is surrounded by basal leaves which may be simple or composed of several leaflets. It produces an inflorescence which has one to several blooms in it. The flowers are bright yellow, often with reddish speckling at the base of each petal as seen above.
Gravel Ghost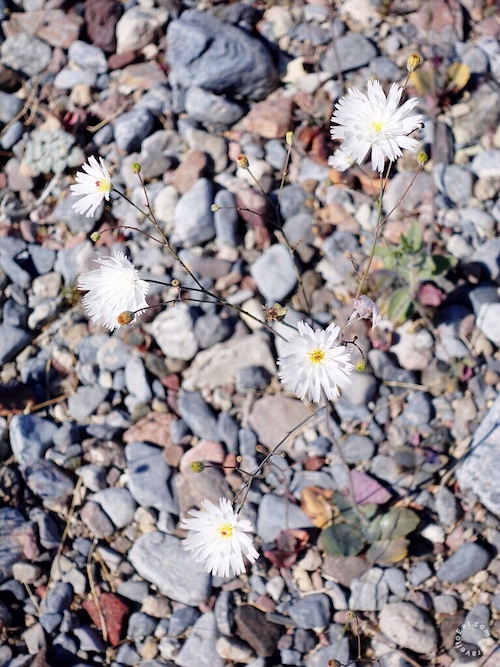 Gravel Ghost (Atrichoseris platyphylla) gets its name from how the plant's pale white flowers look from afar. Some say they appear to float in the air. The herb is native to California's deserts. Heads of white to purple-tinged flowers 1-inch across appear to hover in the air because the stems that support them are tall and thin. Flowers are fragrant and readily withering. Atrichoseris platyphylla is native to the deserts of the southwestern United States (southern California, Arizona, Nevada and the southwestern corner of Utah) and northwestern Mexico (Sonora, Baja California). It produces a low basal rosette of rounded leaves patterned with gray-green and purple patches at ground level. It sends up a weedy-looking thin branching stem topped with a number of attractive, fragrant white or pink-tinged flowers, the layered ray florets rectangular and toothed.
Desert Five-Spot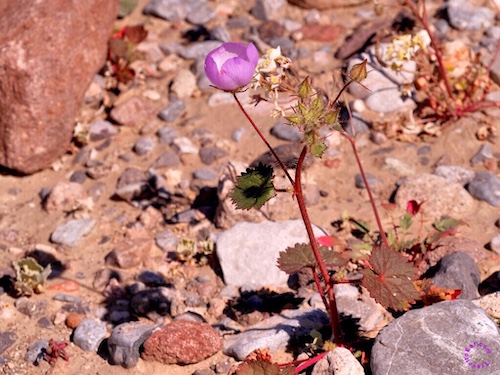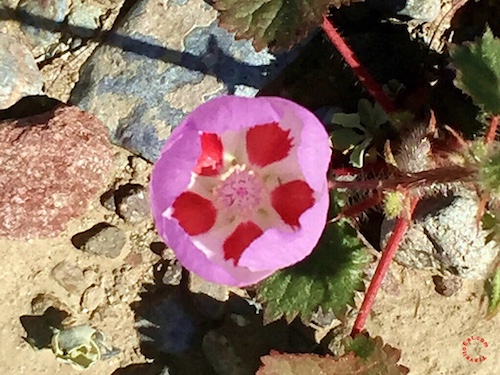 The Desert Five-Spot (Eremalche rotundifolia) is commonly found in desert washes and flats, this plant is known for its globular shape. The flower is colored pink to purple and has a red spot inside on each petal. Eremalche rotundifolia is one of the prettiest of desert wildflowers; the two inch-wide blooms are formed of five overlapping petals, dark pink around the edges and paler pink lower down, with a large, red/purple, irregularly-edged spot near the base. When fully open the petals are still slightly in-curved, giving the flower a neat, nearly spherical shape. The flower center contains a ring of light pink stigmas around a group of smaller pink stamens. The round green leaves have large teeth or lobes along the edge and a covering of short bristly hairs, while the red/brown stems have similar but longer hairs. Stems are usually unbranched. The five, pointed, green calyx lobes below the flowerhead are also hairy. Flowers are generally slightly larger than the leaves. Petals close at night, reopening the next morning, and the leaves move during the day to receive the maximum amount of sunlight.
Purple Mat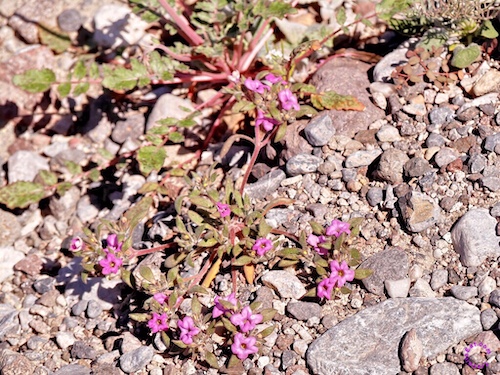 Purple Mat (Nama demissum) is an annual flowering plant. It is known by the common name purplemat, or purple mat. Nama demissum grows in a small patch of hairy glandular herbage. The corolla is generally funnel-shaped. Two varieties of purple mat are recognized. Some botanists now place this plant, and all members of the waterleaf family, in the borage family (Boraginaceae). Nama in Greek means "a water spring." There are many species in the genus, both perennials and showy annuals, that carpet the desert floor with purple after adequate rainfall. Hispid Nama (N. hispidum), with erect, bushy-branched stems and very narrow leaves, is another low species common in deserts from southern California to western Texas and northern Mexico.
Notchleaf Phacelia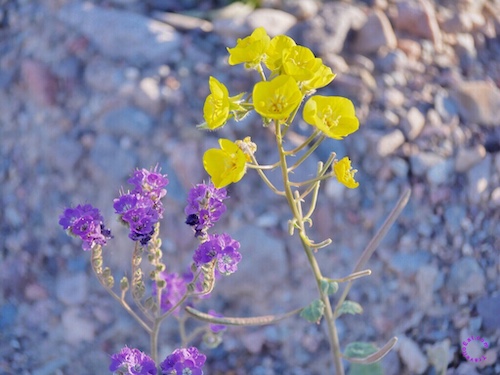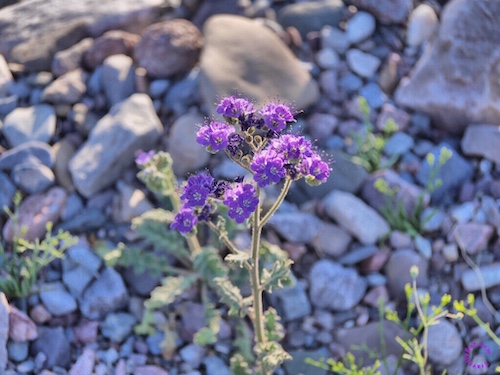 Notchleaf Phacelia (Phacelia crenulata) produces a violet, bell-shaped flower. Be careful not to touch the plant, because it may produce a rash similar to the one poison ivy gives. Phacelia crenulata is a species of flowering plant in the borage family, Boraginaceae. Its common names include notch-leaf scorpion-weed, notch-leaved phacelia, cleftleaf wildheliotrope, and heliotrope phacelia. It is native to the southwestern United States as far east as Colorado and New Mexico, and Baja California and Sonora in Mexico.
Phacelia calthifolia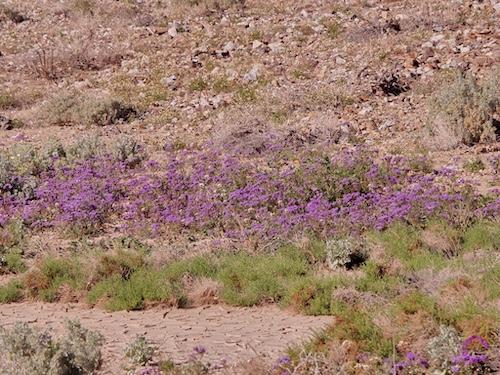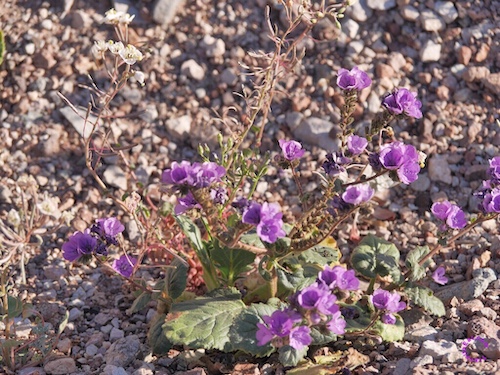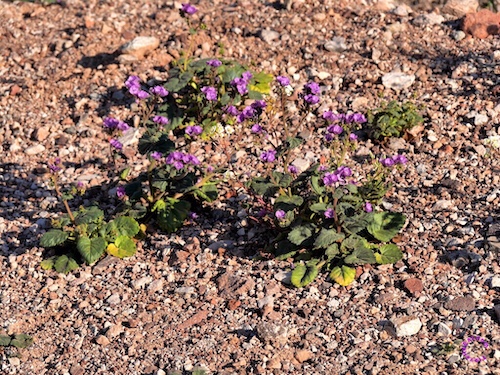 Phacelia calthifolia (calthaleaf phacelia or caltha-leaved phacelia), is a flowering plant in the family Boraginaceae. It is native to the Mojave Desert in southeastern California and western Nevada, between Barstow, California, and the Death Valley area, where it occurs below 1,000 m in sandy soils. It is an annual plant growing to 30 cm tall, with bristly stems. The leaves are dark green, rounded to heart-shaped with a notched base, 1-3 cm long and wide, with an entire or serrated margin. The flowers are bell-shaped, about 1 cm diameter, purple to violet in color. The leaves are the easiest feature for identifying phacelia calthifolia, being round, thick and dark green, covered with glands and short, sticky hairs, as are the stems and buds. Flowers grow along the upper few inches of the stem, tend to point in one direction, and open gradually, so that at first, blooms appear only at the tip, and a neat column of green buds lies beneath. The purple, bell-shaped flowers have five lobes with a center of a purple style and purple stamens tipped with dark anthers. The plant inhabits sandy locations in the Mojave Desert.
Brown Eyes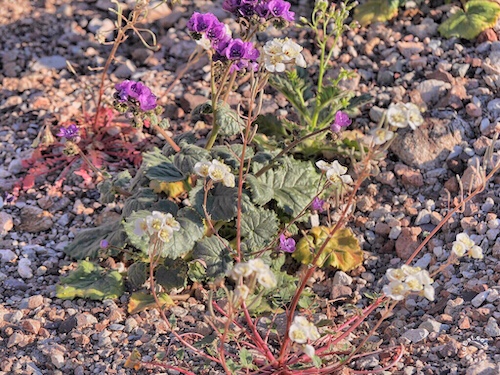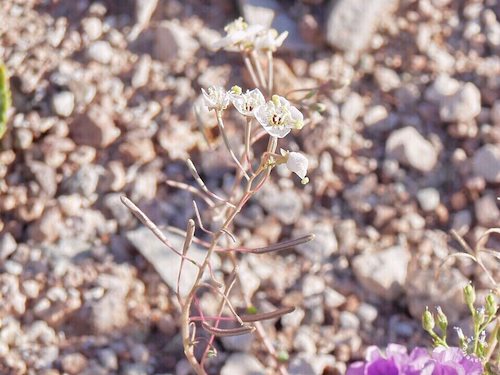 Brown Eyes (Chylismia claviformis) synonym Camissonia claviformis, is a species of wildflower known as browneyes or brown-eyed primrose. It is an annual plant growing from a basal rosette of long oval leaves and producing stems often exceeding half a meter in height. Atop the stem is an inflorescence of one to many primrose blooms, each with four white or yellow petals. The pistil may be quite long and has a bulbous stigma at the tip. The stamens are somewhat shorter and they bear long hairy anthers containing white or yellow pollen. The floral axis at the junction of male and female parts is bright red to maroon or brown. This species is found across western North America from the Pacific Northwest to northern Mexico. The upright stems of chylismia claviformis are topped by a one-sided cluster of nodding white or pale yellow flowers, brown at the center, hence the common name of brown-eyed primrose. Flowers are formed of four pointed green sepals, often angled fully backwards, close to the pedicel, and four round white petals, which wither to deep pink. At the center are eight white stamens, the hairy anthers attached at their midpoint, and a longer style, holding a spherical stigma. The reddish-brown color comes from the inside of the floral tube.
White and Purple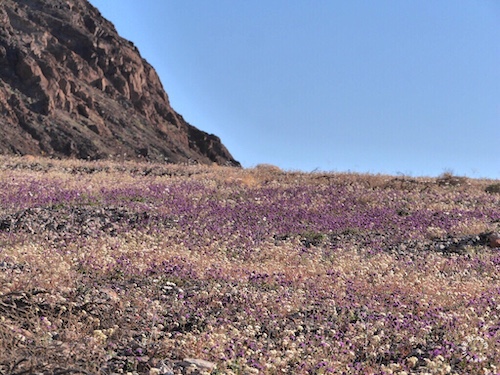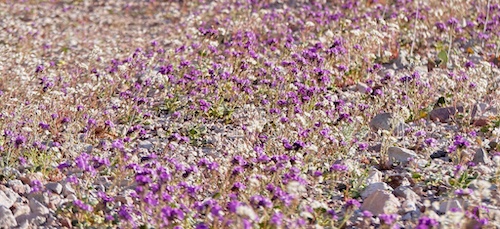 Although most of the bloom is yellow, there are areas of purple and white consisting of Phacelia calthifolia and Chylismia claviformis.
Desert Trumpet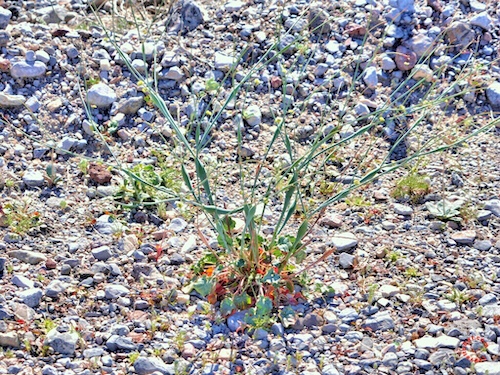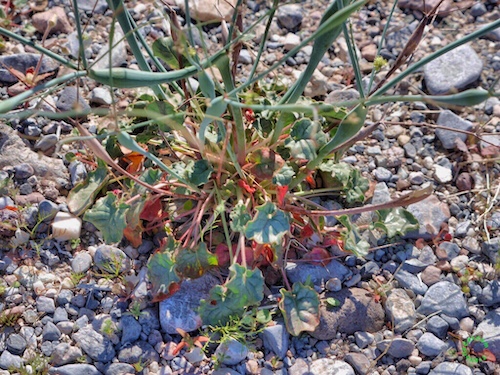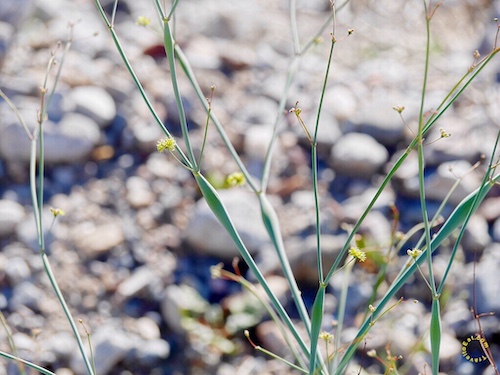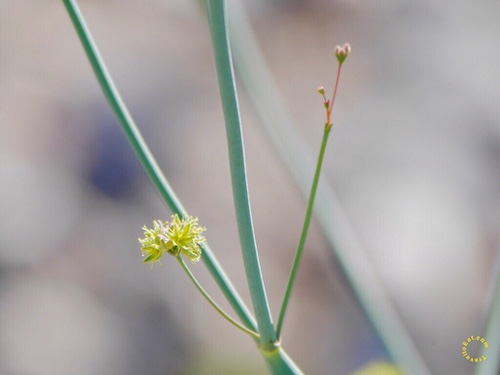 Desert Trumpet (Eriogonum inflatum) is a perennial plant of the family Polygonaceae. The plant possesses very small yellow and an inflated stem just below branching segments. Recently, research performed by a world authority on the genus Eriogonum, Dr. J. L. Reveal of the University of Maryland, College Park, revealed the swollen stem of Eriogonum inflatum is due to high concentrations of carbon dioxide in the solid stem and seems to be related to gas regulation. It is known that some Native American tribes that once inhabited the surrounding areas of the Las Vegas Valley (most commonly Paiute) would remove the stalk of E. inflatum at the base, and then cut the inflated bulb in half, producing a makeshift pipe. A mixture of Indian tobacco and mistletoe would be smoked primarily for leisure purposes.
This is a "first pass" on the wildflowers in Death Valley, expect future posts on Death Valley itself and perhaps more posts on the flowers. These are known as ephemeral plants, growing suddenly when moisture is present, from a single seed lodged in the rocks and vanishing just as suddenly when the heat becomes too much. A miracle of the tenacity of life. As always, please leave comments.
References
CNN: http://www.cnn.com/2016/02/23/us/death-valley-wildflowers/
National Park Service: http://www.nps.gov/deva/learn/nature/wildflowers.htm
Phacelia: http://www.worldbotanical.com/phacelia.htm
Desert USA: http://www.desertusa.com/wildflo/ca_dv.html
LA Times: http://www.latimes.com/local/lanow/la-me-ln-death-valley-wildflower-super-bloom-20160225-story.html